WWE NXT Takeover: Orlando Live Review by Kurt Zamora
Welcome one and all to the live coverage of NXT Takeover: Orlando here at TJRWrestling! All eyes are on the Yellow and Black brand tonight as we are right in the middle of WrestleMania weekend. We have 5 huge matches, including one big debut and all titles on the line.
During the pre-show, it was announced that No Way Jose was attacked at Axxess this morning and will not be cleared to compete tonight in the 8-person tag match. William Regal has allowed Tye Dillinger's team to try and find a 4th partner or they'll have to go it handicap style. Kassius Ohno would be my guess but we'll see when we go live.
We go live with all the lights out except for the ring and Triple H's voice comes over the speakers and speaks how tonight is NXT's night and tonight they are home. We then go to the video package to start the show, speaking of how NXT is home tonight and then showcasing all of our matches.
8-Person Tag Match
Sanity (Eric Young, Killian Dain, Alexander Wolfe, Nikki Cross) vs. Tye Dillinger, Roderick Strong, Ruby Riot & ??
Sanity comes out first, all with strong eye black all around thier eyes. A very sinister look that just makes them look even cooler in my opinion. A big reaction for Dillinger as expected. No theatrics from him though as he's all business. After Riot and Strong come out, Kassius Ohno is in fact the new partner. They all charge the ring and we're off! The babyfaces clear the ring immediately and it's left to the women to start the match. Cross is all over Riot and then tosses her across the ring by her hair. Riot then catches Cross with a headscissors and slams her in the turnbuckles. Cross then tags in Wolfe and Riot has to tag out by rule and here comes Ohno who absolutely drops Wolfe. He then goes for a somersault senton and a pin but Wolfe kicks out. Ohno is sporting the Sacramento Kings themed gear tonight. EY distracts Ohno and allows Wolfe to take a cheap shot and then tags in EY. He takes a couple shots and then tags back Wolfe. Wolfe misses an elbow drop and here comes Roddy Strong. Roddy knocks EY off the apron and then hits an Angle Slam on Wolfe. EY gets in the ring and he gets hit with a half nelson backbreaker. Wolfe is then hit with a dropkick. Roddy hits a high knee to EY and then kicks Dain off the apron but that allows Wolfe to hit a suplex on Strong and then he tags in the big man Dain.
Dain with a trio of elbow drops as "Shave your back" chants rain down on him. Strong hits an enziguri but Dain blocks him from a tag and then hits a huge shotgun dropkick into the corner on Strong. EY tags back in now. EY hooks on his hangman dragon sleeper from the second rope. He drags Strong to his corner and Wolfe tags back in now. Dain basically tags in immediately after that and they double team Strong in the corner. Wolfe becomes the legal man again and hits a cobra clutch backbreaker. He tags in EY who comes off the top rope with a elbow drop but Dillinger comes in and breaks up the pin. EY then knocks Dillinger off the apron, then another shot at Ohno as Strong tries to fight back. EY then goes for a dropkick in the corner but Strong moves and he's able to tag in Dillinger. Dillinger is a house of fire and hitting anything that moves. Big DDT to Wolfe who tagged in. Nikki Cross tries coming in but Riot spears her to the floor. Dillinger with a dive to the outside that takes out EY but Dain comes over there and takes him out. Strong though with a dropkick through the ropes on Dain. Wolfe takes him out though. Ohno does a front handspring over the top rope, lands on his feet and drills Wolfe with a roaring elbow. That was cool. Dain takes him out though.
It's back to just the women in the ring and they just start brawling. They go to the outside and now it's Dillinger and EY in the ring. The appropriate 10 punches in the corner and then a back body drop to EY. He superkicks Dain and then goes for a pin but Wolfe breaks it up. Ohno in the ring now and he hits a big knee and then a roaring elbow on Wolfe but EY drops him with a neckbreaker. EY goes to Dillinger but here's Strong with a Sick Kick. Dain is back in and as Roddy goes to fight him, here comes Nikki mounting Strong. Then Ruby mounts Dain. Nikki pulls off Ruby. EY hits a neckbreaker on the floor to Strong and then Riot hits a dropkick on Nikki off the apron. Dillinger goes for the Tye-Breaker on Dain but Wolfe with a bicycle kick. Dain gets Dillinger up for Ulster Plantation and Sanity is once again too much to deal with. That match was absolutely outstanding. What a great opener.
Winners: Sanity
We take a look at Bobby Roode preparing for his match and then take a look at ringside and The Rated R SUUUUUUUUPERSTAR, Edge and his hall of fame wife Beth Pheonix are shown.
Andrade "Cien" Almas vs. Aleister Black
Black has a very cool entrance. He was on some sort of platform and it made it look like he was rising from the dead. His theme song is awesome and it's just a very cool presentation. Great first impression. Almas starts with a wristlock and then both men start to counter each other with multiple moves. Black goes to kick Almas' head off but Almas ducks and then does his cocky pose. Black shoots him off into the ropes and then Almas does his Spiderman pose there. Black sends Almas to the outside and then goes for a dive but Almas moves so Black just does a backflip into an Indian style seated position. That got a good applause. Almas is back in and Black gets a side headlock. Almas gets Black down and in the corner and then proceeds to just slap him in the face. Almas goes for a suplex but Black blocks it and then sends Almas to the apron. Almas then gets a armbar over the ropes until the ref makes him break it. He goes to the top rope and comes off with a dropkick. He goes back to work on the arm but Black kicks his way out. Black with knee strikes and a nasty back elbow to Almas. Almas gets sent to the floor and Black now comes at him with a moonsault off the second rope. Back in the ring and Black gets a pin attempt but Almas kicks out and then hits a series of kicks. Black dumps Almas to the apron but Almas again hooks that armbar over the ropes. Almas comes off the tope rope but Black just plants him with a powerbomb instead. He goes for a pin but Almas turns it into a submission. Almas gets him in the corner and goes for the running knees but Black moves. Black gets him in a small package but Almas kicks out. Almas goes for a pin himself and Black kicks out. Both men drop each other with the same kick at the same time. They get up and Black connects with a knee but Almas comes back with a handspring double knees. He gets Black in the corner again and this time he hits the running double knee. He goes for the Hammerlock DDT but Black blocks it. Almas manages to connect with a snap German instead but Black kicks out right at 2 and 9/10. Black with a huge knee strike and then a kick straight to the face. Black then hits a spinning karate kick right to the face. They're calling it Black Mass or Black Mask. I can't tell. That gets the 1-2-3.
Winner: Aleister Black
Black goes back to his Indian style seated position after the match. That match really shined Almas more than Black and it sounded like the crowd was chanting Nakamura at the end, so I don't know if they were bored or not. I liked what I saw from Black though.
NXT Tag Team Title Triple Threat Elimination Match
The Authors of Pain (w/Paul Ellering) (c) vs. DIY vs. The Revival
Pretty similar responses for The Revival and DIY. Surprised me that DIY didn't get a louder ovation. AOP with their skull masks again and black bandanas over the mouth. A really cool look for them. Definitely adds to their presentation. They come out holding their current tag titles but William Regal is in the ring, presumably to present the new titles before the match starts. The ref raises the new belts, nothing flashy but definitely an upgrade. When I wrap this up, I'll try to find a pic of all the new belts and put them in the final takes. The bell rings and all three teams start brawling. The Revival team up on Rezar and DIY team up on Akam. DIY get a table out and set it up on the outside. They then send Akam into the steel steps. The Revival have taken out Rezar as they get in the ring to meet DIY. DIY hits a double dropkick and then double team Dash in the corner. Gargano goes for a pin but Dash kicks out and it looks like we're starting the match officially. Ciampa tags in and they hit a double hiptoss on Dash, but Akam made a blind tag and he takes out DIY. Rezar comes in now and they're working over Ciampa. Ciampa tries to come off the second rope but Akam catches him. Ciampa gets out and goes to tag one of The Revival but they dodge being tagged. Ciampa can't believe it and Rezar meanwhile gets tagged in and they continue to beat on Ciampa.
Gargano has the ref's attention for some reason and it leads The Revival to come in and DDT Akam. Ciampa tries a pin but Akam kicks out. Dash now tags in officially for Ciampa and he and Dawson double team Akam. Dawson tags in officially and goes for a pin but Akam kicks out. Akam with a shot on Dawson and he goes for a tag to DIY but they do to him what they did to Ciampa. Dawson sends Akam to the ropes and Gargano with a blind tag. Gargano comes through the ropes with his spear on Dawson while Dash low bridges Akam over the top rope. Dash comes in and gets kicked by Gargano. Dawson sends Gargano to the apron, who kicks Dawson, and then Akam on the floor. Ciampa finishes off Akam with a running knee off the apron. Gargano then with a somersault dive onto Rezar. He goes back to Dawson and comes over the top rope with a DDT but Dawson kicks out. AOP takes out Dawson on the floor and then catch a diving Gargano. Ciampa tries to follow to help Gargano but they just throw Gargano into Ciampa. Then they thrown Gargano into Dash. The crowd starts a "This is awesome chant" and I'd have to agree. Crazy pace to start.
Rezar and Gargano are now the legal men in the ring. Akam tags in and they hit a double team sidewalk slam for a two count. Akam gets Gargano up in a torture rack for a good amount of time. Gargano slides out and tries a sunset flip but it doesn't work. He manages to hit an enziguri but is blocked from making a tag. He sends Akam into Dawson who takes out Akam. Now Ciampa is able to make the tag and he's taking out anything moving. Rezar gets hit with a knee strike and then he actually picks up Akam for a German suplex! A couple more strikes and then a second German. A huge running knee to Akam but Akam is just able to kick out. Ciampa chops Akam while Akam is down on his knees. Rezar is coming from the other side and Ciampa tries a sunset flip powerbomb to the outside! Rezar blocks it but eventually with the help of Gargano AND The Revival, Rezar goes through the table!! That gets a huge pop and was an awesome spot. Now DIY and The Revival look like they're going to go 4-1 on Akam. Akam shoves The Revival out of the way and then somehow manages to take out DIY too. Little things like that make AOP look so strong. Akam goes for a powerbomb on Ciampa and Ciampa manages to convince Dash to tag him. Dash chop blocks Akam and Dawson hooks on his reverse Indian death lock. Dash and Ciampa convince Gargano to hook a face lock on Akam! Rezar though somehow bulls through Ciampa and Dash and breaks it up. Another "This is awesome" chant and I still agree and we don't even have an elimination yet!
Dawson and Rezar are legal now. Dash comes in for a double team and here comes Gargano who helps bat clean up. Gargano and Dawson hit Meet in the Middle on Rezar and then Ciampa and Dash hit Shatter Machine on Akam!! HOLY CRAP THIS IS GREATNESS!! Now here comes the battle between DIY and The Revival. Dash and Gargano stop fighting to take out AOP on the outside with stereo dives. Ciampa sees all five men down and goes to the top rope. Dawson cuts him off and HOLY SHIT!!! A top rope Superplex on Ciampa to the outside onto the othe four guys!!! Dawson gets Ciampa in the ring but Rezar tags Dawson, clotheslines him down and now AOP hits The Last Chapter on Ciampa.
DIY Has Been Eliminated
The crowd chants bullshit, but I think it's more for the fact they wanted more with all three teams. AOP hits their double team sidewalk slam on Dash but Dash kicks out. They go for a second but Dawson breaks it up. Dash then manages to get Akam up for a powerbomb and Dawson comes off the top rope with a clothesline. They hit a twosome of German suplexes with European uppercuts on Rezar but Rezar manages to kick out. Rezar takes out Dash who comes from the top rope and then chokeslams Dawson. They go for Last Chapter on Dawson but Dash takes the bullet for him. Dawson manages to get a sneak pin on Akam but he kicks out. AOP gets The Revival up for stereo powerbombs but no Super Collider. It's down to Akam and Dawson. Dawson gets Akam in a small package but he kicks out. The camera missed two separate shots but AOP dropped both of The Revival with something and then Super Collider and that's the match.
Winners: Still NXT Tag Team Champions, The Authors of Pain
Up until the point of DIY getting eliminated, that may have been the greatest tag match I've ever seen. It was that incredible. I think I would've called an audible on who won this match just with how strong the crowd was into the match as they were not happy at all with AOP winning, but this is still a VERY strong Match of the Year contender. Hopefully if The Revival take the last pinfall, that means they're on their way up now.
NXT Women's Title Match
Asuka (c) vs. Ember Moon
Good luck to these women following that match. No special entrance for either woman. It just dawned on me as Regal is back to present this new title that there is NO WAY this was a coincidence to do new titles after the Paige scandel recently. They just did them all to make it less obvious I would assume. As I write that, Asuka kisses the old title as she's announced. Yikes. I know what you're gonna say but still. The new belt arrives and it's less "womanly". The crowd reacted positively though.
They tie up aggressively to start and then both women counter side headlocks and armdrags. They both go for a dropkick and end up in a stalemate. Dueling chants from the crowd, so credit to them for not being dead after the last match. Asuka fakes a handshake but Ember then drops her with a handstand headscissors. She then connects with a armdrag. Now both women go for shoulder tackles but neither fall. Asuka ends up hitting the Rear View but Ember gets right back up and drops Asuka. Ember mocks Asuka and then hits a trio of kicks that sends Asuka outside. Ember tries to follow her but Asuka ends up knocking her off the apron into the guardrail. Asuka starts to toy with Ember but then hits a couple spinning back fists and then a spinning heel kick. Ember catches a kick from Asuka and face plants her. Asuka comes right back with a third Rear View though. Asuka wants to hook the Asuka Lock but Ember avoids it and forearms Asuka to the outside. Ember hits an impressive Jericho dive from the opposite corner rope to the outside on Asuka. She had to jump a good distance. Ember sets up for The Eclipse but Asuka pulls her down and then hits a Shining Wizard. Ember kicks out at two. Asuka with some hard kicks to the chest of Ember. Asuka Lock again but Ember is avoiding it as best she can. Asuka has a bodyscissors and it's not locked on fully but as good as she's going to kick it. Ember almost passes out but gets back to her feet. She starts to black out a second time but yet again she gets to her feet and then just falls backward and Asuka feels the brunt of that. Asuka goes for a fourth Rear View but Ember moves and Asuka gets stuck in the ropes. Ember connects with a superkick but can't capitalize. Ember hits a nice headscissors and then a modified neckbreaker. She hits a back elbow and then a fallaway slam. She connects with her front handspring elbow smash in the corner. and then goes to springboard off the ropes but Asuka stops her and then hits a German suplex off the second rope. That was a cool spot. Ember manages to kick out. Asuka starts slapping Ember and Ember returns a couple and then hits a massive forearm. Head and Leg Suplex by Ember but Asuka just kicks out. Ember goes to the top rope and Asuka stops her once again. Asuka hooks a suplex but Ember blocks it and hits a front suplex. Ember goes for The Eclipse again but Asuka shoves the ref into the ropes! The ref doesn't disqualify Asuka and Asuka then hits her straight kick to the side of Ember's head and the champ retains.
Winner: Still Women's Champion, Asuka
That was a shitty ending in my opinion. I guess they're going to commit to Asuka staying heel this time but this is the third ending tonight that has taken the energy out of the crowd. I guess they feel they can get away with it since they're already established in Orlando. This was a very aggressive match that I enjoyed though, don't get me wrong.
HOLY SHIT IT'S DREW MCINTYRE AT RINGSIDE!!!!!! He gets a HUGE reaction and he smiles big. It is incredible to see him back!!!
NXT Title Match
Shinsuke Nakamura vs. Bobby Roode (c)
Massive rockstar response for Nakamura as expected. No special entrance though. Just a white curtain that dropped in front of him. Bobby Roode on the other hand has dueling pianos going before he comes out. He then appears on his rotating platform looking as GLORIOUS as only he can. He is wearing an incredible white and black robe that is honestly one of the prettiest and nicest robes I've ever seen from anyone. There is no doubt that cost him at least $5,000. The new title is definitely an improvement from the original. Still the emphasis on the X.
Roode looks in phenomenal shape, even more so that he typically is. Massive dueling chants to start. Both men trade kicks to the thighs to start. Roode goes for a single leg takedown but Nakamura blocks him. Nakamura with a hammerlock but Roode reverses into a side headlock. Nakamura gets him in the ropes and he tells Roode to come on. Roode just mockingly laughs. Roode lets him know that he is GLORIOUS but Nakamura just kicks him straight in the chest. Roode drops him with a shoulder tackle but Nakamura comes back with a snapmare and a knee drop. Nakamura with knee strikes in the corner and then its time for Good Vibrations. Roode blocks it though but Nakamura connects with an enziguri instead and now Good Vibrations. Nakamura goes for a suplex to the floor from the apron but Roode blocks it. They trade blows and then Roode dropkicks Nakamura but he stays on the apron. Roode then gets a running start and shoulders Nakamura down into the guardrail.
Roode now in full advantage as they get back in the ring. After a beatdown in the corner, Roode hits a neckbreaker in the middle of the ring and Nakamura kicks out on a pin attempt. Roode then goes old school with a nerve hold on the shoulder of Nakamura. Nakamura gets out but Roode drops him with a back elbow. He follows that with an elbow drop and running knee drop but Nakamura kicks out of a pin. Roode continues to work on the neck of Nakamura. Very old school pace to this match. The crowd is starting to get restless though. Roode goes for a sleeper hold but Nakamura escapes and then manages to knock down Roode to get some separation. Nakamura continues to fight off Roode and hits a series of stiff punches and kicks. He gets Roode in the corner, shoots him to the other side and comes charging with a forearm smash. He gets Roode up on the top rope and connects with his running knee to the ribs. He kicks Roode to the outside and then sets him stomach first on the apron and comes running with a big knee strike. They get back in the ring and Roode kicks out of a pin attempt. Nakamura wants his reverse exploder suplex but Roode blocks it. Nakamura changes it to a German but Roode blocks that too. Nakamura comes off the ropes and Roode connects with a strong lariat. Roode back in the corner with Nakamura but Nakamura comes running out with a strike to the face. Nakamura then sets up for Kinshasa but Roode moves and then chop blocks the previously injured knee of Nakamura. Now he's all over the leg and then proceeds to wrap the knee around the ringpost. Roode then locks on the Figure Four right in the middle of the ring. Nakamura eventually reverses the pressure but Roode gets the ropes and just goes right back to work on the knee.
Roode yells at Nakamura to quit as he goes for the Figure Four again but Nakamura reverses it into the cross armbreaker. He transitions it into a triangle choke but Roode powers up. Nakamura manages to get him back down though and he's got the armbreaker hooked in the middle of the ring. Roode somehow scrambles to the ropes with his feet. Nakamura takes a few extra seconds before breaking it and then starts to destory Roode in the corner with kicks and knees. He puts Roode back up on the top turnbuckle and goes for that knee to the ribs again but Roode slides off and Nakamura hits that injured knee into the top turnbuckle. Nakamura manages to get up and uses his good leg to kick the bad arm of Roode. Roode dodges one kick and grabs Nakamura in a backstabber. Nakamura kicks out again. Both men get up face to face and start to trade blows. Roode goes for the Glorious DDT but Nakamura blocks. Nakamura hits a front suplex and hits a knee strike to the side of the head but Roode kicks out. Nakamura wants to hit Kinshasa but Roode slides to the floor to prevent it. Nakamura goes after him and sends him back in. Roode kicks the ropes as Nakamura gets in and he hits a massive Glorious DDT, absolutely planting Nakamura but Nakamura kicks out! Roode goes to the outside and decides to grab the ring bell. He comes back in with it but the ref sees it the entire time. The ref takes it away and Nakamura comes from behind and hits his reverse exploder suplex. Nakamura comes with KINSHASA…. but Roode reverses it into a picture perfect spinebuster! Roode with the pin but Nakamura kicks out. Both men struggling, but Roode hooks the DDT again, however Nakamura bumrushes him into the turnbuckles. Nakamura charges Roode but Roode chop blocks the knee again. Roode is on the second rope and hits a Tornado Glorious DDT! Wow that looked good and that manages to get the pinfall! Tremendous psychology in that match!
Winner: Still NXT Champion, Bobby Roode
Roode celebrates on the stage after the match and that's our show.
K-Tank's Final Takes
Here is a look at your new NXT Titles. The Women's & Men's single titles are very similar.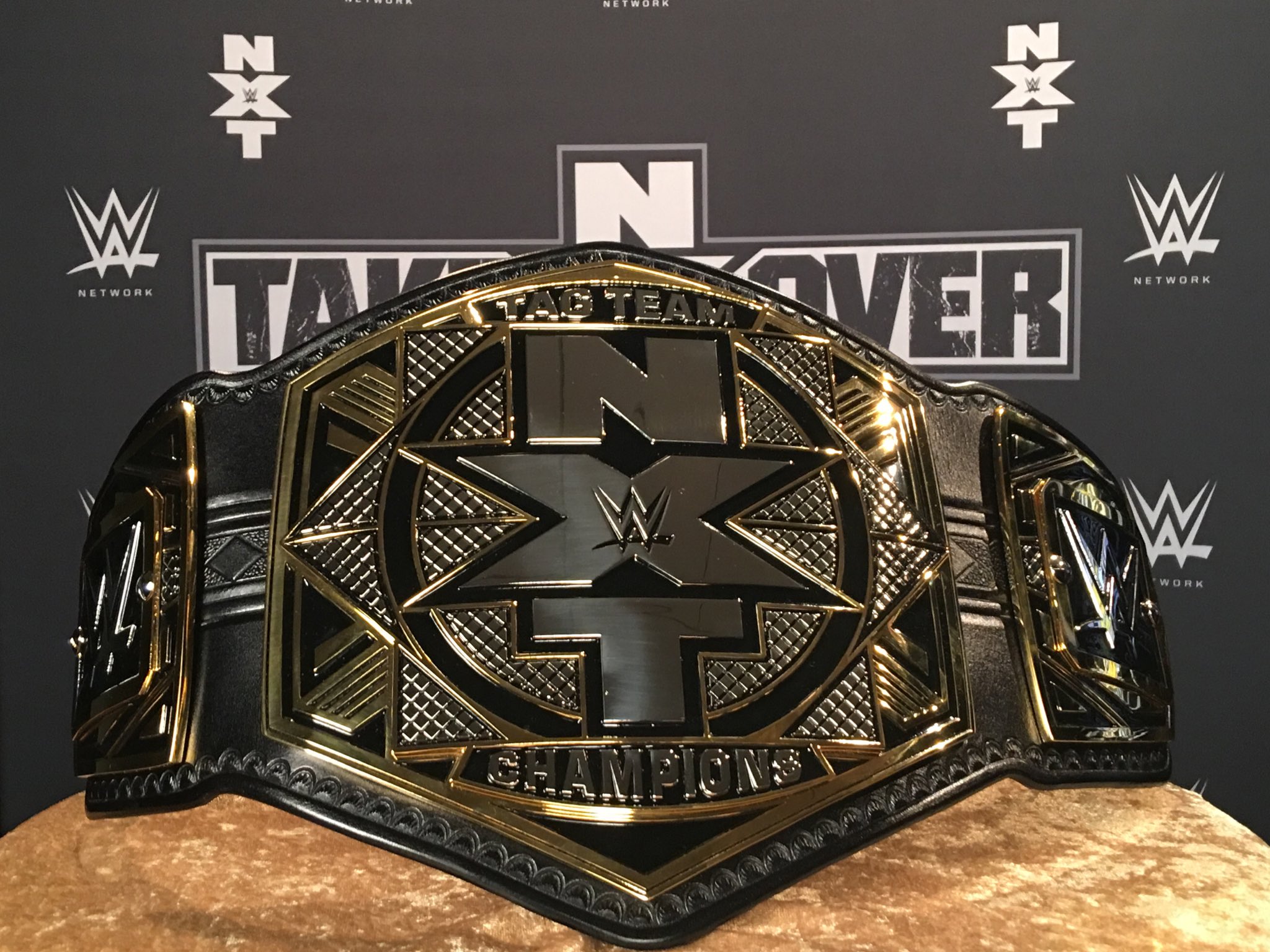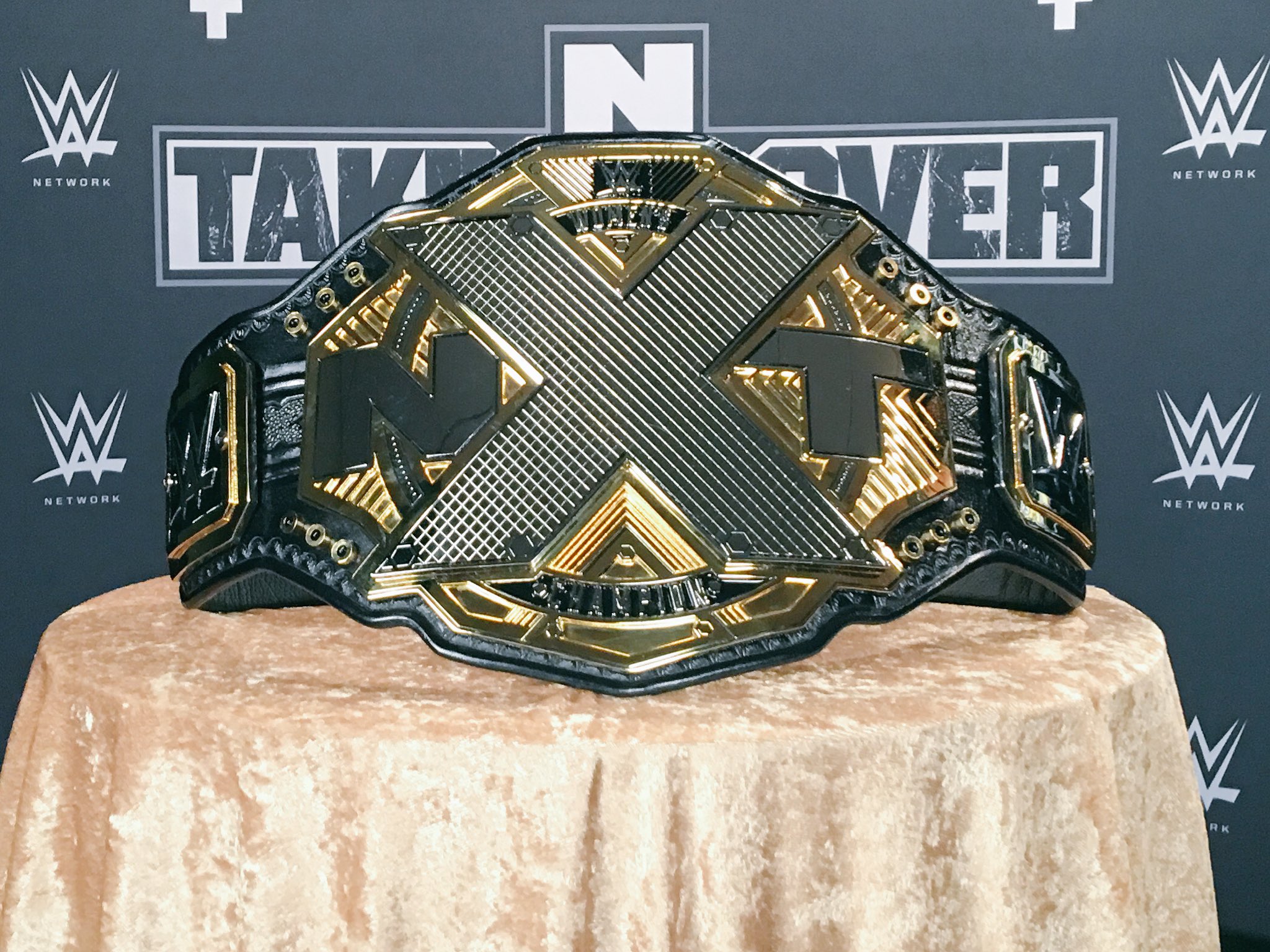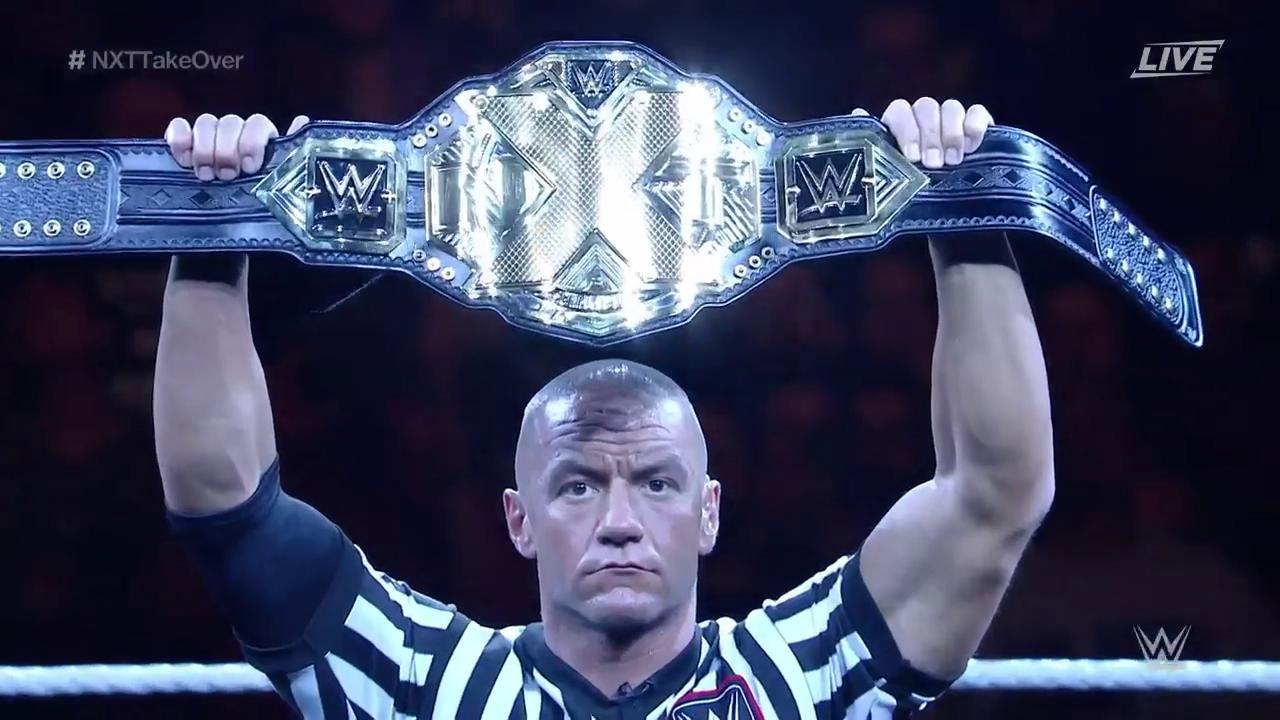 * That was a tremendous show from top to bottom. As I said, the crowd didn't like three of the finishes but I thought top to bottom, this was action packed and really delivered. Everyone put on their working boots and wanted to show that NXT is going to be ok moving forward. Kudos to everyone on the card.
*I'm very surprised by no title changes tonight, but obviously that's not a bad thing. (How you doin' Raw Women's Title?)
* UPDATE:Drew McIntyre has already confirmed he is with NXT full time. Hideo Itami should be back on TV any time now and you're adding those two along with Aleister Black who was presented as a big star tonight, that's a bolstered lineup when they desperately needed it.
* Was this the last time we'll see The Revival and Nakamura in an NXT ring? My gut says yes (not counting any live events they may already be contracted to) but time will tell.
Thank you guys for tuning in with me and reading along! I'll see you guys on Monday with a new episode of The Match Beyond podcast and then Wednesday for all the fallout from tonight. Enjoy WrestleMania in the meantime. Until then, don't do anything I wouldn't do… but if you do, name it after me!