WWE NXT Spotlight: 8/24/16 + Takeover: Brooklyn Reaction by Kurt Zamora
Welcome one and all to the newest installment of the NXT Spotlight right here at TJRWrestling. We are just a few days removed from a tremendous Takeover event in Brooklyn, that for the second year in a row, stole the spotlight from WWE during their second biggest weekend of the year. NXT officially steps into a new chapter in the brand tonight. Due to tonight's episode being a lot of recaps of Takeover, I'll have a different format and recap the two matches that take place, and then follow that up with my thoughts on each of the matches that took place Saturday. Let's get to the action!
Tye Dillinger vs. Wesley Blake

Blake may be the front runner for worst theme song. Please Baby Wrestling Jesus, let this be a rebuild of Dillinger. The crowd went insane for him, which was great to see. Both me tie up to sart and end up on the ropes before getting a clean break. The crowd chants, "Blake's a Zero". He proceeds to armdrag Dillinger and then bows and blows him a kiss. They tie up again and Dillinger backs Blake into the corner. Blake ends up turning it and getting a headlock on Dillinger. Dillinger shoots Blake into the corner, Blake goes to jump over him but Dillinger isn't there and then catches Blake off guard with a snapmare. Dillinger cartwheels and determines it a 10. They go to the corner now and Dillinger hits a couple chops. The ref wants a break in the corner and gets in between, which allows Blake to get a poke in the eye. Dillinger is blinded and ends up getting slammed face first into the turnbuckle as we go to commercial.
We come back to Blake shooting Dillinger into the ropes and dropping him with a clothesline. Now he hooks Dillinger in a face lock to wear him down. Dillinger, with the help of the crowd, fights out with some elbows. Blake shoots him into the ropes and Dillinger comes back with a small package pin. Blake kicks out. Dillinger gets sent to the corner and ends up getting tied up in the ropes. Blake some some forearm shots to the back and then pulls Dillinger down in a Backstabber. Blake goes for a pin, but Dillinger kicks out. Blake then bodyslams Dillinger and goes to the top rope. He goes for a swanton but Dillinger moves. Blake is up quick, but gets hiptossed into the turnbuckles. Dillinger fires up and lays in the kicks and punches to Blake. He nails a back body drop on Blake and then a side Russian leg sweep. He stomps Blake right in the face and then exposes his right knee to go for his his finisher, the Tye-Breaker, which is a Fireman's Carry into a knee right in the back of the neck. Dillinger wins! Thank God. Triple H would know better than anyone, "We can rebuild him."
Winner: Tye Dillinger
The Authors of Pain vs. TM61
On the flip side of Blake's awful theme, I love The Authors of Pain's theme and entrance. They have new masks they wear on the way to the ring. I hate that they don't have names yet, although I understand it, so for the ones new to the Spotlight, I'll be using their real names. AOP rushes the ring and the match starts with all four men brawling. Sunny and Nick Miller square off and Shane Thorne with Gzim. TM61 somehow manages to dump AOP over the top rope. Shane Thorne comes FLYING over the top rope and takes out Gzim while Nick Miller dives to the outside to take out Sunny. Paul Ellering regroups his men and everyone goes to their corner as the match officiall starts.
Sunny and Miller start the match. Sunny knees Miller in the gut and although Miller fights back, Sunny drops him with a back elbow. He goes for a back suplex, but Miller lands on his feet and tags in Thorne. Both men try to get Sunny off his feet but can't. Sunny gets backed into the corner and Thorne comes at him with a leg lariat. Gzim comes with the distraction though and then slides Thorne across the apron until he goes shoulder first into the steel post. Sunny drags Thorne back into the ring by his jaw. Well, speak of the devil, Tom Phillips just said that apparently Paul Ellering has told them that The AOP's names are Akim (Sunny, I could be spelling that wrong too) and Razar (Gzim, and likewise). So I'll switch to that and if anything changes, I'll make sure to break the news to you all.
Akim has a neck vise of sorts on Thorne and then sends him hard into his corner. Razar tags in and splashes Thorne in the corner. He goes for a pin but Thorne kicks out. Razar goes for a powerbomb, but Thorne gets free and then hits a jawbreaker. He hits an enziguri and makes the tag to Miller. Miller lays in some shots on Razar and then drops him with a clothesline. Then he hits a seated forearm shiver. He knocks Akim off the apron and then goes to the top rope for a cross body block. He goes for a cover and actually gets a two count. Thorne tags in now and they double team Razar in the corner and then bring him out and hit him with the High/Low. Razar again kicks out at two. Miller tags back in and they go to double team Razar, but Akim grabs Thorne's foot and Razar ends up giving Miller a big spinebuster. Razar with the cover and Thorne manages to break it up. Akim lays out Thorne as he tried to do a dive through the ropes and then The AOP pick up TM61 in double powerbombs. They crack backs first and then drop them to the mat. They set up Miller for the Russian Leg Sweep/Lariat combo and that gets the victory. Good showing for both teams, I liked that match.
Winners: The Authors of Pain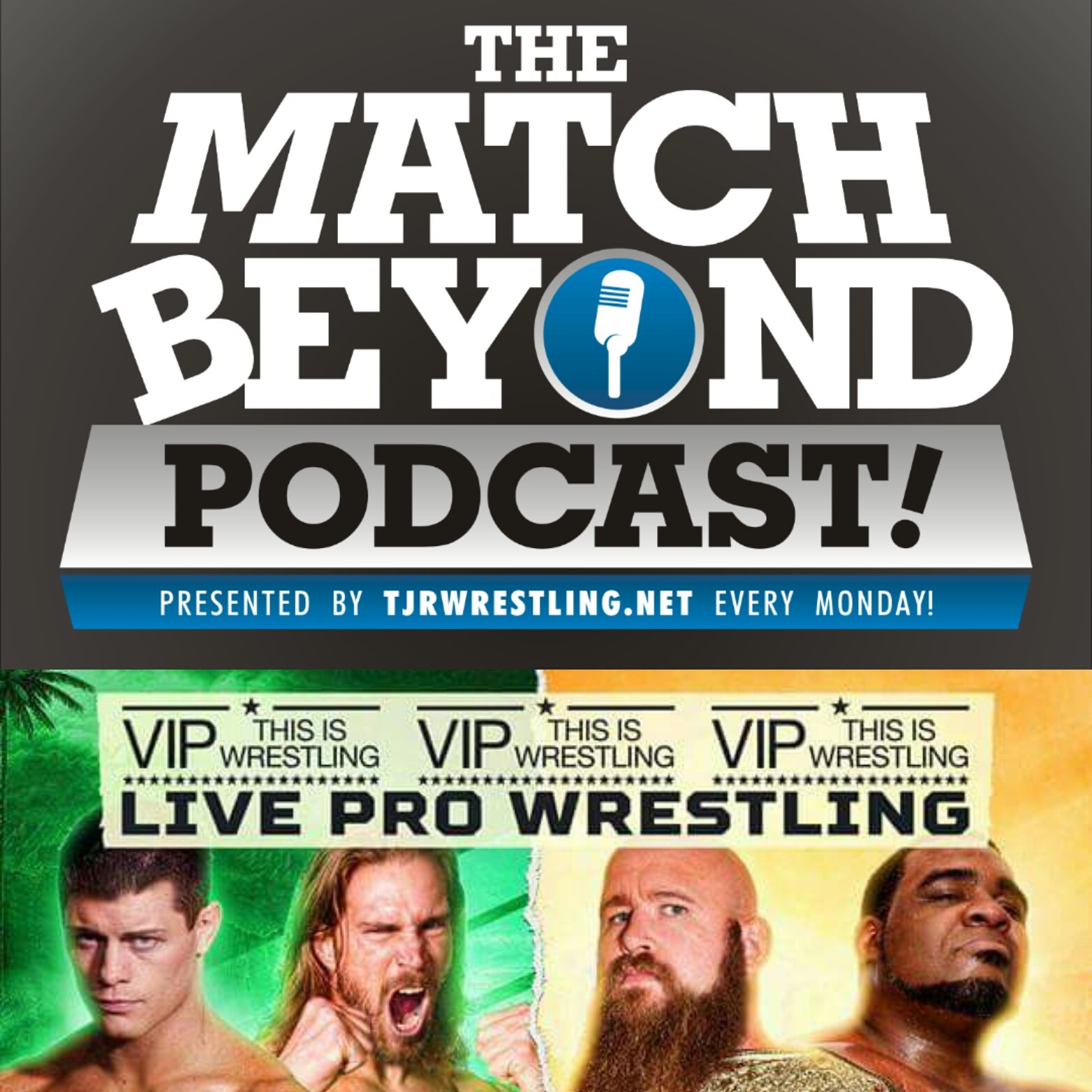 Quick Plug: Just a reminder that my podcast on TJRWrestling, The Match Beyond, will debut a week from Monday on September 5th. My first guest will be Lamont Williams, who runs VIP Wrestling based out of Dallas, Texas. This company has gotten some national recognition in 2016, especially during WrestleMania weekend when they took the crazy chance to hold a show immediately following WrestleMania 32. The chance paid off as they manages to sell it out. They've had the likes of Johnny Gargano, Tommaso Ciampa, Zack Sabre Jr, among many others come through their ropes and we talk about it all. If you're a fan of indy wrestling, you will love this discussion.
K-Tank's Takeover Final Takes
Austin Aries vs. No Way Jose: I may have been in the minority, but I really thought Jose needed this win more, and on top of that, I really don't like how quickly he was discarded for Hideo Itami. I think Jose can be a player in the company and actually be a star that WWE developed. Nonetheless though, I thought this was a good opener and definitely another strong showing for Aries. He looks to have his feet under him now and is much more comfortable in the heel role. Despite my comment about Jose being discarded for Itami, there is no denying that this was a breakout moment for Itami that he desperately needed. I said that when Itami returned, he would have every opportunity to be a top star again once we got past Brooklyn. He needed something to get him there and he had the secret weapon in the GTS. The crowd wanted it, and when he hit it, they erupted. A great finisher goes a long way, and now people will be clamoring for Itami to hit everyone with it. This is a very good sign for him.
Bobby Roode vs. Andrade "Cien" Almas: Let me first start with Almas. I thought this was his best performance thus far, and he really needs to build off of this. For the first time, he looked comfortable, showed some solid fire, and didn't look hesitant. As for Bobby Roode, what more can be said? It was, in a word, GLORIOUS. From the moment his entrance started, he was presented as a star, which is the way it should be for him. He looked crisp in the ring, sold his ass off for Almas, and made the crowd want to see more. I'm very interested to see if they continue to try and make him a heel, or if they'll organically let him become a babyface. I look for him to be next in line for the NXT Title very soon.
Ember Moon vs. Billie Kay: I feel this match would've been better served on its own, like on tonight's show, because I don't think it made the impact they wanted in just the few minutes it was given. If i'm not mistaken, the match was only about four minutes long. Luckily for Moon, as I said above about Itami, a great finisher goes a long way. Her finisher got people out of their seats and made them take notice. Ultimately, maybe that's all that matters. I'm not the biggest fan of the name Ember Moon, and that's coming from someone who's favorite woman in wrestling is named Velvet Sky. She has the talent to overcome something like that, and she has a great look. Due to the lack of challengers for Asuka, I can only guess that she'll get fast tracked for a title opportunity.
NXT Tag Title Match: The Revival (c) vs. Tommaso Ciampa and Johnny Gargano: If you're someone who feels the main event was the best match of the night, I won't argue you much, but I'm going to go ahead and give myself credit for saying this match would steal the show because it absolutely did. I felt this was the best match of the night, bar none. It was tag team wrestling at it's absolute finest. I loved the fire that the challengers showed, and I continue to love how The Revival get better each and every time out. The nearfall where Gargano speared Dash and Ciampa had the small package on Dawson, was one of the best nearfalls I've ever seen. I really thought that was it, and as the crowd shots immediately afterwards showed, so did the fans in Brooklyn. My only complaint, and I fully admit I could be looking too much into this, is that they're already looking to break up Ciampa and Gargano. I really think the DIY saying on the shirts that Ciampa presented is symbolism for when Ciampa turns on Gargano. Not only that, but if you go back and look at when Gargano and Ciampa go up the ramp, Gargano tells his partner that he's sorry, Ciampa hugs him, but there's a very distinct look in Ciampa's eyes that make me feel the heel turn is coming.
NXT Women's Title Match: Asuka (c) vs. Bayley: This match is another reason I feel they shouldn't have tried to force the other woman's match on this card. This match went just under 15 minutes and I feel if they could've had the 4-5 minutes from the Ember Moon match, they would've had an all time classic. It was on the cusp, but not quite there. As a swan song for Bayley's NXT tenure though, it was damn near perfect. Both women upped their game and brought the physicality I expected. Asuka kicking out of the Bayley to Bayley was a huge surprise and really put over how tough it is to put her away for good. Corey Graves had a great line about Bayley when referencing their Dallas match, basically saying, Bayley the person will never give up, her body is the one that gave up. It really spoke to the heart of Bayley and why I really think she appeals to everyone. The women's division is in more flux than any other division in NXT right now and as unstoppable as Asuka is looking right now, I don't know how you have the time to build someone that could credibly defeat her, when someone like Bayley couldn't do it twice.
NXT Title Match: Samoa Joe (c) vs. Shinsuke Nakamura: From the moment the live violin started playing, you knew this match would be something special. That was one of the coolest entrances I've ever seen. Visions of what that would be like on a bigger scale, like WrestleMania, danced through my head as Nakamura made his way out. There is no one in wrestling, in my opinion, that controls a crowd like Nakamura does. He's captivating. The pacing of this match was about as perfect as you can get. Both men trying to get the advantage, clearly wanting to get the upper hand on the other. It wasn't as hard hitting as I expected, which is not a slight, just a notice that they did a different style of match than I anticipated. Although, the fact that Joe had a dislocated jaw maybe makes that statement look stupid on my part. The right man won, as that crowd was begging for the title change. You can argue all you want that Nakamura should be on the main roster, but with Finn Balor no longer on NXT, they need that transcendent star to sell all the big live events on and carry the torch for the brand. Nakamura will be that guy at least into the new year. Maybe by WrestleMania, he'll do the Sami Zayn role and double dip a bit, but for now, he is NXT's shining star.
Next week, there will be a guest reporter on the Spotlight as I will be out of the country on vacation. Not sure who that is yet, but nevertheless, I will see you all in two weeks. Until next time, don't do anything I wouldn't do. But if you do, name it after me.