WWE Network Reviews: WWE Talking Smack for 3-6-21
For this week's Talking Smack, we are welcomed by our host Kayla Braxton alongside Paul Heyman. Speaking about Fastlane, Kayla mentions Daniel Bryan winning his steel cage match against Jey Uso on Smackdown this week, thus giving him a shot against Roman Reigns for the Universal Championship. Asking Heyman for any comments, the special counsel says Daniel Bryan is a very interesting person. He has everything a man could want with a wonderful wife, healthy children, and the WWE Universe behind him. However, according to Heyman, the only thing Bryan does not have is a strategy to beat Roman Reigns. Paul assures that as much momentum Bryan has right now, he is not man enough to beat Roman Reigns. He does not think Bryan is capable of taking Reigns out of the main event of WrestleMania. Instead, Heyman says Bryan just bought himself a ticket to an ass-kicking from Roman Reigns that will serve as a message to Edge. Heyman ends by saying it not a prediction, it is a spoiler.
Aneil's Take: After Daniel Bryan won the steel cage match, I immediately looked forward to hearing what Heyman had to say. Again, Heyman did an amazing job selling this match and portraying Bryan as the underdog in this match. For me, I am still a bit disappointed that Bryan vs Roman for the Universal Championship won't be at Wrestlemania, especially after the valid points Bryan made last week on Talking Smack.
The first guest is "The Role Model" Bayley. Heyman kisses Bayley on the hand in which she pretends to faint. Bayley does the same Kayla but the host plays it off. Bayley tells Kayla she is here to take her spot, adding that says she can offer more to Talking Smack than the current host. Heyman brings up Kayla's appearance on Raw Talk, which the host says was pleasant to have a co-host like Truth. Bayley tells Heyman she would never leave him for Raw Talk. Kayla speaks about Bayley's "sweet tweets" segment, mentioning that the "Ding Dong Hello" host crumbled on the tweets. Bayley tells Kayla she has her host outfit so she will ask the questions. Bayley asks Kayla if she was the one who wrote that her show was an abomination. Kayla answers that she did not but would give an applaud to whoever did. Bayley breaks her glass out of frustration before Braxton asks her a question. When asked who would she like to have as a guest on Ding Dong Hello, Bayley says she has a lot of guests such Ellen, Seinfeld, and even Ricki Lake. Kayla mentions Bayley receiving a tweet from a fake Ellen account. However, Bayley says she knew because if she would receive a text from the real Ellen instead of a tweet. Heyman apologizes to Bayley for Kayla's behavior and accuses his co-host of besmirching their guest. Bayley says she still runs Smackdown and tells Braxton to get off her show. The interview ends with Heyman thanking Bayley and adds that Kayla should step in the ring with their guest.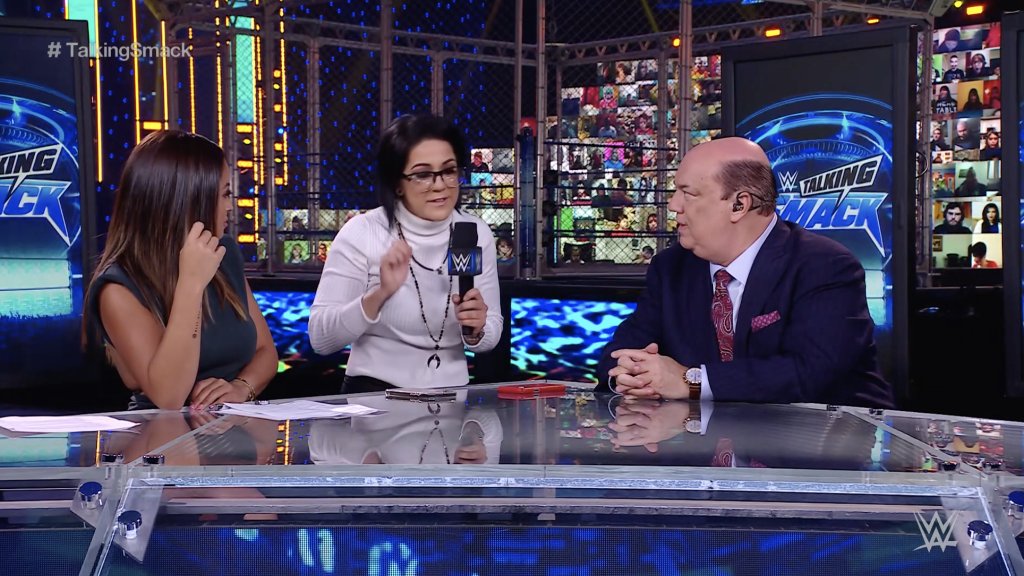 Aneil's Take: Kind of funny interview here with Bayley. Looks like Bayley's new feud will involve whoever wrote the tweet that her show was an abomination. With her feud against Bianca over, not sure what they will do with Bayley. She still has a lot of value being the longest reigning Smackdown Women's Champion, maybe she can work with someone new like Chelsea Green or possibly Billie Kay.
The next guest is Apollo Crews with his Nigerian nightguards. Heyman asks Apollo if it ok to shake his hand, intimidated by the presence of the guards. Kayla says she is impressed by what Apollo has done lately and introducing his real self. Apollo says this is who he has been. He hated that he had to hide himself and his heritage but now it is great to be himself. Apollo says while Big E should stay home, he wants foe to return because has something that he wants in the Intercontinental Championship. He says his ancestors are great warriors and will continue the heritage by taking the Intercontinental Championship. Kayla says Apollo had failed in the past trying to capture the title however, Apollo says he never saw it as a failure. Apollo believes he has learned from it to where Big E now wants to come back and face himself after what he did to him. Heyman says he is impressed by Apollo both physically and strategically. Apollo says he promises that he will be waiting for Big E and will show the world how great he really is. Apollo shakes Heyman's hand before leaving. Kayla gives credit to Heyman for his comments which seem to light a fire in Apollo. Heyman says it is not a popularity contest but longevity and he has been correct for so many years. Heyman believes Apollo Crews is a main event talent, before ending with it not being a prediction but a spoiler.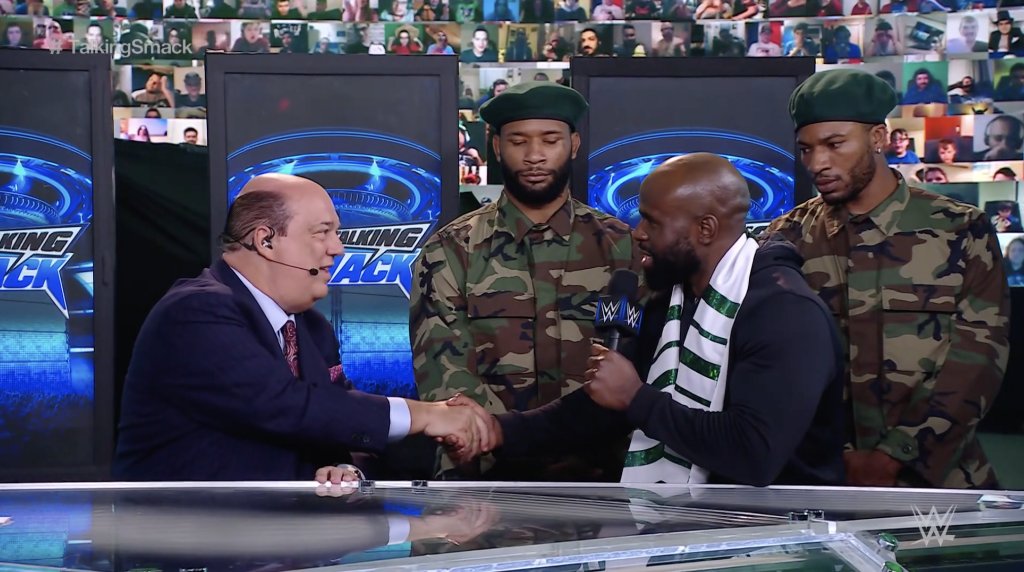 Aneil's Take: It has been great to see Apollo transform himself and finally getting a character. Just take a look from the first promo with Heyman to now, what a difference it has made. Many people know how gifted of an athlete he is, but the "always smiling" babyface gimmick before stale after a while. I like him using his Nigerian heritage in his character as it gives an authentic feel to him. I hope this new Apollo Crews helps him become the breakout superstar that many hoped him to be.
The final guest is Dominik and Rey Mysterio. Rey gingerly sits, still hurt from the splash he took from Otis last week. Kayla brings up the situation between the Mysterios and the Alpha Academy. Heyman cuts off Kayla before telling Rey he has known him for a long time. Heyman says he knows Rey has a lot on his mind and he does not have to answer any questions before giving him the floor. Mysterio looks into the camera, saying he has been working hard to teach his son to become a man. They have been training day in and day out to help Dominik become the best version of himself. However, Mysterio is disgusted seeing someone like Gable puppeteering Otis, to make the big man "his bitch". Mysterio says even though Otis crushed his ribs, it fuels him up. He says he has been underestimated in the past by being in the ring with the baddest of men. However, Mysterio says it does not matter because he has found a way to take them down. Speaking to Chad and Otis, Mysterio ends by saying they have no idea of the hurricane that is coming their way as Talking Smack ends.
Aneil's Take: Short, sweet promo by Rey to address their feud with Chad Gable and Otis. I honestly did not expect this serious of a promo by Rey but I love it. I did want to hear Dominik speak but Rey did the job to help their current storyline. The only thing that bugs me and it might not be related to the storyline but I don't get why WWE separated Otis from Tucker just to put him in another tag team? I think Heavy Machinery against The Mysterios would have worked as well. Anyway, I can only hope this feud will help Dominik and Rey become number one contenders for the Smackdown Tag Team Championship at Wrestlemania. By the way, where are the tag team champions? It's been like three weeks since they were on TV.
Final Thoughts
I thought this was a good Talking Smack. The first segment with Bayley felt like something from Raw Talk, but the last two with Apollo and the Mysterios did a good job of furthering their storylines. That's all I ask for! Use this show to help further the storyline and develop characters!