WWE Network Reviews: WWE Talking Smack for 3/13/21
Talking Smack begins with host Kayla Braxton speaking about the news coming out of this week's Smackdown. It was announced that Big E will defend his Intercontinental Championship against Apollo Crews. Also, the contract has been signed as Daniel Bryan will challenge for the Universal Championship at Fastlane against Roman Reigns. As an added stipulation, Jey Uso and Edge will face off on next week's Smackdown to determine who will be the special guest enforcer. When asked about his thoughts for the special enforcer stipulation, Paul Heyman says while Zayn bitches about a conspiracy on himself, the special counsel believes there is a conspiracy against Roman Reigns. He talks about an ambitionless Daniel Bryan suddenly wanting the Universal Championship and then Edge coming off a serious neck injury not being smart for going after Roman Reigns. He then subliminally talks about Edge's best friend Christian running away because he was afraid to be another victim of Roman Reigns. Heyman says Edge wants to get involved in the Universal Championship match because he thinks Daniel Bryan would be an easier opponent than Reigns at Wrestlemania. Heyman concludes by saying that there is only one opinion that matters and that is Roman Reigns.
Aneil's Take: Great start to Talking Smack with the news of the Intercontinental Championship and next week's match between Edge and Jey Uso. I do like the little tease between Edge and Daniel Bryan on this week's Smackdown. While I think it will be a singles match between Edge and Roman Reigns, having Bryan being include for the time being makes it more interesting. The subliminal of Christian jumping to AEW in Heyman's promo was pretty clever.
The first guest is Sami Zayn along with his documentary crew. Zayn says he was in a good mood until he heard Heyman saying the conspiracy is not on him but Roman Reigns. Zayn wonders how can there be a conspiracy on Reigns when The Tribal Chief has main evented numerous times. A passionate Zayn slams his fist on the table, asking Heyman how is that possible? Heyman nervously answers that there is more than one conspiracy as Zayn says he is losing it. Zayn tells them he is in a good mood because his documentary is coming out soon and accuses WWE of putting a "mole" in his crew. Zayn then brings up Heyman admitting to conspiring against him while as the Raw Executive Producer. However, the former Intercontinental Champion says he wants to thank Heyman because he proved him right. Zayn believed it might just be him thinking such until hearing Heyman admitting to being a part of the conspiracy. Heyman says he is honest, even more, honest than Abraham Lincoln. Zayn explains that he came onto Talking Smack to thank Heyman for proving his conspiracy, and will show his documentary whether WWE wants it or not before leaving. Heyman then reveals that it was Kevin Owens' idea to bury Zayn while he was the Raw Executive. He had the idea to put Zayn and Owens as a tag team against the Street Profits but accused Owens of burying Zayn during the production meetings.
Aneil's Take: It's been fun to watch Zayn continue his "Conspiracy Theorist" type character. I am interested to see what comes out of the documentary that has been recording for so long. Zayn does make a decent point about there being a conspiracy against Reigns when he has been on top for so long. I like that Zayn was able to use what Heyman said a few weeks ago on Talking Smack to help further prove his conspiracy theories. Lastly, I think Heyman might have planted a seed for a potential matchup between Zayn and Owens at Wrestlemania by saying Owens buried his friends during the production meetings.
The next guests are the Women's Tag Team Champions Shayna Baszler and Nia Jax (with Reginald). Kayla mentions the shopping segment which Nia and Reginald enjoyed but not Baszler. Kayla questions Nia about what does she like about Reginald. However, Jax avoids answering the question, saying she and Reginald are in a "situationship". Kayla then brings up Jax getting a championship match against Smackdown Women's Champion Sasha Banks on next week's Smackdown. With the possibility of walking into Wrestlemania as a double champion, Nia says Wrestlemania is two nights, so she can defend the Smackdown Women's Champion on one night and then the Women's Tag Team Championship on the second night. Heyman talks about Nia having to possibly defend the championship against Bianca Belair, whom he calls "one of the hottest superstars right now". Believing she has to be focused to defend the Smackdown Women's Championship against Bianca at Wrestlemania, Heyman bringing up a scenario where Nia can defend the championship against Bianca while Baszler defends the Tag Team Championship on her own. Nia agrees with Paul because she knows her partner can before Baszler says she would absolutely fight any two women by herself. However, Jax says she was kidding about Baszler defending the championship by herself. Baszler asked Jax how would win the Smackdown championship without her. Tension brews between them, until Nia questions Baszler about going after the Raw Women's Championship. Baszler remains quiet, thinking about the scenario before Jax and Reginald walk after. Shayna looks to Heyman and gives him a smirk before leaving the set.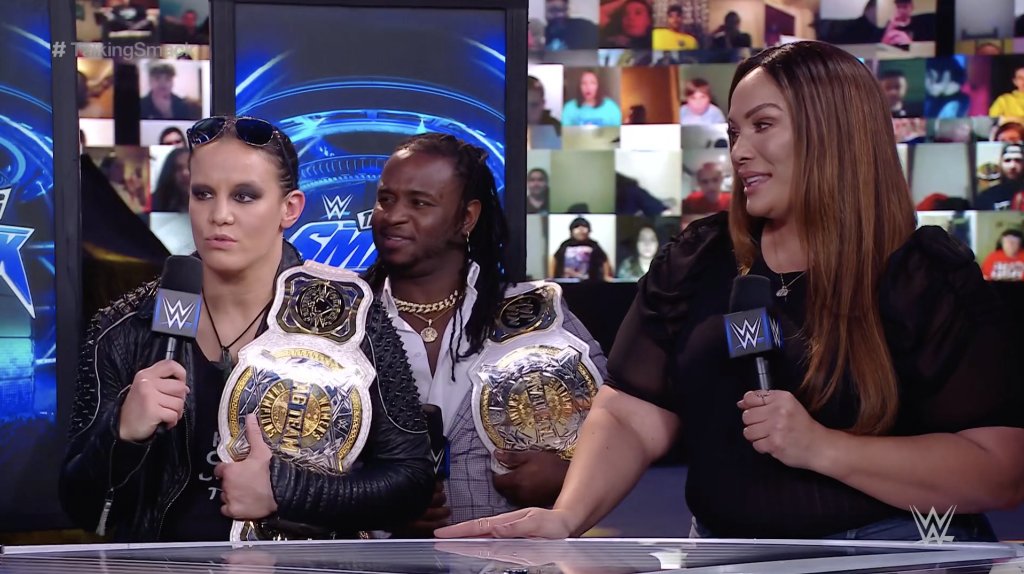 Aneil's Take: While I do not see any chance of Jax beating Sasha for the Smackdown Women's Champion next week, I think it was a great idea to build on the thought of her becoming a double champion. I like the different situations brought on, such as Nia becoming double champion and defending the championship over two nights. The conversation between everyone makes it seem like there was no doubt Nia would become champion next week. I wonder where does Reginald fits in this, and if he is really done with Carmella? Also, what was the meaning behind the smirk from Shayna to Heyman?
The final guest for Talking Smack is the Intercontinental Champion, Big E. The champion appears on the set, not his usual joyous, funny self but instead in a serious manner. Big E takes a moment before telling Heyman "this is what he (Heyman) wanted". Heyman turns to Big E, saying he will give a straight answer. Pausing for a moment, Heyman tells Big E it is not what he wanted but exactly what he told the champion what life would be like. He never offered a prediction to being Intercontinental Championship, but instead, offered a spoiler. Heyman tells Big E that he should expect these things as champion and says he fails for understanding the animosity towards Roman Reigns. Heyman tells Big E that he is now learning is what life is like at the top which is what Reigns has to deal with. He adds that there are no friends or no allies and everyone is jealous because they want to be in the position that Big E worked to earn. Heyman says everyone to be the Intercontinental Champion and wants to take away what Big E earned with Apollo is the first of many. Going back to Reigns, Heyman says The Tribal Chief understood this so he created the island of relevancy, referring to Jey Uso as Roman's secret service. Heyman says there are more than Usos available if Big E wants to protect his championship. Big E says he has learned a lot from Paul especially how shark infected the waters are. Raising his Intercontinental Championship, Big E says that it is his and at Fastlane, he is going to beat Apollo and embarrass him. After that, he will walk into Wrestlemania as the champion, hold the championship for a calendar year and then go into next year's Wrestlemania deserving of a Universal Championship opportunity. Big E proclaims in 2022, he will leave as double champion, when he beats Roman Reigns or whoever is champion before leaving the set. Talking Smack ends with Heyman smiling into the camera and clapping his hands.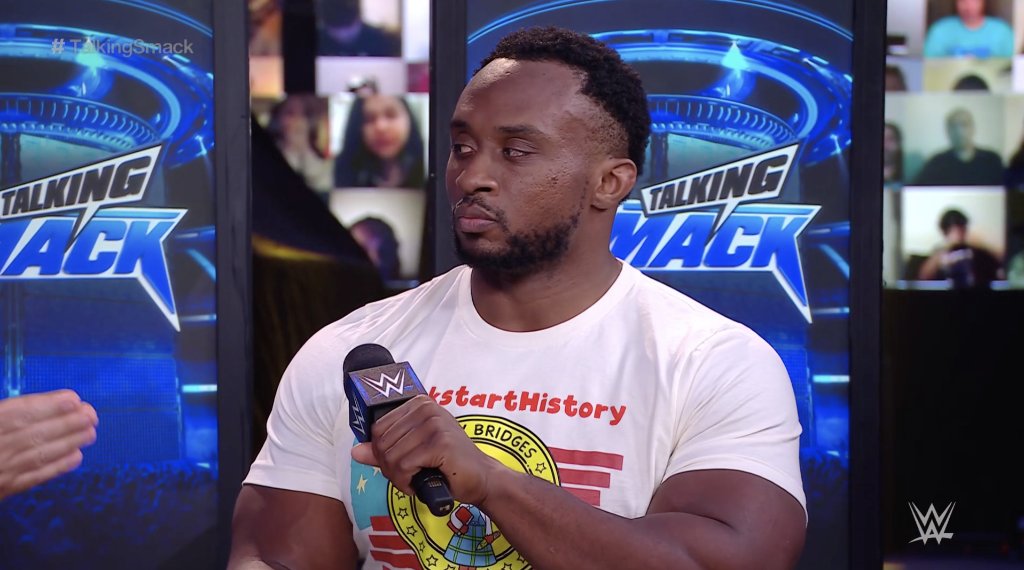 Aneil's Take: I like the indirect mentorship role Paul has played with Big E. At first, Big E seems to blame Heyman for the feud between him and Apollo. However, Heyman did an amazing job explaining that this is the life of being a champion. Everyone is gunning after you and everyone wants to be in your position. One thing I did like is Big E's ambition of wanting to hold the Intercontinental Championship for the entire year and then wanting to become double champion next year. A Roman Reigns – Big E feud seems like something in the works, it is just a matter of when.
Final Thoughts
I thought it was a really good Talking Smack. The segments flowed right and had a lot of meaning to help further storyline. I would like to see Edge on next week's Talking Smack or some time soon just to hear the conversation between them.