WWE Network Review: WWE Talking Smack for 2/20/21
This week's Talking Smack starts differently with our host Kayla Braxton, Paul Heyman joined by Apollo Crews. Kayla provides a medical update on Big E who suffered a brachial plexus injury after having a steel step thrown onto him by Apollo on Friday's Smackdown episode. Kayla asks for an explanation from Apollo but he turns to her and then looks back at the camera. Kayla questions if he has any remorse or regret for what he did to Big E but Apollo remains silent. Heyman tells his co-host that her question was appropriate and applauds her for it before taking over the interview. Heyman says Apollo wanted people to talk about him and now he has done that. He has also gotten Big E's attention as well as the spotlight on himself. The question for Heyman is when did Apollo decide to snap on Big E. Heyman wonders if it happened at the moment, or premediated by listening to the counsel himself or from the conversation he had with the Tribal Chief. Apollo stares off before looking back at Heyman with a smile. Apollo nods at Heyman before leaving which excites Heyman. The special counsel says he will pass the message to the Tribal Chief, although Kayla says they did not get a word from Apollo.
Aneil's Take: I like the different opening for this week's Talking Smack with Apollo sitting at the set. I think Apollo's silence during this segment did for more him than explaining his actions. Although he did explain seeing the true side of Big E before his match against Shinsuke Nakamura. Pretty cool to see Apollo being put in a long-term storyline with Big E. When Apollo had his first title shot, I thought it would be a one-off type match and Big E would continue. However, I think with this newfound aggression from Apollo, it will be interesting to see where his character goes.
After the Apollo Crews segment, Kayla spoke about Edge's message to Roman Reigns which Heyman, in turn, said the Tribal Chief sent a strong message to his potential challenger as well. Heyman asks if she knew what Roman Reigns said to Edge which his co-host says she did not. Heyman says he knows what Roman said but will not tell anyone. Kayla mentioned Seth's return last week, his fashionable "suit game" as well as Bayley's 'Hello Ding Dong' segment which leads to our first guest.
The next guest on Talking Smack is Carmella's sommelier, Reginald. Kayla spoke about this being his first time on Talking Smack and asked how his feelings being on the show. Reginald said it was pretty exciting before Kayla spoke about his victory on Smackdown. She then brings up Reginald coming in as Carmella's sommelier but now seems to have taken an interest in Smackdown Women's Champion, Sasha Banks. Reginald says it is very clear that he works for Carmella and is her sommelier. He praises Sasha but says his loyalty lies with Carmella. Kayla brings up Carmella throwing wine in his face backstage, but the sommelier believes the glass slipped from her hand. Being question on his motives, Reginald explains that there are no games and he works for Carmella. Kayla wonders at the idea of Reginald having a crush on Sasha which shocks both him and Heyman. Reginald tells Kayla she forcing something that is not there in regards to him and Sasha. Kayla asks for Reginald's assessment of the Women's Tag Team Championship match at Elimination Chamber. Reginald believes with Bianca and Sasha as a team, there is nothing to assess especially after what happened on Smackdown. Kayla goes back to Reginald's possible attraction to Sasha and wonders where his allegiance is. Reginald emphasizes that he is excited for his future in the WWE. Kayla asks Heyman if he has any advice for Reginald. Heyman formally introduces himself to Reginald, before taking a look at his resume. While complimenting his guest, Heyman crumbles up the resume and throws it away. He then asks Reginald if he can speculate what Reigns said to Edge. Reginald answers if Roman Reigns said it to Edge, it was not meant for his ears or Kayla's ear. Heyman asks Reginald to stand up before giving him a big hug and tells him he is welcome on Talking Smack anytime. Heyman says they are here for journalism, not speculation and gossip as he points to his cohost before the interview ends.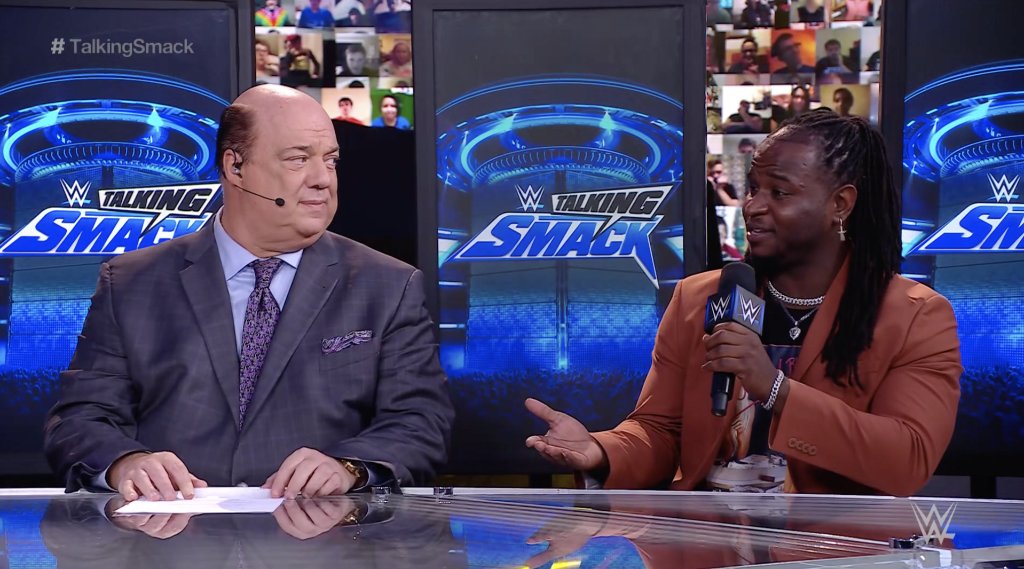 Aneil's Take: I enjoyed this interview with Reginald as it gave him a chance to speak on his own. While Kayla tried to create speculation between him and Sasha, Reginald did a great job expressing his loyalty to Carmella. I would think Reginald being friendly to Sasha and Carmella being upset with him is a ploy to get back at the Smackdown Women's Champion. I did like his clever answer to Heyman's question about what Reigns said to Edge.
The final guest is Kalisto who supposedly had an exclusive announcement to make. Kalisto talks about a feeling has he had for a long time before taking a deep breath. However, he is interrupted by Jey Uso, who tells him to move along before he gets "got". They stare down until Kalisto leaves the set. "The Right Hand Man" runs down his opponents at the Elimination Chamber match and says when he gets his opportunity at the title, he knows which title he will choose. He then hands it off to Paul Heyman who says it is "fight weekend". This weekend we have the rare opportunity to see a "one-in-a-lifetime" legend in Roman Reigns defending the Universal Championship against the winner of the Elimination Chamber match. Heyman adds the entire complexion of the WWE can change this weekend when Roman defends the title. He then goes on to say that there is no WWE without Roman Reigns. According to Heyman, there is no Smackdown or Talking Smack without Roman Reigns. He even takes a dig at Raw, saying there should be no Raw. They all exist because of Roman Reigns before pointing to the crew staff and saying they are employed because of the Tribal Chief. He calls Roman Reigns "the sun which we all orbit around". Heyman points to himself and Uso saying they are with the Chief, the champion and that they got the "juice" and "power". Showing that they have power, Heyman counts down to three before Talking Smack cuts off.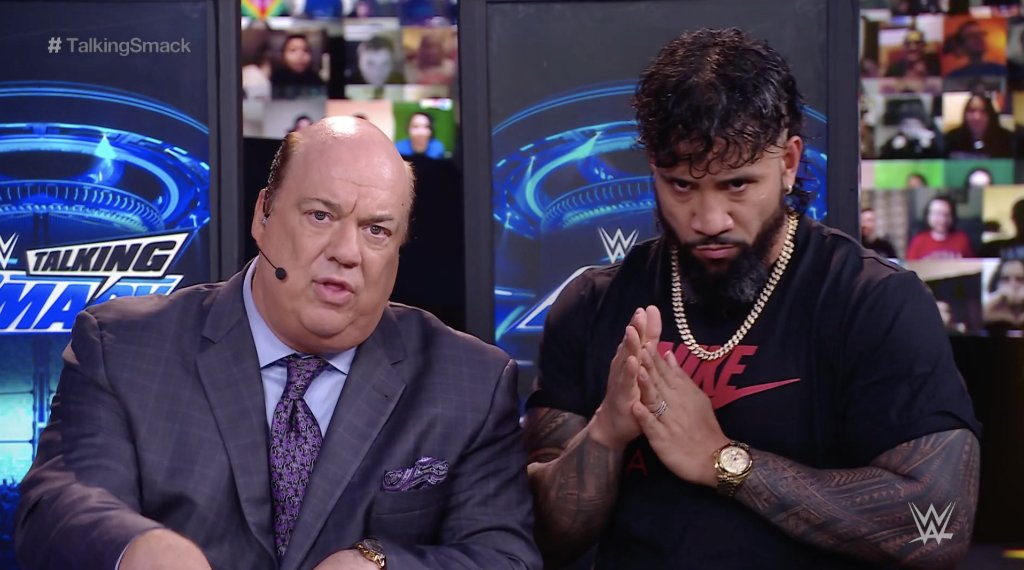 Aneil's Take: At first, I was wondering why Kalisto was a guest on the show until a few minutes later, Jey Uso interrupts. I would think this will lead to some type of match on Smackdown next week.
As usual, Heyman does a great job selling the match for this Sunday's Elimination Chamber. I have to agree, Reigns has become a must-see attraction in the WWE right now. I did like the dig at Raw, saying there should be no Raw. It amazes me how night and day Raw and Smackdown are when they are run by the same company. Otherwise, it was a short but solid Talking Smack.