WWE Network Review: WWE Talking Smack for 1/30/21
With one day left before the 2021 Royal Rumble, we kick off Talking Smack with hosts Kayla Braxton and Paul Heyman, who was getting his face touched up by a makeup artist. Kayla points out they are live which Heyman responds by saying just because she finished her makeup already, does not mean he cannot do his. Kayla keeping her calm continues that she will keep the show going when Heyman upsettingly stares at her. Kayla runs down what happened on Smackdown, mentioning the intense meeting between the Universal Champion Roman Reigns and Kevin Owens, as well as Bianca Belair's victory against Bayley. Heyman continued to stare at Kayla without saying a word as she talks about AJ Styles' appearance on Smackdown with lead to a match against Daniel Bryan. The match would turn into a ten-man tag team match and then ended with the return of Braun Strowman. Kayla asks for Paul's reaction which he responded that he does not care and wants everyone to understand his position. Heyman explains that he is not in the business of Smackdown, RAW, NXT, or WWE but of Roman Reigns. He serves as special counsel to Roman Reigns whom he claims the WWE universe orbits around. To him, Reigns is the solar heat for the WWE product, who generates pay-per-view buys and revenue. He believes WWE revolves around Roman Reigns and he only cares about the Universal Champion. The only time he is concern about others when it affects the Universal Champion Roman Reigns. Heyman adds that he likes and respects Kevin Owens but he will miss him after Reigns win his match by being the last man standing. Heyman concludes that he and Reigns will watch the Royal Rumble and knows that whoever wins the match will challenge Reigns because he is the main event.
Aneil's Take: I like that Heyman clarified that his only interest is his client Roman Reigns. While Heyman has offered his advice to several superstars on this show, he made it known that his only concern is the Universal Champion. He does such a great job building up Roman Reigns, putting him over at any chance he has to. I did find it a bit funny by changing up the opening of the show with Heyman getting his makeup done.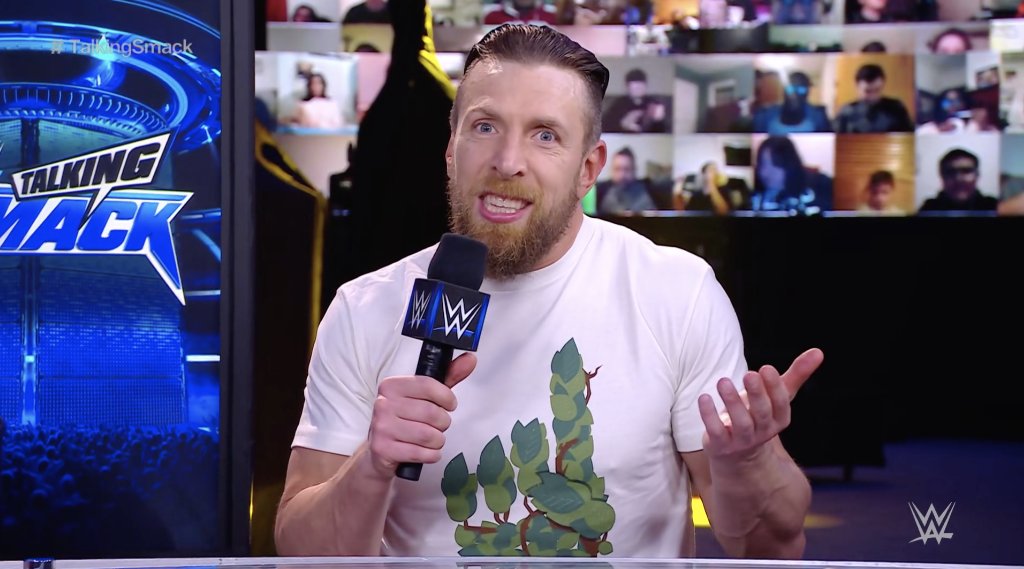 The first guest is on the show is the leader of the "Yes!" movement, Daniel Bryan. Bryan begins by showing off his new shirt which is made out of recyclable material. He then explains that the proceeds will go towards planting a new tree. While he does not condone unnecessary shirts but believes his shirt is purposeful. Bryan would turn his attention to Heyman whom he loved for talking about nature and the solar system. Daniel says loves science and space before making a joke that if Reigns is the sun, then Heyman is Uranus. Kayla laughs which Bryan tells her to "fist him" (giving him a fist bump). Kayla asks Bryan to respond to Heyman's earlier comments about knowing the winner of the Royal Rumble match will challenge Reigns for the Universal Championship at Wrestlemania. She then adds that Bryan has been vocal about challenge Reigns for the Universal Championship. Bryan says he is interested in Paul's opinion, calling him a "genius" in regards to the business but believes it is hard to get Paul's true opinion. Bryan mentioned that his full-time career was winding down and then asked Heyman if he ever thought that four-time WWE champion was the best. Heyman wavered to answer the question until Bryan says he remains in silence until the question was answered. Heyman then answered "yes" and "no" before explaining that he was worried Bryan was the best as he can be the best at every given night. However, while Bryan sees his career winding down, Heyman believes the veteran's career will continue especially if he were to get a taste of the Wrestlemania main event again which the special counselor called "intoxicating". Heyman tells his guest, if Bryan were to taste it again, he will want it again and again. Paul concludes that he does not think Bryan is the best right now, but he is worried he will be wrong if the leader of the "Yes!" movement were to beat Reigns at Wrestlemania. Bryan says he appreciates what was said but adds that Heyman got a couple of things wrong. Bryan says Heyman does not know what is his motivation and what drives him. Bryan says he is not interested in the adulation of the fans, admitting that he misses wrestling at the Performance Center because there was no noise, just wrestling. Bryan then brings up the 2015 Royal Rumble which he lost which Roman Reigns. While he was in the ring for five minutes, the fans booed the eventual winner that night, Roman Reigns. Bryan even mentioned that The Rock congratulated him in the ring but Reigns still got booed. Bryan then spoke about his theory that while Reigns might be the best at a whole different level right now but he does not wrestle with his heart. Everything prior was a disguise as he wore a bulletproof vest to hide his heart. Bryan says the fans connect with him because he puts his heart out there. Heyman focuses on Bryan, who says he does not wrestle to be the best and glory but he goes out and fights with heart. Bryan says he does not know if Heyman knows how passionate he is about wrestling but explains that his real passion is his family. However, before he leaves, he will give it his best. Bryan then lightens the mood, patting Heyman on the shoulder as he says Roman insulates himself with his family which is the opposite of him. Daniel says he likes to have fun and try new things, new experiences which is why he has been training with Alpha Academy. Chad Gable and Otis come into the picture, much to the repulsion of Heyman. Bryan says Gable has been teaching him and Otis how to use their hips before asking the former Money in the Bank winner to show Heyman how he uses his hips. Otis grabs Heyman from behind and thrusts his hips a few times. Afterward, an embarrassed Heyman covers his mouth and he looks down in disgust as Bryan says he will "toss off" so many men over the top rope. Bryan compliments Chad as a trainer, saying his glutes are so strong, as too his hips because he has been doing 15 sets of deadlifts every other day. The only person Bryan is concern about in the Rumble match is Otis because he has "very explosive" hips. The interview concludes with the trio does their "hip dance" which looks like the macarena ending with a hip thrust.
Aneil's Take: Absolute great conversation between Paul Heyman and Daniel Bryan. I like that Heyman did not want to say Daniel Bryan was the best because he did not want to disrespect his Tribal Chief, but at the same time could not deny it. Heyman did make a good argument that Bryan might change his mind if he were to taste main event success again. However, when Bryan responded to Heyman by saying his passion has shifted from wrestling to his family, you can tell it was genuine. What I also liked was Bryan mentioning the 2015 Royal Rumble which many believe he should have won, but ended up going to Roman Reigns. The 2015 Royal Rumble match should be the foundation of their storyline if Daniel Bryan were to win the Rumble and challenge Reigns at Wrestlemania. While there have been rumors about the Men's Royal Rumble finish, I think Daniel Bryan should be the one to win this match. It would be another great accomplishment on his soon to be closing career. Lastly, it was so funny to see the look on Heyman's face as Otis's hip thrust behind him.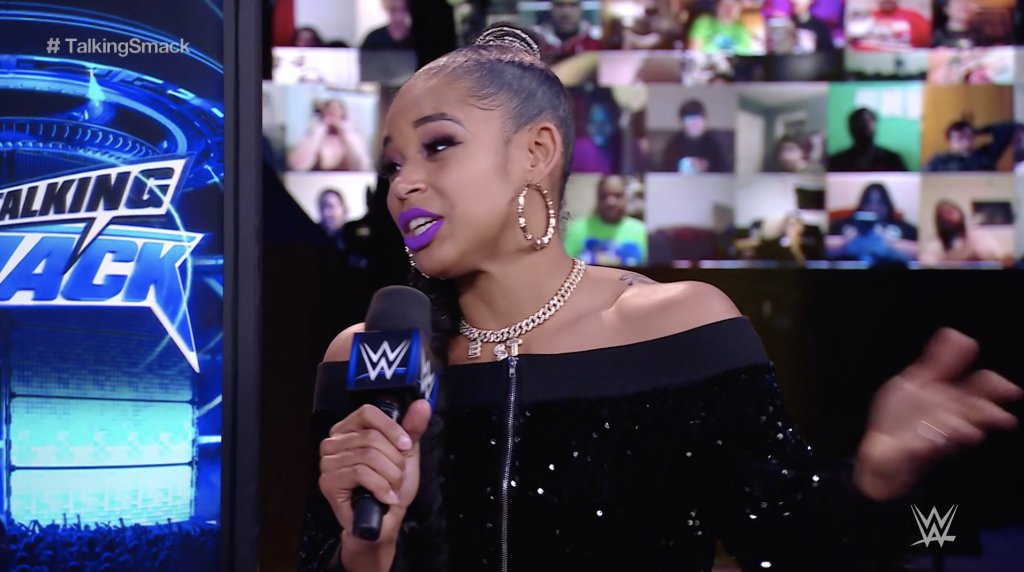 The next guest is "The EST of WWE" Bianca Belair. Heyman continues to sit there in disgust before greeting Bianca and telling her it is a pleasure to always see her. However, Paul says he will file a human resources complaint against Otis for what happened a few minutes ago. The interview gets back on track when Kayla asks Bianca about her WWE chronicle episode. Bianca says it has been great and was happy to use her platform to tell her story. She was able to connect with people as many have shared their stories with her. It also allowed her to reflect on her journey. Kayla then asks if Bianca realized she beat the longest reigning Smackdown Women's champion, Bayley. Bianca says she realized how big the victory was and believes she is now able to show people whom she is rather than telling them. Especially after everything she went through with Bayley, she could not think of anyone else to prove it against other than Bayley and called it is the biggest win of her career. Kayla brings up the Royal Rumble, which Belair made her debut in last year, and is tied with Shayna Baszler for the Women's elimination record at eight. The Talking Smack host asks "The EST of WWE" if the rivalry with Bayley behind her or will she be a target? Bianca responds that the Royal Rumble is unpredictable and there are other women to focus on too. However, she knows Bayley will try to one-up her and go after her in the match. Belair says she wants to get nine eliminations this year to tie with Shayna for the elimination record. Kayla congratulates Bianca on her win before as Heyman shakes her hand before concluding the interview.
Aneil's Take: While this interview did feel short to me, I think they were able to cover the three major topics. First, if you have not had a chance to watch Bianca's WWE Chronicle on the WWE network, please check it out. It is a great piece in which she reveals a lot about herself, both the bright and dark moments in her life. If you do not have a chance to watch it, you can read my review of it here. Second, I like that put over how big of a win it was for Bianca to defeat the longest reigning Smackdown Women's champion, Bayley. While I wish she had more momentum going into the Rumble match, the win against Bayley helps put some credibility to her. Third, I like that Bianca spoke about being a threat to win the Rumble and wanting to break her record from last year. I am looking for Bianca to do big things in this year's Rumble match. Hopefully, she can come out as the victor when it is all said and done.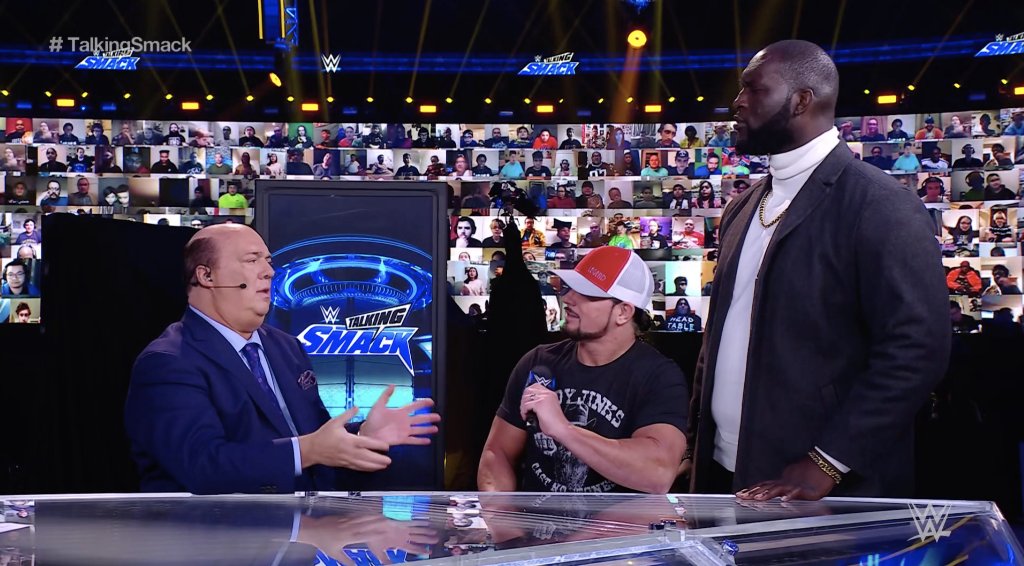 The final guest is "The Phenomenal" AJ Styles accompanied by Omos. Heyman's eyes widen at the sight of Omos as Kayla begins by asking Styles on his feelings returning to Smackdown. Styles notices Heyman staring at Omos which he warns the special counselor not to eyeball too much. Heyman turns to Styles and welcomes him with a handshake, before informing the Raw superstar that the Universal Champion is not here. Paul adds that he is not a physical threat and tells Styles that if Kayla gets "jumpy", he has his back. Heyman then looks back at Omos, giving the big man "his respect", believing his presence is a sign of intimidation. Styles says Omos is not there for intimidation, before asking Heyman if he wants Omos to leave. Heyman quickly objects, still baffled at Omos, before saying "my god are you huge". Styles says he did not finish which Heyman apologizes, before saying wherever he goes, Omos goes. Styles says he hears people call Omos a bodyguard, but he is more like a bouncer as he keeps things in control. Styles says Omos has not done anything wrong since he has been in WWE before Heyman welcomes the big man. Styles talks about Royal Rumble and says he looks forward to it. The two-time WWE champion reveals he has a plan. While pointing out he has never won the Rumble match, Styles says he will win this Rumble match and when he does, he will go after a championship. It might be the WWE Championship or Universal Championship but he has not decided. However, when he does, he will let Heyman know. Heyman interjects, saying that interests him and has invested interest since Styles has faced Reigns before. Heyman adds that Reigns has defeated Styles and calls Roman Reigns an impossible mountain for him to climb. However, this time is different because Styles had not had the resources (Omos) back then and has been on a tear on Raw lately. The way Heyman would view it, if, correction, when Styles wins the Royal Rumble, he can announce his choice on Monday or wait until Smackdown. Heyman states it is not a prediction, it is a spoiler that the main event of Wrestlemania will feature Roman Reigns and to challenge Roman Reigns means you have main-evented WrestleMania. Heyman says he would like for Styles vs Reigns to happen for selfish reasons since many have called "The Phenomenal One" the best in-ring performer of this generation. The words "best", "greatest", "number 1" should be copyrighted and trademark by Roman Reigns. However, Reigns cannot claim this until he steps in the ring and defeats Styles leaving that question up in the air. For Heyman, when AJ Styles win the Rumble match, Styles vs Reigns in the main event of Wrestlemania will not be box office "gold" but box office "platinum". Styles says he agrees as does Omos, much to the relief of Heyman. However, Styles says it is his decision and if he goes after Reigns and beats him at Wrestlemania, "The Tribal Chief" is no longer sitting at the head of the table. With Reigns no longer the alpha, it means Heyman would be out of a job and nothing would make Styles happier than seeing the special counselor out of a job. Styles ends by saying that would be great before telling both hosts to have a goodnight. Styles walks off as Omos approaches Heyman and stares him down. Heyman, who is super nervous and asks to wrap this up as this week's Talking Smack concludes.
Aneil's Take: Before seeing Talking Smack, I was hoping Styles would be a guest on the show, and of course they deliver. Of course, Heyman being the creative mind he is, putting over Omos' size by showing he was scared and intimidated by the big man. While Styles vs Reigns seems very unlikely, Heyman talking about Reigns being a mountain too hard for Styles to conquer had me sold. However, the one thing that had my people's eyebrow raised was when Styles said he would love for Heyman to out of a job. While I might be reading too deep into this, his comments might be about the reports of Paul Heyman, who was the Raw head executive at the time, being behind the firing of Karl Anderson and Luke Gallows back in April of 2020. It was said that Heyman promised Styles that his buddies would be safe but felt betrayed by the release. The tension was high between the two men, leading to Styles moving to Smackdown. Now, this might be two geniuses trying to stir some attention by bringing up old wounds since Styles has said in the past that it is now water under the bridge. It just still found those comments interesting that might otherwise have slipped past others.
Final Thoughts
I thought this was another great episode of Talking Smack. Paul Heyman and Daniel Bryan did a great job furthering the story between the potential match between the Yes! Leader and the Tribal Chief. I think Bianca continues to show how much of a natural she is with her tremendous mic skills and knowledge for this business. Lastly, I miss seeing AJ Styles on SmackDown since he just fits in at Smackdown so much. Until next time, stay safe and healthy!