WWE Network Review: WWE Talking Smack for 1/23/21
This week's Talking Smack begins with our usual host Kayla Braxton and co-host Paul Heyman. Kayla mentions the ending of Smackdown as the camera pans to Heyman who twiddles his fingers. Kayla says she knew Heyman was up to something when he challenged Adam Pearce to a match. She follows up that the match never happened when Roman took his special counselor's spot until Kevin Owens got involved. Heyman says it was the perfect plan as they had Adam Pearce "locked". This would allow Sonya Deville to take over Smackdown as Pearce was out the door. Heyman reveals he had to pull some strings which he claims he does "so damn well" by arranging to have Kevin Owens out of the arena. They thought they had Adam Pearce to themselves but Kevin Owens screwed them up, mentioning "card subject to change". Kayla tries to ask a follow-up question when Heyman yelled at her that he was not done. Heyman looks to the camera saying at the Royal Rumble, there will be no pulling the "card subject to change". The card will be delivered as advertised which means Owens will be stepping into the ring with an angry, infuriated WWE universal champion who "understands that this match only ends with one man is left standing" which won't be Owens. Heyman ends with one of his signature lines, "that's not a prediction, that is a spoiler".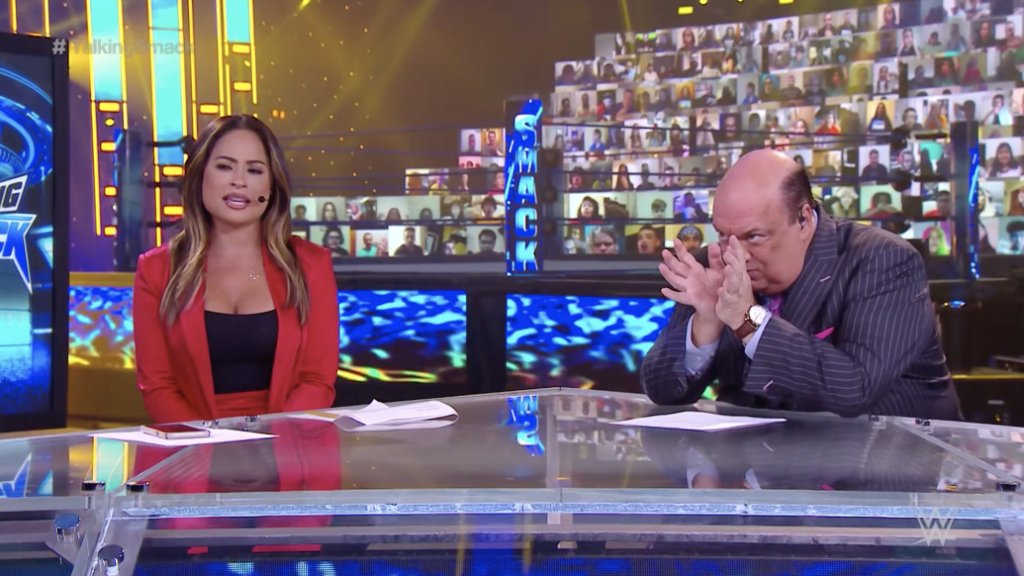 Aneil's Take: I like that Heyman admitted that he had this mastermind plan and it happened to backfire on them because of Kevin Owens. Sometimes heels will deny having an elaborate plan but I loved that Paul Heyman owned up it. Also, Heyman has been doing such a great job building up this feud with his promos on Talking Smack such as this one.
After they discuss the ending of Smackdown, they introduce their first guest, the host of "Ding, Dong, Hello" Bayley. Heyman shakes Bayley's hand, telling the two-time Smackdown Women's champion that he greatly admires her work. He would then calmly tell Bayley if she wants to witness something special next week at the Royal Rumble, she should watch the Last Man Standing match where Roman successfully defends his championship and gives a beating to Kevin Owens that has warning of "parental discretion advised". Bayley smiles, seemingly enlightened before saying it should be in the opening for the PPV. Kayla brings up the obstacle course challenge on Smackdown as Bayley flexes her arms. Kayla mentioned the obstacle course did not go as planned which Heyman interrupts saying nothing ever goes as planned on Smackdown as he had the best plan yet Kevin Owens screwed it up. Kayla says that while the obstacle course was planned by Bayley, she was seemingly embarrassed by Bianca Belair. Bayley laughs at Kayla's comments until the host says she lost the competition even with her best efforts to cheat. Bayley explains there was no cheating since it was her obstacle course and her rules which made it was fair and square. Bayley said she did not care about the challenge because this is not what they do, asking when was the last time there was an obstacle challenge on Smackdown. Upset by Kayla, Bayley asks the Talking Smack host if she wants to be in the Royal Rumble match. Bayley tells Kayla she will gladly help her into the match as she is the role model and the captain of Smackdown. She will throw Kayla over the top rope in the Rumble match just like she will with Bianca. Kayla says she would not discredit, calling Bayley an "incredible competitor" until Heyman interjects. Heyman says that is not a compliment because it means she not credible and instead should be called a "generational" competitor. He claims Kayla has "Bayley envy" and says his co-host wishes she were Bayley. Kayla questions Bayley on whether she was underestimating Bianca and the other competitors in the Royal Rumble match. Bayley says Bianca Belair is an incredible athlete and mentions her eight eliminations in the match last year. However, Bayley points out that she eliminated Rhea Ripley, a former NXT Women's Champion, and says quality over quantity is what she is about. Kayla thanks Bayley for bringing the obstacle course and expressing her entertainment for it until the end when she attacked Belair. The interview ends with Kayla thanking Bayley which Heyman claims she was acting condensing. He shakes Bayley's hand before telling her she is a generational talent.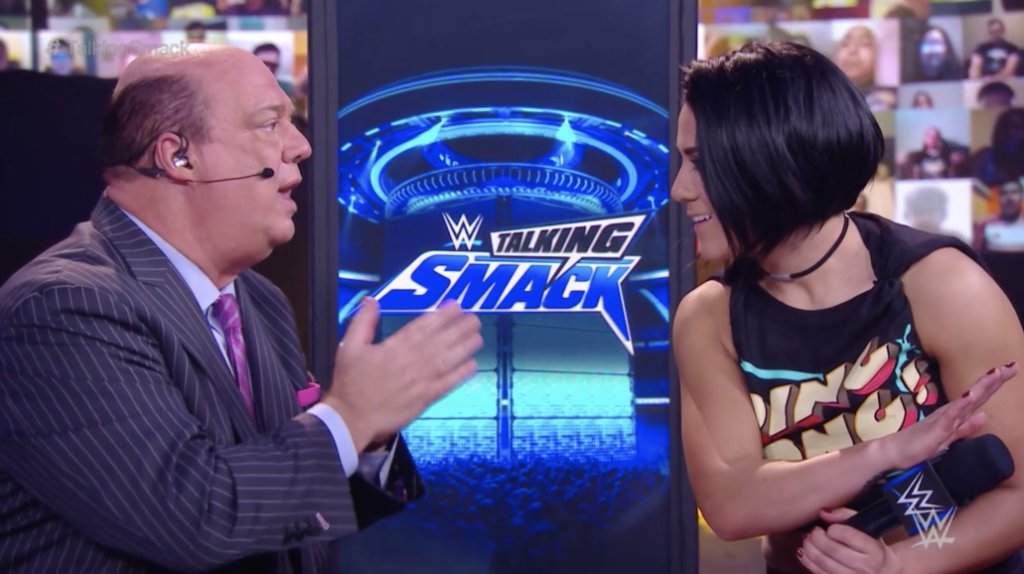 Aneil's Take: I liked Bayley's spin on her answer to accusations of cheating in the obstacle course. I mean how can you cheat when you are the one making the rules and it is your obstacle course. I also liked her answer about quality over quantity when it came to Bianca's Royal Rumble eliminations. One can argue that eliminating Rhea Ripley is more impressive than eliminating four low tier superstars. The one thing I would have liked to hear is Bayley's thoughts on being in the Royal Rumble match and why she believes she will win the match.
The next guest is The Swiss Superman, Cesaro. Kayla begins by congratulating Cesaro on his victory before talking about the confrontation between him and Daniel Bryan. She questions Cesaro on turning down Bryan's challenge especially seeming to have a chip on his shoulder. Cesaro explains always feeling like he has a chip on his shoulder, having something to prove, and also likes new challenges. He reasons not wanting to have the same match again and Bryan not dressed to compete for not accepting the challenge. Kayla says she has interviewed him multiple times but feels we are seeing a different side of Cesaro. Cesaro believes there is no difference to which Kayla believes she feels more intensity from him. Cesaro says he feels like his old self by going back to the basics, which he believed is his strength and has been paying off. Kayla questions what irks him about Daniel Bryan which Cesaro reveals is not the same type that she is thinking of. Cesaro explains he has known Bryan for 15+ years and has had a competitive rivalry before WWE. The one-time United States Champion admits he has had some of his toughest matches against Daniel Bryan. He says he has to beat Daniel Bryan every time they are in the ring as Bryan brings out the best in him which drives him in their rivalry. Kayla spoke about both of them claiming they will win the Royal Rumble and asks about the possibility of them being the last two in the match. Cesaro quickly answers "Yes" to the question and reveals that if any superstars answered differently (about winning the Rumble), they should not be in the ring or his presence. Kayla argues Bryan might be hunger than the other competitors since he has never won the Royal Rumble and made it as a New Year's Resolution to win the historical match. Cesaro respects Bryan's New Year's resolution is great but reveals he is not a fan of them because he thinks everyone should be better every single day. He does not think it should be a decision you make once a year but a decision you make every single day. Cesaro says it irks him how much the four-time WWE champion wants to win the Rumble since he wants to win it more. Kayla then asks Cesaro who would he challenge at Wrestlemania if he were to win the Royal Rumble. Cesaro references his remarks a couple of weeks back on commentary which he said he would challenge Roman Reigns because of what he did to Shinsuke Nakamura. He then spoke about Drew McIntyre mentioning him as an opponent he would like to face before saying he is a man of his word. Kayla turns to Heyman for any comment which he says Reigns versus Cesaro would be a huge box office. Heyman tells Kayla he has been singing the praises of Cesaro who knows the respect and admiration he has for his talents. He describes Cesaro as confident and on his way to the top with Roman Reigns as the only man who can stop him. The interview ends as Heyman adds the match can happen when Reigns wins his match and Cesaro wins the Rumble.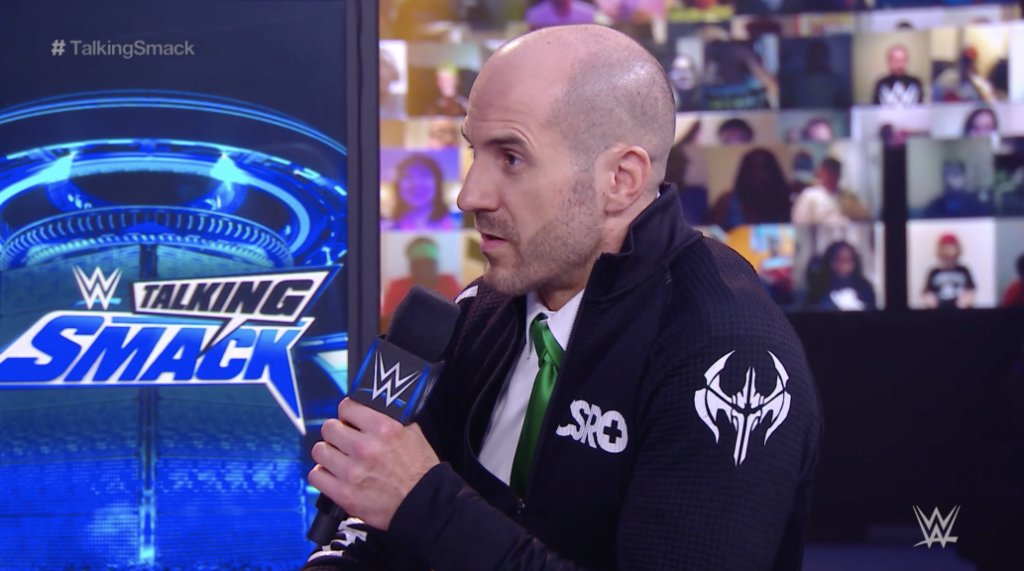 Aneil's Take: I found this to be a great interview with Cesaro. Similar to Bayley's interview, I liked that they focused on his current rivalry with Daniel Bryan. I think Cesaro did a great job explaining the history between the two and the driving factor in their rivalry. I would have liked it if there was a mention of Cesaro being a Paul Heyman guy and the difference between managing him and Reigns. Maybe that can be a focal point on a storyline down the road. Honestly, Cesaro is a great talent who seems to be stuck in the tag team division for some years now. Seeing that his only singles championship happened eight years ago, hopefully, this feud with Bryan will ignite him to break out as a true singles star.
The last guest of the show is former Talking Smack host, Sami Zayn. Zayn quickly points out that he did not have any entrance music, which to him was unbelievable. Kayla joked Heyman did it because he was jealous of Zayn. Zayn defended Heyman, telling Kayla that the special counsel has been in the business longer than Braxton has been alive. Zayn added that many disparaging things can be said about Heyman that might be true, but being jealous was not one. Zayn claims there is a massive conspiracy before bringing in his documentary crew to make sure he has unaltered footage. Zayn continued, explaining the little things might seem like nothing but they add up to everything. Zayn refers to the guests before him having their entrance music played and a warm welcome while he stumbled out like a fool. We see a clip of Zayn handcuffed himself to the barricade on Smackdown which Kayla questioned the reasoning behind it. Zayn clarified he was peacefully protesting as his right to assembly. He was trying to make a point by peacefully protesting to make management aware that he knows what is going on and he will not be silenced or intimidated. Believing people accused him of being the instigator and the aggressor, Sami brought out the signs that he had on Smackdown. The first sign is Stand Against Moral Injustice or SAMI. Zayn asks Kayla if she is for Moral Injustice which she, in turn, asks about hypocrisy. Zayn tells Kayla she is displaying "whataboutism". Kayla responds to Zayn, reminding him that he was upset about Apollo cheating when it was his "M.O". Heyman would quietly apologize to Zayn about liking Moral Injustice but had nothing against the signs. Zayn shouts that we should be teaching our children about injustices when Apollo Crews appears from the other side of the desk. Zayn expresses his joy to see Apollo who tells the former Intercontinental Champion to continue speaking. Zayn reveals to Apollo that he came at a perfect time as he shows a sign that read "How Do You Sleep at Night?". Zayn says that applies to Apollo and Big E, who is walking around with his Intercontinental Championship. Zayn questions Apollo on his ability to sleep at night knowing he got his title shot after cheating to win in their match. The former Intercontinental Champion says the difference between him and Apollo is that he stands for something and has a value system. Telling Heyman he did not want to stir anything, Zayn continued on his verbal assault, saying Apollo should not have accepted the Intercontinental Championship match, and at best, given him a rematch to see who the better man was. Heyman warns Zayn that he is pissing off Apollo. Crews, with a serious demeanor, tells Zayn that he can do all the talking but he will get him in the ring. Taking that as a threat, Zayn says he is going to leave because he is concerned for the safety of his documentary crew. Apologizing to the hosts, Zayn leaves when Heyman turns to Apollo. Heyman tells Apollo that Zayn is distracting him since that is what he does.
Apollo stares off into a distance as Heyman tries to get his attention. Heyman questions Apollo if he was going to be distracted by a "prick" or concentrate on the Intercontinental Championship. Apollo answered that he is going to beat Zayn's ass and then go get the Intercontinental Championship because he can. An evil, sinister smirk forms on Heyman's face, delighted by Apollo's reaction.
Aneil's Take: I think Zayn has done a great job with this new conspiracy theorist character. He has such a great ability to add truth to his promos that makes sense but is ignored because he is a heel. What I loved more about this segment was the storyline continuation by having Apollo Crews appear in the interview. It creates another layer to the storyline as the feud was initially between Crews and Big E but with Zayn's latest interferes, it creates a new feud. I love the attitude change for Apollo as well. The words of wisdom provided by the Universal Champions' special counsel seems to have gotten through the former United States champion.
Kayla closes out Talking Smack when she stops mid-sentence. A look of fear and dread plasters Heyman's face as Kevin Owens takes a seat next to him. They stare at each other for a minute until Heyman nods his head. Owens looks away, rubbing his face and then beard before turning his attention back at Heyman. Owens stands up next to Heyman, gesturing to him to come closer. A nervous Heyman shakes his head in fear before Owens gestures again to come closer. Heyman slowly moves his head near Owens who whispers "you feel it". Owens steps back before extending out for a handshake. Heyman reluctantly shakes the hands of a smiling Owens. Owens waving goodbye and walks away while Heyman wipes his hand on his blazer in disgust as Talking Smack ends.
Aneil's Take: Heyman and Owens did a great job again of telling a story, but this time without saying much. Heyman's facial expression of fear and nervousness he had with Owens being in presence was great. Owens was great too but showing he has no fear of the special counsel's client. Just a great demonstration of using emotion and expression to tell a story.
Final Thoughts
I love Paul Heyman. Just an absolute mastermind in this business. He brings an added element of storytelling to this show that I wish Raw Talk could have. I feel like Talking Smack is getting better with each week as they understand the value of this show.