WWE Network Review: WWE Talking Smack for 02/06/21
This week's Talking Smack kicks off with our regular hosts, Kayla Braxton and Paul Heyman. Braxton announces the winner of the Women's Royal Rumble, Bianca Belair, and Intercontinental Champion Big E as guests for today's show. She then brings up the ending of Smackdown with "The Tribal Chief" Roman Reigns and the winner of the Men's Royal Rumble Edge, which ended with Kevin Owens hitting a stunner on the champion. Kayla asks Paul Heyman about the conversation he had with Roman Reigns after the attack. Heyman answers that his conversations with the Tribal Chief are a privilege and found Kayla's question to be imposing. He tells Kayla that the question she should be asking is how does he feel knowing everyone is after the Universal Champion.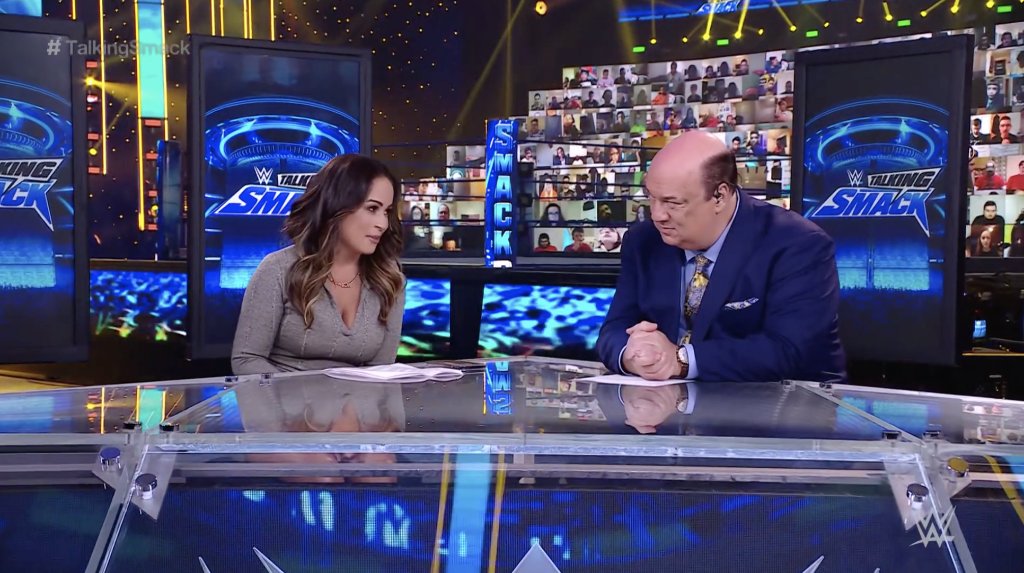 Focusing on the camera, Heyman saying everyone is eyeballing Roman Reigns as they should be. While Edge is playing mind games with the Universal Champion, it will not work on them. Heyman adds that the winner of the Royal Rumble match goes on to main event Wrestlemania which the main event is Roman Reigns. For Paul, screwing Edge from revealing his choice, means no more title matches for Owens. He suggests Owens either get trade to Raw or focus on Big E's Intercontinental Championship because he is out of the Universal Championship picture. Second, Heyman believes Edge's answer is obviously Roman Reigns otherwise he would be a co-main event at Wrestlemania. Heyman once more says the main event of Wrestlemania is Roman Reigns before Kayla announces that Adam Pearce will be a guest on today's show as well.
Aneil's Take: Heyman does a great job of trying to play mind games as well, saying Edge has made his choice by going after the true main event of Wrestlemania in Roman Reigns. I did like that they announced who will be on Talking Smack.
The first guest is the Intercontinental Champion, Big E. The champion comes in, kicking his legs up in the air much to the hosts' amusement. Big E begins by saying he is a special breed since he can make people laugh, have hard-hitting matches, and display his athleticism. Big E adds that he is not one of the "Indy darlings" as he had to build his way up with no experience. Kayla congratulates Big E on retaining his championship in the triple threat match against Apollo Crews and Sami Zayn as he showed off his side plates. Heyman shakes Big E's hand, congratulating him on the victory as well. Kayla questions Big E if he was nervous about the match which the champion laughs. Big E says he does not worry but did acknowledge both men pushing him. Bringing up Kofi and Xavier's blessing to him, Big E says he is not here just to be here. The Intercontinental Champion says this is the beginning of something great and will continue building on it. Kayla then brings up Apollo Crews and Sami Zayn, asking Big E whom does he see facing him at Wrestlemania for the championship. Big E emphasizes again that he does not worry and as for Zayn's antics, he can block the noise. Kayla mentions Heyman being a big supporter of his. Heyman says Big E has used the advice from the special counsel but which the champion contradicts. Big E mentions Heyman hyping up Apollo as well and sees through the special counsel's games. Heyman says there are no games and that the champion is only as good as the challengers he faces. While he believes Apollo is a bonafide challenger, Heyman agrees that Big E is a rare breed. However, Heyman points out that while Big E has a chance to be a part of the showcase of immortals but the Intercontinental Champion is not in the main event. He tells Big E that solidifying the Intercontinental champion this year can help him get into the main event of next year's Wrestlemania for the Universal Championship against Roman Reigns. Heyman adds that Big E not in the main event should piss off him off, however, the champion instead believes it will motivate him. Big E says everything he has done in the past will pale in comparison to what he does in this next year. The champion concludes that next year he will see him and Roman in the main event of next year's Wrestlemania if Roman still is champion by then. After Big E left, Heyman was bothered not only by Big E saying Roman might be the champion but the microphone leaving behind.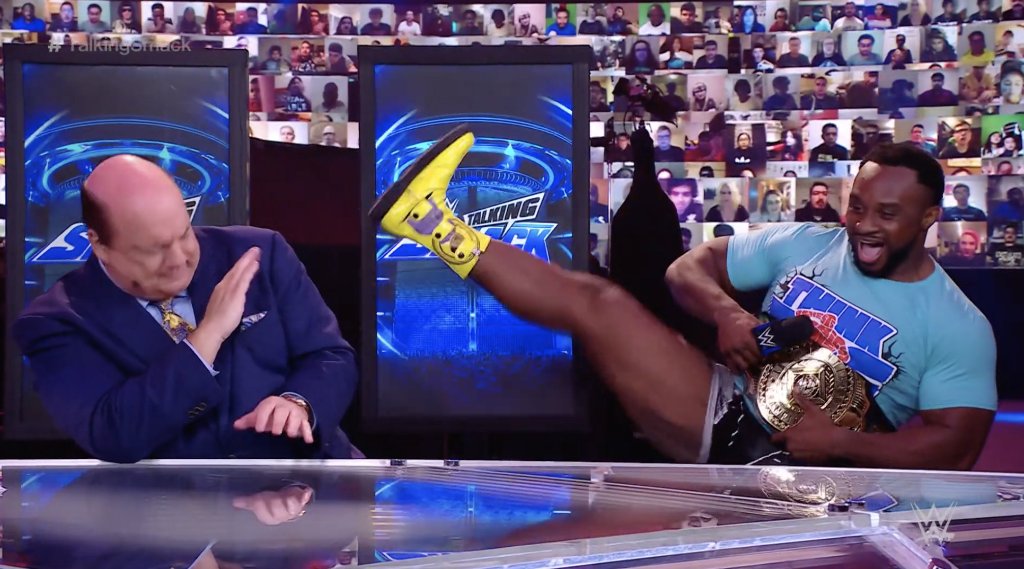 Aneil's Take: While I was originally upset about Big E being split apart from Kofi and Xavier, I now see the reason behind the decision. It allows Big E to create his own identity and focus on his singles career without having to worry about Kofi or Xavier's rivalries. Big E will forever have a love for his brothers, but from this promo, you can tell he is focused on being a singles superstar and making a bigger name for himself than when he was part of the New Day. I do like the tease of a Big E-Roman Reigns match up down the line as well. I also like Paul Heyman telling Big E to use the Intercontinental Champion to help elevate his status to become a main eventer. I believe the secondary championship such as the Intercontinental Championship or the United States championship should be used to elevate superstars into main event status.
The next guest is the winner of the Women's Royal Rumble, Bianca Belair. We see a video package of Bianca's victory at the Royal Rumble before she makes her way onto the set. Kayla asks how does Bianca feels after her win, which the "EST of WWE" said she feels the same. However, she explained the victory hit her when she pointed to the Wrestlemania sign. Bianca adds that she is on top of the world and is riding the momentum. Kayla asks Bianca what is holding her from deciding on whom to challenge. Belair answered that she wants to get her emotions in check before making the biggest decision of her career. Heyman shakes Bianca's hand, telling her this is her moment. Heyman tells Bianca her performance at the Rumble was magnificent and she has the perfect strategy since Edge copied her. Heyman talked about Bianca signing as an unknown in WWE who went on to dominate her opponents with little experience. She goes to the main roster and then mops the floor with everyone as well. Heyman believes it does not matter which champion Bianca faces, she will go to Wrestlemania as a challenger but will leave the event as a champion. To add his stamp of approval, Heyman would say "it is not a prediction, it is a spoiler". Heyman believes no one is in her league right now and looks forward to seeing Bianca hold the title in the air into legendary status. Heyman concludes by reminding Bianca to savor every moment because she will look back at it. A humble Bianca thanks Heyman for his comments before the interview concludes.
Aneil's Take: If you listen to Heyman speak to Bianca, you can tell his praises to her are absolutely genuine. You can feel the sincerity from this voice that he sees Bianca as a star and someone who will have a legendary career ahead. I did like that Bianca gave a reasonable answer as to why she did not announce her opponent yet. I look forward to her match at Wrestlemania which I think she will face Sasha Banks. To me, that matchup has so much potential and star power, I think it should close out one of the nights at Wrestlemania.
The final guest is WWE Official Adam Pearce, who does not look too pleased to be on the show. Kayla asks Adam if he has any information regarding the road to Wrestlemania. With a huge smile, Heyman turns to Pearce and informs him that both Roman and Jey Uso are not here and tells him the floor is his. Pearce says they will act like he wants to be here on Talking Smack and that he does not have to say anything, before giving the floor back to Heyman. The special counsel to the Universal Champion looks to Kayla and mockingly says that Pearce is real good and the best authorities figure in decades. Heyman tells Pearce has a bit of intel, saying if the WWE Official is not fired by next Tuesday or Wednesday, then Roman Reigns will have the honor of seeing him get fired on next Friday's Smackdown. Heyman tells Pearce that while he might think what he is saying is hyperbole or a bluff, it is not. Heyman claims Edge is pulling everyone's strings and is manipulating the situation for everyone to wait on his decision which is going to put Pearce on the unemployment line. He brings up a narrative that WWE moves forward without anybody standing in its way. Heyman talks about WWE moving forward after the Sammartino era, Hulk Hogan era, Attitude Era, John Cena era, and even Brock Lesnar era. Heyman says there will be a day when there is no Vince McMahon, yet the company will move forward. Heyman further that since Edge did not announce his choice on Raw, Pearce should have announced a main event for the WWE Championship at Elimination Chamber. Heyman believes Edge's decision holds everything up which puts Pearce in a compromising position. Heyman says he might or might not have spoken to Vince about this, but everyone needs the answer for Edge's decision. Heyman says Pearce has no choice but to announce Drew McIntyre's opponent for Elimination Chamber on Monday because if not, Pearce will end up on the unemployment line. Heyman says he thinks Pearce has done a great job but wonders if the board of directors thinks so. Heyman says WWE will move on without Adam Pearce and the special counsel will not have a problem putting him to make all the decisions since Sonya has a "mad crush" on him. Heyman says he wishes Pearce well as the next decision is on him. Heyman pressures Pearce to make the main event this Monday or else he should pack his bags and hit the road. Pearce looks down in despair as Talking Smack ends.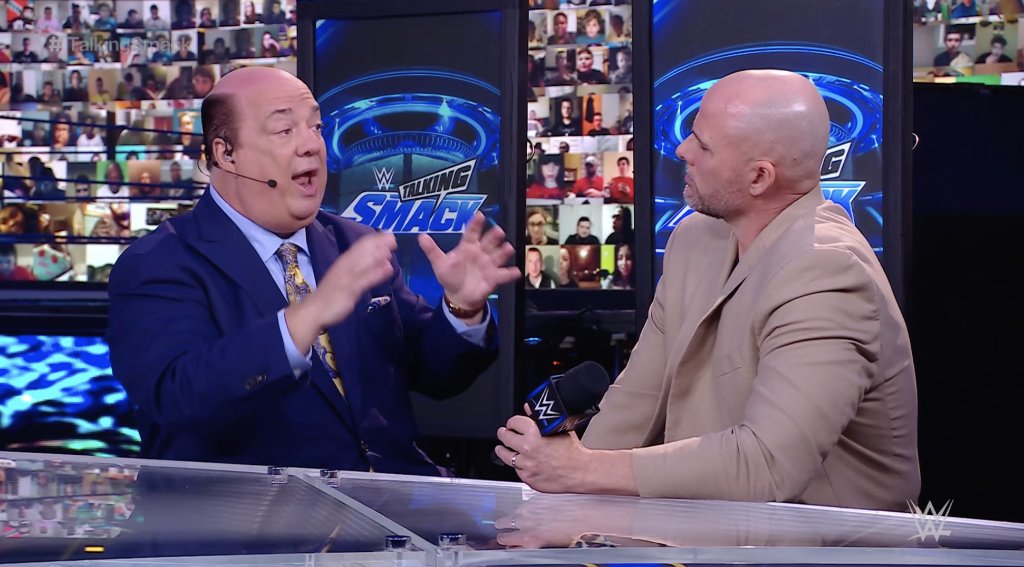 Aneil's Take: Heyman is sooo good. He makes such a compelling argument for why Edge holding up his decision is detrimental to Adam Pearce's employment. The narrative of WWE moving forward no matter the individual makes a lot of sense as Edge's decision holds up everything else moving forward. It will be interesting to see where Adam Pearce goes forward from here. Will he fold under the pressure or does he find another loophole.
As for my final thoughts, it drives me crazy that WWE does not use any Talking Smack content on their show. The segments being used on Talking Smack would be absolutely great to advance storylines on Smackdown. Also, Heyman has just made Talking Smack his show and really help a lot of superstars. Listen to the praises he gave Big E and Bianca Belair. Even his argument and threats to Adam Pearce were great.