WWE Network Review: WWE Raw Talk for 1/25/21
With a few days left before the Royal Rumble, Raw Talk begins with host Charly Caruso and the 24/7 Champion R-Truth or "Char-Truth". In a joking mood, Charly pulls the 24/7 champion aka R-Truth's "baby" towards the center of the desk, claiming it is also her championship by association with him. She brought up his match against AJ Styles for an opportunity into the Rumble match, asking what happened. Truth responded that AJ is AJ but he had Omos at ringside whom he called a mountain of a man. Charly questioned if Omos was like Mount Everest or Kilimanjaro which Truth said he was both. He described looking at Omos as having to look up to him and then east to west. They then discuss the main event of Raw which had Asuka defend her Raw Women's Championship against Alexa Bliss. Truth believes The Fiend is Alexa's daddy or uncle because they both do the same mystic thing. They then watch the last moments of the match where Randy Orton who revealed his burnt face RKO'ing Alexa. Truth is baffled by Randy's face which he says Alexa Bliss caused. Charly says Orton was going out for revenge after what Alexa did to him, believing he was trying to take back what he lost such as his dignity and pride. Truth jokes that Orton might need some Aquaphor for his face when his co-host suggests for him to gift the ointment to his friend. However, Truth declines the idea after seeing what is going on between Orton and Alexa. Charly then backtracks her suggestion, because it might draw attention to Truth from The Fiend (who might be dead or not) and she needs her cohost here. Charly then transitions to the WWE championship match between champion Drew McIntyre and Goldberg. They discuss the showdown between McIntyre and Goldberg which had The Miz interrupting. Charly thought there might have been a brawl between McIntyre and Goldberg, who instead took out their aggression on The Miz and Morrison. Charly says it was interesting to see McIntyre and Goldberg work together during that segment when they are going to face each other at the Royal Rumble. Truth says there will not be any friends when the title is on the line which Charly agreed. Truth then asks Charly whom she thinks will win the championship match. At first, she tries not to answer but then picks Drew because of the respect she has for him. She feels McIntyre has been pulling for the people who have been through a lot this year. However, she clarifies that her pick does not take away the respect she has for Goldberg talent's. Truth reveals his pick, saying he will go with Gillberg as he mocks the former light heavyweight champion's entrance.
The first guest on RAW Talk is "The Queen" and one-half of the Women's Tag Team champions, Charlotte Flair. Charly praises Charlotte on her appearance, saying she looks super shredded and appears happy. Charlotte smiles, accrediting her "personal trainer" Andrade for helping her get into shape. Charly begins to bring up the situation with her father before switching up and asking Charlotte about her thoughts on her match against Shayna Baszler. Charlotte says she had been looking forward to facing Shayna for a long time especially with the history she has had with Baszler's best friend, Ronda Rousey. Charlotte makes a joke about Shayna texting Rousey about the matchup and reminding her about getting her "ass kicked" by the Queen. Charlotte says she knows Shayna means business so she had to give her best right away in the match. Charly then brings up her tag team championship defense against Nia Jax and Shayna Baszler at the Royal Rumble. She questions the champion about going into the match which Charlotte says she would not go into battle with anyone other than Asuka. She knows what Asuka is capable of and if they stick together, they will get the job done. Charly says Charlotte and Asuka are two of the most talented women in WWE but speaks about Nia Jax's dominating performance on Raw. Charlotte jokes that Nia was mad before saying she brings out the best in Nia and does not expect anything different from her this Sunday. Charly then brings up the "disgusting" drama with Charlotte, her father Ric Flair, and Lacey Evans. Truth called it "family problems" which Charlotte laughs off. Charlotte explains, saying she knows her father thinks he is cute and all but believes he is surrounded by "Yes" people. When she joined the business, all she wanted to do was protect her father's legacy. She starts to tear up furthering on about doing anything to protect it. From her view, she believes her father is going from a legend to a creepy old man with the Lacey Evans situation. She called Lacey an opportunist. Truth describes Flair as smooth and jokingly calls the situation an entanglement which even made Charlotte laugh. Charlotte believes she has done everything in her power to prove it is her work ethic and not her last name where she is. She thinks of Lacey Evans as a person who will do every and anything to get to the top. Charlotte says she has seen the type of girl Lacey Evans is growing up. She knows Lacey is trying to gain attention by using Ric Flair. Charly shifts to Charlotte's mindset going into the Rumble match with having to defend the tag team championships and the distraction of Lacey Evans. While people think she has this perfect life, Charlotte reveals that has been used to obstacles and things being in her way. She says she is fully prepared for what comes her way this Sunday. Truth says something funny which Charlotte asks for him to be her hype man. She tells him she was going to bring the mac and cheese to the stage for Truth but kept it in the locker room and starts talking about BBQ until the interview ends.
Aneil's Take: I thought this was a solid segment with Charlotte. While she might be known for her in-ring word, she does not get recognition for her mic work. I did think she did a great job focusing on the two storylines she is involved in and giving her genuine thoughts on them. I do find the Ric Flair storyline a bit awkward but I am curious to see where this ends up going. Also, I kind of smirked at the slight mention of Andrade who is her "personal trainer".
The next guest is Elias and Jaxson Ryker. Continuing on their previous topic, Charly asks both men what are their favorite BBQ. Elias and Jaxson both agree on Carolina BBQ which Charly says she purposely asked because she wanted to see if Elias and Jaxson could agree on something. Elias says he and Jaxson are friends as Charly mentioned there appeared to be some discord between the two. Elias says he and Ryker are on the same page as they "took care of business" on WWE Main Event. They then watch a clip of his match against Jeff Hardy from two weeks ago. Elias talks about his tag team match with Jaxson on Main Event against Jeff Hardy and Ricochet which they "got it done". Elias complimented his opponents and praised his tag team partner before saying RAW had to be jam-packed for them to be on Main Event. Charly asked Jaxson about Elias' guidance and mentorships which he says has absolutely helped him. Charly followed up by asking Elias and Jaxson whom they have winning the Royal Rumble. Elias answered that "we're going to win" as in him and Jaxson. Elias says he is not sure if he is officially in the match when he decides to declare both him and his partner in the Rumble match. Truth tells them that Adam Pearce is giving out opportunities and that Elias and Jaxson looked like twins. The interview ends with Elias repeating "we will win" and they left.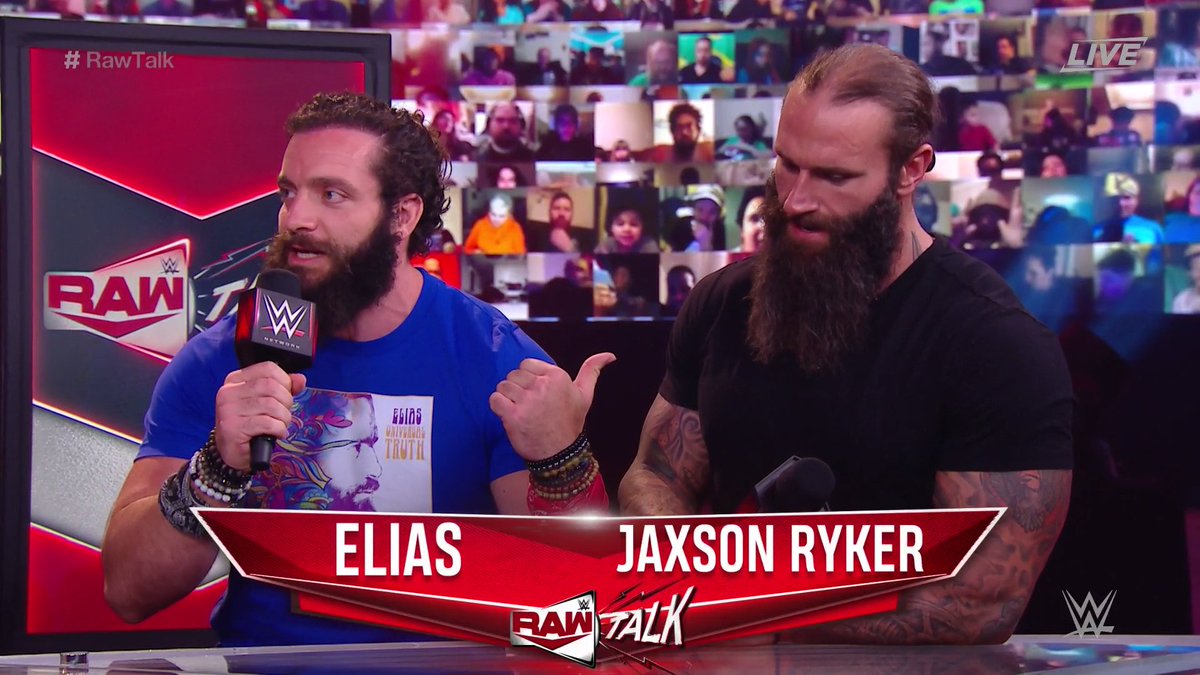 Aneil's Take: Kind of surprised by how short this interview was. They did manage to get a few things in such as teasing issues between Elias and Jaxson, although they denied it. I also liked that Elias tried to go a different route and said "we" will win the Royal Rumble. Short but solid interview in my opinion.
The final guests are The Hurt Business' MVP and the United States Champion Bobby Lashley. MVP immediately gets up into Truth's face, warning him that every word he says has to be measured very carefully because he is not here for it. MVP continues to warn Truth, promising that if the 24/7 champion said one wrong thing out his mouth, it is on. They show a replay of The Hurt Business' appearance on Raw Talk from two weeks ago where Truth told them they look like they could "eat a good sack of nuts". Charly says she won't allow The Hurt Business to get out of control which offends MVP. The former United States champion questions the Raw Talk host about what she would do if he were to slap Truth on the mouth. Truth says MVP won't slap him as Charly backtracks her statement. Bobby Lashley holds back MVP before being asked about his thoughts on facing Riddle. Standing between Truth and MVP, Lashley answers that the one thing The Hurt Business does is take care of the disrespect which is what Riddle is about. He puts his hand on Truth's shoulder telling him to relax before continuing about his past matches against Riddle. The current United States champion adds that Riddle is not a problem, which Charly contradicts by mentioning the gauntlet match on Raw. Lashley explains that The Hurt Business was their enemy as there was dysfunction amongst them. Charly questions as to why this is happening especially with their celebration on Raw. She wonders why is there dissension when they have the Raw tag team titles and the United States championship. Lashley hands the mic to MVP to answer but he continues to stare down Truth. Lashley responds by saying when you are on top, things start to get jumbled but it is not something The Hurt Business cannot resolve since they are all friends. He explains further that with the things such as money and championship being thrown at them it can cause tensions to rise. Truth injects that he is Lashley's friend but was put in a "Nelson from the Simpsons" multiple times. Charly asks if this tension will become a long-term issue which MVP quickly calls a "speed bump" and a "done issue". Charly continues by saying it is surprising to see things crumble with the success they have. She uses Conor McGregor as an example of someone who was on top and then got knocked out in two rounds. Lashley points out it has been a while since McGregor won a match so he cannot be on top of the world. Lashley downplays their tension, reassuring them they are completely fine and that they are not crumbling because they have all the gold. Truth tells MVP he likes his "pretty necklace" which he thought was for him. MVP approaches Truth, asking how much does he like it. Truth says he likes it a lot. MVP asks if they are done before handing the United States Championship to Lashley. Both men leave as Charly closes this week's Raw talk.
.@The305MVP and @fightbobby are back on #RawTalk with @CharlyOnTV and @RonKillings. 👀

➡️ https://t.co/AEFWHOuAlepic.twitter.com/OrWOoYQFcx

— WWE Network (@WWENetwork) January 26, 2021
Aneil's Take: Interesting that the dissection storyline is already forming with The Hurt Business. I like The Hurt Business but it is confusing as to what creative is doing. They just recently added Cedric Alexander and had him win the tag team titles with Shelton Benjamin only to have them tease tension between the two. It just seems random for them quickly have tension when they just won the titles. Also, Lashley has been United States Champion but his title run has been lackluster. I think if he were to feud with someone like Keith Lee, it would help bring attention to him and his run. The Hurt Business is a great stable with lots of potentials. They just need to have a solid plan with the stable in my opinion.
Final Thoughts
I found this Raw Talk to be interesting. It was a lot better than last week's show that felt more of a distraction with the weird comedy from Truth. While the show cannot be up to par with Talking Smack, I think they did a good job in this show to make small advances in the storyline. One thing I would like for Raw to do is to use Raw Talk clips on the show to help advance storylines as well.