WWE Network Review: WWE RAW Talk for 1/18/21
For this episode of RAW Talk, we kick off with the returning host Charly Caruso and the 24/7 champion R-Truth or "Char-Truth" as they call themselves. Charly jokes about being busy with her mother for Thanksgiving which Truth says she was late to celebrate, but it is better to have it than not have it at all. Truth would continue with his comical self by asking Charly if she had some potato salad and then listed off different salads.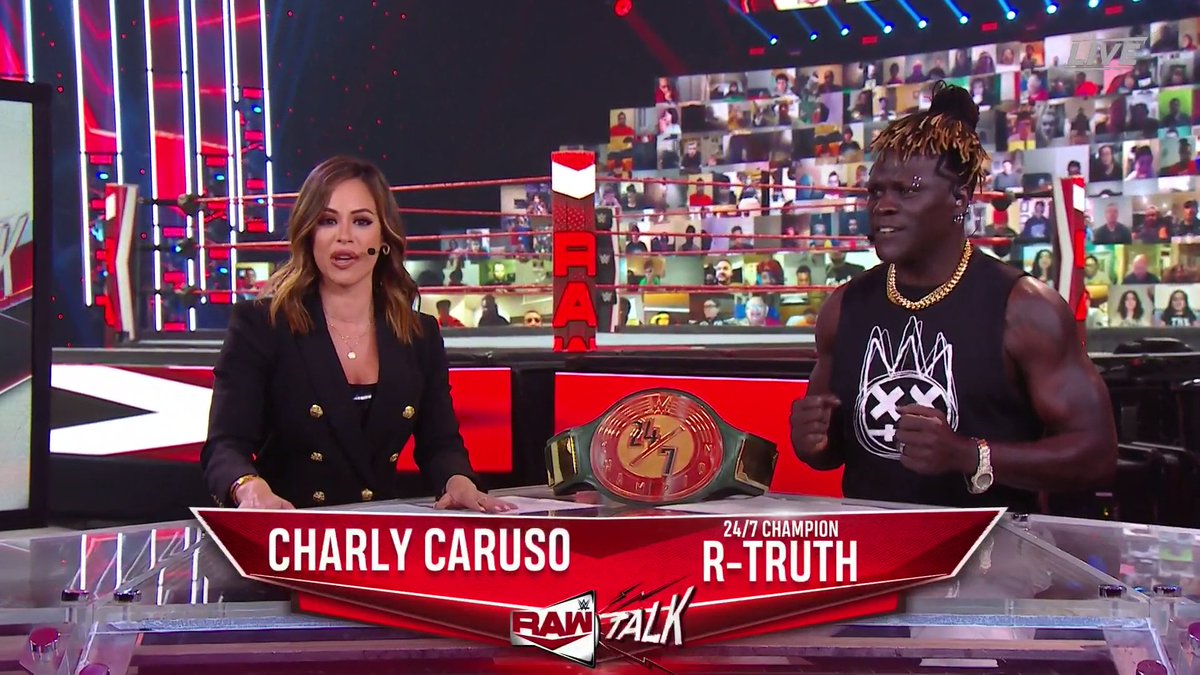 They then begin to discuss the ending of RAW where Alexa Bliss defeated the RAW Women's Champion Asuka. Charly notes there has been something going in Bliss' mind that no one could put a finger on which Truth added that she looked hollow and had no soul. They talk about Alexa transitioning from her crazed personality to the innocent girl after her victory. Truth called it "suspect" as Bliss uttered The Fiend's "Let Me In". Charly questions who is possessing Alexa Bliss which Truth says is not The Fiend because he got burned up. Charly would end by saying has seen a few movies where the soul habitats in a body which Truth says he has been in many habitats but has never seen a soul.
Aneil's Take: The dynamic between Charly Caruso and Truth is a lot different than that of Kayla Braxton and Paul Heyman. Since the two are babyfaces, their on-screen friendship is displayed as lighthearted and whimsical at times.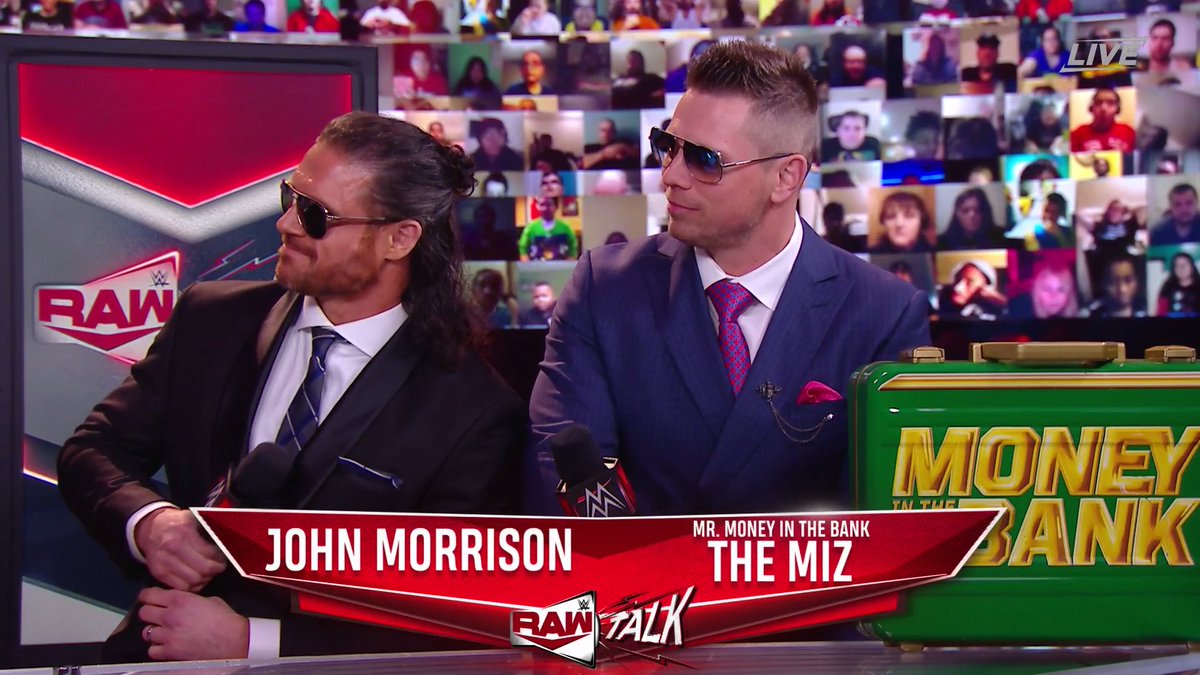 Moving off the paranormal subject, Charly introduces their first guests, Mr. Money in the Bank The Miz and John Morrison. Truth mentions it is an Awesome Truth reunion before Miz asks for the first question. Truth makes a joke, asking them how it felt to be with The Doors. John Morrison answered saying some people mistaken him for Jim Morrison's brother which is old news. Caruso brings up their episode of Dirt Sheet, which The Miz says Morrison wrote and described as a "trainwreck". Morrison disputed, calling "gold" and really good. Morrison questions Charly on her familiarity with misdirection before explaining that it is when people expect one thing but then change it up with something different. He compares it to Michael Jackson's moonwalk, people thinking Michael is going forward but he is going back. The Awesome One clarifies that he wanted Goldberg and Drew McIntyre on the show so they knew he could cash in the Money in the Bank contract at any given time including the Royal Rumble. A clip of Gillberg making his entrance is shown which Miz reveals was John Morrison's idea. The Money in the Bank holder would then point out that the McIntyre fill-in looked nothing like the WWE champion which Morrison said was the point. Caruso would ask them if the actors played their roles well which Miz asked her opinion on. The RAW talk host diverted from answering because she is an objective host. Truth asked if they were happy with the segment which Miz said he was not but knows John was. John displays his excitement as The Miz rants about wanting to remind his competitors that he may cash in at the Royal Rumble. Charly expressed she wanted to know McIntyre and Goldberg's reaction when The Miz reminds them that the wig fell off the head of McIntyre actor. Morrison says the message was sent and it would not be a big deal in WCW as Truth says the actor did not look exactly like the WWE champion. Morrison jokes that the actor was a New Jersey version of Drew McIntyre. Miz suggested to Morrison to get an actor from New York or Los Angeles but instead, Morrison went with someone from New Jersey. Miz said he could have found an actor from Cleveland, name dropping Drew Carey. Morrison and Truth joke amongst each other when Miz yells at them. Morrison reminds Miz that he and Truth were once a tag team. Miz also reminds them out that he and Truth were a tag team as well before putting Truth on the spot. The one-time WWE champion questioned Truth on who would he pick as his tag team partner between the two. Truth says he does not do drama before being asked again. The 24/7 champion questioned if Good Burger is available before revealing he would choose both of them as his tag team partner. Morrison called Truth's answer "diplomatic" before Miz responded by saying he would choose Morrison over Truth any day. Caruso brings up the Royal Rumble and asked The Miz about the odds of a new champion at the Royal Rumble. The Miz says he glad to get the Money in the Bank contract back that he blamed Morrison for. Morrison disputed this, stating he cashed in the contract for Miz but it was the A-Lister who lost the match himself. The Miz explains that the Money in the Bank contract is possibly his only opportunity for the WWE championship because he does not get a lot of WWE championship opportunities. He holds the Money in the Bank briefcase as he says the contract gives him a real opportunity. At the Royal Rumble, he knows Goldberg and Drew McIntyre are going to tear each other apart and once they do, he will be right there to cash in on the opportunity before ending the interview.
Aneil's Take: I did not take much out of this interview other than agreeing with The Miz that he has not had too many opportunities at the WWE Championship. I firmly believe The Miz should have had at least one major championship run a few years ago. I did like the quick mention of the Awesome Truth. Also, I am not sure if The Miz was staying in character or was speaking from the heart when he called the segment a "trainwreck" because it sure felt like it. I will say, they did trick me thinking Goldberg would be on The Dirt Sheet only to have Gillberg come out.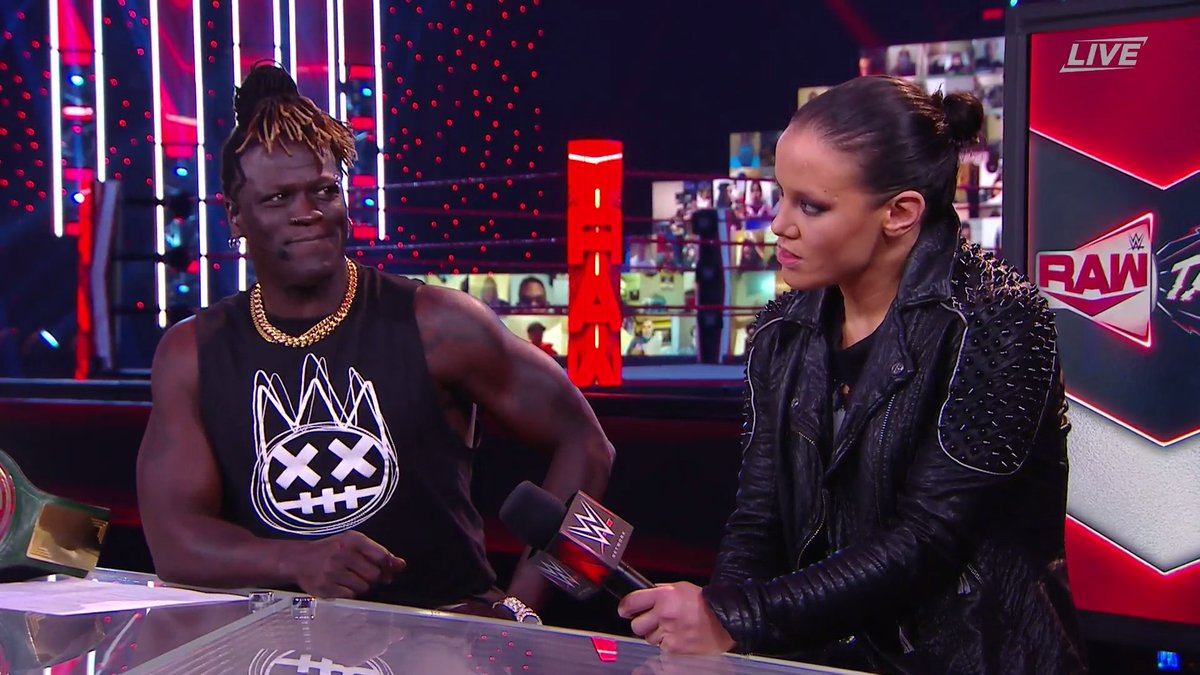 The next guest is the "Queen of Spades" Shayna Baszler who does not look too happy to be there. Charly allows her cohost to start the interview where Truth asks Baszler if she is better at Uno or Go Fish. Shayna says she has a long drive and wants to get the interview over with. Truth tells her not to play UNO if she has a long drive because it is a long game. Shayna looks around at the production crew, wondering why does make she appear on the show. With Baszler not in a joking mood, Charly takes over and brings up her match against Mandy Rose. Caruso questions if there is any animosity between Baszler and Jax as go after the Women's' Tag Team championship. Baszler says it does not matter what is going on between her and Nia as she showed in her match that she can take care of business on her own. Her alliance with Nia was of convenience, that they never got along but they were dominating champions. They never had to get along, they just need to get along when it counted in the ring. Baszler mentions Asuka and Charlotte do not get along and are distracted with their issues. Baszler says she and Jax were always focused which why it is a great time for them to capitalize on Asuka and Charlotte. Both hosts agreed that the champions have lost focus with Charlotte dealing with her father and Lacey Evans while Asuka is dealing with Alexa Bliss. Charly then asked Baszler if she heard anything from the champions in response to her challenge. The two-time NXT Women's Champion reveals she has not which to her is telling because it shows they are not focused and not paying attention. Charly brings up the Women's Royal Rumble match, asking if Shayna views Nia as an ally or foe. Baszler believes that is a different issue as both of them understand how the Royal Rumble match works. She explains the Royal Rumble match as a side issue to the championship match and is unrelated. Baszler would end by declaring that she and Nia will win the tag team championship and then her winning the Royal Rumble.
Aneil's Take: Just like the interview with Nia Jax, the host tried to play up that there is tension between Baszler and Jax. What I did like about this interview was Baszler being open with her answer, as opposed to Jax who was reserved. Baszler seems straight up with her answer, especially acknowledging the Rumble is everyone for themselves. I also like that she made a valid point of Charlotte and Asuka being distracted with their issues as the best opportunity to challenge for the women's tag team championship. There was actual logic being used in her answer!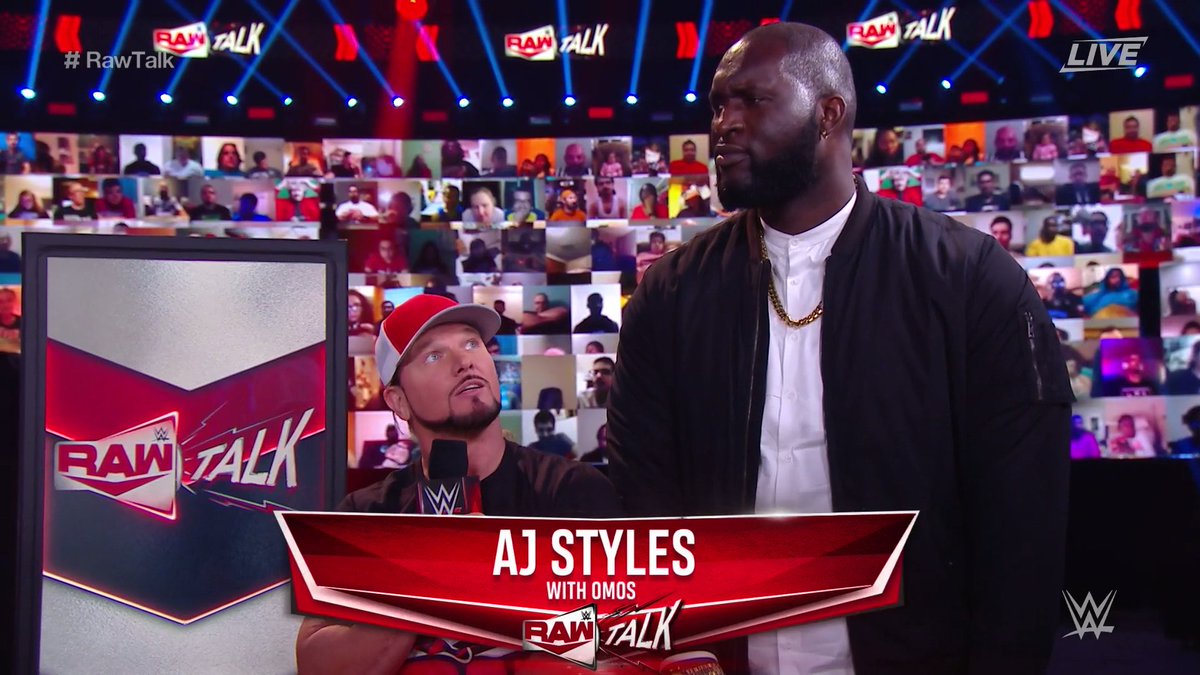 The final guest of the show is "The Phenomenal" AJ Styles along with his bodyguard Omos. Styles is greeted by the hosts before claiming he has the greatest entrance music. Truth says it's "alright" before asking Omos how is it having AJ as his assistant. The big man answered "phenomenal". Truth would ask Omos again on how it is to have AJ as an assistant which confused Styles. Truth clarifies him, identifying Omos as the boss. Styles accuses Truth of trying to put a wedge them and trying to get Omos on his team. Trying to get serious with the interview, AJ asks Caruso if she has any questions for him. She questions Styles on his mindset, pointing out that he has been dominant as of late. She talks about his victory over Ricochet and what mindset he has after the victory. The two-time WWE champion explains his mindset is on winning the Royal Rumble match. He brings up his debut in the match back in 2016 and the recently released WWE Untold documentary. Omos added that it is the best 35 minutes you will ever watch with Charly saying she heard was "phenomenal". Truth asked if the documentary was about Omos. Styles corrects him that it is about his debut. Truth asked if Omos was in the documentary which frustrates Styles more, leading to him asking why is he so interested in Omos. Truth asks that Omos is the one who makes all the plans. Styles says he is wrong, pointing to his victory against Ricochet. AJ then correct Truth on the pronunciation of Omos' name. Styles would ask his Omos if he gets upset about people mispronouncing his name which his bodyguard answered "absolutely". Avoiding any more conflict, Charly discusses Styles' fifth anniversary in WWE where he entered the Royal Rumble match at number three and asked if he had any expectations. Styles says he does not know the number he will enter but would like to go in at number 30. Truth wondered why he wanted to wait that long, suggesting he should go number one because he is phenomenal and bring Omos with him. Styles reveals Omos might be at ringside with him but he does not know yet. Charly asks if Omos will be in the Royal Rumble which he answered "we'll see". She brings up the idea of both of them being in the match which Styles believes would make them unstoppable. Caruso agrees to say Omos should add his name to the match. Styles says either way they have a plan which Truth asks what the plan is. Styles says he won't tell what the plan is. Charly says she would like to see Truth in the Rumble. Styles asks Truth if he is in the match, avoiding to answer by saying he has other engagements, mainly protecting his "baby". Styles jokes if that is a referee nearby as the RAW Talk outro plays, ending this week's episode.
Aneil's Take: I think it would be cool if AJ Styles would go to win the Royal Rumble match. It would be another accolade in his storied career. If they do add Omos to the match, it would be interesting to see how they book him. As for this interview, I'm glad they allowed Omos to say a few words rather than be the big guy who does not speak. Also, if you have a chance, check out the new AJ Styles' WWE Untold episode on the WWE Network. If you can, you can read my review on this link.
Final Thoughts: RAW Talk this week was alright. I did like that they had big names like AJ Styles, The Miz, and Shayna Baszler. I liked that Styles spoke about being focused on the Rumble and Miz talked about the Money in the Bank being his best opportunity at the WWE Championship. Truth be told, the one thing I kind of find distracting is Truth's antics on the show. I know he tries to be funny, but at times, it becomes annoying as it throws the interview off. Maybe I'm just biased to Smackdown and Talking Smack.