WWE Network Review: Talking Smack for 4/3/21
Talking Smack begins with host Kayla Braxton and Paul Heyman. Kayla wonders if Heyman is in a bad mood after what happened at the end of Smackdown. She then mentions their guests for today's show before going back to the ending of Smackdown which saw Daniel Bryan knock out Edge and putting Reigns in the Yes Lock. Kayla says Bryan made Reigns tap out, however, Heyman says it is not true since Reigns is still the Universal Champion.
Aneil's Take: A short intro for Talking Smack from my view. Interesting to see Reigns being in a vulnerable position two weeks in a row, having been attacked by Edge with a steel chair last week and then Bryan in the Yes Lock this week. I think creative has done a decent job making everyone credible going into this triple threat match. Edge has tapped into his previous Ultimate Opportunist persona while Bryan is trying to ride the momentum, he did back in 2014. All of this with Roman Reigns being the unstoppable force since his return last summer, it is hard who will leave Wrestlemania as champion.
Sami Zayn's "Justice for Sami" documentary trailer is played before he makes his introduction. After having a rough night, Sami Zayn says he is glad to be on the show because he wanted to talk to Paul. Zayn brings up being on the show a few weeks ago and thanking Heyman for admitting he was part of the conspiracy. He says after the interview, the special counsel went from being honest to the famous deflective Heyman by blaming Owens for his decisions while as Raw Executive. Zayn says he was quick to dismiss it but realized he made a mistake. After Smackdown, Zayn says he has a hard time not believing Owens was part of the conspiracy. Zayn continues, saying Owens' betrayal was the worst he's done to him, adding that KO pulled a snake move by talking to Logan Paul. While he got an ounce of revenge by laying out Owens backstage, Zayn proclaims will get his revenge at Wrestlemania. Zayn says the documentary is coming out soon and especially wants to hear Braxton's opinion because he feels she is one of his biggest detractors. Kayla says they are out of time for the interview when Zayn says after the documentary comes out, they will have time for him. Zayn leaves, as Heyman says he does not think Zayn is a crackpot, he's just a prick.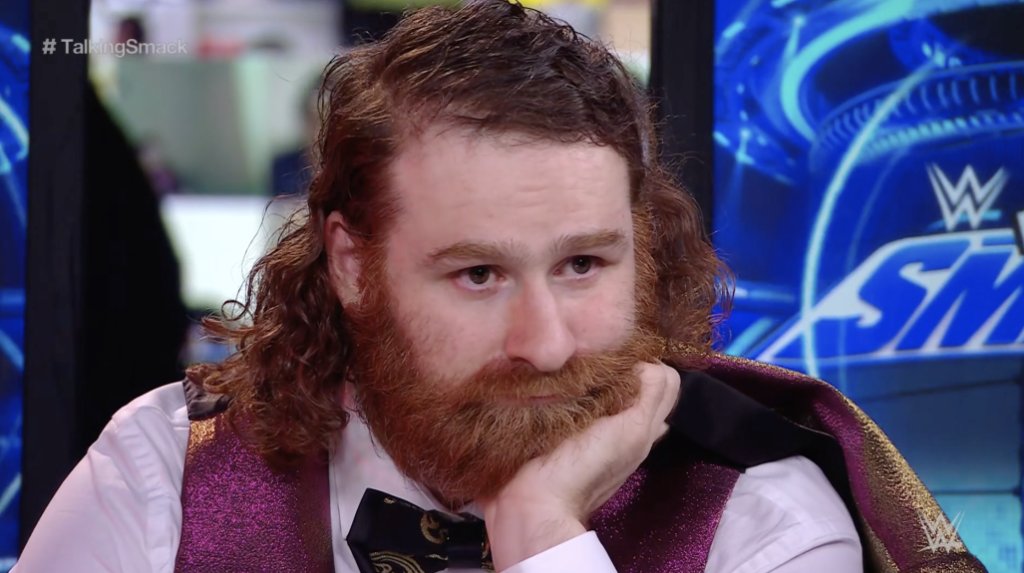 Aneil's Take: I never Zayn envisioned being this good of a heel, but it's been fun to watch him especially with his conspiracy gimmick. His documentary trailer was pretty funny and intriguing which I hope they continue. The addition of Logan Paul was out of nowhere for me, but I guess with WWE always trying to bring in a younger audience, it makes sense since he has 5.9 million followers on Twitter. Also, pretty cool to see Owens and Zayn have a singles match at Wrestlemania, especially with the journey they have taken with each other to get here.
The next guests are Natalya and Tamina. Kayla congratulated Natalya on her victory against Shayna Baszler. When asked how her feelings on the victory, Natalya says it was great to beat one-half of the Women's Tag Team champions and says she and Tamina are putting the Women's division on notice. While she is excited about it being Wrestlemania season, she is upset that the women are missing at Wrestlemania. However, her victory on Smackdown made a statement that the women are not to be screwed around with. A passionate Natalya shouts that she is done being a nice girl and will not be a doormat anymore. Heyman interjects, saying he loves Natalya but tells her to "cut the shit" and to stop bitching and moaning. Instead, Heyman wants Natalya to do something, where it be going up to Vince or eliminate all of the competition to get onto Wrestlemania. Heyman says Natalya has earned he spot on Wrestlemania and knows her father would be upset seeing how she is. The special counsel once more says they need to stop bitching and moaning and instead impose their will. An upset Tamina steps up to a terrified Heyman, saying "OK" before she and Natalya leave.
Aneil's Take: One minor thing, I cannot believe Shayna lost to Natalya with a small package. Anyway, I agree with Natalya that there should be more women matches on the Wrestlemania card. Right now, there are two women's matches on the card, those only being championship matches. I think they should at least have the Women's Tag Team Championship match on the Wrestlemania card and find a singles match for Bayley on the card. After all, she was the longest-reigning Smackdown Women's Champion. The unexpected moment for me here was when Heyman told Natalya to "cut the shit". While it might seem harsh, he has a point that there comes a time when you have to stop complaining and do something about it. Especially for two legendary families which Natalya and Tamina are from.
The final guest is "The Drip King" Seth Rollins. Rollins says "Happy Wrestlemania season" to both hosts before telling Heyman to send his regards to the Tribal Chief. Kayla brings up Rollins escaping the swing of Cesaro which upset him because he did not like her wording. Heyman interrupts, instead of saying he saw Rollins as a visionary to avoid the swing. Rollins agrees, saying with a week away from Wrestlemania, he did not want to put himself in that situation especially being an asset to Smackdown and WWE. On the subject of Cesaro having his first singles match at Wrestlemania, Rollins says the Swiss Superman is a formidable opponent. Just like everyone opponent he faces, Rollins will take him seriously especially knowing how good he is. However, Rollins adds that his track record at Wrestlemania is good which Heyman says he can testify. Rollins says Cesaro is in a position in which he has to prove his worth but has remain to be seen. Kayla says Cesaro has been good at embarrassing Rollins and asks how he would avoid being embarrassed again. An upset Rollins says he does not want to do it anymore and walks away from the desk until he stops. Grabbing the mic, Rollins says there are levels and Cesaro is not in the main event level as him. Rollins says he has been nothing but greatness since stepping into the WWE while Cesaro has only been about potential. For Rollins, potential does not matter if you cannot deliver. At Wrestlemania, Rollins will overdeliver and all the talk of Cesaro's potential will go out of the window. Rollins says he rises to the occasion and Cesaro will be another stepping stone in his Hall of Fame career. An upset Rollins leaves as Talking Smack ends.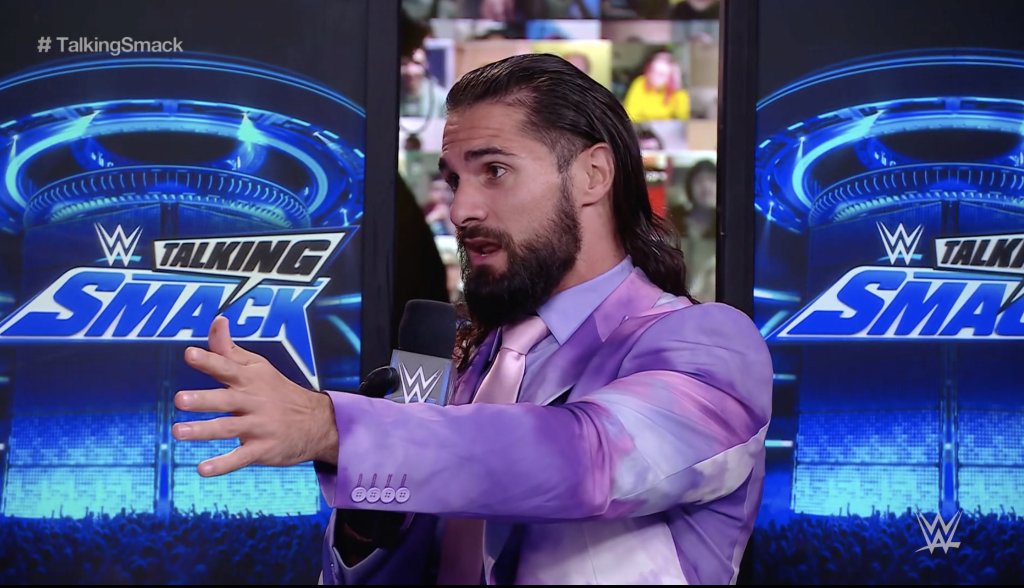 Aneil's Take: Honestly, while Heyman is supposed to be the heel on this show, I feel like Kayla is the biggest heel. Anyway, great promo by Rollins saying he will not underestimate Cesaro but also portraying the Swiss Superman as someone who is only about potential and nothing to show for it. For years, potential has been the word that has been labeled on Cesaro but we have yet to see what he is capable of, not to any fault of his own. I hope the Wrestlemania match against Rollins is the career-defining moment he has been looking for for so long.
Final Thoughts
It was a decent Talking Smack with the guests today. Great promo by Zayn and Rollins to help their storylines. I like Heyman trying to light a fire underneath Natalya and Tamina who looked poised to challenge for the Women's Tag Team Championships. Excited for Wrestlemania week!