WWE Network Review: Talking Smack for 1/16/21
We are welcomed to another episode of Talking Smack with hosts Kayla Braxton and The Special Counsel for the Universal champion, Paul Heyman. We begin with the news of Jey Uso entering himself into the Men's Royal Rumble match. Kayla asked Heyman about his thoughts on the news which he smiles at her. She would then mention Jey Uso's comments about winning the Royal Rumble match and then challenging for the WWE Championship at Wrestlemania. Kayla questioned if Jey becoming the WWE champion and Roman Reigns as the Universal Champion was their plan all along. Rather than answering the question, Heyman mocked his cohost's positive attitude. Adding more fuel to the fire, Kayla asked Paul about his thoughts on Adam Pearce taking himself out of the Universal Championship match, only to make Kevin Owens as his replacement. Uncharacteristically, Mr. Heyman struggled to find words until he says that whatever he has to say, he will say it on this show, straight to the face of Kevin Owens.
Aneil's Take: As much as Heyman is great at cutting a promo, what I love more is his ability to further a story with his facial expressions and emotions. It kind of surprises me that his range of acting has not landed him on a role on a show like Law & Order.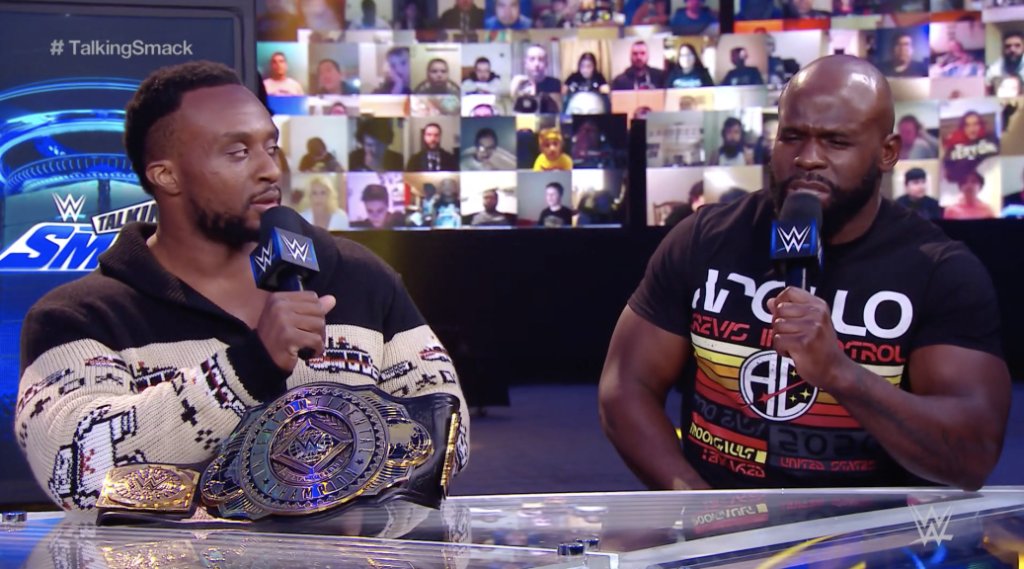 Interestingly, the first guests on Talking Smack are the Intercontinental Champion Big E and his challenger Apollo Crews. Kayla congratulates Apollo on his victory over former Intercontinental Champion Sami Zayn, before expressing how uncomfortable she felt watching Big E and Apollo battle each other. She questioned if they felt awkward sitting next to each other which Big E responded that it was not and it is just competition between them. Big E talked about the first-time seeing Crews in 2014 and was enthralled by his athleticism. However, Big E explained he worked eight years to get to the Intercontinental Championship, to have a singles run, and that the title means everything to him. He said he is here to "make money" and to "win titles". The current champion complimented his friend as a worthy competitor and wished the best for him, yet he did not think it was Apollo's time. Big E believes 2021 is his year and will continue to be friends with Apollo, the championship match last week was brought up. Apollo claimed the match was close and asked Big E if the match was closer than he expected. Crews said he respects Big E, looks up to him, and admires everything he has done thus far. However, the former United States Champion said he wants Big E's success and is coming after the Intercontinental Championship because he needed it. Big E played off Apollo's comments, saying maybe to go after it at another time. Apollo continued to say he is coming for the Intercontinental Championship as Big E kindly laughed it off. Crews tells the champion to "be ready" and when the time comes, he will look him in the eyes, tell him he was right and shake his hand. Big E says Apollo is an incredible talent but he is not him and cannot do the things he can. Both men shake hands when Heyman interrupts, seemingly disgusted by the friendliness between the two. Big E asked Heyman if he wanted to see the two competitors "throw hands" which Heyman erupted with a huge "yes". Kayla accused Heyman of playing sides when he said he is playing the side of the winner. Explaining his problem with the handshake, Heyman says all of the admirations between the two does not mean anything when they get in the ring with each other. He would say that Big E does not like Apollo that much but it is all in the name of sportsmanship. Heyman tries to prove his point by bringing up the days when The New Day was on top. With all of the merchandise money The New Day received, Heyman asked Big E if he ever thought about helping Apollo. He tells both men they have to learn that sportsmanship is only for losers and "winners in WWE subscribe to the belief that hatred is a far better emotion in that ring than love and respect". While Big E brushes off Heyman's comments, a serious facial expression covers Apollo's face. Crews says Heyman has a point before walking off. Kayla concludes with a reminder of the Intercontinental Championship match between Big E and Apollo Crews for next week's Smackdown. After the interview, Heyman calls over a production crew member to pick up the microphone which Big E "rudely" left behind, even though Apollo left his mic too. Heyman would give a pass on Apollo for "understanding his emotions" but found it was disrespectful by Big E to leave his microphone behind. He would then apologize to the crew for the Intercontinental Champion's "unprofessionalism".
Aneil's Take: I found it intriguing to have an interview with both champion and challenger. Normally, you would have one or the other one, but I don't think I've seen both competitors on the same interviews. I also love the Paul Heyman factor in this feud. Although Paul Heyman is not involved with the feud on Smackdown, he has set the narrative for them on Talking Smack. While Big E and Apollo were complimenting each other, and showing their sportsmanship, Heyman was the one kind of stoking the fire between the two. It'll be interesting to see where this feud goes, especially with Apollo hanging out with Roman on this past Smackdown.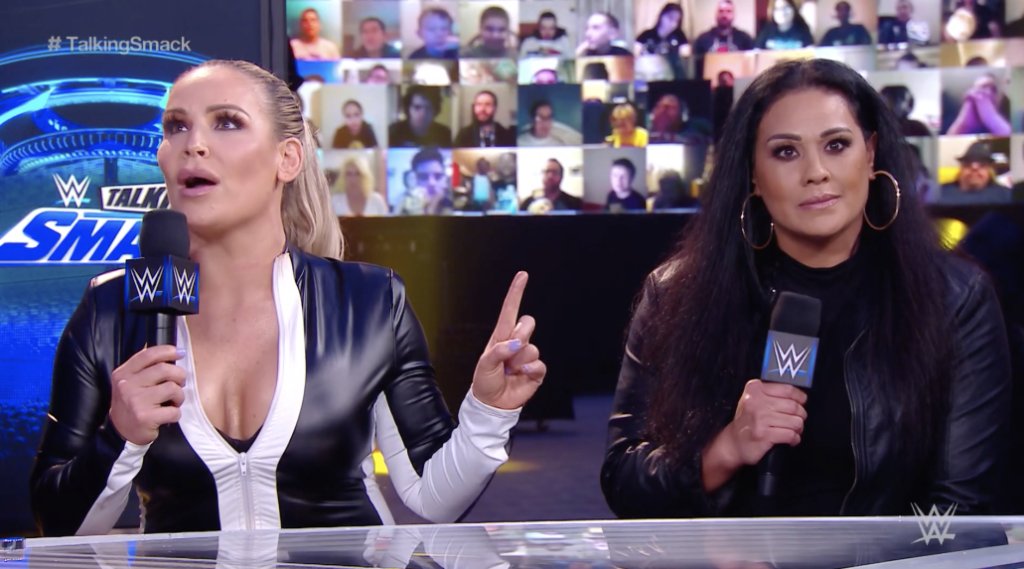 Talking Smack would continue with Kayla introducing their next guests when Heyman interrupted, asking why is the show called Talking Smack when it does not encourage anyone to talk smack. Kayla would introduce their next guests, "The Queen of Harts" Natalya and Tamina as Heyman continued to rant. Braxton complemented Natalya on her outfit before congratulating her on the win against Riott Squad member, Liv Morgan. Asking the #BOAT about her victory, Natalya said it felt great, especially with being "torn" most of her career. She explained that she was feeling torn between being the girl backstage who was smiling and feeling that there was a real killer inside her. During her match against Morgan, Natalya felt that killer inside her, to the point where she contemplated breaking her opponent's ankle. Kayla would bring up the pairing between her and Tamina, which to her was a bit of shock but seemed to work well. Braxton asks what has helped them to work well and how will they shake up the women's tag team division. Nattie believed their experience makes them very dangerous and as well as their family bloodline. Nattie would list off her Hall of Fame family members such as her grandfather Stu Hart, father Jim Neidhart, and uncle Bret Hart, in addition to Tamina's father, Jimmy "Superfly" Snuka. Transitioning to Tamina, Kayla pointed out that the Samoan superstar has never won a singles title in her career thus far. Tamina, feeling disrespected by the question, looks to Heyman who also has a displeased expression. Nattie would pick up for Tamina, saying she believed her tag team partner has been held down but believes it will change with their new alliance. She continued by saying that Tamina was destined for greatness and is incredibly proud to have her watching her back. Neidhart reminded Kayla that Tamina is a "6'1, Samoan Princess would will kick her ass". On the topic of the Women's Royal Rumble match, while Natalya and Tamina are not officially in the match, Kayla questioned if both women would have each other's back since it is everyone for themselves. Although befuddled by the question, Nattie says that she and Tamina represent greatness and represent the best of the best in WWE. She goes on to claim there is no one better than them and their track records prove it. Kayla would end the interview, apologizing for her unintentional disrespect and wished both women well. Natalya would complement both hosts on their attire before Heyman referred to Nattie as "The BOAT" and Tamina as the "Yacht" which stood for "You Are Crazy Hot and Terrorizing".
Aneil's Take: While I found it random to put Natalya and Tamina together, I like that they tried to explain the reason for the pairing. They did make a valid point that they are both from famous bloodlines in the business and they have something to prove. I thought the mention of Tamina never winning a singles championship was kind of random, although Nattie did a good job trying to say her partner was held down. It'll be interesting to see where this partnership leads. Also, I found it funny when Heyman called Natalya the "BOAT" and Tamina the "YACHT".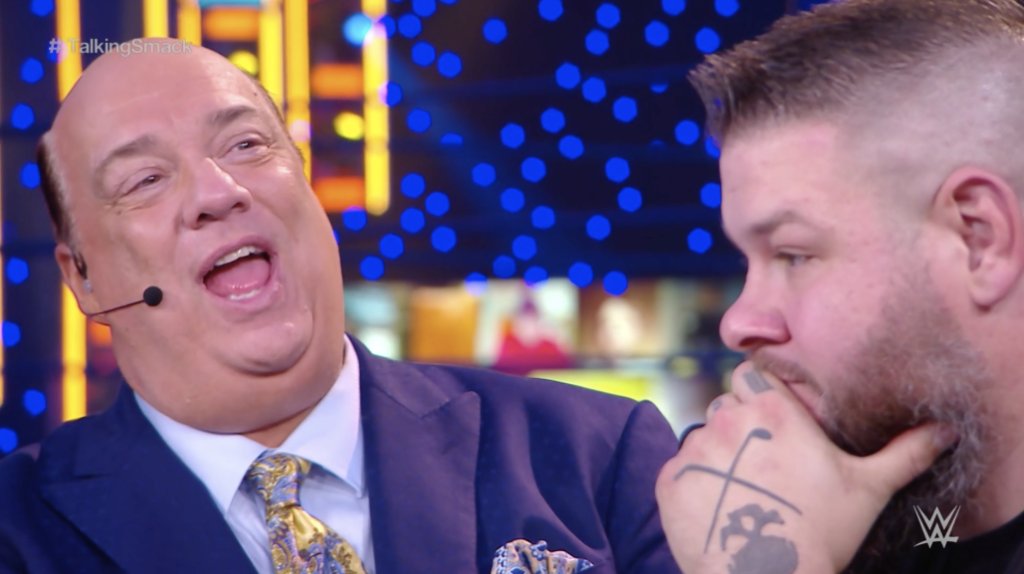 With the last guest on the show, Kayla would welcome the challenger for Roman Reigns' Universal Championship at the Royal Rumble, Kevin Owens. Kevin takes a seat next to the Special Counsel, who looks unpleased. There is an uncomfortable silence between the two before Heyman turned to Owens. Heyman would wipe his face and adjust his suitcase, before admitting that he was outsmarted by Owens. Heyman laughs, explaining that in the 30 years of being in the industry, he has never been outmaneuvered like what Owens had done. "Checkmate well-played Kevin," Heyman said, as Owens laughs along. Heyman continued, saying what Owens did was "so devious, so straightforward" and did not seeing it coming especially with the subject to change. "Brilliant in its simplicity" Heyman called it, and even wished he came up with something like that. However, Paul warns Kevin about the consequences of facing Roman Reigns in a Last Man Standing match at the Royal Rumble. Heyman would go to say Roman "saved him from obscurity" and now his contribution to the Tribal Chief is "civility". But now he cannot control Roman's rage and that the Universal Champion is going to explode. "Shooting from the hip" Heyman spoke about pulling Owens out of jams while as the Executive Producer of RAW. Heyman says he likes Kevin and in another time and place, the Prizefighter would have been a first-round Paul Heyman guy. Owens continued to sit quietly as Heyman warns him that Reigns will beat him "fugly", and have him leaving in an ambulance. Owens would smirk after Heyman told him he is going to hell. Heyman says Owens is a hero for standing up to The Tribal Chief, but it comes at a price. The Special Counsel would conclude by saying that Reigns will make sure Owens does not stand again.
Owens begins to laugh hysterically, much to the shock of Talking Smack co-host. Owens says he would be pissed at the "card subject to the change" when going to WWE events. He brought up the time at his first WWE event, wanting to see Razor Ramon versus Jeff Jarrett show ended up changing to Goldust versus Henry Godwinn. While the match was good for Owens, it was not the Razor Ramon-Jeff Jarrett match he wanted to see. However, twenty years later, "card subject to change" worked out in his favor, which to him was almost poetic justice. Owens says he listened to Heyman, and hear him say about being in hell. But says the only hell he feels is listening to Heyman bitch on Talking Smack. Bringing up the story of being saved from jams, Owens recalled the story differently, as he was the one who saved Heyman. Owens reminded that it was he whom Heyman would beg to bring a spark to RAW and asked how many times he let him down. The former RAW executive remorsefully answered "never". Being Paul Heyman guy since 1998 after discovering ECW, Kevin says Heyman helped him more than he knows and will always be grateful. However, he believes Heyman's concern for him is about as sincere as when he asked him to face Brock Lesnar which never really considered. Owens knows Heyman does not care what happens to him, before pointing to the LED board area where he was thrown off two weeks ago. The challenger to the Universal Championship says that he did not show up on last week's Smackdown not because he could not get up since he was able to but because the officials did not let him in. Owens says he does not want to be a hero; he just wants to be Universal Champion. Standing up, he tells Heyman to go call Roman Reigns before stopping mid-sentence. Rather than make Heyman the messenger, as usual, Owens announces that he will deliver the message to the Universal Champion, face to face on next week's Smackdown. Heyman bows his head in sorrow, before slowly shaking his head at Owens. Dropping the mic, both men stare at each other before Owens laughs and taps Heyman on the shoulder. Talking Smack ends with Owens walking off the set, with a distressed Heyman placing his hand over his face.
Aneil's Take: Two of the best in the company cutting promos that will grab your attention. Heyman's promo goes through a range of emotions, starting with amusement for being bamboozled to a serious tone and then sorrow for what Owens will endure in the last man standing match at the Royal Rumble. I found it interesting especially when Heyman mentioned brought up the time when he was the RAW executive. He did a great job of portraying how dangerous the Universal Champion is and what is in store for Kevin Owens. In counter to Heyman's promo, Owens did a good job showing as if he is not afraid of going into the Last Man Standing match by taking it almost lightly. I think the key to a great promo is making the audience believe what you are saying it truly how you feel and I think both men did that.
Final Thoughts
In comparison to RAW Talk, I think Talking Smack does a better job of allowing their superstars to develop their character while advancing storylines. I believe a big contributor to this is the addition of Paul Heyman, who has a way of communicating with the guest. I like his way of finding the views on situations like his interview with Big E, Apollo Crews, and Dolph Ziggler & Robert Roode these past few weeks. I will also keep an eye on the Intercontinental Championship between Big E and Apollo Crews. Until then, thank you for reading, and stay safe!