TJR: WWE Smackdown 10/09/20 Review (WWE Draft Part 1)
Welcome to this week's WWE Smackdown review. It's time for the WWE Draft while also advertising some pretty big matches as well. Tonight's draft is the first part with the second part taking place on Monday's Raw. It should be a busy episode. October 9 is also the birthday of WWE Hall of Famer Eddie Guerrero (he actually spelled it Eddy, but WWE spelling is Eddie), who would have been 53 years old. Next month will be 15 years since he passed away. He's gone, but never forgotten. That's for sure. If you want to read some of the Guerrero content I have written, here's a WWE Untold review about Rey Mysterio and Eddie Guerrero. Here's my WWE No Way Out 2004 Review. That's the show where Eddie won his only WWE Title when he defeated Brock Lesnar. It was a memorable night and I still remember it very well. Thanks for the memories.
From the WWE ThunderDome at the Amway Center in Orlando, Florida, this is Smackdown for episode #1103. Follow me on Twitter @johnreport. Please visit TJRWrestling.net daily for our regular updates on the wrestling business featuring WWE news coverage along with reviews about wrestling's past and present. Let's get to it.
The show began with a shot of the WWE ThunderDome with fans on the screens. The Smackdown announce team of Michael Cole and Corey Graves were at ringside to call the action. There are over 20 superstars eligible to be drafted tonight and the rest of the roster will be drafted on Monday. Cole said if a champion is drafted then their title will go to the show where they are drafted.
Stephanie McMahon-Levesque-Helmsley-Game was on the stage to host the WWE Draft just like she did last year. She was at a podium with some cards. Raw gets three picks while Smackdown gets two picks because Raw is three hours and Smackdown is two hours. It's the same format they used last year.
WWE Draft Begins…
#1 pick to Raw – WWE Champion Drew McIntyre
#2 pick to Smackdown – WWE Universal Champion Roman Reigns
#3 pick to Raw – Raw Women's Champion Asuka
#4 pick to Smackdown – Seth Rollins
#5 pick to Raw – Hurt Business (MVP, US Champion Bobby Lashley, Shelton Benjamin, Cedric Alexander)
Analysis: The big news is Rollins going to Smackdown after a long run on Raw for him. The others are where they already were.
Seth Rollins was interviewed by Kayla Braxton backstage. Rollins said it was never about the Monday Night Messiah name, it was about the message that mattered the most. He noted he spent all of his career on Raw (when the brand split existed), so now he's a Smackdown guy and it's exciting. Rollins said now he never has to look at the Mysterio family's disgusting faces ever again. He may be foreshadowing something there (he certainly was). Rollins said it will onward to Smackdown on Friday nights.
Analysis: This will also mean Seth's fiancée Becky Lynch will probably be on Smackdown assuming she returns to the ring early next year at some point.
Big E entered first for the first match followed by Sheamus for this rivalry that has been built up for a few months.
Falls Count Anywhere Match: Big E vs. Sheamus
Sheamus with a shoulder tackle, then a running senton and then Big E came back. Sheamus was on the apron with Big E hitting a shoulder tackle to knock down Sheamus to the floor. Big E got a two count on the floor. Big E found some big Booty O's cereal under the ring, then a kendo stick and Sheamus hit Big E with a knee to the face for two on the floor. Sheamus managed to tie up Big E in the ropes by the apron and Sheamus hit him with a kendo stick to the chest two times. Sheamus with three more kendo stick shots to the body, Big E collapsed to the floor and that got a two count. Sheamus was under the ring looking for something, so Big E grabbed some duct tape and taped Sheamus' feet together. Big E with the kendo stick to Sheamus' upper body four times so Sheamus bumped over the barricade and that led to a break.
(Commercial)
The wrestlers were by the ramp with Big E hitting Sheamus with a kendo stick, so Sheamus went to the backstage area. Big E hit Sheamus in the back with another kendo stick shot. Sheamus suplexed Big E onto some tray area. Sheamus poured some flour and eggs on Big E. Sheamus whipped Big E into the equipment trucks. Sheamus grabbed a monitor, but Big E used a broomstick to attack Sheamus and he broke two broomsticks. Big E with three trash can shots to the back of Sheamus, who had visible welts on his back from all the shots with weapons. Big E with a running trash can shot that sent Sheamus out of an Exit door and into an area of the parking lot. Sheamus crawled over to where two cars were and he hit Big E twice with a tire iron. They went onto the hood of a black car and Sheamus gave Big E the White Noise slam onto the windshield of the black car, but Big E kicked out. Sheamus slammed Big E on a windshield previously in this rivalry. Sheamus slammed the car door repeatedly into the back of Big E. Sheamus was bleeding from the left elbow area. Sheamus put Big E into the back of a car, but Big E used his leg to block the trunk from closing. Sheamus went for a Brogue Kick, Big E moved and Sheamus kicked the trunk door off. Big E with a Powerbomb on Sheamus on a white car and that didn't break the windshield, so Big E tossed Sheamus into the windshield to break it. Big E hit the Big Ending off the hood of a car through a conveniently placed table and pinned Sheamus on the floor of the parking lot. That was the end of the match after 15 minutes with both guys bleeding on their bodies.
Winner by pinfall: Big E
Analysis: ***3/4 That was a great brawl that was likely a feud ender since they had a rivalry for months and Big E getting the win here makes a lot of sense in a match like that. Both guys were cut up pretty bad from all of the weapon shots. I like that it felt like a fight right away with Sheamus aggressively attacking with kendo sticks, then Big E got some revenge and it kept going from there. The finish was set up well after the big bumps onto the windshield, which sound (and look) very painful especially when Sheamus did the White Noise slam into the windshield. I think Big E's powerbomb was supposed to break the windshield, but he didn't hit it in the right spot. They improvised after that to break the windshield and then it was a huge Big Ending to win. It's a decisive win for the younger guy Big E, who is getting pushed while Sheamus will remain in the upper midcard on whatever show he is on. I liked this a lot. Great match, boys.
Jey Uso made his entrance for a promo. Roman Reigns is coming up next.
(Commercial)
Big E was interviewed backstage by Kayla Braxton, who said that this match took a heavy toll on Big E and Sheamus. Kofi Kingston walked up to his buddy and Xavier Woods was there too. They were dressed in security shirts. Kingston said they were so excited because they're together again…baby. Woods said that they were missing their WWE Tag Team Championships and not to one up Big E, but they are back to regain those championships. Why? Because "New Day rocks" and they all said it repeatedly.
Analysis: Welcome back to the New Day crew being back together…for now. Cue ominous music.
Let's Hear from Jey Uso (and Roman Reigns)
Jey Uso stood in the ring for a promo asking what's the stipulation for his Hell in a Cell match with Roman Reigns. Jey said that he's ready for whatever Roman has in mind. Paul Heyman appeared on screen telling Jey to stop trying to dictate the time and appearance of Roman Reigns. Heyman said that's at the discretion of the champ, Universal Champion Roman Reigns. Heyman said he applauds Jey's ambition, but those that get too ambitious and want to go against the champ Roman Reigns, here is what happens. They showed a video of Reigns beating up Jey repeatedly at Clash of Champions.
Roman Reigns was seated at a wood desk with the Universal Champion behind him. Reigns said that his dad used to say that in this business, believe nothing that you hear and only half of what you see. Reigns said what you just saw…you can believe that. Reigns said he was trying to help Jey and he was trying to make his life better. All Jey had to do was acknowledge Reigns as the Tribal Chief, so now for the first time inside Hell in a Cell there will be an "I Quit" match. Reigns said it didn't have to be like this. Reigns said he wanted to help him, he loves cousin Jey, but after Jey says "I Quit" there will be consequences. Roman didn't say anything more while Jey just accepted it in the ring.
Analysis: It's a way to make their HIAC match different by making it "I Quit" stipulations. Reigns should win and I assume the consequences will be something where Jey has to join Roman in a stable of some kind and then Jimmy Uso can join when healthy next year.
There was a shot of Stephanie McMahon showing WWE Official Adam Pearce the cards about the next draft picks up next.
(Commercial)
Stephanie McMahon announced that New Day will take on Shinsuke Nakamura and Cesaro for the Smackdown Tag Team Championships later on Smackdown.
WWE Draft Continues…
#6 pick to Raw – AJ Styles
#7 pick to Smackdown – Sasha Banks
#8 pick to Raw – Naomi
#9 pick to Smackdown – Bianca Belair
#10 pick to Raw – Women's Tag Team Champions Shayna Baszler and Nia Jax
Analysis: If you're wondering about Bayley, she is in Monday's pool of names. Bianca Belair is married to Montez Ford of the Street Profits and Naomi is married to Jimmy Uso (out of action until early next year), so it will be interesting to see if they are paired up with their spouses.
There was a promo from AJ Styles at home trashing some Smackdown guys and saying that his future on Raw looks phenomenal.
Analysis: Styles made it public that he preferred being on Raw because one of his sons plays football on Friday nights, so it's better for him. It sounds like WWE honored that request. Earlier in the year, Styles was moved from Raw because he had creative issues with Raw's Executive Director, but since Heyman is off the creative team, Styles is likely happy going to Raw. Styles and Rollins are switching brands as upper midcard heels although in both cases they have been faces as well.
The Miz and John Morrison were in the ring for a match. It's Jeff Hardy up first for the faces with Matt Riddle as his tag team partner.
Matt Riddle and Jeff Hardy vs. The Miz and John Morrison
Riddle with a Fisherman's Suplex on Morrison, then a Poetry in Motion attack by legal man Jeff on Morrison. The Miz was sent out of the ring, so Riddle jumped off Jeff's back and onto Miz/Morrison on the floor.
(Commercial)
The match returned with the heels in control as Morrison hit a standing Shooting Star Press on Jeff for two. Hardy managed to break free, Riddle with kicks on both guys, then a T-Bone suplex on Morrison and one for Miz too. Riddle with a broton splash on Miz and a German Suplex got two as Morrison broke it up. Hardy with a Twist of Fate on Morrison. Riddle with a rising knee on Miz and the Bro Derek slam got the pinfall win after six minutes.
Winners by pinfall: Matt Riddle and Jeff Hardy
Analysis: *1/2 An easy win for the faces. It's a shame when a six-minute match only has three minutes shown due to the commercial, but that's because of the big post match angle that they did. Miz and Morrison are booked like losers a lot.
Lars Sullivan made his return after a long absence. Riddle and Hardy stood in the ring ready to fight him. Sullivan with a huge powerslam on Riddle and a clothesline on Hardy. Sullivan with a running splash on Hardy against the turnbuckle. Sullivan with a running clothesline on Riddle. Sullivan with a lifting powerslam known as the Freak Accident on Riddle. Sullivan got a hold of Miz, hit him with forearms to the face and whipped him face-first into the middle turnbuckle. Sullivan hit the Freak Accident on Miz as well. Sullivan stared into the hard camera with angry faces and yelling. The camera did a close up of Sullivan's mean-looking face leading to a break.
Analysis: It was a long break for Sullivan due to injuries and some other issues. He has been out of action since June 2019. Prior to that, it was obvious that WWE was going to push him hard and now that he's back, it's safe to predict that he'll be pushed in a big way. This didn't make Miz, Riddle or Hardy look good at all, but it was done just to put over Sullivan as a "monster" that's back in action. Sullivan reminds me a lot of Gene Snitsky from the mid-2000s. You can see why WWE would want to push guy because of their look. I just don't have much interest in this guy getting a push and I think this kind of character is going to have a tough time getting over in this era of WWE.
(Commercial)
PLUG TIME: Please check out the special section on TJRWrestling where I have a listing of every WWE PPV that I have reviewed listed in order by the date it took place. As you can see there, I have reviewed a lot of WWE PPVs over the years and there is more to come this week. Earlier in the week, I reviewed Judgment Day 2008. It's not an outstanding show, but some familiar rivalries were on that show like Triple H vs. Randy Orton in a Steel Cage Match, Shawn Michaels vs. Chris Jericho and The Undertaker vs. Edge. Plus, John Cena wrestled in the opening match, which was rare for him in that time period. I usually get one retro review done per week, but I'm going to try to increase the pace.
Stephanie announced that Lars Sullivan will be added to Monday's draft pool meaning we will find out what show Sullivan is on when they do more picks on Raw.
WWE Draft Continues…
#11 pick to Raw – Ricochet
#12 pick to Smackdown – Jey Uso
#13 pick to Raw – Mandy Rose
#14 pick to Smackdown – Rey and Dominik Mysterio
#15 pick to Raw – The Miz and John Morrison
Analysis: I hope Ricochet is utilized better. Jey stays on the same brand as Roman Reigns, but opposite sister-in-law Naomi. Mandy was already traded to Raw a few weeks ago and now is drafted there. The Mysterios to Smackdown means they are on the same show as Seth Rollins again. Remember Seth's promo? That was foreshadowing that move. The Miz and Morrison moving is fine since they lose a lot on Smackdown. Plus, Miz has a reality show on USA Network, so it makes sense for him to be there for Raw. It seems like Miz gets moved in every draft anyway.
There were comments from Rey and Dominik Mysterio with Rey saying they were glad they were together. They were listed together on the list that WWE put out, so that's not a surprise.
It was the top of hour two as Sasha Banks made her entrance. Bayley was up next as the champion with the title and a steel chair.
Smackdown Women's Championship: Bayley vs. Sasha Banks
Banks was very aggressive with a hard slap to the face, then stomps and a knee that rocked Bayley. Banks repeatedly kicked Bayley against the turnbuckle and the referee made her stop. Bayley left the ring, Banks brought her back in and they exchanged pin attempts. Banks got a rollup, but Bayley popped right up with a clothesline to take Banks down. Banks did a sweet move where she was on Bayley's shoulder and then went to the mat where she slapped on a Bank Statement submission until Bayley got to the ropes. Bayley with a hard forearm to the neck with Graves putting over the neck injury of Banks. They were by the apron, Bayley grabbed a chair and jabbed Banks in the ribs with it for the DQ finish after four minutes.
Winner by disqualification: Sasha Banks (Bayley remains champion)
Analysis: *1/4 It was just a tease of what they can do. It was pretty obvious that they weren't going to have a long match or a proper match with Hell in a Cell on the horizon. I like how aggressive Banks was because she should feel that way after Bayley attacked her several weeks back.
After the match, Banks attacked with a steel chair with repeated shots to the back. Banks put the chair around Bayley's neck to try to stomp the chair like Bayley did to her, but Bayley managed to get away. There were referees that showed up to separate the women although Banks didn't try hard to go after Bayley on the floor.
Analysis: It was a good brawl. I would have liked to see Banks go after Bayley on the floor a bit more. I'm fine with referees breaking it up, but show a bit of fight when Bayley is on the floor like that. They are building to a Hell in a Cell match at Hell in a Cell later in the month. It was set up later in the show.
The Progressive Match Flo replay showed how The Fiend's match with Kevin Owens was set up for this week's show.
Kevin Owens was shown taping his hands/wrists. Alexa Bliss walked up to him and said "Let Him In" referring to The Fiend. That was it.
A commercial aired for a Fox special showing the Best Moment of the Year. Why do this in October and not December? No idea, but that's what they are doing. It airs this Sunday on Fox. Check local listings because it depends on what time NFL games air in your area.
(Commercial)
Cesaro and Shinsuke Nakamura were in the ring for their title defense. The New Day was next. Xavier Woods missed nearly one year of action with a Torn Achilles tendon in his foot, which is a major injury. Ember Moon just came back from it on NXT as well. Good to see Woods back in the ring. Kofi has been out for a few months after a big table bump. I don't think he really had an injury. I think it was more of a break for Kofi. Anyway, New Day is back in full force. Cesaro is a major part of Xavier's UpUpDownDown Youtube channel, so they are close friends with the video game bond.
Smackdown Tag Team Championships: Cesaro and Shinsuke Nakamura vs. The New Day (Kofi Kingston and Xavier Woods)
Cesaro with an uppercut on Cesaro, Woods came back with a headscissors and Cesaro hit him with a clothesline. Woods with a running elbow on Cesaro, kick to Nakamura and Woods had Cesaro over his leg with Kingston tagging in with a double foot stomp off the top for a two count. Nakamura saved his partner and kicked Woods off the apron. That led to a break.
(Commercial)
Cesaro was in control of Kingston with a whip into the corner, but Kingston hit a jumping kick to knock Cesaro down. Woods tagged in against Nakamura with a jumping kick with Graves complaining about how unfair this is. Woods with the Honor Roll clothesline on Cesaro and a running dropkick on Cesaro on the floor. Woods with a boot to the face of Nakamura and a jumping DDT for a two count. Woods missed a corner splash when Nakamura moved, Cesaro got the tag and Nakamura hit a kick into a slam by Cesaro for two. Woods with a jawbreaker, Kingston got the tag and hit a hiptoss on Cesaro over the top to the floor. Kingston jumped off the barricade onto Cesaro on the floor. Back in the ring, Kingston jumped off the top, but Cesaro was there with an uppercut to knock him down. Cesaro did the swing on Kingston, Nakamura was the legal man and Woods was grabbing Shinsuke's foot. Kingston with the Trouble in Paradise kick on Cesaro and Nakamura hit a spin kick on Kingston for a two count. Woods got the tag, Kingston with Trouble in Paradise on Nakamura and Woods jumped off the top with an elbow drop on Nakamura for the pinfall win after 10 minutes.
Winners by pinfall AND NEW Smackdown Tag Team Champions: The New Day (Kofi Kingston and Xavier Woods)
Analysis: ***1/4 A good match as expected with wrestlers of this caliber. Xavier Woods getting the win was nice to see since he missed nearly a year of action, so I was genuinely happy for the guy. I liked Cesaro and Nakamura as champions, but I'm not surprised by the title change. What Corey Graves said about how it wasn't fair that Cesaro and Nakamura had to defend the titles without warning is a justifiable statement, but that's what happened.
Post match, New Day celebrated their ninth title reign (seventh time holding the Smackdown Tag Team Titles) while their buddy Big E joined them in the ring. Stephanie McMahon was back for the final WWE Draft segment of Smackdown.
WWE Draft Continues…
#16 pick to Raw – Smackdown Tag Team Champions Kofi Kingston and Xavier Woods
Kofi and Xavier wanted her to say Big E's name with them. The New Day guys were all shocked.
#17 pick to Smackdown – Big E
#18 pick to Raw – Dana Brooke
#19 pick to Smackdown – Otis
#20 pick to Raw – Angel Garza
Those are the last picks they are going to announce on the show.
Analysis: The big thing here is the split of The New Day after over five years together. It doesn't mean they are feuding or anything like that, but it means they are separated for now. From a logical standpoint, why would Big E go 17th after so many people that are barely used on television? Big E is a rising singles star. It's not like WWE will try to justify draft picks. Kingston and Woods take those titles to Raw, which will be weird, but I assume Street Profits go to Smackdown since Montez Ford's wife Bianca Belair is on Smackdown. Otis being picked without Tucker is a bit strange and he's not on the same show as Mandy Rose now. Dana Brooke might be a regular team with Mandy Rose, so that's fine. Angel Garza being a solo act was expected. He's got a bright future.
Here's a handy WWE Draft graph from WWE on Fox on Twitter: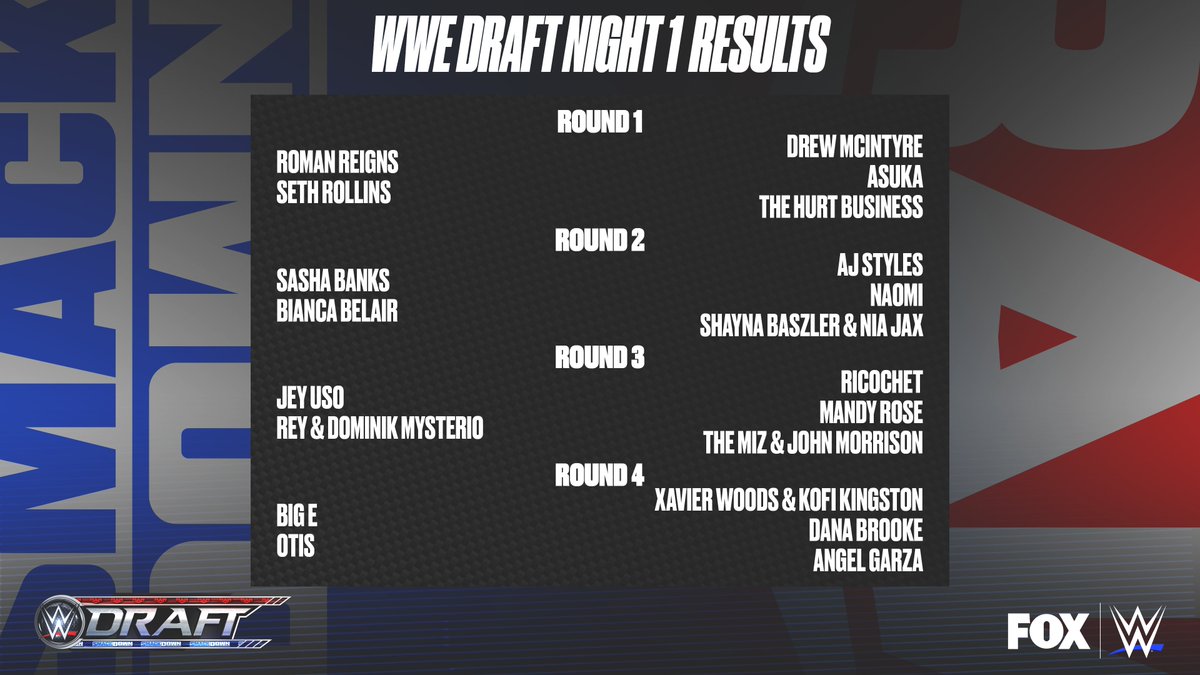 The New Day trio continued to have shocked looks on their faces about how they were broken up because of the picks.
(Commercial)
This Monday: The WWE Draft continues on Raw. No matches were advertised.
It was announced that more WWE Draft picks will be announced on Talking Smack on WWE Network. (SATURDAY AM UPDATE: We have a post on that right here on TJRWrestling as well.)
Otis and Tucker were backstage with Otis noting he was drafted to Smackdown while Tucker was not, so he wondered what that meant. Tucker noted that they'll figure it out later. An unknown woman showed up in the dressing room with an envelope and a paper in it. Tucker read that The Miz's lawyer is filing a continuance to delay the trial. Otis said he was ready. Tucker said that they are trying to draw this out. Otis had some funny line to end it and the audience laughed, so that was likely piped in laughter.
Analysis: What a lame storyline this is. I'm not sure what the point is, nor do I really care to see the story continue. Just move on from it.
Replays were shown of Sasha Banks and Bayley ending in a DQ earlier in the show.
Sasha Banks said she knew Bayley was going to get disqualified. Banks said if you want hell then she wants to face her inside Hell in a Cell. Banks said that Bayley used to be her best friends, Banks used to love her and at Hell in a Cell, Banks is going to take what Bayley loves the most – the Smackdown Women's Championship.
Analysis: That was the obvious next step with Bayley and Banks having a Hell in a Cell match. I hope they get to main event that show too. I know it's been rumored, but I want to see it actually happen. The match was made official after Smackdown.
The introduction of "The Fiend' Bray Wyatt was next as he walked out with the creepy lantern. The announcers noted this was The Fiend's first match on Smackdown. There were rumors that The Fiend might get moved to Raw, so perhaps that is why they are having The Fiend in action on Smackdown this week. The Fiend waited in the ring for the match to begin after a break.
(Commercial)
Next week on Smackdown for the Season Premiere: Roman Reigns defends the Universal Championship against Braun Strowman. The New Day trio vs. Sheamus, Cesaro and Shinsuke Nakamura. It was mentioned as a New Day farewell match.
Analysis: There will probably be people complaining about New Day together next week. It was mentioned as a farewell for New Day, so that's fine with me.
Kevin Owens made his way quickly down to the ring with about 12 minutes left in the show.
"The Fiend" Bray Wyatt vs. Kevin Owens
Owens with a running corner clothesline and a cannonball against the turnbuckle. The Fiend came back with a running cross body block to send Owens out of the ring. The Fiend with a running clothesline on the floor. Back in the ring, Fiend with a whip into the turnbuckle, Owens moved and Fiend did the upside-down pose. Fiend caught Owens and hit a spinning slam to send Owens face first into the mat. Fiend charged, Owens got a boot up and Owens with a clothesline, but Fiend got back up quickly. Owens sent Fiend out of the ring, Fiend got him and gave him a uranage slam onto the top of the announce table. The Fiend hit the Sister Abigail neckbreaker onto the top of the announce table as well.
(Commercial)
The Fiend remained in a control. When he tried for Sister Abigail, Owens slipped out of it and Owens hit two superkicks with Fiend still standing. A third superkick by Owens sent The Fiend into the turnbuckle. Owens hit two cannonball splashes into the turnbuckle. The Fiend went to the floor, so Owens followed and Owens hit a DDT on the floor. Owens kicked Fiend off the apron to the floor. Owens hit a Frog Splash off the apron onto Fiend on the floor. Fiend brought Owens out of the ring, Owens hit a slam onto the table and then he did it again with more of a Powerbomb through the announce table. Fiend crawled back into the ring before the ten count. Fiend slapped on the Mandible Claw submission, Owens hit a Stunner, but Fiend still had the Mandible Claw on and Fiend hit a uranage while holding onto the Mandible Claw. Fiend pinned Owens while holding onto the Mandible Claw for the pinfall win after 10 minutes.
Winner by pinfall: "The Fiend" Bray Wyatt
Analysis: ***1/4 Good match with a lot of action as both guys were very aggressive and The Fiend took a beating, but kept on coming back for more. That's what happens in Fiend matches because he no-sells a lot of stuff, so the other guy has to hit him with a lot of moves and Owens is great for that. I liked the story of the match even though I would have preferred an Owens win, but I didn't expect that to happen. The finish was a bit silly with Owens hitting a Stunner, which had absolutely no effect and then Fiend won shortly after that after a uranage into the Mandible Claw. It makes KO's finisher look like nothing. Other than that, I liked how this was done. They worked well together.
After the match, The Fiend's stared forward. The lights went out. When the lights came back on it was the red light as The Fiend stared at Alexa Bliss while on the ramp. Bray must have ran quickly to get there. They looked at Kevin Owens together, then they looked at eachother and "Let Me In" ended that.
Analysis: The unique "friendship" of The Fiend and Bliss continues. I assume they'll be on the same show and that's probably going to be Raw because Fiend to Raw is the rumor.
The announcers plugged Roman Reigns vs. Braun Strowman for the Universal Title next week on Smackdown and that was the end of the show.
Three Stars of the Show
Big E
Sheamus
Xavier Woods/Kofi Kingston
The Scoreboard
7.5 out of 10
Last week: 7
2020 Average: 6.41
Final Thoughts
I thought it was a very good Smackdown that was easy to follow and everything they put in the two hours felt meaningful. The match quality was better than a usual show with Big E having the best match of the night with Sheamus in a brutal Falls Count Anywhere match. Big E winning was the right call there. I expected Bayley/Sasha to end in a DQ, which is what happened and that led to Banks challenging for Hell in a Cell. The main event of The Fiend beating Kevin Owens was a hard-hitting match that saw Fiend win his first match on Smackdown as that character. I didn't miss Lars Sullivan at all, but he's back to make some angry faces while slamming people around the ring. Have fun with that.
I didn't expect Xavier Woods and Kofi Kingston winning Tag Team gold on this show, but that's what we got as a nice surprise. New Day is also broken up, which we found out on the draft, so that's going to be weird for the trio. The rest of the draft stuff was interesting enough. I think it keeps the audience tuned in to see who is going where. They also told us more draft news was coming on Talking Smack on WWE Network on Saturday, so WWE is trying to get fans to be interested in that too. Most of the key Smackdown talent are staying where they are with Seth Rollins, Rey Mysterio and Dominik Mysterio as some of the big additions. After Monday's Raw, some of the draft moves will make more sense as well.
Smackdown remains the better show compared to Raw. Easy to watch and get through every week.
The next WWE pay-per-view is Hell in a Cell on Sunday, October 25. Here's what we know so far.
WWE Championship Hell in a Cell Match: Drew McIntyre (c) vs. Randy Orton
WWE Universal Championship Hell in a Cell "I Quit" Match: Roman Reigns (c) vs. Jey Uso
Smackdown Women's Championship Hell in a Cell Match: Bayley (c) vs. Sasha Banks
—
Thanks for reading. Go Los Angeles Rams. My contact info is below.
John Canton
Email mrjohncanton@gmail.com
Twitter @johnreport