TJR: WWE Smackdown 09/25/20 Review
Welcome to this week's WWE Smackdown review. This is the last Smackdown before Sunday's WWE Clash of Champions: Gold Rush pay-per-view with every Raw and Smackdown title on the line. Just a reminder that on TJRWrestling there's a listing of all the WWE pay-per-views in company history and you'll be able to see which ones I have reviewed. Thanks for the support.
From the WWE ThunderDome at the Amway Center in Orlando, Florida, this is Smackdown for episode #1101. Follow me on Twitter @johnreport. Please visit TJRWrestling.net daily for our regular updates on the wrestling business featuring WWE news coverage along with reviews about wrestling's past and present.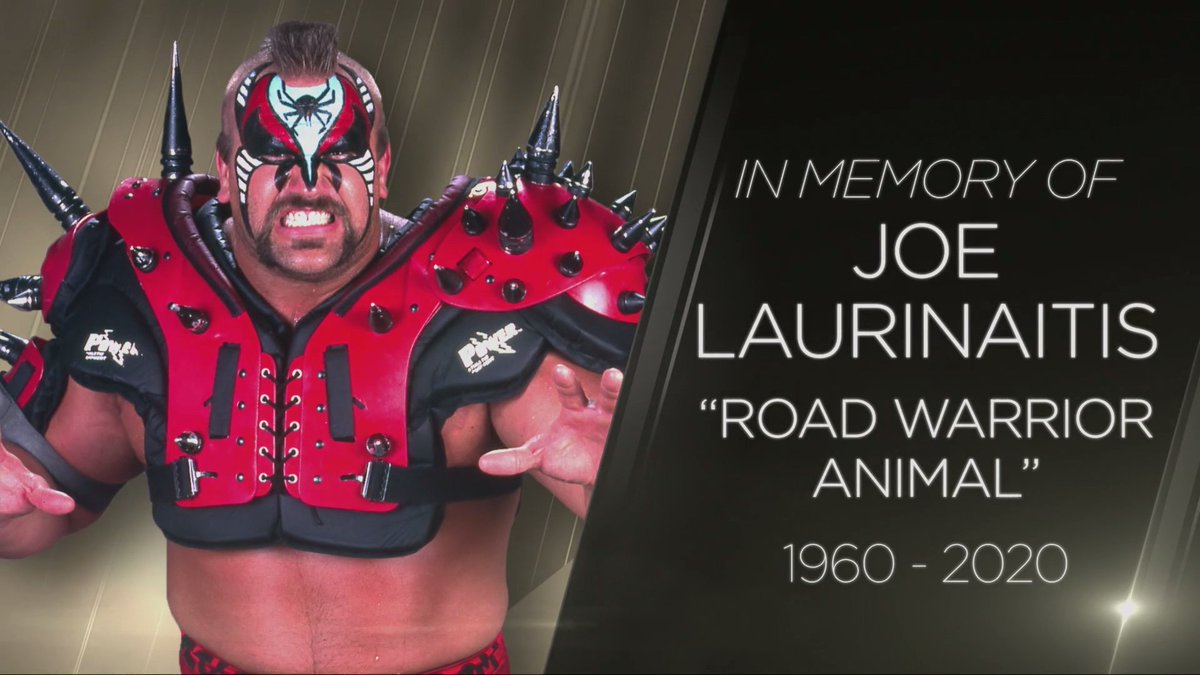 There was a graphic to start the show saying In Memory of WWE Hall of Famer Joe Laurinaitis "Road Warrior Animal" 1960-2020 because he passed away earlier in the week at the age of 60. Gone too soon. What a rush. Rest in peace.
The show began with a shot of the WWE Thunderdome full of the screens with fans faces on it. The announce team of Michael Cole and Corey Graves welcomed us to the show with Graves in the ring for the first segment.
Intercontinental Championship Ascension Ceremony
AJ Styles made his entrance as a former Intercontinental Champion. Sami Zayn walked out to the ring with his version of the Intercontinental Championship. Jeff Hardy was out last as the current Intercontinental Champion with some face paint. This Sunday at Clash of Champions is Hardy vs. Zayn vs. Styles in a Ladder Match for both versions of the IC Title to crown the true champion. There were ladders in the ring and all around the arena.
Graves said that all three of them have said they are the rightful champion, so that's why at Clash of Champions, it's winner take all in a ladder match for both titles. Graves said that Jeff and Sami's titles will be hanging above the ring for the first Intercontinental Championship Ascension Ceremony. Graves reminded us that the winner is the one to grab both titles in the ladder match on Sunday.
Styles asked Jeff if the title is heavy because it is the last time he's going to hold that championship. Styles claimed that Jeff cheated to beat him. Styles wondered why Zayn was even there because he claims to be the champion while staying at home and growing that neckbeard. Styles reminded Zayn that he beat Sami last week.
Zayn said that none of this should be happening. Zayn said that Styles participated in a tournament for the fraudulent championship and when Jeff won that championship, he should have recognized Sami as the rightful champion. Zayn said that now he has to defend his IC Title in a Ladder Match.
Hardy said he actually agreed with Styles with AJ calling himself the smartest guy in the ring. Hardy said that unlike Sami, AJ and Jeff have defended the championship with honor, some more than others. Hardy told Zayn this is his chance to make that championship legit, so they should hang those titles and bring them down on Sunday.
Styles complained about Jeff for cheating and Sami for going away when he was the champion. Jeff and Sami put their versions of the IC Title on a contraption that was then raised above the ring.
While Styles and Hardy were arguing, Zayn shoved a ladder onto both guys to knock them down. Zayn punched Hardy, Styles went after Zayn and Zayn retreated to avoid getting his ass kicked.
Adam Pearce, the WWE Official, showed up to tell Zayn that Styles is added to the match tonight to make it a triple threat. That means they are doing a triple threat here and on Sunday, but on Sunday it's a Ladder Match. Anyway, Hardy got his hands on Styles and dropped him with a Twist of Fate neckbreaker in the ring.
Analysis: This was fine as a promo segment to continue the storyline. All three guys made their cases very clear as to why they feel like they are going to win the Ladder Match, so I'm looking forward to it. I'm not a big fan of doing the triple threat match two days before they do the triple threat match against at Clash of Champions because I think it gives it away. I'm not complaining about match quality. It's more about saving the triple threat for Sunday and I think when you do it this way, it takes away some of the appeal of the PPV match. They should have just stuck with the Zayn vs. Hardy match that was advertised and gone with that.
(Commercial)
The IC Titles were still above the ring. This is not a title match.
Sami Zayn vs. AJ Styles vs. Jeff Hardy
Styles knocked down Zayn with a punch, Hardy with an atomic drop on Styles and Hardy sent Zayn into the turnbuckle. Hardy with an atomic drop on Zayn, then the double leg drop and a low dropkick. Styles sent Hardy into the turnbuckle followed by a neckbreaker. Styles with a sliding kick on Zayn, who was on the floor, to send Zayn into the announce table. Hardy with a kick to the ribs, Styles caught him and flipped Hardy over the top to the floor. Zayn with a running forearm to the head of Styles and Zayn sent Styles into the ring. Zayn with a running clothesline on Styles and Zayn punched Hardy off the apron. Styles with shoulder tackles to the ribs of Zayn leading to a chinlock. Styles sent Zayn into Hardy, who was on the apron and sent to the floor again. Styles went to a chinlock on Zayn again, then Jeff avoided Zayn, who was sent out of the ring and Hardy hit a clothesline. Hardy was working over both guys with punches and kicks. Hardy with a double dropkick that knocked both guys down. Hardy with a back body drop on Zayn, then he jumped off Zayn's back for a splash on Styles for some Poetry in Motion. Hardy went up top, but Zayn shoved Hardy off the top to the apron and to the floor. Styles kicked Zayn in the face and jumped over the top onto Zayn with a forearm to the face. They went to break with all three guys on the floor.
(Commercial)
The match returned with Zayn going for a superplex on Zayn, then Styles slipped out and sent Zayn into the turnbuckle. Hardy got the boots up to stop both guys. Hardy hit the twisting Whisper in the Wind attack off the top. All three guys were down for a moment, they exchanged strikes, Zayn hit the Helluva Kick on both guys, but Styles came back with a Pele Kick to knock Zayn down. Styles drove Hardy's throat across the top rope, then a forearm to Zayn and Styles hit the Phenomenal Forearm on Hardy. Zayn threw Styles out of the ring and Zayn pinned Hardy for the "steal the pin" finish after 12 minutes.
Winner by pinfall: Sami Zayn
Analysis: ***1/2 A very good match with all three guys getting plenty of offense and then the heel Zayn doing the cheap finish. I mentioned "steal the pin" because that's when one guy does a move like Styles did, then Zayn threw Hardy out of the ring and Zayn stole the pin by getting the win after AJ's Phenomenal Forearm. I assume WWE went this route because they likely wanted to give Zayn a win since it has been a long time since he won a match on WWE television. Anyway, it was booked very well and they're all great workers, so it's no surprise that they did well here.
Post match, Styles used a ladder to knock over Zayn. Styles also hit Hardy with a ladder while Jeff was on the apron, so that sent Jeff to the floor. Styles got another ladder, put it in the ring and did the climb to the top to unhook the titles. Styles held both IC Titles in his hands.
Analysis: I think Jeff Hardy keeping the title is the most likely finish at Clash of Champions, but I like all three guys here anyway.
Otis and Tucker were backstage with the Money in the Bank briefcase and the legal papers since The Miz is trying to sue them.
(Commercial)
A replay aired of last week when Otis attacked The Miz and John Morrison. Otis stripped Miz of his suit to leave him in his white undies.
Otis and Tucker were interviewed by Kayla Braxton. Otis had his two Money in the Bank cases. Otis made it clear that Miz and his lawyers can't take Money in the Bank from him. Miz said that they want WWE to have a better Money in the Bank holder. Miz fired off the name of his lawyers, then said they'll keep taking legal actions and Otis was getting angry at them. Otis said that where he comes from, they settle differences one way (referring to a fight) and not with lawyers. Tucker noted that Miz's lawyers only put Miz's name on the lawsuit, so Otis attacked Morrison and sent him into a garage door. The fight was quickly broken up by WWE officials.
Analysis: The lawyer story is lame, but at least that was better than last week's segment.
A recap aired of the Bayley/Sasha Banks story with a highlight of Sasha Banks telling Bayley she's going to take the Smackdown Women's Champion and that led to another Bayley attack on Banks. It was broken up before it escalated.
Let's Hear from Bayley
It was Bayley's promo time again as she walked out in street clothesline with a steel chair in hand. Bayley sat at the top of the ramp instead of in the ring.
Bayley thought she was a role model and said that she can watch that inspiring footage all day long. Bayley said that she didn't have an ounce of time to waste on that useless Sasha Banks. Bayley said that unlike Sasha, she has work to do and she has a championship match to prepare for. Bayley mentioned Nikki Cross saying she admires Nikki's heart and fighting spirit. Bayley said that last week, Nikki said that this match will be different because Bayley doesn't have Sasha in her corner. Bayley said that Sasha won't be in the corner because of what Bayley did to Banks. Bayley said she'll start by wiping the smile off Nikki's stupid little face. Bayley picked up the chair saying you can only imagine what's going to happen next…right Sasha? End promo.
Analysis: A fine promo from Bayley as usual. I kept waiting for Cross to interrupt, but there was no sign of her. I think her match with Cross could have used a promo from Cross talking about how she was going to win, how she has to beat Bayley to finally become a champion and so on. Instead, it made it feel like Bayley looking past Cross. I get why it was done this way. I just think they could have done more for Cross as a contender.
There was a commercial for a WWE Network special WWE Chronicle documentary focusing on Jey Uso that debuts on Saturday. Those are always well done.
(Commercial)
Lucha House Party were in the ring as Shinsuke Nakamura made his entrance. The Smackdown Tag Team Title match at Clash of Champions is Nakamura/Cesaro vs. LHP.
Shinsuke Nakamura (w/Cesaro) vs. Gran Metalik (w/Kalisto and Lince Dorado)
Nakamura with knees to the ribs, Metalik with a kick to the ribs and an impressive arm drag off the ropes that sent Nakamura to the floor. Metalik went after Nakamura on the floor, so Nakamura met him with a spin kick to the head. Nakamura sent Metalik into the barricade. Nakamura with a running knee to the face while Metalik was on the apron. Nakamura with a hard knee to the ribs and he sent Metalik into the bottom rope. Metalik with a hard chop, but Nakamura took him down with a front facelock. Metalik with a running headscissors to send Nakamura to the apron leading to a leaping knee to the face. Metalik jumped over the top with a somersault dive onto Nakamura on the floor. Back in the ring, Metalik with a springboard Senton Bomb for a two count. Metalik went up top for a moonsault, Nakamura moved and Nakamura sent Metalik into the top turnbuckle. Nakamura with a running knee to the back of the head. Nakamura with the Exploder Suplex, then the Kinshasa knee to the face and Nakamura covered Metalik for the pinfall win after five minutes.
Winner by pinfall: Shinsuke Nakamura
Analysis: **1/2 It was a competitive match between two veterans that know how to make the most of the time. It would be nice if they got more time, but not every match can go long. I liked how Metalik got in plenty of offense and nearly won until Nakamura was able to finish him off.
Post match, Dorado checked on Metalik in the ring and Cesaro hit a gutwrench suplex on Dorado. Kalisto watched on from the floor and didn't try to help his buddies. After Cesaro and Nakamura left, Kalisto went into the ring. When Kalisto helped Dorado back up, Dorado shoved Kalisto on his ass. That led to Kalisto looking shocked and saying he wanted to help.
Analysis: It's weird that WWE keeps teasing a tag team breakup when they are hurting in terms of the number of teams on Raw and Smackdown. I guess in this case they can still have a team. It looks like it is Kalisto who will break from the group while Metalik/Dorado can probably remain a team.
Jey Uso was shown backstage and he went up to Roman Reigns' dressing room, knocked on the door and told him to open the door. That led to a break.
(Commercial)
There were images shown of Road Warrior Animal to celebrate the WWE Hall of Famer that passed away earlier this week. They showed tweets from The Rock, Triple H, Hulk Hogan, Kurt Angle and Ric Flair paying tribute to Animal.
A video package aired for Roman Reigns vs. Jey Uso at Clash of Champions talking about their family history. Afa, who is Roman's uncle, talked about how close Roman and The Usos were. Rikishi (The Usos dad) spoke about how they were a tight family while adding that it was almost like Roman was destined for greatness. Sika, Roman's dad, also spoke about how tough his son was. Jimmy Uso (out with a torn ACL knee injury) spoke about how his brother gets to compete for the Universal Title. Jimmy said they are not little boys in there. Rikishi said that Jey will become the new Universal Champion. Sika said that Roman is always ready, Jimmy told Jey to get it and Rikishi said that Jey is the new Tribal Chief and it's nothing but love.
Analysis: That was really good. It was cool to see comments from Rikishi, Sika, Afa and Jimmy talking about the family bond. I liked that a lot in terms of advancing this story.
Let's Hear from Jey Uso
Jey Uso entered for a promo ahead of Clash of Champions on Sunday. Jey said he is hyped after seeing his family right there. Roman Reigns and Paul Heyman were shown watching on a TV backstage. Jey said it was family vs. family, Uso vs. Reigns and he's ready for it. Jey called for a replay of last week. Jey and Roman won a tag team match over Sheamus and King Corbin with Jey pinning Corbin after a spear from Reigns. Then Jey held up the Universal Title, Jey tossed the title back to Reigns and they hugged. After Jey left the ring, Reigns stared at him with a very serious stare on his face.
Jey said that all week they were asking him about "The Look" and he noted he couldn't see it with his back turned. Jey wanted to ask Roman what's up with "The Look" last week. Reigns was shown sitting backstage with Heyman. Jey said that you're going to smile in his face and then frown to his back.
Heyman spoke to a camera backstage. Heyman said that the WWE Universe deserves to hear what Roman Reigns has to say what Jey Uso face to face in the ring. Heyman said it won't happen when Jey wants it to happen – it will happen on the accommodation of the Tribal Chief Roman Reigns. Heyman said that this face to face discussion will happen in the ring tonight. Heyman went back into the ring.
Jey said he knew something was up. Jey said that either way it goes, they are manning up because at Clash of Champions…welcome to the Uso Penitentiary. Jey left.
Analysis: It was an interview to tease an interview later to tell the audience that Roman Reigns is going to be in the ring on the show. I like that they had Jey address "The Look" by Reigns last week because that was a key point in the story to tell the audience that Reigns hugging Jey was not genuine while the serious look could be what Reigns really feels about the match with Jey. With that said, this felt like filler that could have been handled in a Jey/Heyman backstage segment for a few minutes instead of spending more time on it.
A clip aired of Matt Riddle beating King Corbin clean at Payback last month. After the match, Corbin attacked Riddle. This week on Smackdown, they have a match again.
King Corbin did a promo backstage saying that last week when he was preparing to elevate the main event of Smackdown, he saw Matt Riddle's little bro montage. Corbin insulted Riddle.
Matt Riddle made his entrance…bro. Riddle responded to Corbin promo with a pre-match promo. Riddle said that Corbin has tried making his life miserable, but he can't keep the Bro down. Riddle said he'll show the difference between a stallion (that would be Riddle) and a jackass (that would be Corbin).
(Commercial)
King Corbin made his entrance in the ridiculous king attire. It's been over a year since he won King of the Ring.
Matt Riddle vs. King Corbin
Riddle with punches followed by a clothesline over the top to the floor. Riddle punched Corbin back in the ring, but Corbin caught him with a boot and punches. Corbin with a punch to the face. Riddle went for an armbar, then Corbin with a body slam, a knee and a punch to the ribs. Riddle ran off the ropes right into an elbow from Corbin for a two count. Corbin whipped Riddle into the turnbuckle, then Corbin did his slide out of the ring and back in, but Riddle hit a rising kick to the head. Riddle sent Corbin over the announce table and then a fired up Riddle stood on the table as the show went to break.
(Commercial)
The match returned with Riddle going for a triangle choke, but Corbin powered out of it and hit a Powerbomb for a two count. Corbin worked over Riddle with some punches along with some rope choking that is always effective. Corbin went off the ropes with a running punch to the face. Corbin went for a move off the ropes again, but Riddle was playing possum as he went to the mat. Riddle came back with a rising knee, two forearms and an Exploder Suplex. Riddle went off the ropes, the broton splash and the running knee/kick to the chest for two. Riddle jumped on the back for a sleeper, then Corbin to the ropes and Corbin countered a knee into a Deep Six slam for a two count. Riddle with some kicks, then he jumped off the middle ropes and Corbin punched him in the face. Corbin went for End of Days, but Riddle landed on his feet and hit a running knee to the face. Riddle went up top with the Floating Bro, but Corbin got the knees up and Corbin hit End of Days for the pinfall win after about 11 minutes.
Winner by pinfall: King Corbin
Analysis: *** It was an even match for much of the way, but the 50/50 booking strikes again with Corbin getting the win after Riddle won their last match at Payback. I liked the last few minutes with some big moves from Riddle nearly getting him the win and then it was Corbin finding a way to get the job done. I'm not a fan of this booking decision. I'd rather see Riddle win to continue his winning ways, but this is how WWE books rivalries with people trading wins.
Post match, Riddle was interviewed in the ring by Kayla Braxton. Riddle said losing sucks, but he's going to continue to grind until Smackdown is the Bro Show.
Analysis: It should lead to another Riddle vs. Corbin match with Riddle getting another win.
There was a video of the mystery woman sitting at a makeup chair putting on some makeup. She wore the word "UNTOUCHABLE" on the mirror and then took a photo, but the letters blocked her face.
Analysis: It's definitely Carmella with a bit of a different look and tweak to her character.
Alexa Bliss made her entrance. In a pre-tape promo before the match, Bliss said that Lacey Evans is the kind of lady that sends food back at a restaurant and gives ladies a bad name. Bliss is in action against Evans up next.
(Commercial)
This week on Talking Smack with AJ Styles, Bayley and Lucha House Party as the guests. The hosts are Kayla Braxton and Xavier Woods.
Lacey Evans made her entrance for the last match of the night. Last week, Alexa Bliss hit the Sister Abigail neckbreaker on Evans on the floor since Bliss has Fiend related mind games now.
Alexa Bliss vs. Lacey Evans
Bliss got a couple of quick rollups for two counts until Evans connected with a punch to the ribs. Evans tossed Bliss across the ring. Evans with a splash against the turnbuckle for two followed by a chinlock. Bliss tried to fight back with a slap, but Evans took her down by the hair. Evans wrenched on the left arm/shoulder across the top rope. Bliss came back with an STO trip. There was some Fiend laughter that played in the arena as Bliss looked confused and that led to a break.
(Commercial)
The match returned with Evans in control with a standing moonsault for two. It was back to a chinlock for Evans and it was applied in a way that looked weak. Bliss missed a corner charge, Evans sent Bliss into the turnbuckle and them some knee lifts on the apron. Evans with a seated dropkick that sent Bliss off the apron to the floor. Bliss finally got some offense going as she sent Evans into the turnbuckle, then a clothesline, a shoulder tackle, two slaps and a basement dropkick. Bliss had a hold of Evans, but then Bliss paused and shook her head to show she was still feeling the effects of what is bothering her. Evans stood on the top rope and jumped off with a moonsault. The lights went red in the arena along with Fiend noises. Bliss started freaking out after that as she punched Evans repeatedly while in the ropes. Bliss kept on kicking Evans, stepping on her back and not caring when the referee told her to stop, so it was a disqualification after ten minutes.
Winner by disqualification: Lacey Evans
Analysis: *1/2 This was a boring, slow-paced match and it was more about advancing the Bliss story. Lacey's offense was weak. It just wasn't booked in a way that makes me think viewers would be compelled by this, but then they did the bit where Bliss snapped and it got more interesting. If this was a few minutes shorter it would have been better.
Bliss sent Evans to the floor. That led to Bliss doing the kiss on the forehead and Bliss delivered the Sister Abigail neckbreaker. Bliss went into the ring, she stared ahead, The Fiend appeared on screen to say "Let Me In" and Bliss was smiling about it. Bliss left with a grin on her face.
Analysis: The mysterious behavior of Bliss continues. I like it. Slow build. Keep it going.
As Bliss was walking up the ramp, the Universal Champion Roman Reigns entered with Paul Heyman. As Roman and Paul walked by, Bliss stared at Reigns and Heyman, who were not looking at Bliss because they were looking towards the ring. Cole noted that Reigns took that championship from The Fiend.
Analysis: There's a subtle hint by having Bliss staring at Reigns as if it was on behalf of Fiend. I like how that was done.
(Commercial)
It's main event promo time on Smackdown.
Let's Hear from Roman Reigns
Roman Reigns, the Universal Champion, was in the ring with Special Counsel Paul Heyman. Paul said a few words, so Jey Uso showed up and walked down to the ring.
Reigns said he wouldn't give Jey this title if he could. The truth is that Jey wouldn't know what to do with it. Reigns said that you don't understand the accountability, the responsibility of being on top, the weight and pressure from being the face of WWE. Reigns said that it is not Jey's fault because he's a twin that has depended on his brother. Reigns said that doesn't make Jey half the man that Roman is, but Jey is one half of the greatest tag team of this generation and the family is so proud of Jey. Reigns said that their family depends on him and being the Tribal Chief because that's who Roman is in this life. Roman said it won't be Jey, it won't ever be Jey because it will always, always be Roman. That led to Roman and Paul leaving the ring.
Analysis: Honest thoughts from Reigns even though you can say that he didn't say it in the nicest way. At least he was direct about it.
Jey was alone in the ring as Roman and Paul were in the aisle. Jey: "What if you're wrong?" Jey wondered why he can't be the one to provide for the family, for his wife and his kids – Roman's nephews. Jey said that Roman has been number one, he's been on top, Mr. WrestleMania and you know what they see when they see Jey: "Which one are you?" Twin problems. Jey said that after Sunday, they will know who he is because Jey is the one that beat Reigns at Clash of Champions for the Universal Championship and that right there will be Jey.
Analysis: I liked that a lot. Nice passion shown by Jey. The line about "which one are you?" is something that identical twins have to deal with a lot, so it made sense for him to say it. I doubt many viewers think Jey will win the title, but at least he did a good job of convincing people.
Jey was backing up the ramp, then he turned around and walked to the back when Reigns showed up with a Superman Punch to knock Jey down with Jey selling it like he was knocked out.
Reigns grabbed Jey by the head and spoke loudly so the camera picked it up. Reigns: "I don't just feed my kids for this title. I don't just feed your kids for this title. I feed our whole family for this title. Our family needs me to have this title. If you wanna take it from me, you gonna take a payday and take the ass whooping that comes with it. You never take this title from me. You will never take my place at the head of the table." The Thunderdome crowd was loudly booing as Reigns stood up and stared straight ahead with the Universal Title in his hand. End show.
Analysis: There's the attack that was brewing for weeks. Reigns with the cheap shot to draw heat and then the promo that showed how much he feels he needs the title. I thought it was excellent in terms of showing how much Reigns believes he needs to keep the title in order to keep his spot in WWE as well as with his family. Nice selling by Jey and Roman's intensity was really good.
Three Stars of the Show
1. Roman Reigns/Jey Uso
2. Sami Zayn
3. AJ Styles/Jeff Hardy
The Scoreboard
7 out of 10
Last week: 6.75
2020 Average: 6.36
Final Thoughts
I think it was a pretty good show overall. I really enjoyed the promos from Jey Uso and Roman Reigns along with the attack by Reigns on Jey to end the show. By doing that ending, they took another step in the heel direction of Reigns with the way he attacked cousin Jey Uso in the last minute and then delivered that intense promo. Heel Roman is an interesting character, at least in my opinion. That video package featuring members of Roman and Jey's families was awesome too.
Match quality was just average with the Zayn vs. Styles vs. Hardy match standing out. I also enjoyed their promo to start the show because it made sense from the perspective of each character. I didn't like Corbin beating Riddle. I hate when 50/50 booking strikes. Alexa Bliss acting weird again is intriguing. It would have been nice to have Nikki Cross confront Bayley while Bayley was talking about Sasha Banks a lot. No follow up to Big E after returning last week is disappointing, but he is off the next PPV, so that's probably why he was kept off the show.
Smackdown is more of a traditional wrestling show that is pretty good at advancing stories without being over the top or too silly. I can't say the same thing about Raw these days.
The next WWE pay-per-view is Clash of Champions on Sunday, September 27. Here's the lineup so far.
WWE Championship Ambulance Match: Drew McIntyre (c) vs. Randy Orton
Universal Championship: Roman Reigns (c) vs. Jey Uso
Intercontinental Championship Ladder Match: Jeff Hardy (c) vs. Sami Zayn (c?) vs. AJ Styles
Smackdown Women's Championship: Bayley (c) vs. Nikki Cross
Smackdown Tag Team Championships: Shinsuke Nakamura and Cesaro (c) vs. Lucha House Party (Kalisto, Lince Dorado and Gran Metalik)
United States Championship: Bobby Lashley (c) vs. Apollo Crews
Women's Tag Team Championships: Shayna Baszler and Nia Jax (c) vs. Ruby Riott and Liv Morgan
Raw Tag Team Championships: Street Profits (Montez Ford and Angelo Dawkins) (c) vs. Andrade and Angel Garza
Raw Women's Championship: Asuka (c) vs. Zelina Vega (Kickoff Show)
—
Thanks for reading. Go Los Angeles Rams and Toronto Blue Jays. My contact info is below.
John Canton
Email mrjohncanton@gmail.com
Twitter @johnreport