TJR: WWE NXT 09/16/20 Review
Welcome to the WWE NXT review here on TJRWrestling for NXT being back on Wednesday night. It was on Tuesday night for the last two weeks. The next NXT Takeover event is on Sunday, October 4 and nothing has been announced for it yet, so they really need to get going in terms of building it up. I'll go play by play format for the first and last matches while the others will be more of a condensed format. This show was taped last Tuesday night.
They started with highlights of last week's show with Finn Balor winning the NXT Title and Rhea Ripley beating Mercedes Martinez in a Steel Cage Match main event.
The show took place at Full Sail University as usual with development wrestlers in the crowd behind the plexiglass. The announcers are the tall announce team of Vic Joseph and Wade Barrett at Full Sail University and Beth Phoenix calling the action from her home in North Carolina. Check out my past WWE NXT reviews right here. It was announced earlier on Wednesday that Barrett is a full-time NXT announcer now, for at least a year and perhaps more if he chooses to stay. It sounds like he wants to be there long term. I think Barrett's a great fit.
Io Shirai vs. Shotzi Blackheart
This is not for Shirai's NXT Women's Title. They started the match with each woman avoiding strikes, which included an impressive cartwheel by Shirai. There was a trip by Shirai leading to some nearfalls. They each got some nearfalls. Barrett was calling Shotzi a weirdo while joking that he's scared of the weirdos. Blackheart wrenched back on the arms of Shirai to ground Shirai until Shirai got her foot on the bottom rope to break free. Blackheart with a forearm while on the apron, Shirai avoided a charge and Shirai hit a moonsault off the middle ropes onto Blackheart on the floor. She didn't connect with it perfectly, but it hit enough. They went to split screen action, but I don't recap that part.
Blackheart was in control with a dropkick into the turnbuckle, a corner splash and a bulldog takedown. Blackheart with a knee, then they exchanged chops and Shirai missed an enziguri. Shirai was able to slap on a Crossface submission and Blackheart managed to get her foot on the bottom rope to break the hold. Shirai went for the 619 kick, Blackheart moved, two kicks to the head and Blackheart hit a senton to the back while Shirai was against the ropes. Blackheart with a Tiger Suplex into a bridge for two. Blackheart had Shiri trapped on the mat with a submission hooking the arms, but Shirai rolled out of it. Shirai with a flapjack, then a 619 kick against the ropes and Shirai went up top with a missile dropkick for two. Shirai went up top, Blackheart tripped her up and Blackheart hit a super hurricanrana off the top (or a Frankensteiner) for a two count. That was really cool! Barrett put over Blackheart for showing off athleticism that he didn't know she had and gave her credit for it. They battled on the turnbuckle, then onto the apron and Shirai hit a German Suplex on the ring apron, which is the hardest part of the ring as we all know. Blackheart landed on the back of her head/shoulders and Shirai got a two count after that. Shirai with the Meteora double knees against the turnbuckle. Shirai went up top for the moonsault and she jumped off with her legs hitting hard onto the chest of Blackheart for the pinfall win after 14 minutes. Good job by the referee checking on Blackheart after the moonsault to see if she was okay. She appeared to be fine.
Winner by pinfall: Io Shirai
Analysis: ***3/4 Awesome match with a bit of a rough finish due to the knees hitting Blackheart hard. Shirai usually hits the moonsault perfectly, so I was a bit surprised that she was off a bit there. The match was a bit better than I thought it would be. I liked this match a lot. Great job by both women especially in the second half of it. This was a big match for Shotzi to show how good she can be and I thought she was impressive. Barrett was right to put over Shotzi's resiliency in continuing to fight back when it looked like she was out of it. Shirai might be the best women's wrestler in all of WWE, so if you can hang with her then you are going to win over the fans after a match like that. Shirai winning was the right call since NXT doesn't have champions losing non-title very often (like we see on Raw/Smackdown).
Post match, Shirai helped Blackheart back up to her feet and they shook hands. The crowd cheered them while the announcers put them over with Barrett saying it was a star-making performance from Blackheart. Well said.
A video was shown of the recent vicious behavior of Tommaso Ciampa because he's a heel now.
Next week on NXT: A number one contender's battle royal for the NXT Women's Championship. The winner gets to challenge Io Shirai for the title at the next Takeover on October 4. Here's a graphic to show who is in the match.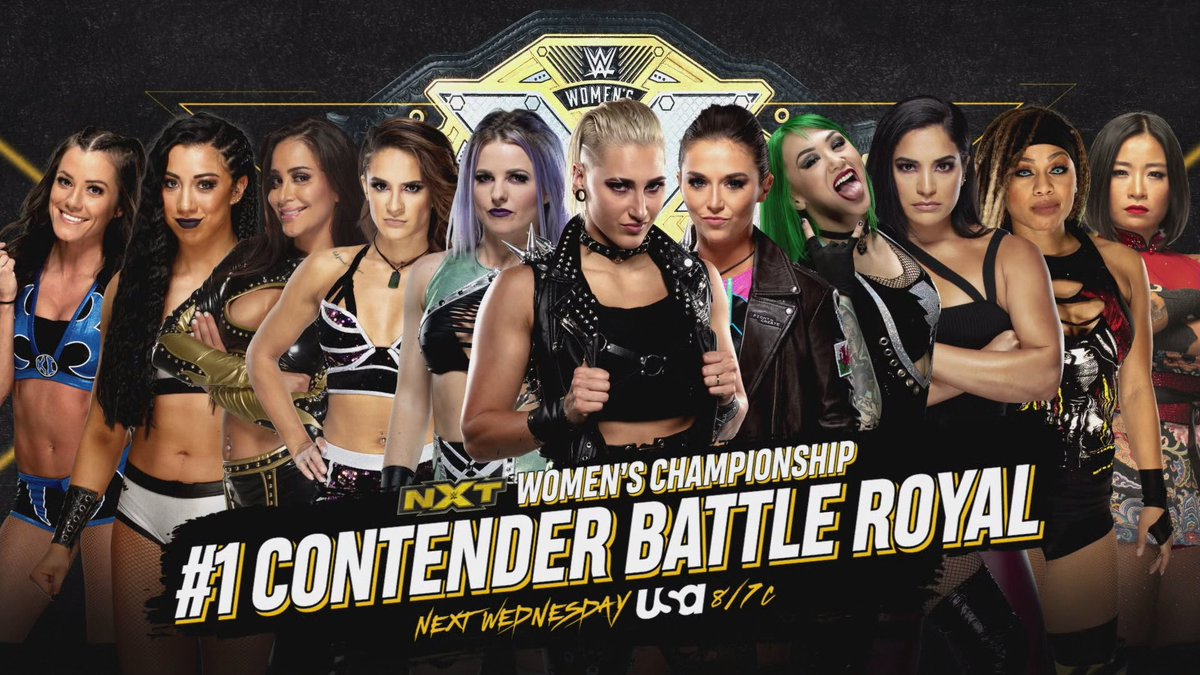 Analysis: There are a lot of potential winners here. Ripley is an obvious choice to put her in singles with Shirai and potentially get the title back on Ripley. I think heels like Dakota Kai (again) or even Raquel Gonzalez are a possibility. Maybe Shotzi Blackheart should win because then they can do a rematch of the great match they had here, except this time for the title. I like that idea. Ripley winning is probably my pick, but I may talk myself into the Blackheart pick too.
Tommaso Ciampa vs. Desmond Troy
Desmond Troy used to be Desmond Dejournette, but they changed his name to give him a new ring name. Ciampa with a knee lift (and thigh slap) to take control. Troy got a bit of offense, but then Ciampa took over with a clothesline and a catapult into the bottom turnbuckle. Ciampa hit the Willow's Bell DDT for the pinfall after two minutes.
Winner by pinfall: Tommaso Ciampa
Analysis: * A dominant win for Ciampa, who is back in heel mode and looking as good as ever. It wouldn't be a surprise to see him back in the NXT Title picture very soon.
Jake Atlas showed up with a microphone saying that Ciampa kicked his ass a few weeks ago. Atlas said he's not a coward that attacks from behind and said next week he'll show Ciampa just how dangerous he can be. Ciampa had a grin on his face.
Analysis: Atlas is very talented. It's good to try to build him up by putting him against Ciampa even though it's probably a win for Ciampa.
Drake Maverick was shown arriving earlier in the day saying he hasn't heard from his tag team partner Killian Dain, but they have a common enemy. Drake thought everything would be fine.
Finn Balor did a promo while showing highlights of his NXT Title win last week. Balor said in the past, he was there to build a brand, carry the brand and be the brand. Balor said that he doesn't need the brand, he made the brand and now the brand needs him. Balor said that Balor has been fighting for 20 years to be champion, so now people need to fight to face the champion and said that the line starts here. Balor warned them to look both ways before you cross the Prince.
Analysis: This might be my favorite version of Balor in WWE. Balor isn't a face or a heel (I think he'll be more of a face now), but he's a guy that is easy to like and respect based on his performances. I like the aggressiveness, confidence and intensity shown by Balor. I'm interested in seeing who steps up next.
Austin Theory did a pre-match promo saying he was a future first ballot Hall of Famer. Theory told Bronson Reed that last week was a fluke and he issued a challenge to anybody in the back.
Kushida vs. Austin Theory
Kushida was aggressive early with a dropkick, but then Theory took over by sending Kushida ribs first into the ropes. Theory with a suplex and a backbreaker to remain in control. Kushida with a running kick to the left arm, then more kicks to the left arm and a basement dropkick to the arm. Kushida continued to work on the left arm with a running slam on the floor. Kushida slapped on the Hoverboard Lock on the left arm with Theory tapping out to give Kushida the submission win after three minutes.
Winner by pinfall: Kushida
Analysis: *1/2 I'm all for Kushida wins like that. The story is that Kushida is more aggressive now and that's why he kept going after the left arm aggressively. Kushida is so talented in the ring and just needs a chance to show what he can do. Theory is more of a long term guy to build up since he's only 22 years old.
Candice LeRae did a promo from home about Tegan Nox and husband Johnny Gargano complained about Tegan Nox breaking their TV. Gargano noted they were celebrating their four year anniversary. Gargano ordered a new television and they said they would each have titles.
NXT Tag Team Championships: Breezango (Tyler Breeze and Fandango) vs. Imperium (Fabian Aichner and Marcel Barthel)
This is a title rematch since Breezango beat Imperium for the titles a few weeks ago. The heels Imperium were aggressive early on as they worked over Fandango with strikes and sent him into the turnbuckle. Fandango was the face in peril as Barthel and Aichner made a lot of quick tags while isolating Fandango from his partner. Fandango tried to fight out of the heel corner, but Aichner decked him with a hard clothesline. Barthel hit a double underhook suplex that was good for a two count. There were some double team moves from the challengers that led to more two counts.
After a break, Fandango was still isolated by Barthel and Fandango hit a huge clothesline to create some space. Breeze finally got the hot tag against Aichner. Breeze with forearms, a running dropkick, corner forearm and a single leg half crab submission. Fandango sent Barthel out of the ring while Aichner hit a rolling senton and Breeze came back with a superkick for two as Barthel broke up the pin. Aichner hit an impressive delayed suplex for a two count with Fandango breaking up the pin. Fandango was back in with a cross body block that sent three of the guys to the floor. Fandango saved Breeze from a move, then hit superkicks on both heels and Fandango went up top with a leg drop, but Aichner moved. Great nearfall by Aichner with a German Suplex. Fandango hit a tornado DDT. Breeze was back in, Imperium did some double team moves, but Fandango hit a dropkick and Breeze did a hurricanrana into a pin on Aichner to win the match after 15 minutes.
Winners by pinfall: Breezango (Tyler Breeze and Fandango)
Analysis: ***1/2 It was a very good, standard tag team match with the champs retaining as expected here. The final few minutes were excellent. The good thing about Breeze and Fandango is that both guys are very capable as the face in peril guy or the hot tag guy. Barthel and Aichner are always consistent in the ring. When Breeze got the tag, the pace really picked up from there and they set up the finish well. NXT needs to build up some other teams now.
Jesse Kamea and Xia Li vs. Kacy Catanzaro and Kayden Carter
It was Kamea and Li's first time as a team while Kacy and Kayden have teamed before. Nice senton over the top by Catanzaro. Li dropped Carter with an armdrag. Kamea used her size advantage to drop Catanzaro with a clothesline. Li with knee strikes and spin kick to knock down Catanzaro. Carter hit some strikes leading to a dropkick and superkicks for both opponents. Catanzaro with a pump kick into a Samoan Drop like move and Kacy hit a bridging pin for the win over Li for the win after four minutes. That was a unique looking finish.
Winners by pinfall: Kacy Catanzaro and Kayden Carter
Analysis: ** Some good action here with Catanzaro and Carter working well together while showing off their athleticism. You can tell Kamea is really green in terms of her offense, but she's taller with a lot of athleticism, so she has to keep working hard. Remember, NXT is still a developmental brand for a lot of these wrestlers. Catanzaro and Carter are natural babyfaces that can be a team that continues to grow in the future.
Drake Maverick talked to tag team partner Killian Dain, who told Drake to go out there by himself.
Tegan Nox did a promo saying she's going to win the battle royal next week, not Candice LeRae. Nox is looking forward to seeing Candice's face after that and this time, everything is different when she faces Io Shirai.
Analysis: I doubt Nox or LeRae wins the battle royal. I think they'll probably eliminate eachother to further that feud.
Roderick Strong and Bobby Fish vs. Drake Maverick and Killian Dain
Drake entered alone with no sign of Dain joining him. Strong was in full control with hard chops and a punch to the head. When Drake tried to get some momentum, Strong stopped him with a boot to the face. Drake managed to hit a dropkick off the middle ropes on Fish, but after a Strong distraction, the heels took over again. Strong with a cradle backbreaker as Dain was shown watching on a TV backstage. Strong kept on destroying Drake with backbreakers as they went to break.
The match returned with Willian Regal going up to Dain backstage to tell him he was Drake's tag team partner, Dain said he didn't sign up for it and Dain went out there. Strong and Finish tossed Drake out of the ring, which led to Dain showing up. Dain told Drake to take it like a man. Strong told Dain to get out of there, he called him "fat" and Dain went back towards the ring. Dain went into the ring, he slammed Strong and hit clotheslines on both opponents. Dain kept on attacking Strong, so Fish hit him in the ribs with the chair for the DQ at about 10 minutes.
Winners by disqualification: Roderick Strong and Bobby Fish
Analysis: *3/4 This was more about the story than the match. It was mostly Drake Maverick getting his ass kicked until Dain showed up for the chaotic finish. Drake's a great seller, so he made it entertaining as he took the beating from Strong and Fish. Dain only saved Drake because Strong insulted Dain, rather than Dain having sympathy for Drake. Either way, it works to further the story.
Post match, Dain with a pump kick on Fish and then he tossed Strong out of the ring. Drake told Dain they're a team, Drake hit him in the chest with enthusiasm and Dain decked him with a hard punch to the face.
Analysis: This should lead to Drake and Dain teaming up against Strong and Fish again, but maybe they will be more on the same page. The long term story is for Dain to accept Maverick for having a big heart and then they'll start having more success as a team.
Jake Atlas was shown in the parking lot saying that Tommaso Ciampa lit a fire under him, then Ciampa showed up with a cheap attack and he whipped Atlas into a truck. WWE officials like Scott Taylor (Scotty 2 Hotty) and Steve Corino checked on Atlas while Kyle O'Reilly showed up to get in Ciampa's face. Ciampa left.
Analysis: The spot with O'Reilly stepping up to Ciampa is interesting because it might lead to Kyle becoming a face while Adam Cole might also be a face soon, yet the other Undisputed Era guys like Roderick Strong and Bobby Fish are still heels. It's a bit confusing, but the end of the Undisputed Era as we know it may be coming soon.
William Regal, the NXT General Manager, talked about the NXT Championship held by Finn Balor. Regal said that they will have a Gauntlet Eliminator with the following rules as you can see on the graphic.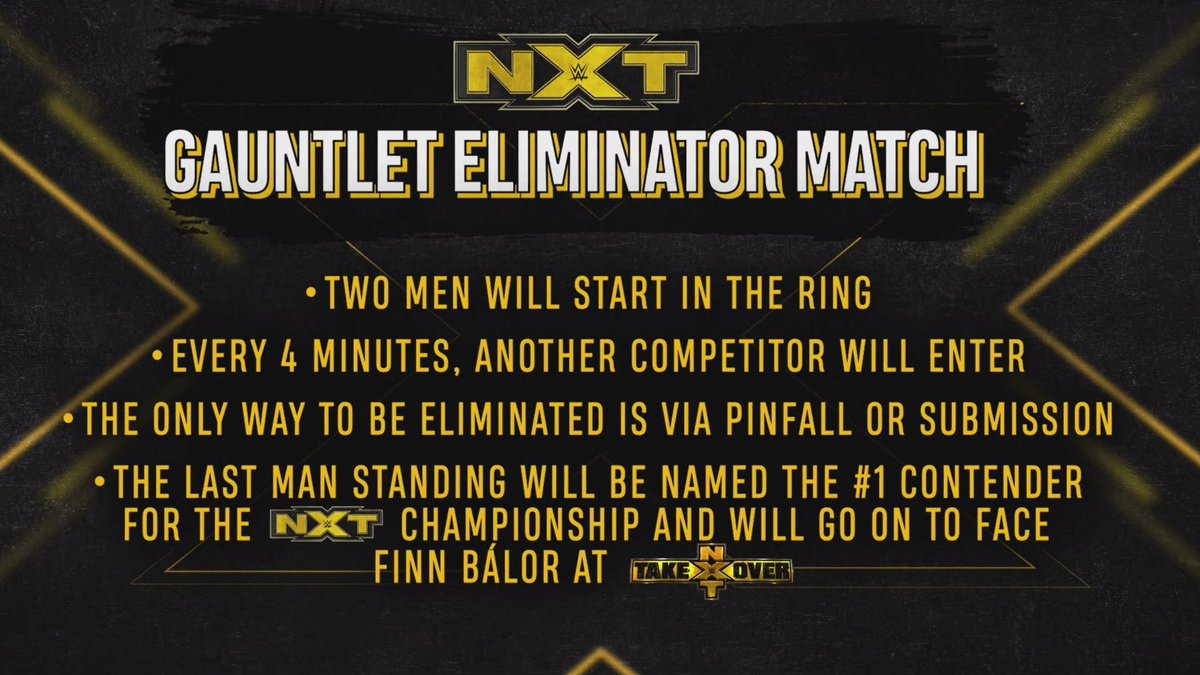 Analysis: There are a lot of options there. My current lean is to go with Johnny Gargano because I think Balor is going to have a lengthy title reign, so putting him in a Takeover match with Gargano is a great idea.
Next Wednesday on NXT:
* NXT Women's Championship #1 Contender Battle Royal.
* Tommaso Ciampa vs. Jake Atlas.
The Gauntlet Eliminator Match is next week too.
It was main event time as Damian Priest made his entrance for his first title defense after winning the North American Title 25 days earlier. Timothy Thatcher made his entrance as the opponent.
NXT North American Championship: Damian Priest vs. Timothy Thatcher
Thatcher went for an armbar, but Priest managed to get away from him and toss him across the ring. Thatcher locked in an armbar again, then bounced off the ropes and Priest knocked him down with a shoulder tackle. Priest with a kick, which led to Thatcher hitting a forearm to knock Priest off the apron to the floor. Thatcher shoved Priest knee first into the steel steps and hit a double underhook suplex on the floor. That led to a break.
Thatcher was still in control, Priest with some punches to the ribs and Thatcher did a hard slap to the face. Priest fired up with punches, kicks, a forearm and a huge clothesline that Thatcher sold really well by bumping high onto his back/shoulder. Priest with a corner splash and a Falcon Arrow slam for a two count. Priest with two kicks to the face, then a springboard attack, but Thatcher moved and Thatcher went for an armbar on the left arm. Priest managed to get back up, they exchanged strikes again and Priest hit a hard punch to the face. Thatcher with a kick to the thigh, Priest kicked him down and Thatcher slapped on a single leg crab submission. Thatcher took down Priest by the right arm, locked on a fujiwara armbar and Priest got his foot on the bottom rope to break the hold. Priest picked up Thatcher with a jumping flatliner and sitout Chokeslam for a two count. Thatcher went for an armbar again, Priest came back with a spin kick (I don't know if it connected, they went to wide angle) and Priest hit a spinning heel kick off the top. Priest hit The Reckoning neckbreaker for the pinfall win after 13 minutes.
Winner by pinfall: Damian Priest
Analysis: *** It was a solid match that was slow at points because that's the Thatcher style. I think it was effective in showing that Priest was a dominant champion that could handle guys that had a different style like Thatcher. The comeback from Priest showed off some of the cool offensive moves in his arsenal. Priest winning was the obvious result because it wouldn't have made sense to lose the title in his first title defense.
Damian Priest celebrated the win to end the show.
Analysis: There is no obvious Takeover opponent for him right now, so that's something that NXT has to figure out next week as well because there are only two NXT episodes before the next Takeover.
Three Stars of the Show
Io Shirai
Shotzi Blackheart
Breezango (Tyler Breeze and Fandango)
Final Thoughts
I give this show a 7.5 out of 10.
Good stuff as usual from NXT. Last week I went with an 8 out of 10, so it was a bit below that, but still a very enjoyable show. I thought the opener with Io Shirai and Shotzi Blackheart was the best match. They really impressed me there with Shotzi having her best NXT match so far while Shirai might be the most talented women's wrestler in all of WWE. The main event was okay with Damien Priest beating Timothy Thatcher in a competitive match to put over Priest as a fighting champion. I liked the storyline advancement of Tommaso Ciampa as a heel with Jake Atlas stepping up against him and maybe Kyle O'Reilly is going face. Finn Balor's video segment worked well to put him over as a confident champion. The way Kushida looked so dominant was encouraging to me because that's a guy I want to see featured more. The NXT Tag Team Title match was solid tag team wrestling to put over Breezango.
It wasn't the kind of show that's going to blow you away in terms of how amazing it was, nor was there anything "must see" on here. However, it's easy to watch and enjoy two hours of quality pro wrestling. Everything seems to have a purpose. I can't say that about Raw and Smackdown every week, but I wish I could.
The next NXT Takeover event is scheduled for October 4 although nothing is official yet. We will learn two of the big matches next week.
===
Thanks for reading. My contact info is below.
John Canton
Email mrjohncanton@gmail.com
Twitter @johnreport
Personal Facebook and TJRWrestling on Facebook