TJR WWE Network Review: WWE 24 – Ric Flair: The Final Farewell
The WWE 24 series on WWE Network features documentaries about a specific subject. This past Sunday, WWE aired new WWE 24 episode focusing on the WWE retirement of Ric Flair in 2008. They call the episode: Ric Flair – The Final Farewell. I'm watching it on demand on WWE Network. Let's get to it.
===
In the opening minutes they described this documentary in this way: "In March of 2008, Ric Flair's legendary career reached its pinnacle. He was inducted into the WWE Hall of Fame and had his final match at WrestleMania. This is the story of that weekend."
It began with Ric saying there's going to be people in society that think what he did during his career was cool and that seemed to make him happy. They showed classic Flair clips as he mentioned hip hop culture, sports teams and people Woo'ing everywhere. They showed a clip of Joe Rogan mentioning the audience going "Woo" when you mention Flair. A classic Flair promo was shown. Ric said that he wanted to be remembered as the guy in the 1980s and early 1990s, but he had another opportunity at WrestleMania 24 (in 2008) to be that guy one more time.
Ric said that weekend was the biggest thing he had ever done in his life in wrestling, which is his life. They showed some classic Flair clips from in his prime with the robes, the suits and looking like a star. Flair said there was an unending commitment to making your mark in your career and in his case, even longer.
There was footage shown from March 29, 2008 the night before WrestleMania at a press conference for the Hall of Fame. Ric was in tears as he spoke to the press. Flair said that one of the problems in his life is he's never had a bad time, he's had a great time. Ric said that today is hard for him because this is an award that's very special and only a few of them get. Flair said that WrestleMania is the biggest match of his life because if he doesn't win he doesn't get to do this anymore. It's what he loved and been trained to do his entire life. Flair said it meant a lot to him. Flair joked that he wasn't doing a good job of handling his emotions.
Flair said that the Hall of Fame weekend takes precedence over everything he's ever accomplished and ever done. That's when they showed him getting a big hug from Dusty Rhodes. This was about seven years before Dusty died. Great rivals on screen and amazing friends.
Ric said that whole thing was a tribute to his career, it was emotional and he'll put that weekend that he had up against anybody. Ric was shown shaking hands and hugging The Rock. See that blurred face below? That's Rey Mysterio. WWE doesn't want to show his face even though it's all over WCW programming when Rey was without a mask.
Triple H spoke about how Ric is about the camaraderie, the boys, the respect of his peers and the respect of the people around him. They showed Dusty Rhodes talking about how there's nothing like the Hall of Fame and it's about what you leave behind. Dusty said this is really special.
Ric talked about his history saying that he thinks he was born as The Nature Boy. Ricky Steamboat said that Ric was an asshole type guy as a wrestler, over the top in his promos, but very subtle in his work and there was money written all over him. Ric said he had fun, spent money like water and was full-time Nature Boy. Ric laughed about it. They showed one of his famous "rolex wearing, limousine riding, etc." promos. Shawn Michaels said when he was a teenager he that he thought Ric Flair was the coolest thing in the world because he was all of the things he said he was. Ric: "My shoes cost more than your house!" Classic. Ric mentioned 300 alligator shoes and joked about mentioning Rolex watches a lot, so he should have got money from them. They showed Ric saying his classic line: "To be the man, you gotta beat the man."
Triple H spoke about how Ric Flair was his idol and he got to meet his hero, become best friends with him and induct him into the Hall of Fame. I think Shawn Michaels is probably Hunter's best friend, but I see what he meant because Hunter is close with Ric too. They showed part of Triple H's Hall of Fame induction speech where he called Ric the greatest professional wrestler in history. Hunter said what made Ric is his passion and we could see Ric watching from the backstage area.
Ric spoke about how he loved what he was doing. He didn't care how many people were at a show because he loved being in the ring. Ric talked about being in St. Louis on a Friday, then Japan on Sunday and the schedule was insane. Ric said when you were the World Champion you were praying for the house to be there because it's totally up to you and that's what you lived on. Ric said that everybody thinks it's just glitz and glamor, but it's very physically demanding because there's a rigorous schedule. Ric said you had to be in the gym, manage your diet and the good ones (wrestlers) wouldn't have it any other way.
Ric spoke about how he worked the same day all four of his kids were born on meaning he was not present for the birth of any of his four children. Ric talked about how he wouldn't come home for five months sometimes and he said it would be every day, plus twice on Saturday and twice on Sunday. That's a lot of matches! Ric noted that he had fun. Steamboat said that the character Ric Flair became the character outside the ring too.
Ric said that the problems in his personal life were because he was out there being Ric Flair in his personal life too. Steamboat said that Ric would go into a nightclub and he would buy everybody a drink. Charlotte Flair said that back then everybody would live their gimmick. Charlotte said he made a lot of mistakes, but he has owned all of them. They mentioned the "Space Mountain" thing that Ric would always say. Ric said it was self-inflicted and paying alimony to three women at one time was a lot of money (Flair has been divorced four times). Ric said you didn't want to hurt anybody, you just wanted to be the best at what you do.
They showed a clip of Flair winning the WCW World Title from Vader at Starrcade 1993 in Charlotte, NC, which is where Ric called home. Charlotte said she'll always have that memory when she was about seven years old.
Charlotte said looking back at that picture and seeing them all smiling with her little brother, it's crazy to think about it. Ric said that his kids grew up while he was working and he was gone every day especially for his two older kids David and Megan (who is now married to popular podcaster Conrad Thompson). Ric said that he had more quality time with Ashley (Charlotte) and Reid because he spent a lot of time with them because he didn't work as hard. That's because WCW was trying to move past him according to Ric.
There were comments from Eric Bischoff saying that he probably didn't look at Ric the way other people did and that was his mistake, which hurt Ric. They showed clips of Ric yelling at Bischoff ("Fire me? I'm already fired!") and said that it impacted him a lot. Charlotte said she could sense something wasn't right and she could tell Ric didn't feel like the man anymore. Ric said he was broken.
Fast forward to March 26, 2001 when WWE bought WCW. Ric said that Vince McMahon called him about a year later and asked what he wanted to do with Ric saying he didn't know. It was actually eight months later when Ric showed up in WWE in November 2001 for an angle as a co-owner of the company that feuded with Vince, so the phone call was less than a year. Ric laughed about how Vince said that Ric wouldn't wrestle again, but then you know the story and he was back in action at Royal Rumble 2002 against Vince. Ric said that they had a match, it was okay, but he wasn't proud of it. Ric said he was down on himself and he knew he could do so much better.
Triple H told the story about how Ric was not confident and unsure of himself. Hunter said that Ric was playing the Nature Boy, but he was like a beaten dog because he had lost what Ric Flair was. Hunter said he could tell Ric didn't have the confidence. Hunter talked about how he got in the ring with Ric just to see what he could be. We saw footage of that. Ric said that Hunter helped him with his confidence issues, Hunter told him to know who you are and you've got nothing to prove. Hunter told Ric to be himself. Hunter knew that Ric could feel it.
They showed WrestleMania 18 with Flair facing The Undertaker. Flair said he was back to wrestling and it was fun. They had a pretty good match that night. They showed Flair standing tall with Evolution over a year after that and being a part of the group. Randy Orton said having Ric taking him under his wing helped him learn a lot. Charlotte talked about how she was so proud when Ric got his confidence back.
A clip was shown of Ric in 2008 talking about how this was his last run. He knew he couldn't go on forever. Hunter said that people were starting to worry about Ric in the ring. They showed a clip of Edge hitting a splash on Flair through a table with Hunter speaking about how Ric didn't know how to slow down.
Ric said there was one phone call (we assume from Vince) saying: "Ric…finito." That meant retirement. Ric said he was told to bow out gracefully and end this. Hunter said that it is Vince's job to pull the reins on somebody like Ric just like a jockey on a horse having to pull them back. The decision was made to set up the last match and Shawn was the perfect guy to do it.
Shawn Michaels talked about how being Ric's final opponent (in WWE) was something he really took seriously. Shawn wanted Ric to be very proud of it.
WWE Hall of Fame 2008
They showed highlights of Ric Flair at the WWE Hall of Fame 2008 ceremony with his family in the first row to support him. Ric was in tears before he even began his speech because the crowd was cheering so loudly for him. Ric reflected back on it with more tears. Ric said it's harder to talk about it now because so many people played such an important role in his life. Ric famously said during his speech: "I'm not gonna retire! I'll never retire! Woo!"
Ric told stories talking about how Ray Stevens told him 35 years earlier that if you never have goosebumps then you never have to do it again, but he still had those goosebumps. Ric said Orlando was the second home of Space Mountain, which was a nice Disney-related joke. Ric said it was a moment like this when guys like him say for all you've done wrong, you must have done something right. Charlotte said she can't really watch the footage anymore because her little brother Reid idolized him. They showed Reid looking up at his dad. During the speech, Ric mentioned his children Megan, David, Ashley (Charlotte) and Reid. Ric said that they were the true blessings of his life and he was so proud of them all. Charlotte said that Ric has a different relationship with all four of his kids. Charlotte said when he was home, he was waking her up, making her breakfast and taking her to school. Ric apologized (to his kids for not always being around) during his speech and said that no one loves their children more than him. Charlotte said loving Ric unconditionally means the world to him and she said when he mentioned them it was a moment they'll cherish forever. Flair told Shawn Michaels "to be the man, you've gotta beat the man" and Flair told the crowd he loved them to end it.
They showed Ric backstage after the Hall of Fame and he got hugs from The Undertaker, who was sitting there. Ric also was shown getting hugs from friends like Triple H, Stephanie McMahon (she was pregnant), John Cena and Jim Ross to name a few. Michaels talked about when you've done this so long, it's a part of you and then when it's no more, it changes everything about your day. Charlotte said that she wishes she didn't say some of the things she said to him like: "Retire, you're 60! Live your life. Why are you having such a tough time?" She didn't get why he couldn't let go. Hunter said that everything about him is being the "Nature Boy" and it was tough for Ric.
Flair, during an interview in 2008, said he was fulfilled and honored about all of this. Ric: "I don't want to go. I'm not sure I'm going to." He was in tears.
WrestleMania 24 in Orlando – March 30, 2008: Ric Flair vs. Shawn Michaels
Ric said that WrestleMania 24 was a wonderful way to go out since there were so many people there to support him. Michaels said it was mostly about trying to stay focused and dealing with the external emotions going on. Michaels said he didn't know if he took it too seriously, but he did it take it pretty darn serious.
They showed clips of Ric before the match getting a hug from good friend Charles Robinson, who was the referee often known as Lil' Naitch since he was such a big Flair fan and friend. Flair was shown getting his blue robe on and fixing up his hair one final time before going out there in front of the crowd. Flair said that there was a lot of pressure and it was something he had been doing for 36 years. Flair said it was about proving what the people thought he was.
Ric made his entrance for his final match in a WWE ring at 59 years of age. Ric was in pretty good shape for a man of his age. The family was shown at ringside including his third wife, who divorced him about a year after this. Flair had another wife and divorce after that. Flair's current wife Wendy (former WCW talent Fifi) is his fifth wife. Fifth time's the charm!
They showed some highlights of the match with Flair facing Shawn Michaels including Flair hitting a delayed vertical suplex, a cross body block and Michaels hitting a moonsault on the announce table when Flair moved. Flair also slapped on the Figure Four Leglock on Michaels and the crowd was going wild for it, but Michaels was able to get out of it by grabbing the ropes leading to a break. There was a superkick by Michaels that put Flair down, but that was not the end.
It was a very emotional final scene as Michaels set up for another superkick, Flair told him to bring it and Michaels famously said: "I'm sorry, I love you." Michaels hit Sweet Chin Music again and covered Flair to win the match. Michaels hugged Flair while speaking into his ear.
Michaels: "That was just me, Shawn Hickenbottom, telling Richard Fliehr…you know…I think the world of you."
Triple H said that it was incredible and everything that it needed to be.
After the match, the 70,000+ fans in Orlando gave Ric Flair a standing ovation and more tears flowed from Flair as he blew kisses to the crowd. It was a memorable scene. They showed Ric's kids at ringside in tears. Ric was emotional saying it was hard to say goodbye and leave because it's something you have done for so long. Ric said that wrestling is what he knew and what he loved.
Flair talked about how he thought it was over and then they told him to come to Raw the next night. My belief is they were always going to have Flair on Raw the next night, but Ric made it seem like it was just decided on Sunday night.
Monday Night Raw – March 31, 2008 in Orlando
There were clips shown of Ric walking backstage for his Raw farewell. Shawn said he was trying to imagine the wrestling business without Ric and he didn't know how he was going to react to that. Vince joked: "Don't even look at me." That's because it was emotional and Vince didn't want to break down crying. Ric revealed in a present-day interview that he wanted to thank Vince and the company, but Vince said that the fans didn't want to hear you mention Vince or the company – they just wanted to see Ric Flair.
Ric did a promo about how he had his last match at WrestleMania and said that he will never wrestle in this ring again. Ric said that you should rejoice in the fact that he had the greatest wrestling career in the history of pro wrestling. After the speech, Ric thought it might be over, but it was not.
Triple H showed up saying that if you think the millions of people at home are the only ones that want to say thank you then you've got another thing coming. Ric said to Hunter: "I was doing good until you came out here." More crying from Ric. Hunter told Ric he loved him and he thanked Ric. Hunter in the present day said that night for him may have been bigger than the rest. Hunter said when the talent honored him and the people that he respected honored him – that's what meant so much to Flair.
They showed highlights of more people going to the ring with him like his buddies from the Four Horsemen and long time rivals like Ricky Steamboat. Ric in present day talked about how everybody in that ring is somebody he had a history with. Ric said that's what is so cool about it. Ric was shown hugging Harley Race. Ric spoke about how it was hard to let go of being around the guys. Batista gave Ric Flair a big hug and so did John Cena. Shawn Michaels was shown hugging Flair asking Flair if he had honored him and Ric let him know that he did.
Shawn Michaels in present day said that there's a level of emotional connection that Ric had for so many of them and he didn't know if anybody will ever touch it. In other words, Ric inspired a lot of wrestlers and Shawn doesn't know if anybody else will be able to do that.
Randy Orton spoke about how the night after WrestleMania 24 was special because it was Ric Flair riding off into the sunset. Orton was the WWE Champion at the time and he said it was cool to be there since Ric was such a huge part of Randy's career. The roster was out there to pay their respect to Flair. Orton: "He's the greatest of all time. Simple."
Vince McMahon was shown giving Ric a huge bear hug in the middle of the ring as the crowd cheered. That was after the show.
Charlotte said that the number one thing is to have respect and so many people showed him so much respect. She said it was incredible.
Ric said there is nothing better than having your peers recognize you. Ric reiterated that the fans are great, but having your peers recognize you is the ultimate achievement.
Ric said that weekend was the highest moment of his entire career. Ric wondered what sports celebrity had a three day weekend like that and said that nobody will ever have that. They showed Undertaker paying tribute to Ric and Ric said these were the greatest moments of his life.
Charlotte: "Men, women, children, crying over this man retiring and all the signs and the farewell. I get it now, I get why…the sacrifice."
Ric said that he was in the right place at the right time. Ric said that he won 16 matches (his World Titles) and joked that he lost 7,000 matches. Shawn Michaels said that Ric Flair is timeless. Shawn said that Ric takes them all back to when it was just the love of this stuff.
Ric: "Who gets that in life? Who at 70 years of age is sitting here today reliving all of these historical moments? Pretty remarkable, huh?" That was the end.
This episode of WWE 24 WWE Network had a runtime of 46:37.
Final Thoughts
That was really good like all WWE documentaries are. You can pick it apart and mention how they missed out on mentioning certain things such as Ric wrestling in another company after WrestleMania. However, this was specifically about that three-day celebration of Ric Flair at the 2008 Hall of Fame, WrestleMania 24 and Raw the next night. That's what the focus was on, so let's just talk about that instead of complaining about other things.
It was awesome to hear from people that played such a big role in Ric's career like Triple H, Shawn Michaels, Ricky Steamboat and others. Like Ric said when reliving the retirement, what meant so much to him was having the respect of his peers. Those same peers would say Ric is one of the greatest pro wrestlers of all time, if not the greatest. That's an honor we know that Ric appreciates.
I also really liked hearing Charlotte saying that she understood why her dad had a hard time moving on when it was time to retire. That was how she viewed it in 2008. However, when she looks back on it over a decade later, she understands it better because of her spot in WWE and she's more aware of how much impact made in the business. It was cool to hear her say that about her father. They have a special bond because of how successful she has been as a wrestler, but also because of Reid. I know how emotional she and Ric get when talking about Reid Flair, who passed away in 2013 due to a drug overdose. That wasn't covered on here, but it has made Ric and Charlotte even closer. For more on that, I recommend the ESPN 30 for 30 about Ric Flair because they talked about Reid and Ric's life a lot more.
If you're a fan of Ric Flair like I am then you'll enjoy watching this. I should warn you that there's a lot of crying and if you try to count how many times there is crying then you might lose your mind. I'm just teasing. It's nice to see how emotional Ric gets because it tells us, the viewer, how much he loved being a professional wrestler. Ric Flair truly is one of the greatest of all time.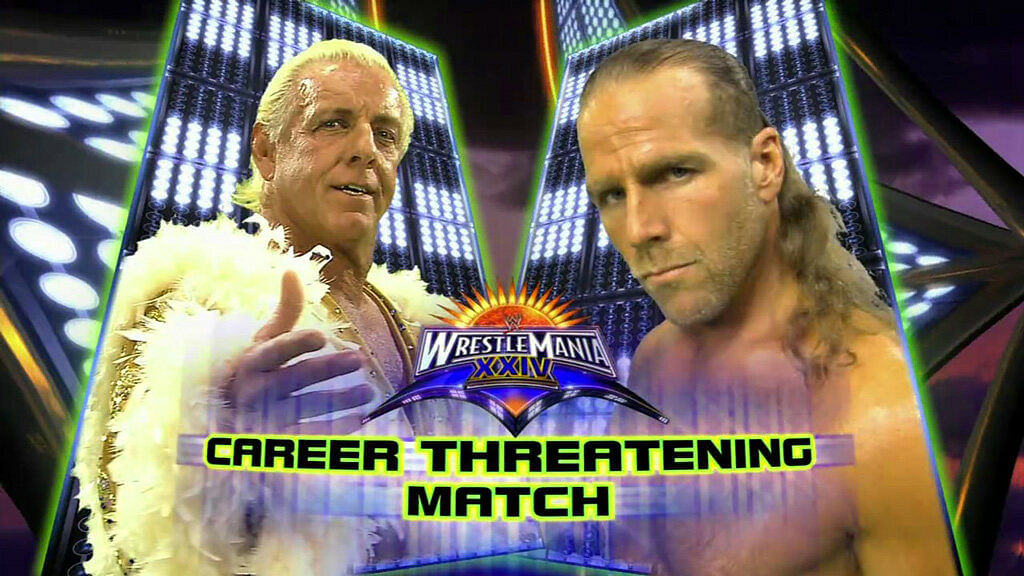 As bonus, here's a re-post of my review of the WrestleMania 24 match between Shawn Michaels and Ric Flair.
Career Threatening Match: Shawn Michaels vs. Ric Flair
The referee of the match was Charles Robinson, who a lot of people referred to as Lil Nature Boy (or Lil Naitch) over the years. They traded some basic holds early. Flair won an exchange with an arm drag. Lots of "Woo" chants in the crowd. Flair shoved him hard in the chest, so Michaels slapped him in the face and told him he wanted HBK so he got him. Flair's mouth was bleeding. Flair chopped him. Crowd chanted "Woo" with every chop. Flair put him down with a back elbow followed by the patented running knee to the head. Michaels countered a corner charge with an elbow to Flair's mouth. Michaels went up top and Flair threw him off the top rope. That's the typical Flair spot. Then Flair went up, Michaels went to throw him down, but Flair countered that and Flair hit a cross body. He hit a move off the top! Flair went for the Figure Four, but Michaels kicked him out to the floor and then gave him a baseball slide dropkick. Michaels went for a springboard moonsault. Flair moved. Michaels went rib first right into the corner of the announce table, which broke it. Crazy bump. JR: "My God! My God! My God!" The replay showed that Michaels' ribs did hit the corner edge of the table. That had to hurt. Ref Charles Robinson counted him out, but HBK rolled back in at the count of eight. Flair gave him a back suplex for two. Flair gave him a double underhook suplex for two. Nobody believed that was it, but JR was yelling about it as if it was close. Flair gave Michaels a delayed standing vertical suplex for a two count. More chops. Michaels came back with a neckbreaker. He gave Flair a back body drop over the top to the floor. Michaels went to the top rope. He hit a Moonsault onto Flair, who was standing on the floor. Flair really didn't catch him well. You could see Michaels' knee hit the ground pretty hard. They rolled back into the ring at the same time.
Back to their feet, they exchanged more chops. Flair whipped him into the ropes and Michaels came back with a flying forearm to the face of Flair. Michaels hit two atomic drops and then a body slam. Michaels was selling the rib injury. Michaels went to the top rope and hit a Flying Elbow off the top rope. It wasn't one of his better ones, but it did the trick for sure. Michaels "warmed up the band" to set up for the superkick. He stopped at the last second. Flair took advantage of the hesitation to give Michaels the Figure Four Leg Lock to a huge ovation! The crowd was going wild as Michaels tried to fight the move off. It was a sustained loud pop. Michaels turned it around, so Flair got out of it. They did a pinning sequence. They tried to do the spot where Michaels was on the floor and he would bridge up, but Flair couldn't move his body up. You could tell it was a tough move for him to do. Michaels broke it up with a shot to the ribs. Michaels got another nearfall for two off a sunset flip. Flair was really starting to tire at around this point of the match. Flair whipped him in the corner and Michaels took the bump by flipping upside down. Flair gave him a chop block to the back of the knee. Big pop for that vintage Flair spot. Flair went for the Figure Four, Michaels countered with a cradle for two. Great nearfall. Michaels went for an enziguri, Flair avoided it and put him in the Figure Four Leg Lock one more time. Michaels was in a lot of pain. After about 45 seconds, Michaels got to the ropes. With Michaels in the ropes, Flair stomped away at him. The ref told him to break it up. Flair did his strut. When he turned around…Sweet Chin Music. Wow. That was a perfect one. Both guys were down. Michaels covered. Flair got his shoulder up. Huge reaction for that. Fantastic nearfall right there. Michaels sold the knee injury and he got back to his feet while Flair was still down. Michaels yelled at him to get up. Flair got back to his feet while HBK warmed up the band. Flair hit a low blow without the ref seeing. Big pop for that. Woo! Dirtiest player in the game. Flair covered for a count of two. I love that these two were so good that they could make a low blow into a nearfall. Michaels put Flair into his inverted Figure Four Leg Lock. Flair pulled off a turnbuckle pad. Ref took it away from him. Flair did a thumb to the eye to break the hold. A rollup got two for Flair. They did another chop-fest on their knees. Flair hit him with three chops in a row and then Michaels hit a superkick out of nowhere. Michaels pulled himself to his feet. Flair struggled to get back to his feet. Michaels said the infamous words: "I'm sorry…I love you." Sweet Chin Music to the head of Flair. One…two…three. Michaels wins at 20:23.
Winner by pinfall: Shawn Michaels
Post match, Michaels said something to Flair while he was on the mat. He kissed Flair on the forehead. Then he walked away.
Moments later, Flair got to his feet. The 70,000+ fans gave him a standing ovation. He was crying. His family at ringside was crying. Flair hugged his family at ringside. He was in tears. The fans continued the standing ovation for several minutes. Flair gave one final wave at the top of the ramp. The crowd was awesome.
Analysis: **** I know people who call this the best match of the show and even the best match of the year. I wouldn't go that far. It was a lot of fun, though. Considering Flair was 59 years old, he needs to be commended for wrestling such a good match against somebody like Michaels, who was considered the very best in the business. How many 59-year-old men could wrestle a four star match for 20 minutes? Probably only Ric Flair and maybe Shawn Michaels if he wants to have a match like this in 15 years. It's not easy. The match told a good story with Michaels missing that moonsault that sent him crashing on the table. Flair got the advantage. Michaels came back with his fast paced offense and then Flair focused on the knee. Eventually, though, Michaels came back. The finish was great. They did a lot of classic Flair spots and then Michaels was able to overcome it all to win with the Sweet Chin Music. A lot of people thought this was really it for Flair. That he was finally retired for good. It ended up being his last match in WWE, but he would move on to TNA where he had some more matches. "I'm sorry…I love you" is one of the more memorable moments in wrestling history, I would say.
You can read my full recap of WrestleMania 24 right here.
===
Thanks for reading. My contact info is below.
John Canton
Email mrjohncanton@gmail.com
Twitter @johnreport