TJR WWE Network Review for WWE Ruthless Aggression: Evolution – Episode 3 Review
This is a review of the third episode of WWE's Ruthless Aggression series on WWE Network that focused on the group Evolution. As we covered in a news post about the docuseries, there will be five initial episodes that are released. Read about the first episode here and the second episode about John Cena here. This is the longest episode of the first three with a runtime over 60 minutes.
Here's the synopsis of this episode on WWE Network:
S1 | E3: Evolution
As The Ruthless Aggression Era dawned, Triple H pushed forward the Evolution of sports-entertainment with Ric Flair, Randy Orton & Batista. Relive the formation and triumphs of the group that launched and revitalized the careers of its members and dominated WWE in the early-2000s.
I will summarize the documentary as best as I can while adding in some thoughts in blue font along the way as well.
===
The documentary began with a shot of the Evolution foursome on Smackdown on October 16, 2018 at Smackdown 1000 in Washington, DC.
There were highlights shown of Evolution in action while narrator Michael Rapaport talked about how they were a perfect mix of talent. However, behind the scenes they all had issues going on and this is the story of Ruthless Aggression's greatest faction.
This episode started with a focus on Triple H with former WWE head writer saying that the Triple H character has seen some s**t. That led to talk about Triple H's journey with Bruce Prichard saying that Triple H was one of the top guys in the business, if not the top guy. They showed the clip of Triple H winning the Undisputed WWE Champion at WrestleMania 18 in 2002. Prichard said Hunter was their Ric Flair at that time.
Ric Flair Gets More Comfortable in WWE
Triple H talked about how Ric Flair was the ultimate showman that was loud, he could talk, he was exciting and he was drawn to him. They showed some memorable Flair promos.
They talked about how Flair had a great run in WCW in the 1990s that ended not so great as they showed a clip of him getting his head shaved in the dying days of WCW. When Flair got back to WWE, he was an on-air authority figure and in-ring talent while adding that Flair was struggling to reignite the fire. Hunter said that Flair was very unsure of himself. Flair said that he was lost. Hunter said that it was as if Ric was playing Ric Flair, but he didn't seem like the Nature Boy and he was like a beaten dog. Flair said he didn't think he cosmetically could pull it off, while adding it was in his head, not a physical issue. Flair said he was devastated because it was something he could do blindfolded, but he couldn't do it. Flair said that he wrestled some matches where he pinched himself because he was having anxiety attacks. Hunter said that Flair was wasting away with what he was doing on TV and it was like a shell of Flair. Hunter said he wanted to help him to get back to what he could be.
Hunter talked about how they got to form this friendship and he got to love Flair as a person. Hunter talked about how he started to know Flair more, he knew he had to get him out of this funk to be the performer that he could be. Hunter said that the best way to get Flair to be himself is to stand next to him because he figured it wouldn't take long for Ric to start to feel it again.
Hunter said that he came up with the idea of coming up with a group. Gewirtz said that Hunter grew up loving the Four Horsemen and wanting a group different from DX. Hunter said that Flair had so much credibility, so Hunter could anchor it and Flair could be the mentor/guider of the group. Hunter wanted a guy that's an heir apparent along with a guy that's the muscle behind the group. Hunter said he picked Ric's brains a lot about who they saw.
The Forming of Evolution
Hunter said he went to Vince, who is not big on factions, so it took him some time to lay it out. Hunter told Vince he'll make two guys main event players and he'll turn Ric back into Ric Flair and Vince thought it could work. JBL talked about how Triple H and Ric Flair provided an incredible rub to whoever they would be with. Hunter said stepping up with them was a pressure position because if it works you're golden, but if it fails then it's like you have to start over. Hunter said they had to deliver.
They showed a video of Randy Orton interrupting Vince while he was getting a head massage from Stacy Keibler. Orton's actual debut on Smackdown. Orton said that he was in over for about a year and a half, then he got a call from Jim Ross and told he would be on the main roster full time. Orton said he was ecstatic, but also frightening since he was a young kid, but nobody knew what the future held. Orton said he went from Smackdown to Raw, then his shoulder popped out in a match against Christian after Orton hit a dropkick where he landed on the shoulder. Orton thought his career was over already just because of the shoulder injury. A few weeks after the surgery, Orton did the RNN injury updates, which were a clever idea to get Orton's personality over. Orton said that the Montreal crowd was "shitting all over me and it was great" even though it was supposed to be a babyface promo. Orton said they knew they had something with it. That led to more injury updates from Orton. Prichard said they didn't want to re-introduce Orton to the audience and develop the personality throughout. Gewirtz talked about how they would have him say random numbers about his recovery. Orton said it was cheesy and horrible, but some of the best things they do are cheesy and horrible.
(I loved the RNN updates. They were ridiculous, but they did develop Orton's character as an obnoxious heel.)
Batista was shown on camera talking about things where he said they told him to get a suit and he said a $500 suit was like a $10k suit at the time since he didn't have the money to spend. He laughed about the Deacon Batista name as the assistant of D-Von Dudley at that point.
Prichard said that the idea was to have Batista in the corner of D-Von to learn how to wrestle because Batista was still learning. D-Von Dudley said that the gimmick didn't go well. Batista said he hated it and it was the dumbest thing he had ever seen. Batista said that working with D-Von was fun, though. Batista said there were more than a few occasions where he thought he was going to lose his job because he wasn't progressing and being the guy they needed him to be. By late 2002, they had an impressive mix of youth like Brock Lesnar and John Cena, plus experience like The Undertaker, Chris Jericho, Rey Mysterio and Kurt Angle.
Triple H said that as it got closer to becoming a reality, then it became clear about who they wanted to be in the Evolution group and Randy stood out. Hunter said that Randy had every tool imaginable. Eric Bischoff appeared as a talking had saying that Randy had a characteristic that he knew he would be a star some day. Flair joked that Orton reminded him of himself at 23 and like he was five years ago. Orton never asked why did Hunter or Ric pick him, but common sense told him they saw something in Orton. Hunter said it was so obvious that Randy was the guy, but the shocking one would be Batista.
Batista was called an afterthought, but then he was placed in this group. Hunter said that Batista hadn't had a lot of opportunity to shine. Hunter said that Batista was a sponge that was hungry and he wanted it. Batista said that they were set up with two of the best wrestlers that ever lived and they were giddy with it. Drake Maverick said that learning from guys like Ric and Hunter is the dream.
Hunter talked about how they had a tough time coming up with a name. He recalled a conversation with Arn Anderson saying there's never been a unit like this before and it's like a chart with the Neanderthal where it's like the evolution of the business, so Arn suggested that they called it Evolution. Arn's role at that time was as a backstage producer. He works for AEW now.
Evolution Becomes a Force on Raw
They showed a clip from February 3, 2003 on Raw when Hunter (as the World Champion) walked down to the ring with Flair, Orton and Batista. Hunter said in this industry just like in life, everything evolves and that led to the introduction of the group. The Miz said this group was like they were made men. Prichard said Flair was mentoring these guys, Batista was the muscle and they showed the clip of Hunter talking about Batista and Prichard said that Orton was the future. Hunter said that Orton was the coal that will be squeezed into the diamond. Hunter said if you're in a hospital bed wondering what happened, the answer is that Evolution has passed you by.
Hunter said he pulled Orton and Batista into a room with him. Hunter told them they're going to get the "hate button from everybody" because everybody is going to bury them, bitch and complain while finding out they are not your friends. Hunter told them they need to make a decision today because if you are with them, Hunter and Ric will do everything they can to make them successful. Batista recalled Hunter saying that a lot of guys will hate you and Hunter said do you want to make friends or money, so Batista jumped into the car with them. Orton and Batista each said they both felt hated by some guys. Hunter said that they both came to him separately at times and told Hunter he was right. Gewirtz said that there were probably guys jealous of them. Hunter said if people didn't like it then too bad because that's the way it is. Batista claimed that most of the guys that didn't like him were "fu**ing assholes" anyway and Hunter told them to act like stars.
Hunter told a story about how things went horribly bad and he had to tell Batista to forget things he was taught. Hunter told Randy that things were easy for him, but he had to take things seriously. Hunter recalled throwing the title in the locker room and told the guys to get their shit together or they are done.
Injuries Become a Factor
Batista talked about how they had a tag team match with the Dudleys where he hurt his arm. Batista claimed that Bubba Ray Dudley ran right into Batista's right arm and his triceps just popped. Bubba said he mushed Batista in the face, Batista mushed him back and Batista blew up his triceps. D-Von and Bubba told the story about how they were doing a double flapjack on Orton (a move they did all the time), but somehow when Randy landed, Bubba landed on Randy's ankle and D-Von shattered Randy's ankle. Bubba said that the way he looks at it, the three of them in that moment made a mistake.
(It was during a live event, so that's why they didn't show footage of it in the documentary.)
Hunter said that somebody came into his room saying Orton got hurt, so he went down the hallway to see what happened. Hunter saw Batista holding his arm, he told Hunter he tore his triceps and that Randy was in the ring with the broken ankle. Batista said that what he remembered the most is that Bubba yelled at Randy about hurting Bubba's back when Bubba fell on Randy's foot. Bubba said he didn't remember tension, but he remembered having a conversation with Randy and he might have been yelling. Bubba said he was hurt that night and had one of his worst injuries ever. Batista said that Bubba was irritated by them and Batista claimed that Bubba seemed to hate that they were with Flair and Hunter. Batista: "He (Bubba) was always a dick to both of us." Bubba said that he moved past that night thinking that it was a bad night at the office and an unlucky night where four athletes didn't gel well together. Bubba said it's not ballet, accidents happen and it was just an accident.
(I did some digging to find out that the house show was March 1, 2003 in Reading, Pennsylvania. Also, I liked how we got both sides of the story instead of just hearing from Batista. Bubba chiming in with his perspective was nice to hear and like he said, it was just an accident.)
Hunter said he felt so bad for these guys because he thought about it from their perspective and imagined they likely thought this whole thing was doomed. Batista thought it was horrible and he was afraid for his job. Orton said here he is again after missing four months with the shoulder, but now there's another injury. Gewirtz said that this group arrived with a lot of importance, but then they wondered what they do now.
Randy Orton made his return to Raw on May 26, 2003 wearing a mask while helping Hunter and Ric. That meant Orton was out of action for nearly three months.
Batista talked about how he was so anxious to get back. Batista said before his triceps had healed, he started training and then he ended up re-injuring his triceps, so he had to get it reattached, which set him back a few more months.
(I remember this well. Batista had a rep of being injury prone because he was so ripped. When you're that big, chances are greater of muscle tear type injuries.)
Batista Was Nearly Replaced by Mark Jindrak
The next subject was about the rumor that Batista was nearly replaced in the group by Mark Jindrak, who was a talented young wrestler at the time. Jindrak said that he was excited about being partnered with Orton, Triple H and Flair because he was close friends with Orton. Randy talked about how he was tight with Orton while adding that Jindrak could do some crazy shit athletically. They told a story of Jindrak jumping up to touch some pipe in a hallway and he touched it. Shane McMahon measured it and it was 12'2" so it showed that Jindrak had incredible athleticism because he could jump high. They even showed a clip of that in this documentary. Jindrak said he was a little immature, but he didn't know how immense it was and was too young or stupid to understand what he meant.
Hunter said that Jindrak didn't seem to take the business seriously. Jindrak said that Hunter wanted them to travel together to form that bond on the road, but then he'd goof around with Orton. Hunter said no offense, it was like being in a car with a third grader. Hunter claimed that the two of them (Orton and Jindrak) were making animal noises. Hunter joked that he would ask Ric if he would do this with Harley (Race) and Flair laughed. Hunter said he couldn't take this anymore. Jindrak said that maybe he was bad with Orton since they were so immature. Hunter said when it was just Randy with them he was great, but when Orton was with Jindrak, he wanted to throw them both off a bridge. Hunter said he never wanted to be in a car with Jindrak again.
Hunter told the story about how they filmed a video where they told everybody to bring a black suit. Jindrak went up to Hunter to say he brought a black suit and Hunter wondered why since Hunter didn't want Jindrak in the group. Orton said it got all the way to where they filmed the Reservoir Dogs style vignette with Jindrak in the black suit with them. Orton said that they filmed a bunch of stuff with Mark with the idea that he would be in Evolution. They also filmed stuff with Hunter, Ric and Randy without Mark. Orton said they were doing it because they weren't sure yet.
They showed a clip from Raw on June 23, 2003 at Madison Square Garden in New York City. Jindrak said that Vince McMahon told him that they weren't putting him with Evolution and instead they would pair Jindrak with Garrison Cade (sometimes known as Lance Cade) in a tag team. Orton said it was tough because he was close with Jindrak and he was his best friend at that point in his career because it was a shitty thing to have to go through. Jindrak said that Triple H likely made the decision that Mark was not in the group and whoever made the decision was the right call. Hunter said that he thought Mark was a good worker, but it just didn't fit the group. Jindrak said it was tough to handle, tough to grasp and he had a mediocre run in WWE instead of a multi-million dollar position.
(I think clearly WWE made the right call to not have Jindrak in the group. It sounded like a Triple H decision where he convinced Vince and Vince trusted him with it. Jindrak didn't amount to much in WWE, but he has had success in Mexico wrestling. I'll also point out that this story of Jindrak nearly joining the group was well-known among online wrestling fans at the time, so it's not like this was a big reveal that I didn't know about. It was just something that didn't work out.)
Batista said that it was always his spot and they waited for him to come back. They showed a clip of Batista returning on Raw on October 20, 2003. That meant Batista missed seven months of action after tearing his triceps twice.
Evolution Begins to Dominate in Full Force
Batista said he was proud that he earned the right to be there and that they wanted him to be in Evolution. Orton said that he thinks they did the right thing because Batista was the man. Batista said that's when Evolution really got started.
They showed highlights of the Armageddon PPV in December 2003 where all four members had titles on the Raw brand with Hunter as the World Champion, Orton as the Intercontinental Champion and Batista/Flair as the World Tag Team Champions.
Hunter said that was kind of the night where there was a stamp as if to say this is going to work. Batista said it felt right for them to hold the titles and it looked cool as well. Adam Cole said when he was in high school, he and his friends wanted to be like Evolution. Batista said they were like the Four Horsemen, but they modernized.
They showed highlights of the foursome in action as they dominated on Raw. Bruce Prichard said that nobody could touch Triple H as a top guy. Hunter said that Flair was back to being back to being Ric Flair and Miz chimed in to say the regular Flair was back. Bruce said that Ric was on top of the business again, so Ric loved it.
Batista spoke about how he knew what he wanted to be, what he wanted his matches to be, what he wanted his storylines to be and he was starting to come into his own.
Randy Orton became the Legend Killer as we saw highlights of Orton giving a RKO to the Fabulous Moolah. Orton also spit in Mick Foley's face and kicked him down a flight of stairs, which were both memorable moments in their rivalry that was great in 2004. Orton correctly stated that's really where his career took off.
Evolution Makes a Statement at WrestleMania 20
They showed highlights of WrestleMania 20 in 2004 when the team of Orton, Batista and Flair beat Rock and Foley in a tag team match. That was Rock's last match in a WWE ring for over seven years. Foley said that he was told that The Rock would only come back for something and Brian Gewirtz said that Rock thinks this is big.
Batista said that it was electric and it was crazy to him to be in there with The Rock. Prichard said that Rock's decision to come back to be part of the show elevated everybody in that match and it was huge. Orton hit Foley with a RKO to win the match. JBL talked about how those guys getting a big win over The Rock was something you can always put on your resume.
(They did not mention Triple H headlining WrestleMania 20 and losing the World Title to Chris Benoit in the main event in what was an incredible triple threat match with Shawn Michaels. Why no mention? Benoit reasons, of course.)
They mentioned that the group continued to dominate post-WrestleMania, but then who would emerge as the top dog in the top faction? That led to the breakup.
Orton Becomes Youngest World Champion in WWE History and Gets Kicked Out of Evolution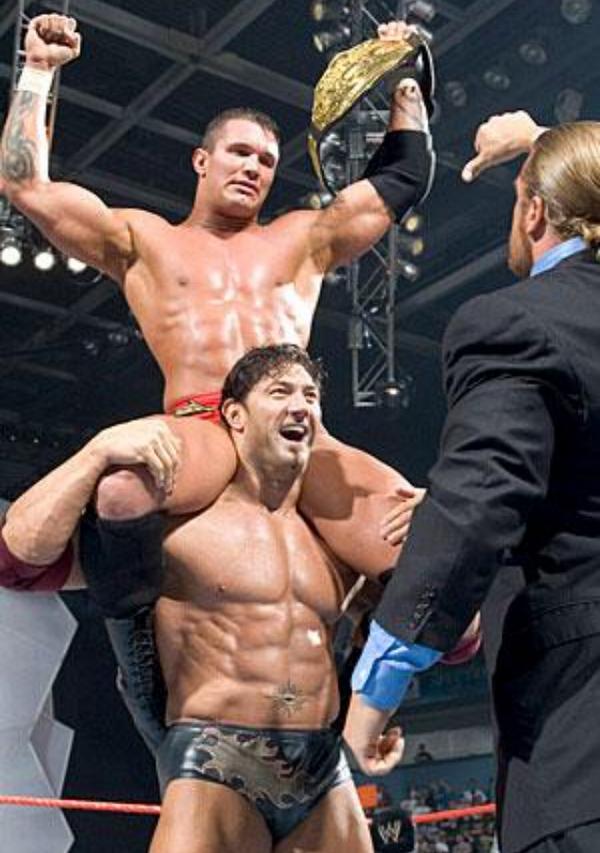 They showed Randy Orton walking to the ring at SummerSlam 2004. Bruce Prichard said nobody questioned if Orton would be the future, the only question was how long will it take before he takes over because Randy was ready to rule the world. They actually showed Orton hitting the RKO on Benoit and then they cut to a clip of Orton holding up the World Title as the youngest World Champion in WWE history. He was 24 years old.
(Orton is still the youngest World Champion in WWE history. This happened about five months after Brock Lesnar left WWE and two years earlier, Lesnar was the youngest WWE Champion ever. Lesnar was 25 years old at that time. Did they put the title on Orton here in order to break Brock's record? I think that's a possibility for sure, but I've never officially heard somebody in WWE say it.)
The next night on Raw, which I was at in my hometown of London, Ontario (the only time we got a live Raw in my city), Evolution turned on Orton when Triple H delivered the thumbs down signal and Batista dropped Orton onto his back. Evolution beat up Orton to kick him out of the group.
Brian Gewirtz talked about how if you're in Triple H's position, you're not going to be happy that Randy is the champion and you'll make Randy a babyface. Brian said that came out of the blue because he got a call while he was out at a store and it was an impetuous decision. Brian said that the fans weren't ready for Orton to become a babyface position and it was an unnatural character for Orton after he was a cocky prick since he started in WWE. Jim Cornette chimed in to say that Orton wasn't a natural babyface because he doesn't give a piss about most of those people and they could tell. They showed Orton at a signing being a jerk to fans at that time.
Orton said that at 24, he became the youngest World Champion and he didn't think he was ready while adding he had a lot of learning to do on the job. Batista said that Randy was just a kid and he was not ready for that. Mark Henry talked about how Orton wasn't ready and said that it went to his head, but then he became a monster with a big ego. Gewirtz called Orton a "glorious prick" and "an outstanding son of a bitch" while adding that if Orton didn't like anything he would let you know. They showed Orton at the promotional shoot for Royal Rumble 2005 and he said he didn't want to do it. They actually showed multiple videos of Orton grabbing his crotch in public to show how immature he was.
Hunter said he told Orton that he had every gift imaginable to be a big star and the only one that can stop him is himself. A month later at the next PPV, Unforgiven 2004, Triple H won the World Title back. It was a very cheap win full of interference and a ref bump. It wasn't a memorable match at all.
Gewirtz said that they thought it may launch Hunter and Orton matches for the rest of time, but it didn't really work out that way, so it was time to move on to the next thing.
(This is where I would love more insight. Was it Vince that made the call to turn Orton face? Who decided to put the title on Orton for one month? Was it a sudden decision? The way Gewirtz spoke made it seem sudden. I think part of it was that Raw was lacking top babyface wrestlers at the time too, but clearly WWE jumped the gun on turning Orton going face because it failed.)
Batista Evolves into the Next World Heavyweight Champion
They showed the image of Batista holding up the World Title with Hunter as Batista stared at the title with Hunter having a concerned look on his face. Batista commented that their program had a very slow build.
Batista said he remembered Hunter having disagreements with Vince because Vince wanted to capitalize on this since he saw dollar signs, but Hunter was adamant about stretching this out with a slow build towards WrestleMania where it can erupt. Hunter was smart in saying that they wanted to stretch it out.
They moved ahead to Royal Rumble 2005 with Batista winning the Royal Rumble match to set up Batista's choice to challenge for Hunter's World Title or JBL's WWE Title. There was also a moment where Hunter and Flair talked on camera in the locker room mocking Batista and they had no idea Batista was standing in the hallway listening to the conversation. The fans saw Batista there, so they cheered loudly with Gewirtz chiming in to say this was going to be good.
Hunter said that everybody knew that Batista heard the conversation, so it was going to lead to something big. Gewirtz spoke about how you know it's coming, but the characters Hunter and Ric don't know it's coming and then there's this huge release of tension that has been building with the fans wanting Batista to beat up Triple H. That led to the memorable segment where Batista a did the "thumbs down" to Triple H to show that he was going after Hunter at WrestleMania 21. The segment saw Batista finally attack Hunter and Flair with Batista hitting the Powerbomb through the table.
Hunter said it was great to see that happen and for somebody he liked so much like Batista. Gewirtz said that everything came together and clicked, so they knew it was money. Batista told Hunter he was taking the World Championship at WrestleMania. Bruce said that was the moment where they knew they were going with Batista.
Batista and Orton Have Big Matches at WrestleMania 21 (2005)
They moved on to WrestleMania 21 without really telling the Orton story. Orton failed so much as a face on Raw that they moved him to Smackdown, made him into a heel again and that led to Orton facing The Undertaker at WrestleMania 21. Gewirtz talked about talked about how the company was invested in Orton and that's why they put him against Undertaker. Orton said Undertaker made him look as good as he could. Gewirtz called it a turning point because now Randy knew exactly who he was (an arrogant heel). The Undertaker won that match and it was a very good match too.
The main event of that WrestleMania 21 was Triple H defending the World Title against Batista at WrestleMania 21. Batista said that there were eerie rumblings and you could tell the crowd was ready to pop for it. Bruce said a lot of people didn't think that Batista would make it. Batista ended up hitting the Batista Bomb on a bloody Triple to win his first World Heavyweight Championship.
Batista said it was special and he joked that he thinks he cried for three days. Batista said that Triple H made him a star and Batista doesn't know what he would have done without Hunter because Hunter made Batista who he was.
Summarizing What Evolution Was
Hunter talked about how the intent of Evolution was to start this group, let it run as long as it can, then you hope Dave (Batista) becomes a star, Randy becomes a star and as the group implodes then it's getting them to be bonafide WrestleMania event stars…and it worked. It sure did.
The narrator Michael Rappaport said that it began from the mind of a visionary in Triple H, the past in Ric Flair became present and the future stars Randy Orton and Batista became stars. They overcame injuries along with uncertainty, but it was ruthless aggression personified. In the end, Evolution changed the legacies of four men forever.
Batista said that this was his opportunity in life that he had been looking for.
Randy talked about being given so many opportunities because of his stint in Evolution and the right people saw there was something special in Randy Orton.
Ric Flair said he had serious self confidence issues, but with them he had fun and he got it back.
Hunter said that one of the big key flagpoles in the ground of the Ruthless Aggression Era is Evolution. Hunter said you can argue for who it was most beneficial for and you can argue about any of them with Hunter saying it was all about all of them. Hunter was right in saying it was successful for all of them.
It ended with a shot of the foursome on the stage from back when they were teaming together and that was it.
This episode had a runtime of 1:05:27 on WWE Network.
Final Thoughts
I really enjoyed this. It was well done and I think a lot of fans probably learned some things along the way. I knew a lot of the story in terms of how it was put together and I knew all the stuff with Jindrak too. It was nice to hear what the guys looking back on this stuff about 15 years later. That's what makes these documentaries so interesting.
The comments from the four guys in the final few minutes really summarized it perfectly. Just like Triple H said, you can make the point about any of them as being the most successful in the group. I think if you had to pick one, Batista really benefited the most from the group. Orton probably would have been a big star on his own at some point anyway. It's that Batista story with Triple H that really caught fire and truly elevated Batista to that level where he was a believable main event talent.
What's interesting about the group is that they weren't together for that long as a foursome. It started in February 2003, but injuries kept them from having all four guys together until Batista came back in October 2003. By August 2004, Orton was kicked out of the group. That meant they really only had about that 10 month run where they were together. It's too bad they weren't together longer, but I think WWE realized they needed to feature Orton and Batista as singles stars. It's not like this group could last together for three or four years. The group still had a huge impact on the company, though. There's no denying that.
I recommend watching this if you didn't see it. Evolution had a huge impact on the Raw brand post brand extension, so I'm glad they got to be in the spotlight for this series.
===
Thanks for reading this review. My contact info is below.
Email: mrjohncanton@gmail.com
Twitter: @johnreport
Personal Facebook and TJRWrestling on Facebook