TJR WWE MITB Match Review #13 and #14: Money in the Bank 2013 – Won by Damien Sandow (World Title) and Randy Orton (WWE Title)
The WWE Money in the Bank match countdown continues with the 13th and 14th Money in the Bank ladder matches. Check out the Money in the Bank archive here. This was the first year where a Money in the Bank winner lost a cash-in attempt by pinfall.
Money in the Bank 2013 – For a World Heavyweight Championship Match
Who: Cody Rhodes, Wade Barrett, Dean Ambrose, Jack Swagger, Fandango and Antonio Cesaro
When: July 14, 2013
Where: Money in the Bank 2013 @ Wells Fargo Center in Philadelphia, Pennsylvania
Thoughts Before The Match
From my 2013 WWE Money in the Bank preview. I wrote about everybody in particular, but I won't include all of that. I'll just put in the Rhodes and Sandow part along with my pick.
"Cody Rhodes & Damien Sandow – I'm pairing them together because I think this match will lead to the breakup of Team Rhodes Scholars with Rhodes going babyface. There are already signs of it happening with Sandow talking over Rhodes in promos and looking frustrated with his "best friend" a week ago on SmackDown. I can see a scenario where Sandow's close to winning, but Rhodes is the one to pull him down. That could lead to the breakup on television in the weeks to follow. I'd rather see Rhodes stay in the heel role, but I feel like the turn is coming.

I can truly say I like all seven of these guys. All of them have bright futures. The big question is how will the crowd react? I have a feeling that Ambrose, Cesaro and Sandow will get the biggest ovations from the potentially smart crowd. It will be very interesting to see how this one plays out. I'm going Ambrose for the win."
The Rhodes and Sandow issue was really the only main storyline going into the match, so I should have picked one of them to win. I think I went Ambrose because he was the US Champion, so there was a lot of hype about him. The other three guys didn't seem like they had a chance to win.
The unique thing about this match? They were all heels. That made it an interesting match with nobody to root for…in theory.
The first match is the Money in the Bank match for a World Heavyweight Championship contract. Fandango and Dean Ambrose were already in the ring. Zeb Colter did a promo as he brought out his buddies Jack Swagger and Antonio Cesaro. During his promo he complained about foreigners like usual. He said one of his "Real Americans" is going to win the match to take their nation back. "We the People" ended it of course. Cody Rhodes and Damien Sandow entered together. They insulted the fans like usual. Wade Barrett was the last entrant.
World Heavyweight Championship Contract Money in the Bank Ladder Match: Wade Barrett, Cody Rhodes, Damien Sandow, Dean Ambrose, Fandango, Jack Swagger and Antonio Cesaro
Cesaro gave Rhodes a gutwrench suplex onto a ladder that was propped up against the ropes. Swagger threw Sandow onto the same ladder. Swagger was the first to set up a ladder, but Ambrose stopped him. He dumped Swagger to the floor, so only Ambrose was in the ring. Barrett destroyed Ambrose with a boot to the face. Fandango hit a legdrop on a ladder onto Barrett. Ambrose knocked Rhodes out of the ring by using a ladder. Sandow went at it with Fandango by throwing him into a ladder. Sandow gave Fandango a suplex onto a ladder that was propped up in the corner. Barrett pulled out a step from one of the ladders and then he attacked Sandow with it. That was innovative. Cesaro destroyed Barrett with an uppercut while Swagger went for Ambrose, but Ambrose came back with a DDT. Cesaro applied a choke on Ambrose at the top of the ladder. Rhodes gave Cesaro a Muscle Buster onto a ladder that was in the corner. That was a big spot. Barrett with a DDT on Rhodes as the crowd chanted "Cody's Mustache." Swagger went to climb along with Barrett. Barrett hit the Bull Hammer elbow on Swagger to knock him down. Fandango did the Sunset Flip Powerbomb onto the other side of the ladder. Ambrose hit his Headlock Driver DDT on Fandango. Ambrose put the ladder on his head to do the windmill spot where he attacked everybody.
Swagger and Cesaro did a great spot where they dumped Ambrose outside the ring. They also threw a ladder onto Sandow. Colter was telling them to work together. Cesaro went on Swagger's shoulders. Rhodes broke that up with a springboard dropkick on Cesaro. What a spot! Loud "this is awesome" chant again. Rhodes hit the Cross Rhodes on Fandango. Then he hit Cross Rhodes on Barrett. With everybody out, Rhodes grabbed a really tall ladder from the aisle. Rhodes set up the ladder in ring and Ambrose chased him up there. Rhodes knocked him off as he said "see ya bye!" That was great. Seth Rollins and Roman Reigns showed up. Rhodes held them off briefly. Reigns with a Spear on Fandango. The Usos showed up to take care of Rollins and Reigns. A bunch of guys started brawling outside the ring. Rhodes shoved the ladder as Ambrose climbed and he went crashing onto a pile of guys outside the ring. Rhodes cleared everybody out. Sandow showed up, knocked Rhodes off and Sandow grabbed the briefcase to win, so he turned on Cody to win. It went 16:24.
Winner: Damien Sandow
The announcers played up the point that Sandow double crossed his best friend to win the match. JBL defended it by saying Sandow did what he had to do to win. It ended with Rhodes staring at Sandow.
Analysis: **** That was an awesome match. There were no babyfaces in there, but the crowd loved it and I did too. I loved how they told so many stories in the match with Cesaro/Swagger working together at one point and dominating. Then Ambrose dominated with the help of his buddies. Rhodes was the biggest star of the match. The crowd really got behind him. It looked like he would win, but they set it up perfectly for Sandow to sneak in for the victory. I wrote in the preview that I thought Rhodes would turn face. I still think it's happening except now it's a result of Sandow winning this match by turning on his best friend. I'm looking forward to seeing where they go with it. I'm a fan of Sandow as well as Rhodes. Great booking.
https://www.youtube.com/watch?v=uoW2h8rWPGc
The Cash-In Moment…That Failed
Damien Sandow held the Money in the Bank contract for 106 days. He feuded with Cody Rhodes for a few months, which turned Cody face and they changed the look of the briefcase along the way. After over three months, Sandow decided to cash-in.
For a bit of backstory here, John Cena had surgery on his arm after SummerSlam 2013 in late August. He was expected to be out of action for anywhere from 4-6 months. Instead, Cena came back in two months and WWE had him beat Alberto Del Rio to win the World Heavyweight Title at the Hell in a Cell pay-per-view on October 27, 2013. From my WWE Raw Deal review.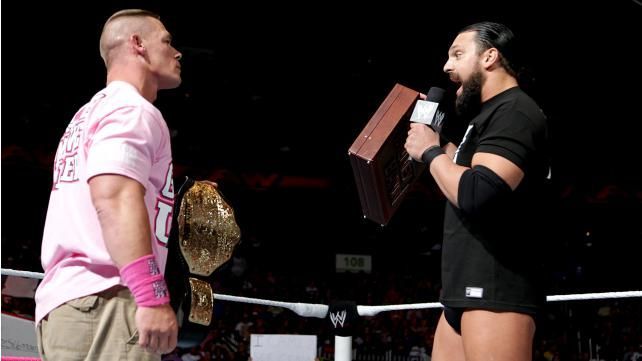 October 28, 2013 on Raw
The new World Heavyweight Champion John Cena made his entrance to a mixed reaction although it sounded like more cheers than boos. He said "I'm back" to the crowd. Cena busted out his Boston accent for a bit of this. Not sure why. He spoke about how JBL was a skeptic about Cena's comeback, so he thanked JBL for the extra motivation. Cena even did an over the top JBL impression. He told JBL to take a good look because the new World Heavyweight Champ is here. He said he's back on Monday Night Raw and that he's back on Smackdown as well. I wonder how long that will last. Smackdown attendance has been down, so Cena's presence should help. He said he'll be on the European tour competing as the World Heavyweight Champion. Cena said he'll wear the brace, talk to the doctor and put ice on it every once in a while. "I'm back and I'm ready to go." It was a typical fired up Cena promo. He mentioned the WWE Championship celebration later in the show, so there will be a lot of talking later on. Cena told Del Rio he knows he gets a rematch, so if he wants some come get some. "This is the Cenation – we run the show. The champ is here." He dropped the microphone, but then Damien Sandow's music hit.
Sandow walked to the ring with his Money in the Bank briefcase that gives him a shot at the World Champion any time he wants. Sandow: "The uncrowned champ is here." He said that Cena wasn't fooling people by coming back from his injury. Sandow said it wasn't humanly possible to come back as quickly as he did. He knows Cena's more hurt than he is letting on. Sandow told Cena that he's afraid that Sandow will cash in on him. Sandow said he could cash in any time, any place like right now. Then he said any time but tonight. Cena shoved him, so Sandow kicked him in the leg and hit him with the briefcase.
Sandow attacked Cena with the briefcase by hitting Cena in the left arm repeatedly. It knocked Cena down. Sandow rammed Cena's left arm into the ring post a few times. Sandow yelled "rise above this" and then whipped Cena into the security wall. He threw Cena into the steel steps. Sandow placed Cena's arm on the steel steps and smashed a steel chair into Cena's arm. Sandow said "my time is now" while signaling for a ref to come to the ring. Ref John Cone ran down for the official cash in of Sandow. They went to break with Cena holding his arm outside the ring.
Analysis: Cena's promo was the same kind of speech he always does to fire up a crowd although it's been two months since we've heard it, so it didn't feel as tiresome as usual. I'm not really a Cena hater. I just think he needs to change his style a bit. I also found it odd that he threw in that fake Boston accent a bit much in the promo. I'm not sure why he did that. Sandow's speech was very good. The beatdown leading to the cash-in made a lot of sense and gives Sandow credibility as one of the smartest wrestlers in the company. He knew the guy was hurt, so he went right after it. Makes sense. I'm not a huge fan of the commercial break in the spot where they put it. I get why they did it and I think people would turn back in three minutes if they were watching live, but it killed some of the momentum a bit.
(Commercial)
World Heavyweight Championship: John Cena vs. Damien Sandow
The match began with Cena favoring his left arm. A lot of his haters like to mention that he doesn't sell enough, but he was selling the arm a lot from the beginning of this match. Sandow went after the arm as Cena tried to fight back. Sandow threw Cena into the steel post and got a rollup for two. Sandow applied an armbar, but Cena powered out with a belly to belly suplex. Suplex by Sandow for two. Cena came back with a back body drop. They went to break there.
Analysis: That's an odd break during an unannounced match like this.
(Commercial)
Back from break, Cena hit the running shoulder block on Sandow using his injured left arm. Boot to the face by Cena followed by the spinning suplex. Sandow hit a flipping neckbreaker for two. Sandow whipped Cena hard into the turnbuckle shoulder first. They showed Dr. Sampson looking on at ringside. Cena was able to counter Sandow with a one armed Attitude Adjustment. Sandow rolled out to the floor while Dr. Sampson checked on Cena, but JC waved him off. Cena rolled Sandow back into the ring. He tried to do the STF, but Sandow fought out of it. Neckbreaker variation by Sandow for two. Cena hit a full nelson into a neckbreaker for a two count. Sandow applied a Crossface on Cena's left arm. The crowd thought that could be it, but Cena powered out of it. Sandow came back with the You're Welcome (Full Nelson Slam) that is his new finisher. Cena kicked out at two for the best nearfall of the match. The fans chanted "this is awesome" as Cena won a struggle on the top rope. Cena missed a cross body block after Sandow moved. Sandow tried to capitalize, but Cena powered out and hit the Attitude Adjustment with one arm. Cena covered for the victory after 14 minutes.
Winner by pinfall: John Cena
Post match, Cena celebrated the win while the announcers put over Cena's gutsy performance with JBL saying what he did the last two nights was incredible.
Analysis: ***1/4 It was a good match with plenty of nearfalls for each man. Sandow losing is a bit disheartening. Obviously, Cena's a guy that wins all the time while Sandow could have really benefitted from winning the World Title against somebody the caliber of Cena. It didn't happen, of course. Sandow joins the list of those that failed to successfully cash in a MITB briefcase, which is a short list that previously included only Cena. I also liked the placement of the segment because it was in the first 30 minutes of the show when the baseball game was just getting underway while the NFL game hadn't started yet. I realize Cena's win will upset some fans and I don't blame anybody for being mad about it. I just think he'll have a long title reign to raise the value of the World Title.
(I don't think I made the point clear enough here, but I thought that having Sandow lose his cash in was a bad decision. It's funny how when you look back on it now nearly six years later, it's even more obvious that it was a wrong move because they needed more main event players like Sandow. Even if he lost the title back to Cena a few months later, at least they could have said Sandow was a former World Champion. Instead, Sandow was the first guy to lose a Money in the Bank cash-in attempt.
I don't want to say that Cena "buried" Sandow because I hate that term and it's all done because Vince McMahon wanted to do it anyway. However, I would say that Sandow never recovered from this as far as getting a legitimate push in WWE. He was released in early 2016 and he has moved on from wrestling after that.)
Title Reign Reflections
I would love to write about Damien Sandow's World Title reign, but he never had one! I'm still mad about it. He deserved it.
Final Thoughts on This MITB Booking
Damien Sandow winning Money in the Bank was great for a guy that truly deserved it. It was interesting that WWE would even book a matchup with all heels, but they did, and the wrestlers busted their ass to put on a good show. Sandow's story with Rhodes in the match made it seem like they would work together until Sandow turned on his friend in order to win. It made Sandow look like a jerk, but it also fit his gimmick as an intellectual that bragged about being smarter than everybody else.
As for the failed cash-in attempt, clearly Vince McMahon stopped believing in Sandow. Instead of something fresh, what did Vince book? Cena vs. Orton at the TLC 2013 PPV to unify the two World Titles. It's a match that was done dozens of times before and it showed how Vince relied on the same two guys way too often.
Money in the Bank 2013 – For a WWE Championship Match
Who: Randy Orton defeated Christian, CM Punk, Daniel Bryan, Rob Van Dam and Sheamus
When: July 14, 2013
Where: Money in the Bank 2013 @ Wells Fargo Center in Philadelphia, Pennsylvania
Thoughts Before The Match
From my 2013 WWE Money in the Bank preview. After I broke down everybody in the match, I settled on two guys to win.
"That leaves us with two names: Daniel Bryan and Randy Orton. I'm picking Daniel Bryan. On TJR Radio I went with Orton, but then I saw the SmackDown spoilers and changed my mind back to Bryan. It's going to be one of them, I feel. If Orton wins they could still have Bryan get a WWE Title shot (and possibly win it) in the near future while Orton could steal the spotlight from him by cashing in the briefcase to get the WWE Title for himself.

Orton's heel turn looks like it's finally happening after being rumored for most of the last year. It would make sense for him to turn during the match or soon after it. I think the best story to tell is Bryan outsmarting Orton to grab the briefcase and then on Raw instead of an Orton handshake, Bryan would receive a vicious assault. Does any of this make a lot of sense to you? It does to me.

Also if it was up to me this would be the last match on the show especially if Daniel Bryan is booked to win. Any match that follows will have a tough time because this has match of the year potential. However, I think the 'Cena Rules' are in effect, so don't be surprised if Cena's match goes on last."
I picked the wrong guy, but I was close to picking Orton. The Orton heel turn that I mentioned was rumored for a full year or more since Orton did interviews here he talked about how he hated being a face. I was right about this match being the main event of the show, so at least I got that part right.
Kane was originally in the match, but he was attacked by the Wyatt Family and was taken out of the match.
Rob Van Dam entered first. He looks like he's in great shape. The crowd gave him a huge ovation. The second man was Christian, who is a favorite of mine. Not a favorite in terms of thinking he's going to win, but a guy I've always liked a lot. The crowd gave a huge reaction to Daniel Bryan, which is no surprise. The man is on fire. Randy Orton was out fourth. Sheamus was fifth. All of them received good reactions. The final entrant was CM Punk, who was greeted with loud "CM Punk" chants by the crowd.
Money in the Bank All-Stars WWE Championship Contract Ladder Match: Randy Orton, Rob Van Dam, CM Punk, Daniel Bryan, Christian and Sheamus
Everybody ganged up on RVD – he was knocked out of the ring. Then they ganged up on Sheamus – he was knocked out of the ring. Punk dumped Christian and Bryan dumped Orton. Bryan vs. Punk face to face. Loud "yes" chants of course. Love it. They had a brief exchange, but Sheamus ran in with a ladder and Orton dropkicked him. RVD with a kick off the top. Monkey flip by RVD to Christian. Spinning kick by RVD to Orton. Crowd loves him. Van Dam gave Christian a slam onto a ladder in the ring. RVD hit Rolling Thunder on Bryan, who was on a ladder that was lying in the ring. RVD kicked Orton in the head and he wanted the Five Star Frog Splash, but Christian knocked him off the top with a ladder shot. Christian used a tiny ladder as a weapon. It's easier to attack people with a ladder that small. Christian was the first to climb up (it was a regular ladder), but Sheamus stopped him. Sheamus knocked out Christian with a punch followed by a ladder shot to the face. RVD knocked Sheamus off the ladder as he was climbing. That didn't look like a safe spot, but Sheamus was okay after landing. Rolling Senton by Sheamus on RVD on the ladder. Sheamus wanted to powerbomb Bryan on a ladder that was set up between the apron and announce table. Bryan fought out of it. Bryan hit a running knee attack off the apron. There were two ladders set up as six guys were climbing up at the same time. The briefcase was swinging. All six guys went tumbling down. That was a fun spot as we hit the ten minute mark.
Sheamus hit the White Noise on RVD. Sheamus hit RVD with a ladder and then a Brogue Kick. Bryan prevented Sheamus from getting it, but Sheamus was still able to hang from briefcase. Punk came into the ring to knock him down. Sheamus was unable to pull the briefcase down despite getting his hands on it. Punk hit a running knee on Sheamus in the corner and then a drove a ladder onto the back of Sheamus. That sent Sheamus crashing face first. Punk gave a bow to the crowd. That was funny. Orton gave Punk a T-Bone suplex into a ladder that was propped up in the corner. Christian showed up to give Orton a Spear. RVD stopped Christian's momentum with a ladder shot to the ribs. The crowd was chanting that they wanted tables. Christian set up a vertical ladder in the corner and another one in the middle of the ring. RVD knocked Christian off the ladder that was in the middle while RVD landed on the other ladder in the corner. RVD climbed the ladder and a hit a Five Star Frog Splash (or close to it) in the biggest spot of the match so far. RVD climbed up the ladder, but Sheamus knocked him off and RVD went crashing into the ropes. We're at the 20 minute mark now.
Bryan destroyed Sheamus & RVD with a series of kicks. Bryan hit Orton in the ribs with a ladder. Dropkick into the ladder. Bryan hit a dive onto Punk outside the ring. Back to the top rope, double missile dropkick by Bryan. He's on fire! There was a huge spot as Sheamus went crashing through a ladder outside the ring. Ouch! Bryan climbed up the ladder. Curtis Axel showed up. He destroyed Bryan with a steel chair shot to the back. That was random. As Axel walked around ringside, CM Punk grabbed him and gave Axel the Go To Sleep. Paul Heyman walked down to ringside. He yelled at Axel about what he did and Heyman told Axel that he wanted Punk to win. Punk climbed up the ladder. Another ladder was in the ring. Heyman slammed the ladder into the back of Punk. Then Punk turned around and Heyman slammed the ladder into the face of Punk. That will set up Punk vs. Lesnar at Summerslam. Punk's head was cut open from the ladder shot. RVD climbed up. Randy Orton showed up. He knocked RVD down as he fell into Orton's arms for the RKO. Orton was the last one standing as he climbed up. Orton unhooked the briefcase. The match went 28:38.
Winner: Randy Orton
Analysis: ****1/4 That was fun. I think I might have had expectations that were too high, but I still enjoyed it immensely. It was a great ladder match. They really set it up well. I don't think anybody believed Sheamus or Christian had a chance and neither guy was really booked as a threat. RVD stood out with some great high spots including that Frog Splash off a ladder onto Christian. The Heyman/Punk story obviously sets up the Lesnar/Punk match as mentioned. I like how they set it up. Heyman attacked him in the back (stabbed him in the back, I guess you guess you could say) and then knocked him out with a hard ladder shot to the face. Punk was bleeding from it although he wasn't on camera much. The Axel attack on Bryan was random. The match wasn't a match of the year contender really, but it was still very well done. I enjoyed it.
It's the second longest MITB match ever at nearly 29 minutes. At the time, it was the longest, but then it was passed in 2017 by the men's Money in the Bank ladder match that went 29:45. I think this match went a bit too long, but there were enough good workers in there that was I never bored by it.
https://www.youtube.com/watch?v=iVB883Zn9xE
The Cash-In Moment
Randy Orton held the Money in the Bank briefcase for just over one month at 35 days. He wasn't in a match at the excellent SummerSlam 2013 pay-per-view, but he did make his presence known at the end of the night.
August 18, 2013 – SummerSlam
Daniel Bryan had just defeated John Cena to become the WWE Champion in a matchup of the two top babyfaces in the company. We all knew Cena was losing since he needed the arm surgery that I mentioned earlier, so Bryan winning was not a shock. What was interesting about it is that Triple H was the special guest referee of the match and he called it right down the middle because at the time, Triple H was a babyface authority figure. That all ended during Bryan's celebration.
From my SummerSlam 2013 review:
Post match, Bryan was celebrating with the WWE Title. Cena grabbed him by the shoulder and turned him around. Cena shook Bryan's hand. Cena shoot Triple H's hand too. Bryan celebrated with the WWE Title. Triple H shook his hand again as Bryan celebrated with the fans chanting "yes" in support of the new WWE Champion. Bryan looked into a camera to thank his mom and dad. Fireworks went off with Bryan leading the crowd in more "yes" chants.
(That was a cool moment to see again especially because Bryan's dad died in early 2014.)
Randy Orton's music started up as he walked down the ramp with the red Money in the Bank briefcase in his hand. Bryan turned around to face him. Orton walked away. Bryan chanted "yes" repeatedly as Orton thought about it some more. Orton looked back at Bryan. Triple H grabbed Bryan from behind and Hunter hit Bryan with a Pedigree! Huge heat for that.
Orton went into the ring. Triple H told the timekeeper to ring the bell.
WWE Championship: Daniel Bryan vs. Randy Orton
Bryan was still out in the ring. Randy Orton covered Bryan for the pinfall victory. So much for the idea that somebody has to be standing to face a challenger with the briefcase. Orton covered. Triple H counted. That was it. Orton is the new WWE Champion.
Winner: Randy Orton – New WWE Champion
To end the night, Triple H raised Orton's hand and they posed together. It looks like a heel turn for both of them.
Analysis: There's the heel turn by Orton that many of us have been thinking about for the last year or so. It has been rumored for so long. This was the perfect setting for it. Bryan won the WWE Title clean, he was celebrating with fans that truly loved him and then it was taken away from him by a babyface like Triple H who happened to have an old friend in Orton standing by with the Money in the Bank briefcase. Predictable? Yeah it was. But so what? It was the right thing to do. Bryan's quest to gain back the WWE Title will be the story to watch in WWE this fall and I'm excited to see what happens with it.
It was a very memorable ending to the best WWE PPV this year. I won't forget SummerSlam 2013 ever. That's for damn sure.
(The angle was executed very well. It was the Orton heel that most of us were expecting. It also set the table for the very long "Authority" angle with Triple H and Stephanie McMahon running the company as evil heels while Randy Orton was by their side for most of the next two years.)
Title Reign Reflections
Orton's title reign lasted just 28 days because Daniel Bryan beat him for the WWE Title at Night of Champions. I was at that show and it was not a celebratory drive home because they claimed Bryan's win was tainted by a fast count.
Orton ended up beating Bryan at Hell in a Cell in October 27 thanks to Shawn Michaels costing Bryan the win. That led to Orton holding the WWE Title (and World Title at the same time) for 161 more days all the way to WrestleMania 30 where Daniel Bryan beat Batista to win Orton's titles in the triple threat match.
My immediate thought after SummerSlam was that Bryan was going to continue to get screwed out of the title, then he gets in the Royal Rumble, wins it from the number one spot and beats Orton for the WWE Title at WrestleMania 30. Simple, right? Instead, the plan was nothing like that.
It ended up being Batista that won the Royal Rumble, Bryan wasn't even in the Rumble match (the fans hated that as they should have) and WWE had to come up with an alternate route for Bryan to be in the WrestleMania 30 main event. Bryan ended beating Triple H and then winning a triple threat with Batista and Orton. It turned out okay in the end, but the route from SummerSlam to WrestleMania had a lot of unexpected twists along the way.
The crazy thing about all that is that if CM Punk didn't quit after the Royal Rumble, Bryan was supposed wrestle Sheamus in the WrestleMania undercard. With Punk out of the picture, Bryan slid into the WrestleMania spot against Triple H and then he became WWE Champion to end the night.
Anyway, it seemed like WWE had the plan to turn Orton heel when they had him win Money in the Bank, so that's why he made sense as the winner of the match.
Final Thoughts on This MITB Booking
There was likely a plan in place from before Money in the Bank to put over Orton as a face, have the celebrate that and then turn him heel at SummerSlam to set up the WrestleMania plan. Orton was better as a heel anyway, so I was happy when he turned at SummerSlam. I just wish they set up the road to WrestleMania the right way as I mentioned above.
This was probably one of the few Money in the Bank matches where they really had long term plans in place, which is a good thing because long term planning usually leads to better storylines. Even though there missteps along the way, the crowd reacting to Daniel Bryan as loud as they did at WrestleMania 30 showed how invested they were in the storyline.
Money in the Bank Ladder Match Rankings so far
The best rating a match can get is five stars out of five. Every Money in the Bank ladder match is over three stars, which means very good. What's the best? Here are my rankings.
WrestleMania 21 (2005) won by Edge – ****1/2
Money in the Bank 2013 (WWE Title) won by Randy Orton – ****1/4
Money in the Bank 2010 (Smackdown) won by Kane – ****1/4
Money in the Bank 2011 (Smackdown) won by Daniel Bryan – ****
WrestleMania 23 (2007) won Mr. (Ken) Kennedy – ****
Money in the Bank 2012 (World Title) won by Dolph Ziggler – ****
Money in the Bank 2010 (Raw) won by The Miz – ****
Money in the Bank 2013 (World Title) won by Damien Sandow – ****
WrestleMania 24 (2008) won by CM Punk – ***3/4
WrestleMania 22 (2006) won by Rob Van Dam – ***3/4
WrestleMania 26 (2010) won by Jack Swagger – ***1/2
WrestleMania 25 (2009) won by CM Punk – ***1/2
Money in the Bank 2011 (Raw) won by Alberto Del Rio – ***1/2
Money in the Bank 2012 (WWE Title) won by John Cena – ***1/4
In addition to that, I wrote a ranking of the Money in the Bank cash-in moments over at The Comeback in 2016. I don't write there anymore. It doesn't include the last two years, but it's comprehensive.
====
Thanks for reading. My contact info is below.
John Canton
Email mrjohncanton@gmail.com
Twitter @johnreport
Personal Facebook and TJRWrestling on Facebook