TJR: The WWE Raw Deal 09/07/20 Review
Welcome to the WWE Raw Deal review on TJRWrestling. Going into this show, WWE wasn't promoting much other than Randy Orton continuing his momentum since he won a match last week to earn another WWE Championship match against Drew McIntyre at Clash of Champions on September 27. This is also the last Monday night where WWE won't have to compete against the NFL's Monday Night Football on ESPN, which begins next week. Speaking of the NFL, check out the information below if you're a fan.
JOIN TJRWRESTLING NFL PIGSKIN PICK 'EM GROUPS
The TJRWrestling NFL Pick 'Em groups are back. They're free to join. There is no prize. It's just for fun. It's on ESPN.com so all you need is an ESPN account to join the leagues.
Here's the link to join the Straight Up Pick 'Em group: CLICK HERE! Here's the link to join the Point Spread Pick 'Em group: CLICK HERE! When you click the links and you're logged in, you should see a "Join Group" button and it's that easy to be a part of it. Thanks for playing.
From the Amway Center in Orlando, Florida, this is the Raw Deal for episode #1424 of Monday Night Raw. Follow me on Twitter @johnreport. Please visit TJRWrestling.net daily for our regular updates on the wrestling business featuring WWE news coverage, insightful columns from our team along with reviews about wrestling's past and present. Let's roll.
The Raw intro video aired to begin the show. It's Michael Cole on the call for Raw instead of Tom Phillips as the main play by play guy. They did not have a pyro display to start the show. Cole was joined by Byron Saxton and Samoa Joe with Cole saying Phillips was off this week.
Let's Hear from Randy Orton
Randy Orton made his entrance in his ring gear along with a vest. He faces Keith Lee again later on Raw. Orton is facing Drew McIntyre for the WWE Title at Clash of Champions on September 27 as well.
Orton said that he was already entitled to a rematch for the WWE Title and last week he beat Kevin Owens, Seth Rollins and Keith Lee to earn that title shot. Orton told Lee that they get to face off again, which means he is more likely to be kicked in the head. Orton said that he could go over the list of names he has kicked in the head, but Raw is "only" three hours. Yes, "only" three hours. Orton said that he will face Drew McIntyre at Clash of Champions if Drew is able to make it there. Orton said if McIntyre can't make it then it's because Orton kicked him in the head and broke his jaw.
The replay aired from two weeks ago on Raw when Orton kicked McIntyre in the head three times.
Orton stared into the camera saying that McIntyre should hand him the WWE Championship. Orton said he's a patient man, but he didn't know if he could wait and there were sirens as an ambulance pulled up to the building. McIntyre got out of it with the WWE Title in his hands. Drew pulling up in an ambulance is lame and cheesy, but that's WWE creative.
McIntyre went into the ring, he avoided a clothesline by Orton and bounced off the ropes with a Claymore Kick to the head. There were referees that quickly ran out there to break it up and McIntyre left triumphantly while Orton was down selling the Claymore Kick in the ring.
Analysis: This was good with McIntyre showing that he was still healthy enough to knock Orton on his ass for talking shit about him. Orton was cocky while talking about Drew being down and out, but then Drew showed he had a lot left. I like how this rivalry is going.
The Hurt Business trio of MVP, Shelton Benjamin and Bobby Lashley were shown walking backstage. A janitor said hey to them and MVP yelled at the guy as if he said something about Shelton's mother. Lashley put the janitor up against the wall and Benjamin kneed him in the ribs. The Hurt Business left.
Analysis: Bad guys are mean. Poor guy dressed as a janitor.
Apollo Crews entered for a tag team match. There was some pyro for him after he got in the ring, which was a bit of a surprise, but good for Crews getting some pyro there.
(Commercial)
Drew McIntyre was shown walking backstage with the WWE Title. That's where WWE Official Adam Pearce was standing by to let Drew know that he isn't medically cleared due to the fractured jaw. Drew said that he did what he needed to do, he'll be at Clash of Champions and then he left. Pearce told his terrible security guys that they can't allow other uninvited guests, which is a reference to the Retribution group.
After Ricochet had already made his entrance for the tag team match, Cedric Alexander was next and The Hurt Business trio beat up Alexander on the stage. Cedric's partners saved him as the match began from there.
The Hurt Business (Bobby Lashley, Montel Vontavious Porter and Shelton Benjamin) vs. Apollo Crews, Ricochet and Cedric Alexander
Crews went right after US Champion Lashley and knocked him out of the ring. Benjamin decked Crews with a boot to the face. Lashley with a shoulder tackle, Benjamin in with a rising knee on Crews and MVP with a running boot to the face for a two count with Ricochet making the save. Crews tried to tag out, but MVP held onto him and hit a German Suplex across the ring. Lashley with a flatliner on Crews, then Benjamin tagged back in and hit Crews with some forearms to the face. Crews with an enziguri kick on Benjamin. Alexander pulled Ricochet off the apron and threw him into the barricade as well as the side of the ring. Alexander went into the ring and hit the Lumbar Check on Crews as well. Alexander stared at Crews with a look of disrespect. MVP and Lashley were laughing about it as Benjamin hit Paydirt on Crews for the pinfall win after about five minutes.
Winners by pinfall: The Hurt Business (Bobby Lashley, Montel Vontavious Porter and Shelton Benjamin)
Analysis: *1/2 This was about the turn rather than the match It's a good old fashioned heel turn after weeks of Cedric turning them down while MVP tried to push his buttons to get him to join. It's a fresh start for Cedric, who has a lot of talent in the ring, but he hasn't had a chance to show much of a personality. Maybe this will help him to be around some veterans that are getting consistent TV time. I also hope it's good for Ricochet, who needs to be doing more.
Post match, Alexander stared at the Hurt Business guys in the ring with a smile on his face. He did not join them in the ring or shake their hands, but that's the assumption that he is now a part of the group.
This week on NXT on Tuesday: Rhea Ripley vs. Mercedes Martinez in a Steel Cage match and Finn Balor vs. Adam Cole for the vacant NXT Title. I'll have a review on TJRWrestling on Wednesday morning.
(Commercial)
The Street Profits made their entrance as the Raw Tag Team Champions. We saw highlights from last week's Raw when they were attacked by Retribution during a match. Angel Garza and Andrade entered with Zelina Vega since WWE loves repeating matches.
The Street Profits (Montez Ford and Angelo Dawkins) vs. Andrade and Angel Garza (w/Zelina Vega)
Garza was getting yelled at by his team since he took off when Retribution attacked last week. Andrade was in the ring with Dawkins, Vega was yelling at Garza and Garza went to the floor. Andrade wanted to tag in Garza, but he wasn't on the apron. Vega yelled at Garza, who walked away. Dawkins avoided a charge by Andrade and hit a spinebuster. Ford went up top and hit the huge Frog Splash on Andrade for the pinfall win after about three minutes.
Winners by pinfall: The Street Profits
Analysis: * That might be the end of the Andrade/Garza alliance officially after weeks of teasing it was done. Ford's Frog Splash looked incredible as usual.
Post match, Garza walked to the back with a smile on his face.
Cesaro and Shinsuke Nakamura walked out as the Smackdown Tag Team Champions as Cole mentioned this might be part of the "brand to brand invitational" that WWE ignores sometimes and then brings up at other times.
(Commercial)
The two sets of Tag Team Champions were in the ring facing off.
Cesaro said that they were surprised to find out the Street Profits were the longest-reigning Tag Team Champions on Raw in years. Shinsuke Nakamura laughed at them for their skits like basketball and mini-golf. Cesaro said that Street Profits don't defend their titles that often. Cesaro said that they're challenging them to a champions vs. champions match next week as part of the quarterly brand to brand invitational, which is something WWE just makes up sometimes.
Angelo Dawkins interrupted Nakamura from saying their catchphrase. Ford said that they have a vibe as a team unlike The Bar 2.0 and joked that Cesaro had so many tag partners that he should get tested. Ford said that it's on because The Street Profits want the…(Cesaro told them to stop) and Nakamura said "smoke" to end it.
Analysis: It should be a very good match between the two champions. It's also likely a non-title match although that wasn't specified.
They said that Kevin Owens will face Aleister Black on the Raw Underground set.
There was an Earlier Today scene of R-Truth talking to an empty chair about how he almost lost his title on the golf course. There was a tray of food, but then a ninja emerged from there. Akira Tozawa showed up, Truth threw the 24/7 to Little Jimmy, the imaginary friend, and it hit the ground. Truth pushed the tray into Tozawa and friends and got away.
Analysis: This was really bad, even with R-Truth trying to save it with his comedic skills.
Peyton Royce made her entrance to some new generic theme song. No more IIconics entrance for her. She faces former partner Billie Kay after the break.
(Commercial)
Billie Kay made her entrance with some new theme music for her as well. There have been reports that WWE wanted new theme songs for wrestlers that had songs produced by CFO$ because WWE doesn't work with that company anymore. Royce and Kay are no longer teammates because they lost a tag team match last week. Basically, WWE wants to push Royce as a singles wrestler, so we'll see how that goes.
Peyton Royce vs. Billie Kay
There was a headscissors takedown by each woman. There were also light slaps by each of them, Kay lifted up Royce, Kay missed an elbow drop and Royce held onto the ropes leading to a spin kick to the head. Royce grabbed a chinlock. Kay sent Royce into the top turnbuckle and hit an overhead suplex for a two count. Royce with elbows, but Kay came back with a rollup for two. Royce hit a jumping kick to the head and a lifting neckbreaker for the pinfall win after about three minutes.
Winner by pinfall: Peyton Royce
Analysis: *1/2 An easy win for Royce, who has a really good finishing move. As I mentioned earlier, WWE wants to push her as a singles wrestler, so it was no surprise that she beat her buddy Billie. I'm not sure what the future holds for Billie, but I think Peyton is the better of the two women.
Post match, Royce and Kay hugged in the ring. I was thinking there might be an attack there, but it was just a friendly hug.
A video aired showing Seth Rollins yelling at Murphy last week on Raw since Murphy was pinned in their tag team match against Rey and Dominik Mysterio at Payback eight days ago. Rollins beat Dominik in a competitive match last week on Raw as well. Dominik faces Murphy on Raw.
They showed Dominik Mysterio walking backstage with Rey Mysterio, Rey's wife Angie and their daughter Aalyah (that's how she spells it since I looked it up) as well. Murphy appeared in the background looking at them. The Mysterios are up next.
(Commercial)
It was the top of hour two as they showed a replay of Drew McIntyre dropping Randy Orton with a Claymore Kick to begin the show.
Let's Hear from Rey, Dominik and the Mysterio Family
Rey Mysterio made his entrance with son Dominik, wife Angie and daughter Aalyah. They joined Charly Caruso in the ring for an interview. Rey had a bandage on his right arm for his partially torn triceps.
Rey thanked Charly for having all of them in the ring for an interview. Rey said that he wanted closure against Seth, but that didn't happen last week due to his injury. Rey said that he didn't have an exact timetable for his return (the rumor is about two months), but he can't wait to get back and put an end to Seth Rollins. Rey said he was so proud of his son while adding that Dominik knows what he needs to do against Murphy.
Murphy interrupted on the video screen before Dominik could say a word. Murphy said that it was because of Dominik that the one man that picked up Murphy ended up turning his back on him (referring to Rollins). Murphy said it was because of Dominik that Seth Rollins wants nothing to do with Murphy now.
Rey told Murphy that it is not their fault that Murphy pledged his loyalty to an evil son of a bitch like Seth Rollins. Murphy said that Rey is right, but he sees clearly now. Murphy said that the ultimate sacrifice for Dominik was to end his career before it begins. Murphy challenged Dominik to a Street Fight.
Dominik told Murphy that he's terrorized the family just as much as Seth, so tonight he's willing to embarrass Murphy in front of his Messiah, so he accepts. Murphy told Dominik to bring his family ringside because it will be the last match that Dominik ever has. Murphy told Dominik to bring his family and Dominik threatened Murphy if Murphy touches anybody in Dominik's family.
Analysis: It's rare to see Murphy get promo time like that, but he did a nice job of coming across as a heel that intended on hurting the Mysterio family. They also teased the possibility of Murphy going after Dominik's mom or sister during the match. Rey and Dominik's promos were fine too.
Shayna Baszler and Nia Jax are the Women's Tag Team Champions that were backstage talking to WWE Official Adam Pearce. They asked about why they each had a handicap match. Drew McIntyre was shown walking behind Pearce, who saw Drew and mentioned that he thought Drew was leaving. Drew said he forgot his phone in the ambulance (Drew was looking at the phone), but he's got it and now he's going.
Analysis: It sounds like one of those things where Drew is lying and he's sticking around to get after Orton again.
Asuka made her entrance for a tag team match with Mickie James against Natalya and Lana. It was mentioned by Cole that next week, Asuka defends the Raw Women's Title against Mickie, which should be great.
(Commercial)
Mickie James was in the ring to join Asuka in the ring as a tag team. They're facing off for the Raw Women's Championship next week. They showed a clip from last week of Mickie telling Asuka that she's coming for that title. Natalya and Lana made their entrance as a team. These are easily three of my favorite women in WWE and Lana is there too, so congrats to her.
Asuka and Mickie James vs. Natalya and Lana
James with a shoulder tackle on Natalya, then a cartwheel and James hit a dropkick for two. Asuka tagged in, then Natalya brought in Lana, who was wearing pink and black like Natalya to match her partner. Asuka went for a hip attack, Lana moved and James tagged herself in. James with a Thesz Press on Lana, but Natalya had made a blind tag and she worked over James with punches. Lana did some hair pulling on James as the heels worked over Mickie in their corner. Natalya and Lana did a double team whip that sent James back first into the turnbuckle. Natalya with a suplex on James as Saxton correctly pointed out that Mickie's knee surgery last year was her first surgery in her career (which is 20 years). It shows how durable and reliable Mickie has been. James nearly got the win with a rollup, but Natalya cut off the tag attempt. Lana hit a running double knee attack on James against the ropes. Lana hit an X-Factor sitout slam into the mat for a two count with Asuka making the save. Natalya sent Asuka out of the ring. James hit a neckbreaker on Lana, but Asuka was not on the apron. James went up top, Asuka tagged James to become the legal woman in the match and Asuka slapped on the Asuka Lock on Lana. James grabbed Natalya and hit a Mick Kick while Lana tapped out to give Asuka the win for her team. This went about five minutes.
Winners by submission: Asuka and Mickie James
Analysis: **1/4 It was booked well for the time given and it was exactly what it needed to be. James and Asuka didn't work well together because Asuka made the blind tag when James thought she was going to finish off Lana, but it was enough to get the win. Lana losing for her team was expected.
Post match, Asuka held up her title while James had her eyes on it because Asuka defends against James next week on Raw.
Analysis: That will be an awesome match next week and I feel like they're going to get time to have a great match too. I think Asuka is going to retain the title although I would love to be wrong about that. Next week's Raw is against the NFL Monday Night Football doubleheader, so it makes sense to put a title match on next week to try to give it a big time feel.
Cedric Alexander was shown backstage with The Hurt Business with MVP asking Cedric if he wants to make this official on the VIP Lounge. Cedric said he wanted to do that, which led to MVP and Lashley leaving. Benjamin told Cedric he better mean this because if this is some game, he'll make sure he shows Cedric why they are The Hurt Business.
This week on Smackdown: Bayley now stands alone after she attacked Sasha Banks last week. Also, Roman Reigns faces cousin Jey Uso for the Universal Championship at Clash of Champions, so we'll see them on Smackdown too.
(Commercial)
VIP Lounge with The Hurt Business
The Hurt Business group with Montel Vontavious Porter, US Champion Bobby Lashley and Shelton Benjamin entered with Cedric Alexander. MVP told Alexander that his life changes from this moment forward and he introduced him as the newest member of The Hurt Business. Lashley gave Alexander a new "The Hurt Business" shirt.
Cedric told them that instead of being on the business end of a beatdown every week, he would rather learn from them and earn with them. Cedric said that MVP told him that it was hard to be a tag team partner with a man that calls himself The One and Only. Alexander was wondering why he was sacrificing himself for Apollo Crews' opportunities.
The Viking Raiders showed up for the interruption and they were joined Apollo Crews and Ricochet. Those four guys ran into the ring leading to the eight men getting into a brawl in the ring. The Hurt Business foursome were knocked out of the ring while the faces stood tall. It's tag team match time.
Analysis: It wasn't a long promo from Alexander, but it was good enough to explain why he turned heel. Alexander had a point about getting beat up every week, so if you can't beat 'em, join 'em. That explanation is always going to work in a situation like that.
(Commercial)
The Hurt Business (Bobby Lashley, MVP, Shelton Benjamin and Cedric Alexander) vs. Ricochet, Apollo Crews, Erik and Ivar
Ricochet with a boot to Crews, Crews tagged in with a suplex and a standing moonsault on Benjamin. Crews with a corner splash on Benjamin. When Crews charged again, Benjamin got the knees up. MVP faced off with Ivar, who stomped on him and sent MVP into the turnbuckle. Ivar with a knee to the ribs and Erik with a loud rising knee to MVP. Erik with a forearm on MVP, then Ivar back in with a running cross body block splash for two. Crews tagged in and the heels ended up in control as they worked him over in their corner. Lashley picked up Crews, who slipped away and Erik hit Lashley with forearms along with a double knee attack to the corner. Erik with a suplex on Benjamin, but then Lashley hit a huge Spear on Erik. Benjamin with three body slams in a row on Erik along with a suplex for two. Benjamin with a running knee on Erik, Lashley tagged in and hit a shoulder tackle. MVP was next with a running kick to Erik's face for a two count. Cedric tagged in for the first time with stomps on Erik and Benjamin was back in as Cole wondered who could stop The Hurt Business. Erik with a hip toss on Benjamin along with his knee to the face including a hard leg slap. MVP tagged in against Ricochet, who hit an enziguri kick, a dropkick to Benjamin on the apron and Ricochet hit two moonsaults on MVP, but Cedric went into the ring and Ricochet got in his face. MVP hit Ricochet with a forearm to the back for a two count. Cedric tagged in with the Neuralizer kick off the ropes for a two count. Ricochet and Cedric exchanged chops, Cedric with a back elbow, Ricochet with a superkick and Ricochet hit a Dragon Suplex with MVP breaking up a pin attempt. That led to all of the other guys going into the ring to hit moves and Ivar sent Lashley into the steel post. Ivar hit a suicide dive on Hurt Business on the floor. When Ivar landed, he made the "X" symbol with his hands because he was injured and he knew it. Ricochet and Cedric were left alone in the ring, Ricochet went for a splash off the top, Cedric moved and Cedric hit a Michinoku Driver. Cole yelled that he didn't get him, but it was actually counted a pinfall, so Cedric won. The match went about 11 minutes.
Winners by pinfall: The Hurt Business (Bobby Lashley, MVP, Shelton Benjamin and Cedric Alexander)
Analysis: **3/4 It seems pretty obvious that they went to the finish quickly because of Ivar's injury and that's why there was confusion about the finish. Cedric getting the win was the right call since he's the new guy on his team, but it seemed like the signals were crossed between Cedric, the referee and Ricochet for the finish. They probably should have told Ricochet to not kick out. I don't blame the wrestlers. It was improvised because of what happened to Ivar.
There was a replay of the finish that showed that Ricochet kicked out before the three count. I'm not sure why they called for the finish. However, there was concern for Ivar, who was out on the floor and getting checked on by WWE's Medical team after he hit that dive on the floor. That's the real WWE Medical team, not like when they use indy wrestlers for it.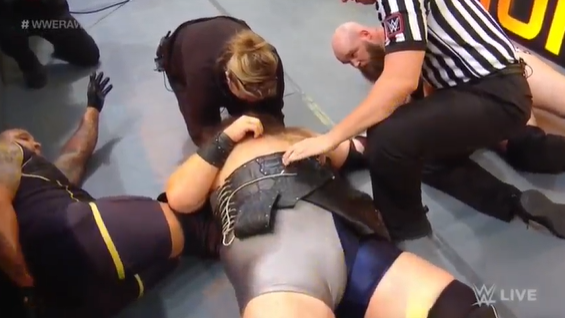 Analysis: I hope the big man Ivar is okay. As I said, he did the "X" symbol with his hands when he landed so he knew something was wrong. I'll update this post when I learn more and we'll have a news post on TJRWrestling about it when there's more information. There was an update from WWE after Raw saying Ivar had a cervical injury, which has to do with the spine, but they believe he'll make a full recovery.
Drew McIntyre was shown walking backstage looking at his phone. Charly Caruso asked him why he was still there and Drew said he grabbed the wrong phone earlier, but now he has the right phone. Drew said now he's trying to find the right exit.
There was a shot of Shane McMahon and the security guy Jordan standing outside the Raw Underground door. Kevin Owens went to the room and Shane said he knows they have had issues in the past, but it's in the past. Owens told Shane he's still a jackass, and Owens went into the room after calling Shane a jackass. Jordan wondered about that, so Shane told Jordan that Owens didn't mean it.
There was another replay of Drew McIntyre and Randy Orton's segment to open the show.
Randy Orton made his entrance towards the end of the second hour. Keith Lee entered as the opponent. It was their third singles match in 14 days and they were in the same triple threat match last week on Raw too.
(Commercial)
Randy Orton vs. Keith Lee
Orton did the cowardly heel thing by leaving the ring to sell his jaw injury after McIntyre's Claymore Kick earlier in the night. Orton with a choke against the top rope, but then Lee crushed him with a hard double chop to the chest. Orton with a thumb to the eye, then uppercuts and after Lee missed a clothesline, Orton tried an RKO. Lee blocked the RKO by using his strength to block it and Orton bailed to the floor again. They did a nice job of showing Keith's facial expression while blocking that move. When Lee followed Orton out of the ring, Lee charged and went crashing into the barricade. Back in the ring, Orton stomped on Lee's limbs followed by Orton grabbing a headlock. When Lee got back up, Orton went for the RKO again, but Lee managed to avoid it and Orton was grabbing his jaw again. Lee with a running splash on Orton, then a forearm to the face and Lee hit a spinning powerslam for a two count. Lee went for the Powerbomb, Orton slipped out of it and Orton hit an RKO, but there's Drew McIntyre with a Claymore Kick on Orton again for the DQ finish. It went about six minutes.
Winner by disqualification: Randy Orton
Analysis: **1/4 It was good for the time given, but you could tell as soon as it was announced that Drew was showing up since he didn't leave as he was told earlier in the night. Lee is protected by booking the finish that way since he didn't take the pin, just like in the triple threat last week it was Rollins that took the pin, not Lee. Orton hitting the RKO after trying multiple times was cool to see. McIntyre's kick looked deadly.
McIntyre crawled over to Orton and told him he'll be seeing Drew in his nightmares. Drew called Randy a "son a bitch" when he left. A replay was shown of what happened.
McIntyre was shown at the top of the ramp with Adam Pearce there saying that McIntyre was putting himself at risk. That led to Drew leaving again. There were referees that ran out to the ring that checked on Orton.
Raw Underground
Aleister Black was in the ring beating up some random guy. Kevin Owens showed up and he went after Black in the ring. They exchanged punches a bit, then Owens picked him up and gave Black a spinebuster. Owens sent Black back first into the side of the ring and then a back body drop on the floor.
Analysis: Some of these fights have mostly punches and kicks, but this time they did some wrestling moves. It doesn't look more devastating when it's back there instead of the ring with the ropes. It looks the same to me.
A new episode of Broken Skull Sessions debuted on WWE Network this weekend. Jerry Lawler was the guest. It's available on WWE Network on demand now. I haven't seen it yet, but I'll check it out soon. Austin is an excellent host.
(Commercial)
There was a backstage scene with Randy Orton talking to Adam Pearce, who had security guys with him. Pearce said he was sorry because he thought Drew was gone. Orton wasn't interested in hearing him say sorry. Pearce said Drew is gone now and Randy said that his words didn't mean anything to him.
Shayna Baszler (w/Nia Jax) vs. The Riott Squad – Ruby Riott and Liv Morgan
The deal here is that Baszler and Jax are Women's Tag Team Champions that must compete in separate handicap matches.
Baszler went for a wrist lock on Riott, who was in pain with Baszler turning it into a slam. Riott stomped on the foot, then used punches to get away and Morgan got the tag. Riott held Baszler while Morgan kicked the legs of Baszler to trip her up on the apron. Baszler powered out of a Morgan move with a spinning slam. Baszler was arguing with Jax as Morgan rolled up Baszler with a sunset flip for the pinfall win after three minutes. Jax was laughing about it.
Winners by pinfall: The Riott Squad – Ruby Riott and Liv Morgan
Analysis: *1/4 It makes sense for Morgan and Riott to win since it's a handicap match, but this was a very fluky win rather than a decisive victory. Baszler was distracted by Jax laughing at her, so that's why Shayna lost. At least it's good for Riott Squad in the sense that they continue their positive momentum, which is what I like to see.
Jax continued to laugh, Baszler was mad at her and Jax has a match up next.
(Commercial)
The guests on WWE Raw Talk this week are Kevin Owens, Keith Lee and Mickie James.
Raw Underground
The Owens fight with Black continued. Black was able to get some takedowns while going for an armbar, Owens was punching and Black slapped on the armbar on the left arm. Owens managed to pull Black off the ring and into some part of the wall. Owens and Black were brawling with random guys back there. That ended that.
Nia Jax (w/ Shayna Baszler) vs. The Riott Squad – Ruby Riott and Liv Morgan
Jax was in control as she was tossing Riott across the ring. Morgan tagged in and hit a running dropkick to the thigh of Jax. Baszler was trash talking Jax asking her what's wrong. Morgan with a corner splash on Jax while Riott hit a running cross body block on Jax. Jax with a running clothesline on Riott for a two count. Jax continued the offense with a chinlock variation. Riott with a jawbreaker, but Jax stopped that momentum with a shoulder tackle. Jax tried to stomp on the arm, Riott got away and Morgan got the tag. The lights were going on and off, Riott with a rising kick and Morgan with knees to the face of Jax. That's when the lights went out in the building. It went about four minutes.
Match Result: No Contest
Analysis: * It's tough to rate without a finish. I think it's fair to say that they didn't want Jax losing like Baszler did and they didn't want Riott Squad losing a handicap match either, so that's why they went with that kind of finish.
There was a "Retribution" logo on the black screens in the building. There were five people there. One of the shorter guys did a promo. Then one of the bigger guys saying the darkness of Retribution will seep into every superstar in your so-called universe. The guy said "we are retribution" to end it. The voices for both guys sounded distorted rather than a regular voice that would be familiar to us.
Analysis: At least there's some progress for the group by having them do a promo. Some of the dialogue was cheesy, but that's WWE. The dialogue sucks sometimes.
(Commercial)
The announcers talked about Retribution with Joe saying it was good to hear a Mission Statement from them to at least get a sense of their intentions.
Dominik Mysterio was backstage with his father Rey, his mother and his sister. Rey was interviewed by Sarah Schreiber with Rey saying that Murphy was trying to sacrifice Dominik to impress Rollins. Rey said that they would be in Dom's corner and they know how to handle themselves.
Raw Underground
Kevin Owens and Aleister Black were still fighting again. Owens was punching a lot, Black kept going for takedown and Owens did some hammer fists to the head. Owens did a headbutt, but then Black kicked him in the head. Owens sent Black off the ring and into the Dabba Kato guy. Kato hit a spinebuster on Owens and a Chokeslam on Black. Shane said it was amazing and we'll see them next week as Kato stood tall in the ring.
Analysis: These segments were okay. It's never that interesting to me, but if WWE wants Dabba Kato to be somebody then he has to go after the wrestlers that we know, so having him go after Black and Owens will make fans notice Kato more.
Randy Orton was shown walking backstage with his luggage while holding his jaw. Charly Caruso tried to interview him, but there was Drew McIntyre again with another attack on Orton. There was part of a ring set up as an interview area backstage and Drew drove Randy's face against part of the turnbuckle. McIntyre was setting up in the corner, Orton slowly got back up to his feet and McIntyre hit Orton with a third Claymore Kick to the face.
Analysis: It was payback for McIntyre with three Claymore Kicks during the show just like Orton punted McIntyre three times on Raw two weeks ago. I like it as a show long storyline of Drew seeking payback on Orton. It worked.
(Commercial)
There were more replays of Drew McIntyre's three Claymore Kicks on Randy Orton during Raw. There was a video of Randy Orton leaving Raw in the back of an ambulance just like Drew McIntyre did two weeks ago.
Dominik Mysterio made his entrance with his father Rey, mother and sister joining him at ringside.
Next week on Raw: Cesaro and Shinsuke Nakamura vs. The Street Profits in a Champions vs. Champions match (no titles on the line) and Asuka defends the Raw Women's Championship against Mickie James.
Murphy made his entrance alone with a serious look on his face.
Street Fight: Murphy vs. Dominik Mysterio (w/Rey Mysterio, Angie and Aalyah)
Murphy ran into the ring and hit a running knee to the face of Dominik and sent Dominik out of the ring. Murphy tossed Dominik onto the announce table. Dominik came back with knees to the ribs and he sent Murphy over the announce table. They went brawling over to the entrance area with Murphy sending Dominik into the barricade. Dominik sent Murphy into the barricade over by the ThunderDome set near the entrance. Dominik went on top of some of the screens and jumped off with a cross body block to Murphy. That led to a break.
(Commercial)
The match continued with Dominik in full control as he worked over Murphy by sending him into the barricades. They went back up to the ramp with Dominik sending Murphy into the screens. They went back to the ramp area with Murphy sending the back of Dominik's head into the ramp. Murphy wanted to set up Dominik by the stairs, but Dominik drove Murphy back first into the barricade. Murphy with a suplex that sent Dominik ribs first into the top of the barricade. The action continued outside the ring with Murphy hitting Dominik with a chair jab to the ribs and a chair to the back. Murphy slapped on an abdominal stretch, which is not that common in a Street Fight match, but it led to Dominik hitting a hip toss over the top to the floor. Murphy was back in, Dominik tried the spinning DDT, Murphy avoided that and sent Dominik shoulder first into the ring post three times. Murphy tied up Dominik in the ropes as Murphy got the kendo stick, but Dominik kicked him in the face. Rey took the kendo stick out of the ring. Dominik's mom and sister freed him from the ropes, so Dominik slid out of the ring with a Sunset Bomb into the table on the floor. That was incredible! Dominik sent Murphy back in the ring and Dominik hit a Frog Splash for two. It didn't look as good as usual because Murphy was a bit too far. Dominik tied up Murphy in the ropes. That led to Dominik and Rey hit Murphy with kendo stick shots to the ribs. Rey spoke into the camera telling Seth Rollins that payback is a bitch. Dominik and Rey each hit Murphy in the ribs with the kendo sticks. Rey's daughter Aaliyah hit Murphy and even Angie did it too. All of the Mysterio family members were hitting Murphy wit the kendo sticks and the referee stopped the match with Cole saying that Murphy quit. The match went 15 minutes.
Winner: Dominik Mysterio
Analysis: ***1/4 This was pretty good with Dominik hitting the move of the match when he did the Sunset Bomb on the floor into the table. That looked awesome when he hit that. Murphy was all alone and took a beating towards the end as payback for when Murphy and Seth Rollins beat up Dominik with the kendo sticks. It was a fitting way to set up the revenge with Dominik's family there to join him in the attack.
After the match was over, the four Mysterio family members continued to strike Murphy with kendo sticks and we could hear the fans cheering. That's how Raw ended this week.
Analysis: That's a unique sight to see a family doing that together, but it was fitting payback for what happened to Dominik in the past.
Three Stars of the Show
Randy Orton
Drew McIntyre
Dominik Mysterio/Murphy
The Scoreboard
6.25 out of 10
Last week: 6.5
2020 Average: 6.34
Final Thoughts
I thought it was a solid episode of Raw in terms of story progression throughout the night. While the matches didn't really stand out due to some short matches and non-finishes, they did do some angles that worked. I liked the Cedric Alexander heel turn, I thought it was smart to have Retribution do a promo to give us something different and I enjoyed Drew McIntyre getting his revenge on Randy Orton throughout the show with three Claymore Kicks to the head. I like how they set up matches for next week as well with Asuka defending the Raw Women's Title against Mickie James and Street Profits vs. Cesaro/Nakamura as well. I hope Ivar is okay after suffering an injury after a dive to the floor. He signaled for the "X" right away because he knew he was hurt. Best wishes to the big man.
The main event match of Dominik Mysterio facing Murphy was the best of the night, but that's not saying that much because it was a weak show for matches. It was a nice way of delivering some payback by having Dominik, Rey, Dom's mom and sister joining in on the kendo stick attack on Murphy. Payback is a bitch, as they say.
There were some boring parts as usual and I still don't care that much about Raw Underground segments. However, they are utilizing more of the roster on a regular basis, so that's a positive thing to me.
The next WWE pay-per-view is Clash of Champions on Sunday, September 27 with every championship on Raw/Smackdown on the line. Here's what we know so far:
WWE Championship: Drew McIntyre (c) vs. Randy Orton
Universal Championship: Roman Reigns (c) vs. Jey Uso
—
JOIN TJRWRESTLING NFL PIGSKIN PICK 'EM GROUPS
The TJRWrestling NFL Pick 'Em groups are back. They're free to join. There is no prize. It's just for fun. It's on ESPN.com so all you need is an ESPN account to join the leagues.
Here's the link to join the Straight Up Pick 'Em group: CLICK HERE! Here's the link to join the Point Spread Pick 'Em group: CLICK HERE! When you click the links and you're logged in, you should see a "Join Group" button and it's that easy to be a part of it. Thanks for playing.
You can contact me using any of the methods below. Go Los Angeles Rams, Toronto Raptors and Toronto Blue Jays. Be safe and smart out there.
Thanks for reading.
John Canton
Email: mrjohncanton@gmail.com
Twitter: @johnreport