TJR: The WWE Raw Deal 08/31/20 Review
Welcome to the WWE Raw Deal review on TJRWrestling. This show is following WWE Payback, which was a pretty good show on Sunday night and with a runtime that was about 30 minutes shorter than Raw. I like that a lot. About one hour prior to WWE Raw, WWE announced that the winners of these 3️ matches on Raw will compete in a Triple Threat Match later tonight to determine Drew McIntyre's WWE Title challenger at WWE Clash of Champions. The matches are: Keith Lee vs. Dolph Ziggler. Kevin Owens vs. Randy Orton and Dominik Mysterio (it was Rey with WWE advertising it even 45 minutes before Raw, but he's hurt so it was changed shortly after Raw began) vs. Seth Rollins. That means we'll get those three singles matches, plus a triple threat main event. Let's find out what happens now.
From the Amway Center in Orlando, Florida, this is the Raw Deal for episode #1423 of Monday Night Raw. Follow me on Twitter @johnreport. Please visit TJRWrestling.net daily for our regular updates on the wrestling business featuring WWE news coverage, insightful columns from our team along with reviews about wrestling's past and present. Let's roll.
Raw began with a graphic that said: "In Memory of 'Bullet' Bob Armstrong 1939-2020." He's a WWE Hall of Famer that died last week. There was a graphic on Smackdown too. His sons were all wrestlers including the late great Brad Armstrong, Scott (also a WWE referee and Producer), Steve and Brian (Road Dogg, who is in the WWE Hall of Fame). Rest in Peace, Bullet Bob.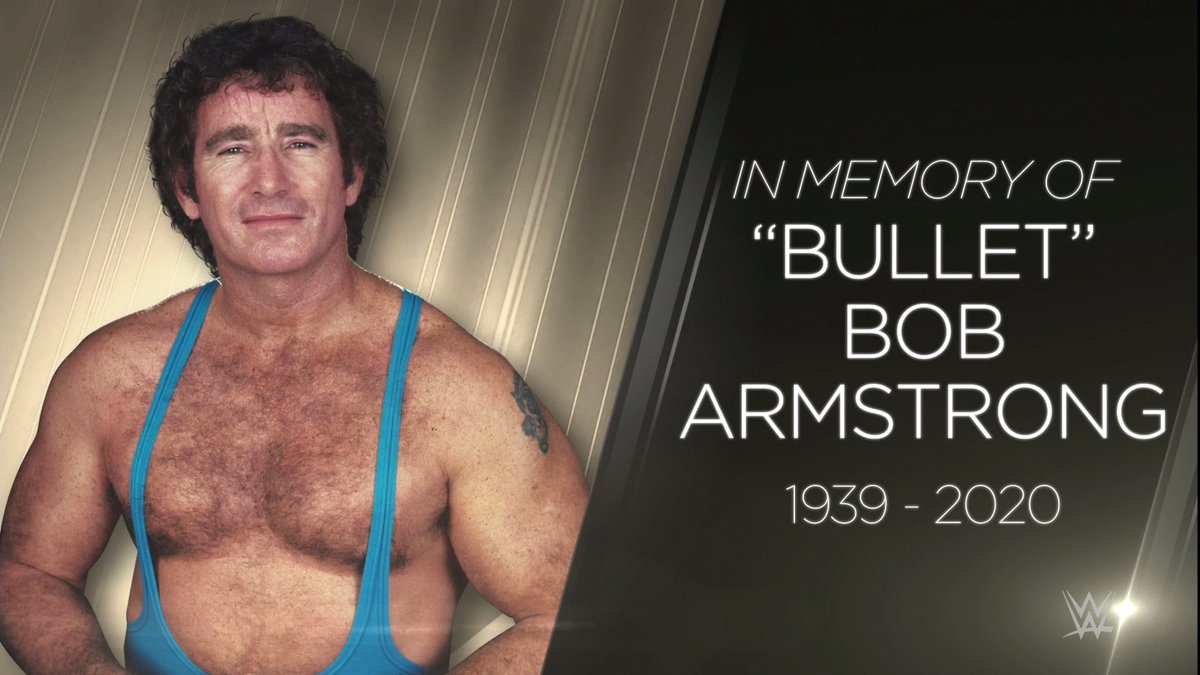 The Raw intro video aired after that. The pyro went off in the WWE ThunderDome setup at the Amway Center in Orlando and then we saw the video wall with fans on the screens.
The Raw announce team of Tom Phillips, Samoa Joe and Byron Saxton welcomed us to the show. Randy Orton made his entrance following his loss against Keith Lee at Payback one night earlier. They showed highlights of Randy Orton hitting Drew McIntyre with The Punt three times on last week's Raw to injury Drew. That's just a storyline. Drew gets a well-deserved break. They said there was a "hairline jaw fracture" for McIntyre in the storyline.
The announcers went over the three singles matches on Raw tonight. The three winners have a triple threat match after that and the winner of that triple threat gets to challenge Drew McIntyre at Clash of Champions.
Let's Hear from Randy Orton
Orton did a promo trash-talking Drew McIntyre saying that Drew said he would Claymore Kick his head off, but the one dishing out the kicks around here is Randy. That led to Randy running down the list of names of wrestlers that he has punted in the last few months. Orton said that he is entitled and he shouldn't have to face Kevin Owens or anybody in a triple threat match to earn an opportunity at Clash of Champions. Orton said he is entitled to a rematch, but he will beat Owens and win that triple threat to go on to beat Drew McIntyre to win the WWE Title. Orton said that is if their champion McIntyre can even make it to Clash of Champions. Orton said that Drew got together with a couple of old buddies to reminisce and have a bonding experience over something they have all done together. Orton said it was the experience of Orton kicking the min the skull. It was a photo of McIntyre, Michaels, Flair, Big Show, Christian and Edge photoshopped in hospital beds. Orton laughed about it.
Keith Lee made his entrance looking confident as the announcers talked about how impressive Lee was in beating Orton at Payback. If you missed it, Lee won the match clean in about six minutes.
Lee said that Orton seems proud of himself and amused by all of the havoc he has caused in the last few months. Lee said that Orton is doing his best to forgot what happened last night at Payback. Lee reminded Orton that he beat Orton. Lee said that his victory over Orton means that maybe he should get an opportunity at the WWE Championship. Lee said that he has known Drew for quite some time and he would consider him a good friend. Lee said he thinks Drew will make good on his word and at some point…there was Dolph Ziggler with an attack from the back. Lee sent Ziggler into the turnbuckle while Orton went to the apron. Ziggler hit a jumping DDT on Lee leading to a break. That Lee vs. Ziggler match is up next.
Analysis: It was a good promo by Orton as he focused on the future and wanting to face Drew McIntyre again while ignoring his Payback loss. Lee did a nice job of bringing up the loss to piss off Orton and also tease a future rematch between them. Ziggler wit ha cheap attack gets some heat before their match, so that's fine too.
(Commercial)
I missed the first minute or so updating the Mauro Ranallo leaving WWE NXT story that was developing on Monday night. Best of luck to Mauro in the future with WWE noting it was a mutual and amicable split. This could lead to Wade Barrett becoming a full-time NXT announcer since he's been negotiating with WWE about it.
Keith Lee vs. Dolph Ziggler
When I got back to the match, Lee did a catapult that sent Ziggler into the top turnbuckle with Ziggler doing a great job of selling it. Ziggler took control after a neckbreaker, then Lee did a power kickout and Ziggler grabbed a headlock. Ziggler wit ha dropkick into the corner, Lee avoided a neckbreaker, Lee bounced off the ropes and hit a huge shoulder tackled that sent Ziggler out of the ring with another big sell by Dolph.
(Commercial)
Lee worked over Ziggler with a hard double chop to the chest and he launched Ziggler across the ring. Lee went for a slam, Ziggler did a dreaded eye gouge and hit a Fameasser for two. Ziggler with an elbow drop for two. Ziggler grabbed another chinlock, then Lee slammed him off his back and a couple of punches stunned Ziggler. Lee with a lefty forearm to the face followed by a toss into the air with Lee slamming Ziggler into the mat. Lee hit a spinning powerslam followed by a loud yell by the big man firing up. Lee missed a corner charge and Ziggler hit a Zig Zag for a two count. Ziggler went for a superkick, Lee caught him and hit a Spirit Bomb sitout powerbomb for the pinfall win after nine minutes.
Winner by pinfall: Keith Lee
Analysis: *** This was pretty good with Ziggler doing a tremendous job of selling Lee's power moves with some big bumps across the ring and out of the ring. The match was technically better than Lee vs. Orton was, but there was less drama since it was obvious that Lee was going to win here whereas with Orton, there was a bit more doubt about who might win. Anyway, I liked some of the spots. Ziggler's definitely the right kind of opponent to sell Lee's power moves.
The win means that Keith Lee moves on to a triple threat match in the main event of Raw to earn a WWE Championship match.
The announcers talked over images of the Women's Tag Team Title match with Shayna Baszler and Nia Jax beating Bayley and Sasha Banks to win the Women's Tag Team Titles.
The unlikely championship team of Jax and Baszler were interviewed by Sarah Schreiber. The women argued about their strategy with Baszler bragging about how she put them to sleep while Jax claimed she threw them around all match. Jax said she's the champion and Baszler just holds the other title. Asuka showed up with the Raw Women's Title with Sarah mentioning Asuka wanted to know her next opponent, so then Shayna and Nia argued with her. Asuka shoved Shayna and said something to Nia in Japanese. Asuka left.
Analysis: It will be weird not to see Banks and Bayley on Raw now that they lost the Women's Tag Team Titles, but I'm fine with that because they were overexposed a bit. Asuka will get a fresh rival as well.
(Commercial)
There was a backstage scene with Producer Adam Pearce was shown giving a pep talk to the security team to make sure that they kept Retribution from interfering after they attacked on Raw last week.
Analysis: Pearce is being used a lot in segments now as somewhat of an office type, but not necessarily an authority figure. Retribution did not appear on Smackdown or Payback, so maybe it's Raw only now? I don't know.
Let's Hear from Asuka
Charly Caruso was standing in the ring looking great and she brought out Raw Women's Champion Asuka to ask her who she wanted to face next for her title. Asuka mentioned some of the women she has beaten in the past like Becky Lynch, Bayley, Ruby Riott and Sasha Banks among others. Asuka said that she is ready for anything and here comes Mickie James. Happy birthday to Mickie!
Mickie was in her ring gear saying that she recognized greatness when she sees it because Mickie is a six-time champion. Mickie said that Asuka was one of the greatest Women's Champions of all-time, so Asuka should be the first to know that Mickie is coming for that WWE Raw Women's Championship.
Natalya and Lana made their entrance with both of them in their ring gear. Natalya complained about Mickie thinking that she would get an opportunity like that. Lana said that Mickie is so delusional. Lana claimed that Mickie has had the same gear since 1998. That's not true, but heels lie. Lana said that if you want to face Natalya then you have to go through Lana. Asuka told all three of them that she is ready for them. Lana and Natalya attacked Mickie and Asuka. Asuka kicked Natalya in the ribs to knock her out of the ring. James sent Lana to the apron and Asuka hit a running hip attack on Lana to knock her off the apron.
Analysis: This was fine with me because it feels fresh. Everything other than Lana's promo was fine with me. Women like Asuka, Mickie and Natalya are all veterans that have done it all, but they also know what they are doing out there and they can put on great matches. As I said, they're different people getting in a title picture and that's good to see.
(Commercial)
There was a mention for Connor's Cure for Pediatric Cancer Month in September. The Connor's Cure logo is featured on the screens and all over the ThunderDome. There was a video with a kid named Lance who was featured in a video in 2017 and we got more clips of Connor's Cure helping kids all over America.
There were highlights shown of Bobby Lashley dominating on Raw Underground last week.
There were some backstage scenes with Viking Raiders and Cedric Alexander. Demi Burnett was there to tell Cedric that she was impressed that he turned down the Hurt Business and she supports all of them. Demi gave Ivar a kiss on the cheek. When they all left, Angel Garza showed up with a rose while nobody was around.
Lana (w/Natalya) vs. Mickie James
Lana got the advantage after a distraction from Natalya, so Lana stomped on her throat to keep her down. Lana hit a suplex. Asuka was on commentary ranting in Japanese. Lana with a head whip that sent James into the mat. Lana with a hard slap to the face, then James came back with a slap of her own and James did a Thesz Press followed by punches. James hit two clotheslines, a kick to the gut and Lana stepped on the foot. Lana went to the ropes to regroup, then a kick to the gut by Lana and James came back with the Mick Kick spin kick to the face for the pinfall win after about three minutes.
Winner by pinfall: Mickie James
Analysis: * Easy win for Mickie, which is what it should have been with Lana not known for being a great wrestler. That's why Lana barely wrestles. Some of the spots with Lana don't look that good, but they got through it fine. The Mick Kick looked great to end the match. I was surprised the announcers didn't even mention it was Mickie's birthday. I just figured they would talk about it a bit.
Asuka seemed okay with the idea of facing Mickie James. That led to Mickie staring at the champion Asuka while Natalya was frustrated a ringside. James and Asuka continued to trash talk eachother.
Analysis: It seems like they are going to do Asuka vs. Mickie at Clash of Champions, but I can see Natalya getting involved and maybe it will be a triple threat match. It's also possible that others get involved too. As much as I would love a Mickie title reign, I think Asuka will probably retain if they have that match.
They showed a clip from Raw last week when Aleister Black did a cheap shot on Kevin Owens with a Black Mass kick to the head.
Charly Caruso was outside Aleister Black's locker room for an interview when Randy Orton was shown walking out of the room. No interview after all. Orton faces Owens up next.
(Commercial)
The team of Peyton Royce and Billie Kay aka The IIconics were interviewed in the backstage setting. They face Ruby and Liv in a match where the losers must disband. They showed images of them as friends in high school and they became best friends over a shared dream of becoming WWE superstars, according to Billie. Peyton said that they sacrificed birthdays and holidays with families so they can do things like win the Women's Tag Team Titles at WrestleMania and they did it together. Anyway, they were confident they would have an iconic victory.
Randy Orton made his entrance looking ready for his match. Aleister Black showed up for a cheap attack on Owens with Black working over Owens with kicks. Black hit the Black Mass on Owens to knock him down at ringside. Orton was laughing about it since he was shown leaving Black's locker room earlier.
The referee didn't want to let Owens compete, but Owens told him he was okay. The referee reluctantly called for the bell to start the match.
Randy Orton vs. Kevin Owens
Owens attacked Orton with a couple of punches and chops, but Owens was selling the attack and he was off balance. Orton dropped Owens with an RKO for the pinfall win in a match that went about 15 seconds.
Winner by pinfall: Randy Orton
Analysis: No point in rating that. A cheap win for Randy due to the attack from Black, which was set up when we saw Orton leaving Black's locker room earlier. I think the Owens vs. Black feud is going to be great for both guys. I look forward to when they have a proper match.
The win by Orton means he goes on to the main event triple threat with Keith Lee and Seth Rollins or Dominik Mysterio.
Rey Mysterio was shown backstage with Dominik, his wife Angie and his daughter Aliyah. Charly Caruso talked to Rey, said that he's unable to compete, but his loss is his son's gain. Rey said that in this business, you understand that injuries happen and if there's anybody that could take his place, the person he wants to be in that spot is his son. Dominik said he knows he's the underdog, but he's got a 619 ready for the Monday Night Messiah. The family hugged.
Analysis: The match was advertised as Seth vs. Rey all day and even 45 minutes before Raw began. As Raw was going on, WWE posted on their website that Rey has a torn triceps. That's a brutal injury and we found out after the show that he won't need surgery, so it might just be two months of rehab until Rey can return.
This Friday on Smackdown, Roman Reigns is back and he's the Universal Champion with Paul Heyman at his side. They didn't advertise anything specific other than Reigns will be there.
(Commercial)
A recap was shown of Bobby Lashley beating Apollo Crews to win the US Title one night earlier at Payback.
VIP Lounge Hosted by MVP
Montel Vontavious Porter was in the ring hosting his VIP Lounge talk show segment. They had the couches in the ring along with the black carpet and table. MVP was in there with Shelton Benjamin in their ring gear. MVP did a big introduction for the CEO of the Hurt Business, Bobby Lashley, who is the new United States Champion.
MVP said that Apollo Crews disrespected MVP. MVP said that Apollo had some success in his life, but there are three definite in life – death, taxes and Bobby Lashley. Bobby said that he did exactly what he said that he was going to do. Bobby spoke about how after their match, Apollo tried to get some payback after their match at Payback. Lashley looked into the camera saying he will get Apollo back. Benjamin said that since Apollo wants to be a punk, then Benjamin will face him in a fight at Raw Underground. MVP said that tonight they face Viking Raiders and Cedric Alexander while bragging about how when they left, they left everybody laying.
Cedric Alexander made his entrance with MVP, Lashley and Benjamin leaving the ring to talk to him on the ramp. MVP asked Alexander if he's had a change of heart. Alexander said he didn't have a change of heart and he didn't come alone, which led to the Viking Raiders attacking the Hurt Business guys from behind. The three Hurt Business guys were sent into the barricade and that match is after the break.
Analysis: The match was already set up, so the promo wasn't needed other than to celebrate Lashley's title win. Alexander's promo was just okay. He stumbled over his words a bit. I think the Hurt Business has been a great thing for MVP, Lashley and Benjamin. They work very well together.
(Commercial)
Cedric Alexander and Viking Raiders (Erik and Ivar) vs. The Hurt Business – Bobby Lashley, MVP and Shelton Benjamin
Lashley and Erik battled in the ring with Erik hitting a huge knee, but then Bobby came back with a hard forearm to the face. MVP worked over Erik with strikes to the head. Benjamin with a clothesline on Erik for a two count. Ivar got the tag with a knee to the ribs, Erik with the rising knee (with the loud slap) and the ladies man Ivar worked over Benjamin with punches. Alexander with a running forearm on Benjamin, then Erik back in with another knee with a hard slap and Benjamin hit a spinebuster. Alexander tagged in against MVP with punches, a kick to the ribs and MVP with a hard slam that sent Alexander into the mat. MVP with a knee drop for two. Lashley back in with a suplex. Benjamin with a boot to the ribs and a hiptoss on Alexander across the ring. Benjamin with a hard body slam leading to MVP tagging in with the running boot to the face and a suplex into a pin for two. MVP worked over Alexander with forearms to the face. When Alexander nearly got the tag, Lashley and Benjamin knocked the Viking Raiders off the apron. MVP with a running boot attempt, Alexander moved and Alexander got the ROLLUP OF DEATH~! on MVP for the pinfall win after about six minutes.
Winners by pinfall: Cedric Alexander and Viking Raiders (Erik and Ivar)
Analysis: ** It was different from the usual WWE tag team match since they didn't do the hot tag spot leading to the finish. It was more about Alexander finding a way to get the win on MVP to try to tell the story that Alexander doesn't need them.
Post match, MVP prevented his guys from attacking Alexander. The Hurt Business guys were clapping for Alexander as they backed away.
They showed Titus O'Neil warming up for a Raw Underground segment later.
(Commercial)
When the show returned, the Hurt Business trio were shown attacking Cedric Alexander backstage with punches and kicks. Apollo Crews and Ricochet showed up for the save, so the Hurt Business retreated.
The IIconics (Peyton Royce and Billie Kay) vs. Liv Morgan and Ruby Riott
The winners get a Women's Tag Team Title match while the losers have to break up as a team.
Royce worked over Riott for a bit, then Morgan got the tag and hit a dropkick to the back. Royce did a head whip that sent Morgan into the mat. Kay did some trash talking followed by Kay putting her foot in Morgan's face and then Kay hit a suplex for a two count. Morgan with a kick to the knee and a kick to the face. Riott sent Kay face first into Morgan's knees. Riott with a running forearm, Royce in the ring and Morgan hit a hair whip on her. Riott charged right into a clothesline from Kay for two. Kay and Riott exchanged pinfalls and then Riott covered Kay with a cover where she used her legs to overpower Kay and it was enough to win. The match went about three minutes.
Winners by pinfall: Liv Morgan and Ruby Riott
Analysis: *1/4 A quick match to continue the positive momentum of the Riott Squad since Liv/Ruby beat IIconics at Payback as well. I'm not surprised that Kay took the pin instead of Royce since WWE thinks more of Royce. I think the finish could have been set up better with a more decisive ending, but I guess they wanted to do a finish where it looked close.
Post match, the Riott Squad were ecstatic about the ring. Meanwhile, the IIconics were freaking out about the loss and they were in tears about not being able to be a team anymore.
Analysis: Cue the Peyton Royce singles push. There were reports of WWE's bosses really liking Peyton and that's why they probably broke up the team. I don't know for sure, but it would make sense.
They showed the big man Jordan standing outside the Raw Underground door. Shane McMahon said that Raw Underground will be intense while mentioning Titus O'Neil, Jessamyn Duke, Apollo Crews and Shelton Benjamin. It starts in the third hour.
(Commercial)
This Tuesday on NXT (yes, it's on Tuesday this week) it's a Fatal 4-Way 60-Minute Ironman Match for the vacant NXT Title: Finn Balor vs. Tommaso Ciampa vs. Johnny Gargano vs. Adam Cole. That's going to be amazing. I will have a review up for it on TJRWrestling on Wednesday morning.
Seth Rollins made his entrance with his disciple Murphy by his side. Rollins did a promo yelling at Murphy for kicking Seth in the head at Payback and got pinned by Dominik Mysterio. Rollins said that he can't have any mistakes, so he can't have Murphy screwing it up for Seth. Rollins told Murphy to get the hell out of his ring and yelled at him to get out of his sight. Rollins told Murphy he had to figure out what kind of man he wants to be, what he stands for and what side of history you want to be on. When Murphy tried to speak, Rollins told him to shut his mouth. Rollins told Murphy to get out of his ring because he will defeat Dominik on his own. Rollins slapped Murphy in the back of the head. Murphy left away angrily with Rollins told him to think about what he's done. As Murphy stood on the ramp, Dominik attacked Murphy with a clothesline to the back.
Seth Rollins vs. Dominik Mysterio
Dominik with a running tackle, then Rollins hit a back elbow and Dominik hit an armdrag. Dominik with a dropkick leading to Rollins bailing to the floor. Rollins sent Dominik into the hood of the announce table. Rollins stomped away on Dominik in the ring, then Dominik hit a kick to the chest and to the apron, Dominik hit a springboard armdrag. Dominik went for a 619 kick against the ropes, but Rollins bailed to the floor. Dominik sent Rollins into the announce table. Dominik hit a dive off the table onto Rollins on the floor and that led to a break.
(Commercial)
The match returned with Rollins in control with body scissors around the waist. Dominik elbowed his way out of it, Rollins grabbed a waistlock and slammed Dominik down again. Dominik came back with punches against the turnbuckle, Rollins grabbed him and Dominik hit a headscissors into the turnbuckle. Dominik jumped over the apron onto Rollins, then Rollins caught him and Dominik hit a twisting DDT. Dominik with a standing moonsault on Rollins for a two count. Dominik went up top, he jumped off and hit a cross body block on Rollins on the floor. Rey and his family were watching on a TV backstage. Back in the ring, Dominik tripped up Rollins into the ropes, 619 kick and Dominik went up top. Dominik jumped off with a Frog Splash, Rollins moved and Dominik hit the mat. Rollins hit The Stomp on Dominik and covered for the pinfall win after ten minutes.
Winner by pinfall: Seth Rollins
Analysis: *** Good stuff from Rollins and Dominik once again for their fourth match in the last eight days (two singles and two tags). Dominik came close to winning during his flurry of offense with the 619 leading to the Frog Splash attempt, but Rollins was able to avoid it and pick up the win from there. There will be a point where Dominik does beat Seth in a singles match and it will feel like a big deal. That wasn't this night, but hopefully it is meaningful when it does happen.
Post match, Rollins hit Dominik with The Stomp again. They showed Dominik's family looking sad as they watched it in the backstage area. Rollins left triumphantly.
Analysis: A heel like Rollins doing a cheap attack like that builds up Dominik, who is an underdog due to his experience level.
Raw Underground
Shane McMahon was backstage to host Raw Underground as usual. Titus O'Neil beat up some random guy with a two-handed spinebuster. O'Neil beat up a guy with a takedown over the hip and O'Neil dominated him.
Riddick Moss stepped up to face Titus and Moss was in control early. There were some punches that weren't coming close to connecting there. Titus ended up grabbing Moss under the arms and throwing him out of the ring. Titus and Moss fought on the floor a bit. They went back into the ring with Moss hitting a low blow kick and a KO Punch to knock Titus out.
Analysis: That was a cheap shot from Moss with the low blow leading to the win. Low blows were allowed since there are no rules on Raw Underground. Titus looked good for most of it. They don't really run angles on Raw Underground, though, so a lot of it feels like meaningless filler.
The Street Profits duo of Montez Ford and Angelo Dawkins did a promo before their match. They had "Coach Dawkins Scouting Report" on a whiteboard with Andrade, Angel Garza and Zelina Vega. It said "Poisons People" under Vega's name. Dawkins put "Amusement Parks" under Vega's photo because she is too short to get on a ride at a park. They ended it with "we want the smoke" and that match is next.
(Commercial)
Akira Tozawa was shown arriving in a car with his ninjas. They were in the parking garage with a guy telling Tozawa that his name was not on the list. It was a blank piece of paper and the guy had a referee shirt on. R-Truth showed up with the ROLLUP OF DEATH~! on Akira Tozawa for the pinfall win. Tozawa threw the referee into his truck and left. One of the ninjas did not make it back in the truck because Truth knocked him down.
Winner by pinfall AND NEW 24/7 Champion: R-Truth
Analysis: It's yet another reminder that the ROLLUP OF DEATH~! is deadly…even in a parking garage. This was a little more amusing than their usual title changes.
R-Truth is now a 39-time 24/7 Champion. It's such a "coveted" title, pal.
The Street Profits entered as the tag team champions. There were solo cups that came down from the ceiling for the entrance and then in the ring. The heel team of Andrade and Angel Garza joined by Zelina Vega and Demi Burnett. This is a Tornado Tag Team Match that is not for the titles. I have no idea why this Demi woman is still around.
Tornado Tag Team Match: The Street Profits (Montez Ford and Angelo Dawkins) vs. Andrade and Angel Garza (w/Zelina Vega and Demi Burnett)
The heels sent Dawkins out of the ring. Ford tried to fight off both guys, Andrade met him with a kick and the heels set up for a suplex off the top. Dawkins was back in for a Tower of Doom spot with Dawkins doing the Powerbomb while Andrade/Garza did a double superplex on Ford, so all four guys were down. That led to a break one minute into the match.
(Commercial)
The match returned with Garza and Andrade sending Ford shoulder first into the ring post. Garza grabbed a chinlock. There are no disqualifications in a match like this and they are doing moves like a chinlock when you can use weapons or do anything you want. Andrade with a dropkick off the ropes on Dawkins and Garza covered for a two count. Andrade sent Ford into the apron. Andrade went after Dawkins with an armbar against the ropes with no rope break since it's all legal in this match. Dawkins with a punch on Garza and an Exploder Suplex on Andrade. Dawkins took down Garza, then a corner splash on Andrade and a bulldog on Andrade got two with Garza breaking up the pin. Garza with a running kick to the chest of Dawkins, who was upside down against the turnbuckle. Andrade jumped off the top with a double foot stomp and Ford saved his partner. Garza with a superkick on Ford, then Andrade with a back elbow on Dawkins and Ford came back with a running blockbuster neckbreaker. Ford with a jumping enziguri kick on Andrade. The lights were flickering in the building, so the referee left the ring. Garza grabbed Demi and left towards the back. The Retribution group showed up at that point. The announcers took off. The match went about eight minutes.
Match Result: No Contest
Analysis: ** It meant nothing as soon as Retribution showed up. The heels were in control of most of it, but then the match was thrown out. It's not a surprise since the group had yet to appear on Raw.
The masked Retribution members went into the ring to beat up Ford, Dawkins and Andrade. Three women in the group went after Vega at ringside and knocked her down. Retribution ran to the back as the show went to break.
Analysis: That was quick. It was less than one minute and they were gone. Where's the rest of the Raw roster for the save? Nobody cares, I guess. I think a lot of fans have the same opinion of Retribution as well.
(Commercial)
There was a replay of the Retribution group attacking Ford, Dawkins and Andrade in the ring along with three women Retribution members beating up Zelina Vega as well. There were about 12 Retribution members. I didn't count. I don't care enough about Retribution to count.
There was a backstage scene of Adam Pearce yelling at security guys backstage and told them to get their post to try to stop Retribution. Clearly, WWE has the worst security personnel ever.
Raw Underground
Jessamyn Duke was up next on Raw Underground hosted by Shane McMahon. The IIconics were there to watch it as well. Duke kicked the random girl down and beat on her with punches.
Marina Shafir stepped up to face some random woman. Shafir with a hiptoss takedown and then a leglock submission with her legs around the neck.
Royce tossed Kay onto the Raw Underground mat against Duke and Shafir. Kay wasn't happy about that as she turned around right into a kick from Duke.
Analysis: It was done to put over Duke and Shafir in dominant fashion. Royce throwing Kay in there furthers the IIconics split. They are friends of Ronda Rousey and Shayna Baszler in the Four Horsewomen of MMA group that all transitioned to WWE. Shafir is married to NXT wrestler Roderick Strong as well.
The trio of Apollo Crews, Ricochet and Cedric Alexander were outside the Raw Underground door. Charly Caruso asked Apollo Crews if it was a wise idea to face Shelton Benjamin at Raw Underground. Crews said he's going to bounce back harder than ever. Ricochet said that MVP isn't going to be able to manipulate Cedric and what they have is stronger than any dollar amount. Crews fired up his buddies as the big man Jordan opened the door to let them in the room.
Analysis: I think I have mentioned this before, but I think Ricochet might be the most poorly used guy in WWE. The guy is so gifted in the ring and they barely use him. Add Mustafa Ali to that as well because he needs to be doing more.
(Commercial)
This week on Raw Talk on WWE Network: The Hurt Business, Riott Squad and Angel Garza. That's a lot of guests.
Raw Underground
Apollo Crews faced off with Shelton Benjamin. There was a takedown from Benjamin, he was in full control with some punches and then Crews turned to get out of it. Crews slapped on a kimura lock on the left arm. Benjamin tackled Crews off the mat and into the crowd where MVP and Bobby Lashley were. That led to a fight between Ricochet, Cedric Alexander, MVP and Lashley. Benjamin and Crews got back in the ring as well. The three Hurt Business guys were dominant and standing tall while Crews, Ricochet and Alexander were down. It was another dominant showing from the Hurt Business trio.
Analysis: It was another strong showing for the Hurt Business. These Raw Underground segments just aren't that exciting to me, though. I wish I could like them more. They're just not that interesting.
There was a backstage scene with Angel Garza and Demi Burnett, who is a bad actress. Garza said that his friends did not need him because what concerned him is her safety. They were trying to leave, but more Retribution members were shown including a couple of tall guys. Garza ran away while Burnett was all alone. Two women in the group stepped up to face off with Demi and she ran away from them. I think Dominik Dijakovic was one of the Retribution men and probably Mia Yim as one of the women. It doesn't really matter until the reveal, but that's who it looked like to me.
Analysis: The best part of that was Garza saying that he was concerned about Demi's safety, then Retribution showed up and he ran away showing absolutely no concern for her safety. That was very funny. Heels lie, my friends.
The entrances took place for the triple threat main event with Randy Orton out first, then Keith Lee and Seth Rollins was up last without his disciple Murphy by his side.
Randy Orton vs. Keith Lee vs. Seth Rollins
The winner gets to challenge Drew McIntyre for the WWE Title at Clash of Champions.
Orton and Rollins argued on the floor about how they should work together against Lee, but Orton said maybe he changed his mind. Rollins ran right into a shoulder tackle from Lee and Lee splashed Rollins. Orton back in with a chinlock, but Lee sent Randy to the corner and splashed him too. Lee was on the apron and jumped over the top with a shoulder tackle leading to a break.
(Commercial)
The match continued with Lee sent to the floor with Rollins hitting a knee off the apron to Lee's face. Orton followed up with a belly to back suplex/slam onto the hood of the announce table. Orton and Rollins teamed up to shove Lee into the steel steps. There was no count by the referee on the floor since there are no disqualifications or countouts in a triple threat. Orton and Rollins slowly put Lee on the apron and then Orton turned on Rollins with a draping DDT for a two count. That was a cool spot. Orton set up for an RKO on Rollins, but then Rollins countered that into a Falcon Arrow slam for a two count. Lee got back into it with shoulder tackles on both guys, then running splashes on both guys and Lee threw Rollins into Orton to knock both heels down. They left the ring with Lee hitting a running shoulder tackle on Orton. Lee caught Rollins on the floor and threw Seth onto the announce table. Rollins with a kick to the chest, then Rollins countered a slam into an inside cradle and that got two. Rollins with a kick to the back of the neck followed by a kick to the face. Rollins set up in the corner, he charged for The Stomp, but Lee caught him and Lee hit a Spirit Bomb on Rollins. Orton with an RKO on Lee and then Orton covered Rollins for the pinfall win after 12 minutes.
Winner by pinfall: Randy Orton
Analysis: ***1/2 I liked that match quite a bit and how it was structured. It's the classic "steal the pin" finish that WWE loves to book in matches like that although usually when they do that, somebody hits a finish (Lee on Rollins) and then Orton would throw Lee out of the ring to steal the pin. Instead, Orton hit the RKO and then went over to pin Rollins. It still worked fine. Lee had a lot of moments where he looked dominant as he took out both guys at the same time while continuing to be aggressive throughout the match. Orton winning was the right call while Lee was protected by not being pinned. I believe the original plan was likely to have Rey beat Rollins earlier in the night and have Rey take the pin here, but then when Rey got hurt, Seth was put in that spot. Rollins is booked strong most of the time, so he won't be hurt by it. A feud between Rollins and Lee would be cool to see in the future.
The win by Orton means he will challenge Drew McIntyre for the WWE Champions at Clash of Champions on September 27. Orton celebrated the win to end the show.
Analysis: That was the obvious outcome of the match. When Orton took out McIntyre on Raw last week, it was clear that they were going to do a rematch. I picked Orton to win at SummerSlam. I was wrong there. I might pick Orton to win at Clash of Champions too.
Three Stars of the Show
Randy Orton
Seth Rollins
Keith Lee
The Scoreboard
6.5 out of 10
Last week: 5.5
2020 Average: 6.33
Final Thoughts
It was a better Raw than the last couple of weeks, but still just an average show overall. What I liked more about this week's show is they had some matches going longer. There was also more of a purpose to the matches since Randy Orton, Keith Lee and Seth Rollins won matches to set up their triple threat, which was the best match of the night. Orton goes on to face Drew McIntyre at Clash of Champions as expected while Lee was protected since Rollins took the pin. I also liked Mickie James telling Asuka she wants a title shot and then Mickie won easily over Lana, which is how it should be. Peyton Royce and Billie Kay being split up should lead to Royce being featured more in singles, so that's some story progression for her too.
The Retribution stable and Raw Underground segments continue to underwhelm me. They're just not that interesting at all. Retribution was in the ring for one match, then featured a bit backstage and it didn't really do much. The Raw Underground fights are decent at best. If you tell better stories in the ring then you don't need to worry about even booking Raw Underground segments.
There were still some short matches on this Raw, but it was easy to get through for the most part.
The next WWE pay-per-view is Clash of Champions on Sunday, September 27 with every championship on Raw/Smackdown on the line. Here's what we know so far:
WWE Championship: Drew McIntyre (c) vs. Randy Orton
—
You can contact me using any of the methods below. Go Toronto Raptors and Toronto Blue Jays. Be safe and smart out there.
Thanks for reading.
John Canton
Email: mrjohncanton@gmail.com
Twitter: @johnreport