TJR: The WWE Raw Deal 08/10/20 Review
Welcome to the WWE Raw Deal review right here on TJRWrestling. We are on the road to SummerSlam. This show was taped last Monday after last week's Raw.
From the WWE Performance Center in Orlando, Florida, this is the Raw Deal for episode #1410 of Monday Night Raw. Follow me on Twitter @johnreport. Please visit TJRWrestling.net daily for our regular updates on the wrestling business featuring WWE news coverage, insightful columns from our team along with reviews about wrestling's past and present. Let's roll.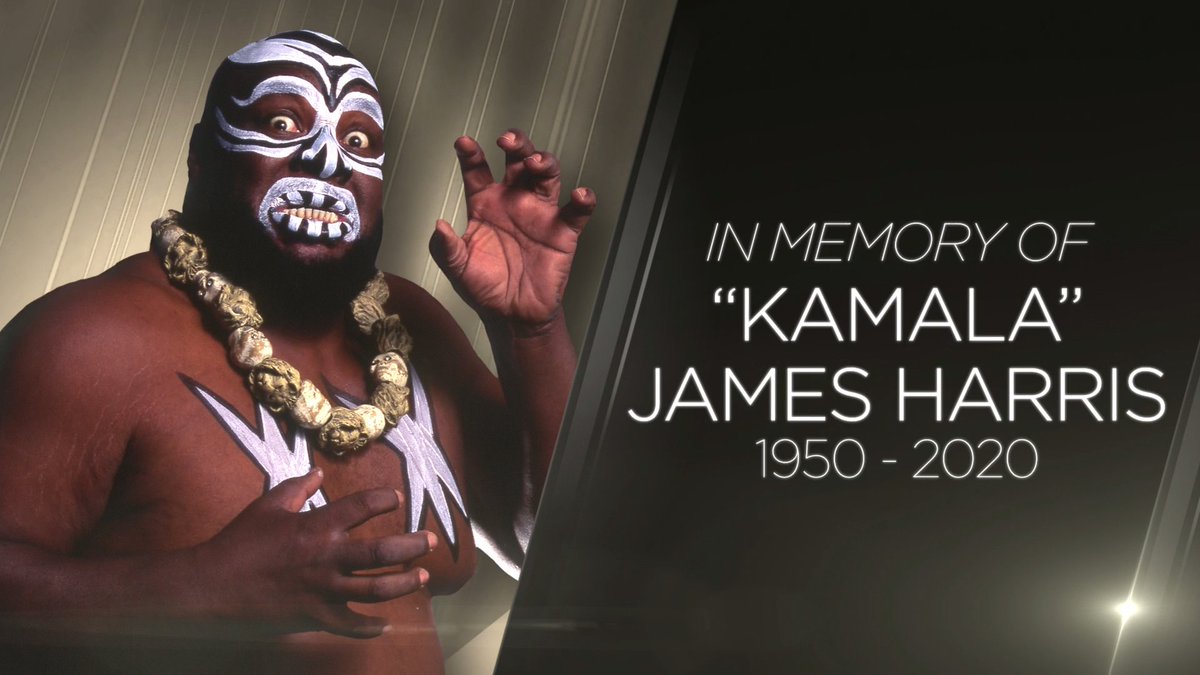 The show began with a graphic saying "In Memory of Kamala" while mentioning his real name James Harris, who was 70 years old. Rest in peace, Kamala. The Raw intro video aired after that.
The Raw announce team of Tom Phillips and Byron Saxton ran down the big matches on the show while their partner Samoa Joe was ready in the ring.
Contract Signing for Seth Rollins and Dominik Mysterio
Samoa Joe was in the ring hosting the contract signing for a big SummerSlam match and also Dominik's official WWE contract. Joe made reference to his issues with Seth Rollins while the announcers said that Joe had to be professional here. Seth Rollins was introduced with Murphy while Dominik entered on his own with a kendo stick.
Rollins questioned why Dominik had a kendo stick, so Joe held the kendo stick. Joe told Rollins this whole thing is sad. Joe said he should see Seth Freakin' Rollins, who could be the greatest superstar of his generation, but then Rollins reacted after the WWE Universe started booing him. Joe continued his promo ripping on Rollins for saying that he has forced Dominik into this match while claiming he had no choice.
Rollins said that he gave Dominik choices every step of the way. Rollins said he's had no choice in this whole thing. Rollins explained that he had no choice because he's been forced into this situation. Rollins noted the tried to be Mr. Burn it Down, Seth Freakin' Rollins, but he got crapped on by everybody there and at home. Rollins claimed he had no choice in becoming the Monday Night Messiah and making things better for the greater good. Rollins wondered when is it finally going to be enough.
Dominik said it will never be enough. Dominik said that Seth makes excuses for all the ungodly things he has done – Aleister isn't the same and his father's confidence isn't the same. Dominik said that Seth uses the greater good as an excuse, but the greater good Seth uses is for himself. Rollins noted that Dominik is here fulfilling his dream of becoming a WWE superstar and he claimed it was all because of Seth. Rollins told Dominik to get on his knees and thank him. Dominik said this was his dream, but now his dream was to kick his ass at SummerSlam.
Rollins laughed about what Dominik said. Rollins said we all know that Dominik wouldn't last ten seconds in a regular, standard wrestling match with Rollins. That led to Seth saying he is the best wrestler of his generation and told Joe there's no question about it. Rollins said that Dominik is pretty handy with the kendo stick, so at SummerSlam, Dominik can use that or any tool in the toolbox. Rollins wanted Dominik to have every opportunity at his disposal so that Dom and his family has no excuse when Seth ends his career before it ever begins. Rollins signed the contract. Dominik also signed the match contract. Dominik also signed his WWE Superstar contract.
Rollins congratulated Dominik on becoming the newest WWE superstar and the wrestlers in the PC applauded. Rollins told Dominik to get out of the ring, take some notes and watch Seth's match with Humberto Carrillo. Rollins told Dominik to get ready for what Seth is going to do to Dominik at SummerSlam. That led to Humberto Carrillo making his entrance as the show went to break.
Analysis: I really liked Joe's promo at the start of that. I think if he does come back to wrestle as a babyface, he could really thrive if he's given a chance. I don't know when or if Joe is going to wrestle again, but he's such a great talker and knows how to build up a fight. I like Seth's gimmick and his heel persona. This was less of the campy cult leader guy and more of a regular promo. Dominik didn't say much, but he made his point well. The build to that match has been good.
(Commercial)
Seth Rollins (w/Murphy) vs. Humberto Carrillo (w/Dominik Mysterio)
Rollins grabbed an armbar and taunted Dominik at ringside. Carrillo hit a springboard cross body block to knock Rollins out of the ring. When Carrillo followed, Rollins sent Carrillo into the barricade and Dominik prevented Murphy from interfering. Carrillo with a jumping lefty kick to the head. Rollins had Carrillo on the top turnbuckle, Carrillo elbowed him down and Carrillo was up top, but Murphy distracted. Dominik hit Murphy in the leg with a kendo stick. Carrillo jumped, Rollins got the knees up, superkick, Powerbomb and Rollins hit The Stomp while staring at Dominik for the pinfall win after three minutes.
Winner by pinfall: Seth Rollins
Analysis: *1/2 It was fine for the time given. It was short and Carrillo didn't get to do much, but it makes sense for Rollins to get the win. I liked Seth's sequence of moves leading to the finish.
Post match, Murphy attacked Dominik and sent him in the ring with Rollins. Murphy held Dominik while Rollins told him to take notes. Dominik fought off Murphy and punched Rollins, but the heels were able to attack again with a two on one beating. So many camera cuts. It's annoying. Rollins used the kendo stick to hit Dominik in the ribs and the back. Rollins worked over Dominik with two more kendo stick shots. Murphy took off Dominik's shirt, so Seth hit Dominik with the kendo stick to the back and he did it a few more times. Rollins tied up Dominik in the ropes and he hit Dominik in the ribs with the kendo stick a few more times. Rollins talk trashed into the camera to daddy Rey Mysterio. Rollins told Rey to beg for mercy for his son. Murphy brought four more kendo sticks in the ring. Rollins told Murphy that Dominik had to pay his dues. Rollins hit the chest while Murphy hit the back and they did it repeatedly with Dominik screaming in pain. Rollins looked into the camera: "To be continued, Rey." Dominik was shown laying face first in the ring and there were a lot of red scars on his back (as well as his chest) from the kendo stick attacks. The camera focused on Seth's face.
Analysis: I know people bitch and moan about Seth, but I think he's been a very good heel in the feud with both Mysterios. I didn't love Eye for an Eye, but as a story it has worked and Dominik has done well for a "rookie" performer too. The beating was brutal with the pictures telling the story so to speak because we could see all of the scars on Dominik's body. My issue with something like this is that this poor guy was getting beat up for five minutes and nobody tried to help him. At least have some referees out there or somebody that might give a damn about Dominik because it makes it look like Dominik has no friends since he was taking a beating for so long without help. I get wanting to get heat on the heels and sometimes in order to do that you need to have a long beating like this, but let's be a bit more realistic by having somebody try to save Dominik in that spot. That's all. A little realism wouldn't hurt in the wacky world of WWE.
Rey Mysterio posted on Instagram about it.
https://www.instagram.com/p/CDup8EQhYy7/?igshid=t06zbmgk2s22
(Commercial)
They replayed the Rollins attack on Dominik. Samoa Joe on commentary had a message for Dominik saying "you've got this" and urged him on.
There was a video package about the new WWE group Retribution on Raw and Smackdown last week. They ended Smackdown last week by beating some people and destroying the ring. There were five people with three men, two women and they were all short, but that doesn't have to be who is part of the reveal.
Zelina Vega was in her wrestling gear with Andrade and Angel Garza. We saw a video package of last week with Montez Ford being poisoned prior to his match on Raw and passing out.
Vega said she had nothing to do with Montez Ford being poisoned last week on Raw. Vega said unlike most women, she doesn't thrive off her men's success, she creates it. Vega said Bianca Belair can learn from keeping her men in line. Vega said that they want the Raw Tag Team Titles and she repeated that she had nothing to do with Montez Ford's poisoning. Vega said that Andrade and Garza will have everything to do with taking the Raw Tag Team Titles at SummerSlam.
Analysis: Good promo from Vega as usual. She's one of the best talkers on the show, man or woman. A big reason why is she's a heel that is mean and not trying to be a smart ass or make jokes.
Angelo Dawkins made his entrance as lights and audio went out briefly. No Montez Ford this week to sell the attack from last week.
(Commercial)
There was some commercial for some Netflix show "Game On" including The Big Show Show starring Big Show. I tried watching an episode. It's not for me, but it's good for a family comedy if you have kids.
Angelo Dawkins vs. Andrade (w/Angel Garza and Zelina Vega)
Dawkins with a dropkick on Andrade, who bailed to the floor. Andrade stomped away on Dawkins followed by punches and a running dropkick to the back of the head. Dawkins worked over Andrade with punches, then an elbow to the head and an overhead suplex. Dawkins missed a corner splash when Andrade moved and Andrade hit him with forearms. Andrade with the running double knees against the turnbuckle and that got a two count. Andrade went up top, jumped off with nothing and Dawkins hit him with a forearm to the face. Bianca Belair (wife of Montez Ford) ran down to the ring and pulled Vega off the apron. Andrade was distracted by that, so Dawkins hit a spinebuster called the Cash Out for the pinfall win after four minutes.
Winner by pinfall: Angelo Dawkins
Analysis: *1/2 It was decent. I think Andrade could use wins and he's a former singles wrestler that has held the US Title on Raw, but it makes sense for Dawkins to win after what happened to Ford last week.
Bianca Belair tossed Zelina Vega into the ring and they have a match up next.
(Commercial)
Bianca Belair (w/Angelo Dawkins) vs. Zelina Vega (w/Andrade and Angel Garza)
Belair with a suplex. Vega stomped on the foot and hit a strike to the ribs. Vega slapped on a Triangle Choke submission, but Belair powered out of that. Belair slammed Vega face first into the mat. Belair worked over Vega with punches against the turnbuckle. The referee was between the two women, so Vega did an eye poke and hit a bulldog takeover off the ropes for a two count. Vega pulled on the long hair of Belair, she shoved her into the turnbuckle and Vega hit a jumping kick to the face. Vega with a running double knee attack against the turnbuckle for a two count. Belair put Vega on her shoulders, then a back elbow and Vega did a headscissors with Belair bumping into the ropes. Vega to the middle ropes, she jumped off, Belair caught her and hit a press slam to send Vega into the mat. Belair tossed Vega across the ring by the hair, Belair charged, Vega moved and Belair went shoulder first into the turnbuckle. Belair hit a Powerbomb and then sent Vega face first into the top turnbuckle. Belair hit the KOD (Kiss of Death) for the pinfall win after six minutes.
Winner by pinfall: Bianca Belair
Analysis: **1/2 They told a nice story with Vega getting in some offense after some cheap shots and nearly getting the win, but then Belair's power took over. Vega is one of the smallest women in WWE, so she would be more natural as a face although I liked some of her spots here. Belair has a very bright future and seems like a lock to be a future champion either later this year or next year.
Bianca Belair was interviewed in the ring post match by Charly Caruso. When Bianca was asked if she had proof that Zelina Vega poisoned Montez Ford, Belair really didn't have much to say. Angelo Dawkins assured Andrade and Angel Garza that Montez Ford will be ready for SummerSlam. Dawkins ended it with the "we want the smoke" phrase.
Analysis: I think there will be a title change at SummerSlam with Angel Garza and Andrade beating The Street Profits for the Raw Tag Team Titles. They also need to develop more teams on the Raw brand.
The VIP Lounge hosted by MVP is next.
(Commercial)
VIP Lounge
The Hurt Business trio of Montel Vontavious Porter, Bobby Lashley and Shelton Benjamin were in the ring along with couches. MVP said that he never misses an opportunity to say I told you so and he said he told us that there was a conspiracy. MVP complained about the lights flickering on and off during his match last week. MVP wondered how he can win championships in these unsafe working conditions. MVP said that was the only way Apollo Crews could beat him.
Apollo Crews walked out with the new US Title. Crews said that MVP is always making excuses by saying it is somebody else's fault. MVP spoke about excuses like Crews missed Extreme Rules because his neck was hurt. Crews said that Lashley did that while Crews had his back hurt. Crews laughed about how he had the new US Title that MVP paid thousands of dollars for. MVP said that he tried to help Crews while noting that Crews makes bad decisions one after another. MVP said it was a bad decision going out there by himself against the three of them. Crews said he can make bad decisions because he's a bad man. Crews said that MVP didn't care about Apollo, his family, or his kids. Crews told MVP he didn't care about Benjamin or Lashley, but he cares about MVP and said that the only lights going out at SummerSlam with be MVP's lights. Crews punched MVP and tossed a leather couch out of the ring.
Analysis: It's nice to see Crews getting promo time. He's not a great talker or known for his promos, but he is improving every time I see him. The more time he gets, the more I like him and he's an easy guy to root for in terms of his in-ring style. MVP has always been a strong promo guy. I don't think this feud is that hot and I'm ready for them to move on after SummerSlam.
(Commercial)
This Friday on Smackdown, has Braun Strowman proved The Fiend to unleash more chaos? Also, there will be a battle royal between WWE women from all three brands to determine Bayley's opponent at SummerSlam. They announced Strowman vs. "The Fiend" Bray Wyatt for the Universal Title at SummerSlam as well. That was announced on social media on Monday.
Apollo Crews vs. Shelton Benjamin (w/Bobby Lashley and MVP)
This is not for Apollo's US Title. Crews with a dropkick, then a running elbow and a snap suplex for two. Benjamin came back with a kick to stop Apollo's momentum and he hit a Powerbomb for a two count. Crews was sent out of the ring where Lashley and MVP talked trash to him. Benjamin with a running knee to the ribs. Benjamin grabbed a headlock on Crews to ground him in the ring. Crews ran the ropes and hit a running cross body block. Crews with an enziguri kick to the back of the head. Crews sent Benjamin to the corner, shoulder tackles to the ribs, running splash and Benjamin ran the ropes right into a powerslam. Crews with a standing moonsault for two. Benjamin was on the floor, Lashley tried a trip, Crews kicked him, Benjamin went back in and the ROLLUP OF DEATH~! led to the pinfall win for Benjamin after four minutes.
Winner by pinfall: Shelton Benjamin
Analysis: *3/4 It would have been nice if they got more time, but it was just an okay match. I thought Crews would win since Benjamin is mostly there to put over the younger guys. The finish did make sense at least since Crews was distracted by the Lashley trip attempt and that led to Benjamin's win. That ROLLUP OF DEATH~! is so deadly. It's also a champion losing non-title, but it probably won't lead to a title shot for Benjamin.
Post match, Lashley tried a Full Nelson on Crews, but MVP told Lashley to not do it because he needs Crews to be healthy to make it to SummerSlam. Crews hit an enziguri kick on MVP and ran away.
Analysis: Crews lost the match, but then got the upper hand to end it.
The announce team said that a cinderblock was thrown through a glass window at the WWE Performance Center. There was a random guy that went up to the masked Retribution group and told them to stop, but then thew threw a cinderblock through the front window. The Retribution group left. It looked like the same mix of men and women that were on Smackdown last week.
(Commercial)
Mickie James was interviewed backstage by Sarah Schreiber. This was Mickie's return after missing the last year after major knee surgery. Mickie said that she's so excited to be back to help lead this locker room and she had gold on her mind. Lana and Natalya showed up with Lana saying that Mickie can't lead the locker room without a Tik Tok. Natalya reminded Mickie she's got the most wins in WWE history and she's like the Serena Williams of WWE. Lana said B-O-A-T as the Best of All Time. Mickie said that Natalya has worked so hard and mentioned her family legacy. Mickie told Lana that "boats sink" so that was a way to end that.
Analysis: The dialogue in this promo was a bit silly, but that's what happens when Lana is on because she's so over the top. I love seeing Mickie back on WWE TV. She has missed over a year after a torn ACL last year, she had surgery and was ready to come back earlier in the year, but the pandemic delayed it. Now that she's back, she's another name that can be featured in the women's division. It looks like Mickie is in a face role and will feud with Natalya, which I certainly don't mind. Maybe another woman will step up as an ally for Mickie since they'll probably have Lana help Natalya. Anyway, I'm just glad Mickie's back in action after the first surgery of her 20-year career. She's back where she belongs. Looks like we get Mickie vs. Natalya next week.
There was a video about Raw Underground, which debuted last week.
Ivar was shown backstage talking to a blonde woman (Demi Burnett) that was on last week as well. Erik showed up with Ricochet and Cedric Alexander. She said Ivar was cute, but Erik not so much. That's a running gag.
(Commercial)
There were replays of Dominik Mysterio getting destroyed by Seth Rollins and Murphy, who beat on Dominik with repeated kendo stick shots.
Ricochet, Cedric Alexander and Viking Raiders (Erik and Ivar) vs. Akira Tozawa and Three Ninjas
Tozawa is the 24/7 Champion. Ricochet with a kick to one of the ninjas and Alexander tagged in for a double team move with a double foot stomp. They ran over another ninja. Ivar tagged in with a knee, Erik tagged in with a knee and when Tozawa told a ninja to go, the ninja decided to not go in the ring. Viking Raiders hit the Viking Experience double team powerslam for the pinfall win after one minute.
Winners by pinfall: Ricochet, Cedric Alexander and Viking Raiders (Erik and Ivar)
Analysis: 1/4* That was quick. That's all I've got.
Tozawa left with a ninja, then a referee showed up and R-Truth was revealed as the ninja. Truth did the ROLLUP OF DEATH~! on Tozawa and the referee counted the pin, so Truth is the champion again.
Winner by pinfall AND NEW 24/7 Champion (for the 38th time): R-Truth
Drew McIntyre was interviewed backstage by Charly Caruso. Drew spoke about how Randy Orton was all about self-preservation so that's why he takes people out. Drew said Randy knows if he lets go then he'll become a thing of the past. Drew said he'll kick Randy in the head as hard as he can and he said that Evolution has passed him by. Charly asked what happens if Kevin Owens takes the torch from Randy Orton then Drew said he'll talk to Kevin about the future of Monday Night Raw.
(Commercial)
This Wednesday on NXT, fallout from the Pat McAfee story with Adam Cole. Karrion Kross will also face Danny Burch. They usually have a better match to promote than that. Kross is getting a big push, so that should be an easy win.
Ruby Riott was joined by her friend (again) Liv Morgan. They each walked out with separate theme songs. They reunited last week as a babyface team.
The IIconics Peyton Royce and Billie Kay ripped on the Riott Squad being together again. Royce said they are shaping their futures and their futures are iconic.
Peyton Royce (w/Billie Kay) vs. Liv Morgan (w/Ruby Riott)
Royce with a knee to the ribs and she dumped Morgan out of the ring. Morgan sent Royce face first into the ring apron. Royce hit a spin kick on Morgan followed by forearms to the chest. Morgan got a rollup where she sat on top for a two count. Royce and Morgan each hit kicks to the head. Royce charged, Morgan kicked her away and Royce hit Morgan in the back with a forearm. Royce hit the Déjà Vu neckbreaker into a slam for the pinfall win after about three minutes.
Winner by pinfall: Peyton Royce
Analysis: *1/2 They didn't get a lot of time. The story was that the referee thought Riott was distracting, but Riott was looking at Kay on the apron and that ended up costing Morgan, who looked at what was going on. Nice finisher by Royce, who has a very bright future and there are reports that Vince McMahon really likes her. I think that's a good observation by the boss.
Post match, Morgan looked at Riott wondering what she was doing, so Liv was frustrated about it.
Analysis: I know a lot of fans want WWE to push Liv strongly and losing a match like this isn't good for her, but it's all part of a long term story. If I had to pick one team to be the next tag team champions it would be Liv and Ruby. I think that's the story WWE needs to tell and I think they will.
Still to come: Asuka vs. Bayley.
Shane McMahon was shown walking up to the Raw Underground room and talked to the big man security guy and Shane said it's time for Raw Underground up next.
(Commercial)
Raw Underground
There was some Raw Underground action on the mats with the other wrestlers surrounding the ring. It was Cal Bloom and Riddick Moss in a fight. They went out of the ring at one point and then went back into the ring. Moss did an eye gouge and knocked him down with a punch followed by some kicks. Moss celebrated with Shane announcing Moss as the winner. It only took about one minute.
Analysis: These segments are short. I don't know if they are going to win over viewers long terms, but they are simple enough. Riddick Moss looks like a tough guy, so using Raw Underground to try to put him over a bit isn't a bad idea.
Asuka entered for her match at the top of hour three. Bayley entered as the opponent joined by Raw Women's Champion Sasha Banks. Bayley is the Smackdown Women's Champion and Bayley/Banks are the Women's Tag Team Champions that don't defend those titles.
Bayley (w/Sasha Banks) vs. Asuka
If Asuka wins then she gets to challenge Sasha Banks for the Raw Women's Title at SummerSlam.
Asuka was very aggressive early, she went for a corner attack, Bayley moved and Bayley slammed Asuka off the turnbuckle for a two count. Bayley with a suplex followed by a running clothesline. As Bayley slapped on a chinlock, the lights dimmed a bit to show the technical problems again caused by Retribution. Bayley with an elbow to the face. There was a backslide pin attempt and Asuka hit a kick to the face. The lights were flickering again in the WWE PC. Asuka ran the ropes leading to a shoulder tackle and a German Suplex across the ring. Asuka with a running hip attack for a two count. Bayley sent Asuka into the turnbuckle. Bayley went for a running knee, Asuka moved and Bayley hit the turnbuckle. Asuka sat on top of Bayley for a two count and Bayley to the floor leading to the break.
(Commercial)
The match returned with Bayley working over the right leg of Bayley. I missed about a minute, but the story that Banks was in full control working over the right knee of Asuka. Banks drove the right knee of Asuka across the ring apron. Bayley with an elbow against the turnbuckle and Asuka got a rollup for two. Asuka slapped on a submission where she pulled back on Bayley's arm while also stretching the head/neck. Bayley got out of that, but then Asuka slapped on an armbar. Bayley tried turning it into a pin attempt for a two count. Bayley slapped on an Indian Death Lock submission, then Asuka powered out of it and slapped on a kneebar submission. Bayley powered out of that and Asuka landed on top for a two count. Asuka with a double knee attack like a Codebreaker for a two count. Asuka lifted Bayley with a knee to the face. Asuka put Bayley on the turnbuckle, Bayley knocked her down and Bayley hit an elbow drop off the top for a two count. Bayley hit a spinning back fist and a sunset flip into the turnbuckle. That was impressive. Bayley mocked Kairi Sane's dance, Asuka came back with an Asuka Lock submission and Bayley tapped out to give Asuka the submission win after 16 minutes.
Winner by submission: Asuka
The win by Asuka means she gets to challenge Sasha Banks for the Raw Women's Title at SummerSlam on August 23.
Analysis: ***3/4 This match was great with a lot of counter holds, they went for submissions throughout the match and I like how Asuka got the win right after Bayley did the Kairi Sane taunting. It was a fitting way to end it. They worked really well together, Asuka did a nice job in making the comeback throughout the match and Bayley was really aggressive as the heel. I'm a bit surprised that Banks didn't cheat more to try to help Bayley. There were some Banks moments, but I would have liked it even more. I liked it a lot. It's also the right move booking wise to have Asuka win since she should be getting a Raw Women's Title rematch and I think Asuka should win the title back at SummerSlam too.
Raw Underground
Arturo Ruas was in there against an unnamed guy with Shane putting over Ruas for his fighting background. Ruas kicked the guy a few times and knocked him out of the ring. Ruas with a double leg takedown followed by some punches and elbow strikes. Ruas hit a spin kick to the head for the KO win. It was about one minute.
Analysis: This was not that interesting although Ruas has a legit fighting background, so he looks the part. Some of the other fights have been better.
Shane spoke about how they had more to come.
(Commercial)
Raw Underground
The big man Dabba Kato was in the ring for another fight against an unnamed smaller guy. Kato kicked him down easily, then a knee to the ribs and a slam hard into the mat. Kato tossed the guy down again almost like a belly to belly suplex. Kato grabbed his groin or something like that and decked him with a KO Punch to the face.
Analysis: I think Raw Underground is going to be an effective way of building up Kato as a legit badass that could have a lot of success in WWE.
Shayna Baszler showed up to get into the ring and she stared at Kato in the ring. Baszler walked around the ring and none of the women stepped up, so Baszler punched a woman in the face. There was another woman that went after Baszler, so Baszler beat on her with punches. Another blonde woman went for a choke on Baszler, but Baszler got out of that and took her out with a hard punch to the face. The three women all went after Baszler and she beat them up easily including the Kirifuda Clutch submission on the final woman. Shane announced Shayna as the winner.
Analysis: This is also a good setting for Baszler and her MMA background. She fit in well in the Raw Underground setting, that's for sure.
Shane said that was it for this week and tune in for next week on Raw Underground. The announcers were shown, but then they cut away.
There was a scene in the parking lot with the Retribution group flipping over a car. The car was already upside down, so we didn't see them flip the car. We just saw the end of it.
Analysis: I guess they are too short to flip over the car themselves, so WWE was nice enough to flip it over them to make them look more impressive.
Randy Orton entered with Ric Flair for the main event. Orton challenges Drew McIntyre for the WWE Title at SummerSlam on August 23.
(Commercial)
Kevin Owens entered as Orton's opponent. There were 30 minutes left when the match began.
Kevin Owens vs. Randy Orton (w/Ric Flair)
Owens was very aggressive to start the match and Orton couldn't get going at all in the first minute. Orton with a chop to the chest, each guy went for a finishing move, Owens sent Orton to the corner and hit a cannonball attack against the turnbuckle. Orton went to the floor, then sat up against the barricade and Owens hit another cannonball on Orton this time against the barricade.
(Commercial)
Owens remained in control with a hard chop to the chest with a "Woo" while strutting at Ric Flair. Owens punched Orton repeatedly to knock Orton out of the ring. Owens tried a whip into the steel steps, but Orton sent KO's right shoulder first into the steel steps. Orton whipped Owens into the plexiglass and Orton rolled back in, then out to break up the referee's count. Orton with a hard whip that sent Owens back first into the steel steps. Orton stomped on the feet of Owens along with the dreaded knee to the face and a stomp to the chest. Owens hit a knee drop for a two count followed by a chinlock. Owens fought out, Orton with an uppercut, Owens with a clothesline and a senton splash. Orton went out to the floor, Owens followed and Orton hit a belly to back suplex onto the hood of the announce table. That's a move Orton loves to do and it got a two count when they went back into the ring. They battled on the top turnbuckle, Owens fought Orton down with a headbutt and Owens hit a Senton Bomb for a two count. Owns posed in the ring like Orton, he did a kick to the gut and wanted a Stunner, but Orton fought out of it and Orton hit a Stunner for the pinfall win after about 13 minutes.
Winner by pinfall: Randy Orton
Analysis: ***1/4 It was a good match with Owens getting plenty of offense, but it was obviously going to be a win for Orton as he continued his winning ways on the road to SummerSlam. I liked the finish with Orton needing just the RKO to finish off Owens even though Owens was on a roll for a few minutes leading up to that. It puts over the RKO as a devastating finisher, which we have known for nearly 20 years of Orton using that move. I'd like to see Owens have a storyline that leads to a major PPV match because it hasn't happened enough this year. WWE needs to be doing more with Owens as a face. There's a lot of potential there.
Post match, Randy Orton and Ric Flair celebrated the win with Flair lifting his hand in the air. Orton told Flair he needed to tell him something, so he told him to stay put for now. There was time left in the show, which meant there was another commercial.
(Commercial)
Let's Hear from Randy Orton
Randy Orton said he had every right to be pissed off to be Ric Flair because this match wasn't necessary. Orton said that Flair's ego got Randy into this fight. Orton noted that he can't be mad at Ric, he learned so much for him and for the last 20 years, Ric has been right there for him. Randy said that Ric is a big reason why Orton is still there after 20 years, so he can't be mad at the Nature Boy. Orton talked about how in 2002 or 2003 in Peoria, Illinois, he got in trouble, but nobody helped him until Ric was there and Randy loved Ric for that. Orton told Flair he didn't respect or love him anymore.
Orton said that Flair is a liability to Randy, his career and everything he wants to get done right now. Orton said he knows why Flair took a young Orton under his wing. Orton told Flair that he wished Randy could be the son that Ric wished he had. Orton called him an "old ass man" and told Flair to cry like a river because that's all he is ever good for. Orton said that the Flair knew wouldn't have a pacemaker or wouldn't have slipped into a coma and a whore for the spotlight. Orton said that Flair is washed up and he can't do it anymore. Orton told Flair that at SummerSlam, he has the opportunity to take the WWE Championship for the 14th time. That's the only thing Flair had to be concerned about, but instead he was worried about himself.
Flair told Orton he's taking this very personal and he hears him. Flair told Orton that Flair isn't here anymore. Flair said he likes the spotlight, he likes to call Randy the greatest and yes he wants to be the spotlight because he's 71 years old and he's on Raw. Flair said he had guys like Hogan calling him and Flair said that it's the greatest feeling because he wants to be with Randy and be there when Randy wins his 14th, 15th, 16th, 17th and he wants Randy to beat his record, not John Cena's record. Flair said that Randy's dad knows it and Randy knows it. Flair said that Randy did it with him. Flair said that Orton is the greatest performer in the business today and he loves being with him. Flair said he can't get mad because after 31 days in intensive care and in a coma for 12 days and all he wanted in life was to make sure that everybody that he loved knew how he felt. Flair said that you have to be this close to where he was to know what that feeling is. Flair said he's just having fun walking to the ring, he wants to be Charlotte's dad and being part of Randy's life. Flair said that he's a big fan of Randy and Randy is the guy to break his record. Orton put the microphone down and gave Flair a hug as the crowd clapped for them.
When Flair turned around, Orton hit Flair with a low blow as the lights flickered in the building. Flair went down in a heap, nobody went out to check on him and Flair spoke to him. The lights actually went out as Orton posed, then back on and Orton did The Punt, but the lights were out, so it wasn't actually shown. They didn't want Flair to take an actual bump, so the lights went out exactly at that time.
Analysis: There was a lot said here by both guys and I thought it was fantastic. They both made their points so well. Flair admitted he wasn't the guy he used to be because he's a 71-year-old man that nearly died and he's just having fun hanging out with Orton again. Randy made good points about Flair being a liability to him, which makes sense since Orton is better as a lone wolf. It writes Flair out of this story while also getting HUGE heat because Flair was the only that seemingly likes Randy, yet Randy turned on him because Randy's a selfish jerk. It is silly to think that a 71-year-old with a bad heart didn't have a single person check on him after a low blow so that Randy could set up for The Punt one minute later. Nobody saved Dominik Mysterio earlier as well, so at least WWE people are consistent in not saving people that need help. The goal was to make Orton look like a selfish asshole. I think it was worked in that regard.
Drew McIntyre ran out for the save. He yelled about Orton doing this even to Ric. Orton backed away while McIntyre stared at him. There were officials and WWE Medical guys that went into the ring to check on Flair. McIntyre and Orton had a long staredown with camera cuts showing each of them. Drew went back to check on Ric. Drew: "Everything is coming to you at SummerSlam. I'm going to hurt you. I'm going to hurt you bad" and Drew called him a "son of a bitch. More staring. The show ended there.
Analysis: It was a lot of staring and camera cuts. These last ten minutes were very effective in terms of getting more heat on Orton. I think Drew should have been on the show more. This definitely made me want to see Drew vs. Randy even more.
Three Stars of the Show
Randy Orton
Asuka/Bayley
Ric Flair/Kevin Owens/Seth Rollins
The Scoreboard
6.75 out of 10
Last week: 5
2020 Average: 6.42
Final Thoughts
It was better than last week mainly because of how strong the third hour was. It was great because of Asuka vs. Bayley (best match of the night) and I liked Owens vs. Orton too. Those were easily the two best matches of the night. Plus, Orton's promo with Flair and the drama in that segment was excellent. Yes, we all assumed that Orton was going to punt Flair (it was not shown because lights were flickering) to write him out of the storyline, but I think the promos by both guys were excellent too. Randy Orton continues to perform at a high level. I've been very impressed by him all year.
The first two hours had some boring parts although I really liked Seth Rollins and Dominik Mysterio's interaction early. The main problem there was that nobody tried to help Dominik from a 2 on 1 attack, so it makes the kid look like a jerk since all of the other wrestlers, referees and officials stayed in the back. Just like nobody helped Flair after a low blow. Bad week for helping people! The women's division was featured throughout Raw in matches, with Shayna Baszler on Raw Underground and some promos (welcome back Mickie James!), so that's nice. Maybe they will build up women's tag teams soon so they can have a division.
Some of the other things like the Retribution group and Raw Underground didn't really have much of an impact on the show. Retribution breaking a window and flipping over a car (in theory) is lame, not rebellious. The Raw Underground segments are quick, so I don't mind them. They also don't make me more interested in the show.
I think Raw's matches at SummerSlam have been booked very well.
The next WWE pay-per-view is SummerSlam on August 23. Here's what we know so far:
WWE Championship: Drew McIntyre (c) vs. Randy Orton
WWE Universal Championship: Braun Strowman (c) vs. "The Fiend" Bray Wyatt
Raw Women's Championship: Sasha Banks (c) vs. Asuka
Seth Rollins vs. Dominik Mysterio
Raw Tag Team Championships: Street Profits (Angelo Dawkins and Montez Ford) (c) vs. Andrade and Angel Garza
United States Championship: Apollo Crews (c) vs. Montel Vontavious Porter
—
You can contact me using any of the methods below. Be safe and smart out there.
Thanks for reading.
John Canton
Email: mrjohncanton@gmail.com
Twitter: @johnreport
Personal Facebook and TJRWrestling on Facebook