TJR: The WWE Raw Deal 07/06/20 Review
Welcome to the WWE Raw Deal review right here on TJRWrestling. We are in July now as we enter into the second half of the year 2020, which really hasn't been a lot of fun for most of us. As for WWE, they have been dealing with a lot of positive tests for the Coronavirus and stricter testing. When this Raw episode was taped last Friday, the company mandated that everyone wears a mask inside the WWE Performance Center except for the performers on camera. Anyway, WWE continues their build to The Horror Show at Extreme Rules on July 19. Yes, that's the new PPV name now. I don't come up with the names, my friends. I'm just here to write about it.
From the WWE Performance Center in Orlando, Florida, this is the Raw Deal for episode #1415 of Monday Night Raw. Follow me on Twitter @johnreport. Please visit TJRWrestling.net daily for our regular updates on the wrestling business featuring WWE news coverage, insightful columns from our team along with reviews about wrestling's past and present. Let's roll.
The Raw opening video package aired to begin the show.
The WWE Performance Center was full of developmental wrestlers in the crowd wearing facemasks. The announce team of Tom Phillips, Byron Saxton and Samoa Joe welcomed us to the show by going over the matches on this week's Raw.
Let's Hear from Drew McIntyre
Drew McIntyre entered with the WWE Title around his waist along with one of his Claymore shirts and jeans. At The Horror Show at Extreme Rules, McIntyre defends the WWE Title against Dolph Ziggler.
McIntyre mentioned his Extreme Rules match for the WWE Championship. McIntyre decided to allow Ziggler to pick the stipulation for their match. McIntyre went over other possible stipulations while saying that it will be the same result every time with Drew as the WWE Champion. McIntyre called Ziggler out there to tell them what the stipulation is.
Dolph Ziggler appeared in street clothes saying that the world was there to hear his decision. Ziggler said that his match choice is…a secret. Ziggler said he's not going to tell McIntyre the stipulation. Ziggler tried to rip on him, so McIntyre fired back at him. Ziggler pointed out that McIntyre was fired from 2014 to 2017, McIntyre said he was fired, but he's proud of his comeback story and he hopes it inspires some people. McIntyre noted that he beat Brock Lesnar in five minutes at WrestleMania and then back to back beat Big Show. Ziggler said that there's a list of people that McIntyre stabbed in the back and forgotten about, not just him. Ziggler brought somebody there that Drew did the same thing to.
It was Heath Slater…who was released by WWE in April. Slater was wearing a "Free Agent" t-shirt. The 90-day no-compete clause for Slater expires later this month.
Slater got in the ring with McIntyre talking about opportunity. Slater said that he's known Drew for more than a decade, they go way back and there's history between them. Slater said that that Drew was one of the first guys to get called up to the main roster, but what's funny Drew wasn't the Chosen One. Slater said now this guy right here is the Chosen One and we all see it. Slater said that back in April, he was home with his kids watching Drew take on "The Beast" Brock Lesnar, Drew beat him and Claymore'd his head off. Slater said that he cried and it was the first time his kids saw him cry because Slater had joy in his heart for Drew. Slater said it's because when Drew got released so many years ago, he called Drew every day and they would often have dinner together. Slater asked where was Drew for him? Slater asked again.
Slater said he hasn't spoken to Drew in how long…there was no answer. Slater said it was on The Bump (WWE's Youtube show on Wednesdays) where he was about to speak his mind. Slater mentioned having two daughters at home and he's there today for them while noting that Drew knows them. Slater said he's fighting for them because they believe in their daddy. Slater noted that he was there for Drew and Drew wasn't there for him. Slater said on The Bump, Drew promised something to have a match with Slater and what happened, Heath is unemployed. Heath said it's not a gimmick, it's real and he's here to take an opportunity. Slater said he wanted Drew to give him what Heath deserved and what Drew promised him. Slater shoved McIntyre in the chest. McIntyre was reluctant, so Slater slapped him in the face. McIntyre: "You're on. You've got your fight." They went to commercial.
Analysis: That was a nice surprise to see Heath Slater. It was smart of WWE's creative team to utilize Slater in this spot because they took a real life situation and made it fit into this storyline perfectly. Ziggler did well to set it up. I thought Heath did a great job in that promo talking about his history with McIntyre, they are legitimately close friends and it was smart to utilize that in the promo to tell Heat's story. That's probably the longest promo Heath has had in WWE in perhaps his whole career and it happened after he was fired nearly three months ago. Whether it leads to Heath coming back to WWE regularly after this, I don't know right now, but I thought he did well there.
(Commercial)
Drew McIntyre vs. Heath Slater (w/Dolph Ziggler)
They were both wrestling in jeans. Slater with punches, he took off his shirt, turned around and McIntyre hit a running Claymore Kick on Slater for the pinfall win in 24 seconds.
Winner by pinfall: Drew McIntyre
Analysis: There's not much to analyze here. It was a quick ass-kicking for McIntyre with Slater looking like a fool.
Post match, McIntyre got in Ziggler's face and told him he'll kick his ass at the pay-per-view.
Ziggler got in Slater's face, shoved him in the face and Slater shoved Ziggler on his ass. Ziggler tripped up Slater and punched him repeatedly. McIntyre went back into the ring to save Slater, so Ziggler left up the ramp and went to the back. McIntyre went back to Slater, picked him up and they hugged along with a 3MB hand gesture. They posed together. Slater looks like he's in great shape too.
Analysis: There's the feel good moment after the match. That was well done. It would be nice if Heath was sticking around in WWE, but I don't think that's going to happen. I wish him success with whatever is next for him and maybe Heath is back in WWE one day.
Bayley and Sasha Banks were about to be interviewed backstage by Sarah Schreiber, but they didn't want to talk to her when they could go talk to the world. Asuka showed up with Sarah asking how she will deal with those two all alone. Asuka said she wasn't alone and laughed about it.
(Commercial)
Let's Hear from Sasha Banks and Bayley
The "Golden Role Models" duo of Smackdown Women's Champion Bayley and her Women's Tag Team Championship partner Sasha Banks was with her. At Extreme Rules, Bayley defends her title against Nikki Cross while Banks challenges Asuka for the Raw Women's Title.
Bayley and Banks did their usual introduction bragging about how great they are. Banks said that money never sleeps, they are changing the game and you never sleep. Bayley said that they are once in a generation talents that make it look so easy. Bayley called Nikki Cross a little runt that can't take her title away from her. Banks said that Asuka won't beat her either and Banks will become "Two Belts Banks" because they are taking over the whole damn company.
Asuka made her entrance with her Raw Women's Title followed by some laughing. Asuka told Bayley she's not ready for Asuka. Bayley said that Banks will humiliate Asuka. Bayley said Sasha is ready for anybody if Asuka has somebody, so Asuka called out a friend and it's Kairi Sane back in action. Good to see her back.
Analysis: Sane is expected to leave WWE soon when her contract expires because she wants to move back to Japan with her husband. She got married back in February. The belief is that Sane signed a three-year deal that is expiring soon or maybe it was expired. I don't know exactly because there are different reports out there. However, it's not a lock that Sane is leaving, so plans could change.
(Commercial)
The Banks vs. Sane match started after the break with Bayley vs. Asuka coming up later.
Sasha Banks (w/Bayley) vs. Kairi Sane (w/Asuka)
Banks with an arm drag off the top, but then Sane came back with hard chops to the chest. Sane with a headscissors followed by a low dropkick for two. Sane slapped on a submission where she pulled back on Sasha's arms. Sane slapped on an octopus submission, then it turned into a pin attempt for two, but then Banks with a head slam on Sane. Banks argued with Asuka, so then Asuka shoved Bayley down. Sane sent Banks out of the ring and Sane hit a sliding dropkick onto Banks and Bayley, which led to a break.
(Commercial)
Banks drove her knee to the back of Sane, who was against the ropes and Banks followed up with a backbreaker. Banks with the double knee attack to the ribs and Banks grounded Sane with a submission pulling back on the arms. Banks with a rising knee to Sane, then Banks went for double knees again, but Sane avoided it and hit an ax kick. Sane with a hard chop to the chest. Sane went up top with a forearm smash for a two count. Sane with two running blockbuster neckbreakers. Sane bounced off the ropes with a Spear as she continued to build momentum with Asuka cheering on her friend. Sane with a sliding clothesline against the turnbuckle for a two count. Sane and Banks each got two count rollups with Banks hitting a double knee attack for a two count. Banks with a knee attack to the back of Sane against the turnbuckle. Banks went up top, Sane avoided an attack and Sane tripped her up leading to a variation of a Boston Crab submission, so Bayley went into the ring with a knee to the face of Sane for the DQ after about 13 minutes.
Winner by disqualification: Kairi Sane
Analysis: *** This was good even with the DQ finish. They worked really well together as two of the best in-ring performers in the women's division. Each woman got plenty of offense too. I figured Banks would win she's challenging Asuka for the Raw Women's Title, but that would have been bad for Sane, so I'm okay with a DQ ending in this situation. Sometimes that is the best result and that was the case here.
Post match, Bayley and Banks went after Asuka out of the ring. Sane went up top, Banks held the heels and Sane hit an Insane Elbow onto a standing Bayley and Banks to take out the champs. Asuka and Sane were able to stand tall after all of that.
Analysis: Nice flying elbow from Sane as usual. Normally she does that when her opponent is on the mat in the ring, but it looked good even on two women that were standing.
A replay was shown from last week when Seth Rollins pinned Humberto Carrillo in a tag team match. After the match, Rollins also gave Carrillo The Stomp onto the steel steps.
After the match, Aleister Black was shown down against a cage that was back there and he had a mask on his head. Seth Rollins was there saying that's a damn shame as referees checked on Black.
(Commercial)
There was a plug for The Miz hosting USA Network's new competition series Cannonball. It airs on Thursdays on USA Network starting this week.
The Viking Raiders duo of Erik and Ivar were there with Ivar holding a bowling ball. Big Show showed up as well and I think he had a mask around his neck. Show said he likes to have fun, but he wanted them to be serious. Ivar said that they hated what Orton did to Edge & Christian, Erik said they grew up as big fans of them while Edge is a viking brother (Edge was on the TV show Vikings). Show chopped both guys in the chest to fire them up. Erik said that their viking ways may be strange, but when they get in the ring, the raid is on.
Analysis: The dialogue was a bit silly here, but that's WWE script writing. Congrats to Erik announcing that he is having a baby with his wife, who is former WWE superstar Sarah Logan. They have been married for a few years. It's going to be a viking baby. Good luck to them.
Kevin Owens Show
Kevin Owens made his entrance to host the Kevin Owens Show. Owens missed a few tapings, but now he is back. There were three leather chairs in the ring. Owens said considering the guest, they don't need the chairs, so Owens tossed the chairs out of the ring. Owens introduced the "giant piece of trash" that calls himself the Monday Night Messiah, Seth Rollins.
Seth Rollins made their entrance. Rollins and Owens have had a lot of history together and they were WrestleMania opponents as well. Owens won their match at WrestleMania. Anyway, Rollins made his entrance with his buddy Murphy (see what I did there?) and they joined KO in the ring.
Rollins wondered why Owens tossed the chairs out of the ring. Rollins thanked Owens for having him on his show. Rollins asked how KO's fractured ankle feels, Owens said he hurt it at WrestleMania and he's doing fine. Owens said that since WrestleMania, things haven't been going well for Seth. Owens noted that they faced eachother at WrestleMania and when you face somebody there, that creates a bond because WrestleMania is the reason why they do what they do. Owens said he wanted to give Rollins something to remember the WrestleMania moment they created. Owens gave Rollins a KO-Mania IV shirt just like the one that Owens wore when he beat Rollins at WrestleMania.
Rollins thanked Owens for the thoughtful gift and he tossed the shirt away. Rollins said he didn't give a damn about Owens, his shirt or his show. Rollins only wanted to use the show to address the now medically cleared Rey Mysterio. Rollins mentioned wanting Mysterio in a match at Extreme Rules. Rollins said he was there for the greater good. Rollins pointed out that Owens thinks Rollins hasn't been doing well and Rollins told Owens that things haven't been going well for Kevin. Rollins said that Owens needs Seth just like Raw needs Seth with Rollins suggesting that Owens fights with Seth instead of against him. Rollins told Owens he should find a purpose in his fighting and he should fight for the greater good.
Rey Mysterio made his entrance with his son Dominick (that's how WWE spells it even though Dom spells it "Dominik" as his legal name) in a shirt that said "THE FACE" to support his father. Mysterio said that he accepts the challenge at Extreme Rules. Rollins was happy about that. Rollins said that they were supposed to have a tag team match, but Aleister Black is out of action. Owens said that he'll never fight with Rollins, but he'll always fight with Mysterio. Owens suggested that the winning team picks the stipulation for Extreme Rules. Rollins laughed about one eyed Rey and one-legged Owens with Rollins saying you are on. The heels attacked, but the faces cleared the ring leading to a break.
Analysis: It's good to have Owens back as one of the best all-around performers in WWE. Owens has great chemistry with Rollins, so I enjoyed their promo exchange there. It was an obvious way to set up a tag team match for after the break as well.
(Commercial)
This week on Smackdown: Jeff Hardy is a guest on Miz TV, plus New Day defends the Smackdown Tag Team Titles against Cesaro and Shinsuke Nakamura.
Rey Mysterio and Kevin Owens (w/Dominick) vs. Seth Rollins and Murphy
Mysterio hit a springboard cross body block and a kick to the face. Mysterio kicked Murphy out of the ring followed by a headscissors off the apron that sent Murphy into the barricade. Back in the ring, Murphy got a two count on Mysterio and then Owens tagged in for his team. Owens with punches to the ribs followed by a hard whip into the turnbuckle. Owens with an atomic drop followed by a clothesline with Murphy selling it with a flip bump. Murphy broke free with an elbow, so Rollins tagged in with a kick, but Owens hit a clothesline and a senton splash. Mysterio tagged in, so Rollins brought Murphy in and Mysterio hit a running hurricanrana, Murphy to the floor, Rollins distraction and Murphy hit a jumping kick to the head. Rollins knocked Owens down on the apron, so then they got in Dominick's face and Rollins did an eye gouge to Dominick and the heels went back in the ring.
(Commercial)
Rollins worked over Owens with a knee drop to the left leg of Owens. Dominick was back on his feet selling the eye injury a bit as he supported his father and Owens. Rollins slapped on a half crab submission, Owens to the ropes and KO punched Murphy off the apron. Rollins sent Owens into the turnbuckle followed by a forearm to the head. Owens avoided a knee attack off the top, then Owens hit a superkick and both guys were down. Mysterio got the tag with a senton splash off the top on Murphy, then a spinning armbar and a kick to the face. Murphy put Mysterio on his shoulders and Rey countered a move with a headscissors into the ring post. Mysterio set up both guys for the 619, but Rollins grabbed a hold of Dominick outside the ring. That led to Aleister Black stumbling out to ringside and Rollins dared Black to touch him. Black didn't touch him. Dominick did an eye gouge to Murphy, which the referee didn't see as the referee checked on Rey. Mysterio with a dropkick into the ropes, then a 619 by Mysterio and Mysterio jumped off the top with a Frog Splash on Murphy for the pinfall win. It went about 14 minutes.
Winners by pinfall: Rey Mysterio and Kevin Owens
Analysis: ***1/4 This was a very good tag team match between four awesome workers and I liked the way the finish was booked. The faces had the numbers advantage, they were able to outsmart the heels and it was nice to see Dominick involved in the finish. Rollins has been terrific as the Monday Night Messiah heel that has good matches every time and is very entertaining in that role. Mysterio didn't wrestle for a few months, yet still moves as good as ever even in his late 40s. I'm always amazed by him. Owens did well in the match too and I hope he gets a meaningful feud soon.
Post match, Murphy was selling an eye injury while telling Rollins that it was Dominick that did it.
Mysterio said the stipulation for their match is Eye for an Eye. Mysterio said he would pull Seth's eye out with his bare hands and that's what he would call for a sacrifice. The announcers said that was an extreme, horrific stipulation that was fitting for the Horror Show name.
Analysis: What does that mean as a stipulation? I have no idea right now.
A replay aired from last week with MVP beating Apollo Crews in a non-title match last week. Post match, Bobby Lashley slapped on the Full Nelson on Crews to take him out.
MVP and Bobby Lashley were interviewed backstage by Charly Caruso. Lashley said that he broke Crews mentally, physically and spiritually, so Apollo's reign as US Champion will end soon. MVP said that he made the US Title famous. MVP said that the future of the US Championship is straight up ballin' and he ripped on Crews for disrespecting him in the past.
(Commercial)
Let's Hear from MVP and Bobby Lashley
The duo of Bobby Lashley and Montel Vontavious Porter made their entrance as the announcers mentioned Apollo Crews will defend the US Title against MVP at Extreme Rules.
MVP talked about how Apollo Crews walked around there thinking he was invincible, but there's nobody that's invincible around Lashley with the Full Nelson. MVP didn't like Crews turning down the mentorship of the greatest US Champion of all-time with MVP referencing himself for that. MVP said that when he beats Crews at Extreme Rules, he'll be the new US Champion.
There was a table in the ring that had a cover on it and MVP removed the cover to show off the brand new US Title.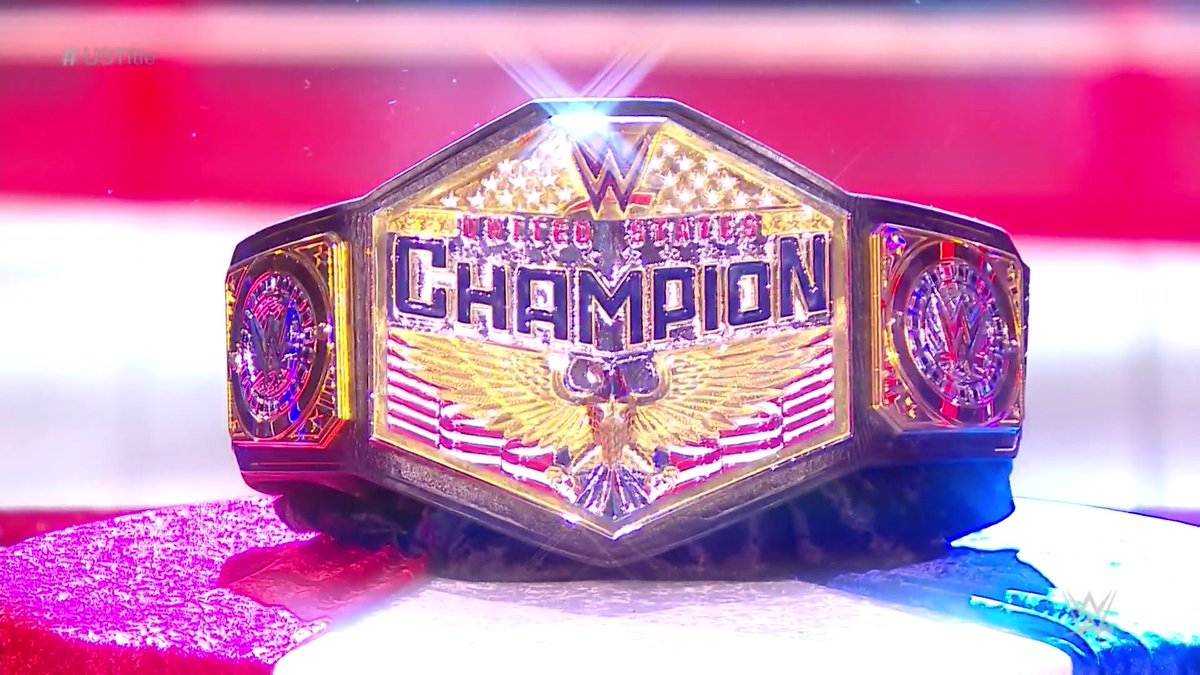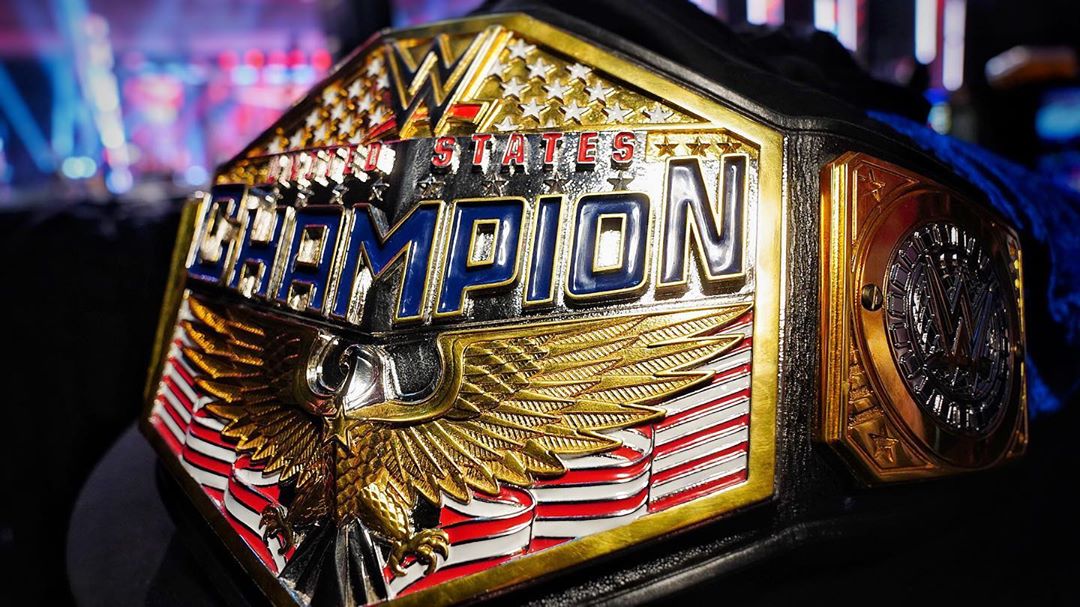 Analysis: I think the title looks pretty good. It's shiny and looks more golden than the previous title, which was really just the US flag. There is still part of the flag on the title, but this looks like it is more prestigious. Plus, it's got an eagle on there and that's always a good thing to put on a title.
MVP said that's the championship that befits a champion like him. Lashley said that it's official when Bobby said that it's official, so Lashley said that MVP is the new US Champion. Lashley put the US Championship around the waist of MVP.
Ricochet and Cedric Alexander showed up for the interruption. Alexander said that the US Championship looks pristine. Alexander said that MVP knows the struggle as a champion in WWE, so MVP should know that you have to earn championships here. Ricochet said that Apollo is going to be back real soon and when he does, he'll make sure this US Title fantasy comes to an end. Ricochet said that they hurt their friend Apollo, so they want to make the Hurt Business go Chapter 11, which is bankrupt. Ricochet and Alexander went after MVP and Lashley in the ring. They knocked MVP out of the ring followed by a dropkick on Lashley to send him out of the ring. That led to a break.
Analysis: MVP is not the new US Champion even though he unveiled the new US Title, which is official now. Apollo Crews is still the champion. Anyway, this was a typical booking situation by WWE where they use a promo to set up a match.
(Commercial)
This Wednesday on NXT, Candice LeRae vs. Mia Yim. Plus, a huge match with NXT Champion Adam Cole vs. NXT North American Champion with both titles on the line. I'm looking forward to that and will review it on TJRWrestling only on Thursday.
The match was about to begin with MVP wearing his suit for this match.
Bobby Lashley and Montel Vontavious Porter vs. Cedric Alexander and Ricochet
Lashley stomped away on Alexander against the turnbuckle. Alexander with a boot to the face, Ricochet tagged in with a leaping kick followed by Ricochet and Alexander each hitting enziguri kicks to the head. Ricochet tried a leaping attack, but Lashley punched him down and off the apron. MVP whipped Ricochet the steel steps and into the barricade. Lashley tagged back in with a running shoulder tackle on Ricochet followed by a neckbreaker for two. MVP tagged in with a boot to the face for a two count. Lashley hit a delayed vertical suplex on Ricochet for a two count. Lashley lifted up Ricochet leading to a flatliner, MVP tagged in and he got a two count as Ricochet got the left shoulder up. Ricochet broke free with a back right kick to the face. Alexander got the tag with kicks to the ribs, then a kick on Lashley and a running forearm. Alexander hit a Tornado DDT on MVP for a two count. Lashley tagged himself in followed by a forearm to the face of Alexander. MVP knocked Ricochet off the apron. Lashley hit a Spear on Alexander for the pinfall win after about six minutes. Great sell by Alexander on that spear.
Winners by pinfall: Bobby Lashley and Montel Vontavious Porter
Analysis: ** This was okay. I really like the Ricochet and Alexander team, but in a matchup like this you know they are just there to put over the other guys. Lashley looked impressive again even though he's not in a PPV match while MVP is. I thought MVP moved pretty well for a guy wrestling in dress shoes and a suit.
Post match, Lashley slapped the Full Nelson on Alexander for a bit. Ricochet managed to save his partner with a missile dropkick. MVP held the US Title on his shoulder even though he's not the official champion.
There were highlights from last week showing some tag team issues between Andrade and Angel Garza. Big Show beat them in a handicap match last week.
Andrade was shown backstage with Zelina Vega walking up to him along with Angel Garza. Andrade didn't seem interested. Ric Flair was there saying tonight is a big match. Randy Orton walked up saying that they are all third-generation wrestlers and Randy respected them both. Orton said when the time is right, Big Show is his. Orton said that if they do anything to mess that up, he will formally introduce them to the Legend Killer. Orton asked if they are good, they touched fists and that match is next.
(Commercial)
Asuka and Kairi Sane were interviewed backstage by Charly Caruso. Asuka said that after she beats Bayley tonight they will challenge Bayley and Sasha Banks for the Women's Tag Team Titles on Raw next week. Sane played their theme song on a recorder or whatever that instrument that was.
The entrances took place for the six-man tag team match.
Randy Orton, Angel Garza and Andrade (w/Zelina Vega) vs. Big Show and Viking Raiders (Erik and Ivar)
Show worked over Garza with chops and a headbutt. Show with another hard chop to Garza as Erik tagged in with a knee to the face. Ivar with a fist drop on Garza. Erik tagged in with a running shoulder tackle on Garza, then Show tagged back in and kicked Garza in the ribs. Show kept staring at Orton as Show hit another hard chop to the chest of Garza. Andrade tagged in against Ivar, then Andrade argued with Garza a bit and Erik slammed Ivar onto Andrade. Show slammed Erik onto Andrade for a two count as Garza broke up the pin. Garza argued with Andrade, so Orton told him to get his ass out there. Orton choked Garza against the plexiglass and he told him to focus, mentioned they are both third generation, Orton threatened to put his ass in the dirt and told him to get it together. That led to a break.
(Commercial)
The match continued with Andrade grabbing a headlock on Ivar. Orton tagged in with forearms to Ivar, then Garza tagged in and unleashed with a dropkick and a hard chop. Erik tagged in with a forearm followed by an overhead toss across the ring. Erik with a knee to the face with a big leg slap. Orton distracted Erik leading to Garza getting a shot to the face. Orton tagged in with uppercuts, Andrade back in with kicks to the ribs and Andrade stomped away on Erik. Andrade with a suplex on Erik. Garza with a running knee to Erik and Garza took off the pants to reveal the tights. Erik with a hard chop, but then Andrade tagged in leading to kicks to the face. The heels kept making quick tags as they worked over Erik. Erik broke free with two punches to Garza and Show got the tag with two clotheslines on Andrade. Show with a running corner splash followed by Show hitting a shoulder tackle on Andrade. Orton went for an RKO outta nowhere, but Show pushed him off and Orton went back to the apron. Andrade jumped on Show's back with a choke, but Show managed to sling off Andrade. Ivar tagged in, clothesline by Ivar on Garza, Erik tagged in, Orton made the tag and Andrade sent Ivar out of the ring. Orton slid into the ring and hit the RKO on Erik for the pinfall win after about 13 minutes.
Winners by pinfall: Randy Orton, Angel Garza and Andrade
Analysis: **3/4 This was a decent match with Orton picking his spot to get the win. It's not a surprise that Orton won since he is on a roll as a top heel. They also didn't give away any of Orton vs. Show since Randy avoided him the entire match. I also liked how Orton was the leader of his team as he made sure that Garza and Andrade focused on working together. The sad thing about this is that Viking Raiders went from being a dominant team to two guys that lose too much of late.
Post match, Orton had a staredown with Big Show.
Billie Kay and Peyton Royce were backstage talking about Kay facing Ruby Riott tonight. They thought Ruby had no chance. That's when Ruby showed up to call them dumbasses. Riott said that the sound of their voices makes her neck twitch a bit. Riott said that her focus is on them and that's very bad for Kay. Riott said it won't be iconic, it will be tragic.
MVP was shown talking to Cedric Alexander with MVP saying he did have some questions. MVP said that it takes a lot of heart to stand up to MVP and Lashley. MVP said he has always been impressed by Cedric, so he doesn't understand why Cedric is holding himself back. MVP said he doesn't see why Cedric is content being Ricochet's sidekick. Alexander said he can see what MVP is trying to do. MVP noted that Ricochet has a documentary on WWE Network while adding that Alexander is in the catering business because that's where he'll sit for the rest of his career watching other people being successful. MVP left with the new US Title that is not his.
Analysis: It could be a new storyline with Alexander. I think Cedric is a natural face, but if WWE wants to add more guys to MVP's stable then Cedric could work out because he's a really good in-ring performer. You could tell how much WWE loves using MVP because he's all over the show.
(Commercial)
Randy Orton was shown backstage with Ric Flair talking about how great Orton is. Orton said that a victory is a victory. R-Truth walked up to them with the 24/7 Championship. Truth said that the Dirtiest Player in the Game cleans up too nice and he thought it was Tozawa. That led to Tozawa and ninjas chasing after Truth. Orton pointed them in the wrong direction.
Ruby Riott entered for a match. Billie Kay of the IIconics is the opponent with Peyton Royce joining Kay at ringside. Royce beat Riott last week.
Billie Kay (w/Peyton Royce) vs. Ruby Riott
Riott with a back elbow and Kay hit a boot to the face. Kay put her boot to the throat of Riott. Kay with an overhead suplex for a two count. Kay with a submission where she put her knees into Riott's back. Riott broke free with a hard punch to the face. Some fake hair of Riott was in the ring so they threw it out. Riott used her feet to send Riott into the turnbuckle. Royce with a distraction, Kay with a boot to the face and Kay hit a sitout slam for the pinfall win after about two minutes.
Winner by pinfall: Billie Kay
Analysis: * The struggles of Ruby Riott continue. It was just like last week when Riott lost to Royce because of a Kay distraction. I think the story will be that Liv Morgan will be there for Riott in the future and then Riott will finally get a win.
Bayley and Sasha Banks were interviewed by Charly Caruso backstage. Banks accepted the Women's Tag Team Title match next week against the Kabuki Warriors. Bayley said she'll prove why she is the best champion in WWE and that was it.
(Commercial)
Nikki Cross was on commentary for the match since she faces Bayley at Extreme Rules. There were security guys there to escort Nikki out because Nikki is from Smackdown, but the announcers said that Nikki can stay.
Bayley and Sasha Banks made their entrance. They argued with Cross at ringside. Cross was very excited to be on commentary and she was excited to see Asuka. Speaking of Asuka, she made her entrance with her buddy Kairi Sane joining her.
Analysis: It's cool how a women's match main eventing a WWE show isn't that big of a deal anymore. It's happened so many times that it feels normal and feels right.
Asuka (w/Kairi Sane) vs. Bayley (w/Sasha Banks)
Asuka is the Raw Women's Champion while Bayley is the Smackdown Women's Champion. Neither title is on the line in this Champion vs. Champion match.
Bayley grabbed a headlock, Asuka with a shoulder tackle and Asuka went for an armbar, but Bayley got out of it and left the ring. Asuka tried a dropkick near the apron, Bayley kicked Asuka while on the apron and Bayley lapped Cross in the head. Security took Cross away. Bayley tried to attack Asuka, but Asuka hit a rising knee to the face leading to a break.
(Commercial)
Asuka was in control with an armbar followed by a hip toss and a kick to the back. Bayley got some momentum going with many pin attempts including a running clothesline for two. Bayley slapped on a chinlock. Asuka managed to get a rollup, but Bayley came back with a clothesline. Bayley sent Asuka to the floor, so Banks and Sane argued on the floor. Bayley went for a cheap attack, but Asuka was ready and kicked Bayley in the head. Asuka worked over Bayley with kicks to the chest. Bayley with a back elbow, a forearm and then Asuka bounced back quickly with a missile dropkick off the middle ropes for two. Bayley ran out of the ring, Asuka went after her and Bayley took advantage by giving Asuka a slingshot into the middle ropes. Bayley did it a second time into the ropes for a two count. Bayley jumped onto Asuka's back. Back in the ring, Bayley got a two count and then sent Asuka to the floor again. Bayley with a flapjack onto Banks onto the announce table. Bayley put a headset on to say that she's serving it up and it tastes so good. That led to a break.
(Commercial)
The match returned with Bayley still in control as she choked Asuka against the middle ropes. Asuka tried to break free, but Bayley shoved her into the turnbuckle. Bayley with a punch to the face. Bayley with a running back elbow and then Bayley buried her knee into the ribs. Bayley shoved Asuka in the face, then mocked Asuka's dancing and Asuka hit her with quick fists. Asuka with a kick followed by the double knees to the face like a Codebreaker. Asuka with a dropkick, a knee to the face, corner hip attack and a German Suplex. Asuka with a standing side kick followed by a running hip attack for two. Asuka went for a running hip attack on the apron, but Bayley caught her. Asuka came back with a spinning back fist with Bayley selling it as a big deal. It looked great. Asuka with another hip attack while Bayley was on the apron, so it knocked Bayley down to the floor. Asuka went for a running kick, but Bayley caught the leg and sent Asuka into the apron. Asuka with a kick to the back of the neck. Asuka went up top and hit a missile dropkick for a two count. They battled on the apron with Bayley sending Asuka face first into the top turnbuckle. Bayley with a running knee that crushed Asuka against the barricade. Bayley went over to Sane and she hit her with a forearm. Sane on the apron, Banks with a knee to the face and Bayley hit a belly to back suplex for two. Bayley set up Asuka against the bottom ropes, Banks got a bottle of water and Bayley spit some water in Bayley's face. Nikki Cross was in the crowd and was banging on the glass to distract Bayley. Asuka slapped on the Asuka Lock, Banks in the ring and Sane took her out, so there was no disqualification because they made no contact with the other women. Bayley countered the Asuka Lock submission, she covered (like when Banks pinned Asuka last week), but then Asuka countered into a cover of her own for the pinfall win after 24 minutes.
Winner by pinfall: Asuka
Analysis: ***3/4 This was an awesome match. It was a little bit slow in the first half, but as it got going I really got into it. What I also liked is that there was an unpredictability factor involved because it could have gone either way since Bayley and Asuka are both booked as strong champions. I like how the heel Bayley cheated a bit to get heat, then Asuka made the big comeback, Banks tried to get involved and Sane took her out, which led right to the finish. Bayley has really improved as a heel in the last few months because her trash talking makes up for the lack of a crowd. I find it easy to root against Bayley as a character because she's so obnoxious. Asuka is a great seller, plus her offense looks as credible as any woman in WWE. They delivered a very good main event match.
Asuka celebrated with her Raw Women's Title in the ring while Bayley and Banks looked sad at ringside. That was the end of Raw.
Three Stars of the Show
Heath Slater – I really liked his promo. Since he is rare to see on Raw, I'll give him first star because I don't know when or if we'll see him in WWE again.
Asuka
Bayley
Good stuff from Sasha Banks, Kairi Sane, Drew McIntyre, Seth Rollins, Rey Mysterio, Randy Orton and Kevin Owens as well.
The Scoreboard
7.25 out of 10
Last week: 6.5
2020 Average: 6.41
Final Thoughts
This was an enjoyable episode of Raw. I wasn't bored by much. I liked the appearance from Heath Slater, which led to Drew McIntyre looking like a more likable face after it was over. Star of the night is Heath Slater because he's the ONE MAN BAND! I think they built up the Extreme Rules card on the Raw side pretty well.
Asuka and Bayley got a lot of time in the main event. That was the best match of the night. There were some other very good matches too like Sane vs. Banks even with the DQ finish, Mysterio/Owens winning an entertaining tag team match and Randy Orton continuing his winning ways, this time in a tag team match. The rest of the matches were just average or really short.
There are some weeks where there is too much talking, but not enough action. I felt like they did a much better job this week. There was a nice balance of good in-ring action and promos that advanced storylines.
The next WWE pay-per-view event is The Horror Show at Extreme Rules on July 19 on WWE Network. Here's what we know so far.
Wyatt Swamp Fight (Non-Title): Braun Strowman vs. Bray Wyatt
WWE Championship: Drew McIntyre (c) vs. Dolph Ziggler – Ziggler gets to pick the stipulation.
Raw Women's Championship: Asuka (c) vs. Sasha Banks
Eye for an Eye: Seth Rollins vs. Rey Mysterio
Smackdown Women's Championship: Bayley (c) vs. Nikki Cross
United States Championship: Apollo Crews (c) vs. MVP
—
You can contact me using any of the methods below. Be safe and smart out there.
Thanks for reading.
John Canton
Email: mrjohncanton@gmail.com
Twitter: @johnreport
Personal Facebook and TJRWrestling on Facebook