TJR: NWA Powerrr 10/08/19 Review (Series Debut)
Welcome to the first-ever NWA Powerr Review right here on TJRWrestling. It's available on Youtube with the original live showing taking place on Tuesday at 6:05pmET with a runtime of one hour. You can also watch it on-demand after it's over. I'm going to give it a try because I like how the National Wrestling Alliance has grown in the last few years. I want to support Owner Billy Corgan, David Lagana, Nick Aldis and others involved with this.
I'm not sure why they call it NWA Powerrr with three R's instead of just one R, but that's the name of the show.
They had tapings recently that will cover about two months. I didn't read the spoilers. I'm watching on Youtube. I'll post the link to the episode at the bottom of this review. Let's see what they can do.
This show was taped at GPB Studios in Atlanta, GA.
The opening of the show featured clips of some of the key NWA wrestlers including Nick Aldis, Tim Storm, Eli Drake, James Storm, The Wild Cards, Jocephus and others as well. You can watch it here.
Into the 🔥🔥🔥
Thank you to @Dokken

Watch #NWAPowerrr now!https://t.co/KRs4DyDI4N#ThisIsTheNWApic.twitter.com/vc5v5L8quG

— NWA (@nwa) October 8, 2019
The announce team is Joe Galli with Jim Cornette. That led to Cornette talking about classic studio wrestling calling NWA action decades ago and now they are back in Atlanta with NWA Powerrr. They spoke about the matches coming up in the show.
This was taped in a TV studio. There are maybe 200 people or so in attendance. It's not a big crowd, but they were making a lot of noise and that helps.
David Marquez was on a side set where he interviewed NWA Worlds Champion Nick Aldis and his valet Kamille. Aldis said an incredibly brilliant handsome man once said it's so hard to be humble (Ric Flair reference). Aldis said he's coming up on one year – 365 days – as the Real World's Champion and sometimes it's so hard to stay hungry. Aldis said that they think about how far they've come from a punchline to a headline and he knows the people in the crowd are fired up. Aldis talked about their other champions the Wild Cards, James Storm and Alysin Kay. Aldis said there men and women gunning to the best. The men are gunning for the 10 Pounds of Gold, the NWA Worlds Heavyweight Championship. Aldis said he respects Tim Storm as much as any man in this line of work. Aldis said that every meal that he has put on his son's dinner table has been paid for by professional wrestling, so if you think he's going to do the J.O.B. in the ATL then you've got another thing coming. Aldis said when this is all said and done, you will know why he's the National Treasure and the NWA Worlds Champion. The fans cheered.
Analysis: I thought it was a great promo. Aldis has a lot of passion for the NWA as one of the guys that has really helped put the NWA back on the wrestling map, so when he speaks with conviction as he did in this promo it's easy to believe it.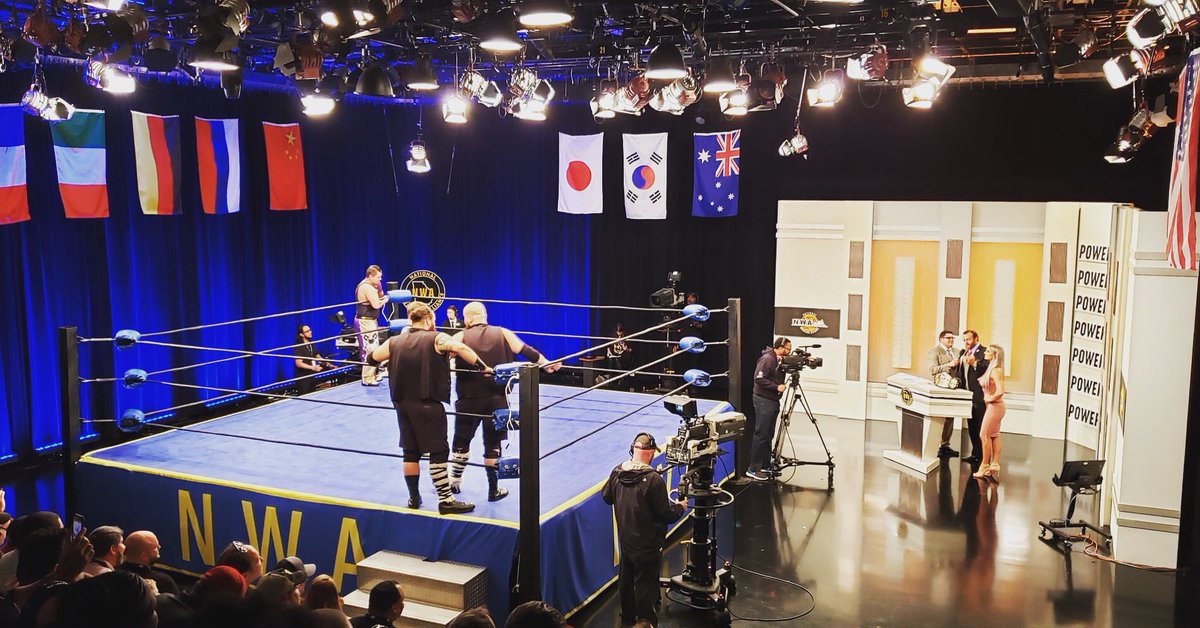 The wrestlers were in the ring for the first match.
Analysis: I feel like they could have done a better job of getting to the first match by letting us know more about the wrestlers. Show the wrestlers walking to the ring. Have the announcers tell us their name, some background and that way it gives us some familiarity with them. There was a graphic that had the wrestler names on them, but we need to know more. Either have them do a quick pre-tape promo or have the announcers give us more info. You can't just assume the audience knows.
The Dawsons (Dave and Zane Dawson) vs. Sal Rinauro and Billy Buck
The Dawsons are twin brothers. There was an elbow to the face of Rinauro. Zane Dawson is the Dawson that has hair. Rinauro slapped Zane, Buck tagged in and Zane decked him with a clothesline. Dave threw Buck towards Zane, who caught him and Dave ran into them so it was like they squashed the guy nd then Zane hit a powerslam for the pinfall win after two minutes.
Winners by pinfall: The Dawsons (Dave and Zane Dawson)
Analysis: 1/2* Easy win to establish the Dawsons as a formidable tag team in the NWA.
The Dawsons were interviewed by Dave Marquez on the interview set as the fans booed them. The Dawsons said you just got a little bit of what they are all about. Sane said they own this world now and they are there to fight everybody. Dave said that they are the two guys that you turn the other way when you see in the alley. Dave said they bullied you for your lunch money and it's time to get reacquainted with the Dawsons. The fans booed.
Analysis: Basic bad guy bully promo. It was a fine way to introduce us to who the Dawsons are. We could have used something like that before the match too.
There was a promo from Austin Idol plugging UniversalWrestlingCollege.com as a promotional advertisement.
Eli Drake, who is a former World Champion in Impact/TNA, was interviewed by Joe Galli. Drake sucked up to the crowd saying they were in Atlanta, GA, which drew cheers and he did his routine where he said "YEAH" repeatedly. Drake said that everywhere you look in the wrestling business today, you've got children running around, but here you have grown men who want to be champions. Drake said that you see men like James Storm and Nick Aldis carrying gold belts with Drake saying he's been doing this for 16 years. Drake said he's going to come away with a title and that's not an insult because that's a fact of life.
Analysis: Drake is an excellent promo guy. You can tell he's a fan of Steve Austin by the delivery of his promo. He's very polished as a talker whether he's a heel or a face. He should get promo time every week because he knows what he's doing out there when he gets a chance to speak his mind.
This is what #NWAPowerrr is about.

Real man stepping up and speaking on who they are…

This is… E…LI… DRAKE

(@TheEliDrake)

Watch now – https://t.co/KRs4DyDI4Npic.twitter.com/WE65ody9DP

— NWA (@nwa) October 8, 2019
Eli Drake vs. Caleb Konley
Drake with a shoulder tackle. Konley came back with a couple of nearfalls and a dropkick to send Drake to the turnbuckle. Konley with a monkey flip across the ring, but Drake blocked another attempt. Konley missed a corner attack and Drake hit a neckbreaker. Drake hit another neckbreaker for a two count. The fans cheered for Drake and chanted "Eli" for him. Konley came back with a chop, Drake with a drop toe hold, knee to the face and a slingshot into a shoulder tackle for two. Drake charged, Konley got the forearm up and hit an enziguri kick to the head. Konley with a kick to the chest. Konley with another kick to the head and a corkscrew splash over the top rope for a two count. Konley with both feet to the sternum of Drake and he kicked him down. Konley went up top for a moonsault, but Drake got the knees up to block. Drake hooked Konley on his back and dropped him with the Gravy Train slam for the pinfall win after four minutes.
Winner by pinfall: Eli Drake
Analysis: **1/4 They had a solid match with Drake getting the predictable win since he's the bigger name. Konley got in a decent amount of offense, but there wasn't a point in the match where it appeared as though he might win. I think Drake is clearly one of the better guys in the company and the crowd reaction for him was strong. He will do well as a face or a heel.
A video aired to show how Nick Aldis vs. Tim Storm was set up for this show.
Jocephus showed up at ringside and he bothered the announcers Galli and Cornette saying he wanted Storm out there right now.
There was a video promoting the next Powerrr tapings December 14-16 in Atlanta with fans talking about how much fun they had at the tapings. That "it's real to me" fan from many years ago was in one of the videos.
Jocephus was still wreaking havoc around ringside asking for Storm. That led to James Storm showing up and letting Jocephus know that he's the only Storm he has to worry about. Storm said guys like Jocephus could never travel the world the way Storm has done. Storm told him to get off this TV set, quit trying to play star and leave it to the real star. Storm told Jocephus he was nothing but a joke. The referees showed up to break it up. The fans chanted "let them fight."
Analysis: It was a simple way to set up a future match between them.
The Wild Cards (Thom Latimer and Royce Isaacs) vs. Danny White and Mims
The team of Latimer and Isaacs are the heel NWA Tag Team Champions. Latimer was known as Bram in TNA. Latimer and Isaacs were very aggressive taking out both guys. Latimer hit a Spear on Mims leading to a spinning bump from Mims. Isaacs beat up Mims some more, sent him to the turnbuckle and White tagged in. Latimer with a Popup Powerbomb on White. Isaacs hit a German Suplex on White and that was enough to get the pinfall win after about two minutes.
Winners by pinfall: The Wild Cards (Tom Latimer and Royce Isaacs)
Analysis: 1/2* It was a simple match to put over the NWA Tag Team Champions as an introduction to the audience. That's fine because it's the first show.
Latimer and Isaacs were interviewed by Dave Marquez after the match. They reminded us they were the champions. Eddie Kingston showed up said he's not there to disrespect Bram…Tom…and Royce. Kingston told them to show some respect and let him speak. Kingston said those titles look great on them, but in his world that means nothing to him. Kingston said that they know for a fact that they don't speak for the outlaws of the world. That led to an argument between the guys and Homicide showed up as Kingston's tag team partner.
Analysis: I like Kingston and Homicide as a team. They're veterans with a lot of experience.
There was also a brawl going on between James Storm and Jocephus. The fight was broken up quickly. That led to a match.
James Storm vs. Jocephus
When Jocephus charged, Storm hit him with a superkick and pinned Jocephus in about seven seconds.
Winner by pinfall: James Storm
After the match, Storm hit another superkick and then put Jocephus' thumb in his own mouth to humiliate him.
Analysis: There's no point in rating the match. Storm is the NWA National Champion, so it was a way to showcase him especially because he's familiar to the audience.
There was a video package about current NWA Champion Nick Aldis and Tim Storm, who was the former champion two years ago. Storm is also a schoolteacher, husband and even a grandfather. On December 9, 2017, Nick Aldis beat Storm to become the NWA Champion. The stipulation for this Aldis vs. Storm match is that if Storm loses then he won't get another shot at the NWA Title.
Tim Storm was interviewed at ringside. Storm said that what defined wrestling for him was the NWA at 6:05pm on Saturdays. Storm said that he's got a 94-year-old mom at home and he's still Mama Storm's baby boy. Storm said that he carried that NWA Title with style and class for over 400 days. Storm said that he thinks Nick Aldis is probably the best champion in wrestling today. Storm said Aldis didn't have to give him another chance, but he decided to give one more opportunity. Storm said he's going to do it because there's nothing in professional wrestling more important to him than the NWA Championship. Storm quoted some of the Eminem "Lose Yourself" song about not letting an opportunity slip through your fingers. Storm said he can't lose and he said there's nothing more important to him than that title.
Analysis: It was a believable promo from the former NWA Champion. The fans clearly knew his story and were solidly behind him going into the main event.
Next week: NWA Women's Champion Allysin Kay will be in action.
Nick Aldis made his entrance with his valet Kamille at ringside. Kamille is dating Thom Latimer (check her Instagram), who is also in the NWA, and Thom is one of Nick's closest friends. That's the connection there. This is Aldis' second NWA Title reign and he's held the title for nearly one year during this reign. Storm is 54 years old. Aldis is 32 years old. Aldis is more of a heel champion while Storm is the aging babyface former champion in this scenario.
NWA World Heavyweight Championship: Nick Aldis (w/Kamille) vs. Tim Storm
Storm showed off his power with some hard chops and Aldis sold it well. Storm with a punch to the head that led to Aldis bailing to the floor. Storm went after Aldis with a forearm to the back. Aldis whipped Storm into the steel ring post to take control. Aldis sent Storm back first into the side of the ring. Aldis with a body slam and elbow drop for two. Storm went off the ropes, Aldis with a chop and a Ricky Steamboat-like pose after that. Aldis grabbed a headlock to ground Storm. When Storm got back up, Aldis applied a sleeper hold, but Storm countered by sending Aldis face first into the turnbuckle. Storm with two elbows to the head and a boot to the head. The fans came alive in support of Storm. When Aldis tried a submission, Storm grabbed an inside cradle for a two count. Storm slapped on the Figure Four Leglock submission, the fans cheered and Aldis managed to get to the bottom rope to break the hold. Aldis with a back elbow, but Storm came back with a punch. Aldis went to the top and Storm hit a superplex with Storm on the middle ropes and that got a two count. That was not the most perfect looking suplex, but it got the job done. Storm went up top and hit a cross body block with a two count. The fans chanted "Perfect Storm" for the veteran Storm. Storm to the middle ropes, he tried a Swanton, but Aldis moved and Storm hit the mat. The fans chanted for both guys. Aldis went up top and hit an elbow drop to the back of Storm. Aldis slapped on the King's Lynn Cloverleaf submission on Storm in the middle of the ring. Storm tried to crawl to the bottom ropes, but Aldis pulled him to the middle of the ring. The fans were chanting "Mama Storm" for Tim and then Storm crawled to the bottom ropes to break the hold. That was well done by both guys. Aldis picked up Storm, who pushed Aldis into referee Brian Hebner and Storm hit a low blow punch that the referee never saw. Storm hit the Perfect Storm (Bossman Slam) for a two count. The fans bought that as a nearfall. Storm went up top again, Aldis went after him and Storm hit a headbutt to knock both guys down. Aldis went for a punch on Storm on the floor, but Storm moved and Aldis hit a clothesline on Kamille by accident. Storm sent Aldis into the ring post. Back in the ring, Storm wanted a suplex, but Aldis countered into an inside cradle for the pinfall win after about 12 minutes.
Winner by pinfall: Nick Aldis
Analysis: ***1/2 It was a very good match with some cool moments like the Cloverleaf submission that nearly ended the match, Storm hitting the low blow that almost led to the win, the spot with Kamille getting knocked down on the floor and then Aldis countering with a perfect inside cradle to win the match. I think this was smart to have as a main event match on the first show. It firmly shows that Aldis is the top dog now and that Storm still had something left even as an older guy in his 50s. The crowd response to the match was encouraging as well. It made it fun to watch.
After the match, the fans cheered for both guys and chanted for Storm out of respect.
Nick Aldis was interviewed after the match. Aldis said that the NWA stands for National Wrestling Alliance, but it also stands for Never Without Authenticity. Aldis said that he's proud of Storm and if it is their last fight for the NWA Title then so be it. Aldis said that Storm is a hell of a man. The interviewer asked Kamille how she felt about that clothesline she took, Aldis said she feels fine. Aldis said he's the World Champion and Joe can save his clickbait stuff for another day. Aldis walked away as the fans applauded both guys for their performance.
Analysis: Good promo from Aldis that was face-like in terms of crediting Storm for putting on a nice showing, but then Aldis also showed a heelish side by not letting Kamille talk. That's a storyline they can continue to tease in the future.
"Save your clickbait for someone else…"@RealNickAldis to @JoeGalliNews when he pressed @KamilleBrick for a comment.

If you missed #NWAPowerrr, replay available NOW!https://t.co/KRs4DyDI4Npic.twitter.com/3xkJQr6r4F

— NWA (@nwa) October 8, 2019
The credits rolled and the theme song of the show played. That was the end of the show after 58 minutes.
You can watch it all here:
https://www.youtube.com/watch?v=aegl1dWAT_8
Final Thoughts
It was a solid debut show with an old school feel to it thanks to the set, the graphics and the theme song, which was catchy.
The matches were mostly short except for the main event, which was a competitive showing where Aldis beat Storm in a match the fans treated as a big deal.
They did well in terms of establishing that Aldis, James Storm and Eli Drake were three of the biggest stars in the company mainly because most fans watching will know them from their TNA/Impact days.
I'm a big fan of doing the promos on the side staging area. I like doing them right after the match too. However, some of the characters need more of a background given to them. As I said for the first match, if you saw the Dawsons for the first time then you would have had no idea what each of their names were.
I liked the announce team of Galli and Cornette. They worked well together. Cornette has a lot of credibility as somebody with over 30 years of experience in the wrestling business. I know he can be controversial, but on a show like this, he's perfect for what the NWA is. His reactions to everything on commentary is how a wrestling announcer should be.
I think the ease of availability by putting the show on Youtube and Facebook will be great for the show. They had over 25,000 views on Youtube about an hour after the show aired. Word of mouth can go very far in the world of pro wrestling.
If you went into this knowing what the old NWA studio shows were about then you probably liked it a lot like I did. If you are only used to big arena pro wrestling shows from other companies then it was probably a surprise to you. I like the way it looked, felt and was presented. Different is good in today's wrestling world and we need more of that. Well done by the NWA crew. I'll be back next week with another NWA Powerrr review. Roll those R's, my friend.
—
You can contact me using any of the methods below. Go Los Angeles Rams.
Thanks for reading.
John Canton
Email: mrjohncanton@gmail.com
Twitter: @johnreport