The John Report: WWE Smackdown Live 05/21/19 Review
Live from Providence, Rhode Island, this is Smackdown Live for episode #1031. Follow me on Twitter @johnreport. Thanks to Melo Man for the banner up top. This review is sponsored by ICOPRO. Please visit TJRWrestling.net daily for our regular updates on the wrestling business featuring WWE news coverage along with reviews about wrestling's past and present.
The show began with Shane McMahon talking on his phone in his office. Elias showed up to apologize about what happened at Money in the Bank. Elias complained about losing focus at Money in the Bank, then the bell rang and he felt like he let Shane down. Elias said that Shane and his family deserve better. Elias said he would be in Shane's corner at Super Showdown, but Shane said he didn't need help and Shane told Elias he will be in his corner when Elias faces Roman Reigns. Elias told Shane he was going to wait for Roman to arrive.
The New Day trio were back in full force with WWE Champion Kofi Kingston and Xavier Woods on the stage. Kingston will face Sami Zayn. Kingston said this is a special night. Woods said that after six weeks it's the return of Big E and the fans cheered for the big man that had a knee injury. There was a drum roll and an unveiling, but it was not Big E. It was some other black guy that worked for WWE. Woods said that he looked like Big E was left in the dryer, so they told the guy to go to the back. They introduced the real Big E and it really was him this time. Big E had a knee brace on his left knee, but he looked to be in good shape as usual.
Analysis: Good to see Big E back after knee surgery put him on the shelf for six weeks. It wasn't that long on the injured list, but he was missed. Big E is also one of the funniest guys in WWE, especially on Twitter.
The ring was filled with pancakes along with a "Welcome Back Big E" sign. Highlights were shown from Money in the Bank when Kofi Kingston beat Kevin Owens to retain the WWE Title. The Smackdown announcers are Tom Phillips, Corey Graves and Byron Saxton as usual.
Let's Hear from The New Day
Big E smelled Xavier's hair and then he sniffed Kofi's underarm per request. Woods mentioned Big E wasn't medically cleared to wrestle yet. Big E said he missed his boys and the WWE Universe. Woods spoke about Big E taking over Twitter, then Big E wanted to tweet, Woods told him he can't get Becky's mom and Big E said he wanted her. Kofi told his boys that he's supposed to be serious now. Kingston mentioned Lesnar is Mr. Money in the Bank, which drew boos and then Woods reminded us that Kingston is still the WWE Champion. Kingston said tonight is about Big E being back.
Kevin Owens showed up for the interruption as he stood on the ramp in a KO shirt and jeans rather than his regular ring gear. Sami Zayn also made his entrance to join Owens on the ramp.
Sami Zayn said that this was absolute nonsense for Big E being out for six weeks. Zayn said that he was gone for nine months and he didn't get anything when he came back. Big E told "Sam" he'll give him what Owens got at Money in the Bank….nothing and all three New Day guys said "nothing" together like a song. Owens was about to talk, but he gave the microphone to Zayn and left.
Zayn said that Owens was distracted at Money in the Bank because Zayn was beaten up backstage. Zayn said that this celebration is disgusting with their Booty O's, pancakes and hip swivels. Zayn said that people should take accountability for the toxic culture they have created. As Zayn tried to speak, Woods played the trombone to interrupt leading to "New Day Rocks" chants. Zayn said to mark his words that their night is not going to end in fun. Zayn said he'll beat Kofi in front of his friends and these trash people.
Kofi told Sam not to let the smiles and the pancakes fool him because when they throw down, they throw down. Kofi said that not only is he going to walk on his own feet, but he's going to walk right through Sami. Big E set up the "New Day Rocks" chants to the end of the promo.
Analysis: There were some funny moments there with the New Day guys. I like their comedic timing. Zayn did well in terms of his promo as well where he did the usual bit about ripping the fans. The Kingston/Zayn match was already announced before the show, so it's not like this set up a match. It was just a way to welcome back Big E to the show and Zayn got some heat for his promo.
Carmella was shown walking backstage. Drake Maverick asked if she has seen R-Truth, she walked up to Crews who said he was looking for Truth and Carmella found Truth with a blonde wig on his head. Truth thought the 24/7 Title was his for good. Carmella said that cheap wig isn't going to do it and Truth said that the wig wasn't cheap because it cost $12. Truth asked for her help, so Carmella said she would help him and they left.
Ali made his entrance. They showed how close he was to winning at Money in the Bank, but Brock Lesnar showed up, shoved him off a ladder (after Ali stopped reaching for the briefcase) and Lesnar won the Money in the Bank contract in the briefcase.
A commercial aired for Super Showdown on June 7 promoting The Undertaker vs. Goldberg. The promos for the show are saying that it will be "as good as or exceed WrestleMania" and it's ridiculous. I'm not saying that WrestleMania was a 10 out of 10 type of show, but in terms of importance, it is way bigger than Super Showdown. I realize WWE was paid a lot of money for the Saudi Arabia shows, so they were likely instructed to phrase it that way, but it's so awkward to listen to it on every show.
(Commercial)
The end of Andrade's entrance was shown with Zelina Vega by his side. Andrade challenges "Demon" Finn Balor for the IC Title at Super Showdown.
Ali vs. Andrade (w/Zelina Vega)
Both guys had kinesio tape on their bodies after taking some brutal bumps at Money in the Bank. Andrade did his tranquilo pose in the ropes with Vega. Ali charged and Andrade crushed him with a clothesline. Andrade tried a slam, but Ali came back with a reverse hurricanrana that spiked Andrade on his head. Ali went to the middle ropes, Vega yelled at him to distract and when Ali jumped off the ropes, Andrade hit a dropkick on him to knock him down. That led to a break.
(Commercial)
The match returned with Ali avoiding a charge and hitting a satellite DDT off the ropes. Andrade rolled out to the floor, so Ali hit a suicide dive to the back of Andrade to knock him down. Ali hit a somersault dive over the top onto Andrade on the floor. That was impressive. Ali was favoring his back injury a lot. That's where he had the kinesio tape. Andrade got back in the ring first, Ali went to the apron and Andrade hit a running shoulder tackle that sent Ali off the apron into the barricade. When Ali got back in the ring, Andrade stomped on the back, two suplexes and Andrade did a body slam into the turnbuckle to continue to work on Ali's back. Andrade whipped Ali into the barricade. Andrade drove Ali back first into the ring post. Andrade grabbed Ali and launched him over the barricade by the timekeeper's area and Ali landed hard on the floor. That was a loud thud when he landed. Ali crawled his way to the apron as the count reached nine, but Ali crawled back into the ring and the crowd popped big for it. Andrade put Ali's face against the turnbuckles and hit a double knee attack to the upper back of Ali for a two count as Ali got his right shoulder up. Andrade grabbed Ali, he tried to pick him up for a slam, but Ali tripped him up into a cradle pin that was good enough for the three count victory after 12 minutes.
Winner by pinfall: Ali
Analysis: ***1/2 That was really good. It's fun to watch a match like this featuring two young guys that are given time to tell a story and as the match progressed, the crowd got more into it. They bought into those near countout finishes as if they were going to end the match, which is exactly the response you want to see. Ali sold that back injury so well. Andrade's aggressiveness was good to see as well. The result was a bit of a surprise since Andrade is facing Finn Balor at Super Showdown for the IC Title, so they'll probably do a rematch next week with Andrade getting the win back. That's just how WWE booking is these days.
The announcers put over the performance of Ali while plugging the matches that are still to come.
Carmella was backstage with R-Truth, who was in a blonde wig as well as an outfit like what Carmella would wear. Truth said something was missing, so she gave him a bra and we are supposed to think that Truth was going to put that on. Oh, the comedy.
Mandy Rose made her entrance with Sonya Deville. Don't go to commercial, jerks…but they did go to commercial.
(Commercial)
A video package aired about Lars Sullivan showing the destruction he has caused in recent weeks.
Carmella made her entrance with 24/7 Champion R-Truth joining her. Truth was dressed like Carmella. I can update you that Truth wasn't wearing the bra. That's key info.
Mandy Rose (w/Sonya Deville) vs. Carmella (w/R-Truth)
The story was that Rose kicked Carmella in the knee at Money in the Bank, which led to Carmella leaving the match briefly, but then she came back and Carmella wasn't selling the injury here. Carmella tackled Rose with punches. Rose left the ring. Carmella brought Rose into the ring and hit her with a superkick. Carmella brought Deville into the ring, which led to Rose getting a rollup on Carmella for a two count. Superkick by Carmella. Several male wrestlers from the back ran down to the ring, so R-Truth took off while giving Carmella a piggyback and that was the end of this match. It went about two minutes.
Match Result: No Contest
Analysis: 1/4* It was just an angle to build up the 24/7 Title, which is already a joke. Carmella and Rose barely got any time to have a match. That might not be a bad thing, though. I don't mind either woman, but I don't know if they would have had a good match if they got more time.
R-Truth went running with Carmella into the crowd and into a hallway. The cameras didn't follow them, so that was the end of the story. Saxton said the R-Truth disguise didn't work. Shocking.
Bayley was interviewed backstage by Kayla Braxton, who is so short it makes Bayley look like a giant. I guess that's why they hire short interviewers. Bayley said that at Money in the Bank, she created her opportunity and made it impossible for anybody to doubt her. Bayley said that she has moved past the hugs and she wants everybody in that locker room to bring their best.
R-Truth and Carmella went running backstage. They went into the Female Locker Room, the women screamed and Truth left with Carmella. Some of the wrestlers chasing after Truth were Bo Dallas, Curtis Axel, Matt Hardy, Akira Tozawa, Apollo Crews, Brian Kendrick, Jinder Mahal (two years ago he was WWE Champion) and Drake Maverick, who had set up the flyers looking for Truth in the storyline. Sami Zayn was standing there and then he walked towards the ring for his match.
Analysis: I feel bad for Matt Hardy and Apollo Crews the most out of that group chasing after the comedy title.
(Commercial)
Elias was shown backstage playing his guitar in the parking lot because he was waiting for Roman Reigns to arrive.
Sami Zayn made his entrance with Phillips reminding us that the Wild Card Rule was in effect. Zayn did his ridiculous dancing, which is funny.
There was a shot of Big E backstage with Woods, Kingston and referees checking on him. Big E said "Owens" so the idea is that Kevin Owens was the one that attacked him.
Analysis: It's a way to give Big E more time to get back into the ring. He can travel now, but it might be a few more weeks until he can wrestle.
Kofi Kingston made his way down to the ring with a serious look on his face because he was mad about Big E getting attacked. Sami Zayn was smiling about it, so the announcers theorized that Zayn knew about the attack on Big E.
Kofi Kingston vs. Sami Zayn
This is not for Kofi's WWE Title.
Kingston attacked with punches, Zayn bailed to the floor and Kingston hit a clothesline on the floor. They went back into the ring with Zayn giving Kingston a back body drop over the top to the floor. Zayn whipped Kingston into the steel steps and then did a mock celebration to taunt the crowd. They went back into the ring where Kingston hit a missile dropkick and Zayn bumped to the floor leading to a break.
(Commercial)
The match returned with Zayn hitting a superplex off the top rope. It was mentioned by Phillips that Xavier Woods has gone with Big E to a "local medical facility" because hospital is a banned word for some reason. Vince is crazy. Kingston came back with a running forearm leading to punches. Zayn with a running double foot stomp to the chest of Zayn. Kingston went for a Trouble in Paradise kick, Zayn avoided it, Zayn wanted a Blue Thunder Bomb, but Kingston avoided that and Kingston hit the Trouble in Paradise kick to put Zayn down for the pinfall win after eight minutes.
Winner by pinfall: Kofi Kingston
Analysis: **1/2 It was a good match from two of the better wrestlers in WWE. I the match was done this way to show a more intense side of Kofi instead of the pancake throwing, happy personality that he usually has. Kofi showing a more intense attack in the ring is better for him and will lead to people taking him more seriously as the WWE Champion. The frustrating thing about this booking is that Zayn loses every match he has or gets beat up before a match, so he looks like such a loser. I wish he was booked better.
Kingston was celebrating with the WWE Title. Paul Heyman showed up with the Money in the Bank briefcase with Kingston looking nervous that Brock Lesnar may show up. There was no Lesnar, but there was Dolph Ziggler with an attack from behind.
Dolph Ziggler worked over Kingston with punches. The announcers wondered what he was doing and when was the last time we saw him (the Royal Rumble I think). Ziggler grabbed Kingston, took him to the apron and drove the side of his head into the ring post. Ziggler stretched Kingston's body against the turnbuckles. Ziggler whipped Kingston into the announce table. Ziggler wrapped a steel chair around Kingston's head and whipped Kingston's head into the announce table. After several minutes of this attack, referees finally went out to ringside to try to break it up. Ziggler was checked on WWE medical personnel, which were really indy wrestlers because no doctor is going to have haircuts that bad. Ziggler stomped on the chair that was around Kingston's head. Ziggler left with a serious look on his face.
Kingston was placed on a stretcher while the announcers used SERIOUS VOICES~! to put over the seriousness of the attack. There were also some shots of some fans looking concerned at ringside. Kingston was wheeled away on a stretcher.
When the stretcher was on the stage, Kingston wanted to get off it and he did get off it, which led to cheers from the crowd. Kingston managed to limp his way to the back.
Analysis: Welcome back, Dolph. That was an unexpected attack from Ziggler, who has been off WWE TV for about four months to focus on his comedy career. The attack with the chair against the announce table looked vicious. Ziggler hasn't been booked to be that serious for most of his career, so it felt new for him. He did well. The other story is that Big E was taken to the "local medical facility" with Woods joining him, so the other New Day guys weren't there to save Kingston. Nobody else attempted to save Kingston and the referees took several minutes to try to save him.
(Commercial)
There were replays of Kofi getting attacked by Ziggler. The announcers had no idea why Ziggler did what he did. The announcers informed us that Kingston was helped to the trainer's room.
Roman Reigns was shown arriving in the parking lot. Elias was on top of a truck in the parking lot with his guitar as he did a song ripping on Providence for some cheap heat. Elias sang a song about how Reigns was jealous of his soul and heart. Elias said it was time to take the Big Dog for a week.
The entrances took place for the women's tag team match with Lacey Evans from Raw. Charlotte Flair was next and she is a 9-time Women's Champion after her very brief reign at Money in the Bank. Two tall blonde women on the same team is a Vince McMahon Dream Team.
Becky Lynch was interviewed behind the curtain by tiny Kayla Braxton. Lynch said it doesn't feel right without her Smackdown Women's Title, but if somebody must walk around with it without beating her, she's glad it is Bayley. That led to Bayley saying she would love to be Bayley Two Belts. They did some friendly trash talk.
Becky Lynch made her entrance with the Raw Women's Championship. Corey Graves complained about the introduction for Lynch mentioning that she won the main event of WrestleMania. Bayley made her entrance as the Smackdown Women's Champion to set up this tag team match.
(Commercial)
This match is sponsored by Golden Corral. I don't think I've ever eaten there. Not in Canada.
Charlotte Flair and Lacey Evans vs. Becky Lynch and Bayley
Bayley sent Flair face first into the turnbuckle. Flair avoided a corner charged and kicked Bayley in the back of the head to knock her down. Evans tagged in with a chinlock. Flair went back in, Bayley sent her out of the ring and Flair tripped up Bayley on the apron. Evans tagged in with kicks to the chest of Bayley and Flair went back in the ring with a hard chop on Bayley. Clothesline by Bayley on Flair and Flair rolled out of the ring again. When Flair tried to trip up Lynch, it didn't work and Lynch got the tag. Lynch with a forearm off the apron onto Flair on the floor. Lynch with a dropkick followed by a jumping kick to the face. Lynch kicked Evans off the apron. Lynch with a forearm off the middle ropes followed by the Bexploder Suplex to Flair. Flair with a backbreaker, then she sent Lynch face first into the turnbuckle. Lynch broke free, kicked Evans and Flair hit a boot to the face. Lynch countered a Figure Four attempt with a kick into the turnbuckle. Flair rolled through and got her hand on the ropes for the pin attempt. Lynch went for the armbar, but Evans dropped her with the Woman's Right punch to the face. Lynch landed near her corner, so Bayley tagged in with a knee that knocked Evans to the floor. Flair tried a Figure Four on Bayley, but Bayley countered to an inside cradle for the pinfall win with Flair kicking out right after the three count to make it look close. The match went about seven minutes.
Winners by pinfall: Becky Lynch and Bayley
Analysis: **3/4 That was a fun match where Flair worked most of it for her team because Evans is still new on the main roster. Bayley getting the win was the right call to continue her momentum after winning the SD Women's Title at Money in the Bank. Flair got beat by a cradle counter just like her boyfriend Andrade did earlier. It was also nice to see a seven-minute match without a commercial break in the middle of it, so we could see all of the match. They need to do a better job of that in the future.
Post match, Flair was furious about the loss while Bayley and Lynch engaged in some more friendly trash talk.
There was a shot of 24/7 Champion R-Truth running backstage with Carmella where Jinder Mahal went up to him and got a rollup while a referee was nearby. The B Team duo of Curtis Axel and Bo Dallas attacked Truth from behind with Dallas going for a pin, but Axel pulled him off. They argued with eachother about it. Truth beat up both guys and ran away.
Analysis: When I review the WWF in 2000 shows, they did the same things with the Mean Street Posse. What a fun and interesting storyline. Now that's sarcasm. Can we get better booking for other titles? That would be nice.
Still to come is Roman Reigns vs. Shane McMahon.
(Commercial)
There was a video package about Bill Goldberg sponsored by Golden Corral because he's wrestling for a WWE again at Super Showdown at June 7. It showed some of his WCW highlights.
Dolph Ziggler was shown walking backstage when Sarah Schreiber showed up for an interview. Ziggler said that he's going to explain his actions to all of them and he walked down a hallway.
Let's Hear from Dolph Ziggler
Ziggler walked onto the stage for a promo with the crowd booing him. Ziggler said if he was out there right now he would boo Ziggler too. Ziggler said that this goes back to when Ali got hurt, then Kofi stepped up and he knocked it out of the park. Ziggler said it should have been him. Ziggler said that Kofi jumped through hoop after hoop after hoop and he ran the gauntlet and after 11 long years of earning everything, he became an overnight success…and Ziggler said, "it should be me." Ziggler said that Kingston walked into the Elimination Chamber and he walked out the other side and "it should be me." Ziggler said that Kingston fought Daniel Bryan for the WWE Title and "it should have been me." Ziggler said that Kingston has walked out with the WWE and "it should have been me." Ziggler talked about how Kingston has been a fighting champion, the fans admire him and "it should be me." He said that's why he did what he did because he had to and he had no other choice. He said that at Super Showdown he's going to beat Kofi for the WWE Title because he has to. Ziggler said that he will become WWE Champion, then we will admire him, respect him and we will love him…your WWE Champion. The fans booed. "It should be me." He ended the promo there.
Analysis: That was an awesome promo by Ziggler. That was some good acting by him too. I know he's talked about taking acting classes and working on things during his "WWE vacation" as he called it, so it's good to see him put it to use. I like the way he kept making the same point about how "it should have been me" because fans are going to boo people that repeat the same thing over and over. It always works. Ziggler did very well here.
The announcers talked about Super Showdown matches: The Undertaker vs. Goldberg and Triple H vs. Randy Orton.
A video package aired about the Triple H and Randy Orton story. It began on February 3, 2003 when the Evolution group started with them along with Ric Flair and Batista. They showed clips of Randy Orton as the Intercontinental Champion, then World Champion at SummerSlam 2004 and the next night on Raw, Evolution turned on Orton (I was at that Raw right here in London, Ontario). Hunter won the World Title from Orton one month later, which led to their rivalry that lasted several years. They showed clips from No Mercy 2007 with Orton beating Triple H for the WWE Title. They showed WrestleMania 24 in 2008 when Orton beat Triple H and Cena to retain the WWE Title. It also showed rivalry continuing for the next year with Triple H beating up Orton at his "house" and then Triple H retained the WWE Title against Orton at WrestleMania 25 in 2009. Taker and Shawn should have been the main event. Anyway, the video ended with Hunter posing over Orton.
Analysis: The video package was very good. It doesn't mean that I am very excited about Triple H vs. Orton again, but I guess it's been a while since they have had a match. They did Triple H vs. Cena last year in Saudi Arabia, then the old guys tag team match that wasn't good and now he gets Orton this year.
Shane McMahon introduced Elias, who walked out there with his guitar for the main event. Roman Reigns was shown walking backstage for the main event.
(Commercial)
Roman Reigns made his entrance and he got a pretty good pop from the crowd. Shane McMahon stayed at ringside to be in the corner of Elias.
Roman Reigns vs. Elias (w/Shane McMahon)
Reigns worked over Elias with punches, so Elias bailed to the floor where Reigns went after him with punches and Drive By dropkick on the apron. Reigns stared down Shane while outside the ring, which allowed Elias to take over by kicking the ropes when Reigns was going back in the ring (referee never saw it) and Elias hit a DDT. Elias whipped Reigns shoulder first into the ring post leading to a break.
(Commercial)
The match continued with Reigns working over Elias with a clothesline followed by the corner clotheslines. Reigns with a boot to the face. When Reigns set up in the corner, Shane grabbed his leg and Elias capitalized with a jumping knee. Reigns shoved Elias into the turnbuckle followed by some more punches. Reigns set up Elias on his shoulders by the turnbuckle going for a Samoan Drop, but Elias fought out of it and hit a spinning Powerbomb for a two count. Good move. Reigns and Elias got into a slugfest, Elias with a knee to the face and Reigns hit a Superman Punch for a two count because Shane put Elias' boot on the bottom rope. The ref saw the foot on the rope, so it was only a two count. Reigns with a Drive By dropkick on Shane on the apron. Elias whipped Reigns into the ring posts and steel steps. Back in the ring, Elias jumped off the top with an elbow drop for a two count. Elias exposed a turnbuckle, Shane grabbed the guitar, which he handed to Elias and then Shane distracted referee Mike Chioda. Reigns recovered with a Spear on Elias for the pinfall win after about eight minutes.
Winner by pinfall: Roman Reigns
Analysis: **1/2 The match was okay with Reigns getting the predictable win. It was either going to be a win for Reigns or a DQ loss, but I think the win was the smarter move because it gives Reigns some more positive momentum. Elias had a decent showing with Shane causing distractions at ringside. The finish could have been set up better.
Post match, Shane went into the ring and attacked Reigns with punches. When Shane tried a guitar attack, Reigns stopped him with a Superman Punch. Reigns got his hands on the guitar. Drew McIntyre showed up from behind Reigns and he connected with a Claymore Kick. McIntyre was in his wrestling gear. Shane held up Drew's hand as Graves said Drew was Shane's new insurance policy. Drew's music played. Shane and Drew stood tall over a fallen Reigns as Smackdown ended.
Analysis: It was a good post match angle with McIntyre providing some big time help for Shane in his rivalry with Reigns. I don't expect Shane to beat Reigns at Super Showdown, but with Shane getting assistance from McIntyre and Elias, it's certainly possible that Shane looks competitive in the match thanks to help from his allies. It's not a fresh storyline by any means since it's a member of the McMahons making life difficult for the top face, which we have seen on WWE TV for over 20 years now. That's just how they book these shows all the time. Something different would be good, but I don't think it's bad TV either. It's just not that fresh.
Here's a post-Smackdown video of Kofi Kingston accepting Dolph Ziggler's challenge for Super Showdown.
Three Stars of the Show
1. Ali
2. Andrade
3. (tie) Kofi Kingston
3. (tie) Dolph Ziggler
The Scoreboard
7 out of 10
Last week: 6.5
2019 Average: 6.98 (Raw is 5.55)
Last 5 Weeks: 6.5, 7.5, 6, 8, 7
2019 High: 8.5 (February 26)
2019 Low: 5 (January 15)
Final Thoughts
I give this week's Smackdown a 7 out of 10.
I thought it was a pretty good edition of Smackdown this week thanks to the awesome Ali/Andrade match, the Ziggler attack on Kingston was a nice surprise leading to a great promo from Dolph and they built up some of the other feuds well. The women's tag team match was booked well with Bayley continuing her positive momentum. The nice thing about Smackdown is there's a lot less filler on the show compared to Raw. Everything has a purpose on Smackdown.
I don't think the comedy 24/7 Title is that interesting because it's going to hurt the other titles on Raw and Smackdown. I know the good thing about it is that it will get more minor characters on the show. As you saw on Smackdown this week, there was no mention of the Smackdown Tag Team Titles or the Intercontinental Title. I understand giving Balor the night off since he took a beating at Money in the Bank, but let's not forget that those titles are supposed to be more important than the 24/7 Title.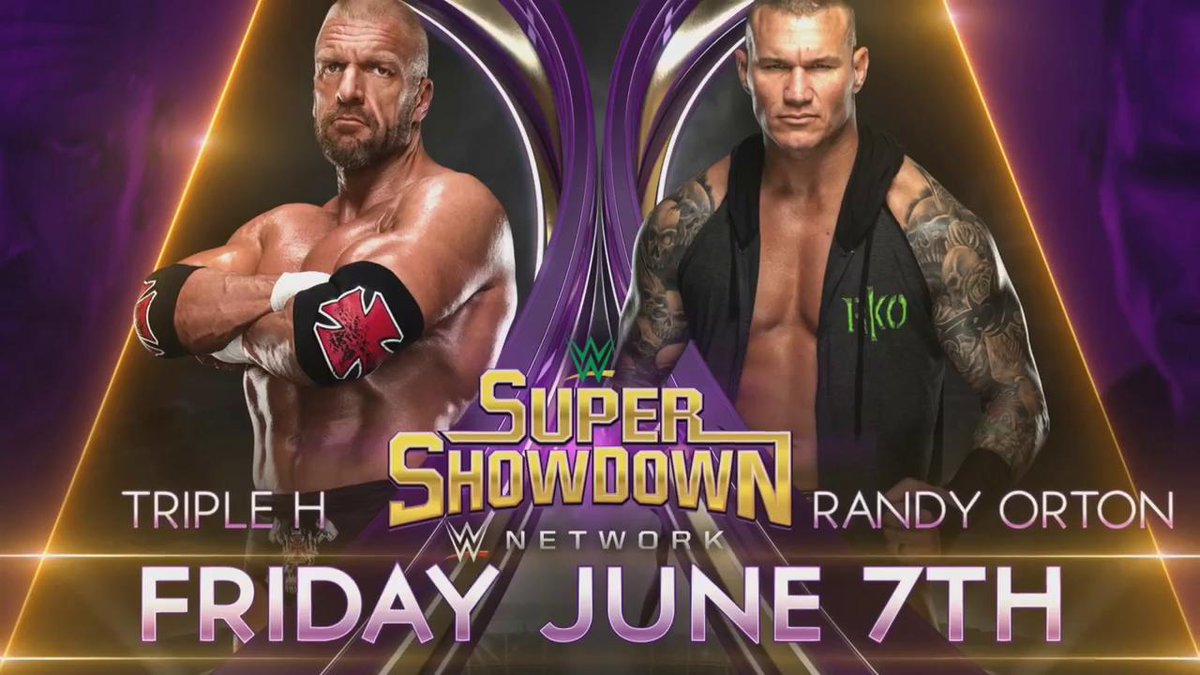 Here's the lineup for WWE Super Showdown on June 7 so far:
The Undertaker vs. Bill Goldberg
Triple H vs. Randy Orton
Roman Reigns vs. Shane McMahon
WWE Championship: Kofi Kingston (c) vs. Dolph Ziggler
Braun Strowman vs. Bobby Lashley
Intercontinental Championship: "Demon" Finn Balor (c) vs. Andrade
50-man battle royal
It's expected that Seth Rollins vs. Brock Lesnar for the Universal Title will take place on this show too. We might find out more on that next week.
—
Thanks for reading. My contact info is below. Go Toronto Raptors and Toronto Blue Jays.
John Canton
Email mrjohncanton@gmail.com
Twitter @johnreport
Personal Facebook and TJRWrestling on Facebook