The John Report: WWE Smackdown Live 04/30/19 Review
It's time for WWE Smackdown Live as we continue on the road to Money in the Bank. The main big match they are advertising is Becky Lynch vs. Bayley for the first time on the main roster. They last had a match in NXT in 2015. In addition to that, Kofi Kingston has some thoughts on what Kevin Owens did to him last week. Let's get to it.
Live from Columbus, Ohio, this is Smackdown Live for episode #1028. Follow me on Twitter @johnreport. Thanks to Melo Man for the banner up top.
The show began with WWE Champion Kofi Kingston in the ring being interviewed by Michael Cole.
Let's Hear from Kofi Kingston
They showed clips of Kofi Kingston's journey to the WWE Championship including a runner up performance in the Elimination Chamber match, then he won a Gauntlet Match that lasted one hour and Daniel Bryan was added to it as the final man in the gauntlet.
Kingston said he's learned over the last 11 years that you have to fight through the highs and lows. He said you have to keep on fighting. Kofi said he's glad he fought because he stands here today as the WWE Champion. Kingston said without The New Day, none of this happens while adding that New Day are the guys that prove that the impossible is possible. Cole said that what happened to Kofi at WrestleMania, may have been the greatest WrestleMania moment ever.
A clip aired form WrestleMania 35 three weeks ago when Kingston hit the Trouble in Paradise on Daniel Bryan to become the WWE Champion. There was a huge ovation for the title win as Kofi celebrated with New Day and his kids. The fans in Columbus chanted "you deserve it" for Kingston.
Kingston said that he can't believe it happened while adding that other than having his kids and marrying his wife, that was the greatest moment of his life. Cole said that the problem is that Kingston has a target on his back and the first person to take aim is Kevin Owens.
They showed a replay from last week's main event of Smackdown when Kevin Owens destroyed Kingston with a superkick and some trash talk. Owens also gave Xavier Woods a Powerbomb on the side of the ring apron.
Kingston said that a lot of people said they should have seen this coming and he puts blame on himself. Kingston noted that they believed that Kevin Owens genuinely wanted to change, but at the end of the day, Owens is going to be Owens. Kingston said that if Owens wanted to challenge for the WWE Championship, all he had to do is ask. Kingston reminded us that Owens said he was coming for the WWE Championship, Kingston said to let him come for it and let's do it at Money in the Bank.
Kevin Owens made his entrance on the stage. Owens said the challenge was accepted. Owens talked about how Kingston had his great moment at WrestleMania and he got to celebrate, but the thing about moments is they end. Owens said that the WWE Universe doesn't believe Kingston is championship material. Owens said he can tell Kingston doesn't believe in himself either. Owens told Kingston he's in over his head, he's drowning and Xavier Woods tried an attack from behind on KO. Owens was able to stop Woods with a superkick. Kingston went up the ramp to check on Woods and Owens went to the back to end this opening segment.
Analysis: That was a good opening promo from Kingston putting over the big moment at WrestleMania and how important it was to him. With that said, Kingston should have been more angry about what happened last week. It was interesting that it was Kingston issuing the challenge to Owens rather than the other way around. The positive thing about Kingston challenging Owens is it puts him over as a fighting champion willing to take on all comers as he said. Woods got beat up by Owens, which seems to be a running theme in the last two weeks. It will probably lead to a singles match between Woods and Owens, perhaps next week.
Still to come: Roman Reigns is there and the Hardy Boyz tag team title reign is in jeopardy due to Jeff Hardy suffering a leg injury.
Bayley made her entrance. She faces Becky Lynch up next.
(Commercial)
There was a shot of Kofi Kingston and Xavier Woods in the trainer's room. Kofi told him he's got this and he didn't want Woods to get more hurt after what happened last week. Kofi said they had a plan. Xavier said that he couldn't let KO say those things about Kofi. Kofi told Woods that he (Xavier) has a family to think about and to stay out of it for now.
As Bayley waited in the ring, it was announced she will be in the Women's Money in the Bank Ladder Match at Money in the Bank on May 19th. That means the Women's Money in the Bank names we know so far are Natalya, Naomi, Dana Brooke, Alexa Bliss, Bayley and three more names.
Becky Lynch made her entrance to a nice ovation as she had both the Raw and Smackdown Women's Championships with her.
Becky Lynch vs. Bayley
This is not for the SD Women's Title.
Lynch with a hip toss. Bayley draped the neck of Lynch across the top rope. Lynch hit a running forearm on Bayley leading to a break one minute into it.
(Commercial)
The match returned with Bayley blocking a Lynch kick attempt with Bayley hitting a clothesline and a running knee to the face. Bayley worked over Lynch with forearms to the face. Bayley's knee strike missed when Becky moved out of the way and Becky went up top with a missile dropkick for a two count. Lynch with forearms on Bayley, a spin kick to the gut and a Bexploder Suplex by Lynch sent Bayley to the turnbuckle. Running forearm by Lynch to Bayley. Lynch and Bayley did a double clothesline spot to put both women down. Bayley got an inside cradle for two. Bayley kicked Lynch into the turnbuckle followed by a belly to back suplex. Bayley went up top and hit a top rope elbow drop, but Becky got the knees up. Lynch slapped on the Dis-Arm-Her submission on Bayley's arm and Bayley tapped out to give Lynch the win after eight minutes.
Winner by submission: Becky Lynch
Analysis: **3/4 Good match for the time given. I wish they got more time because they could have had some exciting spots towards the finish of the match. Lynch getting the win shows how much WWE wants to book her strong because they often book champions to lose non-title matches, but not Lynch. Bayley looked competitive in defeat because it was booked like an even match.
As soon as the bell rang, Charlotte Flair went down to the ring and she kicked Lynch in the head. Flair picked up Bayley and sent her shoulder first into the steel ring post. Flair's music played while the two women were still down around ringside.
Analysis: Nice cheap attack by the heel Flair. Short and sweet. It was what it needed to be.
Aleister Black did a promo in a darkened room. He spoke about how his opponents try to figure him out and by the time they think they do so, the referee has counted one…two…three in his favor. He said any hope of conquering that fear has simply left this Earth. Black said what happens is they take one look into his eyes and they don't like the abyss that stares back at them. Black said that it unveils a truth about themselves…a truth that allows them to fade to black.
Analysis: It was the second straight week with an ominous promo from Aleister Black in a darkened room. I'm not sure if he's going to remain a face or if he'll be a heel, but I'm all for character development for "new" guys like him.
The Smackdown Tag Team Champions The Hardy Boyz made their entrance in their street clothes. Jeff had a crutch to support his injured right leg as the brothers went down to the ring.
(Commercial)
Let's Hear from The Hardy Boyz
The Hardy Boyz were in the ring with Kayla Braxton in the ring interviewing them. When Kayla asked what happened to Jeff Hardy's leg, Jeff said it's probably easier to just show you. That led to a video package about Lars Sullivan when he beat up the Hardy Boyz a few weeks ago.
Jeff said he's unable to walk on his own because of Lars Sullivan and now he needs surgery. Jeff said he's going to be out for a long time. Matt said, therefore, it breaks his heart to have to say this…but as of right now, the Hardy Boyz must give up the Smackdown Tag Team Championships. Jeff said he hated that he was the reason they had to give up the titles and that they didn't get a chance to defend the titles…here is Lars Sullivan.
Analysis: That sucks about Jeff needing knee surgery. The injury happened at a live event a few weeks ago, but WWE decided to use it as a chance to put over Sullivan. Best wishes to Jeff in his recovery. The Smackdown tag team division is thin right now, so I'm not sure who the next champions will be. Perhaps it will be Rusev and Nakamura.
Lars Sullivan made his slow walk down to the ring. Sullivan threw Matt out of the ring. Lars focused on Jeff, who was struggling to get out of the ring. Sullivan picked up Matt and gave him the Freak Accident slam. Jeff held up a crutch in the air looking ready to attack Sullivan, but R-Truth showed up with a steel chair to the back of Sullivan. That was no sold by Sullivan, who punched the chair out of Truth's hand. Sullivan picked up Truth and he hit the Freak Accident slam on R-Truth. Sullivan gave Truth a running Powerbomb as well. Sullivan did some groaning and grunting while telling Truth to stay down.
Analysis: That was another dominant performance from Lars Sullivan like he has done for a few weeks. No selling chair shots puts him over as an indestructible badass, which is how WWE typically books bigger guys like him. The fans see him as a monster heel, so it is working.
Up next, we'll find out who is in the men's Money in the Bank match on the Smackdown side.
(Commercial)
The Smackdown announce team of Tom Phillips, Corey Graves and Byron Saxton appeared on camera to talk about the men's Money in the Bank ladder match.
They revealed the Smackdown names in the Money in the Bank ladder match by showing the graphic for the match: Ali, Finn Balor, Andrade and Randy Orton.
Asuka and Kairi Sane (w/Paige) vs. Two Women With No Chance
The IIconics duo Peyton Royce and Billie Kay were on commentary for this match. Asuka destroyed the first woman on the no name team and worked over the second girl with the hip attack followed by a kick to the chest. Sane hit a running neckbreaker. Asuka hit a reverse DDT. Sane went up top and hit the Insane Elbow for the pinfall win after less than two minutes.
Winners by pinfall: Asuka and Kairi Sane
Analysis: 1/2* It was just a quick squash match. The IIconics were really annoying on commentary with over the top screaming. It made me want to mute the TV. I don't mind their promos, but hearing them on commentary like that was bad.
There was a shot of Sonya Deville and Mandy Rose watching on a TV backstage. Mandy said that they are getting an opportunity to be in this year's Money in the Bank ladder match. Mandy said just one of them gets to be in the match according to what she was told by Shane McMahon. Rose said that it should be Deville, then Deville said that she thinks Rose should be in the match. Sonya said that this one is all you. Mandy hugged her.
Analysis: I would pick Mandy too. Just saying.
Roman Reigns is up next.
(Commercial)
Roman Reigns made his entrance wearing his wrestling gear. He got a nice ovation from the crowd as he made his slow walk down to the ring. A replay aired from two weeks ago when Reigns knocked out Vince McMahon and Elias during his debut on Smackdown. Last week on Smackdown, Reigns was attacked by Elias and Shane McMahon, which led to Reigns vs. Elias as a match at Money in the Bank on May 19.
Let's Hear from Roman Reigns
Reigns said that you only get one shot at making a first impression. Reigns said he figured on his first night on Smackdown Live, he decided to knock out Mr. McMahon. Reigns talked about how it didn't have to be him, it could have been anybody. Reigns said he wanted to get the point across that he's still the Big Dog and Smackdown Live is his yard now.
Shane McMahon's music hit as Vince's son made his entrance on the stage. Shane told ring announcer Greg Hamilton Shane, so Greg did a low key introduction per Shane's request. Shane said that he knows Reigns is aware that Shane is the Best in the World. Shane said that Roman thinks he's the Big Dog in the yard as Shane reminded him that the McMahon Family owns the land.
Roman corrected Shane by saying that his daddy owns the land and when he was in the ring with him, Roman knocked Vince on his ass in the ring. Shane said to refresh Roman's memory, it was Roman that was left face down in the ring last week. Roman said that you left him laying in the ring with the help of Elias and Reigns wondered if Shane could do it on his own. Shane said that unfortunately, he doesn't have the time. Shane said he'll go see Coach Harborough (he meant to say Harbaugh) up in Michigan (Ohio State doesn't like that) and the fans booed. Shane said he will work with a true championship caliber organization for his steel cage match against The Miz at Money in the Bank.
Shane introduced two men to face Roman Reigns: The B Team duo of Curtis Axel and Bo Dallas. Graves made the save for Shane botching the Harbaugh name.
Reigns wondered what else Shane might do to him like tie his hand behind his back. Shane introduced a special guest referee enforcer. It was Elias, who had on a referee stripe tank top.
Analysis: It's typical WWE booking to make a babyface wrestler have to deal with the McMahons making things difficult for them. The B Team getting moved to Smackdown is not a big deal, but it adds some depth to the tag team division. Reigns had some good lines with his promo. Shane's heel promos are a lot better than his face promos were, but he botched Jim Harbaugh's name. I guess it's not a big deal.
(Commercial)
The match started after the break with Elias at ringside.
Roman Reigns vs. The B Team (Bo Dallas and Curtis Axel)
Reigns hit a back elbow on Dallas. When Dallas ran the ropes, he slipped, but managed to get up to take the elbow. Axel tagged in with a DDT on Reigns for two. Dallas tagged in with a clothesline on Reigns. Reigns came out of the corner with a boot to the face of Axel and a Samoan Drop on Dallas for two. Elias distracted referee Mike Chioda, so Axel hit a cheap clothesline on Reigns. Elias also got in a cheap shot clothesline on Reigns leading to a break.
(Commercial)
The match returned with Dallas grounding Reigns with a headlock. Reigns broke free and hit a running forearm on Dallas to put him down. Axel got the tag, Reigns sent him into the steel ring post. Reigns with two clotheslines on Dallas and a jumping clothesline on Axel. Reigns with the corner clotheslines on Axel, a punch to Dallas and Reigns hit a Samoan Drop/DDT combo on the B Team for a two count. Good spot. Reigns with a Superman Punch on Dallas to knock him off the apron. Axel with a rollup on Reigns for two. Reigns came back with a Superman Punch and he covered for two because Elias pulled referee Mike Chioda out of the ring. Reigns hit a Drive By kick on Dallas. Elias whipped Reigns into the barricade and into the steel ring post. Axel hit the Perfect Plex on Reigns, Elias went into the ring to count and Reigns kicked out at two. Elias grabbed his guitar from ringside and he brought it into the ring. Reigns broke free from Axel, Superman Punch on Elias and Reigns hit a Spear on Axel for the pinfall win after 11 minutes.
Winner by pinfall: Roman Reigns
Analysis: ** The match was entertaining for a predictable handicap match. It was no surprise that Reigns would overcome the odds to get the victory. That is Roman's first match as a new member of Smackdown and of course, it was a victory for him. It makes sense for Reigns to stand tall this week after getting his ass kicked last week.
Still to come is the Kevin Owens Show with Xavier Woods as the guest.
Finn Balor was shown getting ready for his tag team match.
(Commercial)
The Firefly Fun House video featuring Bray Wyatt was shown. It's the same video that aired on Raw that took about three minutes.
Ali was already in the ring for the tag team match featuring Money in the Bank competitors. Finn Balor, the Intercontinental Champion, was up next as Ali's partner.
Randy Orton was next. He did a quick pre-tape promo where he didn't say much.
Andrade made his entrance with his manager Zelina Vega, who said the ring will be graced by the presence of Andrade. Andrade said he had no respect for Balor and Ali. Andrade told Orton he will teach him to respect Andrade. That was it.
Analysis: The English usage by Andrade isn't great, but it got him Charlotte Flair as a girlfriend, so kudos to him! That is some great analysis. You're welcome, pal.
Finn Balor and Ali vs. Randy Orton and Andrade
Ali was aggressive with kicks for Orton. When Ali went for a move off the apron, Andrade grabbed him and that allowed Orton to send Ali to the floor. They went to break quickly.
(Commercial)
When the match returned, Orton hit Ali with a powerslam for two. Ali managed to create some space with a dropkick. Balor got the hot tag against Andrade. Balor with a low dropkick on Andrade, a kick to Orton and a double foot stomp to Andrade. Andrade connected with a kick to Balor's a face and Balor kicked Andrade off the top rope to the floor. Balor ran the ropes and hit a somersault dive on Andrade while Ali hit a suicide dive on Orton. Balor tried to go up top, but Vega grabbed his foot. Andrade slammed Balor down. Andrade hit the running double knee attack on Balor for a two count. Good nearfall. Ali got the tag, Balor hit the Slingblade on Andrade and Ali hit the 450 Splash on Andrade for the pinfall win after about nine minutes.
Winners by pinfall: Finn Balor and Ali
Analysis: *** Good match with some exciting moves from Balor and Andrade as usual. I really liked the spot where Balor and Ali hit dives on opposite sides of the ring. Andrade getting pinned doesn't make me happy, but it's okay since these four will likely have matches with eachother over the next two weeks leading into Money in the Bank anyway.
Post match, Orton went back into the ring and hit a RKO on Balor. Ali kicked Orton twice to send him out of the ring. Ali's music played to end it.
Analysis: Cool RKO by Orton out of nowhere. It was smart to book Ali in a strong way to show that he belongs in there with these guys.
Sarah Schreiber was backstage where she was set to introduce the final two Smackdown women in the Money in the Bank Ladder Match. Ember Moon was interviewed first to say she was going to win Money in the Bank. Carmella was next as the final woman in the women's Money in the Bank match and she mentioned she's a former Money in the Bank winner that will remind everybody that Mella is Money.
That means the 8 women in the Women's Money in the Bank Ladder match are: Alexa Bliss, Natalya, Dana Brooke, Naomi, Bayley, Mandy Rose, Ember Moon and Carmella.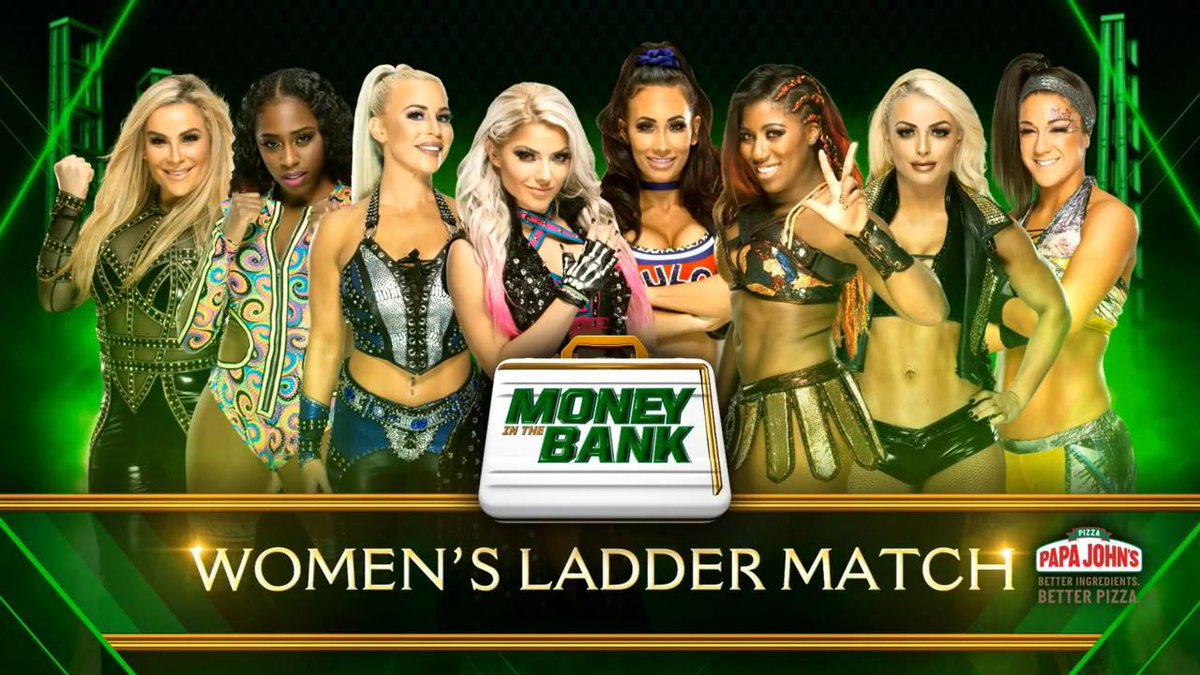 Analysis: I think Ember Moon would be a good choice to win. That would feel fresh. I would also be happy if Mandy Rose were to win as well. I like her a lot.
Kevin Owens made his entrance in his street clothes to host his talk show in the main event.
(Commercial)
The WWE Championship match is official for Money in the Bank: Kofi Kingston defending the title against Kevin Owens.
The Kevin Owens Show
Kevin Owens was in the ring sitting on a leather chair. Owens said he didn't need pancakes and other things, he is the show. Owens said that at Money in the Bank, he is positive he will take the WWE Title from Kingston. That led to boos from the crowd.
Owens said earlier tonight, he thought it would be a great idea to have Xavier Woods as his guest. Owens said we all know about Kofi Kingston, but he wants to hear from Woods. Owens told Woods to come down to the ring, sit here and let's have a chat. Owens said he wanted to hear what Woods had to say. Owens called him out, but there was no sign of Woods.
Owens said he had a Plan B and he pulled out a Xavier Woods action figure while saying it's one of the many pieces of merchandise that New Day has been shilling for years. Owens put the Woods action figure on a wood chair in the ring. Owens also put a Big E action figure (with a knee brace) on the chair. Owens kicked the chair over because he knows what Xavier and Big E actually think. Kofi Kingston showed up on the stage to interrupt this talk show.
Kingston ran down to the ring for a brawl with Owens with only two minutes left in the show. Kofi jumped off the steel steps with a clothesline on Owens at ringside. Kingston worked over Owens with punches. The camera shaking was so annoying. Kingston tossed Owens over the announce table. Kingston stomped on Owens and threw a leather chair at him. Owens eye gouged Kingston. Owens jumped the barricade at ringside and ran away. Kingston went back into the ring and stared at Owens. Graves put over the intensity of Kingston.
Kingston pointed at Owens from inside the ring and that was the end of Smackdown this week.
Analysis: Kingston's aggressiveness and intensity is what he should have done in the opening segment. He should have been mad as soon as he got into the arena, just based on what happened last week when Owens turned on him. Kingston getting the upper hand on Owens and causing Owens to bail into the crowd was the right way to book this because it made Kingston look strong after he got beat up last week. It was a quality heel promo from Owens as usual, but this whole thing didn't feel like a main event worthy segment. They could have put this on earlier in the night. I get why they put it on last because it was the WWE Champion Kingston standing tall. I just think having a promo segment ending Raw and Smackdown in the same week is a bit disappointing. Ending the show with a match is the right way to go.
Three Stars of the Show
Kevin Owens
Kofi Kingston
Finn Balor
The Scoreboard
6 out of 10
Last week: 8
2019 Average: 6.97 (Raw is 5.62)
Last 5 Weeks: 8, 7, 6, 6.5, 7
2019 High: 8.5 (February 26)
2019 Low: 5 (January 15)
Final Thoughts
I give this week's Smackdown a 6 out of 10.
The show was okay this week. It was more like an average Raw, which makes it below average for Smackdown. It was not nearly as good as last week's episode. The in-ring action was solid for the most part although two of the matches that happened left me wanting more. That doesn't mean I want to see a three-hour Smackdown any time soon. I just think some stuff like the Roman Reigns promo and match could have been kept shorter because it dragged on a bit too much.
Here's the lineup for WWE Money in the Bank on May 19 so far:
Universal Championship: Seth Rollins (c) vs. AJ Styles
WWE Championship: Kofi Kingston (c) vs. Kevin Owens
Men's Money in the Bank Ladder Match: Baron Corbin, Braun Strowman, Drew McIntyre, Ricochet, Ali, Randy Orton, Andrade, Finn Balor
Smackdown Women's Championship: Becky Lynch (c) vs. Charlotte Flair
Roman Reigns vs. Elias
Raw Women's Championship: Becky Lynch (c) vs. Lacey Evans
Steel Cage Match: Shane McMahon vs. The Miz
Women's Money in the Bank Ladder Match: Alexa Bliss, Natalya, Naomi, Dana Brooke, Bayley, Mandy Rose, Ember Moon, Carmella
—
Thanks for reading. My contact info is below. Go Toronto Raptors and Toronto Blue Jays.
John Canton
Email mrjohncanton@gmail.com
Twitter @johnreport
Personal Facebook and TJRWrestling on Facebook