The John Report: WWE Smackdown 02/05/21 Review
Welcome to this week's WWE Smackdown review. This show is the first edition of Smackdown since the Royal Rumble this past Sunday. Bianca Belair, who is part of the Smackdown roster, won the Women's Royal Rumble match while Edge, from Raw, won the Men's Royal Rumble match. Belair and Edge have the choice to face any champion at WrestleMania on April 10 or April 11. Both Rumble winners will be on Smackdown. In Edge's case, that means he'll be on Raw on Monday (where he got a win over Randy Orton), NXT on Wednesday and now Smackdown on Friday in the same week. That's a busy week for a guy that spent nearly one hour in the ring to win the Royal Rumble as well. The next pay-per-view is Elimination Chamber on February 21, then Fastlane on March 21 and then it's WrestleMania time. This is my way of reminding you we don't need to know the WrestleMania card right now. There is plenty of time until we get there.
From the WWE ThunderDome at Tropicana Field in Tampa Bay, Florida, this is Smackdown for episode #1120. Follow me on Twitter @johnreport. Please visit TJRWrestling.net daily for our regular updates on the wrestling business featuring WWE news coverage along with reviews about wrestling's past and present. Let's get to it.
There was a graphic saying In Memory of "The Natural" Butch Reed 1954-2021. Reed's death was announced earlier on Friday. Condolences to his family, friends and fans. May he rest in peace.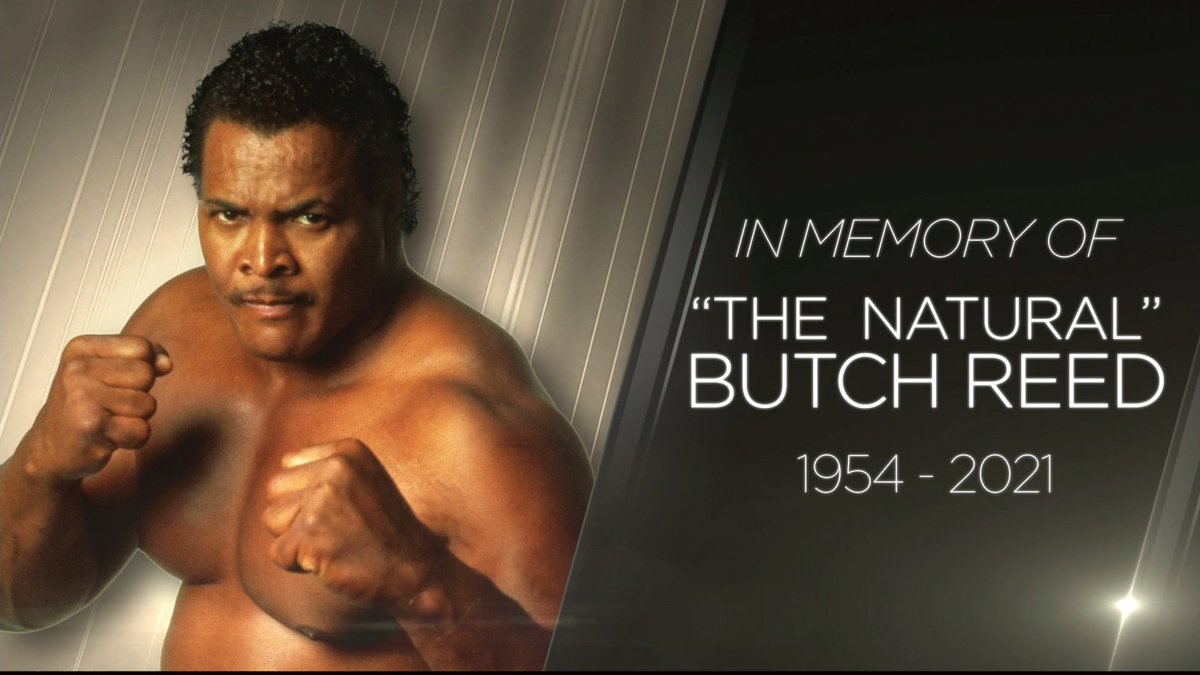 The show opening featured clips of Sunday's Royal Rumble with Edge and Bianca Belair winning the two Royal Rumble matches.
There was a shot of the ThunderDome with the fans on the screens. The WrestleMania sign was in the building as the commentary team of Michael Cole and Corey Graves welcomed us to the show.
Let's Hear from Roman Reigns
Roman Reigns made his entrance with the Universal Championship, his "Head of the Table" shirt and he was joined by cousin Jey Uso along with Special Counsel Paul Heyman. Reigns barely survived the Last Man Standing Match against Kevin Owens at Royal Rumble. They showed images from the match. Reigns, Jey and Heyman were greeted with "you suck" chants as they stood in the ring.
Reigns said he is not a fan of recapping the past. Reigns said if you didn't see the Rumble, he beat Kevin Owens like he said he would because he's a man of his word. Reigns said enough about the past, let's talk about the future. Reigns noted that apparently, the future is Edge. Reigns said if you win the Royal Rumble match then you have the first-class ticket to the main event of WrestleMania with Heyman reminding Reigns that he is the main event.
Reigns said he had two issues. Reigns said he was the Head of the Table, the Tribal Chief, the main event and he is the Universal Champion. Reigns wondered why you would go to Raw or NXT. Reigns said you should be begging him to be taken to the island of relevancy. Reigns wondered why he was out here first. Reigns didn't like that Edge was going to make the Head of the Table (Reigns) wait. Heyman said that Edge is here. Reigns: "Get his ass out here, Paul." That led to Paul yelling at somebody ringside to get the pyro for Edge. A guy at ringside told something to Heyman, who spoke to Reigns. Reigns let us know that Edge isn't there yet. Reigns wondered if he looks like a fool or a man that wants to play games. Reigns yelled about Edge trying to play games with Roman. Reigns spoke about the last man that played games with him was Kevin Owens and he's no longer here anymore because Roman whooped his ass, he's history, he's gone and you'll never see him again (heels lie). Reigns told Edge he needs to understand this because it's his only chance. Reigns told Edge to give Roman his decision by the end of the night. Reigns repeated himself as the camera zoomed in on his face and Reigns dropped the microphone. Reigns left with his crew after that.
Analysis: Reigns did a fantastic job in that promo as he continues to be a dominant heel that thinks he can control everything on his show. I like how Reigns is booked to be confident at times, but then when he has to deal with something he doesn't like, he is more of a cowardly heel that has to try to figure out a way to get out of the situation he is in. Reigns saying Owens is gone is obviously just heel talk. The promo was also effective in terms of teasing what's to come later in the show with Edge appearing to give Reigns an answer about WrestleMania.
Dominik Mysterio made his entrance with his father Rey Mysterio, but then King Corbin showed up to attack Dominik and Rey on the stage. Corbin tossed Rey off the stage into some box or crate that was there. Corbin kicked Dominik in the ribs as Corbin went down to the ring. Corbin faces Dominik after the break.
(Commercial)
Dominik Mysterio (w/Rey Mysterio) vs. King Corbin
Corbin charged, Dominik sent him into the turnbuckle and Dominik hit a dropkick. Dominik got a rollup leading into another dropkick. Corbin came back with a spinebuster to take control. Corbin drove his knee into the back of Dominik as the announcers mentioned Dominik eliminated Corbin from the Royal Rumble match. Corbin hit a clothesline on Dominik for two. Corbin with elbow smashes followed by a chinlock. Dominik ran right into a back elbow by Corbin. Rey was being checked on by a doctor by the side of the stage. Corbin put his knee into the jaw of Dominik while pulling on the arm. Dominik with a kick to Corbin, then Dominik sent Corbin to the floor and Dominik hit a springboard cross body block off the top onto Corbin on the floor. Rey limped over towards the ring and he was favoring his left leg. They went to break there about four minutes into the match.
(Commercial)
Corbin caught Dominik on a cross body block attempt, but Dominik came back with a neckbreaker along with a standing moonsault for two. Rey was rooting on his son at ringside. Dominik got a rollup for two, then a shot to the knee into the ropes, but then Corbin hit a Deep Six slam for a two count. Corbin with a corner whip, Dominik sat on the top rope and Dominik hit a suicide dive on Corbin on the floor. Rey crawled under the ring, then he went on the other side, grabbed Corbin's foot (the referee never saw it), Dominik hit a 619 kick on Corbin and Dominik hit a Frog Splash off the top on Corbin for the pinfall win after nine minutes.
Winner by pinfall: Dominik Mysterio
Analysis: **3/4 There's the big win for Dominik over Corbin although it was a cheap win due to Rey's interference. They worked well together with some nice counters by both guys and Corbin's power moves looked impressive with Dominik selling everything really well. The interference was payback for Corbin's cheap attack before the match, so you can say Rey was justified in his actions. Corbin can complain if he wants because he was cheated out of the win. Corbin isn't a favorite of mine, but he is at his best working with an athletic babyface like Dominik. That's why it was a pretty good match.
There was a clip of Sami Zayn causing a DQ during Big E's Intercontinental Title defense against Apollo Crews two weeks earlier, so now they are having a triple threat match.
Big E was interviewed by Kayla Braxton on the interview set. Big E said that all his life he had to fight. Big E said that's what he signed up for when he won the Intercontinental Title. Big E said tonight, we gonna fight and they ain't ready for him.
Daniel Bryan made his entrance in a new looking "Yes" shirt with Bryan set to face Cesaro again.
(Commercial)
It was announced that Sasha Banks was going to be the honorary starter of the Daytona 500 on February 14. I don't watch NASCAR, but I can drive in an oval.
Cesaro made his entrance looking ready to go. The news about Cesaro is that he recently signed a new contract with WWE, which is great. Does that mean there's a big push coming for him? I'm not sure, but he is being featured in singles matches more and that's a good thing.
Daniel Bryan vs. Cesaro
Cesaro beat Bryan a few weeks ago on Smackdown. Bryan kicked the arm of Cesaro, then a kick to the chest and Bryan hit a back body drop on Cesaro over the top to the floor. Bryan jumped off the top with a cross body block on Cesaro on the floor. Back in the ring, Bryan went up top and connected with a missile dropkick. Bryan blocked an uppercut leading to a backslide pin. Shinsuke Nakamura was shown watching on a TV backstage as Cesaro hit an uppercut. Bryan grabbed the left arm of Cesaro and went for a Yes Lock, but Cesaro broke out of that leading to knees to the back. Cesaro was bleeding around the right ear. Bryan avoided a springboard attack and Bryan did a roundhouse kick to the head for two. Bryan set up the running knee, but Cesaro caught Bryan and slammed Bryan onto the knee of Cesaro. There was a Giant Swing by Cesaro leading right into a Sharpshooter submission. Cesaro had the Sharpshooter locked in and Bryan tapped out to give Cesaro the clean win. The match went about six minutes.
Winner by submission: Cesaro
Analysis: *** This was pretty good for the time given. Bryan got in a lot of offense, but Cesaro was able to come back strong, slap on the Swing and get the Sharpshooter submission for the win. There aren't a lot of former multiple-time World Champions losing clean in under ten minutes in TV matches, but Daniel Bryan is willing to do to put over the wrestlers that can benefit from beating him. Bryan's part of Smackdown's creative team and he continues putting over others because he knows that if others are built up then that's good for the brand.
Post match, Cole put over how impressive Cesaro has been in the last month. Graves also talked about how Cesaro was letting the WWE Universe know how good he can be. Bryan was dejected as he sat up against the ropes. Cesaro put out his fist, Bryan touched the knuckle out of respect and Cesaro left as the victor. Graves made a point to say Cesaro is on a roll.
Analysis: I mentioned before the match about Cesaro's new contract. That's his second win over Bryan in the last month and he beat Dolph Ziggler, so there is definitely a bit of a push going on here. The post match knuckle bump out of respect shows that Cesaro may be more of a face going forward, but I'm not sure yet if that's the direction for him.
Bianca Belair was interviewed on the interview set by Kayla Braxton. Braxton cued up a video of Bianca's parents watching and getting very excited. Bianca's father went on the table and even fell off the couch because he was so excited! That's funny. Belair talked about how her parents are always there with her. Belair talked about how the WrestleMania decision is a tough choice. Belair said that she will put the EST in WrestleMania her way, which means she'll make a decision soon.
Analysis: There's no reason to have Belair make her decision right away. I like the idea of waiting. I think Belair should face Sasha Banks at WrestleMania and probably win the title there too. That would be a fun match between two great athletes. If Belair is against Asuka that's fine too, but I think Raw has more viable contenders for her title especially if Rhea Ripley ends up there.
Bayley made her entrance for a match up next.
(Commercial)
There was a video about Seth Rollins talking about the greater good. They showed all of the things that Rollins has won in his career including all of the main titles in WWE, Royal Rumble, Money in the Bank and more. The Return of Rollins is next week on Smackdown. Rollins was back at the Royal Rumble, but he's not there this week.
Bayley vs. Ruby Riott (w/Liv Morgan)
Billie Kay was on commentary with her headshot and resume claiming she was not kicked out of the Riott Squad. Bayley sent Riott into the corner. Riott came back with a kick to the head for a two count. Bayley sent Riott into the turnbuckle, Riott tried a move, Bayley caught her on the shoulder and Bayley sent Riott face first into the turnbuckle for a two count. Bayley slapped on an armbar on Riott, then Riott broke free and used her legs to send Bayley into the turnbuckle. Bayley was on the top turnbuckle leading to Riott hitting an armdrag on Bayley. Riott got a rollup for two, but then Bayley sent Riott ribs first into the bottom rope. Bayley went for a move off the apron, Riott kicked Bayley in the face and then Bayley hit a neckbreaker off the middle rope. Bayley applied an armbar, Kay tried to help on the apron, Riott got out of that leading to a two count and then Bayley hit her finisher where she sent Riott face first into the mat. Bayley pinned Riot to win. That finishing move needs a name. This went about five minutes.
Winner by pinfall: Bayley
Analysis: **1/4 They had good chemistry together and I liked the story. More time would be nice, but it just wasn't there for them. Bayley getting the win was no surprise. Riott sold the shoulder well for most of the match. Kay's attempt at helping failed again, which is consistent for her.
Post match, Kay tried to give Bayley her resume, but the camera cut away before we could see Bayley's response.
Bianca Belair was shown walking towards the ring for a segment after the break.
This Monday on Raw: What's in store for WWE Champion Drew McIntyre and former best friend Sheamus after Sheamus attacked Drew last week on Raw? Find out Monday on Raw. I assume they'll have a match at the Elimination Chamber PPV later this month.
(Commercial)
A video aired letting us know WrestleMania 37 is 64 days away.
Edge was shown walking backstage. Edge did a fist bump to Sonya Deville and kept on walking.
Let's Hear from Bianca Belair
Bianca Belair was introduced by ring announcer Greg Hamilton as the winner of the Women's Royal Rumble. Belair had her "EST" gear on because she's the EST of WWE.
Belair did a promo saying when she won the Rumble, her whole life changed. Belair talked about how she has done so much press, interviews and she has heard from so many people. Belair talked about how great Asuka is saying she isn't just the Empress of Tomorrow, she's the Empress of all day, every day. Bianca talked about how Sasha Banks is a Grand Slam Champion that has done so much and she loved teaming with her, but if she wants to put the EST in WrestleMania, she has to….and here's an interruption.
Reginald the sommelier interrupted the promo saying that he is sure that she can beat Asuka. Reginald told Belair she knows she can't beat Sasha or Carmella.
Carmella made her entrance telling Belair that Reginald is a wise man even when he gets over-excited. Carmella got in the ring saying that she beat Sasha in her very first match against Sasha. Carmella laughed about how she beat Sasha Banks twice. Carmella said despite all of Bianca's hype, Carmella is certain she can beat Belair too.
Sasha Banks, the Smackdown Women's Champion, made her entrance with the title around her waist. Banks said she's going to stop looking in her rear view and start focusing on what's ahead. Banks said that Belair has set records in every Royal Rumble match two times and she lasted nearly an hour this year to win the Rumble, so now she's on to WrestleMania. Banks said she knows that Bianca is the strongest, the fastest, but the best? Banks laughed at that idea and said: "I don't think so."
Banks told Belair if she is going to choose Banks then she should choose her because Bianca has it all, but she doesn't have this title. Banks held up the title in front of Belair.
Reginald told Belair she got lucky when she won the Royal Rumble. Reginald told Belair she would lose if she challenged Sasha. Belair used her hair as a weapon and whipped Reginald so that he bumped out of the ring. Bianca's music played to end this segment.
Analysis: This was okay although I groaned at the sight of Reginald and Carmella (even though she looks great). I'm just ready for Carmella to be out of the title picture, but I know they have two PPVs before WrestleMania. The segment ended without an announcement from Belair, which is fine. They can probably have Belair beat Carmella at Elimination Chamber or Fastlane to give her another win on the road to WrestleMania. Reginald selling a hair attack is a bit silly, but that's what happens sometimes on this show.
Roman Reigns was shown in his office with Jey Uso. Paul Heyman told Reigns it's been confirmed that Edge is finally here.
(Commercial)
Sami Zayn was interviewed by Kayla Braxton with Zayn's documentary team filming him as well. Zayn complained about how he was robbed of the Intercontinental Title in a Lumberjack Match that he didn't agree to. Zayn complained about other match finishes as well. Zayn talked about how he's going to reclaim the Intercontinental Title and retain his status as a champion of the people.
Otis and Chad Gable made their entrance. They did a pre-tape interview about the training they are doing together.
Analysis: So why did WWE split up Otis and Tucker as the Heavy Machinery tag team? There was no reason to do it. Tucker has done nothing since. Otis is barely on the show and now he's teaming with Gable. The split didn't help anybody. The lack of long-term booking plan is really bad in cases like this.
Dolph Ziggler and Robert Roode entered as the Smackdown Tag Team Champions that are unofficially called the Dirty Dawgs, which is on their jackets and tights. They have a new theme song, which sounds pretty generic to me.
Dolph Ziggler and Robert Roode vs. Chad Gable and Otis
This is not for the SD Tag Team Titles. The Street Profits did commentary from somewhere in the backstage area and they were shown in the bottom left corner of the screen. Gable showed off his athleticism leading to a trip. Roode got in a shot on Gable and Ziggler hit a dropkick for two. Roode hit a suplex for two. Gable with a sunset flip, then an ankle lock attack, but Roode kicked him away. The big man Otis got the tag with a clothesline, shoulder tackle and an overhead suplex across the ring. Otis slammed Ziggler into the mat followed by a discus clothesline. Otis splashed Roode, which led to Otis doing the Caterpillar into an elbow drop. Gable tagged in, Ziggler shoved Otis into the ringpost to take him and Gable gave Ziggler a rolling German Suplex. Roode got a hold of Gable and hit a Glorious DDT for the pinfall win after four minutes.
Winners by pinfall: Dolph Ziggler and Robert Roode
Analysis: ** A quick tag team match to put over the champions. Otis was on fire after the hot tag, but then he tagged out, Ziggler took him out and that allowed Roode to finish off Gable. This is better booking than when champs lose non-title to build up contenders. I would be fine with Otis and Gable teaming again as long as they got some wins to build them up more.
Post match, Dawkins and Ford congratulated the champions while Ford kept on saying "they dodging" with regards to Roode & Ziggler not giving The Street Profits a rematch.
Analysis: I think it would have been better to have the Street Profits join the announcers on commentary as guests instead of having them on commentary the whole match. It was a bit distracting even though I like Ford and Dawkins a lot.
There's an interview with Hulk Hogan after a break.
A video aired showing WWE's support for Black History Month.
(Commercial)
There was a clip about This Week in History noting that 33 Years Ago today was The Main Event special on NBC that drew 33 million viewers. It was Hulk Hogan vs. Andre the Giant for the WWF Title. There was a pinfall count even though Hogan's shoulder was up. There was a corrupt referee when we found out Dave and Earl Hebner were twins.
Hulk Hogan did a promo with Jimmy Hart by his side. I believe it was at one of Hogan's restaurants. Hogan did a promo about 33 million people saw him face Andre the Giant. Hogan said that Edge was his tag team partner that won the love and loyalty of millions and millions of Hulkamaniacs. Hogan simply wondered what are you gonna do when Edge picks Roman Reigns or Drew McIntyre and runs wild on you.
Analysis: That was a waste of time. Just a boring, quick promo from the Hulkster.
Apollo Crews made his entrance. Big E entered next as the Intercontinental Champion.
(Commercial)
There was a backstage scene with Edge chatting with Shinsuke Nakamura. They shook hands.
Sami Zayn made his entrance with his documentary crew. All three wrestlers stood in the ring as Greg Hamilton did the championship introductions.
Intercontinental Championship: Big E vs. Apollo Crews vs. Sami Zayn
Zayn was wrestling in his "I'm the Intercontinental Champion" shirt even though Big E was the champion. Crews battled Big E in the ring as Zayn bailed to the floor and Big E hit an elbow smash on Crews. Zayn was back in with chops on Big E, who came back with a back body drop on Zayn. Crews was back in with three German Suplexes on Big E for a two count. Crews with a clothesline on Zayn, then corner splashes on both guys. Big E with a clothesline on Crews and a clothesline on Zayn. Big E ran the ropes, Zayn pulled him out of the ring and Big E sent Zayn into the apron. Crews hit a somersault dive over the top onto Big E on the floor. That was an impressive dive! Crews hit a moonsault off the apron onto Big E on the floor. Zayn with a double axe on Crews to knock him down as the show went to break.
(Commercial)
The match returned with Zayn choking Big E across the middle rope. Zayn with a drop toe hold into the middle rope. Zayn tried a slam, but Big E was too big and Crews hit a missile dropkick. Big E with two belly to belly suplexes followed by a belly to belly slam on Crews. Zayn jumped on Big E's back, Big E slammed him down and Big E hit a running splash on both opponents at the same time. Crews with a jumping kick to Big E's head. Crews charged, Big E sent him over the top to the floor and Big E hit a uranage slam for a two count. Big E set up Zayn on the apron and hit a running splash on the ring apron Crews with a dropkick on Big E on the floor. Crews back in with a Frog Splash off the top on Zayn for a two count. Nice nearfall right there. Crews was going for a capture suplex on Zayn, but then Big E got back into the ring and suplexed both guys across the ring. That was really impressive. Big E charged at Zayn on the apron, Zayn got a knee up to block and Zayn hit the Helluva Kick on Big E by the ropes, but Crews pulled Zayn out of the ring. Zayn complained about it to the referee. Crews punched Zayn repeatedly and press slammed Zayn into the barricade by the timekeeper's area. Crews went back into the ring, but Big E got back up and hit the Big Ending on Crews for the pinfall win after 12 minutes.
Winner by pinfall: Big E
Analysis: ***1/2 A very good match with a lot of action. They worked really well together with some big spots throughout the match including that incredible somersault dive by Crews. Big E also had a big move with the overhead suplex on both guys at the same time, which showed off how powerful Big E is. That nearfall with Crews hitting the Frog Splash on Zayn to nearly win was really well done and very believable as a nearfall spot. Zayn nearly won with the Helluva Kick too, but Crews stopped that from happening. Big E retaining is fine for me because it's still early in his title reign.
Big E celebrated with the title while Crews was disappointed and looked angry about the loss.
Analysis: There were hints of Crews turning heel a few weeks ago and he was even shown talking to Roman Reigns, but Crews wasn't heelish in the match. Maybe this loss will lead to Crews being more of a heel. They could even have Crews be a heel that is part of Roman Reigns' group. I wouldn't mind seeing that for Crews.
Edge was shown walking backstage for the main event promo segment.
(Commercial)
This week on Talking Smack on WWE Network the guests are Big E, Bianca Belair and Adam Pearce.
There was a video about Seth Rollins making his Smackdown return next week. The same video that aired earlier in the show.
Let's Hear from Edge
Edge made his entrance in street clothes and got the pyro entrance. Edge got into the ring for a promo as the announcers reminded us he has earned the right to choose what champion he can challenge at WrestleMania.
Edge said that you can't accomplish something you've never dreamed of. Edge said in the last seven months while going through rehab, he was dreaming. Edge dreamed of coming back here, coming back home. Edge said he was dreaming of winning the Royal Rumble, main eventing WrestleMania (stare at the sign) and taking back something he never lost, that he feels is his (WWE Title). Edge said that on Sunday at the Royal Rumble, he entered #1 and outlasted 29 of the best superstars today to win the Royal Rumble. Edge said now he is on the precipice of the main event of WrestleMania. Edge wondered if he should choose Drew McIntyre, Finn Balor or Roman Reigns. Edge said if he asks his family, he gets one answer, if he asks his friends, he gets another answer and he asked a guy named John (nice name) and he gave another answer. Edge said at the end of the day…here's the interruption.
Roman Reigns made his entrance with the Universal Championship while joined by cousin Jey Uso and Special Counsel Paul Heyman as usual. Reigns did a slow walk towards the ring while staring at Edge the whole way. Reigns and company got into the ring with Edge with a few minutes left in the show.
Edge wondered why Reigns had to bring backup. Edge said he's out there alone.
Reigns said that man to man, he gives Edge his word that without Roman's blessing, Paul will not make a move on you. That led to some laughter. Edge said he is running space in Roman's head already and that's why Jey is out there. Reigns told Uso (Jey) that he'll meet him on the bus while telling him that he's got this.
Reigns said that is Edge's one pass, but he disrespected Roman and his family. Reigns told Edge to acknowledge Reigns as the main event of WrestleMania and as the champion of choice. Reigns wanted Edge to say Roman's name. Before Edge could say anything, Kevin Owens showed up behind Reigns and dropped Roman with a Stunner! Owens walked away while Reigns was down and Edge just smirked about what happened. That was the end of the show.
Analysis: Reigns talked trash about Owens and Edge earlier, so it was fitting that Owens showed up to silence Reigns to end the show. It gives the audience a bit of a cliffhanger because we didn't get to hear from Edge in terms of his WrestleMania choice. The expectation is that Edge will face Reigns at WrestleMania based on a report earlier in the week, but it's not like everybody watching this show knows that or necessarily believes it until it becomes official. As for Owens, he has done a great job as the babyface fighting back against Reigns week after week for two months now. If they do Reigns vs. Owens at Elimination Chamber then that would be their fourth major match after TLC, the Steel Cage match on Christmas, Royal Rumble and perhaps Elimination Chamber too. I'm not sure if they are going to go that route.
Three Stars of the Show
Roman Reigns
Cesaro
Big E
The Scoreboard
7 out of 10
Last week: 6
2021 Average: 7.13
Final Thoughts
It was a pretty good show with some decent storyline progression and some fun matches. I think if you went into this show expecting Edge and Bianca Belair to make their WrestleMania matches known then you were probably disappointed. It doesn't bother me because WrestleMania is over two months away, but I know some fans are impatient. They did do a nice job of building anticipation of Roman Reigns confronting Edge to end the show, which felt like a big deal, and then there was no resolution because Kevin Owens hit a Stunner on Reigns. The fans should like Owens getting revenge while also building up anticipation for more from Reigns and Edge. Reigns continues to thrive as this controlling heel character that is also a chickenshit heel as soon as he loses control. It's fun to watch.
In terms of matches, the IC Title triple threat was the best with Big E beating Sami Zayn and Apollo Crews. A really good match that was full of action. I wonder if this sets off Apollo to turn heel. Other matches were shorter like Cesaro's win over Daniel Bryan with Cesaro picking up a big win. Cesaro has beaten Bryan twice in the last month. If this leads to a longer PPV singles match between them then I'm all for it. Dominik beating Corbin is big for him even though it was only because Rey helped Dominik cheat as payback for Corbin doing a cheap attack before the match. Bianca Belair's promo face off with Sasha Banks, Carmella and Reginald was decent. I don't think they needed Carmella and Reginald to be involved, though.
I like where a lot of things are going on Smackdown. Easy show to watch week after week.
The next WWE pay-per-view is Elimination Chamber on Sunday, February 21. There is nothing announced for it yet.
—
Thanks for reading. Go Toronto Raptors and Toronto Maple Leafs. My contact info is below.
John Canton
Email mrjohncanton@gmail.com
Twitter @johnreport
Personal Facebook and TJRWrestling on Facebook