The John Report: The WWE Raw Deal 10/18/21 Review
This week's edition of WWE Raw is the last episode before the major Crown Jewel pay-per-view event taking place this Thursday.
As a reminder, the new rosters that WWE drafted two weeks ago will take effect starting this Friday, October 22 on Smackdown, which means next week's Raw on October 25. This week's Raw will have a mix of current stars and also some that are moving to Raw as of next week.
This is the Raw Deal for episode #1481 of Monday Night Raw. It's taking place at the Golden 1 Center in Sacramento, California. Follow me on Twitter @johnreport. Please visit TJRWrestling.net daily for our regular updates on the wrestling business featuring WWE news coverage, insightful columns from our team along with reviews about wrestling's past (including my reviews of every WWE PPV ever listed in order) and present. Let's roll.
The show began with a shot of the crowd in Sacramento. The announce team of Jimmy Smith, Corey Graves and Byron Saxton were on hand to call the action. They hyped up Charlotte Flair defending the Raw Women's Championship against Bianca Belair later on Raw.
Let's Hear from Charlotte Flair
Charlotte Flair made her entrance with the Raw Women's Championship around her waist. She was in dress clothes rather than wrestling gear, so her match is later in the show. They plugged the Smackdown Women's Championship match at Crown Jewel: Becky Lynch defending the title against Bianca Belair and Sasha Banks.
Charlotte mentioned Sacramento and wondered why there are no balloons or champagne? Charlotte wanted the roster to give her goodbye hugs. Charlotte said it was her last time on Raw before she goes to Smackdown and she has to defend the title against a rookie, flash in the plan like Belair? Charlotte said that was bullcrap while adding that Bianca isn't on the Raw roster. Charlotte noted that Bianca gets two title matches this week going for the Raw Women's Title tonight and the Smackdown Women's Title at Crown Jewel on Thursday. The fans chanted "you suck" so Charlotte reacted to them and mocked the fans for "what" chants. Charlotte bragged about being the most decorated woman in sports entertainment history. Charlotte complained about Bianca getting a title shot at her when she couldn't beat Charlotte the last time she faced Flair. Charlotte said that Bianca will learn how far she still has to go. Charlotte said that Bianca has beaten Bayley and Sasha while Becky couldn't beat her on her. Charlotte kept on bragging as usual, so here's the interruption.
Bianca Belair made her entrance to a good ovation from the crowd with "EST" chants while she was wearing an outfit with flower designs. Belair said that this isn't favoritism, it is justice served. Belair said that she has proved that she belongs here and she deserves this rematch tonight. Belair spoke about how Charlotte was beaten by Belair two weeks ago until she was saved by Big Time Becks (Lynch). Belair said that Charlotte is throwing a temper tantrum about leaving Raw and Belair got into the ring. Belair said that she's the EST of WWE, she's the one to watch and she always shines. Belair said that after tonight, Charlotte won't go here anymore. Belair told Charlotte to take as much time as she needs to say goodbye to that Raw Women's Championship. Belair told Charlotte to use the disappointment to be stronger and even kinder. Belair said that after this week when she returns to Raw she'll have the Raw Women's Championship on one arm and the Smackdown Women's Title on the other arm. Charlotte punched Belair and tried to do more, but Belair avoided an attack. Belair knocked Charlotte off the apron while Belair celebrated in the ring.
Analysis: It was okay as an opening promo segment to set up their match for later. Most of Charlotte's promos are the same because she mentions her credentials every time and it just feels repetitive after a while. Belair did a nice job of shutting her up. Charlotte did make good points about Belair getting two title shots this week, which does seem like a bit much, but that just shows how much WWE loves pushing Belair. I don't mind that at all since Belair is such a good performer that keeps getting better.
Xavier Woods was backstage with Kofi Kingston ahead of Xavier's King of the Ring Semifinals match. Kevin Patrick showed up to interview while Woods mentioned King Mabel, King Shamrock and King Booker. Kofi said that it is going to be in Xavier's corner to watch his back and we all know how much Woods wants to be King of the Ring. Woods mentioned they are in the home of the Sacramento Kings and this Thursday at Crown Jewel he will be King Woods.
Xavier Woods and Kofi Kingston made their entrance. The King of the Ring and Queen's Crown setup were on the stage. Xavier's match is next.
(Commercial)
A brief video was shown about Seth Rollins joining Raw next Monday. The new Raw roster was shown for next week's "Season Premiere" episode of Raw. Saxton thinks Raw is going to be better than ever. Good luck with that. I do think it's a better roster, though. Whether the booking is better, we don't know that yet.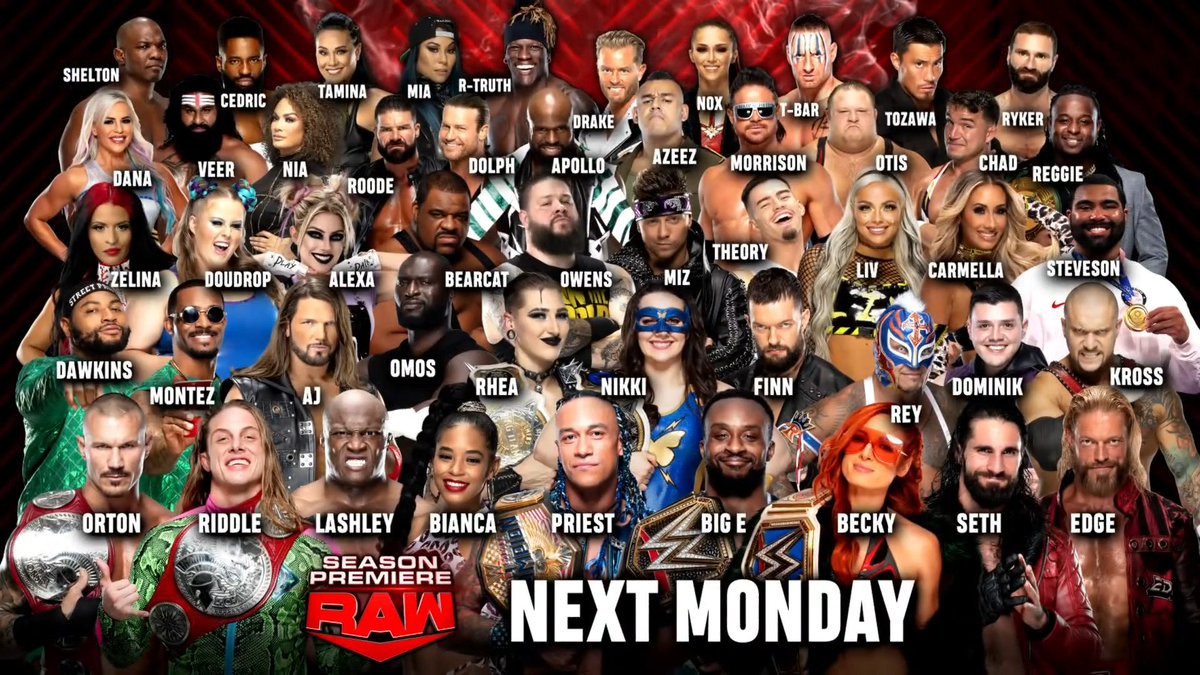 They showed some members of the NBA's Sacramento Kings at ringside.
King of the Ring Semifinals: Jinder Mahal (w/Veer & Shanky) vs. Xavier Woods (w/Kofi Kingston)
The winner faces Finn Balor in the finals this Thursday at Crown Jewel.
Mahal used his power early and then Woods shoved him into the turnbuckle. Woods with a kick, then a drop toe hold into the ropes and a dropkick to the back. Woods worked over Mahal with chops, but then Mahal hit a running shoulder tackle. Woods grabbed a side headlock, Woods broke free with an enziguri kick and Woods hit side Russian legsweep followed by a low dropkick for two. Mahal used his power advantage leading to a belly to back suplex. Woods got a rollup for two. Mahal with a corner whip, but Woods came back with a sunset flip for two. Woods charged, Mahal with a back body drop and Woods went crashing into the steel steps. Great bump by Woods leading to a break.
(Commercial)
Mahal was in control of Woods with punches while Woods was on the apron and Mahal caught Woods on his shoulders. Mahal hit a double knee gutbuster to the ribs for two. Mahal with a sidewalk slam followed by a knee drop that missed because Woods moved. Woods with a dropkick and Woods kicked Shanky off the apron. Woods jumped off the top, Mahal caught him and hit The Khallas slam. Mahal covered, but Woods was near the ropes, so Woods grabbed the bottom rope for a two count. Mahal went for a move off the turnbuckle, Woods with headbutts to knock Jinder down, Woods walked the top rope and hit an elbow drop across the ring. Woods covered Mahal for the pinfall win. Woods is going to the finals! It went nine minutes.
Winner by pinfall: Xavier Woods
Analysis: **1/2 The match was okay with Mahal getting a lot of offense until Woods made the comeback. I was surprised to see the lack of interference between Veer and Shanky. They could have set up a spot with Kofi saving Woods from a cheap attack, but it didn't happen other than Woods knocking Shanky off the apron. Anyway, I'm glad that Woods won clean. The right guy won here.
The win means that Xavier Woods will face Finn Balor in the King of the Ring Finals at Crown Jewel this Thursday.
Post match, Woods walked over to the King's crown and Kofi put the cape on and handed Woods the scepter. Woods posed by the crown. Woods: "Hail King Woods!"
Analysis: That should be a great match between Balor and Woods, who are both babyfaces. It's nice to see that they are going with a babyface winner this time. Balor is the bigger name, but I hope Woods wins.
They showed a replay of Austin Theory beating Jeff Hardy by cheating last week.
Austin Theory was interviewed by Sarah Schreiber earlier in the day. The 24/7 Champion Reggie went running by Theory, then he was being chased by other guys and R-Truth got a hold of Reggie. Theory pulled Truth asking who he is and Truth said that he had a theory that he was a theorist. Truth said it looks like Theory wants a fight, so Truth accepted his challenge if he gets permission from his mommy to stay up late with Truth laughing as if that was hilarious.
Austin Theory made his entrance and he's up against R-Truth up next.
(Commercial)
A video package aired about the No Holds Barred Match at Crown Jewel between Bobby Lashley and Bill Goldberg. The video lasted for a few minutes. They are in an interview later on Raw.
R-Truth made his entrance with a microphone in hand and he said he accepted the challenge for R-Truth's friend. It was time for Jeff Hardy to get a rematch against Theory. Nice pyro display for Jeff.
Austin Theory vs. Jeff Hardy
Theory with a shoulder tackle followed by some Hardy mockery. Hardy got a rollup two times with a handful of trunks the second time. Hardy knocked Theory off the apron, then Theory tripped Hardy up and Theory gave Hardy a neckbreaker off the apron on the floor.
(Commercial)
Theory was still in control with a stomp to the chest. Hardy avoided an elbow drop. Hardy with the atomic drop, double leg drop, low dropkick and splash combo that he has been doing for many years. Hardy tossed Theory out of the ring leading to a baseball slide dropkick. Hardy jumped off the steps with a Poetry in Motion attack on the floor. Jeff with a neckbreaker across the top rope. Jeff went up top and Theory hit the top rope to stop Jeff on the top. Theory with the spinning slam that sent Hardy's face into the knee for the pinfall win after seven minutes.
Winner by pinfall: Austin Theory
Analysis: **1/4 It was another win for Theory over Hardy just like last week although this time it was cleaner. Theory's finish looks impressive and is similar to a GTS, but not the same. The fans still love Hardy even though he is booked like a loser a lot of the time.
Theory celebrated with Graves talking about the 24-year-old Theory being confident. Post match, Theory got his phone and took a selfie with him. Hardy got back up and hit Theory with a Twist of Fate. Hardy took his own selfie with Theory. Hardy's music played even though he lost.
Who snapped the better SELFIE, @austintheory1 or @JEFFHARDYBRAND?#WWERawpic.twitter.com/iL6N1OeTvY

— WWE (@WWE) October 19, 2021
Analysis: Hardy is off to Smackdown now since he was picked by the blue brand in the draft. Maybe things will go better for Jeff on the blue brand.
They showed a video of last week's Raw when Big E and Drew McIntyre got into a brawl during their tag team match on Raw. McIntyre left Big E laying with a Claymore Kick.
Big E was shown backstage with the WWE Championship around his waist. Drew McIntyre walked up to him and he said he knows the hit to the head wasn't intentional. Big E admitted he added fuel to the fire when he tagged himself in before Drew tried to do a Claymore Kick. Big E suggested that maybe they should co-exist tonight. Big E said that this Thursday at Crown Jewel, may the best man win. McIntyre said that he will. Big E did the New Day promo introduction.
The WWE Champion Big E made his entrance for tag team action.
This Friday on Smackdown, find out who is Universal Champion after Crown Jewel and the new Smackdown roster will be there.
(Commercial)
The WWE Officials Adam Pearce and Sonya Deville were in their office with Charlotte Flair walking into the room. Flair complained about being told to defend the title and she was mad about Bianca Belair interrupting her. Flair said that she smelled a conspiracy. Deville said that the match makes perfectly logical sense. Flair said that you can't replace her with Bianca, and after Crown Jewel, she'll still be the Raw Women's Champion and the new face of Smackdown.
Drew McIntyre made his entrance with Angela the sword and the crowd cheered loudly. Their opponents were Dolph Ziggler and Robert Roode, who Drew/Big E beat two weeks ago on Raw. We know Raw loves rematches.
Big E & Drew McIntyre vs. Dolph Ziggler & Robert Roode
Big E with a shoulder tackle on Ziggler and Drew tagged in with a corner whip followed by two hard chops. Ziggler did an eye rake. Roode was back in with a kick to the chest followed by punches while on the turnbuckle. Roode shouted, "I'm Big Bob" and the fans booed. Drew with a clothesline followed by a clothesline. Big E was back in with a leapfrog followed by a back elbow. Big E knocked Ziggler off the apron followed by Big E beating on Roode with forearms to the chest. Big E went for a running splash on the apron, Ziggler pulled Roode out of the way and Big E hit the ring apron. Big E avoided a Ziggler attack and knocked him over the barricade. Roode got a hold of Big E and tossed him into the steel steps.
(Commercial)
The heels remained in control as Big E was isolated from his partner with Ziggler hitting a dropkick after Roode got in some cheap shots. Ziggler with a chinlock, Big E nearly broke free and Ziggler hit a neckbreaker. Roode back in, Ziggler with a splash and Roode hit a neckbreaker for two. Ziggler tagged in with a blatant eye gouge followed by punches. Ziggler with a running corner splash. Big E caught a leaping Ziggler and tossed him across the ring. Drew tagged in with clotheslines, then two overhead suplexes to Roode and an overhead suplex to Ziggler. Drew with a neckbreaker on Roode. Drew with an inverted Alabama Slam on Ziggler onto Roode. Drew lifted Roode, Ziggler pulled Big E off the apron and Roode hit a spinebuster on Drew for two. Ziggler was back in with an assisted Fameasser for the two count. Drew knocked down both guys including a Glasgow Kiss headbutt on Roode. Big E hit the Big Ending and stared at McIntyre while he made the cover. It went 13 minutes.
Winners by pinfall: Drew McIntyre & Big E
Analysis: ***1/4 A very good tag team match between four talented wrestlers that also wrestled eachother two weeks ago as we know. We all knew who was going to win, so the question was if the Drew/Big E team would be united and they ended up working well together with Drew fighting off Ziggler/Roode leading to Big E getting the win. That spot with Ziggler getting the Fameasser on McIntyre was the best spot for the match for the heel side.
After the match was over, Big E was handed the WWE Title. Drew McIntyre turned him around and they shook his hands. They talked about their matchup on Thursday at Crown Jewel with Big E saying he can't wait.
Analysis: I'm picking Big E there. I don't see him losing the title yet. I think they'll have an amazing match.
The Street Profits were backstage doing a promo with Angelo Dawkins speaking about how they were going to put the tag team division on notice. Ford spoke about how the Raw Tag Team Championship has caught their interest with RK-Bro facing AJ Styles & Omos. Ford said that they were demanding the smoke. Styles & Omos walked up to them calling the Street Profits "dorks." Omos told the Profits that Raw is his house. Styles said they'll be the new Tag Team Champions at Crown Jewel. Styles told the Profits to put a hurting on RK-Bro and they might see their names at the top of the list of teams that get to face Omos & Styles. Ford said that they are there to put the tag team roster on notice and the Profits ended it by saying "we want the smoke." Street Profits left while Styles & Omos thought that the Street Profits name was dumb.
Mansoor entered for singles action.
(Commercial)
A video aired about Kevin Owens joining the Raw roster on Monday. Will they use him better than Smackdown did? I hope so. There are rumors that his WWE deal is up in a few months, but he could always re-sign if he wants.
Cedric Alexander (w/Shelton Benjamin) vs. Mansoor
Mansoor used his legs for a takedown leading to a standing moonsault. Alexander with a T-Bone Suplex followed by a backbreaker. Alexander with punches followed by a waistlock to keep Mansoor grounded. Alexander with shots to the ribs, Mansoor with back elbows, then Mansoor landed on his feet after he broke free and Mansoor hit a jumping kick to the head. Mansoor hit a reverse DDT. Mansoor jumped over the top rope and hit a neckbreaker for the pinfall win after four minutes.
Winner by pinfall: Mansoor
Analysis: ** It was fine for a shorter match to put over Mansoor ahead of his match at Crown Jewel. Since Mansoor is on the Crown Jewel card and Alexander is not, the match result was pretty obvious. The match had a simple formula with the heel Alexander in control for most of it until Mansoor made the comeback. The finisher wasn't that special with a jumping neckbreaker, but it was fine I guess. The crowd barely reacted.
Mustafa Ali walked out with a suit complaining about how Mansoor is still smiling like a fanboy. Ali said that this Thursday in Mansoor's hometown, he will wipe the smile off Mansoor's face and he'll wipe the smile off the face of anybody that supports Mansoor. Mansoor told him to shut up. Mansoor stared at Ali with intensity saying he'll be grinning ear to ear when he beats Ali senseless. Mansoor said that this week at Crown Jewel he will prove that Ali is a sorry excuse of a man. Ali backed away a bit looking stunned.
Analysis: Good intensity shown by Mansoor. Ali sold it well by looking shocked by what Mansoor said in the interview. I thought Mansoor did well here. Mansoor winning at Crown Jewel seems like a lock to me.
An interview with Goldberg and Bobby Lashley is up next.
(Commercial)
Bobby Lashley/Bill Goldberg Interview
Bobby Lashley and Goldberg were shown on screen in a split-screen format so they were in separate parts of the arena. Goldberg said that at Crown Jewel, he'll beat Lashley within an inch of his life and he'll finish the job. Lashley said that is criminal. Lashley said he's letting Goldberg run his mouth because none of his threats become reality because Lashley is untouchable. Lashley said that this match will end like SummerSlam, but this time Goldberg won't have family there. Lashley spoke about Goldberg's son and Goldberg warned him not to speak about his family. Goldberg said in 72 hours, Lashley's ass is his and there's not a damn thing Lashley can do about it.
Lashley told Goldberg you can't kill the All Mighty, you can only hope to survive. Lashley said that he's going to unleash brutality and said that Goldberg will be begging for forgiveness. Goldberg wondered if Lashley meant that crap he was saying. Lashley said in the past they met with restrictions, but No Holds Barred means there is nothing to stop Lashley from ending Goldberg's career. Lashley said we're done here. Lashley took off his microphone. Goldberg told they'll be done at Crown Jewel, then said "safe travels" and "kill ya Thursday, Bobby."
Analysis: It was fine. I have liked the build to this match. I don't think it will be the best match or anything like that although I think a No Holds Barred Match is smart because they can have a match full of weapons and other stuff that can make their match feel different from the others on the card.
Randy Orton and Riddle were standing backstage with their Raw Tag Team Titles. Riddle said he knew Orton had a plan all along last week. Orton admitted that there was never a plan last week. Riddle said that it was totally believable and totally Randy. Riddle wondered what tricks Orton had up his sleeve for tonight while mentioning that the Street Profits saying they want the smoke gives him ideas. Orton cut him off asking if he wanted to know the plan. Orton said that the plan is to go to the ring to win, then go to Crown Jewel and win. Orton asked told him, "let's go get the smoke."
Randy Orton and Riddle made their entrance as the Raw Tag Team Champions. No birds as part of the Riddle entrance when Orton is in tag team action. It's only a singles action graphic.
(Commercial)
A video aired about Keith "Bearcat" Lee, who hasn't been on Raw for several weeks, but at least there was a video about him. The graphic called him "Bearcat Lee" only, so maybe they'll drop the "Keith" part although Graves said the first name.
The Street Profits duo of Montez Ford and Angelo Dawkins made their entrance.
Randy Orton & Riddle vs. The Street Profits (Montez Ford & Angelo Dawkins)
Riddle with a waistlock takedown on Ford into an armbar. Ford with a headlock, then he did a backflip out of the corner and Ford hit a leapfrog followed by a dropkick. Dawkins tagged in with a dropkick of his own followed by Dawkins slamming Ford onto Riddle for two. Orton ducked a punch attempt. Riddle avoided a double team move, Orton pulled Dawkins out of the ring. Riddle with a back body drop on Ford over the top to the floor. Riddle with a PK kick to Dawkins and then a Floating Bro off the middle rope. Ford recovered in the ring leading to Ford hitting a somersault dive over the top onto Orton/Riddle on the floor. I think Ford barely touched the guys, so it was a bit of a hard landing for Ford.
(Commercial)
The match continued with Orton in control of Ford with a chinlock, but then Ford broke free and hit a sunset flip for two. Orton with a clothesline. Riddle tagged in with a spin on Ford followed by a gutwrench suplex. Riddle with a chinlock on Ford, then Riddle went for a Powerbomb, Ford landed on his feet and Ford hit an enziguri kick to the head of Riddle. Dawkins got the tag with clotheslines, a leapfrog, an impressive leaping elbow on Riddle, a corner splash and Dawkins trapped the leg into a slam. Dawkins hit the double underhook neckbreaker for two. Riddle with a knee that rocked Dawkins. Orton tagged in against Ford with Orton hitting a powerslam, Ford to the apron, so Orton hit the DDT off the ropes. Orton set up for the RKO, but that's when the theme music of AJ Styles hit. Omos walked out onto the stage and then AJ Styles hit Orton with a Phenomenal Forearm for the DQ after 10 minutes.
Winners by disqualification: Randy Orton & Riddle
Analysis: **3/4 A cheap ending to a tag team match that was on its way to being pretty good. It was payback for Styles since Orton had dropped him with multiple RKO's out of nowhere recently, so this time it was Styles getting his shot in against Orton. I liked some of the things they did in this match with Dawkins showing a lot of fire after the hot tag while Ford worked well with Orton as well. Those teams can definitely have a rematch down the road.
Post match, Omos decked Dawkins with punches and slammed Riddle onto the apron. Omos with a press slam on Ford. Styles trash-talked Orton, who was down in the ring. Orton pulled himself back up, walked towards Omos and Omos kicked Orton in the shoulder to knock The Viper down. Styles and Omos left triumphantly.
Analysis: It's a way to make Styles & Omos look dominant going into the title match on Thursday. I doubt Riddle & Orton lose the titles at Crown Jewel. Orton did a nice job of selling the kick.
There was a video about Smackdown Women's Champion Becky Lynch coming to Raw next week.
Shayna Baszler made her entrance for her Queen's Crown tournament match.
(Commercial)
There was a graphic shown of Stephanie McMahon posting about the Chicago Sky winning the WNBA Title, so WWE is sending the Raw Women's Title to them.
Doudrop made her entrance. Doudrop said that Baszler is an insecure bully while Doudrop is going to be one step closer to being a queen. The winner gets Zelina Vega, who made her entrance to watch the match from the stage while wearing the crown and putting the cape on. Vega watched the match from the throne.
Queen's Crown Semifinals: Shayna Baszler vs. Doudrop
Doudrop shoved Baszler into the turnbuckle while Baszler came out of the corner with kicks to the legs. Doudrop tossed Baszler across the ring, Baszler with more kicks to the leg and Doudrop hit an impressive belly to back suplex. Doudrop hit a cannonball splash on Baszler against the turnbuckle. Baszler went for the Kirifuda Clutch submission, but Doudrop backed her into the turnbuckle and slammed Baszler down. Baszler went for the cross body block, Baszler moved and Baszler locked on the Kirifuda Clutch. Doudrop tried to fight it, then she bridged back so she laid on top of Baszler, who was holding onto the hold, so Doudrop pinned Baszler to win. They got less than three minutes.
Winner by pinfall: Doudrop
Analysis: *3/4 It looked like it was going to win for Baszler like we have seen many times when she slaps on the Kirifuda Clutch, but Doudrop kept fighting it and simply sat on top of Baszler to win. The finish actually works well because Doudrop is a bigger woman, so having her lay on top makes it tough for Baszler to release the hold and kick out. The outcome didn't surprise me that much.
The Finals of the Queen's Crown tournament is Doudrop vs. Zelina Vega. Doudrop walked over to the stage where Zelina already put the attire on. Doudrop told her that it will be hers.
Analysis: I think they might go with Queen Doudrop. There's a big size difference since Doudrop weighs more than any woman in WWE while Vega is the shortest woman in WWE, so that will make it an interesting dynamic. I'm not sure if it will be a good match. It's just a unique matchup that will probably be short.
Bianca Belair was shown warming up with Nikki A.S.H. and Rhea Ripley going up to her to wish her good luck against Charlotte Flair. Nikki handed Belair a Raw hat. Ripley welcomed her to Raw. Belair said that she'll give Charlotte Flair the proper farewell tonight.
Finn Balor entered for singles action. He was drafted to Raw.
(Commercial)
Xavier Woods was on the stage with the cape and the scepter, but he did not put the crown on.
Finn Balor vs. Mace
Mace was drafted to Smackdown, so this is his last Raw match. Mace with a knee to the ribs followed by a forearm. Mace grounded Balor with a chinlock, then punches and a running back elbow. Mace charged, Balor moved, Balor ran the ropes and Mace hit a spinning Bossman Slam. Balor got out of a vice grip, then a trip and a double foot stomp to the body. Balor with an elbow drop into a reverse DDT and a Slingblade neckbreaker. Balor with a running dropkick that sent Mace into the turnbuckle. Balor up top and he hit a Coup de Grace double foot stomp for the pinfall in under three minutes.
Winner by pinfall: Finn Balor
Analysis: *1/2 A dominant win by Balor, who sold for about two minutes and then took about one minute to finish off Mace. I thought some of Mace's moves looked pretty good. I don't know if he's going to be a big deal on Smackdown, but he is a big guy that will have a chance. Balor winning made sense since he's going to be on the Crown Jewel show while Mace is not.
Post match, Woods was having fun on the stage with Balor going up to him. Woods was pointing the scepter at him, so Balor grabbed the scepter from him and they exchanged in some trash talk. Kofi Kingston went out there to try to calm them down with Kofi keeping Woods back.
Analysis: It's a fresh matchup between Balor and Woods. It should be very good.
John Morrison was shown sitting down on the floor. Viking Raiders showed up asking Morrison what he was doing. Morrison said he was searching for his "chi" and he was asked if it would help him raid, but Morrison said that is not the purpose of his quest. Morrison said that he will use it to share his innermost thoughts with the world. Morrison went back to sitting down by the equipment boxes.
Analysis: I have no idea. I guess Morrison dumped the water reference gimmick and is now a guy that is trying to find his chi. Whatever.
Bianca Belair made her entrance for the main event.
(Commercial)
The announcers did a rundown of the Crown Jewel lineup for this Thursday. They went in this order:
WWE Universal Championship: Roman Reigns (c) vs. Brock Lesnar

Raw Tag Team Championships: Randy Orton & Riddle (c) vs. AJ Styles & Omos

Finals of the Queen's Crown Tournament: Doudrop vs. Zelina Vega

No Holds Barred Match: Bobby Lashley vs. Bill Goldberg

Finals of the King of the Ring Tournament: Xavier Woods vs. Finn Balor

WWE Championship: Big E (c) vs. Drew McIntyre

Mansoor vs. Mustafa Ali

Hell in a Cell Match: Edge vs. Seth Rollins

Smackdown Women's Championship: Becky Lynch (c) vs. Bianca Belair vs. Sasha Banks
WWE Crown Jewel is live on Thursday, October 21, at 12 p.m. ET/9 a.m. PT on Peacock in the United States and WWE Network everywhere else. We will have a Crown Jewel preview on TJRWrestling on Wednesday morning and then I'll review the show live on Thursday, which will be in the afternoon here.
Charlotte Flair made her entrance as the Raw Women's Championship. Charlotte takes her time getting out there and getting to the match. The women stood in the ring for the championship introductions from ring announcer Mike Rome.
Raw Women's Championship: Charlotte Flair vs. Bianca Belair
There were about 20 minutes left in the show. They did a spot where they each went for a dropkick followed by a kip-up spot. Belair used her athleticism to avoid Flair, then an ass slap and a back flip off the ropes. Flair made her way to the apron, Belair wanted to attack her there, but Flair got a hold of Belair's hair and Flair tossed Belair over the commentary table. They went to break there.
(Commercial)
The match returned with Belair hitting a body slam and then Flair came back with a kick to the ribs. Flair hit a belly to back suplex while fans chanted "EST" for Belair. Flair went for a standing moonsault, but Belair blocked and Belair did her own standing moonsault. Belair hit a delayed vertical suplex for two. It looked like Flair had a bloody lip or tooth since she had some blood around her mouth. Belair went for a splash, Flair with knees up, Flair with a rollup and Belair tried to fight back, but Flair lifted her with a Powerbomb for two. Flair went up top for a moonsault, Belair moved and then Flair hit a standing moonsault. That's the Andrade spot that Flair has added to her arsenal in the last few months. Fans were chanting "this is awesome" for them as Belair got a rollup for two. Flair charged towards Belair, who got a hold of Flair and hit a spinebuster. Flair rolled out of the ring, Belair tried to bring her back in and Flair left the ring again. The referee was counting, Belair tossed Flair over the commentary table just like Flair did to her and Belair went back into the ring to break the count. They went to break there.
(Commercial)
The match returned with about seven minutes left as Flair worked over Belair with punches. Belair with a kick to the body, Belair went for a lifting move and Flair countered, but Belair sat on top for two. Flair hit a big boot to the face for two. Belair rocked Flair with a punch to the face. Belair up top and Flair punched Belair to knock her to the floor. Flair went up top and hit a moonsault on Belair using her arm to take down Belair. Back in the ring, Belair avoided the Natural Selection neckbreaker. They each went for moves, there were escapes by each woman and Belair hit a modified Glam Slam for a two count. Belair went for the Kiss of Death (KOD), Flair countered by going to the apron and they exchanged moves again until Flair bounced off the ropes and hit a Spear for two! Just a two count. Flair had a stunned look on her face. The fans were chanting "this is awesome" as a frustrated Flair pulled on Belair's hair. Flair was visibly frustrated. Flair went up top again, she went for a moonsault, Belair moved and Belair hit a German Suplex with Flair flipping over to her stomach with Belair making the cover for one…two…and no. Just a two count for Belair. Belair went up top, but Flair kicked Belair's foot and the referee went in close likely to give them a time cue. Flair wanted a superplex, Belair fought her off with punches and Flair did a punch. Belair hit a sunset flip Powerbomb off the top for two. Flair left the ring. Belair tried another move with Flair near the apron, but then Flair hit Belair with a chair to the ribs. That led to a DQ after 22 minutes.
Winner by disqualification: Bianca Belair (Charlotte Flair remains Raw Women's Champion)
Analysis: **** This was a great match. The finish was done that way to avoid either woman taking the pin. I don't love the finish at all especially after going over 20 minutes in an awesome match, but as a longtime WWE fan, it's really not a surprise that they went with an ending like that. I thought the athleticism of both women was on full display throughout the match. Some of the stuff they did was not easy to do, but Flair makes everything look so easy while Belair was right there with her in terms of doing cool moves. I thought some of the nearfalls were great like Flair's Spear and Belair's Powerbomb although neither move is a finisher, so I didn't the match would end at those points. Belair kept going for the KOD, she never hit it and Flair kept finding a way to keep coming back. I certainly thought a title change was possible because I have no idea what WWE might do with the Raw Women's Title on a Smackdown wrestler like Flair, so we'll find out possibly after Crown Jewel. Anyway, I hope we get a Flair/Belair rematch down the road even though they are on different shows.
Post match, Belair hit Flair in the back with the chair and Flair left the ring. Belair held up the chair to end the show.
Analysis: It was a bit rushed because they were right up against the top of the hour. There wasn't much time to do anything after the match.
Three Stars of the Show
1. Bianca Belair
2. Charlotte Flair
3. Big E/Drew McIntyre
The Scoreboard
6.5 out of 10
Last week: 5.5
2021 Average: 6.07
Final Thoughts
It was a solid episode of Raw for the most part. The Flair/Belair main event was great, but I'm sure some people will be mad about the DQ finish and that's understandable. I don't like it that much either. They also did a DQ in the Orton/Riddle tag with Styles/Omos getting involved. Maybe cut back on DQ finishes? I wouldn't mind it.
Other than that, it just felt like a typical Raw. They put over people in Crown Jewel matches while non-CJ wrestlers were doing the jobs for the most part. The two tournament matches were okay and as I wrote above, I hope Xavier Woods wins King of the Ring.
There wasn't anything on the show that was that bad. I just don't think it was that interesting overall. Mostly just an average Raw to me.
The next WWE PPV is Crown Jewel this Thursday, October 21 from Riyadh, Saudi Arabia. Here's what we know so far:
WWE Universal Championship: Roman Reigns (c) vs. Brock Lesnar
WWE Championship: Big E (c) vs. Drew McIntyre
Smackdown Women's Championship: Becky Lynch (c) vs. Bianca Belair vs. Sasha Banks
Hell in a Cell Match: Edge vs. Seth Rollins
No Holds Barred Match: Bobby Lashley vs. Bill Goldberg
Raw Tag Team Championships: Randy Orton & Riddle (c) vs. AJ Styles & Omos
Finals of the King of the Ring Tournament: Xavier Woods vs. Finn Balor
Finals of the Queen's Crown Tournament: Doudrop vs. Zelina Vega
Mansoor vs. Mustafa Ali
WWE Crown Jewel is live on Thursday, October 21, at 12 p.m. ET/9 a.m. PT on Peacock in the United States and WWE Network everywhere else.
===
You can contact me using any of the methods below. Go Los Angeles Rams, Toronto Raptors and Toronto Maple Leafs. Be safe and smart out there.
Thanks for reading.
John Canton
Email: mrjohncanton@gmail.com
Twitter: @johnreport
Personal Facebook and TJRWrestling on Facebook