The John Report: WWE NXT 12/11/19 Reaction
Welcome to another WWE NXT Reaction column where I cover what happened on this week's NXT show. As a reminder, this is not a play by play review of the show. Instead, it's more of a reaction that will include my star ratings for the matches as well as my analysis. I'm going to try to do it every week, but some days it will be later on Thursdays or even Fridays. Part of that is because NXT isn't shown on Canadian TV on Wednesday nights. That means I have to download it on an illegal streaming site or wait until it goes on WWE Network on Thursday night. (This is the same intro as last week. I write so much in a week that I think I'm allowed to copy and paste!)
It's now Friday morning and I'm watching on WWE Network. You can check out the review by Jim Kress as well.
Live from Full Sail University in Orlando, FL. Follow me on Twitter @johnreport. Let's roll.
The show began with Adam Cole doing a promo from the production truck talking about the main event with Finn Balor, Keith Lee and Tommaso Ciampa battling in a triple threat match for the right to face him for the NXT Title next week.
The announcers for the show were Mauro Ranallo, Nigel McGuinness and Beth Phoenix as usual.
Angel Garza defeated Lio Rush to win the NXT Cruiserweight Championship
The story going in was that Garza made it personal by taunting Rush and his family. The pacing of the match was fast-paced right from the start. They brawled in the ring, then out of the ring and then Garza sent Rush face-first into the edge of the ring apron. The fans rooted for both guys, but there was a lot of support for Garza, who was the heel in the scenario. They had some great sequences where they countered moves. It's good to be able to practice these matches at the WWE PC. Garza was in full control as they went to a commercial.
The counter wrestling continued when Garza was going for a Powerbomb, but Rush countered it with a hurricanrana out of the ring and then he hit an incredible moonsault onto Garza on the floor. They did a spot on the turnbuckle where Garza hit an Avalanche Spanish Fly for a two count and it looked like the finish, but Rush kicked out. The crowd popped huge for that nearfall. They followed that with more strikes, headbutts, each guy connected with big kicks and they each fell face first to the mat. The fans gave them a standing ovation along with "NXT" chants for this incredible action. They even had moments in the match where they hit each other's moves for nearfalls. Rush hit the Come Up stunner for a two count for another believable nearfall. Rush hit a Final Hour frog splash on Garza for a two count. With Garza on the floor, Rush jumped off the top, Garza blocked with the knees and Garza hit the Wing Clipper in the ring for a two count. That was an even better nearfall than what they did before! Garza slapped on a reverse Full Nelson submission and Rush tapped out to give Garza the victory and the title after 15 minutes. Big pop from the crowd for the title change even though Garza is a heel.
Match Analysis: **** This was great – a four star match out of five. I think it was one of the best Cruiserweight Title matches this year, if not the best. It felt like a fight, they had some good highspots and I thought the finish of the match was very well done too. It was the best WWE match I've seen from both guys, so if they want to do it again in the future, that would be fine with me. The story was that Rush took a big risk with the splash attempt on the floor, Garza blocked it and finished him off. This match is also a reminder of what WWE needs to do on Raw and Smackdown some weeks. Start the show with an exciting match like this. It's better than doing a 15-minute promo like we have seen so many times over the last twenty years.
Garza held up the Cruiserweight Title and Ranallo noted that he is the first Mexican Cruiserweight Champion.
They showed a video package about Shayna Baszler to set up her NXT Women's Title match next week against Rhea Ripley on the last NXT show of the year. Baszler bragged about all the women she has beaten as the champion.
Finn Balor did a promo talking about all that he has accomplished in WWE as NXT Champion, two-time Intercontinental Champion and first ever Universal Champion.
They showed a clip from during the commercial break where Angel Garza talked about his family. Garza brought his girlfriend in the ring and he proposed marriage to her. She said yes, so she is now his fiancée. Congrats Angel and his lady on the engagement.
Raul Mendoza defeated Cameron Grimes
This match was set up by Grimes attacking Mendoza on NXT last week. They showed a clip of Grimes attacking Kushida at the WWE PC one night earlier because Kushida beat Grimes last week. Mendoza was aggressive early on and hit a dive off the top onto Grimes on the floor. Grimes hit a spinning slam. Kushida showed up to get a closer look at Grimes. They messed up the spot initially, but then Mendoza hit a hurricanrana into a pin to win the match in just over one minute.
Match Analysis: 1/2* It was just a short match to put over the story of Kushida costing Grimes the victory, which should set up another victory for them. It also gives Mendoza a victory and that's good for him even in a short match. I think Grimes has a lot of potential as a heel. Kushida is one of the best workers in NXT these days.
Post match, Kushida stole Grimes' hat and walked to the back with it.
Mia Yim did a promo saying it's not a match with Dakota Kai, it's a fight and Kai the one that is going to be in the ambulance.
Travis Banks defeated Jaxson Ryker
Banks is from the NXT UK brand, so this was done to promote the Worlds Collide event during Royal Rumble featuring NXT and NXT UK superstars. The bigger man Ryker was in control for most of the match. Banks took a shot to the left eye early in the match and that bloodied him. Banks made a comeback with two dropkicks and a cannonball attack against the turnbuckle. Banks won with a jumping kick off the turnbuckle with Ryker kicking out right after three to show that it was close.
Match Analysis: * It was a quick match to put over Banks. They didn't get a lot of time, but it was fine for what it intended to be. They should bring over some bigger names from NXT UK to promote the Worlds Collide show.
Dakota Kai defeated Mia Yim
I like Kai's heel look along with carrying the knee brace of Tegan Nox as a trophy of sorts. They did a good job of fighting aggressively early in the match. Kai attacked Yim at WarGames, so it makes sense for Yim to want to get revenge against her. They had a good spot early in the match with Yim hitting a cannonball against Kai against the steel steps. It was a bit of a back and forth match with each woman getting nearfalls. Kai tried to use the knee brace as a weapon, but the referee stopped her, so Kai exposed the top turnbuckle. Kai sent Yim face first into the exposed turnbuckle and hit the ROLLUP OF DEATH~! pin for the victory. It went about 10 minutes.
Match Analysis: **3/4 The match was just a bit above average. The finish was fitting for a heel like Kai to find a way to get the victory with the dreaded ROLLUP OF DEATH~! in a situation like that. It also suggests that the feud is going to continue because it wasn't a decisive win. What happened post match also tells us there will be more to come.
After the match, Yim attacked Kai and they went brawling into the crowd where Yim set up two tables. They were on platform and Yim gave Kai a belly to back suplex off the platform through two tables were about eight feet below. When they landed, the back of Kai's head hit the edge of the table, so it looked like a brutal landing. They basically missed the second table completely. I assume the plan was to hit the middle of the two tables, so when Yim missed Kai with the placement, that's why Kai's head hit the edge of the table.
https://twitter.com/GIFSkull/status/1205029070154584064
Kai tweeted that they put eight staples in her head to cover up the wound from the fall. She also listed dates of NXT shows this weekend, so she's ready to go.
Analysis: That was a big spot, but it was also very risky. I understand wanting to do a table bump to put over the story. I just don't think doing a back bump through a table is a smart move. That's why you usually see people doing a Powerbomb or a Spinebuster through a table because then you can protect the person going through the table a lot better than if you are falling from above through the table. I'm glad that Kai is okay. I just wish they did a safer bump.
Keith Lee was featured in a video talking about how opportunity is all that he required while talking about beating Ciampa and Balor in the main event.
Breezango (Fandango and Tyler Breeze) defeated The Singh Brothers (Samir and Sunil Singh)
The Breezango duo had doctor's outfits as part of their entrance. I don't think the Singh Brothers are NXT regulars, but they can be used to put over teams like in a match like this. Breeze was the face in peril for a few minutes. Fandango got a good nearfall with a Falcon Arrow. Fandango gave Samir a Powerbomb on the apron as if he was Kevin Owens. Nice double team elbow by Breezango on Sunil as well. Fandango hit the top rope leg drop for the pinfall win after four minutes.
Match Analysis: *3/4 It was okay as a match to put over Breezango. Nobody watching this thought the Singh Brothers had a chance. I would like to see Breezango in a meaningful feud because they're popular and they're good workers. It might be time to elevate them as challengers to the Tag Team Titles held by the Undisputed Era.
There was a video about Rhea Ripley talking about how she started training for wrestling when she was 16 and she had a journey that saw her go to the Mae Young Classic, she was NXT UK Women's Champion, she led the women's team to victory at WarGames and now she has to get the NXT Women's Title from Shayna Baszler. That's going to be such an awesome match.
Bianca Belair defeated Kayden Carter
This was about putting over Belair. I don't know much about Carter. She appears to be a great athlete and a smaller woman, but she looks pretty good technically. Belair took over the match with two backbreakers followed by a slam where she lifted Carter up by the hair and drove her to the mat. Belair hit a nice-looking slingshot suplex. After some brief offense from Carter, Belair hit a Spear and the KOD slam ended it. The match went about five minutes.
Match Analysis: *1/2 This was a showcase match for Belair. I think she needs a feud once we get to the new year. Perhaps she'll be the first title contender if Rhea Ripley wins the NXT Women's Title. Belair has a lot of charisma and could get over as a heel or face, but I can see her having more value as a heel long term.
Adam Cole made his entrance with the NXT Title to watch the main event.
Tommaso Ciampa got a video package to talk about the main event triple threat match. Ciampa said he is focused on getting "Goldie" (the NXT Title) back and that path goes through Lee and Balor.
Analysis: All three video packages for the three guys in the main event were well done. That's something that WWE needs to do on Raw and Smackdown. Make us care about the big matches more. Feature the wrestlers in those matches. Don't just throw a big match out there. Make us care about it.
Finn Balor defeated Keith Lee and Tommaso Ciampa to earn a NXT Title Match Next Week
I might do a bit of play by play for this one. Balor was the only heel in the match, so it made sense when Lee and Ciampa worked together for a bit early on. There were so many big spots in the match like when Lee hit a slingshot cross body block over the top onto both guys. That led to a break.
Lee was in control with splashes on both guys, but Balor hit him with a dropkick to the back. Ciampa clotheslined Lee out of the ring. It's impressive how easily Lee makes those big bumps look. Ciampa hit a double draping DDT on both guys leading to the "Daddy's Home" chants for Ciampa, who did an Air Raid Clash slam on Balor on top of Lee. That was well done. Lee battled with Ciampa, who couldn't lift up Lee and Balor was able to get back into it with a double foot stomp on both guys. Lee came back with splashes on both guys and then he tossed Balor into Ciampa. They did a spot off the turnbuckle where Ciampa and Balor hit a double Russian legsweep to drive Lee into the mat. There was another break.
The match returned with Lee putting Ciampa on his shoulders while Ciampa had Balor on his shoulders for a slam and Lee dropped back to send both guys down. That was a brutal landing for Ciampa especially, but they got through it fine. Lee missed a moonsault and then he hit the Jackhammer on Ciampa. When Lee tried the Jackhammer on Balor, there was an inside cradle counter by Balor. That was tremendous. Balor also countered a Lee move by a double foot stomp to the chest. That was sweet. Balor took out both guys including a somersault dive over the top on Lee and Balor dropkicked Ciampa into the barricade. Lee got back into it after a shoulder tackle on Balor. Ciampa picked up Lee and gave him an Air Raid Crash slam for a two count. That was impressive to see him pick up a 350 pounder like Lee. A huge spinebuster by Lee followed that and also a moonsault for a two count. Lee hit his Spirit Bomb sitout Powerbomb on Ciampa and was going for a cover, but Balor broke that up with perfect time as he hit the Coup de Grace double foot stomp on Lee and pinned him. Wow. That was the right way to end this with a big move like that.
Match Analysis: ****1/4 This was an awesome triple threat match. I'm not surprised by that given the talents of the men in this match and the fact that they were given nearly 20 minutes. What helped this match a lot is that the winner wasn't obvious, so the fans were really into it right away and there were so many believable nearfalls. Balor really stood out because this was probably the best match he had this year. Lee and Ciampa were fantastic as usual. I liked the power spots by Lee while Ciampa always impresses. I thought the finish was perfect because it wasn't a case of Lee hitting a move and Balor stealing the pin. It was Balor being a crafty heel that was smart enough to hit his move at the right time and that's why he won the match.
The win by Balor means that he will challenge Adam Cole for the NXT Title on next week's show.
Cole and Balor had a staredown, then the Undisputed Era walked out to pose with Cole and Balor continued the trash talk to end the show.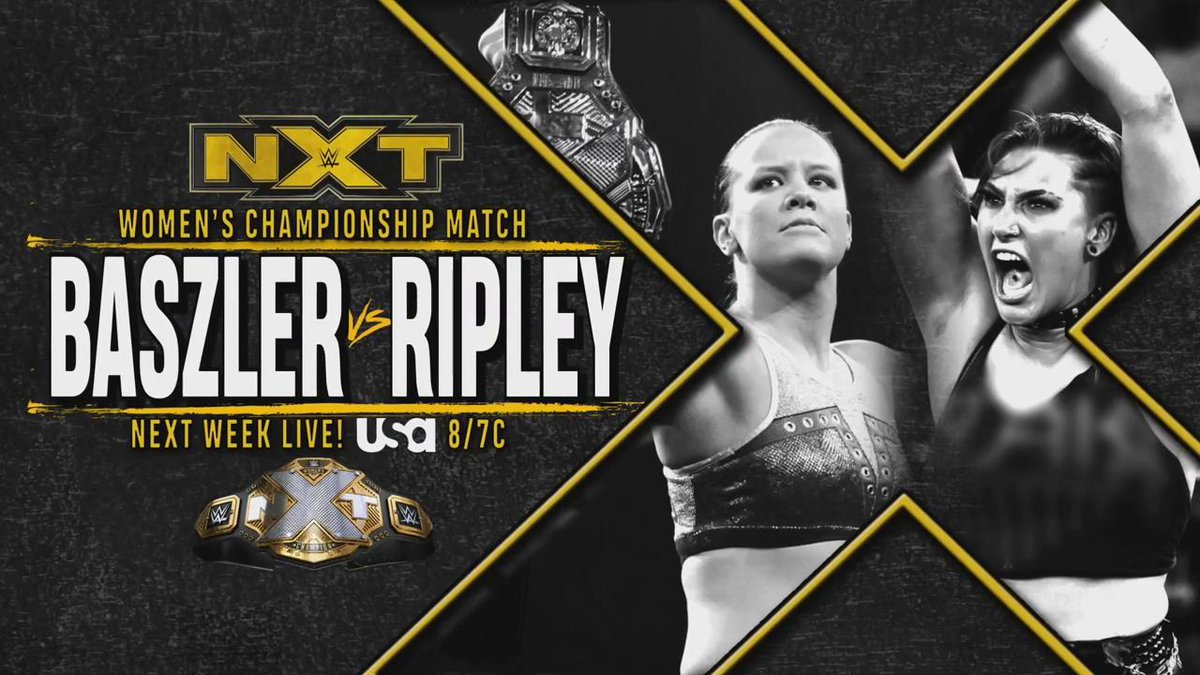 My predictions for the two big title matches next week:
I think Adam Cole will retain the NXT Title against Finn Balor. It's heel vs. heel, but the crowd will be into it because they love both guys. It's a good spot for Johnny Gargano to return and distract Balor to cost him the title win. I think the top two matches at NXT Takeover in February will be Cole vs. Tommaso Ciampa for the NXT Title and Balor vs. Gargano.
I think Rhea Ripley is going to beat Shayna Baszler to win the NXT Women's Title. I also think the rumors of Baszler going to Raw to face Becky Lynch will happen in early 2020, so they'll need to get the title off Baszler. It's time for a title change with Ripley as the featured woman in NXT as the new champion.
Three Stars of the Show
Finn Balor
Keith Lee/Tommaso Ciampa
Angel Garza/Lio Rush
I picked five guys. It happens sometimes when there are two outstanding matches.
Final Thoughts
I give this show a 7.25 out of 10.
There were two matches at the four star level on the show, so that's impressive. There wasn't anything else on the show that stood out that much other than the angle with Yim/Kai to continue their rivalry. Make sure you check out the Balor vs. Lee vs. Ciampa and Garza vs. Rush matches because they are two of the best WWE TV matches this month. The rest of this week's NXT featured some people that don't get used as much and don't really have storylines right now. That's why it got a 7.25 and not an even higher score this week.
Next week's NXT has two big matches:
* Adam Cole defending the NXT Title against Finn Balor
* Shayna Baszler defending the NXT Women's Title against Rhea Ripley
It's a big one. That should be an outstanding episode of NXT.
—
Thanks for reading. My contact info is below.
John Canton
Email mrjohncanton@gmail.com
Twitter @johnreport
Personal Facebook and TJRWrestling on Facebook