The John Report: WWE NXT 10/05/21 Review
Welcome to the WWE NXT review here on TJRWrestling. It's the fourth week of the new NXT 2.0 brand of the show.
This episode is taking place at the WWE Performance Center in Orlando, Florida. Follow me on Twitter @johnreport. Check out my WWE NXT review archive here. Let's get to it.
The show began with some highlights of last week's show. They said that the main event is a Fatal 4-Way NXT Tag Team Championship match after initially advertising it as a 4 on 4 tag team match.
The Toxic Attraction trio of Mandy Rose, Gigi Dolin and Jacy Jayne entered for Mandy in action. They all look incredible. This is stable is definitely eye-catching as the camera zooms in on them during the entrance. Ember Moon entered as the opponent.
Mandy Rose (w/Gigi Dolin & Jacy Jayne) vs. Ember Moon
Moon hit Rose with a running back elbow, then Rose came back with a slap to the face and Moon hit some more punches. Moon set up Rose upside down against the turnbuckle, then some kicks and Dolin/Jayne saved Rose. Moon hit a suicide dive on Jayne on the floor. Rose jumped on Moon, so Moon Powerbombed Rose on the apron. Moon was distracted by Dolin, so Rose hit a forearm back in the ring and then a gutwrench suplex. Rose with a snapmare leading to a leg body scissors around Moon's waist. The fans were chanting for both women even though Rose is a heel. Rose with an abdominal stretch, then an elbow to the ribs and Moon fought out of that leading to the forearm. Moon with an enziguri kick to the head. Moon jumped off the ropes with the double knees and a knee lift to the head. Moon up top, she jumped off, Rose avoided it and Rose hit a jumping knee to the face for the pinfall win after five minutes.
Winner by pinfall: Mandy Rose
Analysis: **1/2 They did a good job here in terms of hitting some big spots leading to Rose avoiding a jumping attack by Moon, which led to Rose connecting with the knee strike for the pinfall win. They are building Rose up as one of the top women on the show and possibly the next NXT Women's Champion as well. I'm surprised Toxic Attraction didn't try to interfere more. It was a clean win for Rose while Moon isn't being used that much.
The NXT announce team of Vic Joseph, Wade Barrett and Beth Phoenix were shown on commentary. Vic asked about what Seth Rollins did at Beth's house on Smackdown and Beth said that Adam (Edge) will handle it.
Legado del Fantasma did a promo talking about how Hit Row got drafted to Smackdown, but Santos Escobar wanted Isaiah "Swerve" Scott to defend the NXT North American Title against him.
The big man Odyssey Jones entered for a match. The fans like him.
(Commercial)
Odyssey Jones vs. LA Knight
Knight avoided Jones leading to punches, then Jones with a corner splash and a toss across the ring two times. Jones with a shoulder tackle, Knight with a trip into the middle turnbuckle and Knight with punches to the back. Knight worked over Knight against the ropes leading to a knee to the head. Knight hit an elbow drop for just a one count. Knight lifted Jones, but Jones landed on top of Knight to block that move. Jones worked over Knight with punches, then a running body attack and a gutbuster into the knee. Andre Chase was at ringside yelling at Jones, so Jones punched Chase down. Knight capitalized with a neckbreaker. Jones went to put his foot on the rope, but Chase pushed the foot off the rope. It went about four minutes.
Winner by pinfall: LA Knight
Analysis: *1/2 A cheap win for Knight since Chase interfered and then pushed Odyssey's foot off the rope when Jones was going to get the kick out. It protects Jones since he didn't lose clean while Knight gets the cheap win that was fitting for a heel like him. Jones should destroy Chase when they have a match. Knight is one of the older guys on this show, so I don't know if he'll ever get pushed that much.
Cameron Grimes was interviewed by Mckenzie Mitchell with Grimes saying that there's a lot of love going around talking about the IN-DEX wedding, Trey Baxter/Cora Jade making out in the locker room and said he's looking for a lucky lady. Pete Dunne showed up with Ridge Holland with Dunne challenging Grimes to a match. Grimes wasn't really paying attention to him, Grimes accepted the match and Grimes went off to talk to two pretty girls standing by.
Tommaso Ciampa entered with the NXT Championship for some promo time after a break.
(Commercial)
Kyle O'Reilly was shown in the locker room talking to Von Wagner, who said he respects Kyle and said he has heart. Von said that he didn't like Dunne or Holland. Kyle said after the last year, he doesn't trust anybody. Kyle told Von to let him handle his business and stay out of his way.
Let's Hear from Tommaso Ciampa
Tommaso Ciampa was in the ring with the NXT Title aka Goldie. Ciampa mentioned October 26 is when NXT Halloween Havoc will take place. Ciampa referenced a guy saying that he is not a patient man and he wants to be the face of NXT 2.0. Ciampa called out somebody who had the balls to face him. Ciampa wondered who wanted to face him.
Bron Breakker made his entrance wearing street clothes including jeans and a leather jacket. Barrett talked about seeing an LA Rams (my team!) game at SoFi Stadium and mentioned WrestleMania taking place there in 2023 while thinking that maybe a guy like Breakker could be on the card that night. Breakker said he's treated Ciampa with nothing but respect since walked through the door. Breakker said that he wants to be the NXT Champion and he's got the biggest balls in that locker room. Breakker wanted to face Ciampa for the NXT Title at Halloween Havoc. Ciampa said that Breakker wants this NXT Title and Ciampa said that he needs this title. Ciampa said that this title is something bigger and better to him while to Breakker, it's a stepping stone to something bigger and better. Ciampa told Breakker he has three weeks to go from an intern to a guy with a PhD. Ciampa: "Challenge accepted." Ciampa bumped Breakker's shoulder and left.
Analysis: That was pretty simple. While I have no problem with Breakker getting an NXT Title shot, he only has one win in a singles match and got a win in a tag team match. I think they should put Breakker over in more singles matches before they announce something like that. Anyway, Ciampa had a good line about how this title is something bigger and better to him since he's an NXT lifer most likely while Breakker is probably going to be a big name on Raw/Smackdown in the future.
Halloween Havoc takes place Tuesday, October 26 at 8pm ET on USA Network as well as wherever you watch NXT.
Analysis: The last Takeover on Peacock/WWE Network was in late August. Normally that meant that the next one would be in October, but not this year. Perhaps they will wait to do the next Takeover until Survivor Series although I don't know what the plan is.
Joe Gacy did a promo saying he will use the ring as our safe space. Gacy said tonight they will prove that conflict can be resolved peacefully and he said there can be two winners.
(Commercial)
They showed Indi Hartwell and Persia Pirotta walking backstage with Pirotta talking to Hartwell about the wedding. Harwell said her husband Dexter Lumis was off this week. They opened a door where they saw Boa and Mei Ying, so Boa screamed at them and the girls left.
Joe Gacy vs. Ikemen Jiro
Gacy wrestled in a buttoned-up black dress shirt while Jiro wrestled in a jacket as usual. Remember the video where he showed off all his cool jackets? Riveting. There was a pre-match handshake. Jiro with a shoulder tackle, Gacy said that he had the will to knock him down and Gacy went for an armdrag. Jiro with a headscissors, Gacy avoided Jiro and thought that was good. Gacy with a corner whip, then a splash and Gacy worked over Jiro with punches. Gacy with a suplex followed by a back elbow. Jiro with a takedown by grabbing the head and then punches while holding the jacket. Jiro with a jumping kick followed by a headscissors off the ropes. Jiro with a kick attempt, Gacy avoided it and Gacy hit a huge clothesline for the pinfall win after three minutes.
Winner by pinfall: Joe Gacy
Analysis: *1/2 A quick match with Gacy getting the win after a simple move like a clothesline. Jiro is usually there to put people over, so no surprise that he lost. Gacy is a guy that they (WWE creative team) seem to like.
Post match, Gacy picked up Jiro, told him it was okay and hugged him in the ring. Gacy left with a smile on his face. Gacy looked into the crowd and he stared at a guy with a bald look and tattoos. It was Harland, whose real name is Parker Boudreaux.
Cora Jade was shown on her skateboard. She's in a match up next.
(Commercial)
There was a video package featuring Duke Hudson talking about how he's a professional poker player as well as an NXT superstar. Duke said that all money is welcome in his poker room. Duke took a guy's money at a table and said: "Better luck next time." Barrett called him a "sexy man." Okay.
Analysis: I don't know why everybody needs a gimmick, but now Hudson is a poker player.
Cora Jade was going to face Virginia Ferry, but Franky Monet beat up Ferry on the floor. A new match was announced.
Franky Monet (w/Robert Stone) vs. Cora Jade
Jade is only 20 years old, so she's the youngest wrestler in NXT. Monet was aggressive against Jade with a corner whip followed by a double knee attack against the turnbuckle. Trey Baxter showed up at ringside to support girlfriend Cora Jade. Monet hooked Jade in a chinlock, then a forearm and a stomp on the back. Jade with a knee lift followed by Monet hitting a Spear. Monet went for a big slam, but Jade countered it into a victory roll and pinned Monet for the pinfall win after three minutes. The crowd popped big for the upset.
Winner by pinfall: Cora Jade
Analysis: *1/4 Upset win for Jade, who was selling for the whole match until she countered a Monet power move and got the counter for the pin. Big win for Jade while Monet loses again after losing the NXT Women's Title match against Raquel Gonzalez last week. Congrats to 20-year-old Cora Jade on her first win.
MSK were shown warming up backstage with Mckenzie Mitchell asking about their title match. MSK said that they were prepared for their title match even though they can lose the titles without being pinned. Grizzled Young Veterans showed up to complain, so Wes Lee said that the title match can be an Elimination Match, then Briggs & Jensen were there and Hayes/Williams showed up with all four teams getting into a brawl. Referees were there to break it up.
Analysis: An elimination match is better than a one fall match. Good decision.
(Commercial)
Raquel Gonzalez was shown arriving as the NXT Women's Champion looking angry about being attacked last week.
Tommaso Ciampa was interviewed by Mckenzie Mitchell. Ciampa said that Bron Breakker was a certifiable blue cheaper and Bron Breakker gets to share the ring with a certifiable main eventer in Ciampa. Joe Gacy showed up saying that Ciampa issued an open challenge and Gacy wanted a title shot. Ciampa told Gacy if he can beat Ciampa next week then they can add Gacy to the NXT Title match at Halloween Havoc. Gacy wanted a hug, but Ciampa stopped that and said that the ring is not going to be a safe space for him.
Pete Dunne (w/Ridge Holland) vs. Cameron Grimes
Grimes got a hold of the left arm and then wrenched back on the arm. Grimes with a jumping headscissors. Grimes with an armdrag takedown. Dunne came back with a clothesline and then he stomped on Grimes' left shoulder. Dunne pulled back on Cameron's arms. Dunne with an arm wringer sending Grimes to the mat leading a low dropkick. Grimes ran the ropes with a jumping forearm, then a running kick in the corner. Grimes with a cross body block for two. Dunne with a back elbow, corner kick, knee drop on the arm, stomp on the hands and a roundhouse kick for two. Grimes hit a standing moonsault into a bridging German Suplex for two. Dunne ducked a clothesline, then a jumping kick to the head. Holland went after Grimes, so Kyle O'Reilly attacked Holland and Dunne went out of the ring, but Grimes was there with a PK kick. Back in the ring, Dunne avoided a charging Grimes, he sent him into the ropes and Dunne hit the Bitter End slam for the pinfall win after six minutes.
Winner by pinfall: Pete Dunne
Analysis: **1/2 It was okay. Two of the better guys in NXT. They just aren't given a lot of time in the new NXT compared to what they used to get. It looked like Dunne might lose after O'Reilly showed up, but it was Grimes that ended up being sent into the ropes and Dunne finished him off after that. I'm certainly fine with Dunne picking up wins. I'd also like Grimes to be booked better.
Post match, O'Reilly tried to attack Dunne and Holland, but they beat up Kyle easily. Nobody tried to help Kyle.
Analysis: Hopefully Kyle and Dunne can have a long match at some point. Holland is off to Smackdown as of October 22 when the draft results begin.
Tony D'Angelo is up next.
This Friday on Smackdown, King of the Ring is back and the beginning of the Queen's Crown tournament.
(Commercial)
They showed Hit Row talking about how the world was buzzing about them being drafted to Smackdown. Top Dolla said that they aren't running from Legado, they're running to the money. Isaiah "Swerve" Scott said Santos wants this NXT North American Championship match, so he's got it and Swerve will beat him for it.
They showed a clip from the commercial break with Von Wagner helping Kyle O'Reilly back up to his feet.
Tony D'Angelo vs. Malik Blade
The crowd was strongly behind Tony. Shoulder tackle by Tony followed by a headlock. Blade went for a leaping attack, Tony caught him and hit a backbreaker. Tony drove his shoulder into Blade's back followed by a punch. Blade hit a dropkick that sent Tony out of the ring. Back in the ring, Tony with a double leg takedown for a two count. Tony sent Blade into the turnbuckle. Blade with a spinning kick, then a corner clothesline and a top rope cross body block for two. Tony backed away like a heel, then he sent Blade into the middle turnbuckle and Tony hit a side belly to belly suplex. Tony with a Northern Lights Suplex into a spinning neckbreaker for the pinfall win after five minutes.
Winner by pinfall: Tony D'Angelo
Analysis: *3/4 Tony gets a win in his NXT debut. The fans were fully behind Tony even though the announcers tried to say they were supporting Blade because I guess WWE considered Tony a heel, but he was cheered the whole match. Tony hit a couple of moves that showed off his amateur wrestling background, which was cool.
There was an interview with Carmelo Hayes and Trick Williams. Carmelo said that they got a title shot even though Hayes hasn't cashed in his title shot. They said that they would win the Tag Team Titles later.
Mei Ying entered with Boa.
(Commercial)
Indi Hartwell (w/Persia Perotta) vs. Mei Ying (w/Boa)
Some fans were chanting "Indi Lumis" as Hartwell wasn't able to get a takedown. Ying with a flip and then a stomp. Hartwell with a shoulder tackle and then Ying with a forearm to the chest. Ying with a submission where she squeezed the neck of Hartwell. Ying with a forearm to the chest. Ying grabbed the neck of Hartwell, they left the ring and Ying kicked Persia by accident because Hartwell moves. Hartwell sent Ying into the ring post. Back in the ring, Hartwell hit an elbow drop off the top for the pinfall win after three minutes.
Winner by pinfall: Indi Hartwell
Analysis: 1/2* Boring match. I think they should pull the plug on the Mei Ying gimmick. With Xia Li on Smackdown now, there's no point to keep it going. Hartwell was selling right until the finish. Good elbow drop.
Lash Legend spoke to some random people about hosting her talk show last week. Tony D'Angelo walked in saying he wanted to be a guest on her talk show. Lash said she'll think about it.
Raquel Gonzalez entered as the NXT Women's Champion.
(Commercial)
There was a video about Diamond Mine with Malcolm Bivens talking about everybody in the group. Solid video here because Bivens is a great talker.
Let's Hear from Raquel Gonzalez
Raquel Gonzalez was interviewed in the ring by Samantha Irvin. Raquel had the NXT Women's Championship on her shoulder. Raquel talked about how this title isn't just a fashion accessory, this title means you are the top female in the best women's division in this business. Raquel threatened Mandy Rose and Toxic Attraction for trying to come after her.
Mandy Rose and Toxic Attraction interrupted Raquel. Mandy told Raquel she is coming across as being really desperate because she knows her title reign is coming to an end. Mandy said that they are taking over and even Raquel can't stop them. Gigi Dolin spoke up talking trash, so Raquel fired back at her. Jayne said that Raquel was jealous and desperate. Jayne said that soon enough they will hold all the gold in the women's division because they aren't just toxic attraction – they are THE attraction.
The three Toxic Attraction women surrounded Gonzalez in the ring, but that led to Io Shirai and Zoey Stark making the save. That led to Mandy, Gigi and Jacy backing off the apron to get out of there.
Analysis: This should lead to Raquel vs. Mandy at Halloween Havoc and Shirai/Stark vs. Dolin/Jayne at Halloween Havoc as well. They can also do a six-woman tag team match before the title matches take place.
Kyle O'Reilly was shown putting an ice pack on his neck. Von Wagner told Kyle they are teaming up against Pete Dunne and Ridge Holland next week. Wagner said like it or not, he's the only one that has Kyle's back now. Wagner left, Kyle said nothing and that was it.
(Commercial)
Raquel Gonzalez was backstage with Io Shirai and Zoey Stark. Raquel said she didn't ask for help. Stark said that they are all champions. Indi and her buddy Portia showed up to talk some trash, so Raquel left. The champions (Stark and Shirai) dismissed them, but it shows that Indi and Portia are interested in those titles.
It's official on October 26: Tommaso Ciampa vs. Bron Breakker for the NXT Title.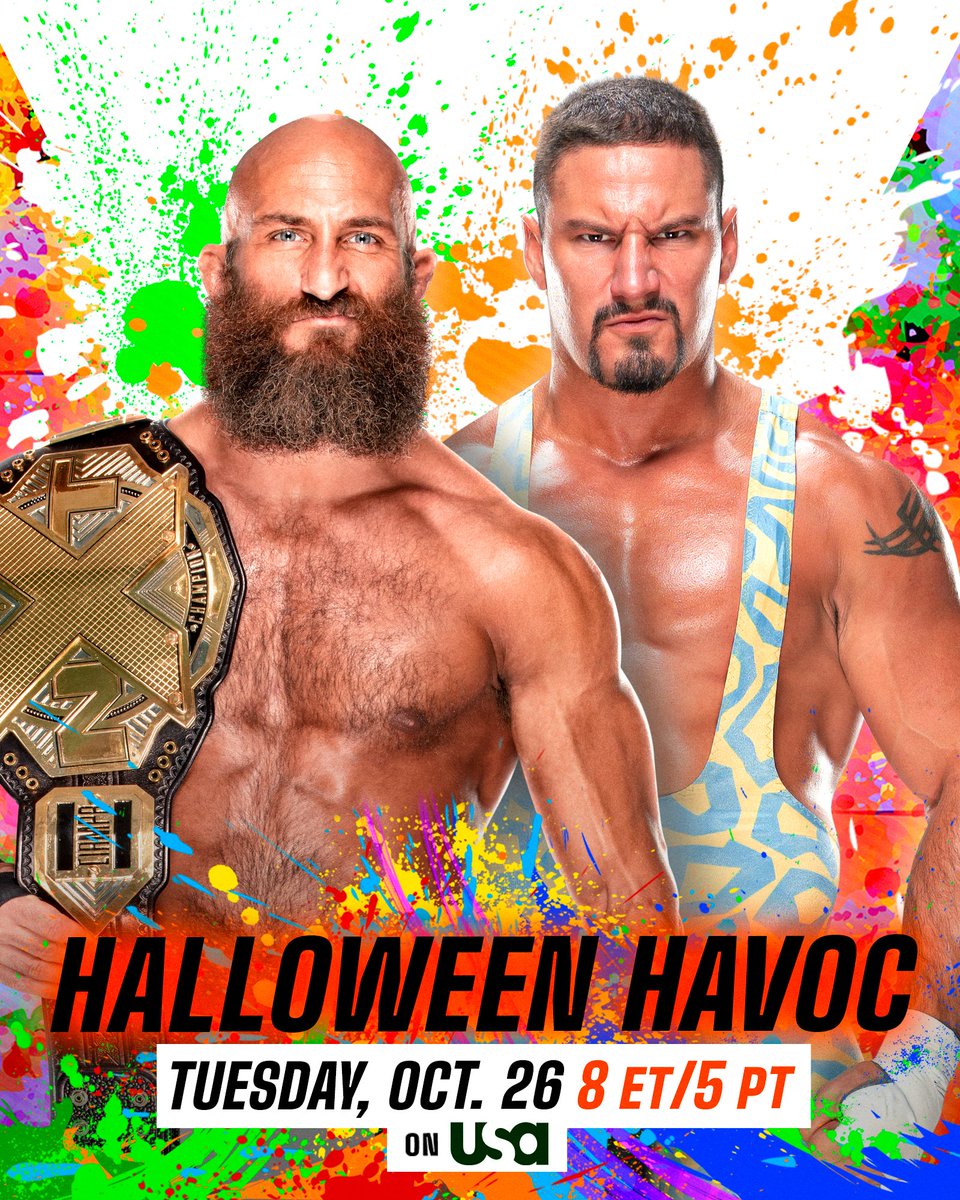 Next week on NXT:
* Tommaso Ciampa vs. Joe Gacy.
* Kyle O'Reilly & Von Wagner vs. Pete Dunne & Ridge Holland.
* Isaiah "Swerve Scott defends the NXT North American Championship against Santos Escobar. I think there will be a title change there.
The four teams made their entrance for the main event. Barrett questioned why Jensen/Briggs and a guy like Williams is getting a title shot when he hasn't even had a match in NXT. Beth defended it saying Mr. Regal is giving opportunities to new people. I'm with Barrett on this.
NXT Tag Team Championships Elimination Match: MSK (Wes Lee & Nash Carter), Carmelo Hayes & Trick Williams vs. Brooks Jensen & Josh Briggs vs. Grizzled Young Veterans (Zack Gibson & James Drake)
The MSK boys double teamed Gibson to start the match with Carter stomping on the back. Carter with an armdrag on Gibson across the ring. Hayes with an enziguri kick on Carter followed by a springboard clothesline. Williams tagged in for a double team shoulder tackle and he slammed Hayes onto Carter for two. Jensen tagged in, Williams hit him in the face, then an uppercut and a leaping clothesline. Hayes with a pump kick on Jensen, but then Jensen hit an atomic drop. Briggs tagged in for a double team shoulder tackle. Briggs and Jensen hit a double team kick to knock Williams down. Briggs and Jensen brought the GYV guys in the ring and beat them up too. Lee got the tag, Briggs told him to do a flip and Lee hit a somersault dive over the top on two guys. Carter held up Williams and Lee hit a double team Blockbuster on Williams to pin him to eliminate him.
Carmelo Hayes & Trick Williams have been eliminated.
The three remaining teams faced off as the show went to break.
(Commercial)
Gibson and Lee were legal with Gibson hitting a lefty clothesline. Drake tagged in with Gibson dropkicking Lee into a slam into the mat for two. Gibson was back in with a clothesline. Gibson with forearms on Lee, Drake tagged in, Lee kicked Gibson and Lee avoided Drake so Carter got the tag. Carter with forearms on both GYV guys, then a takedown by the leg and a German Suplex. Carter with a rising knee, then a running kick and a standing SSP on Drake for a two count as Gibson saved his partner. Carter kicked Gibson and hit a moonsault off the turnbuckle onto both GYV guys on the floor. Briggs tagged Carter to become the legal man, GYV didn't realize it and GYV hit Ticket to Mayhem on Carter for a pin attempt, but Briggs was legal. Briggs tossed Drake from the ring. Gibson turned around, Jensen punched him in the face, Briggs/Jensen picked up Gibson and hit him with this Chokeslam/Powerbomb type double team move for the pinfall win.
Grizzled Young Veterans have been eliminated.
The match was down to MSK vs. Briggs/Jensen. Lee was legal for his team after Carter took a beating. Lee with a dropkick on Jensen, then Jensen with an uppercut and Briggs tagged in with a running kick to the head (along with a Russian legsweep by Jensen) for two. Good kick there. The fans chanted "this is awesome" for them. Briggs and Jensen hit a double team Chokeslam on Lee. Briggs lifted up lee for Jensen, but then Carter took out Briggs with a dive. Lee with a hurricanrana on Jensen and sat on top for the pinfall win after about 12 minutes.
Brooks Jensen & Josh Briggs have been eliminated.
Winners by pinfall: MSK (Wes Lee & Nash Carter)
Analysis: ***1/4 A pretty good tag team match with a lot of clever eliminations especially that spot where GYV thought they had MSK beaten and then Briggs/Jensen beat Gibson. The finish was done in a way where it looked like Lee was able to outsmart Jensen by hitting a speed move like a hurricanrana and sit on top to win. You don't see guys win matches with a hurricanrana like we used to see in the past (going back to the 1990s), but once in a while it certainly works well as a finisher. It's also nice to see a match over ten minutes on this show since nothing else got that much time.
Post match, Briggs and Jensen were standing in the ring with the titles while MSK was selling in the ring. Briggs and Jensen handed MSK the titles, then Briggs and Jensen left.
MSK was celebrating in the ring when Imperium's Marcel Barthel and Fabian Aichner attacked them from behind. Aichner with a spinebuster and Barthel with a kick to the chest. Briggs and Jensen went into the ring for the save. Some fans chanted "Thank You Imperium" because some of the NXT fans don't like MSK for some reason. Briggs and Jensen helped MSK back up to their feet so MSK could have a staredown with Imperium. That was the end of the show.
Analysis: The attack by Imperium is a nice reminder that NXT has a lot of tag teams. This obviously sets up MSK vs. Imperium possibly on the Halloween Havoc show in three weeks or maybe sooner. Since Brooks & Jensen didn't attack after the match and also since they saved MSK, I guess that means Brooks & Jensen are going to be babyfaces. I didn't really know, but I assume they'll be the likable brawlers that like to fight similar to APA back in the day.
Three Stars of the Show
MSK
Mandy Rose with Toxic Attraction
Joe Gacy
The Scoreboard
This week: 6 out of 10
Last week: 6.75
2021 Average: 7.26
Final Thoughts
It was a show full of short matches and a lot of different people being featured once again. Only one match over ten minutes and that was the main event, which was clearly the best match. MSK doesn't have bad matches. I liked Mandy/Ember as the opener while Mandy's push with Toxic Attraction is a wonderful thing.
The Ciampa/Breakker segment was okay. As much as I like Breakker, he's only had two matches in NXT and he's getting a title shot. I think they should have done more to make him earn it. Either win one more match or some kind of elimination number one contender's match where he earns it instead of doing what they did. Anyway, you can tell they like Joe Gacy a lot too since he got a clean win and then he's one match away from an NXT Title shot too.
This was the fourth week of NXT 2.0 and I'm still getting used to it. I miss the match quality of the old NXT, but I do understand why WWE changed it so they can get some young talent out there. We saw the debut of Tony D'Angelo this week, Trick Williams was in a match for the first time, Harland (Parker Boudreaux) was shown in the crowd for his first appearance and that's the kind of thing we can expect every week. I don't know about Duke Hudson as the poker player. They seem insistent on trying to give everybody a "career" as a gimmick, but it just seems lame in 2021.
===
Thanks for reading. Go Los Angeles Rams, Toronto Blue Jays and Toronto Maple Leafs. My contact info is below.
John Canton
Email mrjohncanton@gmail.com
Twitter @johnreport
Personal Facebook and TJRWrestling on Facebook