The John Report: WWE Hall of Fame 2020 and 2021 Review
Here's my recap of the WWE Hall of Fame ceremony that aired on Tuesday night on WWE Network and Peacock. It had a runtime of three hours with the 2020 Hall of Fame class getting the first 90 minutes while the 2021 Hall of Fame class about 80 minutes. They were taped on separate days last week with the 2020 Hall of Fame class earlier in the week on Tuesday and then the 2021 Hall of Fame class later in the week I believe on Friday. As you'll see during the review, there were interviews with Raw superstars for the 2020 HOF Class and then Smackdown superstars for the 2021 HOF class. I watched on WWE Network here in Canada.
WWE 2020 Hall of Fame Class
They started off by showing some clips from some past WWE Hall of Fame ceremonies. That led into images and clips of the 2020 Hall of Fame class.
They were at the WWE Thunderdome setup at Tropicana Field in Tampa Bay/St. Petersburg along with fans on the screen. I believe those were just clips from fans from the past. It was all taped last week.
Jerry "The King" Lawler was the host for the 2020 ceremony. There was a podium at the top of the ramp. The inductees do their promos on there and there's no crowd or audience to greet them. He set up the first video.
Hall of Fame Inductee: John Bradshaw Layfield
John Bradshaw Layfield's video aired first. It showed clips of the early part of his career and then the 2004 turn into JBL that led to him become a WWE Champion for about nine months on Smackdown. JBL was also very successful in the stock market and came up with the idea for WWE Tribute to the Troops that is going on for 20 years now.
JBL was in a tuxedo telling a story about how he was playing football 30 years ago and he realized it was good fortune that he would go on to become a pro wrestler. JBL talked about the incredible run he had by telling a story about how he got to work 20 minutes in one of his first matches and he loved it. JBL spoke about guys like Dick Murdoch and Bob Orton being big influences on him. JBL said that he fell in love with that "white heat" which means getting booed by the crowd. JBL talked about giving Eddie Guerrero's mother a heart attack and he had to get a police escort out of town. JBL acknowledged Eddie Guerrero and said he wishes Eddie was here. JBL spoke about how Ron Simmons was his best friend that led to them having "one heck of a time" as a team in the Attitude Era. JBL put over John Cena for being a good human being a credit to the business. JBL talked about visiting the troops, working with charities and he said he would do every bit of it again. JBL said he would love to be in there one more time with Eddie Guerrero or The Undertaker while talking about memories from his early days in the business. JBL said to anybody that thinks he has wronged them or to anybody that he made feel bad, he said: "Cry me a river, snowflake." JBL said he's going to into the Hall of Fame because he's a Wrestling God and that was it. The speech went about five minutes.
Analysis: JBL is one of the best heel promos in WWE history in a lot of ways, so it was no surprise that he did well here. The end bit might have pissed off people that don't like him, but I doubt JBL is going to be too sad if people are mad at him for it! That's why he's a great heel.
There were commercials for Covid vaccines and WrestleMania.
There were interviews with Peyton Royce and Rhea Ripley standing somewhere in the backstage area. They were in dresses with Kevin Patrick interviewing them. Typical stuff talking about how they grew up watching these people that are now in the Hall of Fame.
Randy Orton was interviewed backstage by Sarah Schreiber. Orton said that there's an impressive list of inductees and he has a bit of a relationship with everybody going into the Hall of Fame, so he's happy to be there.
The New Day's Kofi Kingston and Xavier Woods were interviewed by Kevin Patrick. Kofi said that he came up in WWE with The Bella Twins while adding that it was so well deserved. Kofi said that The Bellas were a big part of the women's evolution. Woods was confident that they (New Day) were going into the Hall of Fame one day. Yeah, I think that's a lock.
Hall of Fame Inductee: "The British Bulldog" Davey Boy Smith
There was a video about the late, great British Bulldog covering his career. They spoke about the British Bulldogs tag team that became Tag Team Champions at WrestleMania 2 when they were fan favorites. In the years that followed, British Bulldog plowed through competition as a singles wrestler and they showed the patented delayed vertical suplex. They showed a clip from SummerSlam 1992 when Bulldog beat Bret Hart in the main event to win the Intercontinental Title in England. It was the biggest and best moment of Bulldog's career.
The family of the British Bulldog went on stage to accept the honor for Davey Boy Smith, who passed away in 2002 when he was just 39 years old. It was wife Diana Hart Smith, son Harry Smith and daughter Georgia Smith. Harry had a bulldog named Buffy with him saying she was the granddaughter of Matilda. Harry said it was a great honor to induct his father, he thanked WWE and WWE Universe for the years of support. Harry talked about what a versatile athlete that Davey was that could be powerful and could pull off athletic feats with use. Harry put over Davey's big heart along with his wonderful personality. Harry talked about his dad's sense of humor. Harry mentioned SummerSlam 1992 between Davey and his uncle Bret Hart in front of 80,000 fans in a match that was a special moment for their family. Harry said it was his favorite memory of his father, he can watch it over and never get tired of it. Harry talked about the match where Davey became the first European Champion when he beat Owen Hart and they loved that match. Harry also spoke about Davey's matches with the British Bulldogs and he was inspired by his father. Harry said that he feels his father's spirit with all of them here tonight. Harry talked about how his dad was a great athlete and one heck of a performer that will never be forgotten. Harry thanked WWE and WWE Universe and all the great superstars that shared the ring with Davey. Harry thanked us again for supporting his family and his father in the WWE Hall of Fame. Harry got a hug from his mother and sister to end it. This speech went about five minutes.
Analysis: Good job by Harry. I know the family campaigned hard for years to get Davey into the WWE Hall of Fame and Davey clearly deserved it, so I'm glad it happened. You can tell it meant so much to the family as it should.
A WrestleMania commercial aired promoting The Fiend vs. Randy Orton. That was followed by a WWEShop commercial.
Nikki Cross was interviewed by Kevin Patrick. Nikki enjoyed watching Harry Smith's speech and it was great to see them honor the British Bulldog like that.
Braun Strowman was interviewed by Sarah Schreiber. Braun talked about how being cemented in the WWE Hall of Fame is what everybody at the end of the day – that's the crescendo and the cherry on top. Braun thought it was a great lineup.
Drew McIntyre was interviewed by Kevin Patrick with Drew talking about the influence of Davey Boy Smith. Drew spoke about how seeing the British flag every week gave him hope and inspired him.
Hall of Fame Inductee: Jushin Thunder Liger
They showed highlights of the Japanese legend Jushin Thunder Liger from his WCW run talking about how he was a pioneer of the cruiserweight style. They had people like Shinsuke Nakamura, Daniel Bryan and Rey Mysterio with Nakamura saying Liger was his biggest idol. They showed a lot of highlights of Liger in WCW along with his one match in a WWE ring against Tyler Breeze. It was cool to see his highlights on a WWE show.
Jushin Thunder was shown virtually in Japan with his mask on. Liger thanked WWE for the Hall of Fame discussion. They had the English translation on the screen since he spoke in Japanese. Liger said it was an honor to receive this Hall of Fame honor, he thanked the fans and said thanks to all the fans in WWE. He said that last part in English. His speech was kept short at about one minute.
Analysis: It's understandable that it was a shorter speech. That's okay. I liked the video with wrestlers talking about Liger's influence on the business because it's true. Liger really is one of the best cruiserweights ever along with Rey Mysterio. Their impact on the business was immense.
A WrestleMania commercial aired promoting Sasha Banks vs. Bianca Belair. Plus, another general WrestleMania commercial after that.
Hall of Fame Inductee Celebrity: William Shatner
They showed clips of some of the past celebrity WWE Hall of Famers and now the final frontier…William Shatner. They showed when Shatner was on Raw with Jerry Lawler 26 years ago with Shatner insulting Lawler. Years later in 2010, Shatner was a Raw guest host that spoke WWE Superstar entrance themes. That was legendary. They showed the clip of Shatner taking down Lawler in the ring.
William Shatner had a taped a message from home. Shatner talked about how he grew up in Montreal and he has been a great fan of WWE for a long. Shatner said that he didn't wrestle, but he enjoyed getting to throw Lawler around. Shatner said that he accepts the honor as somebody that has followed some of his great heroes. Shatner said thanks. It went about one minute.
Analysis: It was quick because Shatner really didn't do that much in WWE. At least the video package was fun.
The Miz and John Morrison were interviewed by Kevin Patrick. They talked about how it was a big night while also managing to plug their musical performances. Morrison said that Lawler and Shatner never get older, they look phenomenal.
Mustafa Ali was interviewed by Sarah Schreiber. Ali said that he grew up as a lifelong wrestling fan that grew up with NWO shirts and Austin 3:16 shirts, so to see NWO today get that honor is huge.
Bobby Lashley and MVP were interviewed by Kevin Patrick. MVP talked about how the US Championship ring he had, JBL presented him with him. MVP talked about JBL having an influence on his career. Lashley also credited JBL for being a big part of his career with Bobby winning his first US Title from him. That was it.
The following inductees were announced for being in the WWE Legacy Hall of Fame:
* Ray "The Crippler" Stevens
* Brickhouse Brown
* "Dr. Death" Steve Williams
* Baron Michele Leone
* Gary Hart
Analysis: Most of those guys, especially Stevens and Williams, should be inducted in the main ceremony. It's just not how WWE does it.
Hall of Fame Inductees: The Bella Twins (Nikki & Brie Bella)
They showed highlights from the Bellas career including their early days doing the "twin magic" routine where they would switch the legal woman in the match. They also put over their championship reigns, the popularity of their reality show Total Divas and later Total Bellas. There were a lot of clips from them as celebrities on talk shows with women like Stephanie McMahon and Trish Stratus talking about them as big stars. Becky Lynch talked about the Bellas being an integral part of the Women's Evolution and Charlotte Flair called them worldwide stars. Jerry Lawler introduced them as his favorite divas of all-time.
Nikki and Brie Bella were together on the stage wearing red dresses although they were not matching. Brie started talking about how it was a huge honor when two women are being inducted instead of just one. Nikki spoke about how they broke barriers and kicked down walls in front of them. Brie said not only do you share everything, but you fight for everything too. Nikki talked about how their journeys started at the 2006 Diva Search, they were not picked and a woman named Kristin gave them their chance, which led to their journey into a WWE ring. Brie spoke about how they had been knocked down, but they always pulled eachother up. Nikki said that they knew how to work together both in the ring and backstage. They spoke about how instead of being competition, they can ban together to make women's wrestling so fun to make it the main event. Brie talked about Total Divas and Total Bellas brought legions of new fans to sports entertainment. Brie claimed that they ushered in a new era for the sport. Nikki said that representation matters, a world where everybody can find themselves and sometimes a hero or a villain. Nikki pointed out that she was the longest-reigning Divas Champion while Brie mentioned that Nikki always beat her. Brie spoke about how they were thrilled to be part of the first women's PPV Evolution and first women's Royal Rumble. Brie spoke about the women's groups that existed in 2015 at the start of the Women's Evolution. Nikki thanked the men in the business that helped them while talking about people who thanked them along the way. They specifically mentioned "dad" John Laurinaitis, who is their stepdad because he married their mother a few years ago. Nikki thanked John (that would be Cena without his last name) for helping her find her fearless side. Nikki thanked everybody for being an incredible family to them. Brie thanked the Bella Army for all of their support. Brie thanked Bryan (Danielson aka Daniel Bryan) for letting them sacrificing their private lives and he's a great husband and father to Birdie and Buddy. Nikki thanked her fiancé Artem as well as her son Matteo for being the best boy. Brie mentioned her kids and how they gave birth to their sons 22 hours apart. Brie said that if you think the Bellas are retired, wait 18 years because they are going to be back referring to their sons. They ended it with their "haters gonna hate, Bellas gonna ball" line. It went about seven minutes.
Analysis: That was cool. They managed to get a lot in there in the time they were given. I'm not a huge Bella Twins fan or anything like that, but the last few years of their career were impressive in terms of the push they got as well as their improvement as performers. My favorite thing about this is that I didn't have to hear Brie's awful theme song! Brie Mode! No! The Bellas song isn't great by any means, but I can tolerate it. Anyway, congrats to the twins.
There was a commercial for NXT Takeover on Wednesday and Thursday.
Nia Jax, Shayna Baszler and Reginald were interviewed by Kevin Patrick. Nia and Shayna talked about how great the Bella Twins were.
Mandy Rose and Dana Brooke were interviewed by Sarah Schreiber. Mandy talked about being involved with The Bella Twins on Total Divas and they are pioneers for the women's division. Dana didn't even get to comment.
Lana and Naomi were interviewed by Kevin Patrick. Lana talked about how the Bella Twins inspired them. Naomi said sharing the locker room with the Bellas and being on a reality show with them, they got to know the Bellas very well. Naomi said it was exciting to see the Bellas in the Hall of Fame.
Sheamus was interviewed by Sarah Schreiber. Sheamus said that Titus O'Neil goes out of his way to help so many people while speaking about his charity work.
A WrestleMania commercial aired plugging The Miz & John Morrison vs. Damian Priest & Bad Bunny.
Warrior Award Winner: Titus O'Neil
The video aired announcing that current WWE superstar Titus O'Neil won the Warrior Award. It focused on the community work that Titus has done with children as part of WWE with the Boys & Girls Club and the Special Olympics. They talked about his Bullard Foundation charity as well as all of the work that he does in the Tampa area. It also mentioned Titus' book "There's No Such Thing As a Bad Kid." Titus spoke about how Titus is a dedicated father, entertainer and philanthropist as well as the 2020 Warrior Award winner.
Titus talked about how he grew up in poverty, was raised by a young mother and is the product of a sexual assault. Titus spoke about how he wound up at a place called the Florida Sheriffs Boys Ranch where he got a chance to turn his life around and he heard the words that would change his life: "I love you and I believe in you." Titus spoke about how words are powerful and because of those words, everything started to change. Titus said he went from being a troubled student to becoming an All-American football player that graduated from high school (first in his family) and college (first in his family) at the University of Florida. Titus spoke about starting the Bullard Family Foundation because he works with so many great causes that were making a difference. Titus mentioned his two sons TJ and Titus Bullard. Titus spoke about how kids with difficult issues are labeled bad, then people will ask what's wrong and very few will ask "what happened?" Titus said that he has been given a chance to change what has happened, he's experienced incredible things and the WWE platform has allowed him to put smiles on faces. Titus said he wants to build a life that is not only success, but also significant. Titus said that winning this Warrior Award has shown that he can live a life of significance. Titus said it was humbling to be a part of this group that share this award with him. Titus said he believes we should all be respectful to everybody we come in contact with. Titus said that's what champions of humanity and real warriors do. Titus had a message to his kids, family, friends, WWE family and everybody else for helping him grow, give and prosper as a father, servant and overall man. Titus: "To all of you, I love you, and I believe you." They piped in some "you deserve it" chants from the crowd to end it. Titus spoke for about five minutes.
Analysis: That was a great speech from Titus talking about his life experience and how being helped at a young age changed his life for the buddy. Titus has gone to do a lot of great things through his work with WWE charities as well as the charities he works with on his own. I have a lot of respect for him.
There was another WrestleMania commercial this time for Roman Reigns vs. Edge vs. Daniel Bryan for the Universal Title. There was also a WrestleMania commercial for the WWE Title match on Saturday with Bobby Lashley defending against Drew McIntyre.
Hall of Fame Inductees: New World Order (Hulk Hogan, Kevin Nash, Scott Hall and Sean "X-Pac" Waltman)
The video package aired for the New World Order with Hulk Hogan famously turning heel to join Scott Hall and Kevin Nash in the summer of 1996. They dominated WCW for the next few years leading WCW to incredible heights to where they beat WWE consistently in the Monday Night ratings for nearly two years (83 weeks in fact). The highlights of the NWO are a lot of fun to watch because the group was so cool and they had a huge impact on the pro wrestling business.
The foursome of "Hollywood" Hulk Hogan, Kevin Nash, Scott Hall and Sean Waltman made their entrance. Hogan had the famous WCW World Title with the NWO spray paint on it. All four guys are getting their second Hall of Fame rings for this with Hogan, Nash and Hall going in individually while Waltman was part of Degeneration X.
Sean Waltman said it's an honor of his lifetime to be inducted for the second time. Waltman thanked his wife Angela and the rest of his family saying he loved them all very much. Waltman congratulated Eric Bischoff while adding that being part of the NWO was an honor and noting that if Triple H introduced the 1-2-3 Kid it wouldn't have had the impact as NWO Syxx, which was his name. Waltman thanked Scott and Kevin for having his back over the last 30 years. Waltman thanked Hogan for always being so good to him. Waltman mentioned getting to hit Hogan with a steel chair after Hogan's match with Rock at WrestleMania, so he was in main events for the rest of his run in WWE. He thanked us all.
Scott Hall started off with his famous "hey yo" line. Hall thought that he reached his career highlight when inducted as Razor Ramon, but to be there with his dearest friends and the guy that made him want to be a pro wrestler (Hogan), he just wanted to say thank you very much.
Kevin Nash spoke about how there were a lot of things that made this work. Nash said that one of the things that made this work is that Razor Ramon and Diesel left WWE to show up on Turner TV. Diesel said that it also helped that their contracts were six days apart, so if he showed up like 13 months later it probably wouldn't have worked out. True. Nash talked about Hall and Waltman have had his back for 30 years and Hulk for 25 years. Nash said that the touching things in his career is you go out, do personal appearances and there's a line of people with an NWO shirt where a 5-year-old kid has the NWO shirt and he does the Wolfpack hand jersey. Nash said it makes you realize NWO is for life. Nash said what made the NWO work also is that everybody up there were WWE guys, so WWE is for life. Nash said that they might not have been The Beatles, but they were at least Led Zeppelin.
Hulk Hogan was up last doing that "Whatcha Gonna Do Brother" ended and he was sitting on a movie set trying to figure out what to do after Santa With Muscles. Hogan said he saw Scott Hall working for WCW, then he saw Big Kev jump on the bandwagon and he talked about how Eric Bischoff was talking to him about this NWO thing. Hogan said that he told Bischoff he was really thinking about doing it, then Eric said if you don't then Eric will ask Sting and Hulk said: "Yikes, not Sting, man, I'm WWE from head to toe!" Hulk said that he jumped in with both feet, X-Pac on the team rounded out the whole crew and they were the bad guys. Hogan said that they were lying, cheating and stealing like Eddie Guerrero said. Hogan said that the nastier they got, the more the WWE fans (he should have said WCW) cheered for them. Hogan said that he has a Beach Shop in Clearwater Beach and he sells NWO merch all the time. Hogan said that he never got beat for that title. Hogan said that maybe they need to make another run. Hogan said that maybe they should be waiting in the wings and put the NWO Title up at WrestleMania. He was joking. Hogan said that the NWO is still hot today and everybody knows that NWO is for life. Hogan said that now that they are in the Hall of Fame, it means that NWO is for life and these guys are just too sweet. They all did the Wolfpack hand gesture to end it. The classic NWO theme song played to end it. They spoke for about eight minutes.
Analysis: This was cool. They probably would have talked for a lot longer if there weren't limitations on the speeches, but that's okay with me. Hogan's still got it in terms of the promos. He may not be a favorite of mine. I'm just saying he did a nice job there. I liked what Nash said too. Hall didn't say that much. I still think Waltman wasn't really needed in this spot and it should have just been Hogan, Nash and Hall. If they were going to have a third person then it should have been Bischoff
That was the end of the 2020 Hall of Fame class. The credits rolled there.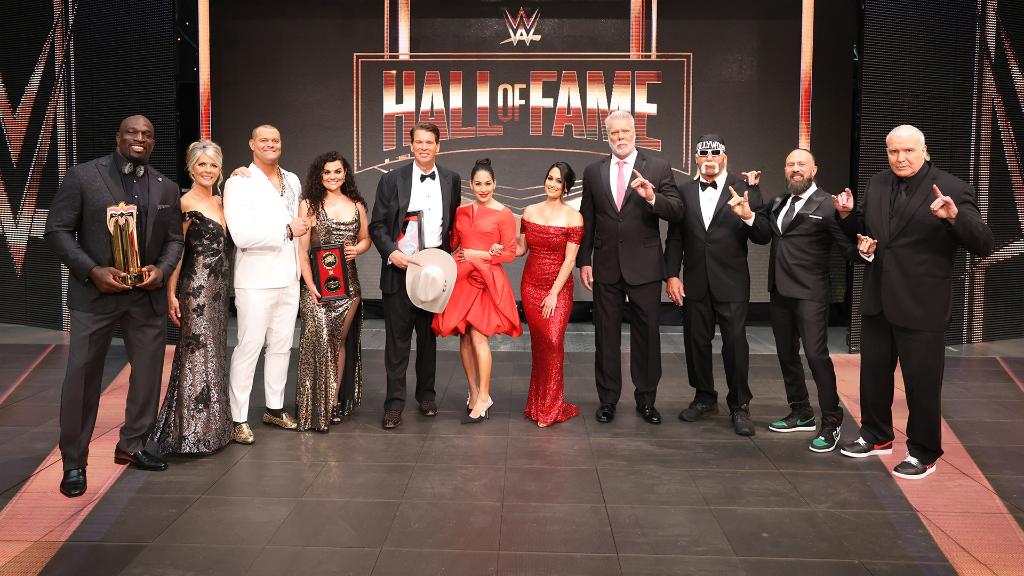 WWE 2021 Hall of Fame Class
There was another video showing Hall of Fame memories from the past while mixing in the 2021 Hall of Fame class.
The hosts for this Hall of Fame class were Smackdown announcers, Corey Graves and Kayla Braxton. Graves managed to make a high reference for known stoner RVD saying that RVD was "riding high" about his Hall of Fame induction.
Hall of Fame Inductee: Rob Van Dam
There was a video package about RVD gaining a lot of popularity during his run in ECW In the late 1990s. They showed clips of him doing incredible moves during his ECW and WWE career while Paul Heyman talked about how RVD was special because he could do things that nobody else could do. They mentioned RVD's meteoric rise set the apex when he won the Money in the Bank contract at WrestleMania 22 in 2006. That led to ECW One Night Stand 2006 when RVD faced John Cena and left with the WWE Title (thanks to interference from Edge that wasn't shown). They showed the memorable "RVD" thumb pointing routine that he was known for.
Rob Van Dam entered to his "One of a Kind" WWE music and had shades on along with a suit with "RVD" chants piped in from the crowd. RVD said it was a complete circle of life that he was experiencing while noting it was about 30 years ago when he drove to Tampa, Florida because it was a hotbed for professional wrestling. Rob said he was 20 years old with no money and a beat up Ford Mustang car. RVD said that the reason he is there is because of the response that the fans have had for him. RVD said that after his dad passed away, he had an autograph signing in Chicago and he thought about if he should go, which he did. RVD chose not to tell anybody, so he tapped into their positive energy, felt so much love and excitement and helped get him through it. RVD said that the energy exchange is a two way street. RVD said he understands that we have things in life that we go to in order to change our energy and pick our spiritual vibration up. RVD said it was a tremendous honor to be inducted into the Hall of Fame and be put in with this group of legends that influenced him. Rob said he hopes when people think about RVD and his story, his journey, he hopes they think about individuality. Rob said that every step of the way, it's all about choice – that's what life is. Rob didn't let people change him and he stuck to his guns. Rob just kept on going. Rob thanked his mom and dad for letting him follow his dreams to graduate high school, turn down a scholarship at Michigan State and fight the odds to become a superstar. Rob thanked people that helped him like The Sheik for breaking him into the business while teaching him lessons. Rob thanked the wrestling promoters that booked him early in his career in the first couple of years that he watched on TV. Rob thanks Sabu trained him to be original while adding that Sabu always encouraged him and told him that they were better than the other indy guys we were in the ring with. Rob said when he looked out at the crowd for support for the Five Star Frog Splash, he doesn't know of a better high and said "seems like I would know." Nice. Rob said that this moment, this Hall of Fame award, this induction into the classification of legends, this is definitely a victory for all of us. Rob said he can't name all of the fans, but he wants to thanks the WWE Universe and there were "RVD" chants. Rob ended it saying the fans support is why he calls himself "The Whole Damn Show…R-V-D." Rob went about eight minutes here.
Analysis: Nice job by Rob here. He's not necessarily known as a great talker, but he's right when talking about the connection he had with the fans because he was always one of the most popular wrestlers of his era. Oh and if you didn't see it, Rob did look high. That's okay. He always looks high.
A commercial aired for WWE Shop merchandise. That was followed by a WrestleMania commercial.
Sasha Banks was interviewed by Alyse Ashton. Banks talked about how she was looking forward to seeing Molly Holly's induction. Banks said that when she met Molly when she was a fan, Molly gave her time and talked to her for 20 minutes to let Sasha know she can do it.
Big E was interviewed by Smackdown ring announcer Greg Hamilton. Big E said he was looking forward to seeing Molly Holly's induction.
Carmella was interviewed by Alyse Ashton. Carmella also talked about Molly Holly being a trailblazer for the woman that wasn't just a babe because she was talented in the ring, on the microphone and she could do it all.
Hall of Fame Inductee: Molly Holly
A video package aired about Molly Holly as the third member of the Holly Family that was a very talented in-ring performer. It led to a run where Molly was a superhero named Mighty Molly where she was partnered with The Hurricane. Molly turned heel with darker hair and a new attitude that led to Molly becoming a two-time Women's Champion. They showed her rivalries with Trish Stratus, Lita and Victoria leading to current women talking about Molly being a pioneer in the women's division. There were more comments from other women talking about how Molly was a really good person that made it and now she's in the Hall of Fame.
Molly Holly said that there have only been two people that have had their heads shaved bald at WrestleMania – the most influential person to enter a ring and Vince McMahon. Good joke about when she had her head shaved. Molly talked about how grateful she was for the crew that was there to encourage her, make her feel okay and their smiles made her feel a little lighter. Molly ran off some names of guys that were part of the crew. I'm not going to run down all of them, but she went over a lot of names. Molly thanked the WWE fans chose to graciously overlook her shortcomings and chose to focus on her good qualities, to cheer her on and believe her, which makes her eternally grateful. That was the end of the speech. It was under three minutes.
Analysis: That was quick. I figured most people would try to get to at least five minutes, but Molly ended it fairly quickly. It was fine while it lasted anyway.
Here's a longer speech from Molly Holly at her house. It was posted on WWE's Youtube page. It's nearly ten minutes.
There was a commercial about getting a vaccine shot when it's available to you.
There was a commercial promoting Sasha Banks vs. Bianca Belair for the Smackdown Women's Title at WrestleMania.
The Street Profits were interviewed by Greg Hamilton. Montez Ford said it's a prestigious time of the year and he mentioned his admiration for RVD. Angelo Dawkins congratulated RVD, then said that at the after party they'll get the eye drops popping again. Enjoy the pot, boys.
Rey and Dominik Mysterio were interviewed by Alyse Ashton. Rey talked about how he was excited to see that Kane was one of his biggest competitors and he talked about how much fun he had teaming with Rob Van Dam. Dominik said that he had all the RVD action figures teaming up with his dad. Dominik said that he would hate Kane's pyro because he would be so scared, but he loved Kane. Rey said to this day, pyro still freaks out Dominik.
Hall of Fame Inductee: The Great Khali
The video aired about The Great Khali that focused on Khali's dominance during the early part of Khali's career including all the time he beat up some of the top guys. Khali also became a World Heavyweight Champion. They had comments from "brother" Ranjin Singh talking about how Khali was the pride and joy of India. They also focused on the comedic aspect of Khali's career while also talking about how Great Khali has trained the next generation of Indian superstars. They showed a few of them talking about Khali. It ended with the famous Khali yell.
The Great Khali did a virtual promo from Punjab, India. Khali talked in English saying he was the first Indian professional wrestler, World Heavyweight Champion and Hall of Fame. Khali said he felt great and happy about the news. Khali spoke in Punjabi with the words appearing on the screen. Khali said he can't be with you, but all of his fans are in his heart. Khali thanked us for the support and take care of yourself. Khali showed off the Hall of Fame ring. It was about two minutes.
Analysis: It was fine for a guy who doesn't speak English that well. He got through it fine. Khali wasn't a great wrestler in terms of his work in the ring, but he did have a huge impact with wrestling fans in India and that's pretty cool to see how much influence he's had on the next generation. Good for Khali training wrestlers and teaching them about the wrestling business.
Another commercial aired for WrestleMania.
A commercial aired for NXT Takeover Stand & Deliver on Wednesday and Thursday this week.
Ranjin Singh was interviewed by Greg Hamilton. Ranjin was wearing a jacket that said "The Great Khali Says" on the back and called Khali an inspiration.
Bianca Belair was interviewed by Alyse Ashton saying it was going to be an amazing night (it was taped in the afternoon). Belair talked about how Molly Holly is getting everything she deserves by being in the Hall of Fame now.
Hall of Fame Inductee Celebrity: Ozzy Osbourne
The video package aired talking about Ozzy Osbourne's success as a musician. They showed images of Ozzy being a part of the WWE Universe for over four decades going back to his appearance at WrestleMania 2. Ozzy's music has also been part of several shows including Ozzy guest hosting Raw and telling Chris Masters: "Buy that man a bra." They showed a clip of Ozzy singing "I Don't Wanna Stop" at a WWE show as well.
There was a taped message from Ozzy Osbourne from his house in Los Angeles. Ozzy said he didn't deserve the award, but thanks anyway. Ozzy said that the fans keep us alive. Ozzy thanked Vince McMahon and Triple H, said "God bless you" and that was it. Less than one minute.
Analysis: That was quick and easy. Thanks for that Ozzy.
A WrestleMania commercial aired promoting The Fiend vs. Randy Orton.
The 2021 Legacy Inductees for the WWE Hall of Fame are:
* Dick The Bruiser
* Pez Whatley
* Buzz Sawyer
* Ethel Johnson
* Paul Boesch
There are some big names there with Dick The Brusier and Paul Boesch.
A WrestleMania commercial aired promoting Bobby Lashley defending the WWE Title vs. Drew McIntyre on night one.
Hall of Fame Inductee: Eric Bischoff
The video package focused on Eric Bischoff's rise to the top of WCW after being an announcer. Bischoff ended up becoming the President of WCW that helped launch Monday Nitro on TNT in September 1995, which led to WCW beating WWE in the Monday Night ratings for 83 weeks as I mentioned earlier (83 Weeks is also the name of Eric's podcast). Bischoff took a lot of WWE's top stars and Steve Austin was shown saying that WCW kicked their ass for two years. It showed when Bischoff became a character in the NWO as a heel boss that was very good at his job. They also showed clips of when Bischoff because the Raw General Manager in the summer of 2002 and did an excellent job for the three years he was in that role.
Eric said that he's going to get right into it and he did a routine saying he was told he only had three minutes for this routine while smiling. That's a shoutout to the Three Minute Warning group and he pointed up at the sky since Jamal and Rosey have both passed away. Bischoff said he didn't know 34 years ago that he would be on a lifelong road trip. Bischoff said he got to learn about the business in the AWA and then he jumped in his car to head to Atlanta to work for WCW. Bischoff said that it was an amazing opportunity that would change his life and his family's life forever. Like any great road trip, it came to an end. Bischoff said there was a summer morning where the phone rang and he got invited to go on another journey that provided him with invaluable opportunities and experience. Bischoff said that all of the amazing things that he got to do including this moment is because he had the privilege of standing on the shoulders of the giants that came before him. Bischoff thanked the giants that gave him that opportunity. Bischoff said those giants that have taken this industry that was once part of a traveling circus to become one of the most powerful forms of entertainment in the world. Bischoff thanked the people watching for being a part of this road trip and this journey. Bischoff said that it's been a hell of a ride and the best is yet to come. It went about five minutes.
Analysis: Bischoff is a great talker, so it would have been nice if he got to say more and be specific about things like his NWO run or having fun as the GM of Raw. He was a bit vague here, which is fine because it's his speech so he can do what he wants. It was still pretty good.
A commercial aired for WrestleMania that promoted The Miz and John Morrison vs. Bad Bunny and Damian Priest.
Seth Rollins was interviewed by Alyse Ashton with Rollins wearing a suit with fire colors on it. Rollins: "That boy is on fire." Rollins mentioned his "burn it down" line. Rollins said he was a big fan of Eric Bischoff because he changed the game forever. Rollins said that Bischoff did that. Rollins said that it's a great night (taped in the afternoon like I said) and no better way than to celebrate than a suit like that.
Kevin Owens was interviewed by Greg Hamilton with Owens saying he didn't like WCW at all. Owens said he flipped out when Eric Bischoff showed up on Raw because it was a huge moment. Owens said that Eric was a vital part of Raw for a really long time. Owens said that he is happy for him and after getting to work with Eric in WWE, he is one of his favorite people to be around.
King Corbin was interviewed by Alyse Ashton. Corbin talked about how Eric Bischoff wasn't afraid to hurt people's feelings. Corbin said that Bischoff elevated everybody that he was around.
Warrior Award Winner: Rich Hering
The video package called Rich Hering an unsung hero in the WWE family. They showed a clip of Vince McMahon and Triple H with Rich talking to Stephanie McMahon on the phone with Rich saying others were more deserving, but Vince and Hunter told him he deserved it. They talked about how Rich was a key advisor in the company for a long time going back to when Vince McMahon Sr. owned the company. Rich was also a court judge that performed the SummerSlam 1991 wedding between Randy Savage and Elizabeth. Rich has been a key figure in the family of the Ultimate Warrior since Warrior died in 2014. To this day, Rich has been there for the family and Dana Warrior thanked Rich for everything he has done. For 51 years and counting, Rich is known in WWE as the Problem Solver and there to lend a helping hand. They showed Ultimate Warrior's two daughters sending video messages congratulating Rich on the award. Rich was shown sitting at his desk.
Rich Hering said he wished Dana Warrior and the girls were there because of who this award represents and what it represents. Rich thanked the WWE superstars for transforming a regional wrestling company into an international phenomenon. Rich gave a shoutout to hundreds of WWE employees for making TV shows and live events what they are for the WWE Universe while calling them the "unsung Warriors." Rich thanked everybody and held up the award.
Analysis: Good job, Rich. I didn't know the name before today, but I think it's great that WWE told this story. When Ultimate Warrior did his Hall of Fame speech he said he wanted the company to honor the employees that have been there a long time, so that's what they did here. I'm happy for Rich. Good choice.
A commercial aired for the Universal Title match at WrestleMania with Roman Reigns facing Edge and Daniel Bryan.
Edge was interviewed by Greg Hamilton in the backstage area. Edge said he knows what the Hall of Fame means and represents. Edge said he's excited about Molly Holly get in because she was influential in his wife Beth Phoenix's career. Edge mentioned others like Eric Bischoff as well. Edge said that the man behind Kane (Glenn) is one of his best friends. Edge said to see a guy like that, even though there's no rating system, Kane deserves it as much as anybody.
Bayley was interviewed by Alyse Ashton. Bayley said that Kane was her brother's favorite character. Bayley told Kane to hit up her brother Jeremy. Bayley said that Daniel Bryan and Kane really stuck out to her when they were together on screen.
It's time for the final member of the 2021 Hall of Fame class.
Hall of Fame Inductee: Kane
There was a great video package showing Kane's career highlights from when the character began in October 1997 during the first Hell in a Cell match. "That's gotta be Kane!" Seth Rollins said that Kane had the best debut ever because you knew he'd be a serious threat. Kurt Angle said when Kane came out, it gave him chills. Mick Foley talked about The Undertaker and Kane's fantastical horror story and then when they were together, it was destruction. They showed when Kane unmasked in 2003, which added another layer to the character. Shane McMahon talked about Kane being an indestructible force. Rollins said that all the creepy, outlandish stuff just fit. They showed when Kane lit a guy on fire and of course when Kane gave Pete Rose a Tombstone. They also showed some of Kane's WWE/World Title wins. Daniel Bryan spoke about how Kane can be a monster, but he can do comedy as well. The "hug it out" stuff with Kane and Daniel Bryan was shown with Bryan calling Kane one of the greatest characters we've ever seen. The Undertaker said that if you wanted somebody to model your character after, Kane is the blueprint. Undertaker said that he thinks the world of Kane. They showed more Kane destruction to end it.
Analysis: This video package was awesome. I am not going to pretend like Kane was one of my absolute favorites, but his career longevity was so impressive and he was able to have a lot of memorable moments. Kane really is one of the best characters in WWE history with a nearly 25-year run.
Kane made his entrance wearing a suit with a fitting red tie. The Kane mask was in a display case on the podium beside him. Kane said that this was the greatest honor of his career. Kane said that standing there made him wonder what he was doing there. Kane talked about how he was always surrounded by wonderful people starting with his parents. Kane noted that his mom and dad were always his biggest fan while noting that his mom loved Isaac Yankem DDS because she always wanted a dentist in the family. Kane said his mom had a genius sign at an event: "I Raised Kane." Kane talked about his daughters Devan and Arista are the best kids any dad can hope for. Kane said he missed a lot of birthday parties, ballgames and dances and if he has one regret, that's it. Kane talked about his beautiful wife Crystal and how they have been together for 26 years while saying she was his best tag team partner.
Kane thanked some people from his wrestling career like his friends Mark Morton, Dutch Mantel, Jim Cornette and Jim Ross. Kane apologized to JR for setting him on fire. Well played! Kane talked about how WWE had hundreds of individuals behind the scenes whose names you'll never hear then people like him would never be here. Kane thanked some behind-the-scenes people for making WWE go night in and night out. Kane said that they had the best television production people in the world. Kane thanked more people behind the scenes. Kane thanked his brothers and sisters who put on tights and lace up the boots while performing in the ring. Kane said it was an honor and privilege to perform with all of you. Kane said that you are the best entertainers in the world because you put smiles on faces. He thanked Kane's daddy Paul Bearer and brother The Undertaker as well. Kane talked about how his first match with Undertaker was at Smoky Mountain Wrestling in 1995 in front of 5,000 people. Kane said he lost to The Undertaker for the first of many times that Undertaker dropped him on his hand. Kane said that when he first heard of the character Kane, he knew his life would change. Kane said that The Undertaker/Kane saga is the greatest story that WWE has ever told. Kane talked about their two decades of history including all the fights and times they teamed up together. Kane told some stories about being on the road. Kane said all of it was because a guy named Mark Calaway believed in a guy named Glenn Jacobs. Kane thanked the WWE Universe for being a part of this journey with him. Kane said none of it would be possible without you. Kane said thanked the fans for the privilege for making Kane one of the most memorable characters ever. Kane ended it talking about his journey through his life (from WWE superstar to Mayor of Knox County to WWE Hall of Fame) saying if somebody like him can do what he's done then just imagine what you can do. Glenn left us with that and Kane wanted to leave us with this: Kane set off the fireworks like he did so many times in his career. Kane's music played to end it. That was the end of the broadcast. This speech went about ten minutes.
Analysis: It was the longest individual speech and that's okay because he went on last. I thought he did really well in terms of speaking from the heart, making a few jokes along the way and being really grateful towards the fan. I've been covering this business for over 20 years, I have reviewed so many Kane matches/promos and know that he is one of the most respected guys in the history of WWE. I'm genuinely happy for him. Kane was a no doubt WWE Hall of Famer. It's not always about the best matches. It's about the character and the moments that we will always remember. Congrats to Glenn Jacobs aka Kane.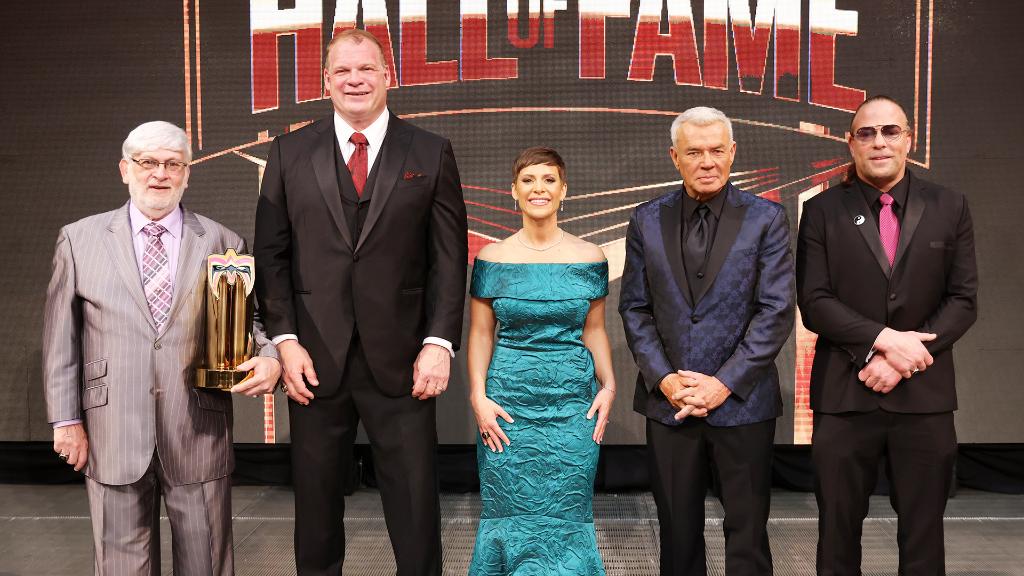 Final Thoughts
It was a different kind of Hall of Fame ceremony with short speeches that averaged around five minutes and no crowd in the building. While WWE tried to pipe in the fake noise, it's just not the same as having a real crowd there. Since there was no crowd, the inductees were able to get through the speeches quickly since there is no pausing for applause and things like that. While I am sure nobody in these two Hall of Fame classes are going to complain publicly about having no fans, it just didn't feel the same as watching this ceremony for the last 15 years or so and listening to the crowd respond to the speeches. It's not like it is the fault of the talent. That's just the crazy world we're in right now. With that said, I do like the shorter speeches because the words mean more this way.
If I had to pick the best speeches I'd go with Kane, Rob Van Dam and the New World Order although I don't think anybody really stood out aside from a few jokes.
I think WWE did a pretty good job of getting two Hall of Fame classes into one three-hour broadcast. I'm glad I watched it and made the decision to write about it. I had fun.
Thanks for reading.
John Canton
Email: mrjohncanton@gmail.com
Twitter: @johnreport
Personal Facebook and TJRWrestling on Facebook