The John Report: The WWE Raw Deal 12/28/20 Review
It's Tuesday. You know what that means.
Welcome to the WWE Raw Deal review for the last episode of Raw in 2020. It hasn't been a great year for Raw in 2020, but there have been some positive things along the way.
The weekend was depressing after the death of Jon Huber (Luke Harper/Brodie Lee) on Saturday. I wrote an article about Brodie here while gathering some of my favorite tributes that were posted for him on social media by his wrestling family. Huber was only 41 years old and leaves behind a wife and two young sons that he adored. There has been a lot of sadness this year in general and the wrestling business has been no exception. It breaks my heart thinking about it. My condolences to his wife and two young sons as well all of his family, friends and colleagues in the wrestling business that have shared so many wonderful memories about this man. May he rest in peace.
I plan to post the WWE Johnny Awards column on Wednesday. It was going to be on Monday, but I still need to work on some things. It was just tough to focus on things after the sad news about Jon Huber from Saturday. The goal is to get it done before the end of the year and Wednesday is December 30, so I will get it done in time.
From the WWE ThunderDome at Tropicana Field in Tampa Bay, Florida, this is the Raw Deal for episode #1440 of Monday Night Raw. Follow me on Twitter @johnreport. Please visit TJRWrestling.net daily for our regular updates on the wrestling business featuring WWE news coverage, insightful columns from our team along with reviews about wrestling's past and present. Let's roll.
The show began with a graphic "In Memory of Jon Huber 'Luke Harper' 1979-2020." The Raw intro video aired after that.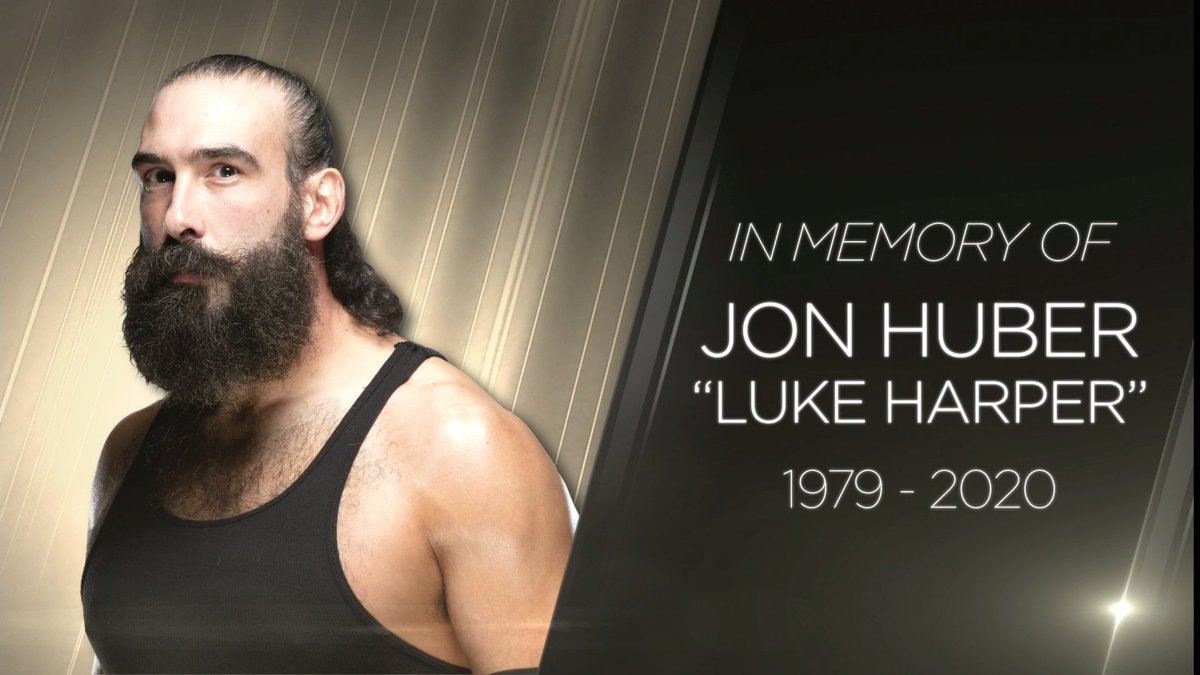 Analysis: I expected the graphic and it's nice to see that. Could they have done more? Maybe. I think Jon Huber meant a lot to the WWE roster because he worked for there for nearly a decade. It was reported by PWInsider this morning that numerous WWE talents and sources told them that "tributes to Huber were taped yesterday prior to Raw going on the air." That means we could see a tribute video for Luke Harper on NXT or Smackdown later this week.
The Raw announce team of Tom Phillips, Byron Saxton and Samoa Joe welcomed us to the show with a rundown of what's coming up on the show including Keith Lee vs. Sheamus for a WWE Title opportunity. Also, Randy Orton is a guest on Alexa's Playground talk show.
Let's Hear from Drew McIntyre
The last Raw of the year begins with the entrance of a man that made 2020 his year in WWE as he walked down to the ring with the WWE Championship around his waist for a promo.
Drew: "It's Monday, you know what that means." That's a tribute to Luke Harper because Luke/Jon Huber used to tweet it every day of the week for years. He also said "yeah yeah yeah" as he welcomed us to Raw. That's another Harper thing. Drew recapped his year winning the Royal Rumble, beating Brock Lesnar to win the WWE Title and then regaining the WWE Title from Randy Orton. Drew thanked the fans for motivating him every single week. Drew spoke right into the camera saying that he became the fans' chosen one and now he says "thank you" for that. Drew talked about how he'll defend the WWE Title next week on Legends Raw against either Keith Lee or Sheamus.
Sheamus showed up in his ring gear with Drew saying he knew he would be out there. Sheamus said that he promised Drew that he would not put a finger on Keith Lee and he didn't, but after they won the match, the rest of it was fair game. Drew noted he has known Sheamus for 15 years and Sheamus talked about how this was their dream. Sheamus said that they are now one week away from making their dream a reality for a WWE Championship match. Drew said that he had goosebumps while saying that he wants that match while everybody in the back will be uncomfortable because of how physical it will be. Sheamus said that nobody is as physical as them. Sheamus said they are going to smash eachother up…and here's the predictable interruption.
Keith Lee said that this is really cute with two best friends – a former WWE Champion and one current while noting that Drew looks proud of his friend Sheamus. Drew said that's not true. Lee said that after the match, Sheamus was upset and kicked Lee in the face. Lee told Drew that there is zero trust now while noting that Drew's word is just as good as Sheamus's word. Lee got in the ring. Lee said that he is going to decide to wait until the bell rings and he'll force Sheamus to issue an apology. Lee said that maybe Sheamus will stab Drew in the back.
Sheamus said that he kicked Lee's head off last week because Lee keeps telling people that Sheamus will betray his best mate Drew.
Drew said that he has an idea that they should start Raw right and get a referee out there right now. Drew said that that it didn't matter if it was Sheamus or Lee because the result will be the same that Drew is the WWE Champion. As Drew was talking, Sheamus hit Lee with two Brogue Kicks and a referee checked on Lee as the show went to break.
Analysis: I loved the Jon Huber/Luke Harper tribute by McIntyre. That was really cool to see. I like how there's a big match with something on the line since the winner of this match faces McIntyre for the WWE Title next week. Fans want to see matches with consequences where the results matter. Sheamus is mad that Lee thinks that Sheamus will turn on Drew while Lee has a legit gripe since Sheamus did a cheap attack on him last week. It's an easy storyline to tell while also leaving fans to wonder if Sheamus is going to turn on Drew and when that might happen. Adding Lee to the mix is smart since he's also Drew's friend, but we know Sheamus is Drew's best friend. Anyway, it's better than a typical storyline we might see on Raw.
(Commercial)
The show returned with WWE Champion Drew McIntyre on commentary for this match.
Sheamus vs. Keith Lee
The winner will challenge Drew McIntyre for the WWE Championship next week on Raw.
It began as a slugfest as they exchanged punches and Sheamus hit several knee lifts to the face. McIntyre said that it didn't matter who wins. Sheamus was grabbing a headlock, so Lee grabbed him and tossed him to the mat. Lee tripped up Sheamus, who came back with a kick to the face and Sheamus stood on the left arm/shoulder of Lee. Sheamus worked on the left arm a bit, Lee came back by grabbing Sheamus around the waist and tossing him over the top to the floor. Lee sent Sheamus shoulder first into the apron and into the ring post. While Lee was on the apron, Sheamus kicked him in the chest followed by a pump knee to knock Lee off the apron to the floor. Sheamus went up top and jumped onto Lee on the floor to knock Lee onto the announce table. You don't see Sheamus going up top like that leading to a move on the floor, but it looked good enough.
(Commercial)
The match returned with Lee trying to lift Sheamus over his head, but then Lee was favoring his left shoulder and then Lee hit a forearm smash to the face. Sheamus to the apron, he hit a neckbreaker by the ropes and Sheamus hit the forearms to the chest. Sheamus pulled Lee's back/neck against the ropes, Sheamus jumped off the top and Lee decked him with a shoulder tackle. Lee with two shoulder tackles, then a corner splash and a toss across the ring. Lee with a spinebuster for two. Lee with a corner splash against the turnbuckle and hit a running body tackle for a two count. That was a weird camera angle for that move, so they showed it again. Sheamus blocked a Spirit Bomb attempt, he kicked the leg of Lee and hit a dropkick to the leg. Sheamus went for a Brogue Kick, Lee avoided it and Lee hit a running cross body block (Joe calls it a Cross Buick) for a two count. Good spot there. Lee missed a corner charge, Sheamus picked up the big man and hit the White Noise slam for two. That was impressive. Sheamus with some slaps to the face along with trash talk, Lee got back up, Sheamus with two headbutts, Lee with a double chop to the chest and when Sheamus charged forward, Lee hit the Spirit Bomb for the pinfall win after 13 minutes.
Winner by pinfall: Keith Lee
Analysis: ***1/2 That was a very good, hard-hitting match with a lot of physicality shown by both men. I thought Lee got a lot of offense in the match, so I figured Sheamus would get the win, but I certainly have no problem with Lee winning. I like both guys a lot. Sheamus was working on the body parts of Lee like the left arm/shoulder and the knees, but Lee was able to keep coming back before finishing him off with the Spirit Bomb. I liked how it was booked. Smart move to start the match with a great match like that. Sheamus has had several great matches of late. Proud of him for working so hard to get back last year and performing at a high level. It's also nice to see Lee pick up a big win.
Drew called that match a war and said he'll be ready for Keith next week.
Post match, Lee walked over to Drew, who said congratulations to Keith. Drew held up the WWE Title in the air as the wrestlers had a staredown.
Analysis: I expect McIntyre to retain the title next week on Raw for what should be a great match. I think it's possible that Sheamus does his heelish attack on McIntyre after the match is over to show he wants a title shot. They could also have Sheamus go after Lee after the match to continue that rivalry while holding off Drew vs. Sheamus for later down the line in 2021. There are a lot of options.
Elias was shown backstage playing his guitar with Jaxson Ryker sitting down beside him. There was some noise by the door in the room, but Elias told him to not pay attention and kept on playing the guitar.
The Miz made his entrance in his wrestling gear while tag team partner John Morrison was not in wrestling gear. Miz had an angry look on his face. Miz had a match up next.
(Commercial)
A commercial aired for Raw Legends Night next week that highlighted names like Hulk Hogan, Ric Flair, Big Show, Torrie Wilson and more.
Gran Metalik entered with Lince Dorado while a pre-taped promo from them was shown. They are two guys that are very underused on the Raw brand.
The Miz (w/John Morrison) vs. Gran Metalik (w/Lince Dorado)
Metalik got repeated nearfalls to start the match with Miz looking frustrated about the Money in the Bank situation. Metalik with a headscissors to the floor followed by a dropkick that knocked Miz off the apron. Metalik walked the ropes leading to a moonsault onto Miz on the floor. Back in the ring, when Metalik went for a springboard attack, Miz stopped him with a boot to the face. Miz jumped onto Metalik's back while against the ropes. Miz bounced off the ropes with a boot to the face while yelling that he's Money in the Bank. Metalik got momentum again with a bulldog, then a dropkick off the middle ropes and Metalik hit a sunset flip into the pinfall for the win after about three minutes.
Winner by pinfall: The Miz
Analysis: *1/2 A quick match to continue the story that Miz wasn't focused because he was mad about losing the Money in the Bank contract. I didn't expect a Metalik win because I figured Miz would win to give him some momentum after losing at TLC. It was nice to see Metalik get some offense early on in the match to show what he can do. Metalik is a very talented in-ring performer that just doesn't get a chance to do a lot. They'll probably do a rematch next week with Miz getting the win back.
Elias was shown backstage playing the guitar, there was a knock on the door and AJ Styles walked in with Omos. Styles complained about Elias making too much noise playing the guitar. Ryker called Elias a musical genius. Elias said that Styles is upset because at TLC he couldn't get the job done. Styles suggested that Elias fights him tonight, Styles will break his fingers and no one will have to hear Elias play music again.
Analysis: It set up a heel vs. heel match for later.
Dana Brooke entered with tag team partner Mandy Rose, who looked tremendous in her choice of outfit just like last week. Dana is pretty good too. I won't complain about seeing this team. Asuka kept calling them the Sexy Muscle Friends on commentary last week, but I don't think that's an official team name.
(Commercial)
Shayna Baszler entered as Dana's opponent. A clip was shown of Shayna injuring Mandy last month by stomping on her left arm last month. Mandy missed about a month of action, but she has since returned.
Dana Brooke (w/Mandy Rose) vs. Shayna Baszler
Brooke with a clothesline, then shoulder tackles and when Brooke went for a handspring elbow, Baszler got the knees up to block. Brooke avoided the dreaded arm stomp, so then Baszler whipped Brooke's left shoulder/arm against the ring apron. Baszler slapped on an armbar on the left arm of Brooke and Dana hit a jawbreaker to get out of that. Brooke with two clotheslines and a body slam. Baszler to the floor, Brooke tried a baseball slide, but Baszler grabbed her in the Kirifuda Clutch submission on the floor. Baszler whipped Rose into the ring apron. Baszler tried to step on Rose's arm, but Rose moved and Baszler stepped on the steel steps. Brooke sent Baszler into the ring apron. Back in the ring, Brooke got a pin attempt for two. Brooke hit an impressive spinning neckbreaker for two. Brooke went up top, she jumped off with nothing because Baszler moved and Baszler hit a knee to the face followed by the Kirifuda Clutch submission that led to Brooke tapping out after about four minutes.
Winner by submission: Shayna Baszler
Analysis: *3/4 This was okay with Baszler able to avoid a top rope move leading to the predictable submission finish. Brooke got plenty of offense here, I thought she sold the arm well and I liked the babyface fighting spirit that she showed. I think Dana (and Mandy) has improved this year for sure. Baszler could be being built up for a Raw Women's Title shot early next year.
Post match, Rose went to check on Brooke, so Baszler went back into the ring and put the Kirifuda Clutch on Rose as well for about five seconds. Baszler left standing tall.
Analysis: Maybe this means they'll do Baszler vs. Rose next week. That's how WWE tends to book these matches.
A recap was shown of Randy Orton's story with The Fiend when Orton burned The Fiend alive at TLC eight days earlier. Orton claimed that The Fiend is no more while bragging about being the "evil son of a bitch" that took him out. Last week's Raw featured Alexa Bliss playing mind games by teasing Orton about where The Fiend could be.
Alexa's Playground talk show with Randy Orton is up next at the top of hour two.
(Commercial)
Alexa's Playground
Alexa Bliss was in the ring on a swing on her Alexa's Playground set. She said that "he" built this for her, but she hasn't seen him since the Inferno Match at TLC when things got a little heated. Bliss said that "he" would love to meet his hero Hulk Hogan next week on Legends Night while claiming he says his vitamins and says his prayers, but she doesn't want to know what "he" prays to. Bliss said he could be waiting for Randy Orton to come back to her playground. Bliss invited Randy Orton to come on down to the playground. Randy Orton's music hit, but there was no sign of him. Bliss said maybe Randy doesn't want to help find him, so she tried to invite Randy again and he wasn't there. Bliss commented that Randy Orton doesn't want to play with "us" anymore. Bliss said he was inconsiderate and rude after lighting The Fiend on fire.
Randy Orton appeared on the Firefly Fun House set. Orton said he thought that he would visit the Fun House, so he kicked Huskus the Pig and laughed at Abbey the Witch. Orton said he didn't think The Fiend was coming back as he threw Mercy the Buzzard at Abbey the Witch. Orton said if The Fiend does come back, he will have nothing left. Orton picked up Ramblin' Rabbit and ripped his head off. Bliss challenged Orton to come down to the ring for a confrontation later tonight. Orton said this must be where he is supposed to return and Randy accepted that challenge.
Analysis: It was a way to set up another confrontation later in the night. I don't like the storyline that much, but it might be interesting to some fans. I'll give credit to Alexa and Randy from a performance standpoint because they did a great job.
A clip was shown of Nia Jax attacking and "injuring" Charlotte Flair six months ago by attacking Flair's left shoulder. It was just a storyline injury to give Charlotte a break to fix…other things.
Charlotte Flair was interviewed by Charly Caruso talking about how Nia injured her and she was out for half a year. Flair said she's ready for this match with Jax while saying that Jax is to be feared, but Flair feels confident going into the match. Flair said that she had the same New Year's Resolution every year – to climb to the top and stay there. Asuka showed up to say that Nia is not ready for Charlotte Flair. That match is later.
AJ Styles entered for a match with the big man Omos joining him.
This Friday on Smackdown on New Year's Day: Big E defends the Intercontinental Title against King Corbin. Plus, Roman Reigns will continue his run of dominance.
(Commercial)
Elias made his entrance with Jaxon Ryker.
AJ Styles (w/Omos) vs. Elias (w/Jaxson Ryker)
It's a matchup between two heels, which is tough on fans in an arena, but with no actual crowd, you can do these kinds of matches more often. Elias used his power advantage to beat on Styles against the turnbuckle followed by a back body drop that got a lot of height. Elias worked on the arm of Styles, then AJ got a rollup to counter and Styles sent Elias into the turnbuckle. They did a spot with a bit of a mixup where Styles kinda ran into Elias, but then Styles hit him with a dropkick. Elias left the ring, got Styles on his shoulders and sent Styles into the ring apron. Elias whipped Styles into the ring post with AJ's left shoulder hitting the post or at least that was the idea.
(Commercial)
The match returned with Styles jumping over Elias to avoid an attack, but then Elias hit a running knee to the face that looked good. Elias jumped off the top ropes with a double knee attack to the face. Elias grabbed the dreaded headlock, Styles broke free briefly, but Elias tossed Styles out of the ring. Ryker got near Styles until Omos stood in front of Ryker, who fell down to sell fear. Styles got back into the match with punches, a back fist, a clothesline and a flying forearm. Styles with the Ushigoroshi slam off the shoulders onto the knee. Elias got a hold of Styles and hit something like the Drift Away neckbreaker for a two count. Elias went to the ropes for nothing, Styles tripped him up and Styles hit a jumping Pele Kick to knock Elias off the apron. Elias put Styles on his shoulders leading to a TKO slam for a two count. That's a good move Elias should use more often. Styles came back with a kick to the leg along with a kick to the head. Styles with a forearm to the face and then Styles went up top with the Phenomenal Forearm for the pinfall win after 14 minutes.
Winner by pinfall: AJ Styles
Analysis: **1/2 The match was okay with the last few minutes being very good because they picked up the pace a bit. A match with two heels is awkward as I noted earlier. In this case, Styles worked more like a face. Elias wrestles a certain way that is boring to watch and rarely has a great match as a result. Styles getting the win makes sense since he's the bigger star. It's not like people are clamoring for an Elias push. I certainly am not.
A clip aired from Ricochet on Raw Talk last week talking about how he's tired of ending up in pain while dealing with Retribution. Ricochet entertained the idea of trying something different.
Ricochet entered for another match against a member of Revolution, which has gone on for months at this point.
(Commercial)
Retribution made their entrance. A pre-taped promo aired from Mustafa Ali talking about how Ricochet needs to change.
Mustafa Ali (w/T-Bar, Mace, Slapjack and Reckoning) vs. Ricochet
Ricochet was aggressive early with a running chop, a powerslam and an elbow drop. Ricochet with a headscissors followed by a dropkick. Ricochet with a back body drop, but then Ali came back by sending Ricochet into the turnbuckle. Ali hit a neckbreaker for two. They battled on the apron by the turnbuckle, Slapjack and Reckoning distracted the referee, so T-Bar and Mace double-teamed Ricochet by sending Ricochet into the barricade. Ali jumped off the top rope with a splash on the floor on Ricochet.
(Commercial)
The match returned with Ali hitting a backstabber to Ricochet, who was up against the ropes. Ali continued the offense with a body slam and elbow drop leading into a chinlock. Ricochet avoided a suplex, then he shoved Ali into the turnbuckle and Ricochet jumped over Ali with a backflip into a German Suplex. That was impressive. Ricochet hit a powerful clothesline with Ali doing a flip bump to sell that. That was a nice tribute to Harper, I think. Ricochet was selling an injury to the ribs, he slammed Ali off the shoulders and kicked him in the face. Ricochet covered Ali for two with Mace pulling Ricochet to save him. That could be a DQ since the referee saw it, but it was not. Ricochet with a DDT on T-Bar on the floor (scary-looking bump but T-Bar said he was okay on Twitter), a dropkick to Slapjack, Ricochet avoided Mace and Ricochet hit a dropkick on Ali into the ring post. Mace tried an attack that Ricochet ducked and Ricochet hit a spinning DDT on the floor. Ricochet went up top, jumped off with a Shooting Star Press, but Ali got the knees up and slapped on the Koji Clutch submission with Ricochet passing out. It went about 12 minutes.
Winner by submission: Mustafa Ali
Analysis: ***1/4 Good match between two talented athletes that could have had a faster-paced match, but I think it was smarter to slow it down and make it more of a fight. Ricochet continues to lose against members of Retribution, which doesn't make Ricochet look good at all. Ricochet's offense towards the end of the match was incredible. That's why this guy needs to be pushed more, but they keep booking him like a loser. I'm not sure what the long-term plan is here although Ricochet either needs to get some allies to fight these guys or pick up some wins to get some momentum back.
Post match, Mustafa Ali said he would give Ricochet a chance for a new outlook and a new beginning by joining Retribution. Ali asked him to make a decision. Ricochet: "I've made a decision. I will…not join…" and Ricochet hit the Recoil double knees on Ali. Ricochet got out of there before he could be attacked.
Analysis: Perhaps this will lead to Ricochet getting some wins to get some momentum back.
Nia Jax was interviewed backstage by Charly Caruso with Shayna Baszler standing beside Jax. Baszler said she heard what Charlotte had to say while adding that her fear warms her heart. Jax said she would end Charlotte, get the women's tag team titles back and she is entering the Women's Royal Rumble match. Jax said she would win the Royal Rumble and go on to face the champion at WrestleMania, whoever that may be. Baszler said she liked that idea.
Charlotte Flair made her entrance with the Women's Tag Team Title around her waist while being joined by her tag team partner Asuka, who is also the Raw Women's Champion.
(Commercial)
There was a replay from earlier in the night showing the Sheamus/Keith Lee story with Lee beating Sheamus in their match.
The graphic was shown letting us know that next week on Raw there will be a WWE Championship match with Drew McIntyre defending the title against Keith Lee.
Drew McIntyre was interviewed by Charly Caruso, who was doing a lot of interviews this week. McIntyre said he's excited all around since next week is Legends Night and he'll give them a title match that they'll never forget. McIntyre said that everybody has been waiting for Keith Lee to step up and Drew said that Keith is ready because he saw the spark in his eye. McIntyre looked into the camera saying that on Keith's best day he can beat any superstar in WWE…except Drew McIntyre. Drew said he'll see him next week.
Analysis: A strong promo from Drew. I think Drew deserves a lot of credit for his matches this year and that's what sticks out the most when I think of his strong 2020. Don't forget about his promos, though. He's consistently great doing promos week after week. I've been so impressed by Drew overall this year.
Nia Jax entered with Shayna Baszler for this match at the top of hour three.
Charlotte Flair (w/Asuka) vs. Nia Jax (w/Shayna Baszler)
They battled over a headlock for about a minute, then Jax with shoulder blocks to the left shoulder and an arm drag that worked over the left arm of Flair. Flair to the apron, shoulder to the ribs and a big boot to the face. Flair with a running dropkick that sent Jax out of the ring. After Jax took a few moments to regroup, Flair hit her with forearms to the face and Flair hit another dropkick to knock Jax out of the ring. Flair with a sliding dropkick that sent Jax into the announce table. Baszler got too close, so Asuka hit a spinning back first on Baszler to knock her down. Flair avoided a running attack from Jax, who hit the steel steps. Back in the ring, Jax countered a Figure Four attempt by sending the back of Flair's head into the turnbuckle. Jax with a running corner splash for two.
(Commercial)
Jax was in control with a chinlock, Flair came back with a backbreaker and Flair did a hair pull that led to her slamming Jax to the mat. Flair went up top, took too long, Jax pulled her down and Flair came back with a rollup for two. Jax got a hold of Flair leading to a sitout Powerbomb for a two count. Flair avoided a leg drop, Jax kicked Flair away and Baszler sent Asuka over the announce table. Flair kicked Baszler and Flair got a rollup on Jax for two. Flair slapped on the Figure Four Leglock into the Figure Eight, but then Baszler went into the ring to slap on the Kirifuda Clutch on Flair for the DQ finish after 11 minutes.
Winner by disqualification: Charlotte Flair
Analysis: ** It was a below-average match with a cheap ending because they don't like beating Nia Jax that much even when it's Charlotte Flair in a match. It's hard to get a good match out of Nia Jax no matter who you are. The story would have made sense for Flair to win decisively as payback for being attacked by Jax six months ago, but I guess WWE wants to keep Jax strong going into Royal Rumble season.
After the match, Baszler continued to apply the Kirifuda Clutch on Flair, Jax got in some cheap kicks and Asuka ran in to save as the heels retreated.
The Hurt Business were shown walking backstage earlier in the day when they walked up to a guy checking on his phone. They intimidated the poor guy, who ended up tripping and falling down like a dumbass and The Hurt Business foursome kept on walking.
This Wednesday on NXT: Roderick Strong vs. Pete Dunne and the NXT Year-End Awards. Plus, Johnny Gargano defends the NXT North American Title against Leon Ruff. Check out my review on TJRWrestling on Thursday.
(Commercial)
Angel Garza was shown walking backstage with a rose in his hand as he stood by a Tampa Bay Rays image of former Rays pitcher Matt Garza. Charly Caruso showed up for an interview with Garza speaking about how interesting his 2020 was. Garza said maybe he'll introduce himself to a legendary female superstar next week. Charly asked who this rose was for, then R-Truth ran into him with the 24/7 Title and the midcard wrestlers chased after Truth. Garza picked up the broken rose, handed it to Charly, said "it's the thought that counts" and she was disappointed by it.
Analysis: I don't know if next week is when we'll get some progress on this Angel Garza persona where he's hinting about being paired with a female wrestler. I'm not sure who it might be aside from the Eva Marie rumor that is out there.
A clip was shown of Big E beating Sami Zayn for the Intercontinental Title on Smackdown on Christmas last Friday. It was a great show.
There was a scene in the Gorilla Position with The New Day there with Jeff Hardy and Riddle joining them. Hardy congratulated New Day on Big E winning the IC Title. New Day said they'll take their tag team titles back soon. Riddle tried suggesting names for the four of them like the Positively Hard Bros, but that wasn't liked by all of them.
The New Day's Kofi Kingston and Xavier Woods made their entrance. Woods had "BRODIE" written on a black armband on his left arm for his late friend Jon Huber aka Luke Harper/Brodie Lee. A lot of the wrestlers called him Brodie. Jeff Hardy entered as the New Day guys danced to the Hardy theme song.
(Commercial)
Riddle made his entrance to join the three other faces on his team. When he kicked off the flip flops, the pyro went off while also showing a replay of it.
The Hurt Business foursome of US Champion Bobby Lashley, Raw Tag Team Champions Shelton Benjamin and Cedric Alexander along with MVP. There was a promo from MVP saying that Lashley wanted to make a special 2021 business forecast. Lashley said he's going to declare himself to be in the Royal Rumble match, so he's going to go on to main event WrestleMania. That means Daniel Bryan and Bobby Lashley are the first two men in the Royal Rumble match.
Analysis: I don't expect Lashley to win the Royal Rumble match next month, but I have enjoyed how strongly he has been booked.
The Hurt Business – Bobby Lashley, Montel Vontavious Porter, Cedric Alexander and Shelton Benjamin vs. Riddle, Jeff Hardy, Kofi Kingston and Xavier Woods
Alexander with a dropkick on Riddle, who came back with a gutwrench suplex. Lashley hit a shoulder tackle followed by a suplex into a slam. Benjamin tagged in with a suplex on Riddle and he drove Riddle into the turnbuckle. Riddle sent Benjamin into his team's corner and Hardy hit the Poetry in Motion attack on Benjamin. The babyface team did four quick tags leading to the corner stampede and Hardy hit a dropkick on Benjamin. Lashley took several kicks, a dropkick and a clothesline from Hardy over the top to the floor. The heels regrouped on the floor as the show went to break.
(Commercial)
The show returned with MVP stepping on the bare feet of Riddle leading to an armbar. Lashley was back in with a clothesline leading to a flatliner on Riddle for two. Benjamin tagged in with a half crab submission on Riddle, who managed to get his hand on the bottom rope to break the old. Benjamin tossed Riddle out of the ring while MVP laid on the floor by Riddle to talk trash. Alexander was back in with a belly to back suplex followed by a chinlock. Lashley tagged in with some forearm shots to the face. Riddle with a high kick to the face of Alexander and Kofi got the hot tag. Kofi with a dropkick, then a running clothesline and Kofi hit the boom drop double leg drop on Alexander. Benjamin grabbed Kofi, so Alexander hit a cheap shot to the back. Kingston with a suicide dive onto Benjamin while Woods made the blind tag. Woods tripped up Alexander and hit an elbow to the shoulder. Woods sent Alexander into the ropes and a jumping splash on the back. Woods sent Alexander throat first into the ropes while Hardy jumped onto MVP on the floor. Woods did a Harper tribute with a discus lariat and Phillips did the "YEAH YEAH YEAH" call for Harper while calling it a Harper clothesline. Great sell by Alexander doing a flip bump. Hardy got the tag with the Swanton Bomb on Alexander, but Lashley broke up the pin. MVP hit Woods with a clothesline, Kingston jumped off the top, MVP kicked him, Riddle kicked MVP, Benjamin tossed Riddle to the apron leading to a jumping knee by Shelton and Hardy hit a Twist of Fate on Benjamin. Lashley got the tag against Hardy, who got a knee lift. Hardy with a knee, Lashley no-sold that and slapped on the Hurt Lock submission with Jeff tapping out to give Lashley the win after 14 minutes.
Winners by submission: The Hurt Business – Bobby Lashley, Montel Vontavious Porter, Cedric Alexander and Shelton Benjamin
Analysis: ***1/2 A great tag team match that was really awesome in the last few minutes. I absolutely loved the Harper tribute from Woods. That made me smile and I'm sure it meant a lot to Wood to be able to do that for his friend. I'm glad they got a lot of time because you know it's going to be a great match with so many veteran wrestlers that know how to build up to the key spots. I'm also impressed by how well WWE continues to book Lashley as a dominant heel that wins nearly every match he's in whether it's in singles or tags. I just really like how they book him well. Lashley and Drew McIntyre are the two guys that are booked the best on Raw. Anyway, this was a fun match worth checking out if you missed it.
Post match, The Hurt Business tried to do some cheap attacks, but New Day were able to fend off Benjamin and Alexander. Riddle went back into the ring to hit the Final Flash knee to the face of Lashley. The faces left.
Analysis: That shot by Riddle will likely set up a US Title match for Riddle against Lashley soon.
The Miz and John Morrison were sitting on some stairs looking frustrated with Adam Pearce walking up to them saying they look as miserable as the Cleveland Browns looked yesterday. Good line since Miz is a Cleveland Browns fan and the Browns loss. Pearce had the Money in the Bank briefcase with him. Pearce said he was there to return the briefcase because Miz was right the entire time. Pearce said that the rules state only the Money in the Bank contract holder can cash in, not Morrison like what happened at TLC. Pearce said once again the Money in the Bank briefcase is in the hands of The Miz. That led to Miz and Morrison doing some awkward dancing and celebrating with the briefcase.
Analysis: I figured that was coming since I noted in the TLC review that Morrison was the one that handed the briefcase during the cash-in, which seemed to be ignored by the announcers. I assumed it would be used in the story to get the briefcase back on Miz. Overall, I think WWE has booked Money in the Bank terribly this year with Otis winning it without even climbing the ladder, then Miz won it from Otis even though Miz wasn't in the original MITB match and then the way Miz has been booked has not been favorable.
This week on Raw Talk the guests were Keith Lee, Asuka, Kofi Kingston and Xavier Woods. I watched the clip of New Day talking about their late friend Jon Huber. I put the clip in at the bottom of this review.
Alexa Bliss and Randy Orton are up in the main event.
(Commercial)
Next week on Raw: It is Raw Legends Night and Drew McIntyre defends the WWE Championship vs. Keith Lee.
Alexa Bliss Challenges Randy Orton?
Alexa Bliss made her entrance with a serious look on her face while dressed in a black dress that was different than the more colorful look she had on earlier.
Randy Orton made his entrance wearing his ring gear along with an RKO vest and shorts. Orton was looking around the building because he felt like he was being set up. Orton stood in the ring across from Bliss.
Orton: "Where is he?" Bliss said that this is not about him, it's about her.
Bliss went to the ringside area to bring in a red box that was wrapped like a Christmas present. Bliss opened it up to reveal a gas canister with matches. Bliss challenged Orton to do to her what Randy did to him referring to The Fiend. Bliss laid down in the ring while Orton looked at her with a stern look on his face.
Bliss got back up and she poured gasoline in the ring so that was in a line from where Orton was standing to where she was standing. Bliss told Orton to light the match and do to her what Randy did to him (referring to The Fiend). Bliss laid down in the ring again: "Dammit Randy, just do it!" Orton said and did nothing.
Bliss poured the gasoline in the ring in a circle around where she was standing. Bliss told Orton that he didn't have the guts to do it. Bliss told Orton that he thinks he's sick, twisted, demented or else he would light that match. Bliss told Orton he is "nothing but a little bitch."
Bliss grabbed the gas can and poured it all over her head so that it covered her body. I think that's a good way to sum up how 2020 has gone for some people. Bliss had a crazed look on her face.
Orton: "You think that I won't do it?" Orton picked up the matches. "You think that I'm not capable? I want to do it, but I know it's what you want me to do so right now I'm trying to process the whole thing." Orton said that he likes watching people suffer. Orton said that she thinks that The Fiend went to hell after Randy burned him, so maybe Orton will set her on fire right now or maybe…and that's when the lights went out slowly like when The Fiend usually appears.
Orton lit one of the matches, he looked at it in his hands and Orton teased that he was going to drop it on the gasoline (the announcers were yelling about how he shouldn't do this), but that's when the show ended.
Analysis: There's a cliffhanger ending where they leave the audience not knowing what was next. This whole story is bizarre. I'm assuming what they'll say is that Orton lit the fire to show he was a madman, but that Bliss ran away when the lights went out, so she wasn't harmed. Maybe we'll find out at the start of next week's show. It's bizarre, but it also shows how demented and crazy Randy Orton has become as a heel that takes pleasure in hurting people so much that he enjoys lighting them on fire too. Bliss has done really in terms of becoming this new, darker character and Orton is always great in this kind of role. As I said earlier, I don't really like the story that much and it's the kind of thing that I would fast forward through if I was watching without writing a review. I'm sure there are some people that like this storyline more than me, though, so that's cool if they do. I'm sure it's building up to Wyatt's return as The Fiend at some point perhaps in the Royal Rumble match if Orton is in the match.
Three Stars of the Show
Xavier Woods for the Luke Harper discus lariat tribute
Keith Lee
Sheamus
The Scoreboard
6.75 out of 10
Last week: 5.5
2020 Average: 6.20
The final 2020 average for Smackdown was 6.55 in case you were wondering.
Final Thoughts
This felt like a better Raw episode than what we got last week and an above-average show overall. The positive thing is that they had a lot of matches get more time than usual, but some of the matches were just decent. The best matches were Keith Lee beating Sheamus in the opener to set up Lee vs. Drew McIntyre for the WWE Title next week. I also really liked the 8-man tag team match that was really fun especially in the last few minutes.
The stuff with Randy Orton where Alexa Bliss wanted Randy to burn her with fire like he did to The Fiend was bizarre. I think in terms of acting performances they both did well, but I'm not a huge fan of the storyline. It's just not that interesting to me.
My favorite parts of Raw this week were Xavier Woods doing the Harper clothesline tribute and McIntyre saying, "It's Monday, you know what that means." Plus the "yeah, yeah, yeah" was on the show a few times. Cool tributes by some WWE people to their late, great friend Jon Huber.
I'll leave you with this clip of Xavier Woods and Kofi Kingston talking about the death of Jon Huber/Luke Harper and how much he meant to them.
—
You can contact me using any of the methods below. Go Los Angeles Rams and Toronto Raptors. Be safe and smart out there.
Thanks for reading.
John Canton
Email: mrjohncanton@gmail.com
Twitter: @johnreport
Personal Facebook and TJRWrestling on Facebook