The John Report: The WWE Raw Deal 11/02/20 Review
Welcome to the WWE Raw Deal review on TJRWrestling. It's a big week in the world with the US Presidential Election happening on Tuesday (the day I am posting this) and then for me personally it's also a big week since I turn 40 years old on Wednesday. I started writing about this crazy wrestling business over 20 years ago (a lot of start/stopping writing in the 2000s) and for the last 11+ years it has been a full-time career for me. Time flies when you're writing about hot tags a lot, I guess. Anyway, thank you for the birthday wishes as well as the old jokes! As a Canadian, the winner of the US Presidential Election doesn't affect me personally, but I hope for peace and happiness for my American friends because they're a loud country tucked away down there! Also, I wish everybody well in dealing with the ongoing global pandemic as we head into the final months of this awful 2020 year. Better days are ahead, at least I hope so.
On another note, we're always looking for writers on TJRWrestling. Even though it's not a paid gig, it is a good opportunity to write for a pretty popular website. If you ever want to submit a column to TJRWrestling or write news posts for us (I really need people to help with news posts), there's info on how to do that on our Contact Us page right here. I usually reply to every sample, but it might take a few days as well.
From the WWE ThunderDome at the Amway Center in Orlando, Florida, this is the Raw Deal for episode #1432 of Monday Night Raw. Follow me on Twitter @johnreport. Please visit TJRWrestling.net daily for our regular updates on the wrestling business featuring WWE news coverage, insightful columns from our team along with reviews about wrestling's past and present. Let's roll.
There was an opening video package showing that WWE Champion Randy Orton has to deal with challengers like Drew McIntyre, The Fiend and The Miz although Orton is not defending the title at Survivor Series, so it's a weird thing to promote at this point. The Raw intro video aired after that.
Let's Hear from Randy Orton
Randy Orton made his entrance with the WWE Championship on his right shoulder. The Raw announce team of Tom Phillips, Samoa Joe and Byron Saxton talked about how Orton was a marked man with a lot of people targeting him. Orton posed with his title in the ring.
Orton said that eight days ago he became a 14-time World Champion in WWE while proving he's the best of the best. Orton said that best of the best (the phrase WWE is pushing for Survivor Series is "best of the best") doesn't do him any justice. Orton said that he proved he is THE best…period. Orton said he was better than Edge, The Undertaker, Shawn Michaels, Ric Flair, John Cena and Drew McIntyre. Orton said he's better than everybody in the locker room. Orton talked about how everybody thinks that Triple H protected him earlier in his career and that management chose him. Orton claimed that the reason he is in the position he is in is because he's the best. Orton said he showed the entire world that he is no longer the Legend Killer because he is now, simply…a legend. So when he had *only* 13 titles in his career, he wasn't a legend? Sure. Orton said having that championship on his shoulder leads to a bullseye being on his back. Orton dared the superstars in the locker room to try to come after him. Orton was interrupted by Alexa Bliss in her all black, Fiendish attire.
Bliss went into the ring and did some laughing in Orton's direction as Randy looked around as if he was about to get attacked. Orton asked Bliss "where is he?" referring to The Fiend. Bliss had gloves that had "Play" and "Pain" on them. Bliss said that he could be here. There were red lights in the arena, but when the red lights went out, there was no sign of The Fiend. However, Drew McIntyre showed up behind Orton and hit him with a Claymore Kick to put Randy down.
McIntyre told Orton to give him a rematch and until then, he'll make Randy's life a living hell. Orton was down in the ring. The Miz and John Morrison showed up to have Miz try to cash in Money in the Bank contract. A referee ran down to the ring, McIntyre saw it and went back into the ring to beat up Morrison and Miz. McIntyre tossed Morrison over the top rope onto Miz. McIntyre told Miz/Morrison that nobody will beat Orton for the WWE Title except for him. McIntyre left in a rage.
Analysis: That was cool with a Money in the Bank tease although there wasn't a point there where I thought it was going to happen. At least it was an attempt that was unofficial due to Drew showing up. Orton's promo about being a legend was fine as a heel promo for the cocky champion. Bliss was there to play mind games with Orton. McIntyre attacking Orton continues the story that he wants another shot at Orton and then he made it clear by attacking Miz/Morrison as well. It was an entertaining opening segment overall.
(Commercial)
The Miz and John Morrison were backstage where Charly Caruso showed up to talk to them. Miz said that the bell never rang, so he didn't cash in his contract. Miz complained about Drew being a petulant child while saying that Drew lost, so he has to get over it. Morrison said that McIntyre has no idea what he just did. Morrison said they are challenging Drew to a 2 on 1 handicap match tonight.
Elias was in the ring for a pre-match musical performance with his guitar. Elias plugged his album going number one last week while noting he's making hit after hit. Elias said that he could make art in a different way when he smashes that guitar over Jeff Hardy's back. Elias sang part of his song "Amen" for about three seconds, but that's when Jeff Hardy made his entrance.
Guitar on a Pole Match: Jeff Hardy vs. Elias
There's a guitar on a pole on the far right turnbuckle. The first man to get the guitar can use it. After that, you have to win by pinfall as we found out later.
Elias with a body slam where he tossed Jeff into the bottom rope. Jeff pulled Elias out of the ring and sent Elias into the steel steps. Jeff with a jumping attack off the steel steps onto Elias by the barricade. Jeff tried to climb up the turnbuckle to get the guitar, but Elias stopped him by throwing a stool at Jeff and that led to a break.
(Commercial)
Elias was in control with a whip into the ropes leading to a running back elbow. Jeff hit a spinning back kick to the ribs. Elias blocked a Twist of Fate attempt and hit a leaping knee to the face. Elias tried to climb the turnbuckle, Jeff tripped him up and Elias bumped headfirst into the turnbuckle. Hardy bounced off the ropes with a forearm, then atomic drop, double leg drop, low dropkick and an elbow drop instead of a splash since there are no pins in this match. Jeff tried a climb, Elias stopped him and Jeff countered a powerbomb with a hurricanrana across the ring. Jeff hit a Twist of Fate to knock Elias down. Jeff climbed up, he kicked Elias away and Jeff jumped off the ropes with a guitar shot to the back. The guitar didn't even break even though it was clearly a breakable guitar. Anyway, Jeff covered Elias to win after about nine minutes.
Winner by pinfall: Jeff Hardy
Analysis: **1/2 Just an average match that was a bit better than their match at HIAC was even though this match had a unique stipulation to it. A typical story that you would expect with the heel Elias controlling most of the match, Jeff made the comeback and got the win. There's less drama without pinfall attempts, but I still think it was decent enough. I assume that's the end of the rivalry for now, which would be a good thing because it hasn't been that interesting.
After the match, Jeff smashed the guitar against the turnbuckle to break it.
The team of Mandy Rose and Dana Brooke were warming up backstage for their match up next.
(Commercial)
This week on NXT: Tommaso Ciampa vs. Velveteen Dream and Ember Moon vs. Dakota Kai. Plus, more from Pat McAfee's new group that includes Pete Dunne. I loved that Dunne heel turn last week. Read my NXT review Thursday on TJRWrestling.
Mandy Rose and Dana Brooke made their entrance for this title match. They are on the Raw team at Survivor Series just like their opponents. Shayna Baszler and Nia Jax entered as the Women's Tag Team Champions. This match wasn't advertised as a title match going into Raw, but then WWE decided to make it a title match. Lana showed up at ringside because she's also on the Survivor Series team. Jax has put Lana through the announce table six times in the last couple of months.
Women's Tag Team Championships: Nia Jax and Shayna Baszler vs. Mandy Rose and Dana Brooke
Brooke jumped on Jax's back, so Jax drove her into the turnbuckle. Brooke with a jawbreaker, Rose tagged in with a dropkick and Rose slapped on an Octopus Stretch submission, but it didn't last more than a few seconds. Brooke tagged in with a chop block, Rose with a knee strike and Brooke with a flipping splash on Jax for two as Baszler made the save. Rose tagged back in for a team suplex on Baszler for two. Baszler with a suplex while holding the arm. Rose with a punch, Brooke back in with two clotheslines, an enziguri kick and punches. Brooke with a handspring back elbow on Baszler along with a bulldog for two. Rose went after Jax, but Jax hit Rose with a clothesline on the floor. Brooke got a rollup sitting on top of Baszler for two. Baszler grabbed Lana on the floor, Brooke with a sliding dropkick on Baszler and back in the ring with Baszler catching Brooke in a Kirifuda Clutch. Lana on the apron, Baszler went after her, Brooke sat on top of Baszler in a pin attempt, Baszler shoved Brooke into Lana on the apron and Baszler slapped on the Kirifuda Clutch on Brooke. That led to Brooke tapping out after four minutes.
Winners by submission: Nia Jax and Shayna Baszler
Analysis: *3/4 A lot of action in the four minutes they were given. I don't think it was a good idea to make this a title match and have Brooke/Rose in such a short match because I think that's a team that could be the future champions. Instead, they looked like losers. Jax barely did anything. The story is that Lana screwed up because Baszler shoved Brooke into her, so Lana was a reason why Brooke/Rose lost.
Randy Orton was standing backstage with Charly Caruso asking if it will be difficult to hold onto the WWE Championship since he's got a big target on his back. Orton said that maybe Drew McIntyre needs a reminder that sometimes the hunted become the hunter and that reminder will come with an…RKO.
(Commercial)
R-Truth, the 24/7 Champion, was in the ring with Sarah Schreiber, who asked why he would accept a match against US Champion Bobby Lashley. Truth thinks Sarah was confused while noting that he wants to see Bobby Boucher, who is his favorite water boy and wanted him to sign the water bottle. That's a Waterboy movie reference. Classic. Bobby Lashley entered with MVP, who then walked to the back.
Bobby Lashley vs. R-Truth
This is not for the US Title or 24/7 Title. Truth said this is a non-title match, so there's no need for anybody to get hurt. Truth laid down on the mat, told Bobby to pin and Lashley leaned down, so Truth tried to fight back. Truth ran the ropes, Lashley hit a running Spear. Lashley slapped on the Hurt Lock submission (Full Nelson) and Truth quit in a match that went under one minute.
Winner by submission: Bobby Lashley
Analysis: 1/4* A squash match to put over Lashley. Nothing more than that.
Post match, Lashley slapped on the Hurt Lock submission on Truth again.
Drew Gulak ran out to the ring with the 24/7 Title and he had a referee with him. Gulak tried to cover Truth, but then Lashley attacked Gulak with a slam off the shoulders. Lashley gave Gulak the Hurt Lock submission. Lashley tossed Gulak onto Truth and the referee counted the pin with Gulak passed out on Truth.
Winner by pinfall AND NEW 24/7 Champion: Drew Gulak
Analysis: I'll give them credit for booking a unique title change with Lashley playing a major factor. It is still tough to take the title seriously.
The Lucha House Party's Lince Dorado and Gran Metalik were backstage with Lince saying that Gulak won the 24/7 Title, so they were going to go after him when they ran into big man Jordan in a suit. AJ Styles asked if there was a problem, Lince said no and they ran the other way. That's it for hour one.
(Commercial)
Nia Jax was shown walking backstage with Sarah Schreiber mentioning Lana and Jax told her to not mention her name. Jax said that she thinks she'll end Lana's career.
Let's Hear from AJ Styles
AJ Styles made his entrance as the self-appointed team captain of Team Raw at Survivor Series. Styles told the big man Jordan (still no name for him on-screen) to step to the apron while he spoke.
Styles noted that Smackdown has Kevin Owens and Jey Uso on their team while the next three guys should be just as talented. Styles claimed that Raw has an advantage because Smackdown lacks somebody with the intangibles to be a leader. Styles said SD is missing that it factor, they are missing somebody to mold a team together to dominate and they are missing somebody like him. Styles referred to himself as Captain Styles. AJ said he had intangibles for days. Styles wondered why you wouldn't want a captain for the "best of the best" (tagline for Survivor Series) that is the very best. Styles said as Team Captain of Raw, he's going to introduce his team starting with the "Celtic Warrior" Sheamus. It was mentioned by Saxton that Styles was not officially the Team Captain. Styles also introduced Keith Lee while doing some awkward dancing for the "Bask in the Glory" song.
Styles said that they are the best of the best. Styles said that their success is his success. Styles didn't care who they had to go through whether it was Rey, Dominik or even Angie Mysterio. Lee said that if you think AJ's sizable friend will intimidate Lee then he is mistaken. Sheamus said that before Styles decided to leave the minor leagues for the big leagues, Sheamus had been dominating in WWE and Sheamus said he won't take orders from Styles. That led to AJ calling himself "Captain AJ" while noting that if they beat Smackdown, it would be great for his legacy.
Braun Strowman showed up for the interruption. Strowman said that the only thing this team needs are these hands because Raw has the monster on its team. Lee told Strowman that he would have to qualify. Strowman said that he has eliminated the most men in Survivor Series and he's been on winning teams while claiming that he beat Lee clean in the ring (it was not clean because there was a low blow). Strowman said he should be team captain. Styles didn't like that.
The WWE Official Adam Pearce showed up on the ramp saying he had a tough time finding any superstars willing to get in the ring with him. Lee mentioned that Strowman didn't beat him clean. Sheamus told Lee he hasn't been there that long. Sheamus said that as a senior member of this roster, Lee has to step behind him. Sheamus said he made a career out of beating monsters, so Sheamus said he'll do it.
Styles suggested Strowman vs. Lee vs. Sheamus and if Strowman wins, he qualifies to be on Team Raw. Pearce asked if there were any objections. Strowman said that they don't pay him to talk and with that, Pearce made the match official.
Analysis: A lot of talking to get to the point. That's what happens when it's a three-hour show. Styles had some funny lines in there, so that made it okay. I just don't think fans care about the captain's role as much as WWE thinks we care. Anyway, at least the triple threat match feels fresh.
This week on Smackdown, how far will Roman Reigns go with subservient Jey Uso by his side. Also, Sasha Banks defends the Smackdown Women's Championship against former champion Bayley.
(Commercial)
The match began after a break. Braun Strowman qualifies for Survivor Series if he wins. AJ Styles was on commentary.
Braun Strowman vs. Keith Lee vs. Sheamus
Lee hit Sheamus with a headbutt and Strowman hit a clothesline on Sheamus over the top to the floor. Lee avoided a powerslam from Strowman and Lee hit Braun with a shoulder tackle to the floor. Lee with a back elbow to Sheamus, who came back with a kick to the chest. Strowman pulled Sheamus out of the ring and Lee hit a somersault dive over the top onto the two guys. Lee barely cleared the rope and didn't get very far (understandable for a 350-pound man), but good job by Sheamus being in the right spot to catch him. That could have been scary for Lee. Sheamus battled Lee on the floor, so then Strowman hit a running shoulder tackle to knock down Sheamus and Lee. Strowman cleared off the announce table at ringside. Strowman attempted a double Chokeslam, but it was blocked and Lee/Sheamus sent Strowman into the steel steps. Sheamus hit Strowman with the steel steps. Sheamus shoved Lee into the ring post and into the ring. Sheamus with ten punches to the chest, Lee got a hold of Sheamus and Lee sent Sheamus into the barricade. They were on the floor again (no countouts in a triple threat), Sheamus tried to give Lee a sleeper and Strowman ran them over with a cross body block that knocked down the barricade as well.
(Commercial)
The match returned with Sheamus in control of Lee with an armbar. Styles credited himself for coming up with the match. Lee hit Sheamus in the chest into the turnbuckle, Strowman sent Lee out of the ring and Strowman tossed Sheamus across the ring. Strowman missed a running splash, Sheamus picked up Strowman and hit the White Noise slam for two. Sheamus went to the top rope, Lee got a hold of him there, Sheamus with an eye gouge and Strowman punched Sheamus. Strowman set up for a superplex on Sheamus off the middle rope, Lee joined them and there was a huge Tower of Doom spot with Phillips noting it was nearly 1,000 pounds falling into the ring there. AJ: "How's the ring?" That was pretty impressive to see three big dudes like that bumping hard into the ring. Lee hit a running cross body block on Strowman for two. Lee picked up Strowman on the shoulder, Strowman slipped out, Sheamus sent Strowman to the floor and Sheamus hit a slingshot shoulder tackle on Lee. Sheamus off the ropes, Lee caught him and Lee hit a standing belly to belly slam. Sheamus came back with a hard knee to the face of Lee for two. Sheamus set up for a Brogue Kick on Lee, but Strowman sent Sheamus over the top to the floor. Lee with a boot to Strowman followed by a huge clothesline for two. Sheamus was back in with a Brogue Kick to Lee, who bounced to the apron, so Sheamus couldn't cover. Strowman hit a Running Powerslam on Sheamus for the pinfall after 15 minutes.
Winner by pinfall: Braun Strowman
The win means that Strowman is on Team Raw at Survivor Series. Styles was happy about it.
Analysis: ***1/4 This was pretty good with a lot of hard shots and big spots in the match. I really liked the spot where Strowman hit the running cross body block on Sheamus/Lee that also took out the barricade at ringside. That was clever. The massive Tower of Doom spot was really cool too. Strowman winning was the obvious outcome because it made sense for him to be a part of Team Raw. Lee didn't get pinned while his issues continue and Sheamus looked impressive even though he lost the match. I liked how it was booked with all three guys getting the chance to show what they can do.
After the match, Team Raw members Styles, Lee, Sheamus and Strowman were in the ring with Styles telling the team to shake hands. Strowman said that he doesn't like Lee and Lee doesn't like him, but they have to put their differences aside because Braun wants to win. Strowman and Lee shook hands with Styles celebrating. Sheamus argued with Strowman about what happened in the match. Sheamus refused a handshake, but then he hugged Strowman. Sheamus backed away, Strowman turned to Styles and Sheamus hit a Brogue Kick to Strowman to send him out of the ring. Lee with a shoulder tackle on Sheamus to knock him out of the ring. Styles hit a dropkick to Lee to knock him out of the ring. Styles was left alone in the ring wondering what went wrong.
Analysis: They're a dysfunctional team that's a mix of babyfaces and heels and whatever Strowman is right now. I guess Braun is more of a face now. Anyway, look for them to continue to argue for the next two editions of Raw before Survivor Series as well.
Angel Garza did a backstage promo saying that he knows somebody is out there that has brilliant eyes and an irresistible smile. Garza said this rose goes to you.
Analysis: This gimmick is not working for him.
Firefly Fun House is up next.
(Commercial)
A clip was shown of The Undertaker in a video on the Tonight Show with Jimmy Fallon with Undertaker hitting a Tombstone on a scarecrow. Now that's comedy, I guess.
There was a recap of Drew McIntyre hitting a Claymore Kick on Randy Orton earlier on Raw and then McIntyre stopped The Miz's attempt to cash in Money in the Bank.
Drew McIntyre was interviewed backstage by Charly Caruso. Drew said that Randy is going to be fine because he's like a guardian angel for Randy because the only person that will defeat Orton for the WWE Title is Drew McIntyre. Drew said that The Fiend needs to back off while adding that if he gets his way then it will be Drew McIntyre vs. Roman Reigns. Drew said later tonight is a 2 for 1 special for Miz and Morrison, "Claymores for all."
Firefly Fun House
Bray Wyatt and Alexa Bliss were on the Firefly Fun House. This episode is dedicated to…RKO. Abby said that "Randy Orton can go f**k himself." Abby had to put ten cents in the Swear Jar, so Abby told Bliss to "f**k herself" too. The swear word is bleeped. Wyatt mentioned Orton was a very bad man, but the past is in the past. With those ashes, he was able to create a brand new world…but "he" never forgets referring to The Fiend. That led to clips of Orton burning down the Wyatt Family Compound three years ago. Bliss wanted to show a nifty little trick she has been practicing. Bray put his "Heal" glove over Alexa's face, then there was a red light and she stuck out her tongue as it extended really far as a fake tongue type object. Wyatt looked into the camera: "Oh s**t." End of episode.
Analysis: That was funny at the end and I liked the swear jar gimmick to switch things up a bit. They also made it clear that they are going after Randy Orton because of the history with Wyatt, which does makes sense. Bliss doing the freaky tongue thing is like special effects you might see in a horror movie.
(Commercial)
Nia Jax entered for her second match of the night with Shayna Baszler. I'm sure the audience is clamoring for more Nia Jax matches. Now that's sarcasm! A video was shown of Peyton Royce and Lacey Evans laughing about the issues between the Survivor Series team. Baszler cleared off the announce table already. Lana made her entrance after that.
Lana vs. Nia Jax (w/Shayna Baszler)
Jax whipped Lana into the turnbuckle. Jax trash-talked Lana a lot and Lana avoided a corner charge. Lana with forearms, then three kicks to the head and Jax decked Lana with a clothesline, but then Jax picked up Lana instead of pining her. Jax with a headbutt along with more trash talking and another headbutt. Jax with a gentle body slam. Jax hit a Samoan Drop for the pinfall win after about three minutes.
Winner by pinfall: Nia Jax
Analysis: 1/4* Match of the year! Not exactly. Boring match. If I wasn't reviewing it, I would have hit fast forward through the whole thing.
Jax and Baszler teased leaving, but then they went back to ringside with Baszler sending Lana out of the ring by the announce table. Lana tried to fight back, but Jax whipped Lana into the barricade. Jax gave Lana a Samoan Drop through the announce table for the seventh time. The ThunderDome crowd was booing.
Analysis: It's comical at this point. I assume the payoff here will be when Lana puts Jax through the announce table perhaps at Survivor Series when Lana is sick of getting bulled by Jax. It will probably be Lana jumping off the barricade with a splash. They have to pay it off that way.
R-Truth was shown walking backstage with a neckbrace where The Hurt Business was standing. MVP asked Truth how his neck was. Truth said he went the wrong way and then he walked back the other way. MVP joked that they signed his water bottle for him.
(Commercial)
VIP Lounge Hosted by MVP
The Hurt Business foursome of Montel Vontavious Porter, US Champion Bobby Lashley, Shelton Benjamin and Cedric Alexander were in the ring for a VIP Lounge talking segment. MVP said that this is an official announcement from The Hurt Business. MVP said that Survivor Series is about being the best. MVP noted that you have already seen Bobby Lashley decimate R-Truth. Alexander said that if Sami Zayn is still Intercontinental Champion then he'll find out Lashley is the best of the best. Lashley said he heard Zayn running his mouth while Lashley had one thing to say to him. Lashley said that he'll put Sami's ass to sleep.
MVP spoke about tonight's business is that The Hurt Business lived up to their deal with WWE by taking care of Retribution. MVP said that they decided to collect payment in the form of the Raw Tag Team Championships. Benjamin said that they'll bring the hurt to New Day to show they're the best of the best.
The New Day's Xavier Woods and Kofi Kingston entered as the Raw Tag Team Champions. Woods claimed he was a big fan of Lashley while saying that he got in trouble for staying up too late for Lashley's matches since Xavier was so young when Lashley was wrestling. Kofi put MVP over for being a great talker, he said Shelton was a great athlete and Cedric…he's sure he'll be here for a while. Kofi mentioned that they have been doing it for a long time as the most decorated WWE World Tag Team Champions of all time. Kofi said he's won more championships than all of them combined included tag team championships, United States Championships, Intercontinental Championships and even the one title that Lashley couldn't get his hands on, the WWE World Heavyweight Championship. MVP said that historic championship win by Kofi – he was actually proud of him. MVP asked if Kofi lost it to Brock Lesnar in eight seconds. MVP said that Lashley could do it in even less time than that. Kofi joked that according to Lana, eight seconds is about all the time that Bobby can last for. Ouch. MVP tried to calm Lashley down.
MVP said that New Day is all about jokes while Hurt Business is about business. MVP kept on talking about the differences in their groups. MVP told New Day that you do not want to dance with them, but he knows that Cedric and Shelton look forward to taking those tag team championships away from them.
Xavier noted they were ten-time champions, Kofi wondered if it was nine and they commented that they beat the Dudleys and MVP cut them off. Xavier said that they were a global conglomerate while Hurt Business is a failed 2020 internet startup. Woods said that the only profits they are thinking about are the Street Profits since they face them at Survivor Series because New Day rocks. That match is next.
Analysis: A lot of talking there to point out the differences between the teams. I liked the trash talking by both sides with New Day making some jokes while MVP took more of a serious approach. I like seeing Alexander and Benjamin as a team because Raw needs more teams, so it's a smart move to get them in the title picture.
(Commercial)
The New Day's Xavier Woods and Kofi Kingston vs. The Hurt Business – Shelton Benjamin and Cedric Alexander (w/MVP)
This is not for New Day's Raw Tag Team titles. Woods with a headscissors on Alexander with MVP joining commentary. Woods hit a delayed vertical suplex for two. Kingston tagged in for a double team bulldog on Alexander. Benjamin hit a running back elbow on Kingston followed by a hard whip into the turnbuckle. MVP noted that Kofi's first match in WWE was against Benjamin. Alexander with a monkey flip on Kofi, who landed on his feet and Kofi did a monkey flip of his own. Alexander worked over Kofi with some punches while Kofi came back with a rollup into a dropkick. Benjamin tagged in against Woods with Woods hitting a jumping kick and Woods hit a jumping attack on the back of Alexander. Woods went up top, but Alexander hit the ropes to knock him down and Benjamin with a knee strike that knocked Woods off the apron to the barricade. Benjamin whipped Woods into the barricade and back into the ring for a two count. Alexander stopped Woods from break free with a superkick as the show went to break.
(Commercial)
Woods broke free from the heel corner with an enziguri kick on Benjamin. Kofi got the hot tag against Alexander with a dropkick, leaping clothesline and boom drop double leg drop. Alexander with a kick to the ribs, Kofi to the middle ropes and he jumped off with a headscissors. Kofi with a double foot stomp to the chest for a two count. Alexander came back with a Michinoku Driver for a two count. Woods got the tag, kick to the face of Benjamin and a Tornado DDT off the ropes for a two count. Benjamin came back with a spinebuster on Woods for two. Woods kicked Benjamin off him by the turnbuckle and Woods jumped off with a DDT for two as Alexander broke up the pin. Kofi sent Alexander out of the ring, but then Benjamin stopped Kofi from hitting a leaping attack. Woods and Benjamin exchanged two counts, Alexander got the tag. Alexander hit the Neuralizer kick on Woods leading to Paydirt from Benjamin and Alexander covered Woods for the pinfall win after 13 minutes.
Winners by pinfall: The Hurt Business – Shelton Benjamin and Cedric Alexander
Analysis: ***1/2 That was a great tag team match with four awesome athletes that worked very well together. The result is what WWE often does with champions losing non-title to set up a future title match most likely. Woods was the face in peril for most of it, then Kofi was isolated and they went to the finish shortly after that. Benjamin and Alexander worked very well as a team, which is not a surprise at all because of Benjamin's experience while Alexander is talented too. I just get sick of champions losing non-title to set up a title match because WWE does it so often. With that said, if these teams have another match it should be very good like this match was.
Nikki Cross was shown walking backstage where she walked up to Alexa Bliss wondering what was going on with her. Cross said that Bliss is stronger than The Fiend and she wondered why Bliss was being controlled by him. When Cross turned Bliss around, Bliss had dark eye shadow and white/red eyes, so Cross backed away.
Analysis: The special effects team is doing a nice job of making Bliss look different and I think she has done really well too.
(Commercial)
Ricochet made his entrance while Tucker was in the ring with some new gear. Tucker was wrestling in tights without a shirt on, so it was no longer the Heavy Machinery look for Tucker. Mustafa Ali of Retribution walked out to ringside at the start of the match.
Ricochet vs. Tucker
Tucker's tights say "Knight" on the back, which was his last name before his name got shortened. Tucker tried a double underhook slam, Ricochet landed on his feet, Ricochet with a superkick, then a roundhouse kick and a Recoil (jumping knee to the face) got the pinfall win in about 45 seconds.
Winner by pinfall: Ricochet
Analysis: 1/4* A quick win by Ricochet is good for him, but it's bad for Tucker one week after he turned on Otis. It would have made sense for Tucker to get some momentum as a heel. Ricochet was a high pick for Raw in the draft, so maybe WWE will use him better moving forward.
After the match, Retribution's five members went into the ring and beat up Ricochet with T-Bar sending Ricochet over the top to the floor. T-Bar and Mace gave Tucker a double boot to the face. Slapjack brought Ricochet back into the ring. Ricochet tried fighting the five members of Retribution, but then and they held Ricochet with Ali trash talking. T-Bar and Mace hit a double Chokeslam on Ricochet to put him down. Ali stood over Ricochet and Retribution stood tall.
Analysis: There's some positive momentum for Retribution after losing matches repeatedly. I'm not sure where it's going, but I guess Ricochet is in trouble since he has no allies.
Drew McIntyre was shown walking backstage with Sheamus walking up to him. Drew said it was good to see Sheamus, who asked for a favor. Sheamus asked Drew to join Team Raw at Survivor Series and said that it would be great to see them teaming up again. Drew said that nothing would make him happier than to team with Sheamus again, but Drew is focused on Randy Orton. Sheamus said if you change your mind, you can let him know because Drew has Sheamus' number. Sheamus wished Drew good luck in his match. It was noted by Phillips that there's 15 years of friendship between Drew and Sheamus.
Analysis: Drew and Sheamus are legit best friends that started in the wrestling business together in Europe. When Drew won the WWE Title, they had an interview with Sheamus calling in and they were crying on The Bump together. There's a special bond there. With that said, I don't see Drew and Sheamus being on-screen allies since Sheamus is a natural heel, so it will probably lead to a Drew/Sheamus feud that both guys want because they've never really feuded in WWE before.
The Miz and John Morrison entered for the main event.
(Commercial)
This week on Raw Talk on WWE Network. The guests are Braun Strowman, Mustafa Ali, Lacey Evans & Peyton Royce. No advertising for next week's Raw.
Drew McIntyre made his entrance for the main event.
The Miz and John Morrison vs. Drew McIntyre
McIntyre used his power to knock down Morrison with an elbow and Miz tagged in with punches on McIntyre. There was a hard chop and punches for McIntyre on Miz. McIntyre tossed Miz across the ring, Morrison tagged in and McIntyre brought him into the ring. Miz with a chop block leading to Morrison hitting a running knee. Miz and Morrison hit a double gutbuster on McIntyre. Miz went for a kick, McIntyre blocked and decked Miz with a hard chop to the chest. Miz dumped McIntyre out of the ring. McIntyre clotheslined Miz on the floor and McIntyre gave Morrison a reverse Alabama Slam onto Miz on the floor. It's basically Morrison doing a splash on Miz there. That led to a break.
(Commercial)
There were about ten minutes left in the show as Morrison launched Morrison across the ring with a belly to belly suplex. Morrison with a jawbreaker, Miz tagged in with a boot to the face and Miz/Morrison sent McIntyre left shoulder first into the ring post. Miz and Morrison also whipped McIntyre into the barricade. Back in the ring, Miz hit a corner clothesline while Morrison hit a twisting splash off the top for a one count. Morrison with a headlock, Drew got out of it, but then Drew ran right into a boot from Morrison. When Morrison tried going up top, McIntyre shoved him into the top turnbuckle. McIntyre with forearms to the chest like Sheamus does. McIntyre was tripped up on the top rope by Morrison as they were both on the top rope. McIntyre did the spot where he popped up and slammed Morrison back in a spot that made it look like a suplex, but it was more like Morrison doing a moonsault bump. Miz tagged in with McIntyre firing up with two clotheslines, two overhead belly to belly suplexes and a neckbreaker. McIntyre hit a spinebuster on Miz for two as Morrison broke up the pin with a standing Shooting Star Press. Miz kicked McIntyre away, Morrison back in with a kick to the face and the Moonlight Drive neckbreaker got a two count. Miz tagged himself back in, McIntyre sent Morrison out of the ring and Miz hit a Skull Crushing Finale for two as McIntyre kicked out of it. Miz with the weak kicks to the chest, McIntyre shoved Miz into Morrison and McIntyre hit the Future Shock DDT. Morrison pulled Miz out of the ring, so McIntyre ran the ropes and hit a somersault dive onto both guys on the floor. Impressive by Drew. Back in the ring, McIntyre hit the Claymore Kick on Miz for the pinfall win after 15 minutes.
Winner by pinfall: Drew McIntyre
Analysis: *** It was good enough for a handicap match, which isn't easy to do, but they made it work. Miz and Morrison aren't booked in a dominant way, but they do work well together as cheap heels. McIntyre dominated the first half of it, then the numbers advantage led to the heels taking control and McIntyre has really improved a lot as a seller this year. Great finish with McIntyre hitting that dive on the floor followed by a Claymore Kick to win in decisive fashion.
Post match, McIntyre looked at a fallen Miz and Randy Orton showed up with the RKO OUTTA NOWHERE on McIntyre. As Orton posed with the WWE Title, we heard The Fiend's laughter in the arena and "let me in" from The Fiend ended the show.
Analysis: That RKO out of nowhere has happened a few times in this Orton rivalry with McIntyre because they have been feuding for about three months. The Fiend making his presence known lets us know it'll probably be a triple threat match whenever the WWE Title is on the line again (maybe at TLC in December).
Three Stars of the Show
Drew McIntyre
The Hurt Business
The New Day
The Scoreboard
6.25 out of 10
Last week: 5.25
2020 Average: 6.21
Final Thoughts
The show was good in some parts with a few above-average matches (Hurt Business vs. New Day was great), weird in other parts and tough to get through at other moments. In other words, it's typical for what Raw has become. With that said, I like some of the storylines they have going on and I'm glad that Drew McIntyre remains a focal point of the show even without the WWE Title. The tease of McIntyre working with Sheamus will probably lead to those two close friends in a rivalry instead.
I think the interaction between the men and women Survivor Series teams was okay. It just gets annoying when you have people arguing about who the team captains. Does WWE think the fans care? It doesn't matter. When that's all the creative team can come up with, it's a poor job by them. Some of the promos on Raw go on too long because WWE has to fill three hours. I just think when you go too long it hurts the effectiveness of the promos. Smackdown doesn't have that issue at two hours in length.
This Raw wasn't as bad as some recent episodes because the matches were better than what we usually get. However, it's also not a must-see show if you missed it while Smackdown remains a better show when comparing the two main shows.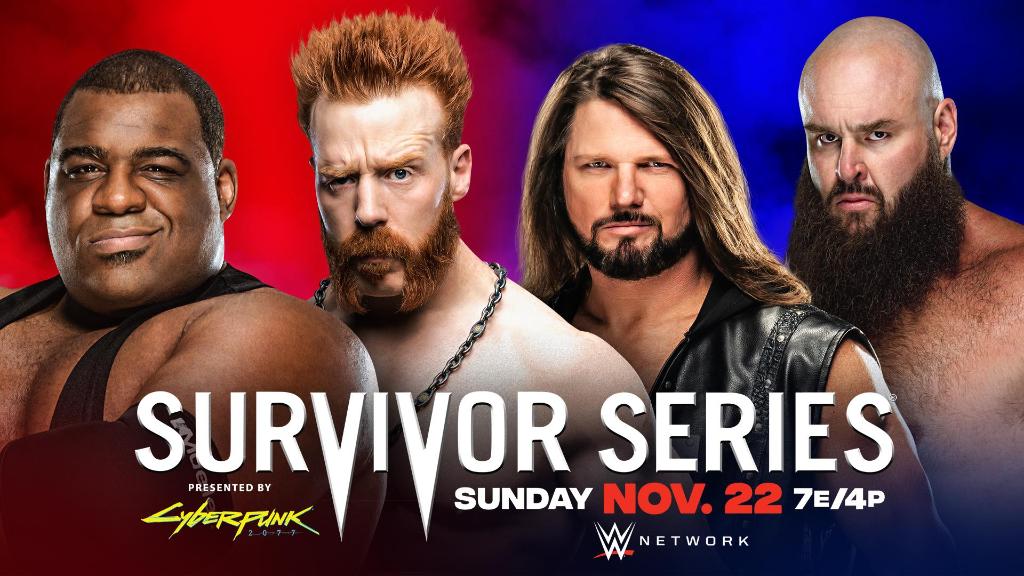 The next WWE pay-per-view is Survivor Series on Sunday, November 22 with a Raw vs. Smackdown theme to the show. Here's what we know so far.
WWE Universal ChampionRoman Reigns vs. WWE Champion Randy Orton
Smackdown Women's Champion Sasha Banks vs. Raw Women's Champion Asuka
5-on-5 Men's Elimination Tag Team Match: Team Smackdown (Kevin Owens, Jey Uso and three others) vs. Team Raw(AJ Styles, Keith Lee, Sheamus, Braun Strowman and one more superstar)
Smackdown Tag Team Champions The Street Profits (Montez Ford and Angelo Dawkins) vs. Raw Tag Team Champions The New Day (Kofi Kingston and Xavier Woods)
Intercontinental Champion Sami Zayn vs. United States Champion Bobby Lashley
5-on-5 Women's Elimination Tag Team Match: Team Smackdown (Bianca Belair and four others) vs. Team Raw (Nia Jax, Shayna Baszler, Dana Brooke, Mandy Rose and Lana)
—
You can contact me using any of the methods below. Go Los Angeles Rams. Be safe and smart out there.
Thanks for reading.
John Canton
Email: mrjohncanton@gmail.com
Twitter: @johnreport