The John Report: AEW Dynamite 12/30/20 Review (Mr. Brodie Lee Celebration of Life)
Welcome to the AEW Dynamite review here on TJRWrestling. It's a special show honoring the life of the late great, AEW wrestler Jon Huber who we got to know this year as Mr. Brodie Lee. This show isn't about star ratings or advancing storylines or anything like a normal show. It's about paying respect to a great man that was an honorable husband and father that tragically passed away a few days ago at age 41. I wrote a tribute article about him here. This has been a rough year and this news of Jon Huber's death has been really tough to deal with.
If you want to support Jon Huber's family, AEW has put a shirt on sale where all proceeds will go to his wife and children. You can buy it here and check out what it looks like below.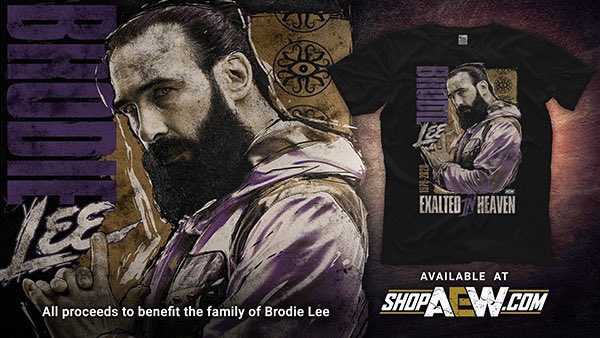 Now it's time for the last Dynamite of 2020. I wish you all a safe and Happy New Year. Here's hoping it's a prosperous one that's a lot more fun than 2020 has been.
This is episode #64 of AEW Dynamite from Daily's Place in Jacksonville, FL. Follow me on Twitter @johnreport. Here's my AEW Dynamite TV review archive. Let's get to it.
The show began with the AEW roster standing on the stage. Jim Ross welcomed us to the show saying: "It's Wednesday. You know what that means." It's what Brodie Lee loved to tweet. I'll keep referring to him as his character name Brodie Lee throughout the review.
The AEW roster was joined by Brodie Lee's wife Amanda, along with their sons Brodie and Nolan. The oldest boy Brodie had a Dark Order mask on his head along with a Singapore cane to honor his father. They also call the oldest son Brodie Jr. or -1 (Minus One) as his Dark Order name. Nolan was wearing an outfit that was similar to what his dad wore in the AEW ring. There was a ten-bell salute for Brodie as everybody stood in silence while a graphic was shown. Some of the wrestlers on the stage had tears in their eyes, which is understandable.
Jon Moxley was shown talking about how great of a guy that Brodie Lee was. Moxley said that Brodie brought joy to the people around him and he spent over a decade with him from bingo halls to packed arenas and stadiums. Moxley said that Brodie loved being a dad – a father and husband above all while wrestling is just a job. Moxley said that 2020 has hit us hard all over, but this is like a soccer-style kick to the face of the pro wrestling industry. Moxley said that pro wrestling is a community where people support eachother and love eachother because we are brought together by the one thing that we love. Moxley said that tonight we celebrate a great human being whose legacy we hope makes us appreciate what we have every single day. Moxley said that every day is a gift, every day is special and every day he got to spend with Brodie is all the more special. Moxley said he loved Brodie and he'll never forget him.
Analysis: Well said by Moxley from his home. They did take the same path in their careers as stars in the indies before they went to WWE and then to AEW. That's a close bond. I'm sure the loss of Brodie is really affecting Moxley a lot.
The announce team of Jim Ross, Tony Schiavone and Excalibur were joined by the great Chris Jericho on commentary for this week's show with Chris saying they were celebrating the life of a great guy Brodie Lee.
The entrances of the wrestlers took place next. Lots of Brodie Lee t-shirts and armbands. Colt Cabana was joined by Dark Order members with Colt having tears in his eyes, which is understandable.
The Young Bucks (Matt and Nick Jackson) and Colt Cabana vs. Matt Hardy and Private Party (Isaiah Kassidy and Marq Quen)
Cabana decked Kassidy with a punch and then Quen got the tag. Young Bucks went in the ring as they whipped Quen into Cabana for a chop. Matt with a neckbreaker on Kassidy and then the Young Bucks and Colt did a triple dropkick. Nick hit a somersault dive over the top onto the opponents on the floor. Cabana hit a moonsault off the middle rope onto the opponents on the floor. Hardy tagged in with a sleeper on Nick, who broke free, Matt tagged back in and Matt hit a superkick on Hardy. Nick with a dropkick on Hardy, then a double dropkick on Quen and another dropkick that knocked Kassidy off the apron to the floor. Hardy pulled Matt out of the ring and Matt hit a Spear on Kassidy on the floor. Quen hit a suicide dive onto Matt on the floor. Jericho noted that Brodie's debut was supposed to be in Rochester on Dynamite as we know. Quen with a suplex on Matt and Kassidy tagged in as the team isolated Matt Jackson. Hardy was back in with shoulder tackles and punches to the face. Kassidy tagged in with a kick to the face and a belly to back suplex on Matt for a two count. Matt was back in with an elbow smash off the middle rope for two. There were tags with Kassidy and Quen hitting clotheslines, but Matt blocked Hardy's clothesline attempt. When Hardy tried another clothesline, Matt Jackson booted him in the face and hit a diving cross body block for two. Matt with a Side Effect slam for a two count. Matt went for a superkick, Hardy blocked it and Matt hit the Twist of Fate. Cabana tagged in with a moonsault onto two standing Private Party members. Cabana with the punches into the elbow drop, then a headscissors and the Flying Apple hip attack for two. Hardy pulled Nick off the apron to stop a tag. Kassidy got a pin attempt on Cabana for two, then Kassidy with a dropkick to the knee and Quen hit a Frog Splash off the top. Hardy in illegally (it's AEW they don't care) and hit a body slam. Cabana kicked Hardy into Quen, Nick went into the ring illegally with a superkick and Colt/Nick did a double team move for a hurricanrana on Quen. Nick tagged in with two clotheslines on Quen, but Hardy tripped up Nick. Hardy sent Colt and Matt over the barricade. Nick kicked Hardy in the face, a facebuster off the top and then a moonsault onto Matt on the floor while saying it was for Brodie. Private Party came back with the Gin n Juice double team move on Nick and Hardy hit the Twist of Fate. Kassidy with a Senton Bomb on Nick, but then Quen hit a Shooting Star Press for two as Nick's teammates made the save. Hardy had a chair, the referee wasn't looking, then Quen said they didn't need the chair and Cabana tagged back in. Cabana with an elbow on Hardy and Quen, but Kassidy hit Cabana with a kick. Young Bucks hit the Indytaker double team move and Cabana hit the Superman pin for the pinfall win after 14 minutes.
Winners by pinfall: The Young Bucks (Matt and Nick Jackson) and Colt Cabana
Analysis: Lots of action here. All of the matches are going to be won by Dark Order guys in tribute to Brodie Lee, which is fine with me. That's how it should be. Cabana is a guy around the same age as Brodie Lee that knew him for a long time, so you can tell how much it meant to him being in the match. Nice mix of crazy spots from the Young Bucks and Private Party while Matt Hardy and Cabana even did some fun things too. A nice choice for an opening match.
After the match, they showed Brodie Jr. at ringside while calling him -1 as his Dark Order name because he had a mask on.
The Acclaimed duo of Max Caster and Anthony Bowens showed up for a promo. SCU ran out and sent them into the ring. That led to Young Bucks and Cabana beating up The Acclaimed to shut them up. Cabana held up the Dark Order hand sign along with the Young Bucks.
The announcers gave a rundown of the matches coming up this week. It's all tag team matches this week.
(Commercial)
There was a video with Darby Allin without makeup. Allin talked about when he first met Brodie Lee in AEW he was so excited because he wanted to wrestle him. Allin said that there was no ego with him. Allin said he wasn't selfish, he wanted to pick people up and he had so much knowledge that he was willing to share with all the young guys. Allin said that he was the number one dude that he wishes he could have wrestled.
There was the introduction of two Dark Order members along with Lance Archer. The big man Archer was wrestling in gear similar to what Brodie Lee used to wear with the white tank top and jeans.
Eddie Kingston entered with The Butcher, The Blade and The Bunny. Kingston said he loved Brodie, he missed him and this is for you. Eddie said that Dark Order is nothing without Brodie and he'll prove it, you cowards.
Lance Archer (w/Jake Roberts), Stu Grayson and Evil Uno vs. Eddie Kingston, The Butcher and The Blade (w/The Bunny)
The match started as a brawl right away, then the Dark Order side took over with Archer hitting body slams on Grayson and Uno onto Kingston. That led to Grayson and Uno suplexing Archer onto Kingston. Grayson stomped on Kingston while Jericho spoke about how Brodie was much like Owen Hart and Eddie Guerrero in that you can't say a bad thing about him. Bunny grabbed Grayson's leg as a cheap shot, so the heels took control after Butcher decked Grayson with a clothesline. Butcher with corner splash and Blade tagged in with a powerslam for two. Excalibur did a nice job of telling backstories of all these guys with Brodie. Roberts with a trip on Blade leading to Grayson hitting a Bossman Slam.
(Commercial)
Uno got into a chop/slap fest with Kingston and Uno hit a half n half suplex that was a favorite of Brodie Lee as Excalibur noted. Archer tagged in with a forearm to Blade and a huge Chokeslam style slam. Blade got the boot up, Archer punched and Archer hit a running splash against the turnbuckle. Archer walked the ropes and jumped off with a cross body block onto Blade. Butcher went in illegally, they exchanged punches and Archer hit a shoulder tackle. Grayson with a slam off the shoulders and Archer hit a Frog Splash off the middle ropes for two as the teammates saved Blade. Kingston got the tag as if tags matter, Blade with a knee to Grayson and Kingston hit a DDT on Grayson for two. Grayson hit an impressive jumping back kick and Archer tagged in again with a cross body block on Blade. Kingston back in, so Archer hit him with a forearm. Grayson with a knee strike and he jumped off the turnbuckle with a DDT on Butcher on the apron. Uno and Grayson hit their double team Fatality finisher on Blade for the pinfall win. That was such a cool looking move. The match went about 11 minutes.
Winners by pinfall: Lance Archer, Stu Grayson and Evil Uno
Analysis: This was more of a hard-hitting match with Archer unleashes strikes on everybody in his path and I liked seeing the Dark Order guys pick up the win, which is a theme of the night. I think Stu Grayson is one of the most underrated guys in AEW, so seeing him featured in the match like that was a great sight. Good work by everybody involved in this match.
Post match, the winning team punched Kingston repeatedly and Roberts hit a short-arm clothesline like he did many times in his career. You can see all the wrestlers were emotional in the ring.
There was a video of Dax Harwood talking about how Brodie was so in love with his wife and two sons. Arn Anderson talked about how the kids would be there having a blast. Colt Cabana spoke about how Brodie was always going to race home to be with his family. Referee Bryce Remsburg talked about how they would reconnect and always talk about their families. Bryce said if there was a Mount Rushmore of wrestling dads then Brodie should be one of the faces. Throughout all the comments, we saw pics of Brodie with his wife and two sons.
Analysis: That was very touching. The stories are similar whenever I hear people talking about Brodie this week with so many people talking about how much of a great family man he was. I feel so terrible for Amanda and their sons, but I know that they feel the love that the wrestling family is giving them.
(Commercial)
The trio of "Hangman" Adam Page entered along with Dark Order members John Silver and Alex Reynolds. Page is not in the Dark Order, but he has been recruited by them.
The Inner Circle team of Maxwell Jacob Friedman entered with Santana and Ortiz. MJF had the Puerto Rican color tights along with a bandana to suck up to Santana and Ortiz to try to make them like him. Silver and Reynolds threw papers at their opponents, which is a Brodie Lee tribute. Jericho called paper a "foreign object" which was funny.
John Silver, Alex Reynolds and "Hangman" Adam Page vs. Maxwell Jacob Friedman, Santana and Ortiz (w/Jake Hager, Sammy Guevara and Wardlow)
The match started with Page ducking an attack from MJF and Page threw some papers at MJF, which was funny. MJF yelled at Brodie Jr. in the crowd with Tony calling MJF the biggest asshole in the business. Silver tagged in with a hiptoss on Ortiz, who came back with a backbreaker. Santana with a cross body block off the ropes, Silver with an elbow strike and Reynolds with a sunset flip followed by an elbow to the face. Santana kicked the legs of Reynolds against the ropes leading to a neckbreaker. Santana with two suplexes and then Ortiz tagged for a double team suplex. MJF with the double foot stomp to the left arm. Reynolds to a back body drop on Ortiz, Page got the tag against MJF and Page cleaned house against the heels including a fallaway slam on MJF. Page jumped over the top onto Santana on the floor. Page with a clothesline on MJF. Santana and Ortiz went in illegally as the heels did a triple-team neckbreaker on Page.
(Commercial)
Page and MJF were still battling with MJF hitting a body slam. MJF did a middle finger salute to Brodie Jr. and then Page hit a boot to the face of MJF. The small man Silver was on fire with clotheslines and he sent Santana into Ortiz against the turnbuckle. Ortiz to the turnbuckle, Silver kicked him, Silver jumped onto Santana and sent MJF into the barricade. Back in the ring, Silver with a sitout Powerbomb on Ortiz for two. Santana went into the ring illegally with a roll through into a Cutter. Reynolds went in with a double foot stomp on Santana, Ortiz with a spinebuster, Page with a forearm on Ortiz, MJF sent Page into the turnbuckle. Silver flipped over MJF and hit a Destroyer like move. Silver hit a suicide dive onto Santana on the floor. MJF with a Heatseeker DDT on Silver, Ortiz with a Powerbomb, Santana with a kick to Silver and Reynolds was there to break up the pin. Wardlow went into the ring while the referee was looking at MJF on the apron, which made no sense. Wardlow decked Reynolds with a clothesline. Erik Redbeard (Rowan) went into the ring and a Facepalm Slam on Wardlow since he grabbed the face and lifted him up for a slam. It was funny because Jericho said "Erick Rowan" twice which was his WWE name so Excalibur said Erik Redbeard right after because they can't use the Erick Rowan name in AEW. Anyway, that was a cool spot with the crowd popping big for it. Silver with a kick on Ortiz, then Silver and Reynolds hit repeated moves and Silver hit a German Suplex. Page hit the Buckshot Lariat on Ortiz and Silver covered for two because MJF put the foot of Ortiz on the bottom rope. MJF went over to Brodie Jr. (aka -1) and took off the kid's mask. That led to Brodie Jr. hitting MJF with a kendo stick to the face. That was awesome! Huge pop. Page jumped over the top on MJF while Jericho said that the kid was a "bad seed" already. Silver hit a Brodie Lee style discus clothesline on Ortiz for the pinfall win after 13 minutes.
Winners by pinfall: John Silver, Alex Reynolds and "Hangman" Adam Page
Analysis: That was cool as the Dark Order members pick up another win. Sense a theme tonight? I loved seeing Erick Redbeard come out there although I think they could have done a better job with the referee distraction spot because it was too silly. I know I shouldn't nitpick too much. It was also really funny to see MJF doing his heel act to Brodie Jr., who got payback with the kendo stick shot to the face. The crowd popped for those moments and then Silver finishing with the Brodie Lee style discus clothesline was a nice touch. Silver was really awesome in this match as a babyface showing a lot of fire. I'm not sure if they can keep the Dark Order guys in the heel role after this show.
Post match, Silver was emotional about the win as he put his head down on the mat. Erick Redbeard showed up with a sign in his hand that said: "Goodbye for now, my brother. See you down the road." Erick was in tears like a lot of people on this show, which is very understandable. Rowan kissed his hand and looked up to the heavens to honor his late tag team partner. The wrestlers hugged in the ring.
Analysis: That was a really cool moment. A lot of fans know Erick as the tag team partner of Brodie Lee/Luke Harper for many years and there's a special connection between them. I'm glad that AEW made the call to bring in Erick to be a part of this. I don't know if they will use Erick in the future, but I can see him succeeding in AEW if they brought him in.
Eddie Kingston talked about his memories of Brodie Lee. Eddie said that he'll miss Brodie busting his balls, he'll miss Brodie telling him that he's rich and he'll miss Brodie believing in Eddie. Kingston told Brodie Jr. and Nolan that their father is not gone because as long as you're alive, as long as you remember him, he is not gone. Eddie said that Brodie took care of his family and loved them. Eddie said from the day his sons were born, Brodie loved them so much. Kingston was emotional as expected there.
Dark Order female members Anna Jay and Tay Conti made their entrance. I guess Conti is not officially in the group, but Anna wants her to be.
(Commercial)
Penelope Ford entered with fiancé Kip Sabian and best man Miro, who pointed up to the heavens in honor of Brodie, who he knew well from WWE days. Britt Baker was next with Rebel not Reba – that's what it says on the screen for her. The announcers talked about how it was the biggest crowd at Daily's Place since the pandemic started.
Britt Baker (w/Rebel not Reba) and Penelope Ford (w/Kip Sabian and Miro) vs. Tay Conti and Anna Jay
Jay with a shoulder tackle on Baker, but then Baker avoided a move and Ford tagged in. Jay with a flatliner on Ford and Conti tagged in with a clothesline for two. Ford with a slap, so Conti slapped her and Conti hit a kick to the back for two. Sabian distracted the referee, so Baker hit a knee to the face and Ford hit a German Suplex for two. Baker back in with a rising knee along with a suplex across the ring. Baker distracted the referee leading to a double knee attack by Ford for two.
(Commercial)
The match returned with Conti and Ford hitting a pump kick at the same time so they were both knocked down. Jay got the hot tag against Baker with a kick to the leg and a flipping neckbreaker. Jay with a running attack in the corner leading to a kick to the face. Ford tagged in with a backstabber on Jay, but then Conti with a neckbreaker. Baker with a Slingblade neckbreaker on Conti. Jay with a back kick to the face of Baker and she was in tears a bit as she did the Dark Order hand signal. Baker got back into it with a spinning neckbreaker for a two count. Ford tagged in, Baker sent Jay into the turnbuckle and Ford hit a Blockbuster neckbreaker off the ropes for two. Jay blocked a move off the ropes, then slapped on the Queenslayer submission, Conti took out Baker and Rebel, so Ford tapped out and Jay got the win. It went about 10 minutes.
Winners by submission: Tay Conti and Anna Jay
Analysis: It's another win for the Dark Order with Jay showing a lot of emotion during the match since Brodie Lee was a mentor to her and she learned a lot from him. I thought the heel side worked well together, got some nice nearfalls and then Conti took them out while Jay finished off Ford. There were a few sloppy parts, but Jay continues to impress while Baker is my favorite woman in AEW. I can see Anna Jay being a big deal in the women's division within a year or two.
Britt Baker was interviewed in the ring by Tony Schiavone with Britt saying it was a conspiracy. Baker said it was rigged. Baker said that the whole thing was kind of a big rig, which was a nod to Brodie Lee. Thunder Rosa ran out there to attack Baker, which led to referees showing up to break it up.
Analysis: I don't think they needed to do an angle like that. I get that AEW wanted to further this storyline, but this is show is more about paying tribute. It's not like it bothered me that much. I'm just saying I wouldn't have had that promo/attack in the show.
Next week on AEW's New Year's Smash Night 1 on January 6:
* Snoop Dogg is a special guest to promote the Go-Big Show that Cody Rhodes is on with Snoop as the host.
* Kenny Omega defends the AEW World Champion against Rey Fenix. That's going to be amazing.
* The return of Jon Moxley.
* Hikaru Shida defends the AEW Women's Champion against Abadon. I can see that being a title change.
* Young Bucks and SCU vs. The Acclaimed and The Hybrid 2.
* Jake Hager vs. Wardlow.
* Cody Rhodes vs. Matt Sydal
* Chris Jericho on commentary next week as well.
In two weeks on AEW's New Year's Smash Night 2 on January 13: Darby Allin defends the AEW TNT Championship against Brian Cage. They have others pictured for two weeks time, but I'll get to that next week.
A video aired with Chris Jericho talking about how he got to work with Brodie Lee/Luke Harper 27 times in his career while noting that Alex Marvez told him. Jericho said that one time in Jeddah, Saudi Arabia there was a sticker and Brodie was in the room telling Jericho it was a sticker pointing to Mecca. Brodie said that everybody knows that while Jericho said he didn't know it. Jericho said that Brodie was very smart, very funny and a sarcastic sense of humor and knew all this trivia. Jericho said that Brodie was one of the best in-ring performers he ever worked with. Jericho said he believed in him, he helped bring him to AEW and one of the small mercies in this is that Brodie proved that in the last six months he proved he could be a main event wrestler. Jericho said he had a dog that's a silver lab that is very angry towards strangers, not a friendly dog, but when Jon came over, the dog licked his hand and she knew what a great guy Jon was. Jericho closed by saying they promise they will take care of Brodie's family.
Analysis: That was really touching. I believe what he said about how he helped bring Brodie to AEW and he's right in saying Brodie showed he could be a top guy there. That's one of my favorite things about what AEW did this year. They used Brodie the right way as a main event level talent, which is something WWE did not do. I'm not saying it to rip on WWE. I'm just saying it because I was really happy with how AEW booked Brodie. Well done by Jericho.
This main event is called the Brodie Lee Jr. six-man dream match because it was a match picked by Brodie Lee Jr., who is eight years old.
Team Taz made their entrance with Brian Cage, Ricky Starks and Powerhouse Hobbs wrestling this match joined by Taz and his son they call Hook. The main event is next.
(Commercial)
The Dark Order was back because Dark Order's Ten was next. His name is also Preston Vance, but they call him Ten in AEW. Jericho said that Brodie Lee Jr. loves Ten. Orange Cassidy was next joined by Chuck Taylor and Trent, who recently had surgery on his left arm recently. Cassidy went over to Ten and touched his hand, which Brodie Lee Jr. (wearing the mask again) loved. Cody Rhodes was up last for his team with coach Arn Anderson as they both looked up to salute Brodie. Cody hugged referee Bryce Remsburg as well since Bryce was a friend of Brodie as well.
Cody Rhodes, Orange Cassidy and Dark Order's Ten vs. Team Taz – Brian Cage, Ricky Starks and Powerhouse Hobbs
Hobbs knocked down Cody with a shoulder tackle. Starks with chops on Cody, then a dropkick and a shoulder tackle. Cody with an uppercut, he wanted to tag out, Orange was reluctant and then Ten tagged in leading to "Ten" chants. Ten sent Starks into the ropes leading to a shoulder tackle. Ten got a hold of Starks leading into a bounce off the ropes into a German Suplex. Cassidy tagged in to face off against Hobbs with Orange putting the hands in his pocket, then a weak shoulder tackle and Hobbs slammed Cassidy down.
(Commercial)
The show returned with Hobbs hitting a delayed vertical suplex. Cage tagged in for his own delayed vertical suplex. Starks tagged in for his attempt at the same move, but then Cassidy countered into a suplex. Cody got the hot tag with two clotheslines on Starks and then a powerslam for a two count. Cage with a knee to the back of Cody, which led to a double clothesline spot by Cody and Starks. Ten got the tag with clotheslines and a powerslam on Starks. Ten pointed up to the heavens, then a Brodie Lee move with his hands and a Powerbomb like Brodie liked to do. Starks avoided a spinebuster and bounced off the ropes for a Spear for two as Cassidy made the save. Cassidy countered a Starks move with a DDT, Hobbs into the ring with a running body attack on Cassidy and Cody kicked Hobbs out of the ring. Cage with a flatliner on Cody. Ten with a pump kick on Cage and a clothesline to send Cage out of the ring. Starks with a DDT off the ropes for a two count. Starks does a nice job with facial expressions although sometimes he is too over the top. Taz and Arn Anderson faced off with chairs, the referee was looking at it, so Cassidy hit the Orange Punch to Starks, Cody with the Cross Rhodes to Starks and then Ten hit his Spinebuster finisher for the pinfall win after 12 minutes. Jericho said it was by far the biggest win of Ten's career.
Winner by pinfall: Cody Rhodes, Orange Cassidy and Dark Order's Ten
Analysis: The story is that Brodie Lee Jr.'s favorite wrestler is Ten, so that's why he got the win. I have no problem with that. The final few minutes featured the usual AEW booking with everybody hitting big moves and then the faces took advantage of the situation with three moves in a row to get the win. Cage was barely in the ring for the match because they probably want him to look strong. I'm not surprised that Starks lost for his team.
Post match, the heels attacked the faces with Taz's son Hook hitting an overhead suplex on Cassidy. Cage hit Cody with a stiff Powerbomb. Hobbs was about to do a move, but the lights went out. Jericho: "What does this mean?"
Darby Allin's music hit as the TNT Champion entered from the back part of the arena.
The lights went out again and it was Sting's entrance as the legend Sting emerged from the back part of the arena where Darby emerged from. It's like Darby has found a new father figure that also likes to use face paint. Sting had the baseball bat with him as fake snow went down on the wrestlers. Sting and Allin joined the faces in the ring to stare at the heels.
Analysis: There wasn't much to that other than a Sting appearance to pop people. I wonder how much Sting gets paid by AEW to barely do anything. That's a nice life. The snow thing is still weird for me when shows are in Florida and Sting is originally from California rather than a place that had snow. I guess the idea with the snow is because Sting is "cold as ice" as Jericho said. Anyway, the heels ran from the 180-pound guy and the 61-year-old guy because that's what heels do.
(Commercial)
Brodie Lee Tribute
Cody Rhodes stood in the ring as the crowd chanted "Brodie" for the Brodie Lee tribute segment. There were about seven minutes left in the show. Cody said that we heard all of these different stories from people who were positively affected by Brodie Lee being in their life. Cody said there has never been a wrestler in every company, in every locker room, with every member of management to have that one on one connection. Cody got emotional as he called Brodie "a beautiful man" that leaves behind a beautiful legacy. Cody introduced Brodie's son Brodie Lee Jr., whose real name is Brodie Huber, but they are going with Brodie Lee Jr. for this and I have no problem with that.
That led to the entrance of Brodie Lee Jr. walking out to the ring with his mother Amanda, who was carrying Brodie Lee wrestling boots. They were joined by AEW President Tony Khan and Ten. Brodie Jr. put the wrestling boots in the ring while Cody put a bandana over it.
Tony Khan talked to Brodie Lee aka -1 and said that Brodie Lee is the greatest TNT Champion that they have ever had. Tony handed the TNT Title to Brodie Lee Jr. and called him the TNT Champion for life. Amanda was in tears as she watched this while Brodie Lee Jr. held the title on his shoulder.
Analysis: That was a great idea that will mean so much to Brodie Lee's family. I saw a news report that stated that AEW is going to retire that version of the TNT Title that they handed Brodie's son and then they're going to make a new title or it's already being made. Darby Allin is the current TNT Champion. That's really cool that AEW did that.
Tony thanked the crowd for being there while calling Brodie a great man with a great family. Tony said that they are going to end the show with a tribute to Mr. Brodie Lee.
There was a video package about Brodie Lee showing highlights of him in AEW along with his days in independent wrestling with some pictures and videos of him. They also had photos of him with his wife and two sons. They showed photos with some of his friends in WWE like Erick Rowan and Bray Wyatt. There were videos shown of Brodie interacting with the Dark Order wrestlers and being in action in the AEW ring. There's the paper toss! There were more pictures shown including photos with some WWE wrestlers that were shared by people on social media over the last week. In addition to all the wrestling clips, there were photos of Brodie with his family and also during his run as the TNT Champion earlier this year. The final image said: "In Memory of Jon Huber (Brodie Lee) 1979 – 2020." That was the end of the show.
Analysis: Great video. I don't think there will be any issues with using photos with WWE wrestlers because a lot of them were posted on social media anyway and frankly, Brodie Lee had a lot of friends from spending so much of his career in WWE. This isn't about wrestling promotions or whatever competition you want to argue about. It's about the wrestling family and people legitimately missing this man. All of the family photos are just more proof of how dedicated Jon Huber was to his family. That's the kind of man we should all strive to be. A good, honest, decent and hard-working man.
Three Stars of the Show
The star is Brodie Lee. He will be missed. That's for sure.
The Scoreboard
There's no score for this show. It's a different kind of show. Since it was the last Dynamite of 2020, I'll just mention that the average was 7.17 out of ten. That's pretty good, I think.
Final Thoughts
This was a very nice tribute to Brodie Lee. I like how his wife and two young sons were a part of the show to the point that Brodie Lee Jr. got to pick the main event match, he got to put his dad's boots in the ring and a lot of other cool things that were done. I liked seeing Erick Redbeard (Rowan) show up to be part of the celebration of life for his late tag team partner. The video package at the end was incredible. I shed a tear or two watching this show. It was hard not to.
There were five matches that all had moments that were nice tributes to Brodie Lee. Every match was a tag team match, which meant that a lot of different wrestlers got to appear. Every match had a member of the Dark Order in it and they won every match since they were the group led by Brodie Lee. I think that was the right decision.
I was emotional watching Owen Hart's tribute in 1999, Eddie Guerrero's tribute shows in 2005 and I had those same feelings watching this show about Brodie Lee tonight. They all died too young. It breaks my heart thinking about it. I know that AEW is going to take care of Brodie's family and that's a wonderful thing AEW is doing. I hope that the positive energy from this show gives strength to the Huber family. Rest in peace, Jon Huber.
—
Thanks for reading. Go Los Angeles Rams and Toronto Raptors. You can contact me using any of the methods below.
John Canton
Email: mrjohncanton@gmail.com
Twitter: @johnreport
Personal Facebook and TJRWrestling on Facebook