NXT Spotlight 11/11/15 by Webb Anderson
Welcome one and all to this special edition of the NXT Spotlight. Kurt is on vacation this week so I will be filling in for him. He does a great job with this column every week and I'll stay true to his format. You may be familiar with my work on the ROH TV review, but I have been a loyal NXT fan since the very first episode aired on Hulu Plus in the United States and I appreciate the opportunity to cover such a fantastic show.
We start off with highlights from the amazing match between Finn Balor and Apollo Crews last week; capped off by interference from Baron Corbin and an expected, but still shocking, heel turn from Samoa Joe.
The announcers talk about the upcoming tag title match and tell us that we'll hear from Samoa Joe later tonight.
"The Perfect Ten" Tye Dillinger Vs. Baron Corbin
Corey Graves says Corbin jumped to the front of the line by interrupting last week's NXT title match. However, Apollo Crews interrupts the match before it can start and brawls with Corbin. Corbin retreats but Apollo gives chase, beating Corbin all around the ring. Corbin rolls in the ring and swings at Crews but Apollo takes down Corbin with a spear. Corbin rolls out and runs to the back as the crowd chants loudly for Apollo Crews.
Bayley, Zack Ryder and Mojo Rawley V Alexa Bliss, Blake and Murphy
Ryder and Murphy start this one off but Murphy thinks better of it and tags in Bliss. The crowd is really into Bayley and they get their wish as Ryder is forced to tag in the female member of the team. Bayley quickly takes down Bliss with a side headlock. Bliss powers out and takes down Bayley by the hair. Bayley gets right back in control with a hip toss into another side headlock. Bayley then cradles Bliss for a two count. Bayley tries a vertical suplex but Bliss gets a kick to the gut in and rams the head of Bayley into the turnbuckle several times. Bayley hulks up and gives Bliss the same treatment in the corner and tries the Bayley to Belly, but Bliss slips out and gets the tag as we cut to commercial.
We're back with Blake and Mojo as the legal competitors. Mojo is working the arm of Blake and makes a tag to Ryder who hits a dropkick on Blake for a 2 count. Ryder makes the "call me" motion to bliss before hitting a leg drop on Blake. Ryder goes for a high risk maneuver but is pulled from the middle rope by Blake, who covers for a 2 count. Blake pounds Ryder in the corner and tags in Murphy. Ryder continues to take a beating in the corner as the crowd resumes their Bayley chant. Ryder crawls to his corner as Wesley sinks in a chin lock. Ryder continues to take a beating until he finally reverses an Irish whip into the corner. Ryder crawls and gets the hot tag to Mojo who takes down Murphy with shoulder tackles. Mojo hits a fireman's carry pancake for a two count. Everyone gets involved but Murphy and Mojo are the legal men and are down in the ring. In the confusion, Bliss grabs Bayley's title and runs to the back. Mojo hits a sunset flip on Murphy but can't get the pin. Bayley hits a Bayley to Belly on Murphy and runs to the back after Bliss. Mojo and Ryder hype the Hype Ryder for the 3 count.
Winners: Bayley and the Hype Bros via pinfall
The Ascension cut a backstage promo about the challenge laid down by Gable and Jordan last week. Konnor says that the challenge is accepted and Viktor says The Ascension is a fury they have never faced before. Konnor says welcome to the wasteland.
We then see Eva Marie approach Nia Jax in the locker room. You can't make out what they are saying but Eva leads Nia down a hallway where you see them continue to talk.
A shot of Asuka on the cover of a Japanese pro wrestling magazine is shown.
Apollo Crews cuts a promo backstage. He says he was this close to realizing his dream. He says Baron has his attention now and when he gets his hands on Corbin, he will break him.
Deonna V Nia Jax
Nia shoves Deonna down and then hits a big Samoan drop. Nia grabs Deonna by her hair and takes her down with a hip shot to the face. Nia continues to squash Deonna and puts her away with a spinebuster and a leg drop.
Winner: Nia Jax
Carmella V Nia Jax is announced for next week.
We then get a recap of the Vaudevillians/Mechanics match in the Dusty Classic where the Mechanics pulled the upset victory.
William Regal is currently out after undergoing neck surgery. I wish him the best of luck and a speedy recovery!
We then go backstage to see Bayley searching for Alexa Bliss and her stolen championship. She finds Bliss posing with the belt. Bliss drops the belt and runs away, allowing Bayley to simply pick up the title and turn around. Bayley walks right into Nia Jax, and a stare down commences, allowing Bliss to hit a sneak attack on Bayley. Nia then picks up the NXT Women's Championship and backs down Alexa Bliss with a stare. Nia takes a long look at the title before handing it back to Bayley, who is holding her neck in pain on the floor. Bayley is most certainly the hunted!
The Mechanics V The Vaudevillians © for the NXT Tag Team Championship
Aiden English and Dawson start this off. Aiden outwrestles Dawson quickly and forces a quick tag to Dash. Aiden then gets a quick tag to Gotch who locks in an arm bar. More quick tags from the Vaudevillians as they continue to work the arm of Dash. Dash is able to swing free and get a tag to Dawson who gets caught in an arm drag from English and locked in an arm bar. Dawson finally takes control with a chop block after a distraction from Dash.
After the break, Dawson is in control and takes down English with a dragon screw before tagging in Dash as Gotch looks on helplessly. The Mechanics continue to work the knee of English and repeatedly slam his knee into the ring post, isolating English in the opposing corner, taking full advantage of the 5 count. Dawson gets a near fall off of a slingshot suplex. The Mechanics continue to work the knee, making quick tags and bending every rule. English then pulls Dawson shoulder first into the ring post, buying enough time to get the hot tag to Simon Gotch. Gotch cleans house but tags English in very quickly, which Graves questions on commentary. The Mechanics then double team Gotch on the floor and send him into the ring post. The Mechanics set up English like they set up Big Cass recently and Dash crashes into the prone knee of English from the top rope. Dawson locks in a knee bar and taps out Aiden English to end the match.
Winners and new NXT Tag team champions: The Mechanics via submission
Scott Dawson and Dash Wilder are shown backstage with their newly won hardware. Dawson says they are the best tag team in the world and didn't have to change a thing about themselves to get to the top. Dash says they did it exactly like they said they would.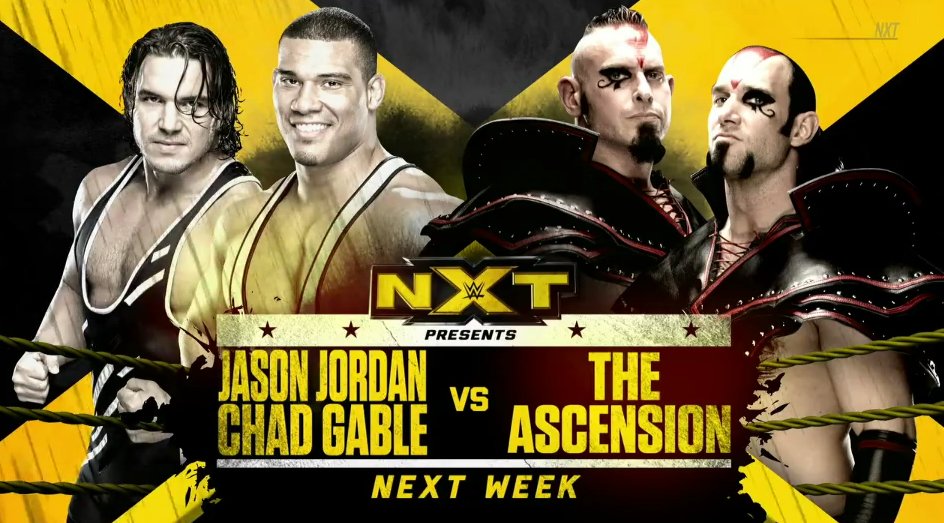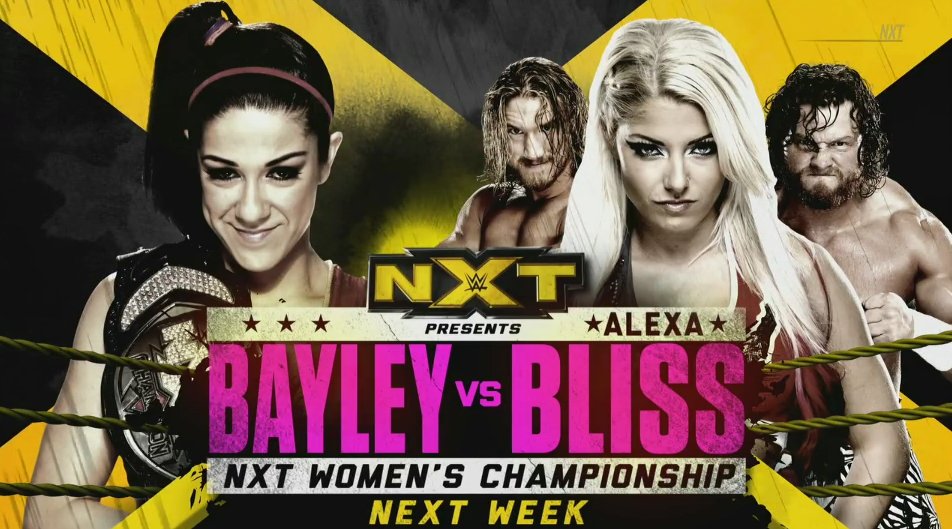 Jordan and Gable V the Ascension as well as Bliss V Bayley for the women's title are signed for next week.
Samoa Joe addresses the NXT Universe next!
Joe enters the ring to a chorus of boos mixed in with "JOE" chants. He says he keeps hearing everyone asking why Joe why. He says we are defined by the choices we make and the actions we take. He says Balor asked Joe to be his partner in the Dusty Classic and Joe chose to put Balor on his back and carry him through the tournament. They won it all and, during the celebration, Joe asked Balor to make the choice to give him an NXT Title shot. Joe says Finn gave him a shot, but he put no action behind it. He says Balor watched while Regal put Joe in a battle royal for the shot Balor had already given him. Joe says that being put in battle royal is pretty insulting because he's Samoa Joe.
Joe says that as soon as he walked into NXT he was owed and entitled to an NXT title shot. Joe is then interrupted by the music of the NXT Champion Finn Balor. The referees come to the ring to hold the two men apart as the crowd chants "LET THEM FIGHT". Balor and Joe exchange trash talk and Balor lets Joe know he's got his shot. Joe slips away from the referees and chokes Balor out as the refs are unsuccessful to break the hold of Samoa Joe. Balor is out cold as Joe holds the NXT Title over his head to another round of boos from the crowd. Joe finally exits the ring and Balor struggles to get to his feet as the show ends.
Webb's Final Takes
-Wow, what an impressive episode! I love how Corey Graves gave reason to the actions of Baron Corbin last week. He simply wants to jump to the front of the line for an NXT title shot. The conflict between Corbin and Crews feels authentic and believable and I can't wait to see how it plays out.
-I really wish Blake and Murphy could resume using their first names. I wish someone could explain the reasoning behind this. I know going by one name has been the case for so many guys as of late but "Blake" and "Murphy" are terrible standalone names. Even though both guys are really good tag team wrestlers, I wouldn't care about them nearly as much if it wasn't for Alexa Bliss leading them as a trio.
– Some great production work went into Nia Jax's entrance. She feels like a huge deal and I am more and more impressed with her every single week. They are much more innovative with this stuff in NXT and they are light years ahead of every other wrestling show going today, including Monday Night RAW.
-The short, backstage segment revolving around Bayley and the Women's Championship was fantastic. A babyface champion should be surrounded by a variety of credible heel threats and NXT managed to establish this in just a few minutes. The competitiveness in every single division within NXT gives so much more meaning to everything else that is happening on the show and makes the hour (sorry, 54 minutes) fly by.
-The NXT tag scene has finally eclipsed ROH for the title of deepest tag division in American wrestling in my ROH biased eyes. The Mechanics are amazing at what they do and I am truly excited to see how their run plays out. They have so many great potential opponents and are growing as performer's week in and week out.
-After a rocky beginning where his first program was unceremoniously scrapped when Kevin Owens moved on to the main roster, Joe is finally playing the role he should be playing on NXT. He got to keep his name for a reason, and acknowledging Joe's past is key to presenting him as a credible threat to the WWE audience.
I am grateful for the opportunity to fill in for Kurt this week and even more grateful that NXT delivered such a solid show. I shouldn't be surprised after years of solid programming, but every week I tune in half expecting things to be all "Vince'd" up. Fortunately for you and I, solid, logical storytelling, character development, and solid in ring work continue to be the foundation of the most exciting promotion going today.
What did you think about this week's episode? Did I live up to the lofty expectations of the NXT Spotlight? Let us know in the comments below and indulge me as I shamelessly plug my own column, the ROH TV review. Thanks for reading.