NJPW Summer Struggle in Jingu 08/29/20 Review (Naito vs. EVIL)
Welcome to the latest New Japan Pro Wrestling event; Summer Struggle in Jingu. It is the first event held in the Meiji Jingu Stadium since 1999, and it is limited to a capacity of 5,000 attendants. The audience is also only allowed to clap so there's a subdued atmosphere. Most of New Japan's top foreign stars (Jay White, Jon Moxley, Will Ospreay) are unable to enter Japan. But there is still a lot of excitement for this event. For the main event, there is a rematch for the Intercontinental and IWGP Championship between EVIL Tatsuya Naito. Following the shocking defection of EVIL to The Bullet Club, and the defeat of Naito. As well as the intrigue of the newly introduced King of Pro Wrestling Tournament and other promising matches on the card.
Yoshinobu Kanemaru defeated Master Wato
This was an okay opener, Master Wato is just returning from his excursion from Mexico and his character is pretty unique. He has electric blue hair and matching ring gear. It is a little goofy and he doesn't quite have the weird energy of Taichi to put off a character like this at the moment. Kanemaru is a veteran of over twenty years and is here to be a solid hand to the young wrestler.
The match itself is solid if unspectacular. It's at it best when Wato is building sympathy because Kanemura has very believable strikes and submissions, and Wato is a good seller. However, when Wato is on offence he lacks some babyface fire for it to be really engaging. However, he does have quite a nice moveset and moves around the ring well. There was an awkward botch just as the match was picking up, but both wrestlers recovered well. The finish came when Kanemura rolled up Wato for the finish just as he was picking up steam.
Overall it's not an amazing opener, and really if they want Wato to be taken seriously he needs to in matches with more purpose. But I am intrigued if he can go on to better things. His gimmick isn't the best right now, but if he can put things together there's every chance he can go on to great things.
King of Pro Wrestling 2020 Fatal Four-Way: Toru Yano defeated Kazuchika Okada, El Desperado and Sanada
Your first ever provisional #KOPW2020 is… Toru Yano !?!?!?

What stipulations would you like to see Yano defend the title under next? Let us know!https://t.co/lBwcSzIgBL#njpw#njsstpic.twitter.com/z9tBmizE5S

— NJPW Global (@njpwglobal) August 30, 2020
This is the inaugural match for a very bizarre title. First of all, four-way matches are very rare in New Japan. Also, each superstar had to qualify for this match in fan-voted stipulation matches. Finally, the championship will reset every year and a new tournament will be held.
Seeing Okada come out in the second match only adds to the bizarre nature of this match. All the competitors here are great, but it's easy to tell that New Japan doesn't do these sorts of matches very often. El Desperado feels like the forgotten man in this match. The one man who thrives is Toru Yano, his outstanding comedy wrestling is on full display throughout the match. Probably the highlight is being stuck in Sanada's limb-trap move and being unable to move in the background as Okada and Sanada wrestle. Okada and Sanada have excellent chemistry and are two of the best wrestlers in the world, they pick up from the previous feud in 2019 and really go all out for a couple of minutes.
El Desperado does get some shine at the end after he hits a great frog splash to break up a submission attempt. He then does a nice back-and-forth with Okada before being overpowered and locked in the cobra clutch. Okada's recently acquired submission wouldn't be enough as Yano hits a low blow from behind and sneaks the win.
A title with as weird a set-up as this could only really have one winner. I wouldn't call this match a classic, but it was never dull. Yano provides a lot of fun shenanigans, Okada and Sanada are world-class wrestlers, and El Desperado can more than hold his own. I think this would've been a better, more exciting opener.
Never Openweight Championship: Minoru Suzuki defeated Shingo Takagi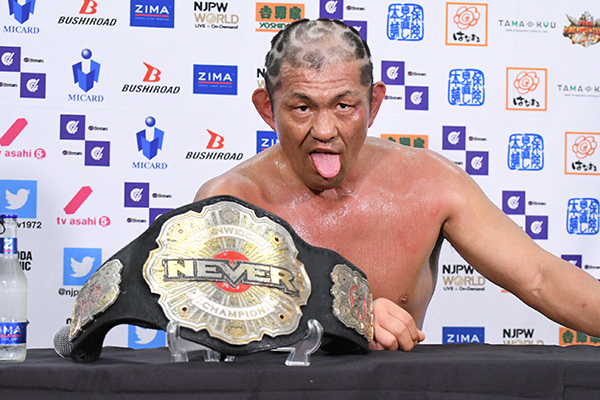 This is where the show really picked up. There was a lot of hype for this match to be a brutal, stiff match and it more than delivers. Minoru Suzuki is 52 now and cannot move as well as he once could, but he still provides spades of intensity. Shingo is also a fantastic wrestler and tough as nails. The two of them just beat the hell out of each other. A lot of chops, strikes and brawling on the outside to start. Shingo is a very intense wrestler but even he seems laid back standing next to Suzuki's eye-popping insanity. Suzuki's more nefarious than normal in this match, relishing both the violence that he dishes out as well as what he receives from Shingo.
As I said Shingo is also intense in this match, but he doesn't get to show his full skillset due to Suzuki's limited mobility. His selling is incredible in this match, he's one of the best at selling pain without overdoing it. One of the best spots of the match is when Shingo delivers a combination of elbows followed by a stiff clothesline to send Suzuki to the floor. The patented exchange of stiff strikes that this division is known for getting more brutal as the match goes on. Strikes are being aimed clean at the head and even some headbutts are thrown in. As the match draws to the end the action stays in the middle of the ring and both of them are going for the kill. Suzuki kicks out of a near-fall and twice reverses Takagi's finisher, and he hits a terrifying piledriver for the win.
This is a match you should go out of your way to see. The violence and intensity escalate as the match progresses. One thing I really like is how at the beginning they're trying to hurt each other and a lot of the action is on the outside, but later they are both desperate to finish the match and go for dangerous moves in the middle of the ring. A great story told by two fantastic wrestlers.
An extended break follows this match so that the ring crew can disinfect the ring. Video packages for all the main matches are shown.
Junior Heavyweight Title Match: Taiji Ishimori defeated Hiromu Takahashi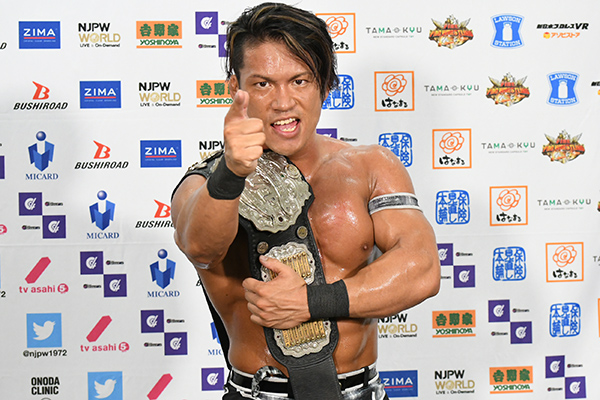 The pre-match video hypes this up as a rematch of their fantastic match at the finals of the Best of the Super Juniors a couple of years back. Since returning from his neck injury Takahashi has been on fire, having incredible matches with both Will Ospreay and Kazuchikda Okada.
Hiromu comes out in a flamboyant red peacock-like attire that only he could pull off. The match is only 13 minutes long and doesn't reach the heights of the first match. But it's still an excellent match and is the perfect way to hype the crowd back up following the break. The two of them move at such a breakneck speed that it would be impossible to list all of the spots in this match. Really the best thing to do would be to watch this yourself.
Near the beginning, Hiromu tries to sunset flip Ishimori from the ring apron, only for Ishimori to reverse it by backflipping and landing on his feet. This sets the tone of the match as they both know each other so well and are able to counter everything. Ishimori, in particular, pulls reversals out of the bag at every opportunity. Hiromu also has a shoulder injury coming into the match that Ishimori takes advantage of. Ishimori is incredibly sharp and focused in his attacks, and he has cold-blooded intensity showcased in this match. It's great to see him in singles competition again. Whereas Hiromu's attacks are more wild and energetic, at one point rips of the bandages protecting his shoulder, so there's a really nice balance between the two characters.
After the methodical slower-paced match that came before it, this is a great palette cleanser. Both of them are at the top of their game and pair acrobatics with hard-impact moves. Being such a short match, they manage to fit an incredible amount of action and story into it. The finish comes when Ishimori locks in the Yes Lock and Hiromu is forced to tap.
This was just a stunning match. Hiromu has a ton of fans and is one of the most popular wrestlers in Japan, so it was nice for Ishimori to take the win. He's also an incredible wrestler and deserves to have another run with the belt. I'm excited to see what comes next for both wrestlers and when they eventually wrestle again.
IWGP Tag Team Titles: Zach Sabre Jr. and Taichi defeated The Golden Aces (Hiroshi Tanahashi and Kota Ibushi)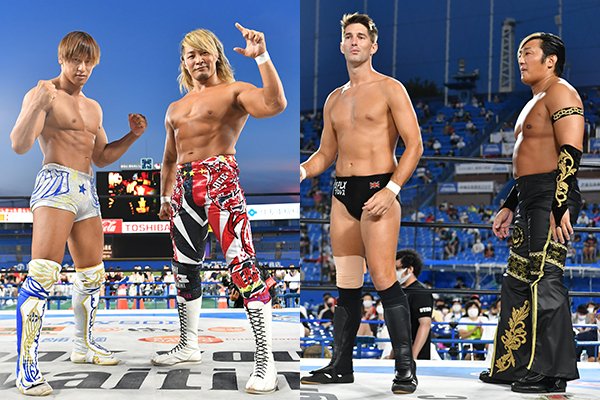 This is a rematch from Dominion back in June, where Zach and Taichi won the belts from The Golden Aces. Following that match, Ibushi blamed Tanahashi for the loss and there is clearly some friction between the two of them. This coupled with Ibushi losing both his matches at the Tokyo Dome has led to a lot of speculation that a heel turn is coming for Ibushi. Also in the months leading up to this match, the heels have targeted Tanahashi's knee on several occasions.
So, there are a lot of story elements in this match. The match opens with the heels attempting to ambush Tanahashi only to get foiled in their plan. Soon after, Taichi nearly rolls up Tanahashi for the three-count. After this, Tanahashi is worked over for a very long time. It's formulaic but it works, Tanahashi is great at building sympathy and has a wealth of goodwill built up with the audience so he'll always draw support. Both Zach and Taichi are effective heels as well, they cut off Ibushi when need be and constantly taunt Tanahashi. When Tanahashi finally tags in Ibushi, he's able to unleash a flurry of offence on the heels and the match kicks into high gear. In a smooth sequence, he takes out Sabre Jr from the apron and then hits Taichi with a rolling splash for a near fall.
The Golden Aces are able to hit a double-team move as the end of the match approaches. There's a great spot where Tanahashi is able to his dragon-knee screwdriver on both of the heels to gain a measure of revenge for the months prior. One of the most memorable moments of the match comes near the end when Tanahashi is locked in a submission from Sabre Jr. They tease Ibushi turning on Tanahashi only for him to break out the submission.
The finish comes when Tanahashi misses his High Fly Flow and Taichi and Sabre Jr are able to hit their tag team finisher on Tanahashi and they pick up the win. After the match, Ibushi helps Tanahashi to the back and the expected heel turn is put on ice for now.
Overall it was a good tag match, that at worst was formulaic. But if the formula works there's no reason to complain. All of them are great singles wrestlers by themselves and both teams have good chemistry together. This is especially impressive with the heels as Taichi's character is so off-the-wall compared to Sabre's.
Main Event for the IWGP Heavyweight Championship and the IWGP Intercontinental Championship: Tetsuya Naito defeated EVIL
The Summer Struggle is over!

Tetsuya Naito triumphs over EVIL in Jingu Stadium:https://t.co/kDuFCJvyqR#njpw#njsstpic.twitter.com/NlFLaPRjj0

— NJPW Global (@njpwglobal) August 30, 2020
This is another rematch from Dominion where EVIL shockingly captured both the Intercontinental and IWGP Championship. It was quite an awkward match, with Naito selling the shock of his best friend's betrayal, and the two of them didn't really click. EVIL hasn't convinced the audience that he's a main event calibre wrestler that can rub shoulders with New Japan's top stars.
This match was a huge improvement from their previous encounter. Naito was way more fired up and seemed more personally invested in defeating EVIL. Dick Togo accompanies EVIL to the ring and provides a constant distraction for the emotional Naito. EVIL isn't being portrayed as a top guy yet and needs to take a lot of shortcuts like Bullet Club distractions or the exposed corner. This works though as going into the event, you could argue for both men taking home the belts. So throughout the match there are a lot of believable near-falls. Naito is a great seller as well, so EVIL comes across as a bully throughout the match. One of Naito's strongest points are his eyes, they're so expressive and help tell the story.
This match will be remembered for the interferences. A long ref bump leads to Togo and EVIL working over Naito with a steel chair which brings out Bushi who is followed by Gedo until finally, Sanada comes out to save his team. The two teams brawl to the back and finally EVIL and Naito are left in the ring by themselves. Quite often New Japan main events are defined by their closing stretches and this one more than delivers. After EVIL kicks out of the Destino it feels like any move can finish either man off. Naito has been battered by a steel chair in the match so every time EVIL sets him up for the finish the crowd thinks it's over. There's some great acting by Naito as the end approaches, he knows he's going to win, a smirk appears on his face. Then he hits the Destino and regains his championship.
It wasn't a typical main event match by any means and some may be disappointed. Others may also be disappointed that EVIL's big turn led to a very short reign and less than the usual standard of matches from New Japan. But they told a great story across the two matches plus his other defence against Takahashi. It was a fun story with a shocking turn after many months of no shows.
The ending shot was iconic with Naito posing as fireworks go off behind him. It was a beautiful image and Naito finally got to give the roll call he wasn't able to at Wrestlekingdom. The G1 is coming up next month and it's very exciting to see what will happen with both of these men.
FINAL THOUGHTS
Overall this was a tremendous show considering a lot of the roster is missing. The show isn't very long and owing to the extreme heat none of the matches went particularly long so it's easy to watch. Everything past the first two matches was high-class technical wrestling, particularly Takagi-Suzuki and Takahashi-Ishimori. The main event was also great capping off an intense feud between two former best friends.
Lastly, I have to mention the setting. The stadium provided a number of beautiful shots like when the sun is beginning to set for the Golden Ace's entrance and when the darkness takes over for EVIL's entrance. Of course, the shot of Naito posing with the fireworks will be the enduring image of the event, I hope to see another event at full capacity next year.