The John Report: WWE Smackdown Live Review 11/28/17
Live from Lexington, Kentucky this is Smackdown Live for episode #953. Follow me on Twitter @johnreport. Thanks Melo Man for the banner up top.
The opening video package focused on last week's Smackdown with Shane McMahon wanting Daniel Bryan to fire Kevin Owens and Sami Zayn, but Bryan didn't do it. Bryan set up Owens vs. Orton later.
Shane McMahon, the Smackdown Live Commissioner, made his entrance for the show opening promo. Good reaction for him. The announce team of Tom Phillips, Corey Graves and Byron Saxton welcomed us to the show.
Shane said he knows they all bleed blue there in Lexington, Kentucky, which drew a cheap pop for Kentucky's college basketball and football teams. Mainly basketball program. Shane talked about how Kevin Owens and Sami Zayn had no respect for the Smackdown roster, the Commissioner's office and no respect for the fans. Shane said he wanted to fire them, but Daniel Bryan had another idea to have a Lumberjack Match. Shane figured Bryan would fire them both after the match, but that didn't happen. Shane wanted everybody to hear it from the horse's mouth himself and Shane introduced Smackdown's General Manager Daniel Bryan.
Bryan made his entrance with the crowd going wild with the "yes" chants. It was loud in Lexington. They haven't had WWE TV there for a few years, so no surprise that the crowd is hot. Fans chanted "Daniel Bryan" before Bryan could even speak.
Bryan said he understands why Shane thinks Owens and Zayn should be fired, but as somebody who has been fired a couple of times himself, he believes in second chances. Bryan said that Owens and Zayn should have never interfered in the Survivor Series match. Bryan noted that sometimes Shane's temperament gets in the way of judgment. Shane agreed with Bryan. Shane reminded Bryan that Owens unmercifully beat Vince McMahon in that ring and that Zayn got involved in Shane's HIAC match with Owens. Shane also reminded Bryan that they betrayed the Smackdown roster, which Shane said that was a "triple check" of reasons for why he acted that way.
Bryan told Shane that he sees Owens and Zayn, so if they fire them they will just be on Raw. Shane said great because they will be his sister's problem. Bryan said if Shane wants a puppet that does what he wants then he's not his guy, but if he wants somebody to utilize talent the best way possible then Bryan is his guy.
Shane told Bryan that he does trust him. Shane applauded Bryan for making a match tonight on Smackdown – Owens vs. Orton. Fans cheered. Shane said he wants to add to the match a little bit and added that Sami Zayn is barred from ringside. Shane said that tonight's Orton vs. Owens match will be No Disqualification. Crowd cheered as the music played to end it.
Analysis: It was a basic opening promo to have Shane and Bryan explain their points of view as it pertains to Owens and Zayn. I'm surprised there was no interruption from Owens and Zayn to make it more interesting. The promo was fine, but nothing special about it. It was just about Bryan explaining that he sees talent in Owens/Zayn and wants to maximize it while Shane wants to them out of his hair. Adding the No DQ stip to the main event is cool because it means it will be more of a violent match.
Still to come: Six women's tag match, Styles vs. both Singh Brothers and New Day battle Gable & Benjamin.
(Commercial)
Kevin Owens and Sami Zayn were shown walking backstage complaining about things. Bryan walked up to them. Zayn said that Bryan is the reasonable one and said that he can't agree with Shane banning Zayn from ringside. Owens said that Orton is insane. Zayn said this is on Bryan and he needs to sort this out. Bryan asked Zayn who he is to make demands of him. Bryan said they're not the only one to keep their jobs around there, so the answer is no…and then he said hell no.
Analysis: Zayn complaining about it fits his character. There could be some interesting twist in the main event…or not.
The New Day trio entered with Big E dumping some New Day cereal on some kid in the crowd. The Usos were on commentary, so Big E gave some pancakes to The Usos at ringside and even some syrup. Big E had them in his tights. That was weird. Gable and Benjamin entered to very little reaction.
The New Day's Xavier Woods & Kofi Kingston (w/Big E) vs. Chad Gable & Shelton Benjamin
Woods nailed Gable with a spinning forearm early on. Kingston with a running kick, Woods with a clothesline, Kingston dropkick, Woods elbow drop and Kingston nailed a splash off the ropes for a two count. Benjamin nailed a kick to Woods' face and Gable hit a clothesline to take down Woods. Benjamin took over as the show went to break here in Canada, but looks like it continued in the US during the commercial.
(Commercial)
Back from break, Woods hit a jawbreaker on Benjamin as he tried to break free. Benjamin nailed Woods with knee lifts. Benjamin tagged in with a flying knee on Woods off the turnbuckle. Gable knocked Kingston off the apron as he got a two count. Woods battled Gable on the top rope and Woods nailed a great missile dropkick. Kingston got the hot tag on Benjamin with a chop off the top, dropkick and an uppercut kick. Kingston off the top with a cross body block that got a two count by Benjamin. Kingston with a leaping clothesline on Benjamin followed by the Boom Drop double legdrop. Kingston fired up the crowd. Benjamin avoided the Trouble in Paradise and Kingston sent him to the floor. Kingston also sent Gable to the floor. Woods with a somersault dive over the top to take out both opponents. Back in the ring, Kingston with a spinning kick to Benjamin. Woods got the tag. Kingston held Benjamin and Woods hit a flying knee drop off the ropes for the pinfall victory after nine minutes.
Winners by pinfall: The New Day's Xavier Woods & Kofi Kingston
Analysis: **1/2 Good stuff for the time given. I liked the pacing, the nearfalls were believable and the finish was excellent. Woods continues to impress me every time I see him because it's usually Kingston and Big E in these matches, so I'm glad that Woods got a chance to show what he can do. I think the result of the match should mean a triple threat Tag Team Title match at Clash of Champions instead of just doing Usos vs. Benjamin/Gable.
Highlights aired from last week's Smackdown when Ruby Riot, Sarah Logan and Liv Morgan attacked Naomi, Becky Lynch, Charlotte Flair and Natalya. Graves said that Lynch will be "out for some time" even though a few days ago they posted on WWE.com that she is filming a movie in England.
Charlotte Flair was in her locker room wearing the Smackdown Women's Championship around her waist. Naomi talked to her about teaming up later. Natalya said that she's willing to put aside their personal business and talked trash about their opponents. Charlotte said that after tonight, nobody is going to remember their names.
A video aired for the Bludgeon Brothers because they are up next.
(Commercial)
The Hype Bros were in the ring to have/lose a match.
The Bludgeon Brothers duo of Harper and Rowan made their entrance.
Analysis: They don't have first names anymore. They were removed by WWE in the last week. It's okay because A) it means less typing for me and B) their names are unique. It's not like we are calling them Gary and Steve.
The Bludgeon Brothers (Harper & Rowan) vs. Hype Bros (Mojo Rawley & Zack Ryder)
Harper decked Ryder with an uppercut. Harper slapped Rowan, who knocked Rawley off the apron, corner clothesline from Rowan and Harper hit a sidewalk slam. Double team lifting slam by the Bludgeon Brothers won it easily. It went one minute.
Winners by pinfall: The Bludgeon Brothers
Analysis: 1/4* Very easy win for the Bludgeon Brothers duo. They'll need a real feud soon.
The Hype Bros were interviewed in the ring. Ryder was interviewed in the ring by Dasha Fuentes. Ryder talked about how the landscape has changed and now they have to change. Rawley attacked Ryder from behind with a punch. Rawley kicked Ryder. Rawley pounded on Ryder and said the Hype Bros are dead. Some fans chanted "this is awesome" for it. Refs tried to break it up, but Rawley kept on punching Ryder. Rawley eventually stopped and went to the back.
Analysis: That was building for a while. It could have been either guy turning heel. I thought Ryder would have been a better choice since he has been doing this character of his for a very long time and a heel turn could have helped him. I don't mind Rawley as the heel because he's yet to have a chance to be in that kind of role and I'm interested in seeing how he will do. I don't think anybody will be too sad about the team ending.
The announcers shilled stuff that's still to come.
(Commercial)
The commercial for next Monday's Raw promoted Sheamus & Cesaro vs. Seth Rollins & Dean Ambrose for the Raw Tag Team Titles again.
Mojo Rawley was interviewed backstage. Rawley just said "the landscape has changed" and he walked away.
A clip aired from last week's Smackdown Live when there was a Lumberjack match that had a big fight and Baron Corbin "accidentally" hit Bobby Roode with a forearm.
Roode was interviewed backstage. Roode didn't know if it was an accident, but when Baron Corbin called him absent minded last week it was no accident. Roode said that Corbin calls himself the Lone Wolf, but he knows there is somebody there that will take away his United States Championship, so Corbin gets scared. Roode said that the threat to the US Title is absolutely…but here's Corbin to interrupt with the US Title on his shoulder. Corbin said Roode is delusional if he thinks he's scared. Roode wanted Corbin to put the US Title on the line against him tonight. Corbin: "No."
Analysis: It will probably lead to a US Title match at Clash of Champions between them. I don't mind it. Roode could have a good match with Corbin.
The Singh Brothers introduced their boss Jinder Mahal. They were booed of course.
AJ Styles, the WWE Champion, made his entrance and got the biggest ovation of the night.
As soon as Styles got in the ring, Mahal attacked Styles from behind. Mahal stomped away on Styles. Mahal sent Styles into the turnbuckle. Mahal whipped Styles ribs first into the steel ring post. Styles went to the floor as the show went to break.
Analysis: Cheap heel attack to soften Styles before the match.
(Commercial)
The bell rang as they returned from break.
AJ Styles vs. Samir & Sunil Singh (w/Jinder Mahal)
The Singh Brothers attacked Styles at the same time as the match began. Sunil choked Styles throat first across the middle rope. Styles fought out of the corner with punches and kicks, but the Singhs slowed him down. Double suplex by the Singhs on Styles got a one count. Samir nailed some kicks that looked weak while Mahal celebrated. Sunil held Styles while Samir got in some punches. Styles fought back with a kick, punches and chops, but Samir clipped the back of Styles' knee to knock him down. Graves said this was brilliantly planned. The Singhs went for a double team move on Styles off the top, but Styles fought them off with punches. Mahal was on the apron, so Styles kicked him in the face. Samir went for a move on the top, Styles caught his hurricanrana attempt and Styles did a second rope Styles Clash on Samir onto Sunil, who was laying on the mat. Styles pinned Samir to win the match. It went four minutes.
Winner by pinfall: AJ Styles
Analysis: * Quick match where the Singhs were on offense for the majority of it and Styles finished them off easily.
Post match, Mahal went for an attack, but Styles left the ring and got away with the WWE Title. Styles went to the back.
Mahal grabbed Sunil and gave him The Khallas. The fans chanted "you still suck" at Mahal. Mahal picked Samir up and gave him The Khallas as well. That was a rough landing mostly on the arm of Samir. Graves said that Mahal will once again be WWE Champion at Clash of Champions. Mahal did some yelling from ringside to end it.
Analysis: Mahal beating up his guys after his losses puts him over as more of a jerk because he does that to guys that are loyal to him. The Khallas on Samir looked bad, but it was good that Samir put his arm down because otherwise it would have been a bad fall on his head.
Ruby Riot, Liv Morgan and Sarah Logan were interviewed by Dasha Fuentes in the backstage area. Ruby said her name and her friend's name. Riot said that together they are known The Riot Squad. Riot said they aren't there to make friends or audition for Total Divas. Riot said that they are there to turn the Smackdown women's division upside down. Morgan was introduced as a firecracker that can go off at any time. Logan said she comes from a family of hunters and tonight they are bagging some big game trophies. Riot said that the other girls are going to experience a riot. Their match is next.
Analysis: The dialogue is cheesy as is usual for most women in WWE, but I like the name of the group. It positions Riot as the leader, which is fine because she's got a unique look and is the better all around performer in the group.
(Commercial)
The New Day trio shilled the WWEShop Cyber Monday sale because their deals continue. Big E sang Sasha Banks' song at the start of it. No surprise that they were good at this.
Natalya made her entrance first for her team. Charlotte Flair, the Smackdown Women's Champion, was out next. Images were shown from the Starrcade house show from last Saturday in Greensboro. Naomi made her entrance for her team.
The Riott Squad trio made their entrance. I did not misspell the word Riott because that's how they are spelling her name now.
Natalya, Charlotte Flair & Naomi vs. The Riott Squad – Ruby Riott, Sarah Logan & Liv Morgan
Natalya stared for her team against Riott and then Logan hit a clothesline. Natalya bailed on her team by walking to the back. Charlotte hit a facebuster on Morgan as the show went to break.
Analysis: It makes sense for heel Natalya not wanting to team with her face partners that she doesn't get along with.
(Commercial)
Back from break, Charlotte sent Riott out of the ring. Charlotte sent Riott into the barricade. Riott got back into the ring while Logan hit Charlotte in the back to knock her down. Morgan sent Charlotte back into the ring for a two count. Fans chanted for Charlotte as Morgan hit a suplex. Riott slapped on a chinlock on Charlotte, so Charlotte countered with a jawbreaker. Logan and Morgan attacked Naomi from behind with Logan throwing her off the apron. Logan and Morgan sent Naomi shoulder first into the barricade. Riott had Charlotte in a chinlock in the ring. Logan and Morgan set up the ring steps. They whipped Naomi into the steps. Logan did a slingshot move that sent Naomi face first into the steel steps. The ref told them to stop. The ref called for help from the back. The match continued with Logan hitting Charlotte with a headbutt. Logan whipped Charlotte down by the hair. Charlotte fought back with a kick, a clothesline and sent Riott into the turnbuckle. Charlotte tried to fight back, but Logan punched her and Riott nailed a leaping kick to pin Charlotte. It went about eight minutes.
Winners by pinfall: The Riott Squad – Ruby Riott, Sarah Logan & Liv Morgan
Analysis: *1/2 It was below average as a match, but it was more about getting the story over with these three women dominating as a new faction. It was more about getting the story over. There were some moves that looked sloppy in the match such as when Logan and Morgan sent Naomi into the barricade and it looked bad. They got through it, but it was not a technically sound match by any means. Riott pinning Charlotte in a tag could mean a title shot in the near future.
Naomi was put on a stretcher and taken away. The heels celebrated their win.
Analysis: The heels were allowed to attack Naomi for several minutes while the refs watched and the ref let the match continue as well. It was a weird way to book it. I know they could have done a disqualification, but I guess WWE wanted to put the heel group over with a win.
Randy Orton was about to interviewed by his locker room (I think the woman's name is Kayla Braxton), but he just walked away from the interviewer and there was no interview.
(Commercial)
The announcers talked about Total Divas with Graves saying it's his favorite season of Total Divas. Saxton cued up Fashion Files while Graves wasn't thrilled with it.
Fashion Files – Sawed
The Breezango duo of Tyler Breeze and Fandango were cuffed to a wall along with The Ascension. A video featured somebody saying that they were making a mockery of the tag team division. They had one minute to get out until a poisonous gas entered. They noticed the stuffed horse head in the ring and Konnor had a funny line about beating a dead horse. Fandango and Breeze broke free while The Ascension told them to sacrifice themselves. Fandango and Breeze kept saying they were not The Ascension's friends. The gas filled the room with The Ascension. "To Be Continued" ended it.
Analysis: Thrilling, I guess. I wasn't a huge fan of the Saw movies, so this segment did very little for me.
Kevin Owens made his entrance for the main event.
(Commercial)
A Snickers moment aired showing the Occupy Raw moment with Daniel Bryan and fans filling the arena. That's the moment that set up Bryan vs. Triple H and eventually Bryan vs. Orton vs. Batista at WrestleMania 30. It was a great angle that never should have happened if they just had Bryan win the Royal Rumble in 2014. At least they got it right eventually thanks in part to CM Punk quitting, which meant Triple H vs. Punk was off.
Randy Orton (with more hair on his head than usual) made his entrance for the main event and got a good ovation.
No Disqualification: Randy Orton vs. Kevin Owens
Orton went for a RKO early, but Owens slipped to the floor. Orton nailed Owens with a clothesline outside the ring. Orton whipped Owens into the steel steps. Orton tossed Owens over the announce table. Orton nailed Owens in the head with the steel steps. Orton nailed Owens with uppercuts. Orton grabbed a kendo stick and nailed Owens in the back with it. Orton hit Owens in the gut with the kendo stick. Orton with a kendo stick to the back of Owens, so Orton grabbed another kendo stick. Orton hit Owens with several more kendo stick shots to the upper body. Orton with a back suplex that sent Owens back first into the top of the barricade at ringside. Owens went to the floor again, Orton took his time and Owens hit Orton with a kendo stick. Owens sent Orton into the ring post. Owens hit a fallaway slam on Orton into the barricade. They went to break about four minutes into the match.
(Commercial)
Back from break, Orton was still in control with a kendo stick to the legs, upper body and to the back. Owens covered Orton for a two count. Orton created some space with a thumb to the eye. Owens came back with a senton splash for two. Owens attacked with a kendo stick to the ribs and a kendo stick shot to the back for a two count. Owens avoided an Orton attack and hit a DDT for a two count. Owens went for a cannonball in the corner, Orton moved and Owens went crashing into the turnbuckle. Fans chanted RKO for Orton. Punches to the head by Orton as he set up Orton on the top rope. Orton delivered the superplex off the top. Orton covered Owens for the two count. The fans chanted for tables. Orton nailed the powerslam for a two count. Orton wanted the DDT, Owens fought out of it, so they went to the floor and Orton sent Owens into the barricade. Orton with forearms followed by the back suplex onto the barricade. Orton with the back suplex onto the announce table, which didn't break. Orton teased the RKO, but Owens bailed to the floor.
Owens left through the crowd with a camera right here. Funny how that works huh? Orton went after Owens as they brawled over towards the entrance area. They battled on the ramp. Sami Zayn attacked Orton from behind with a steel chair and Zayn hit Orton in the lower back with a steel chair. Zayn hit Owens in the leg with a chair again, but it looked weak. Zayn went to the back. Graves mentioned Zayn was banned from ringside, but he interfered on the ramp and not ringside. The wrestlers went back into the ring and Orton hit a draping DDT off the ropes. Orton teased the RKO again, but Orton punched him in the left knee and Owens hit a superkick. Owens went up top. Owens hit the (Bull)Frog Splash for the pinfall win after 16 minutes.
Winner by pinfall: Kevin Owens
Analysis: ***1/4 Pretty good match as you would expect from these two. The involvement of Zayn was expected even with the "banned from ringside" stipulation that Shane announced earlier in the night. As I mentioned, Graves pointed out that Zayn attacked on the ramp and not ringside, so that will likely be mentioned by Zayn to explain it next week. Owens winning cheap was the expected result. Orton winning wouldn't have meant much. It's important to keep giving Zayn and Owens wins as much as they can even if they are cheap victories like this. I'm a bit surprised that Owens won with the Frog Splash instead of the Popup Powerbomb, but I don't mind it at all because it puts over the Frog Splash as another finisher Owens can use to win matches.
Owens celebrated the win and the show went off the air right at 10pmET like usual.
Analysis: There was no follow up to Zayn's actions by having Shane McMahon yell at him for what he did. They can address it next week, I guess. I figure they'll probably do Zayn vs. Orton at Clash of Champions because of this and maybe Owens can face Shinsuke Nakamura, who needs to be doing more on this show.
Three Stars of the Show
Kevin Owens
Randy Orton
The New Day
The Scoreboard
6 out of 10
Last week: 5.5
2017 Average: 6.70
Average Post Brand Split (July 26, 2016): 6.61 – Raw is at 5.84
Last 5 Weeks: 5.5, 7.5, 6.5, 8, 7, 6
2017 High: 8.5 (April 11, August 1)
2017 Low: 4 (August 29)
Final Thoughts
It gets a 6 out of 10.
It was a decent show. Main event was given a lot of time and had good action along with a predictable outcome due to the interference. It would have been nice if they had Bryan or Shane yell at Zayn after what he did, but that's probably coming next week.
The women's match was what it needed to be to put over the three women as credible performers right off the bat. There were some sloppy moments as I mentioned, but they got through it fine.
I liked the tag match with New Day over Benjamin/Gable. Good action the whole way there.
Cool finish to the Styles match with Singh Brothers.
It's disappointing that they don't have anything for Shinsuke Nakamura to do. He's too good to be doing nothing. Use him better, please.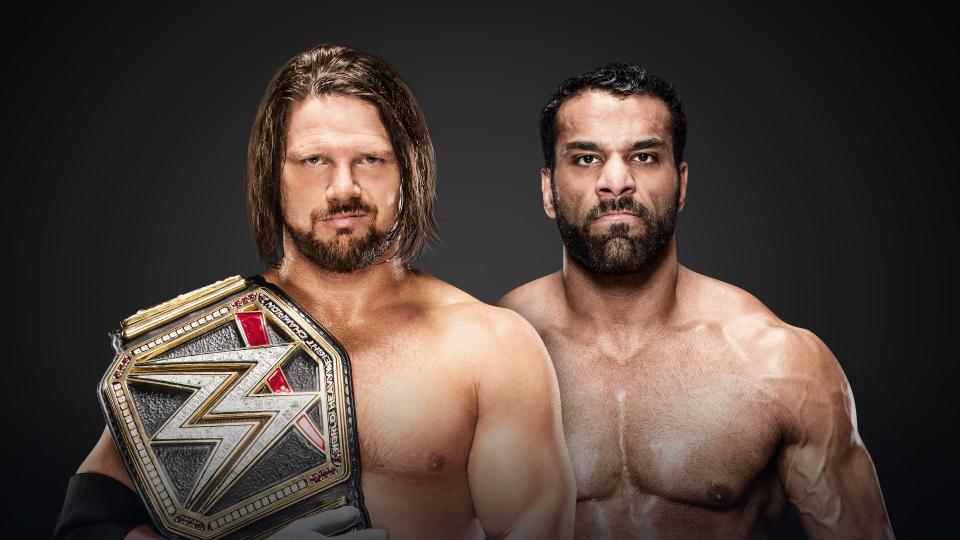 The next Smackdown PPV is Clash of Champions is December 17. Here's what we know.
WWE Championship: AJ Styles vs. Jinder Mahal
That's all for now. I think they'll probably do Corbin vs. Roode for US Title and Zayn vs. Orton. Tag Team Title could be Usos vs. New Day vs. Benjamin/Gable. Owens vs. Nakamura could be added as well.
—
That's all for now. Go Los Angeles Rams, Toronto Raptors and Toronto Maple Leafs.
My contact info is below. Thanks for reading.
John Canton
Email mrjohncanton@gmail.com
Twitter @johnreport