A Collective Review of AEW Dark 10/22/2019 by Lance Augustine
Welcome back to the Collective review of AEW Dark. Last week's episode of Dark featured some stand out matches including a near 30-minute brawl between Joey Janela and Kenny Omega.
The AEW Dark show has matches taped from last week's AEW event and they post the full show on the AEW Youtube channel. I'll post the video at the bottom of this review. Will this week keep the momentum rolling? Let's find out!
AEW Dark from Philadelphia, Pennsylvania 10/22/2019
We start off in the control room with Tony Schiavone running down the matches we will see tonight. He puts over the first three weeks of Dynamite being a success. He sends us to the ring for the first match of the night. Also, Taz is calling the action tonight which should be a nice treat. It's Excalibur and Taz on commentary for this week's show.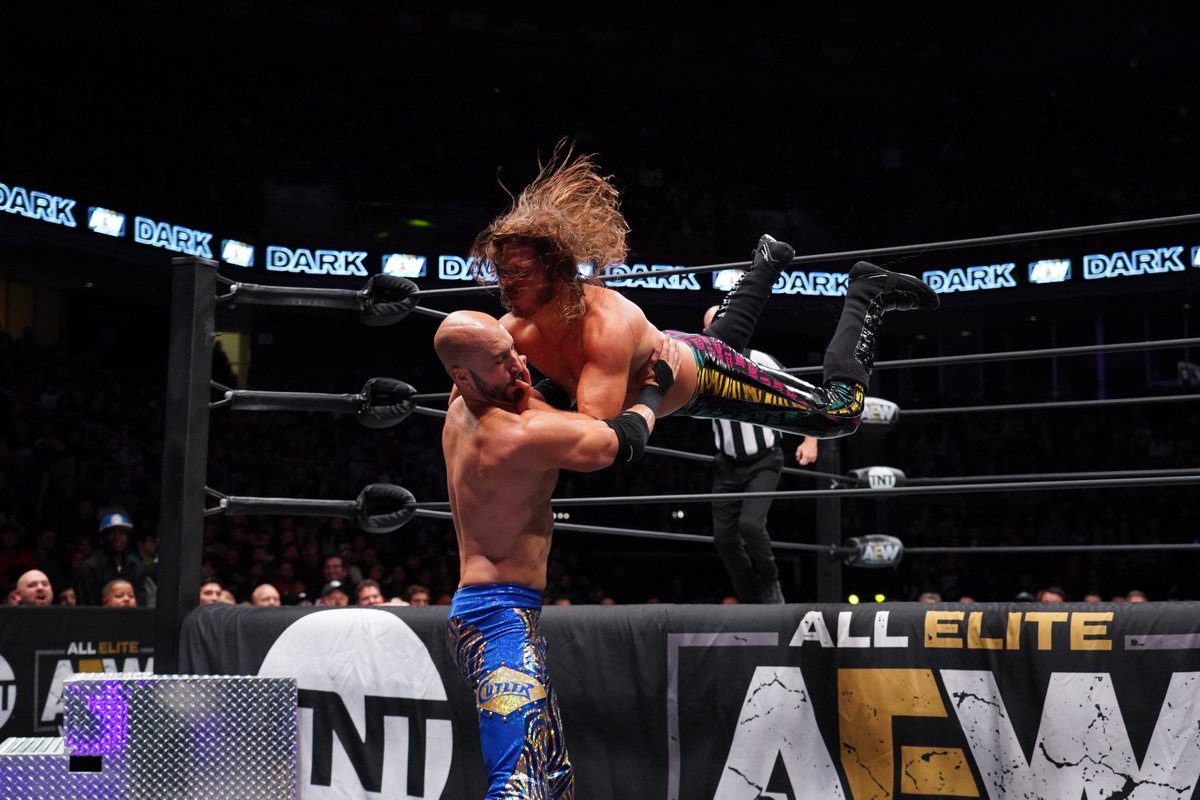 Brandon Cutler vs. Joey Janela
Cutler is first out to the ring with Taz putting him over on his way down. It's Impact all over again. Janela is in the ring and the two lock up with Cutler getting the early advantage. This is Janela's first non-hardcore match in AEW. Cutler works over Janela's arm with Janela doing some flips and finds a way to reverse it. Janela takes Cutler over with a headlock and they both go down to the mat. Janela showing the athletics with a nice handstand and gets out of the hold. Janela hits a should tackle as the momentum is traded back and forth. Cutler regains control and hits a flying forearm for a one count. Cutler showing some nice agility with some elbow drops followed by a chin lock. Janela and Cutler trade some blows with some kicks and chops. Janela hits a series of chops, but Cutler is able to escape and hits a move for a two count. Cutler hits a reverse DDT for another nearfall. Both men are back to their feet and Cutler sends Janela into the corner and the corner cam catches it all. Janela mounts a comeback and hits a huge clothesline. Janela hits a suicide dive to the outside followed by a back elbow off the stairs. Janela rolls him in the ring for a near fall. Janela is back to his feet first, but Cutler reverses and hits an enziguri that knicks Janela down. Janela recovers and knocks Cutler down to the mat again. Both men climb the top rope and Janela hits a top rope brainbuster for the three count and the win at around the 10 minute mark.
Winner: Joey Janela
Match Rating: (2/5 Stars)
Match Notes: it was decent for what it was. Brandon Cutler hasn't been that impressive for the two matches that we have seen him in. Not bad, just not that impressive. This is a good win for Janela who is trying to be more than a death match type wrestler.
Post match they showed the replays as Janela celebrates in the ring. The crowd was behind Janela the whole match. Back in the control room, Tony puts over the match a little bit more before shooting over Cody for his interview with QT Marshall.
From Undesirable to Undeniable with Cody
This week Cody's guest is QT Marshall, who is a backstage producer for AEW. They talk about a movie he made about his desire to be in the WWE in which they didn't bite on. He talks about paying for a tryout in Ring of Honor and was offered a job on the spot. When he showed up, he immediately was put into a position where he was cutting promos on the world champion, which his fellow wrestlers did not like. He says that in his third match in the promotion, he slipped two discs in his neck which he kept a secret. He said that that started a point where he started to hate wrestling. He had the surgery to fix his neck and decided his in-ring career is over. He said he then made a decision that he was all in on wrestling. Cody then breaks the news that QT has been cleared to wrestle and will have a match in Pittsburgh. They close the segment by reminiscing about how they met and the segment finishes.
Segment notes: That is really good to hear that QT is getting a shot. This is a tough business and anytime you hear about doing something they love you can't help but feel good for them.
Back in the control room, Tony puts over Nyla Rose and talks about her upcoming match with Leva Bates.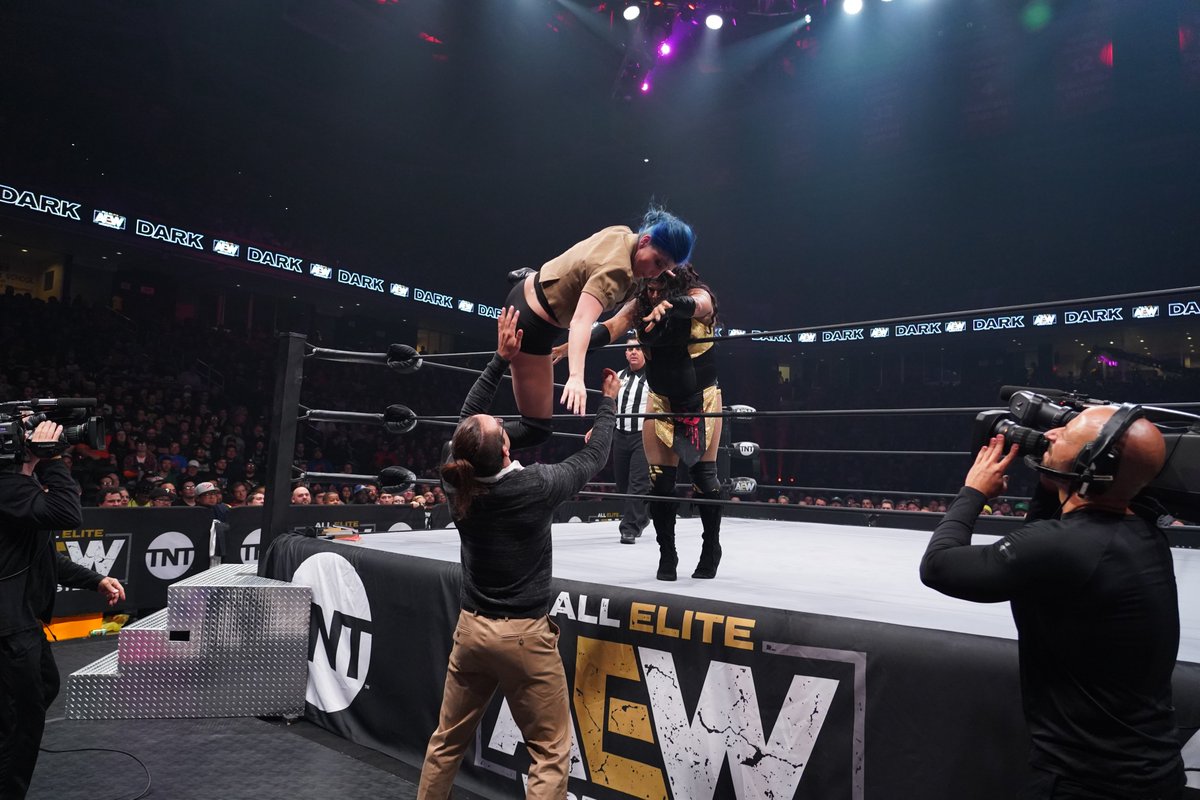 Leva Bates (w/Peter Avalon) vs Nyla Rose
Leva Bates and Peter Avalon are out first doing their typical librarian gimmick. Taz talks about different books that Leva Bates has let him read. Some witty dialogue from him here. Avalon runs down Philly for being rude in the "city of brotherly love". He goes on giving a history lesson about the city of Philly and even gets in a Bryce Harper joke. They try and silence the crowd a little bit more before Nyla makes her entrance. The announcers put over how close she was to beating Riho for the AEW Women's title.
Both women circle each other in the ring as Avalon throws books in the ring to distract Nyla. Bates uses this to her advantage and starts to attack Nyla. Nyla isn't fazed by this and hits Bates with some moves of her own. Bates back on the offensive but is quickly taken down by Rose again. Rose uses her power to toss Bates around a little bit. Bates keeps attempting to get some offense on Rose, but is quickly snuffed out every time. Rose hits a Death Valley Driver, but the referee is distracted by Avalon as she attempts the pin. Rose back on the offensive throwing Bates over the top onto Avalon. Rose throws Bates into the stairs on the outside. She rolls Bates back in the ring and starts laying the boots to her. Rose lifts Bates up to her feet and crushes her in the corner. Nyla then signals for the Beast Bomb, which she hits for her first win in AEW after 5 minutes.
Winner: Nyla Rose
Match Rating: (1.75/5 stars)
Match Notes: This was a squash match where Bates was dominated most of the match. Even the offense she did hit, didn't register on effective on Rose at all. It's nice to see Rose get her first win in AEW and it'll be fun to see where she goes next.
After the match, replays are shown and Tony Schiavone is back on the screen talking about this week's episode of Dynamite in Pittsburgh and some of the matches we will be seeing. He talks about Britt Baker being in a match and both tag team quarter-final matches taking place as well. It should be a damn good show. We then get a promo on the Dark Order before Tony gives us a rundown on what happened last week on Dynamite. We then learn about all the upcoming shows before we go to the ring for the main event.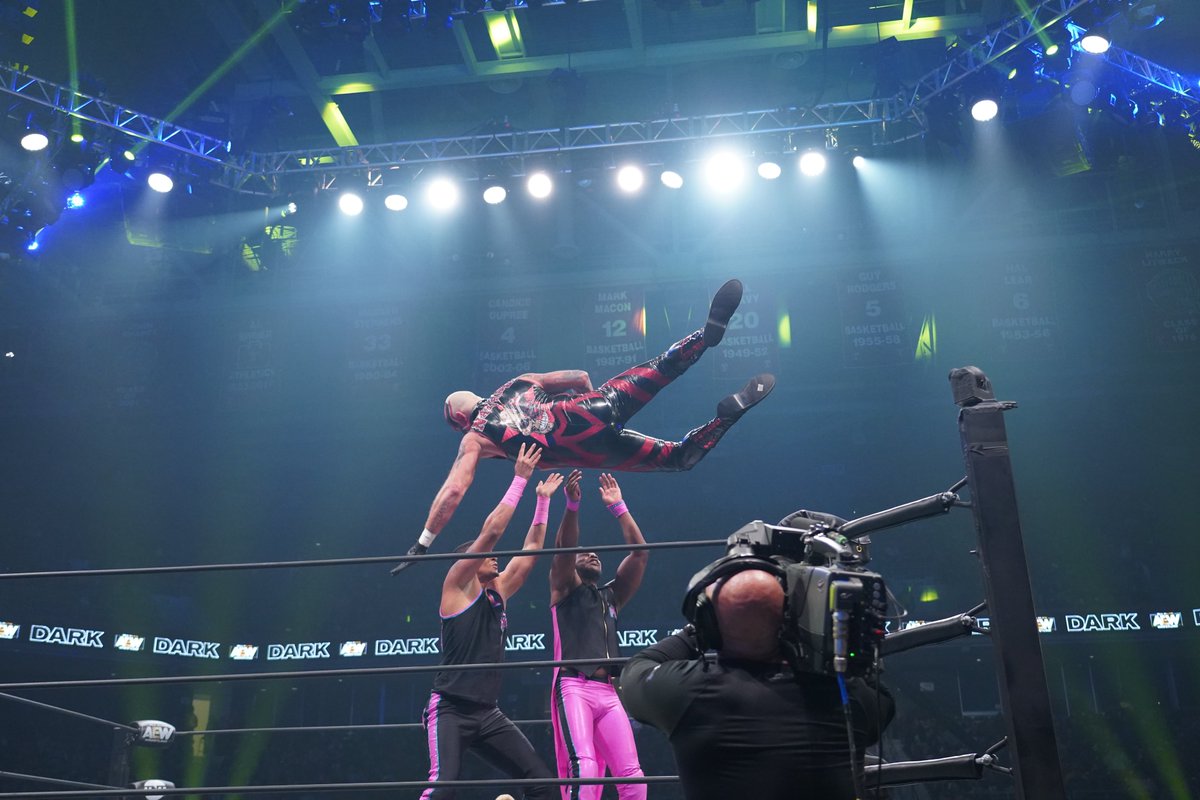 Private Party (Isiah Kassidy and Marc Quen) and Strong Hearts (Cima and T-Hawk) vs. The Young Bucks (Matt and Nick Jackson), Dustin Rhodes and Cody (w/MJF and Brandi)
Strong Hearts are out first and are soon accompanied by Private Party. Cody is first out for his team and is coming down the ring with MJF and Brandi in tow. The MJF heel turn is brewing and it's going to be something else. Dustin makes his way to the ring and obviously, the Young Bucks are out last and the match begins.
Cody starts the match for his team against Cima. Both men lock up and try to gain the advantage. Cody jumps to the outside to regroup and is greeted by MJF and Brandi. All eight men are in the ring now facing off as the referee tries to regain control. Cody then tags in Dustin and Cima tags in T-Hawk. Dustin tried to feel Hawk out a little bit and both men try to gain the advantage. Dustin hits a shoulder block and knocks Hawk down to the mat. Dustin tags in Nick Jackson and the team gangs up on Hawk and hits a double team move. Both Young Bucks are in the match for an extended period of time. The tag rules in this company are wild. Private Party are in now and hits Matt Jackson with some double team moves. Cima is back in with a rolling senton and works over Matt's arms. Cima makes another tag to Marc Quen who proceeds to makes a tag to Isiah Cassidy and they hit some more double team offense.
Cody is back on the outside cooling down MJF. Matt hits the quad northern lights suplex on Private Party and makes a tag to Nick Jackson. Nick is in taking out everyone in sight. Kicks galore from Nick on every member of the other team. He hits a slingshot facebuster on Quinn followed by a moonsault to the outside. Private Party regroups and hits the gin and juice followed by the meteora by Cima and Quinn with a shooting star press. Quinn makes the cover, but Cody breaks it up. Cima and Hawk try to get some offense on Nick Jackson but he recovers and hits everyone with a superkick. He tags in Dustin who is a house of fire taking everyone out. Dustin hits Hawk with a powerslam followed by everyone else of the opponents. Cassidy and Dustin face off which ends in another powerslam. Dustin climbs up top and hits a splash. Cody and Dustin are on the outside get hit with splashes from Private Party. The Young Bucks hit some offense of their own to the outside and everyone is down. Brandi then climbs up and hits a flip off the apron. MJF is in the ring now and just runs the ropes before flipping off the crowd. This dude rules! Cody then hits the Cross Rhodes on Cima and we have a face off between Private Party and the Young Bucks in the middle of the ring. Cassidy hits some nice offense before being super kicked by both Jackson's. Private Party tries to hit the silly string, but is super kicked again. Dustin and Cody are back in the ring but are intercepted by Private Party. Everyone in the ring is now set up for Shattered Dream kicks. Dustin hits the Final Reckoning and gets the win around 17 minutes.
Winner(s): Dustin Rhodes, Cody and The Young Bucks
Match Rating: 3.5/5 stars
Match Notes: I can't complain much about that match. Everybody got their time to shine with Private Party showing again that they are one of the premier tag teams in AEW. There was a lot of fast-paced action and some cool moves thrown in. The four corners Shattered Dreams was a cool sight. The right team probably won since Cody is the top babyface in the company right now.
Post match they showed some replays with Tony coming back on and closing out the show.
Overall Show Grade: 5.5 out of 10.
The show this week wasn't quite on the same level as last week. The Omega/Janela match from last week topped anything from this week and will be a hard one to top. With that being said, I don't think the show was bad by any stretch. The matches were just a step below and didn't feel as engaging as the week before. Taz on commentary was a nice change of pace, although JR will always be the king. This show is a cool concept though, and it's another solid outing for AEW.
You can watch the full episode below.
What did you think of AEW Dark for this week? Loved it? Hated it? Didn't watch it? Either way keep the conversation going over at @collectiveheel on Twitter and let me know what you thought. Support the site, support each other and I'll be back soon with some more Collective Thoughts.