WWE Smackdown "Season Premiere" Preview for Tonight (Oct. 16): Universal Title Match, New Day Farewell, Steve Austin on Pre-Show, More
Tonight's edition of WWE Friday Night Smackdown on Fox is a season premiere episode with a big main event match. How can you have a season premiere on a show that has a new episode every week? I don't know. It's just a TV thing to try to hype it up as a big deal and to celebrate WWE's second year on Fox after they started on Fox in October 2019. This week's Smackdown is also the first episode since the WWE Draft took place last Friday on Smackdown and concluded this past Monday on Raw.
There's a special Smackdown Kickoff Show on Fox at 7:30pm ET with a 30-minute runtime leading into Smackdown. It will be hosted by Michael Cole, Renee Paquette (formerly Renee Young in WWE) and Booker T, who were hosts of the WWE Backstage show on Fox Sports 1 earlier this year. They will be joined on the Kickoff Show by WWE Hall of Famer Steve Austin, George Kittle of the NFL's San Francisco 49ers and Major League Baseball legend who is now an announcer, David Ortiz.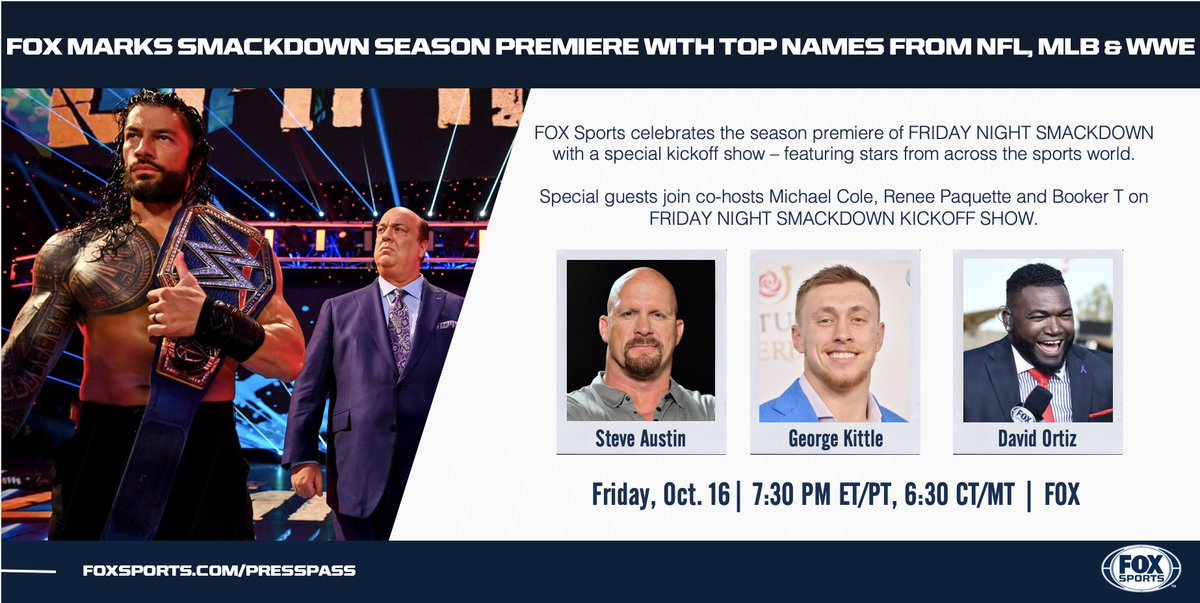 The appearances from Austin, Kittle and Ortiz will likely be via video rather than being in the arena. Kittle is a huge WWE fan that could be a wrestler in WWE after he retires because he's certainly got the personality for it.
Here's a rundown of what WWE has advertised for Smackdown with my quick predictions.
Roman Reigns and Braun Strowman set for gigantic Universal Title clash on SmackDown season premiere
It's a big match with an obvious result because it's not like Reigns is going to drop the Universal Title less than two months into a reign that is probably going to last until at least WrestleMania, if not longer. Strowman also got drafted to Raw, so while the announcers will be shouting about how he could take the Universal Title to Raw with him, it's not going to happen. These two have had several good matches over the years and I was even in attendance for a wild match they had on Raw three years ago. It should be a pretty good brawl that goes around ten minutes or so with Reigns picking up the win.
The New Day bid farewell with match against Shinsuke Nakamura, Cesaro & Sheamus
It's a six man tag with Kofi Kingston and Xavier Woods, as the Raw Tag Team Champions, on Smackdown for a final time (so to speak) to team up with Big E, who remains on Smackdown after the WWE Draft. It's a six-man tag against Shinsuke Nakamura, Cesaro and Sheamus, who are all familiar opponents for the New Day guys. It should be a fun, fast paced match between the six veterans that always have good matches. It will likely be a win for New Day in around 12 minutes or so. I know WWE will treat it as a New Day farewell, but the Raw/Smackdown guys can interact at PPVs and things like that, plus WWE mixes up rosters sometimes, so the New Day split isn't as dramatic as WWE makes it out to be.
Jeff Hardy looks to slow down Lars Sullivan's destruction in SmackDown showdown
This is also Jeff Hardy's last time on Smackdown (for now) since he got drafted to Raw. That would make it seem like a lock that this is a win for Sullivan, who is a dominant heel that isn't going to be losing matches any time soon. A win for Sullivan in under five minutes is the likely outcome here.
I also predict Lars Sullivan's presence on the show will lead to anger among Twitter wrestling fans. He's done a lot of dumb shit in his life, so people hate him. I'm not going to list everything, but search his name and it'll pop up. Stop being dumb, Sullivan. Smarten up.
The Street Profits look to defend SmackDown Tag Team Title against Ziggler & Roode
Both teams used to be on Raw and got drafted to Smackdown with The Street Profits also becoming Smackdown Tag Team Champions after their title swap with New Day. There's not a lot of depth in the WWE tag team division on Raw or Smackdown right now, so I could understand doing a title change to set up rematches. However, since it's a cold match without a storyline, I would hold off on that and I think Street Profits should retain. I'm just saying it wouldn't be a total shock to me if Ziggler and Roode were to win the titles tonight because it's the Season Premiere and WWE may want to have what a big moment like a title change on this show.
Daniel Bryan enters the WWE ThunderDome
From my post yesterday on Daniel Bryan appearing on Smackdown.
It will be Bryan's first time in the WWE ThunderDome setup at the Amway Center in Orlando. Bryan's last match in the WWE ring was on the June 12 edition of Smackdown when he had an amazing match against AJ Styles where Styles became the Intercontinental Champion.

The reason Bryan has been away from WWE TV is not injury-related. There's a much better reason. Bryan has been absent because his second child, a boy named Buddy Danielson, was born on August 1 and Bryan had mentioned in previous interviews that he was going to take a few months off after the baby was born.
It was noted on the Wrestling Observer website that Bryan's appearance will kick off Smackdown. It doesn't say that on WWE's website, but they may just know that Bryan is going first. We should learn quickly who he might be feuding with if he's interrupted during his return promo. I vote for Seth Rollins, who really needs to get away from the Mysterio family feud that has been going on for far too long.
That's a pretty good lineup for Smackdown tonight. I imagine we'll see Bayley and Sasha Banks doing promos or one of them will probably win a match.
I'll be back tonight for a Smackdown review. It might be live, but I also have some family in town that I haven't seen in a long time, so I may be visiting them while properly social distancing, of course. If I stay home then the live review starts at 8pm ET as usual and if not then I'll still get the review done tonight before I go to sleep. Thanks for the reading and for all the support.