WWE Smackdown Preview and Predictions for Tonight (Oct. 25): Lesnar, Velasquez, Hogan, Flair and More
It's the last edition of WWE Friday Night Smackdown in the month of October and there's going to be something different about tonight's show from Kansas City, especially for those of you in the United States. Due to Major League Baseball's World Series game 3 airing on Fox, Smackdown is moving to Fox Sports 1 for one night only. Every other week in the year will see Smackdown airing on regular Fox, but not tonight. It's probably going to confuse some people, but hopefully, if you have FS1 in the US and you want to watch Smackdown then you know that's where you turn the channel to tonight.
Here in Canada, most of us with cable TV packages have a main Fox channel, which is where I watch Smackdown, but we also have Sportsnet 360 that shows it and we don't get FS1 here. In other words, it shouldn't affect most of us in Canada.
In addition to Smackdown being on FS1 tonight, WWE is also airing WWE Backstage hosted by Renee Young and Booker T with Finn Balor appearing as a guest. They are also re-airing Smackdown on FS1 at 11pmET. Also on Sunday, Fox will be airing a 1-hour edition of Smackdown when it fits in their NFL schedule. Check your local listings for that. Here's a handy graphic that WWE made.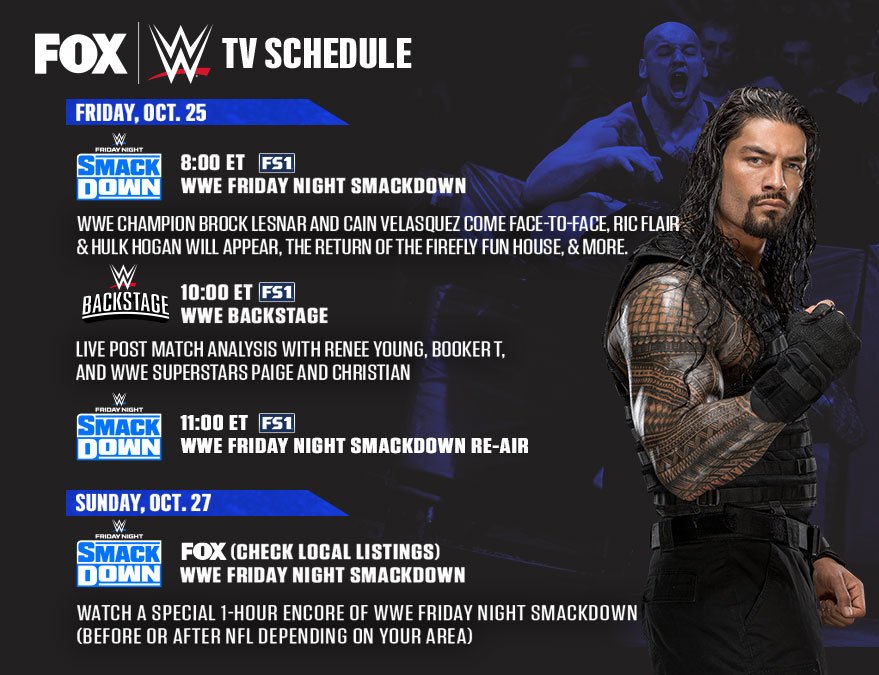 The move to FS1 should result in the lowest viewership for Smackdown as a part of Fox. The World Series on Fox between the Washington Nationals leading the Houston Astros 2-0 hasn't done great in terms of TV viewership compared to previous World Series matchups, but they did get about 12 million viewers for game 2, which was a blowout win for the Nationals. Since the World Series game will likely get around that 12 million viewers mark again, Smackdown will take a hit and probably get around 1.5 to 1.8 million viewers. It might even be less than that estimate. Things should pick up next Friday when Smackdown is back on Fox and I think the average Smackdown viewership number on Fox will probably be around 2.5 million viewers every week.
Anyway, here's what WWE has lined up for tonight's show with my predictions for each segment/match. Keep in mind that this is the last Smackdown before next Thursday's Crown Jewel event in Riyadh, Saudi Arabia on October 31.
WWE Champion Brock Lesnar and Cain Velasquez come face-to-face this week on Friday Night SmackDown
Let me share what they wrote on WWE.com about this:
Only six nights before their colossal WWE Title Match at WWE Crown Jewel, Brock Lesnar and Cain Velasquez will be under the same roof this Friday night on SmackDown. Paul Heyman and Rey Mysterio will accompany the respective rivals as they size each other up ahead of the epic showdown.

Harsh words were exchanged on both sides the last time Lesnar and Velasquez were in the same arena. With years of personal animosity and several explosive exchanges in recent weeks, it is anyone's guess as to what will go down when the two once again cross paths this Friday night at 8/7 C when SmackDown airs one time only on FS1.
It's just a face to face showdown with Lesnar and Velasquez, so it will be interesting to see if there is any physicality. My idea for it would be to have a shoving match between Lesnar and Velasquez, which would lead to a pull-apart brawl where the locker room empties out. That could be too cliched, though, especially considering they did that on Raw a few weeks ago with Braun Strowman and Tyson Fury. I just think that neither guy should get the advantage. Another possibility is that Lesnar could get in a cheap shot to knock Mysterio down, which would infuriate Velasquez and add more to the story.
The presence of Mysterio is interesting because Rey was drafted to Raw and the whole point of the draft was to put somebody on Raw or Smackdown only, yet here we are with Rey allowed to be on both shows in the same week. I get why they are doing it to have Rey talk for Cain if they need it, but it also hurts the credibility of the draft. Then again, this is WWE. They have credibility issues about a lot of things.
Anyway, I hope this is an entertaining and fun segment instead of just a boring promo.
"Miz TV" heads to FS1 as Hulk Hogan and Ric Flair preview the WWE Crown Jewel showdown
From WWE:
With the massive 5-on-5 Team Hogan vs. Team Flair showdown at WWE Crown Jewel approaching, both Hulk Hogan and Ric Flair will sit down with The Miz on Friday Night SmackDown on FS1.

The Hulkster will be joined by team captain Roman Reigns as well as Shorty G and Ali. "The Nature Boy" won't be stylin', profilin', and limousine riding solo, as Intercontinental Champion Shinsuke Nakamura and King Corbin will be in tow on Friday Night SmackDown.
If Flair and Hogan on Miz TV sounds familiar it's because they were guests on Miz TV on Raw on September 30. The day after that show, the ratings came out and it was the highest-rated segment on Raw, so clearly a lot of fans still want to see Flair and Hogan. That segment from last month was used to set up the 5 on 5 tag team match at Crown Jewel.
Now that we know the team members on Team Hogan and Team Flair, it should lead to some trash talk from both sides. We know Hogan and Flair are good at doing the trash talk. As you can see in the graphic above, Hogan will be joined by Smackdown team members Roman Reigns, Shorty G (ugh at that name) and Ali while Flair will have Baron Corbin and Shinsuke Nakamura with him.
What I expect to happen is a tag team match to be set up. It will either be Reigns and one of Shorty or Ali or a six-man tag with Reigns, Shorty and Ali against Corbin, Nakamura and Nakamura's buddy Sami Zayn. As we know from previous Saudi Arabian shows, Sami Zayn will not be there because he is of Syrian descent. If they do the six-man tag, I would expect Zayn to take the pinfall in the match. If there it's not a six-man tag then maybe Flair's heel side will win a regular tag by beating Shorty or Ali, rather than Reigns.
The New Day take on Dolph Ziggler & Robert Roode ahead of largest Tag Team Turmoil Match in history at WWE Crown Jewel
There's no Xavier Woods for New Day in this match due to the Torn Achilles he suffered, which will require surgery to repair. Woods will probably be out of action for anywhere from 8-12 months, so it's going to be Kofi Kingston and Big E tagging up for New Day tag matches. Ziggler and Roode are a good heel team, so it should be a solid match around 10-15 minutes where the heels isolate Kingston, Big E gets the hot tag and they go to the finish from there. I'll go with a win for Ziggler and Roode because I think it's more likely that New Day wins the Tag Team Turmoil match at Crown Jewel, so if they lose here it's no big deal.
Nikki Cross looks to continue SmackDown Women's division ascent against Mandy Rose on FS1
Nikki Cross won Six-Pack Challenge last week to earn a Smackdown Women's Title match against Bayley. We don't know when that match will take place, but it's happening at some point in the future. Cross pinned Mandy Rose in that match last week, so this week Cross faces Rose in a singles match.
I expect Cross to win the match to keep her momentum going. I think after the match, Bayley (along with best friend Sasha Banks) should attack Cross to add some more heat to the story and make fans care more about the Bayley vs. Cross match. Perhaps Alexa Bliss can show up for the save as well.
===
That's all for this week's Smackdown in terms of what WWE has advertised. I will have a review posted later tonight. It won't be live because I'm going to be at a friend's house, but I am hoping to be back home in time to write the review and get it posted late tonight. It might be like 1amET or something like that, but I will post it before I go to sleep.