WWE News: Daniel Bryan Returning to Smackdown This Week, WWE Selling "Macho Man" Randy Savage Legacy Title
Daniel Bryan is returning to WWE TV this Friday on Smackdown. Bryan was selected by Smackdown in the WWE Draft on Monday as a round two pick in the Monday pool of wrestlers.
It will be Bryan's first time in the WWE ThunderDome setup at the Amway Center in Orlando. Bryan's last match in the WWE ring was on the June 12 edition of Smackdown when he had an amazing match against AJ Styles where Styles became the Intercontinental Champion.
The reason Bryan has been away from WWE TV is not injury-related. There's a much better reason. Bryan has been absent because his second child, a boy named Buddy Danielson, was born on August 1 and Bryan had mentioned in previous interviews that he was going to take a few months off after the baby was born.
Here's what WWE wrote about Bryan's return on their website without offering too many specifics.
Will Daniel Bryan be back on the blue brand this week?

Yes! Yes! Yes!

The Grand Slam Champion will make his WWE ThunderDome debut on the SmackDown season premiere Friday night. What will Bryan have to say in his return to the bright lights on FOX?

Catch Bryan's return to Friday Night SmackDown at 8/7 C on FOX.
It sounds like it might just be a promo from Bryan, but it wouldn't be a surprise if there was some heel wrestler that interrupted (Seth Rollins?) and that led to a match with Bryan picking up the win.
Here's what else WWE has advertised for Smackdown's "Season Premiere" on Friday.
* Roman Reigns and Braun Strowman set for gigantic Universal Title clash on SmackDown season premiere
* The New Day bid farewell with match against Shinsuke Nakamura, Cesaro & Sheamus
* Jeff Hardy looks to slow down Lars Sullivan's destruction in SmackDown showdown
* The Street Profits look to defend SmackDown Tag Team Title against Ziggler & Roode
I am going to write more of a preview with predictions on Friday morning. I just wanted to do this post to promote Bryan's return to WWE TV.
WWE SELLING NEW "MACHO MAN" RANDY SAVAGE LEGACY TITLE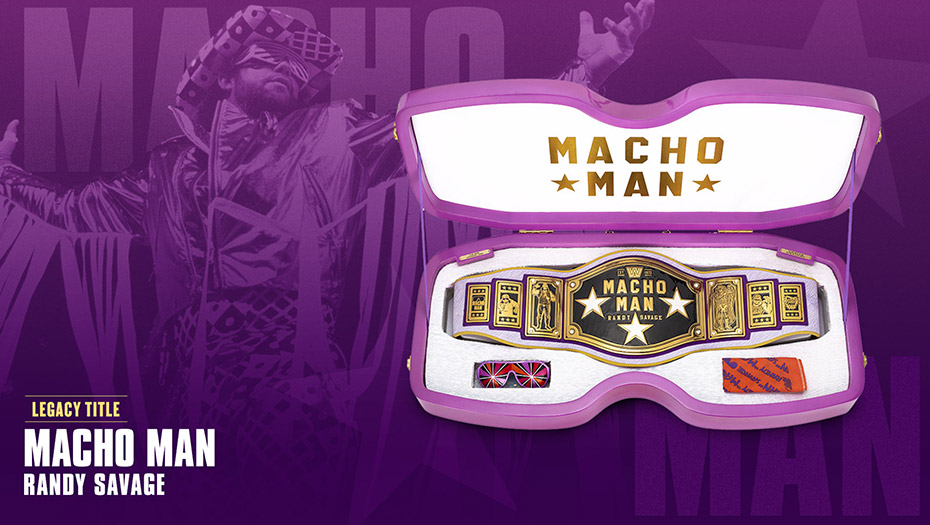 There's a new item on sale on WWEShop called the "Macho Man" Randy Savage Legacy Title. The cost? $849.99 US. It's not cheap, but it does look pretty damn cool if you're a belt collector.
You can check it out on WWEShop.com right here.
Here are some of the product details:
Few Superstars in the history of WWE were as dynamic as "Macho Man" Randy Savage. His over-the-top style — perfectly punctuated by his entrance music, "Pomp and Circumstance" — was only outshined by his performances in the ring, which led him to two WWE Championships, four WCW World Championships and a 14-month reign as Intercontinental Champion.

WWE Shop is honoring this incomparable Legend with the latest entry in the Legacy Championship Series line developed to celebrate the legacy and achievements of some of the most prolific Superstars in WWE history. Exclusively available at WWE Shop, only 500 of these titles will ever be offered for sale, making it an absolute must-have for collectors and fans alike.

This custom-crafted limited-edition title is truly fit for a Macho King with a real suede and leather strap, an incredible 7.27mm thick main plate, and 12 Swarovski crystals! But perhaps the first thing you'll notice is that it comes in a custom sunglasses case with an image of Macho Man printed across the top. Inside, in addition to the championship, you'll also find a pair of exclusive sunglasses and a bandana.

Every design element of the title itself celebrates Randy Savage. The main plate is emblazoned with "Macho Man," the year of his in-ring debut, and the three stars featured on the ring gear from some of his most memorable matches. The six side plates offer snapshots into the different phases of his Hall of Fame career, and the tip features his signature sunglasses. This title contains 29 stars to represent each championship "Macho Man" Randy Savage won during his career and 12 Swarovski Crystals to represent "Macho Man" Randy Savage becoming the 12th Superstar to win the WWE Championship.
There's more info on WWEShop's page right here.
TJR Thoughts: I've never been a huge merchandise guy, but I would imagine this could be a big seller because of the legacy of Randy Savage, who is one of my favorite wrestlers of all time.