WWE News: Daniel Bryan Cleared to Return, Was at Smackdown This Week, Advertised for Upcoming European Tour
There is good news for Daniel Bryan, who is the Planet's Champion (what a great nickname!), and the former WWE Champion. Bryan has been absent from the Smackdown brand since he lost the WWE Title to Kofi Kingston in a great match at WrestleMania.
Bryan was backstage at Smackdown this week, but if you watched the show then you know he was not used on the show. Bryan was medically cleared to return to compete, according to the Wrestling Observer Newsletter's Dave Meltzer. It was noted by Meltzer that Bryan could be written back in the storylines next week. The injury, if there even was one, was not a major issue for Bryan. There have been other reports that it was just a minor thing and Bryan was just given a few weeks off to recover after working a busy schedule. I was told that Bryan was just banged up a bit and was given a few weeks off to recover.
It's possible that Bryan will be added to the WWE Title match between Kofi Kingston and Kevin Owens at Money in the Bank on May 21st, but WWE may choose to keep that as a singles match. They could do the triple threat WWE Title match at a later date. It was theorized by Meltzer that had WWE known Bryan would be ready to go next week then perhaps Kevin Owens may not have turned heel. As we reported last week, the Owens turn was done quicker than expected due to Bryan not being on Smackdown for a few weeks.
Bryan is scheduled for the upcoming WWE European tour, which begins after next week's editions of Raw and Smackdown. It runs for nearly two weeks as usual, but Bryan is only scheduled for the first week of the tour, so that probably means he'll be at the London, England Smackdown tapings on May 14 as well and fly home after that. The current lineup for the Smackdown tour in Europe has Kingston vs. Bryan vs. Owens for the WWE Title, likely in the main event on most of those shows.
This may mean nothing right now, but the KFC Yum Center in Louisville is advertising Bryan for Smackdown next week on May 7th. As always, the card is subject to change and they have AJ Styles on the graphic even though he was moved to Raw a few weeks ago. If Bryan was injured, then he would be pulled from future events.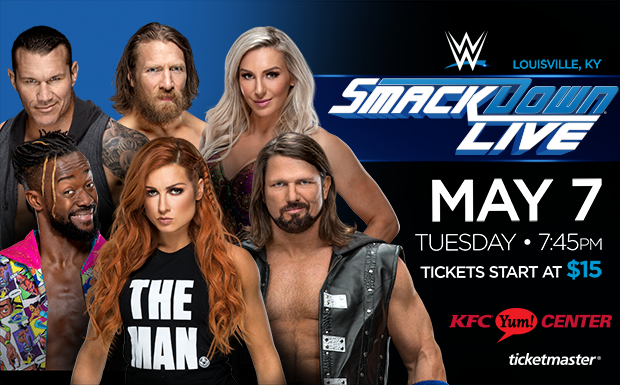 It's interesting to note that coming up on the WWE schedule as well is the next Saudi Arabian show on June 7th. Bryan refused to participate at the Saudi Arabian show last November, so it's not known if he'll refuse to go this time either. Bryan was not "punished" for refusing to go because he actually ended up winning the WWE Title shortly after the Crown Jewel event.
TJR Thoughts: I'm glad Bryan is back soon. He has been missed and I think there's a lot value in having him wrestle Kofi Kingston for the WWE Title match again. A triple threat at Money in the Bank would be fine with me. I'm not sure what's going to happen with it.