Wrestling Legend Tom Billington aka "The Dynamite Kid" Passes Away at Age 60
There is some sad news to report today as the wrestling world lost another legend when The Dynamite Kid, whose real name was Tom Billington, passed away at age 60. Today was actually his birthday. The Dynamite Kid will be remembered as one of the best and most famous British wrestlers ever that wrestled an influential style.
The Dynamite Kid was a one-time WWF Tag Team Champion with Davey Boy Smith as The British Bulldog, but he was much more than that. Kid was an innovator that was wrestling a fast paced style before most guys did. I can remember watching tapes in the late 1990s of his matches with Japanese legend Tiger Mask and he was doing things in 1983 that nobody else was doing. It was years ahead of its time.
Unfortunately, that in-ring style led to health problems that forced Kid to retire from the WWF in 1988 at age 30. In 1997, he lost the use of his left leg due to all of the injuries he suffered in the ring and he was confined to a wrestler. Two years ago, there was an article about how he was living in a U.K. care home for a few years and he was not doing well.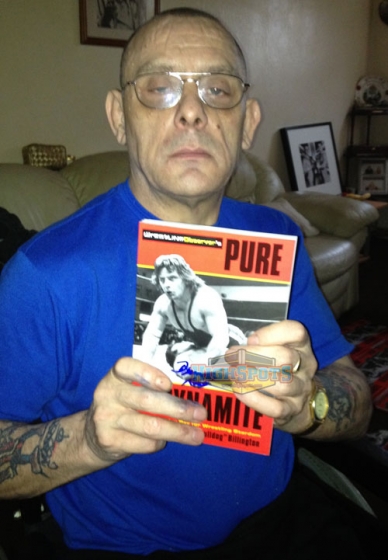 One of my favorite wrestling books ever was called "Pure Dynamite" by Billington and it was released in 2000. It was not the kind of book where a wrestler talks about how great everything in their life is. It was an honest account from a man that loved the wrestling business. Unfortunately, his career was cut short by injuries. I just remember reading that and gaining a lot of respect for him because of how much he went through in his career to entertain us.
WWE posted this tribute to Billington:
WWE is saddened to learn that Thomas Billington, known to his fans as Dynamite Kid, has passed away at age 60.

Born in Golborne, Lancashire, England, Billington pursued sports-entertainment as a means to avoid a life as a coal miner. Although somewhat undersized, he possessed a ferocity and determination that earned him the nickname The Dynamite Kid.

As a singles competitor, he made his mark in WWE Hall of Famer Stu Hart's Stampede Wrestling in Calgary, Alberta, Canada, developing a style that was both technically brilliant and wildly aggressive. It was in Japan, however, where Dynamite Kid set a new standard for junior heavyweight competition in a legendary series of matches against Tiger Mask, which would influence an entire generation of competitors, and help set the stage for brands like WWE's 205 Live.

Dynamite Kid joined WWE in 1984 with his cousin, Davey Boy Smith, forming one of the most popular tag teams of their era, The British Bulldogs. Alongside their mascot, an English bulldog named Matilda, the duo battled it out in classic matches against Bret "Hit Man" Hart & Jim "The Anvil" Neidhart of The Hart Foundation, and defeated Greg "The Hammer" Valentine & Brutus "The Barber" Beefcake to win the World Tag Team Titles at WrestleMania II.

WWE extends its condolences to Billington's family, friends and fans.
Harry Smith, who wrestles as British Bulldog Jr. as the son of the late Davey Boy Smith (Kid's tag team partner), posted this photo with Kid in tribute.
Professional Wrestling as we now it today. He flew high, and gave it his all every match. Thanks for everything and sad to have lost another family member. 😞 Rest In Peace Dyno. 🙏 🇬🇧 🐶 😢😢 pic.twitter.com/0p57E6dLwx

— Harry Smith (@DBSmithjr) December 5, 2018
Billington had one son and two daughters. On behalf of everybody associated with TJRWrestling, we send our condolences to the family, friends and fans of The Dynamite Kid. Rest in peace.
https://www.dailymotion.com/video/x33dhlm