Updated WWE Stomping Grounds Lineup, News on Slow Ticket Sales for Sunday's PPV
The WWE Stomping Grounds pay-per-view takes place this Sunday, June 23rd at the Tacoma Dome in Tacoma, Washington. The lineup for the show features a lot of rematches of PPV matches that we have already seen in the last few months, but they did add a fresh US Title match last night on Raw. I'll get to the lineup shortly, but first, there have been stories about poor ticket sales.
Here's a seating chart that a fan tweeted a few days ago that showed a lot of great tickets were still available.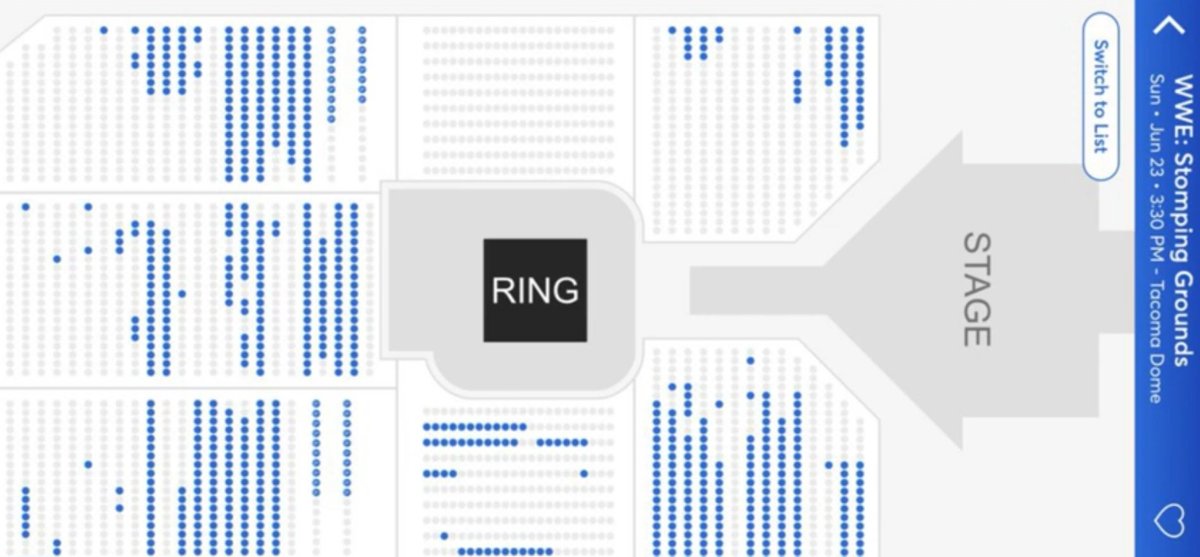 The section above "RING" is where the hard camera is. Apparently, WWE is going to block those seats off near the hard camera, so they can try to fill the other parts of the arena. They also have been offering two for one ticket sales meaning that you can buy two tickets for the price of one. That's very rare for a WWE PPV event.
Dave Meltzer of the Wrestling Observer recently commented on it: "Look at the pay-per-view in Tacoma, they're having to give away tickets. I mean they're doing two-for-one tickets. They're blocking off all kinds of places [in the Tacoma Dome] so you know, two tickets for $20 for a pay-per-view — unheard of. I mean, when's the last time that happened for a WWE show?"
Here's a screenshot of the two for one deal being available as of yesterday.
It will be interesting to see what the attendance is for Stomping Grounds on Sunday. We could learn more later in the week about free tickets and anything else WWE might do to try to come close to filling up the arena. If you live in the area, you can probably get in for really cheap.
Anyway, here's the updated lineup after Raw last night.
Universal Championship: Seth Rollins (c) vs. Baron Corbin (Corbin gets to pick the special referee – no name has been announced yet)
WWE Championship Steel Cage Match: Kofi Kingston (c) vs. Dolph Ziggler
Roman Reigns vs. Drew McIntyre
Raw Women's Championship: Becky Lynch (c) vs. Lacey Evans
Smackdown Women's Championship: Bayley (c) vs. Alexa Bliss
United States Championship: Samoa Joe (c) vs. Ricochet
Xavier Woods and Big E vs. Kevin Owens and Sami Zayn
Tonight is the last Smackdown and 205 Live episode before Stomping Grounds, so there will probably be some more matches added to the card.
I will have a review of Smackdown Live posted later this evening. I don't think it will be live, but I am hopeful that it will go up tonight.