Tony Khan Believes AEW Women's Division Is A "Real Strength"
The AEW Women's division is growing all the time while AEW President and GM Tony Khan sees it as a real strength of the company.
In a recent interview with Busted Open Radio, Tony Khan spoke about how he had some big plans for the women's division. Khan also praised AEW Women's Champion Dr. Britt Baker and Ruby Soho, who signed with AEW after WWE released her where she used the name Ruby Riott.
"That was one of the statements I really wanted to make at All Out, we made a ton of statements at All Out. [All Out] was our most successful pay-per-view and really, one of the great pay-per-view success stories of the last 20 years, I really believe the [women's] division has gotten so strong and it's gotten to be a real strength of AEW and we have a great Women's World Champion, Dr. Britt Baker. We have some great contenders coming up and I have some real plans for the women's division I'm very excited about and really, nobody knows about what this stuff is because I've got some really great matches up my sleeve and some exciting plans. But what's happening right now is tremendous."

"Britt has been a great champion. But I have to say, in the time she's been champion, we've had the hottest run we've ever had for ratings, live attendance, pay per view, it's been really special and in that time, we've also had our biggest free agent coming in Ruby Soho, she's got a great connection with the crowd."
Khan spoke about the AEW Dynamtie Grand Slam card on Wednesday, September 22 where Baker will defend the AEW Women's Title as part of the huge card taking place at Arthur Ashe Stadium in New York City.
"The title match is going to be just a huge part of the AEW Dynamite: Grand Slam next week, Britt Baker versus Ruby Soho, one-on-one for the World Title and they both also are very charismatic and I and the crowd is really into both of them in very different ways. I think Ruby Soho is, right now, one of our hottest babyfaces and Britt Baker is incredibly polarizing, but she gets incredible reactions either way, no matter what people think of her. I think it'll be really cool segment tonight on TNT, getting to see the World Champion Britt Baker, and the number one contender, Ruby Soho, face off ahead of the match on Wednesday."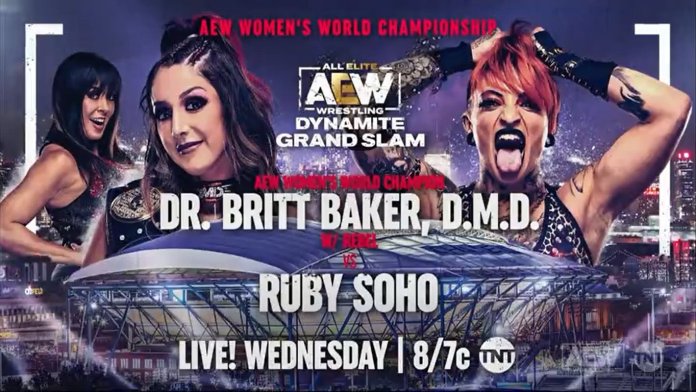 Baker and Soho took part in an intense promo exchange on AEW Rampage with Chris Jericho calling it a "money segment" on commentary while TJRWrestling's John Canton wrote that "they both nailed it" in terms of delivering memorable promos.
Khan continued to expand on his plans for the women's division in AEW while specifically talking about Jade Cargill as a woman with a bright future in AEW:
"I'm so excited about what's happening in the women's division with Jade Cargill, as a young rookie wrestler in her 20s, who has just been dominant. Clearly, there's a lot of interest in Jade. We've seen a lot of search traffic. You know, anybody can go out and look at the search traffic from Wednesday's show, [there is] a huge spike for Jade. Her match did really well. She had a great match with Leyla Hirsch and it was the toughest test I think in-ring Jade has had yet. She's been tremendous. Again in that division, you know, Britt Baker and Ruby Soho are our veterans, but they're also young women who are going to, I think have a tremendous match on Dynamite next week. So there's so much exciting stuff happening there."
You can see highlights of the fiery Baker/Soho promo below.
h/t Fightful for the transcription