Sting Comments on His Current Run in AEW, Disappointment Over Not Wrestling The Undertaker in WWE, More
The legendary Sting is wrestling at tonight's AEW Double or Nothing pay-per-view in Jacksonville. Sting, who is 62 years old, will team up with his understudy of sorts, Darby Allin, to take on the heel team of Ethan Page & Scorpio Sky. It will be Sting's first live wrestling match in a ring since September 2015 when he suffered an injury in a WWE ring. Sting wrestled at AEW's last PPV Revolution in February, but that was a cinematic match. Sting looked impressive in the match and impressed a lot of us that are concerned about his health every time he has a match.
Sting spoke to Sports Illustrated ahead of his AEW Double or Nothing match tonight. Here are some highlights.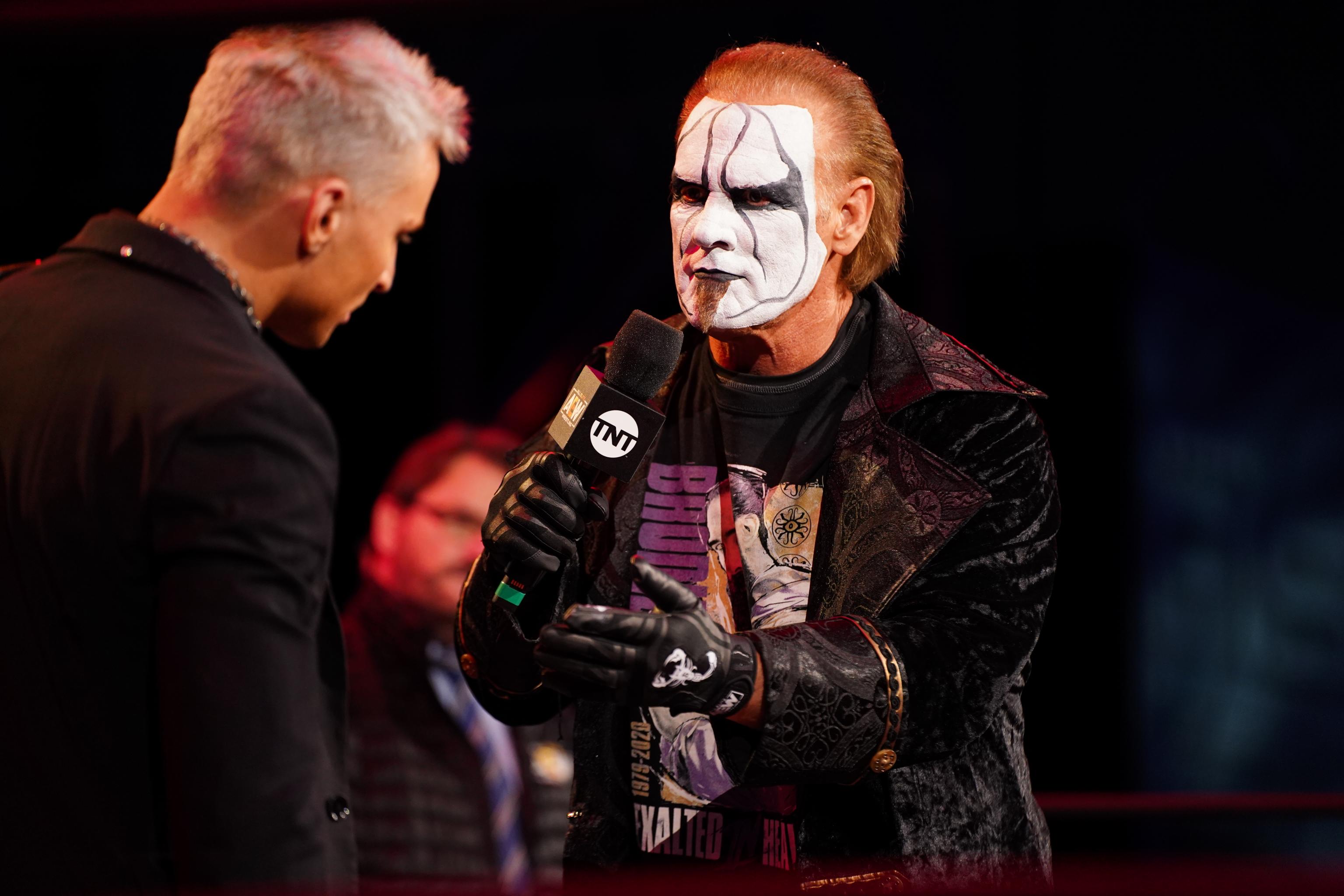 Sting commented on his current role in AEW as a wrestler that's also a mentor to younger wrestlers:
"When I started in AEW, I remember getting asked if I planned on being a mentor or teaching. And of course I do, but after five or six years of not being involved on a heavy level, wrestling can pass you by. The wrestling industry has changed a lot. Most of the guys, these young guys, they're teaching me. I'm learning a lot about the wrestling business, how it has evolved, and how the way to tell a story has evolved. Even the moves, everything is completely different. I really appreciate it for what it is now, and I'm still trying to figure out how to plug myself in, taking the old school and mixing it with the new school. So far, it's been a good balance."

"Even though I was retired, I didn't want to disappear. And it was the way in which I departed WWE. I'd rather go out making some sort of statement. I just love to entertain and I love to learn, and I'm learning a lot from these young guys. I wish I could have ran up and down the road with some of these guys 20 years ago, especially Darby Allin. He is just so talented."
Regarding his run in WWE that started in late 2014 until his contract expired last year, Sting wanted to focus on his positive memories:
"WrestleMania (31 in 2015 against Triple H) is a great memory. I know so many fans have said to me, 'You should have won that match.' But when you think about that WrestleMania, what do you remember about it? Hulk, Hall, Nash, and DX, that was surreal. I hope that's what people remember."
The WWE match that a lot of fans wanted was a singles match against The Undertaker. That didn't happen in WWE and Sting expressed his disappointment about it:
"I wanted that to happen. I was very clear publicly, and I was very clear with WWE, as well. I wanted my last hurrah against Taker."

"For whatever reason, it just never materialized. To this day, I don't know why. Maybe Taker never wanted to work with me. I have no idea. I mean, I've had good conversations with Taker and we've always got along. I don't know why the match never happened, but it should have happened. Because it wasn't going to happen, and I knew it, and that wasn't the only reason why I left WWE, but it's one of the reasons why I left. I wanted that one last match."
Lastly, Sting talked about how much he appreciates the fans:
"I appreciate the fans every day. Every time I came back to WWE, either on Raw or a pay-per-view, and now with AEW, hearing the crowd, I marvel over the way they care about me. I'm very grateful for it, it means the world to me. And it goes both ways—I love those fans, too. I'm thankful that God has given me the ability to do this, even now at this age, and I appreciate the fact that fans still love it. And I plan on delivering for them on Sunday."
Sting also talked about the September 2015 match when he was injured in a match against Seth Rollins (he does not blame Rollins for it) and more about his career.
Best of luck to the Stinger in his tag team match at AEW Double or Nothing tonight. I'll have a live review of the show on TJRWrestling later this evening.