Rumor Regarding The Rock's Possible Involvement at WWE Royal Rumble and WrestleMania 35
It's definitely WrestleMania rumor season with the end of the year coming up and all eyes focused on the Royal Rumble. Today, we've got a juicy rumor about Hollywood megastar and 10-time WWE World Champion (that counts two WCW World Title reigns) The Rock.
The rumor comes from the @WrestleVotes Twitter account, which has been known to post some credible news and rumors in the past. Here's what they wrote.
Rumble tidbit: Plan at one point was for The Rock to win the Royal Rumble & face Roman Reigns at Mania. That's obviously not happening. Can Rock still win it & face Lesnar? I guess. Depends what kind of agreement Rock and WWE have. Once plans changed, Rock may have reconsidered.

— WrestleVotes (@WrestleVotes) December 8, 2018
The reason it's not happening is because Roman Reigns is out of action indefinitely while he battles leukemia. We all hope Reigns wins that battle and if he does, maybe he'll wrestle again, but for now, it's unknown if that will happen.
As Wrestlevotes noted, Rock could face Lesnar, which would be a huge match to do since the last time they had a match was SummerSlam 2002, so it would be nearly 17 years later. I think it's very possible that WWE would want to do that although there is also a Lesnar vs. Seth Rollins rumor out there as well. It's possible that Rock could face somebody else on WWE's roster.
There is also a rumor out there about The Rock possibly headling the 2019 WWE Hall of Fame, which Dave Meltzer mentioned in the Wrestling Observer Newsletter as a possible reason why WWE chose to move the Hall of Fame ceremony back to Saturday before WrestleMania. Perhaps The Rock let WWE know he would love to join the Hall of Fame this year, but he's busy on the Friday, so WWE moved it to Saturday. That's not known right now.
TJR THOUGHTS: There are a few reasons why The Rock may want to wrestle at the next WrestleMania:
– It's in New Jersey with the New York media market right there. The presence of The Rock will help the attention that WrestleMania gets because he is arguably the biggest name in Hollywood right now. The Rock's last legitimate match was at WrestleMania 29 in 2013 (John Cena beat The Rock for the WWE Title) in the same MetLife Stadium venue in New Jersey where next year's WrestleMania will take place. I wrote "legitimate match" because Rock's "match" at WrestleMania 32 in 2016 was just a couple of moves to easily beat Erick Rowan.
– The Rock is co-producing a movie about Paige's life called "Fighting with my Family" (watch the trailer here) and the movie is expected to come out in February, so if Rock is on WWE TV for WrestleMania season, it would help to have him on screen to promote the film.
– The Rock's new show "Titan Games" is on NBC starting in January. Since WWE Raw and Smackdown Live are on sister network USA Network right now, WWE could promote "Titan Games" during Raw and Smackdown.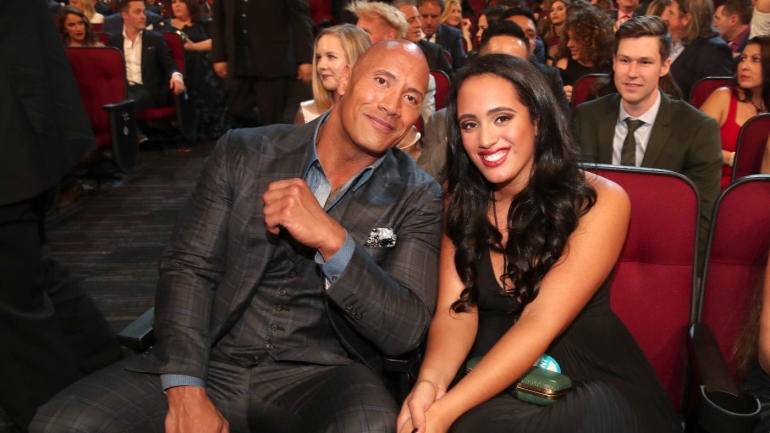 – The Rock's daughter, Simone Johnson, has already spent some time training at WWE's Performance Center in Orlando. He might have the wrestling bug again because of her.
– At 46 years old, the clock is ticking on how much longer he can wrestle. Yes, he's in great shape, but wrestling into your 50s isn't a good idea. The Rock is a workout freak and he'll be in great shape in his 50s, but I think he knows it's tougher on the body the older you get.
I think there's a strong possibility that The Rock will be back at the next Royal Rumble and WrestleMania. Until it's official, though, it's just a rumor.