Report: Jeff Hardy DWI Arrest Update, Had Bloody Nose After Incident with Wife
Jeff Hardy, who is currently on the WWE injured list after having major knee surgery in May, was arrested again this past Thursday according to a report from TMZ. Hardy is 42 years old and is expected to return to in-ring action in WWE either later this year or early next year.
The Carthage Police Department in North Carolina (Hardy lives in Cameron, NC with his wife and two daughters) received a tip about a careless and reckless driver at 8:40pm on October 3. When the cops found the car, they saw Hardy parked in front of a liquor store and then he walked out of the story with a case of beer. Hardy drove after that, the cops saw him driving erratically and moving through the lanes, so they pulled him over.
In a follow up to the story, it was reported today by TMZ that Hardy had dried blood on his nose. When asked what happened, Hardy said that he and his wife got into a fight.
Hardy also admitted to taking two shots of vodka earlier in the night and was honest in telling the cops that he was impaired. Hardy failed the field sobriety test, but he was uncooperative when told to do a breathalyzer or blood sample. The officer got a search warrant from a judge, so EMS summoned the blood sample from Hardy.
Hardy was booked for Driving While Impaired (DWI) and Driving on a Revoked License. The police report listed Hardy at 6'1″ and 175 pounds, which is probably lighter than what he usually is when he wrestles.
There are no further details about a possible domestic violence incident, nor is there is an investigation.
Here's the mugshot of a smiling Hardy that was posted by TMZ following the arrest.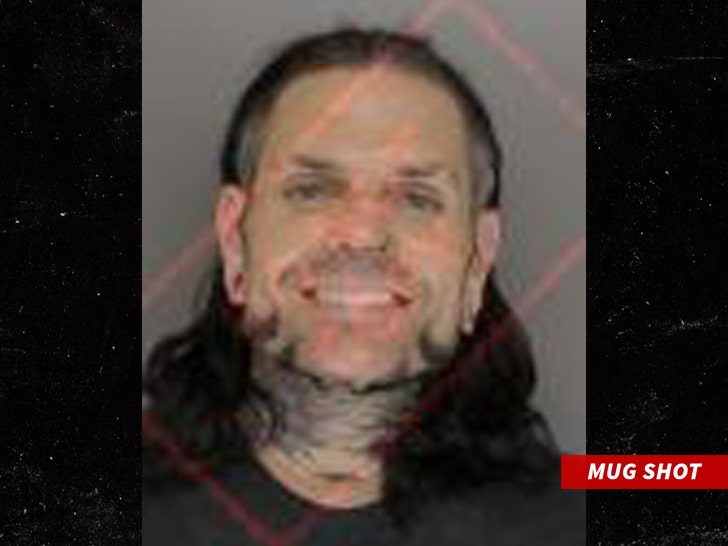 In March of 2018, Jeff was arrested for DWI also. In June 2018, Jeff plead guilty to that DWI and his driver's license was suspended for 120 days (that's four months). Since one of the charges this week was Driving on a Revoked License, perhaps something else happened with Hardy's license since the incident last year.
Earlier this year in July, Hardy was also arrested for public intoxication in South Carolina.
WWE issued this statement: "Jeff Hardy is responsible for his own personal actions."
Jeff's older brother Matt tweeted this comment in support of his brother.
Since so many have asked me about my brother tonight-I love my brother & want him to be happy & healthy. I've expressed that to him as much as I can. Jeff has to make his decisions about his life.

I have to focus on my 2 boys & soon to arrive son. I can only control MY actions.

— MATT HARDY (@MATTHARDYBRAND) October 5, 2019
Hardy has had a lot of legal issues in his life. The most serious one was in September 2009 on charges of trafficking prescription pills as well as having steroids and other drugs in his possession. In October 2011, Hardy served ten days in jail.
TJR Thoughts: This is the third alcohol-related arrest for Hardy in the last 18 months or so. The public drunkenness charge in June isn't as bad as the two DWIs obviously, but clearly he's having issues with alcohol. It's also not a good sign that he had blood on his face from a fight with his wife. There's no domestic incident charge, though. It's still concerning.
I really hope Jeff has family and friends in his life that encourage him to go to rehab or some other form of treatment for what is clearly a problem with alcohol. A man that's 42 years old should know better especially when he's got a wife and two young daughters at home. I know WWE has paid for many wrestlers to go to rehab. They should probably send Jeff there.
This reminds me a lot of Kurt Angle having multiple DWIs and DUIs earlier this decade. Thankfully, Kurt got help and he's been clean ever since. Angle has said his wife threatened to leave and not let him see his kids if he didn't get help, so Kurt did.
I think DWI or DUI is too many. It should never happen. Call a cab or an Uber or a friend. This incident sounds like Jeff's life is shitty right now and instead of dealing with it, he's trying to drink his problems away. That's not the answer. What if he hit somebody while he drove drunk? We all know of stories where that can happen.
I really hope Jeff can overcome this. Please put down the alcohol and don't drive while drunk. It's not worth it. Be smarter than that.