News: John Moxley's First AEW Promo, Moxley Wrestling in New Japan on June 5th (VIDEO)
The first Jon Moxley AEW promo is here. In case you missed it, Moxley (former Dean Ambrose in WWE) debuted for All Elite Wrestling on Saturday night at Double or Nothing. He showed up after the main event where Chris Jericho beat Kenny Omega. Moxley beat up Jericho, the referee and Omega, who took a big bump off the staging area to the floor. Moxley stood tall to end the night.
Late on Sunday night, AEW posted this promo from Moxley. I'll write out the words here and then post the video underneath. It's a short video at 1:22 in length.
"One day they will all come to my funeral just to make sure that I stay dead, but today is not that day. I am alive! My heart is still beating and I am breathing fresh air for the first time in a long time. My name is Jon Moxley and I am on a mission to reclaim my soul. And I know I'm not the only one that thinks it's about time this industry got a facelift. So make no mistake about it, this is an official declaration of war tonight to anyone who wants to get in my way…and anybody who stands in AEW's way. We have a mission to knock the pillars of this industry on their ass. We ain't reading history books anymore, baby, we writing 'em. This is what you call…a paradigm shift."
The promo ended there. You can watch it below.
"This is what you call a paradigm shift" – @JonMoxley#AEWpic.twitter.com/9VhWRgUCnj

— All Elite Wrestling (@AEW) May 27, 2019
Analysis: That was awesome. I liked the intensity he showed. Promos have always been a strength for Moxley and right now he's got more motivation than ever to deliver incredible promos like this one. I liked the line about being on a mission to reclaim his soul. Also, the line about their mission was clearly a shot at WWE and once again, you can tell how motivated he is. I'm happy for the guy. He'll be a perfect fit in AEW.
In addition to that, Moxley will be working for New Japan Pro Wrestling on June 5th. This video also was revealed by Moxley late last night.
.@njpw1972pic.twitter.com/ooLD0aIXA4

— Jon Moxley (@JonMoxley) May 27, 2019
NJPW chimed in on Twitter with this.
JON MOXLEY WILL BE IN SUMO HALL JUNE 5!

Juice Robinson's mysterious tormentor been revealed as @JonMoxley! What does he have in store for the US Champion in Ryogoku on June 5?

Keep checking https://t.co/GsbwNuB2sY as the story develops.https://t.co/OlyDrr7i2M#njbosj#njpwpic.twitter.com/fKCdXXFIVR

— NJPW Global (@njpwglobal) May 27, 2019
That means that NJPW US Champion Juice Robinson (who was known as CJ Parker in WWE) will face Jon Moxley at the Best of the Super Juniors event on June 5th with the storyline being that Moxley has been the mysterious tormenter of Robinson.
As we reported yesterday, Moxley's contract does allow him to work for other companies including NJPW, but AEW gets first priority on his bookings. Moxley's first AEW match will be at Fyter Fest in Daytona Beach, FL on Saturday, June 29.
Moxley will also be wrestling Pentagon Jr. on Friday, August 16 at a Northeast Wrestling show in Poughkeepsie, New York. They released a banner this weekend.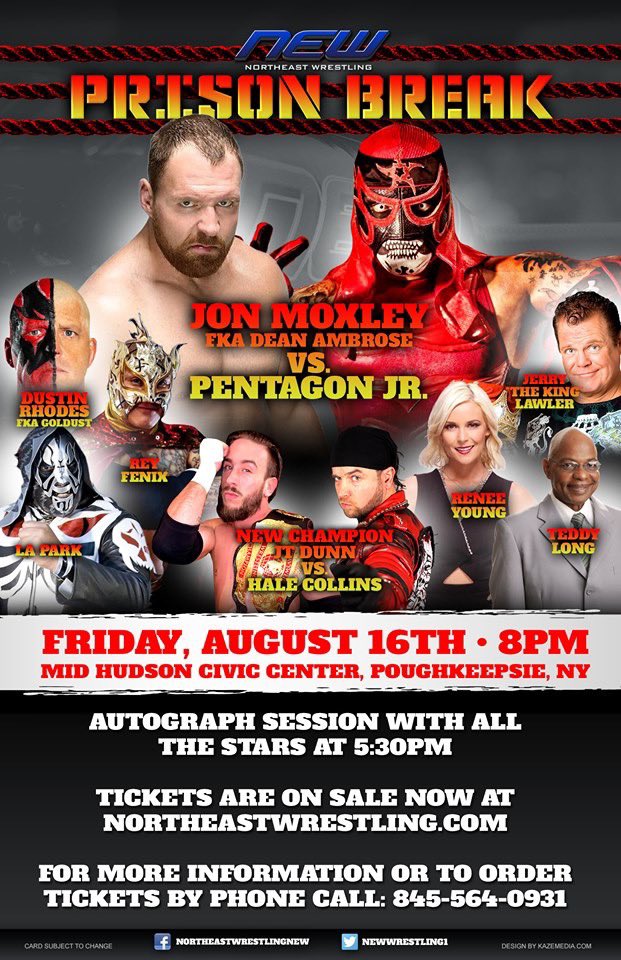 You may notice Renee Young, who is Moxley's wife, on the banner. Renee works for WWE, but her contract allows her to participate in contract autograph sessions with fans when her schedule allows it.
Clearly, Jon Moxley is going to be a busy man in his post WWE career. Good for him.