AEW Dynamite Preview for Tonight (Oct. 14): One Year Dynamite Anniversary Show, Four Title Matches, More
It's a huge edition of AEW Dynamite tonight from Daily's Place in Jacksonville, Florida. That's because all four of AEW's championships will be on the line because it's the one-year anniversary show. The first episode of Dynamite was actually October 2, 2019, so we are past the one-year anniversary mark, but this is the episode where AEW chooses to celebrate their one-year running Dynamite shows. Four title matches are advertised for tonight's live show. Here's the rundown with some quick thoughts on the matches, which I got from AEW's preview on their website.
AEW WORLD TITLE: Jon Moxley (c) vs. (#1) "The Murderhawk Monster" Lance Archer (w/ Jake Roberts)
This has been built up pretty well with Archer winning the Casino Battle Royale at All Out to earn the title shot. Unfortunately, Archer had to take a few weeks off due to COVID-19 related issues, but he's expected to be back and healthy tonight. If Archer wasn't off for the last few weeks then they probably would have been able to have some wild brawls to set up the match more. While I think a title change is certainly possible since Moxley has been champion for eight months, I'm going with Moxley retaining the gold. It should be a very physical, intense match and I think they'll put on a good show in the main event. If Archer wins, I certainly wouldn't mind that at all because it would be something different. Moxley isn't stale as the AEW Champion, though, so that's why I'm comfortable with him keeping the strap as they say.
AEW TNT TITLE: "The American Nightmare" Cody (c) vs. "Freshly Squeezed" Orange Cassidy
Cody won the title back from Brodie Lee last week, so it would be a surprise if he lost the title. With that said, since AEW has booked long title reigns for Moxley and Chris Jericho as the World Champion, what if they decide to use the TNT TItle for short title reigns? Why not? I guess what I'm saying is maybe Cassidy has a chance to win since AEW is really high on the guy and he recently lost to Brodie Lee when he got a TNT Title match, so maybe Cassidy will win here. I'll pick Cody to retain, but I'm not 100% sure about that. Here's hoping Cody doesn't bleed three minutes into the match like he does way too often. All I'm saying is he needs to do it less often.
AEW WOMEN'S WORLD TITLE: Hikaru Shida (c) vs. (#2) Big Swole
There's no story here, which is not a surprise for AEW women's division that is severely lacking in stories. They are both babyfaces with not much history, so it's tough to get into a match like this. The preview on AEW's website noted that it has been ten months since Shida lost in a singles match. I think it would have been better if AEW did a four-way match with Nyla Rose (a former champion) and Britt Baker (a future champion) in the match because then I might be more interested in it. Since I think AEW might want to book a title change on this show, I think they might have Big Swole win the title. Shida has done well as the champion, she is booked strong and I like watching her. I just don't think there has been a lot of interest in the division with her as champion, so a title change is certainly possible. At least with Swole, she has a history with Baker, who should win the title before the end of the year or early next year because Baker is the most interesting character in the women's division. I'll go with Big Swole as the new AEW Women's Champion just because I think AEW wants one title change on this episode of Dynamite.
AEW WORLD TAG TEAM TITLES: FTR (Cash Wheeler & Dax Harwood w/ Tully Blanchard) (c) vs. (#1) The Best Friends (Chuck Taylor & Trent)
Now that FTR are fully entrenched as a heel tag team that are holding the titles with Tully Blanchard managing them, they look more comfortable in AEW. The story seems to be that they are willing to defend their titles against any team in AEW except the Young Bucks, who are randomly attacking people with their lame superkicks while not having matches to earn a title shot. Best Friends won their feud with Santana and Ortiz (the Parking Lot Brawl was great, but not some all-time great five-star match to me), so they earned this title shot, which is great. Best Friends had a title shot against the former champions Omega and Page three months ago, they failed there and I expect them to fail here. I like Best Friends as a team and I think putting the titles on them at some point would be fine, but FTR are undefeated champions that won the titles over one month ago, so I think FTR will get the win here. I wonder if AEW will do FTR vs. Young Bucks at the Full Gear PPV next month or if they keep fans wanting even longer.
THE WEDDING PARTY…
Anniversary beat down confirmed. pic.twitter.com/sYtuyYbw7r

— Miro (@ToBeMiro) October 12, 2020
I assume this means a short match since the show is loaded with big matches already. Miro should get the win for his team as the announcers gush about how great of an athlete he is. Yes, he's a great athlete, but this is only his second AEW match and he's yet to have a singles match. Last week they flew in Miro from California to play an arcade video game in the "crowd" for two hours of Dynamite. That's the best they can do creatively? All I'm saying is they should be using Miro better.
MJF'S ANNOUNCEMENT…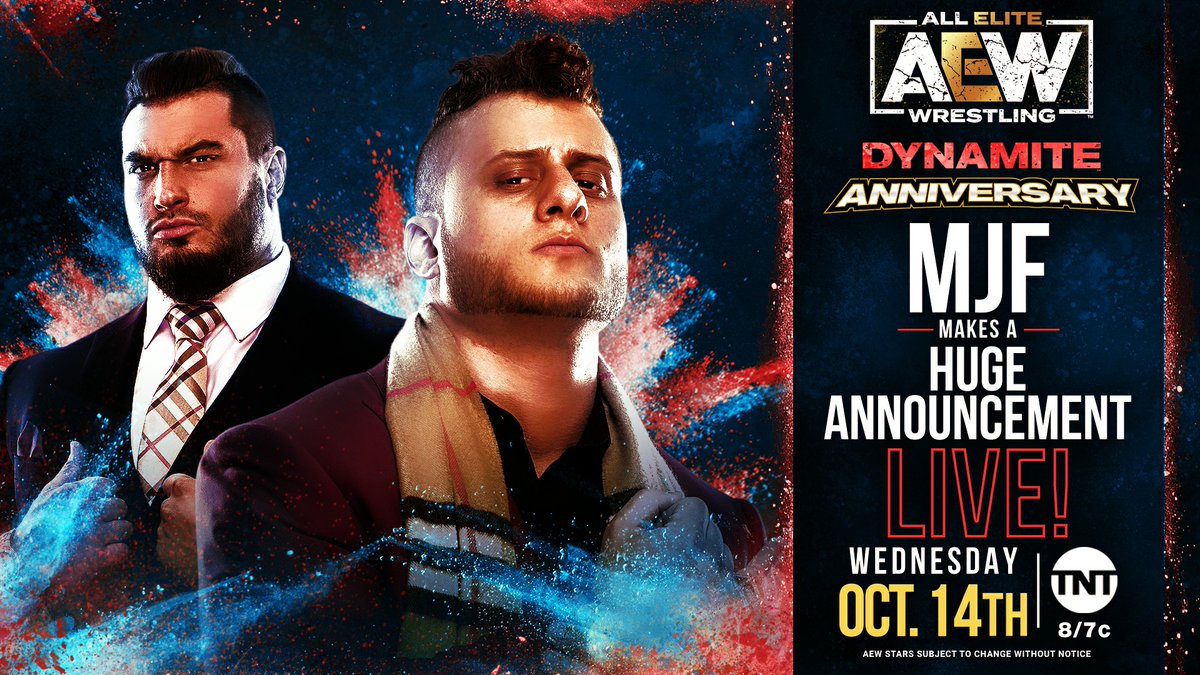 This should be interesting. MJF barely wrestles on Dynamite, but he does get promo time and that's why they are advertising a promo segment with him. Everything is pointing to MJF attacking Chris Jericho to turn Chris into a face for a long term feud where Jericho can put over the guy that's 25 years younger than him. That's what Chris does while MJF will berate him for being old, past his prime and so on. The promos will be amazing. Anyway, what I wonder is how they pull it off and if they use Inner Circle's Jake Hager, Santana and Ortiz to attack Jericho to set it up. I think Sammy Guevara won't be part of it because AEW might want to make him a face with Jericho since MJF didn't get Sammy an Inner Circle jacket, which is a sign that MJF isn't on the same page as him like the others.
I saw Jericho in a recent interview talking about how Inner Circle would be around for a long time. I think that's just him trying to throw people off. If this isn't an attack by MJF on Jericho then I would be surprised.
I'll be back with a review of this episode of AEW Dynamite possibly live tonight. I don't usually review AEW live, but I might do that tonight. If it's not live then it will be up later in the evening.
Here's the latest "Road To" AEW show as well.