WWE WrestleMania 35 News and Rumors Roundup March 9 – Four Weeks Away (Plus Thoughts on Ronda Rousey's "Rant")
It's March 9th and we are officially less than one month away from WrestleMania 35, which is 29 days away. Has the Kickoff Show started yet? It's going to be a long night. We've got WWE Fastlane taking place tomorrow and you can check out our in-depth preview of Fastlane right here on TJRWrestling. What I'm here to do today is take a closer look at where things stand for WWE WrestleMania 35. It's only four weeks away, my friends.
Before we get started looking at this year's WrestleMania, I want to remind you that I have reviewed every WrestleMania in-depth and you can read them all here in our WrestleMania review section. In 2017, I also ranked the top 33 WrestleMania matches ever with columns telling the story of every match.
The Matches WWE Has Announced
There are only two matches that are official going into WrestleMania on April 7.
Raw Women's Championship:Ronda Rousey vs. Charlotte Flair (vs. Becky Lynch? Yeah!)
This match is expected to be Ronda Rousey defending the Raw Women's Title against Charlotte Flair and Becky Lynch. That's been the plan for two months now as we reported in early January.
This past week on Raw, Becky Lynch had her suspension lifted, appeared on Raw and took a beating from Rousey, who turned heel. Rousey did a promo saying that she tried to fit in with everybody in WWE, but instead the fans booed her and she doesn't care anymore. Rousey beat up Lynch by going after the knee while also applying multiple armbars. Flair chose to not get involved at all.
On Smackdown, Flair tried to weaken Lynch even more going into Fastlane, but Lynch got the upper hand and Flair was left to walk away selling an attack.
It was also announced that Lynch will face Flair at Fastlane and if Lynch wins, she'll be added to the Raw Women's Title. If Lynch doesn't win, I'll be very surprised.
There has been some controversy surrounding this match in the last few days due to Ronda Rousey swearing and calling things "fake" on her Youtube channel.
Here's part of what she said:
"Rebecca Quinn (Becky Lynch) talked sh*t about my husband, and I told her I'd beat the f*ck out of her next time I saw her. And guess what — I beat the f*ck out of her, didn't I?"

"They gave me other things to say (on Raw). I didn't f*cking say it. I'm not going out there and doing their f*cking act anymore. I'm going out there and doing whatever the hell I want. And they can explain it however they want, but …fuck them. Everybody. WWE Universe included. I meant that I'm going to disrespect the sport that they all love so much. 'Ohhhh don't break kayfabe Ronda!' Wrestling is scripted. It's made up. It's not real. None of those bitches can fucking touch me. The end."
Ronnie since The Man came around.

If you can't hack it, get your jacket. pic.twitter.com/XEQf4UYE4t

— The Man (@BeckyLynchWWE) March 8, 2019
Charlotte Flair responded with this:
Can someone please remind Captain Badass here that her last two fights before coming to WWE ended with her unconscious and sobbing in the cage?

Four years ago, you were untouchable. Now? Not so much.

You're a class act, @RondaRousey
🙄 https://t.co/QBksunFE2X

— Charlotte Flair (@MsCharlotteWWE) March 8, 2019
I think Ronda Rousey using swear words and real names and saying "fake" on her Youtube channel is interesting. It's likely part of the plan to make people hate her and it's working, so good job by her. I doubt she has "heat" with anybody. There is no indication that WWE is mad about what she is doing because WWE is likely encouraging her to do it. Drawing interest is smart. I'm pretty sure Paul Heyman works closely with Ronda (he was in the locker room with Ronda in one of the videos) and he has always been known to blur the lines of reality going back to the ECW days in the mid-1990s. Using social media to help a feud is smart. It's smart for talent to use social media to "blur the lines" of what is real and what is part of the story. The ones that are great at social media are that way because they know how to have fun with it.
Cryptic comments are the best because they keep people guessing. In WWE, the lines are always blurred because if a wrestler goes on Twitter to complain about something, some fans will think that wrestler really feels that way while others might think "oh they're just playing a character." In reality, we don't really know all the time. And you know what? It's okay if we don't know.
If there's one thing I have learned from being on social media for the last decade is that people are the worst at overacting to things. It really wasn't that bad in the past, but for whatever reason, they just freak out now.
The part that I don't like is Ronda using the "fake" stuff. Yes, we know the results are scripted, but when she says it the way she did, that hurts the other performers in the company. I'm sure Heyman (and likely Vince McMahon) likes the idea of Ronda being portrayed as a real fighter that disrespects the business in the storyline, but when you say everything is fake except yourself then it cheapens the performance. I don't expect WWE to allow Rousey to use the "fake" word on Raw on Monday. That's a line that they don't want to cross.
To sum up, if you get worked up because of Ronda's comments then you are giving WWE exactly the reaction they want. It's all about getting Rebecca Quinn (I can use real names too) more over with the audience and I think it's working pretty well.
Who wins? Becky Lynch should win the Raw Women's Title and she should beat Ronda to do it. If she beats Flair then that hurts the finish. Lynch beats Rousey with a tap out or a pass out or whatever they think is best. That's what needs to happen.
WWE Universal Championship:Brock Lesnar vs. Seth Rollins
There wasn't anything done in the last week that really built up to this match. I think once Fastlane is over on Sunday, we'll see Lesnar back on Raw for a few times going into WrestleMania and Rollins will get a chance to have some interesting promos with Paul Heyman.
There was some Lesnar news recently because Dana White said he wants to see Lesnar face Daniel Cormier in the UFC octagon. It's a fight that has been rumored for several months now, so perhaps we'll see it in a few months. It's also possible that Lesnar chooses not to fight in the UFC since he'll be 41 years old later this year and if WWE is going to keep paying him a lot of money to work 20 dates a year (or whatever the number is), then Lesnar might want to keep doing that.
Who wins? I think Rollins should win. Rollins has been a key guy on the Raw brand for the three years since the brand extension and I think it's time for him to be coronated as the king of Raw, so to speak, by putting the Universal Title on him.
Other Expected and/or Rumored Matches
Triple H vs. Batista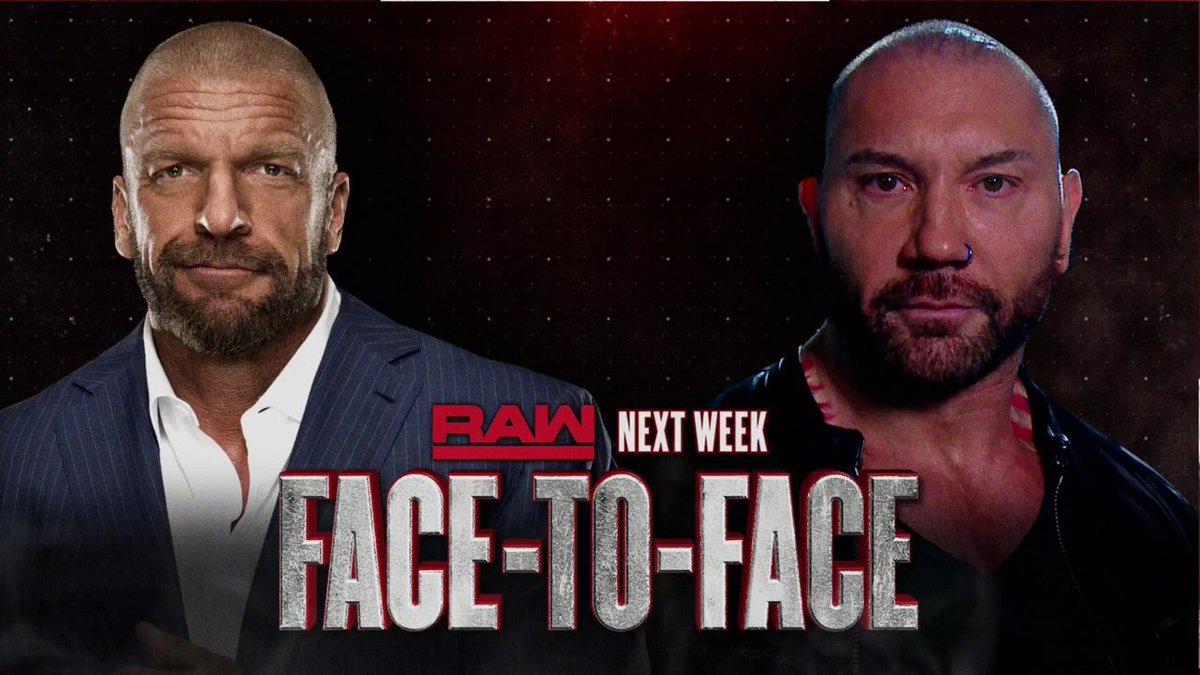 I really liked the Triple H promo on Raw this week. He talked about how angry he was that Batista attacked Ric Flair on the previous Raw while also using Ric's real name (Richard Fliehr) in order to make the point of how close Hunter is with Ric. Hunter talking about Ric's son Reid dying also made this feel very personal. Hunter has done so many monologues in the ring, so it's not a surprise that he did well with it.
This coming Monday on Raw, they are promoting a Triple H vs. Batista "face to face" in Pittsburgh. It's likely that they will use that segment to set up the WrestleMania match. It wouldn't shock me if they made it a Career Match either to add something more to it.
Who wins? I wrote last week that it doesn't matter and I stand by that. If it's a Career Match then for sure I would pick Hunter. Both guys are 50 years old this year, so it's not like they are going to keep wrestling a lot. Batista is likely wrestling in his last match, so he probably wants to do the traditional thing by putting Hunter over. After all, the story is that Batista attacked Ric Flair in a cheap way, so Hunter should get the win to avenge what happened to Flair.
WWE Championship: Daniel Bryan vs. Kofi Kingston
Daniel Bryan will defend the WWE Championship against Kevin Owens this Sunday at Fastlane. I don't expect a title change because it will probably be Bryan facing off with Kofi Kingston at WrestleMania. The question is, how do they get there? I doubt they just name Kingston the number one contender and instead they'll probably have some tournament or a multi-person match to put Kofi over and he'll earn the title shot that way.
Who wins? I want it to be Kofi, but I really don't know. I know that people going into this show are going to want Lynch, Rollins and Kingston to all leave WrestleMania as new champions, but I don't believe WWE is going to put all the faces over in those matches. Some heels are probably going to win and with Daniel Bryan doing such a great job as WWE Champion, I can see him retaining the title. Both options are fine with me and neither option upsets me, but I would like to see Kingston get the big win. It would be a cool moment.
AJ Styles vs. Randy Orton
For the second week in a row, Styles was doing a backstage promo when Orton showed up to wonder why Styles cared about Kofi Kingston not getting a WWE Title shot. Orton had a good line saying maybe that's why it took AJ 15 years to get to WWE. They are slowly building up their personal issues, which should lead to a WrestleMania match.
AJ Styles' contract is up with WWE soon. The expectation is that Styles will re-sign with the company, but it's not official yet.
Who wins? I think Styles will win. I think Styles will also get moved to Raw during the April 15/16 Superstar Shakeup and perhaps Orton will be moved to Raw too.
The Miz vs. Shane McMahon
This should be set up after Fastlane. I expect one of them to turn heel after the loss. My prediction is that Miz is the one that turns heel, but I wouldn't have a problem with Shane turning either.
Who wins? Miz should. Shane is older guy. Let Miz wins since he's in his prime.
Men's Battle Royal
The annual battle royal will probably be on the Kickoff Show to utilize the remaining wrestlers that aren't in a match. If Lars Sullivan is in the match, I'll pick him to win.
Women's Battle Royal
I have no idea who will win. Does it really matter? They had Naomi win last year and then did nothing with her. They need to announce a reward for the winner.
Cruiserweight Championship
The SEMIFINALS kick off next Tuesday on @WWENetwork! #205Livepic.twitter.com/emc5TNX4xX

— WWE Network (@WWENetwork) March 6, 2019
Buddy Murphy, who has been Cruiserweight Champion for about five months, will face the winner of a tournament on 205 Live. This will probably be on the Kickoff Show. It might be Tony Nese as the challenger, but they could go with Cedric Alexander.
Current Champions
United States Champion – Samoa Joe
The new US Champion cut a great promo on Smackdown after he won the US Title. Since Joe mentioned John Cena (after R-Truth mentioned Cena before the match), there are rumors swirling that WWE might do Joe vs. Cena at WrestleMania.
They have a history together since they trained together in California nearly 20 years ago, so I'm sure they'd love to have a WrestleMania match. I think it's very possible.
Intercontinental Champion – Finn Balor
There are a lot of heels on Raw with the likes of former IC Champion Bobby Lashley, Drew McIntyre and Baron Corbin, so it could be any of them or a multi-person match. There's no clear-cut plan right as far as we know.
Another possible name? Sami Zayn. He's due back any time now, so I'd love to see him against his buddy Finn.
Smackdown Women's Champion – Asuka
There's no change from last week when I mentioned the rumor is that it will be Asuka vs. Lacey Evans. If Lacey were to win, it would really elevate her immediately as a newcomer on the main roster.
Raw Tag Team Champions – The Revival
It's hard to know where things are headed for the Raw Tag Team division. Things have improved in the last few months due to better matches and better booking, but I don't know if they are doing a 2 on 2 tag team match or a multi-team match. Since there's a 3-way at Fastlane, I wouldn't do another multi-team match. My guess is it's The Revival vs. Black/Ricochet.
Smackdown Tag Team Champions – The Usos
THE ONE TEAM WHO HAS NOT BEEN LOCKEDDOWN……"WELCOME" https://t.co/zuUzcbU66s

— The Usos (@WWEUsos) March 7, 2019
There were a few tweets from The Usos and Matt Hardy this week, so perhaps they are teasing a WrestleMania match. I can see the Smackdown side having a multi-team Ladder Match for the SD Tag Team Titles because if you did The Usos vs. Hardys vs. New Day vs. Cesaro/Sheamus then that would be an awesome match.
Women's Tag Team Champions – Sasha Banks and Bayley
The latest rumor here is that it would be Fatal 4-Way Tag Team Title match. They would have Banks/Bayley defend against a Raw team, a Smackdown team and a NXT team. It's a nice way to put on a good match and try to elevate them as a big deal where teams from all three brands are contending for the titles.
Big Names Without An Obvious Match Right Now
Roman Reigns – It's fair to say that whatever match Roman has, it will be one of the biggest of the night. I doubt he gets added to Lesnar vs. Rollins. Perhaps Dean Ambrose will turn on The Shield at Fastlane to set up Reigns vs. Ambrose at WrestleMania. I don't know if that's the direction, but it's certainly a possibility.
John Cena – I mentioned him as a possible opponent for Samoa Joe. That's because they kept mentioning him on Smackdown, so it's an obvious hint.
Kurt Angle – There are rumors of a retirement match for Angle at WrestleMania. Since he's 50 years old, it makes a lot of sense. There's no word on who the opponent might be.
The Undertaker – The latest update is that he'll probably be at the show, but he may not be in a match. Last year he barely had a match anyway since it was an easy 3-minute victory over John Cena. Taker looked old in every match he had last year, which is not a surprise since he's 54 years old soon. I'm fine with no Taker matches ever again.
Braun Strowman – Talk about getting lost in the shuffle. Strowman has no match at Fastlane and no clear opponent at WrestleMania either. Last year, all he got to do is team with a 10-year-old kid named Nicholas Cone (son of referee John Cone) to win the Raw Tag Team Titles. I'm not sure if he'll have anything better to do at this year's WrestleMania. Strowman did tease a segment with SNL's Colin Jost on Raw. I'm sure it will be hilarious! (Now that's sarcasm.)
Dean Ambrose – I mentioned the Reigns/Ambrose idea earlier. If Ambrose stays face, he could team up with Reigns against two heels and even go after the Raw Tag Team Titles. I'm not sure if that's a big enough match for them, though.
Bray Wyatt – It feels like the right time to bring him back. If he's a heel, then matching him against Strowman or Reigns makes sense. If he's a face again, then perhaps it will be one of Lashley, Corbin or McIntyre since that would be a fresh matchup.
Those are just some of the big names. Like I mentioned last week, there are still guys like Kevin Owens, Sami Zayn, Shinsuke Nakamura, Rusev, Rey Mysterio, Andrade, Drew McIntyre, Bobby Lashley, Baron Corbin, Elias, Mustafa Ali and the recent NXT call ups like Johnny Gargano, Ricochet and Aleister Black. There are so many names and only so many spots.
Final Thoughts
There wasn't that much to update this week. I think it will be a different story next week because Fastlane will be over, then we'll get Raw and Smackdown, which should lead to more official matches being announced for WrestleMania.
That's where I'll wrap it up. I'll be back next weekend for another look at the WrestleMania card to see where things stand in one week's time.